This Delicious and Easy Pulled Pork Recipe is one that is made in the slow cooker and takes just minutes to prep!
I'm all about crock pot dinners that are made with little to no prep time, and this pulled pork is just that! If we want a different flavor, Kalua pork and sweet pork barbacoa are other awesome crock pot recipes to use up a pork roast!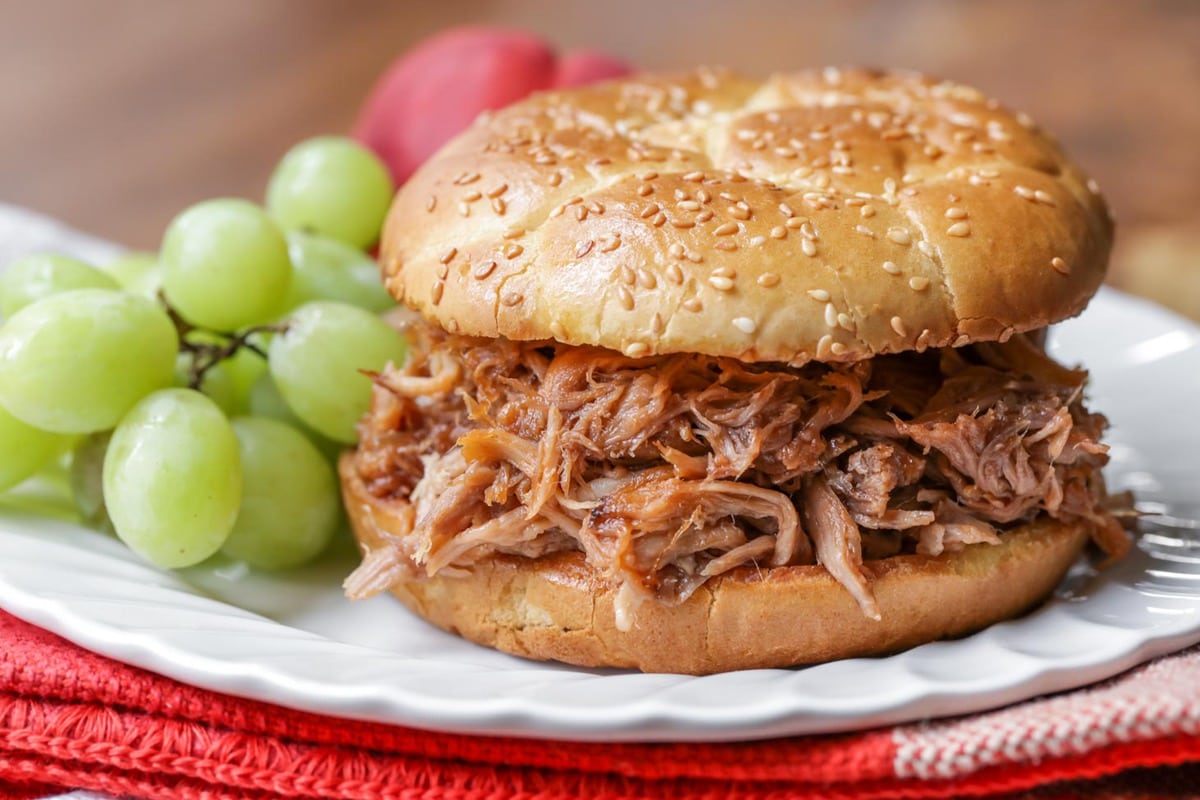 No-fail pork
We love to make meat for the holidays!! Our favorite meat to cook up is steak, but we also love to make hamburger and hot dogs and my hubby's favorite – pulled pork!
He's been a long time fan, and I have to admit I'm a convert now. I especially love that it's so simple, and this version is one that is made in the slow cooker or crock pot.
My mom first found this recipe years ago and decided to add some liquid smoke – which adds the perfect flavor to this pork. We sometimes use the pork plain in different recipes, but also love to add BBQ sauce (our favorite is Sweet Baby Ray's) and make delicious pulled pork sandwiches with it.
We can tell you right now, this recipe is no-fail! It's simple and always gone quickly!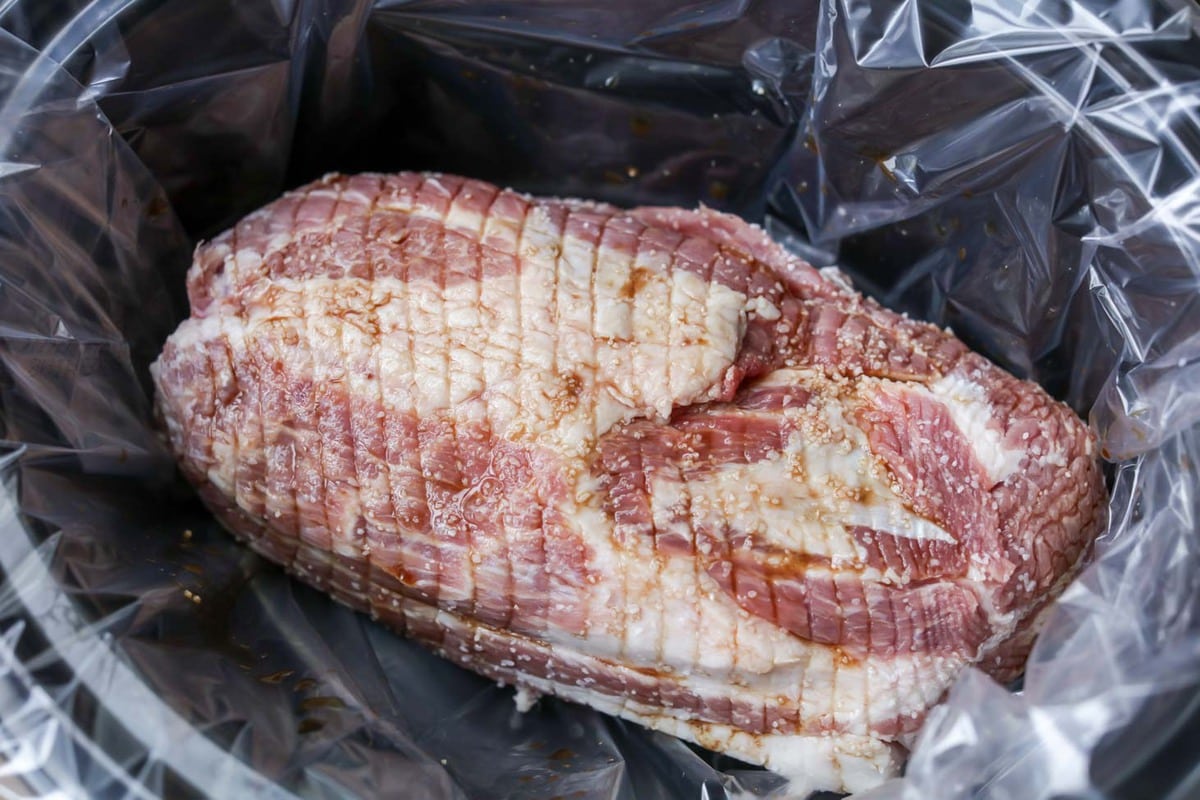 How to Make Pulled Pork
Making this recipe is so simple! It literally takes less than 5 minutes to prep.
The main question people ask is what kind of cut to use for pulled pork? The most common cuts of pork that you can use are pork shoulder (also known as pork or Boston butt) and a pork loin. Both are great options, but we like the butt piece better. 😉
PREP. To prep the meat, rub coarse salt all over the piece of pork.
COOK. Place in slow cooker, cover in liquid smoke and cook for 8-10 hours on LOW.
SHRED. From there, your pork should shred into pieces. We like to take two forks and shred the meat to use on it's own, or to add bbq sauce—perfect for our Pulled Pork Sandwiches!
making In the oven
You can easily cook this pulled pork in the oven if you don't have a slow cooker. Preheat your oven to 300 degrees. Then put all of the ingredients into a roasting pan and cover with a lid.
Cook in the oven for 6 hours or until the pork is falling apart. The thickest part of the pork should read 170 degrees on your meat thermometer.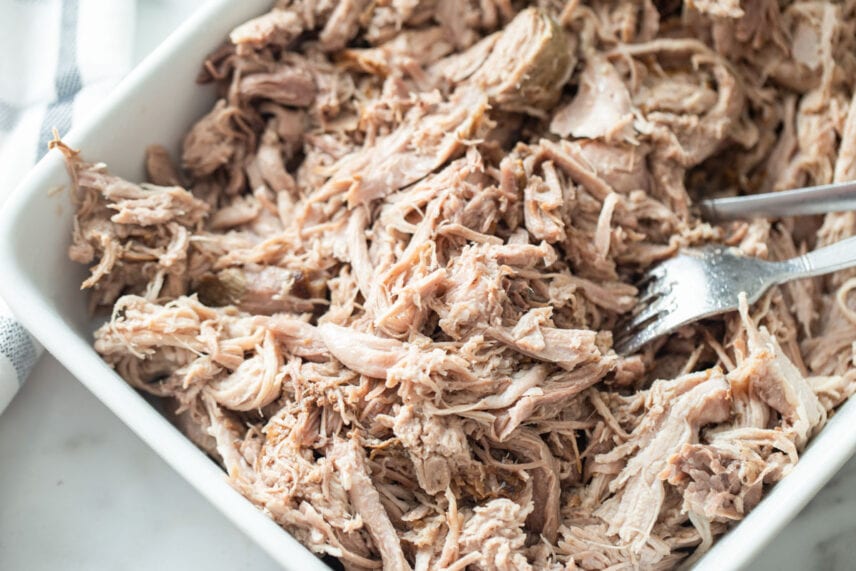 WHAT TO DO WITH LEFTOVERS?
STORE. Keep in an airtight container in the fridge for 3-5 days.
FREEZE. Freezing it is super easy, and a great way to save leftovers. Store individual servings in freezer safe bags. Make sure to seal the bags tightly so none of it will leak out. Your frozen pulled pork will last anywhere from 2-3 months in the freezer.
Pull it out for a quick and easy meal when you don't have time to make dinner! Let it thaw and heat it up over the stove or in the microwave. Serve it on rolls or in any of the recipes below!

Leftover Pulled Pork Recipes
This is the recipe we use when cooking up any more. We use it for so many recipes, and if you have find that you have leftovers, here are some of our favorite things to make with it:
The possibilities are endless! This basic pulled pork recipe can be used in so many recipes.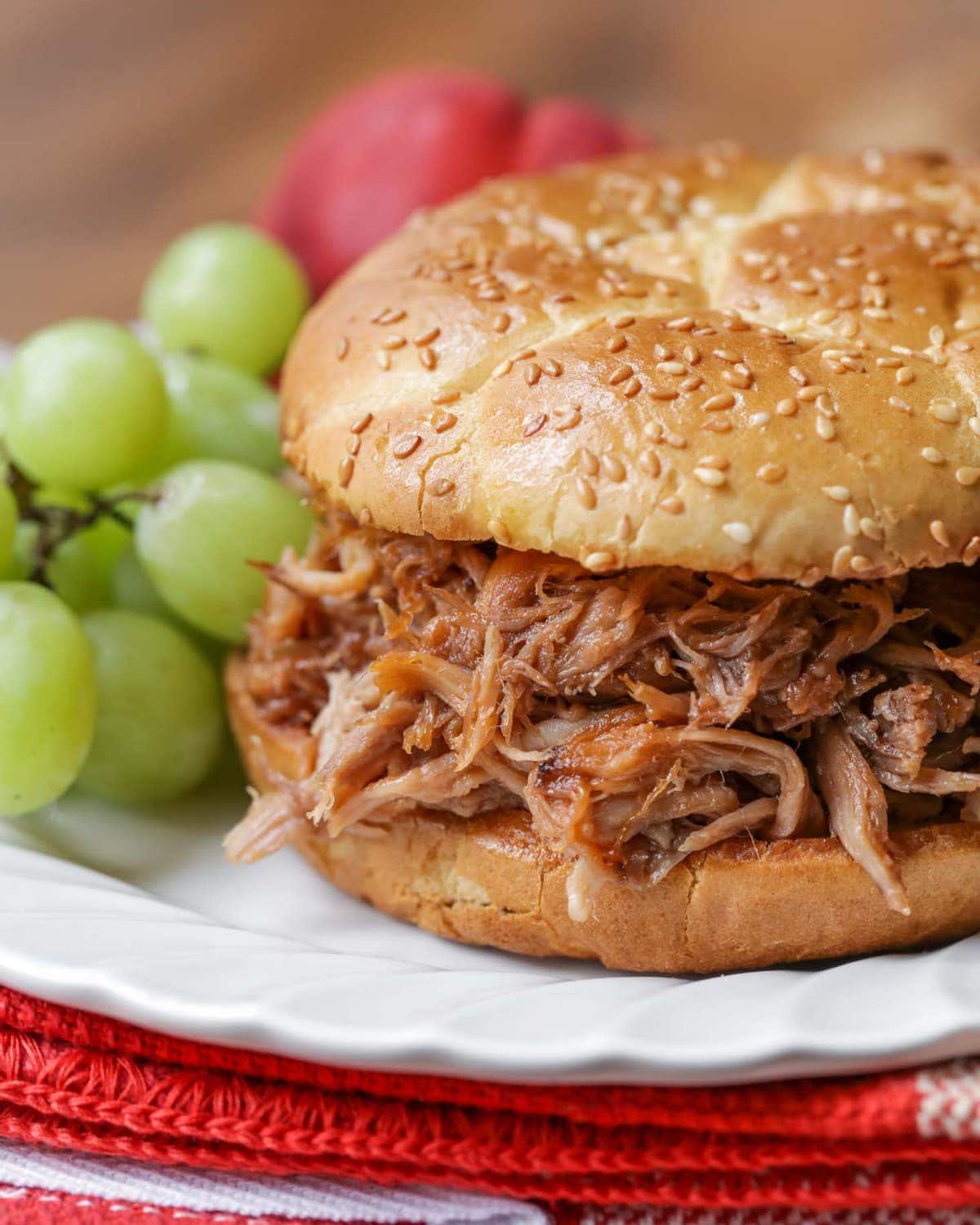 We hope you love this pulled pork recipe as much as we do. It's so flavorful and perfect to make for sandwiches or to use in other recipes.
what to serve with pulled pork?
For more pork recipes, check out:
Pulled Pork Recipe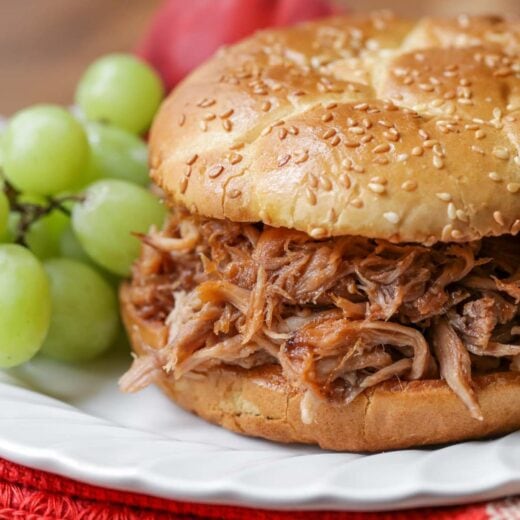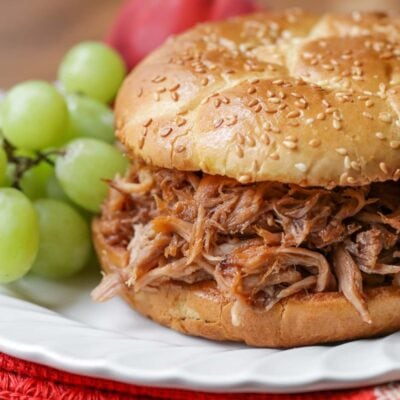 This Delicious and Easy Pulled Pork Recipe is one that is made in the slow cooker and takes just minutes to prep. Use the pork for any recipe, including Pulled Pork sandwiches, and you'll love just how simple and tasty it is.
Ingredients
3-4

lb

pork butt

2

tbsp

kosher salt

1/3

cup

liquid smoke

barbecue sauce

(optional)
Instructions
Rub your pork butt generously with the salt.

Place your pork in you crock pot and pour liquid smoke over it.


Cook on low for 8-10 hours or until pork easily shreds off.

Serve alone or on hamburger buns with barbecue sauce.