This Slow Cooker Kalua Pork is a classic Hawaiian favorite, made easily in your slow cooker with just a few ingredients. Eat it on its own, or in tacos or sliders!
With only a few ingredients, this Kalua Pork is great for dinner or any BBQ! Serve it up with some coleslaw, broccoli salad or even baked potatoes and it will be a hit! We think you'll love this recipe that literally takes minutes to prep and is so delicious!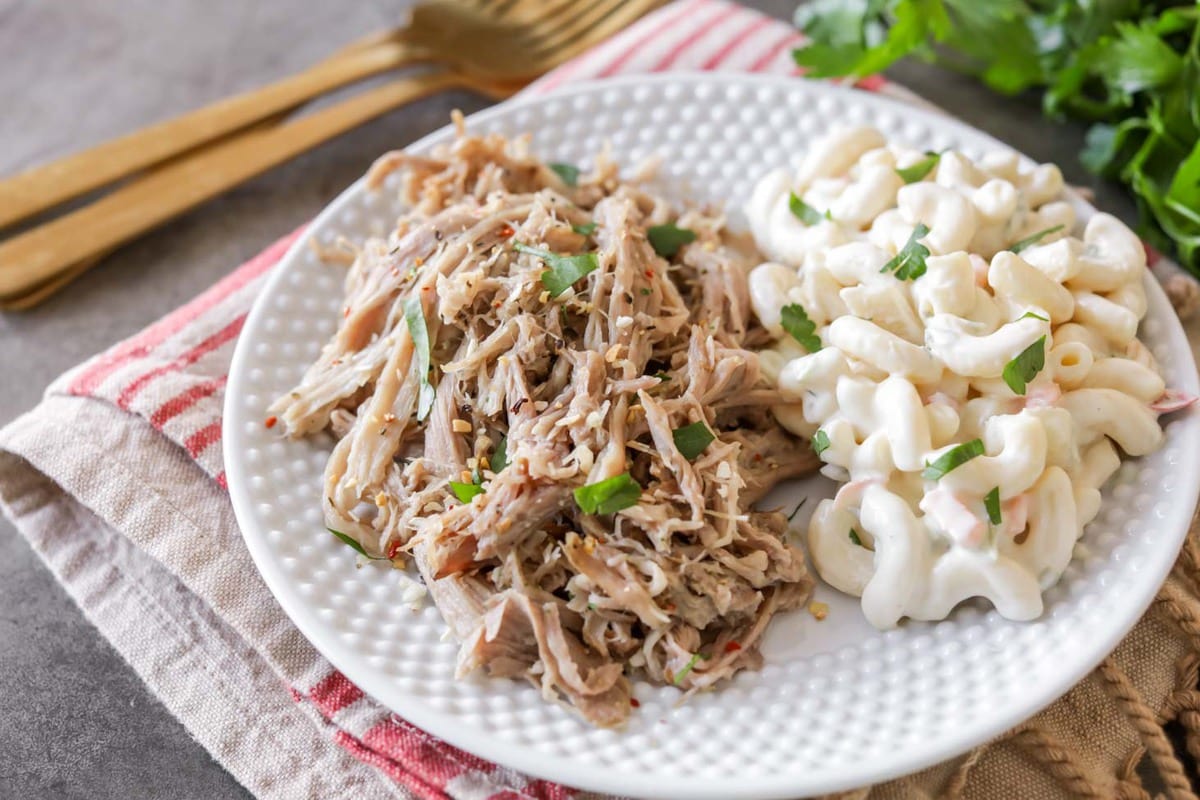 A Classic Hawaiian Delicacy
Hi there! It's Kristin, back again from Yellow Bliss Road. We just got back from an AMAZING Hawaiian vacation so I'm sharing an awesome Hawaiian inspired recipe with you today.
If you've ever visited the Hawaiian islands, you've probably tried Kalua Pig (Pork). It's on almost every menu. At counter service restaurants and food trucks, you can get Kalua Pork as part of the "Two Scoop Lunch Plate" with a scoop of rice and a scoop of Hawaiian Macaroni Salad on the side.
It's definitely an island classic and a recipe I wanted to make at home!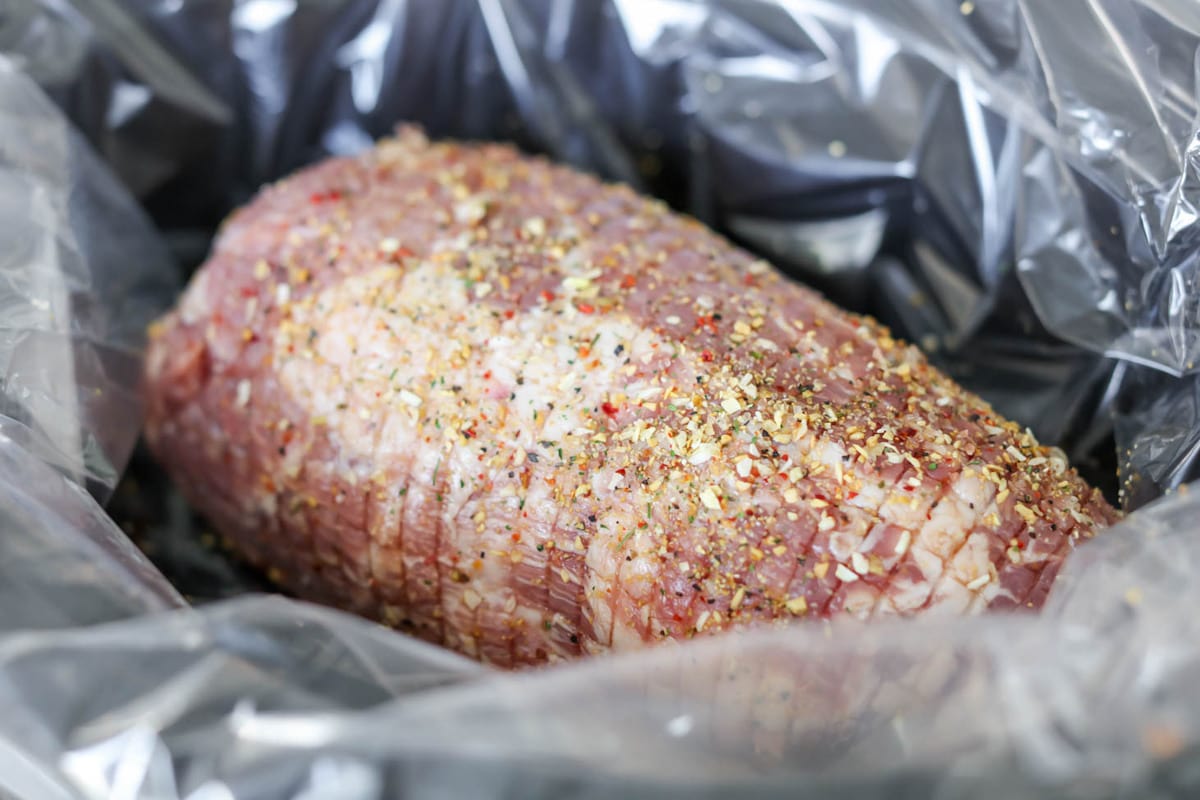 But what exactly is Kalua Pork?
At luaus and family gatherings in Hawaii, it's quite popular to roast an entire pig in the ground. Yes, you read that right. An entire pig!
A hole is dug and the pig is rubbed all over with Hawaiian Sea Salt, placed in the hole and covered with leaves or branches, like banana leaves, that are lit on fire and then covered with dirt. The pig cooks in the ground for most of the day – at least 8 hours.
The result is a delicious, flavorful and tender pork that everyone loves!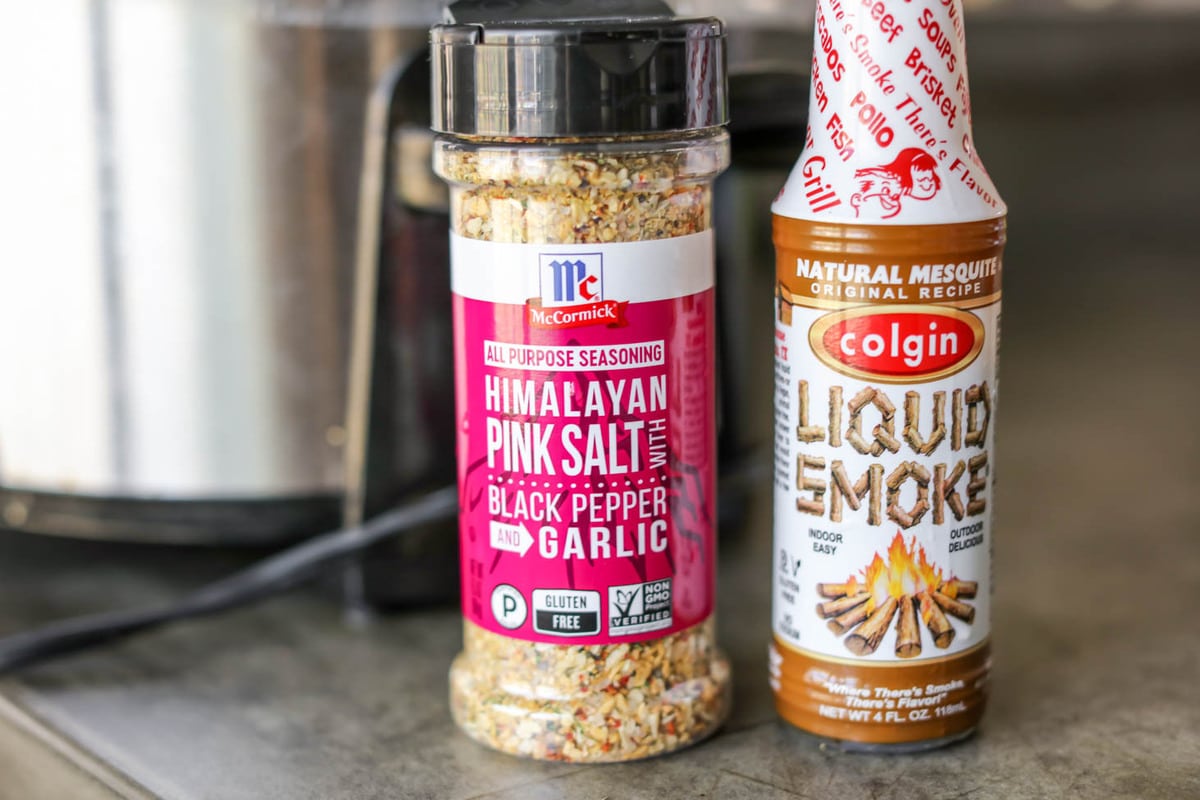 All You Need is a Slow COoker
Of course, you probably aren't going to dig a hole in your backyard to roast your own pig. All you need is a slow cooker, some Hawaiian Sea Salt (or kosher salt if that's what you've got) and some Liquid Smoke.
Just rub salt and Liquid Smoke all over the meat. Then cover it and cook on low for 12 hours. Period. The end. That's really all there is to it!
I use bone-in pork shoulder because I think you get even more flavor with the bone, but you could just as easily use boneless. The shoulder is a fatty meat, which adds to the flavor, but I think you could even use a pork loin. In the slow cooker, it's going to get tender and juicy no matter what cut you use.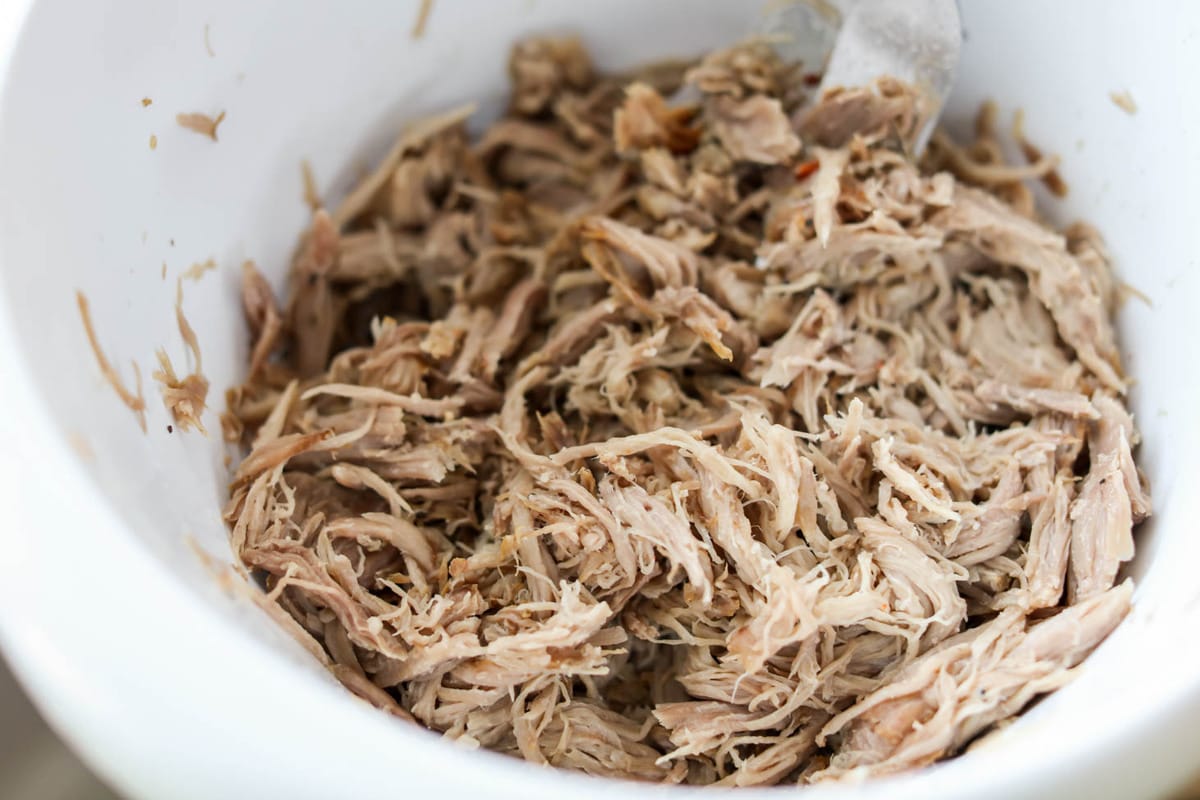 Or use an instant pot
If you're in a time crunch, your Instant Pot, or other pressure cooker, is a quicker option that yields the same result.
Select saute on your instapot. Add 1 Tbsp of olive oil and brown all sides of the pork roast.

Turn instapot off. Remove the pork roast and add ½ c water and liquid smoke.

Return roast to the pot and add salt.

Cover with the lid and select "manual". Set timer for 90 minutes.

Allow the pressure to naturally release before removing the lid. This will take about 20 minutes.
Enjoy the leftovers!
Storing: Keep the juices from the crock pot to use when storing leftovers. Put pork and some juice from the crock pot in an airtight (freezer safe, if applicable) container. Store in the fridge for 3-4 days or the freezer for up to 6 months.
Using in other recipes: You can always enjoy kalua pork on its own, or we like to put it inside rolls to make sliders. You could also use it on tacos, nachos, or put it on top of a salad. It's pretty versatile!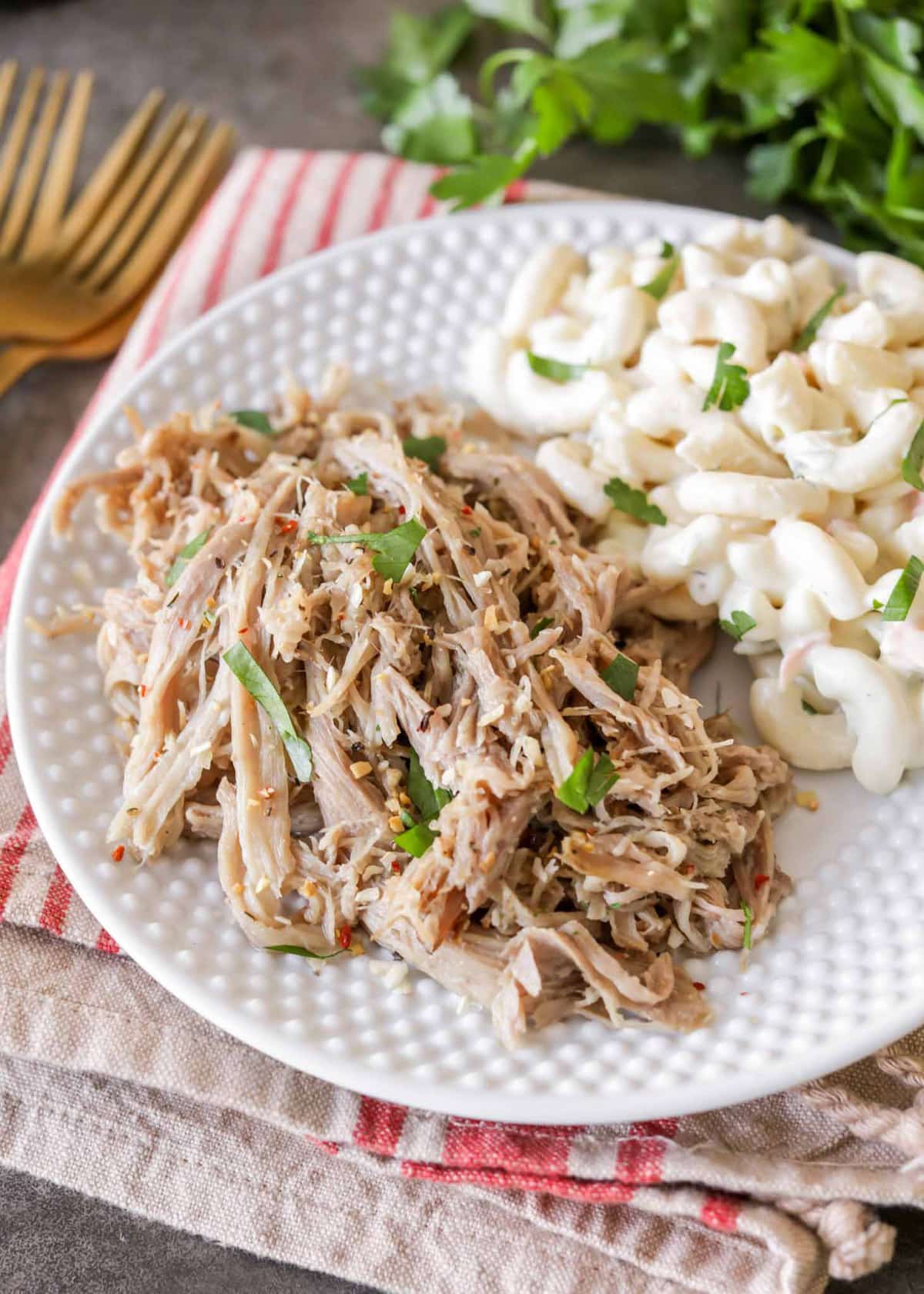 We sure love finding simple, yet delicious, meals – especially if they're done in the slow cooker. Easy peasy!
more delicious slow cooker meals:
Kalua Pork Recipe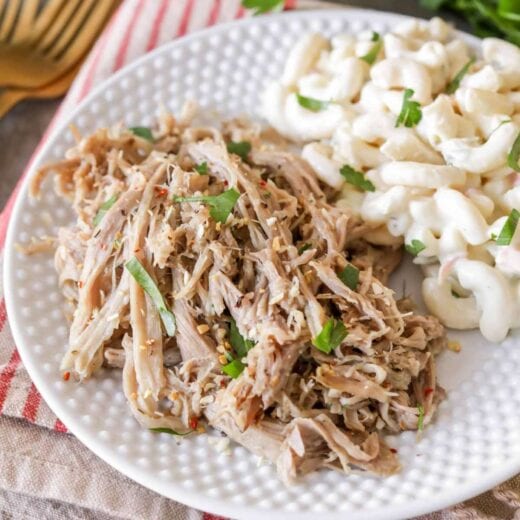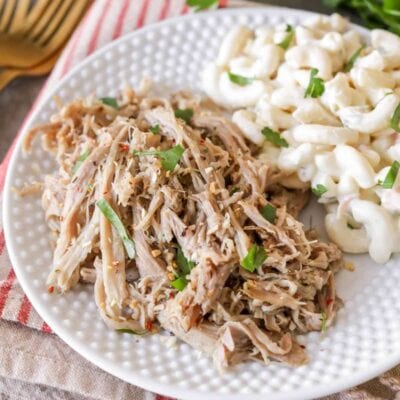 This Slow Cooker Kalua Pork is a classic Hawaiian favorite made easily in your slow cooker with just a few ingredients. Eat it on it's own, or in tacos or sliders.
Ingredients
7

lb

bone in pork butt

or shoulder

1

tbsp

liquid smoke

1

tbsp

kosher salt
Instructions
Place pork roast fat side up in your slow cooker. Rub all over with Liquid Smoke and salt. Cook on low for 9-10 hours (I like to let mine cook overnight). Shred meat in the slow cooker and serve hot.