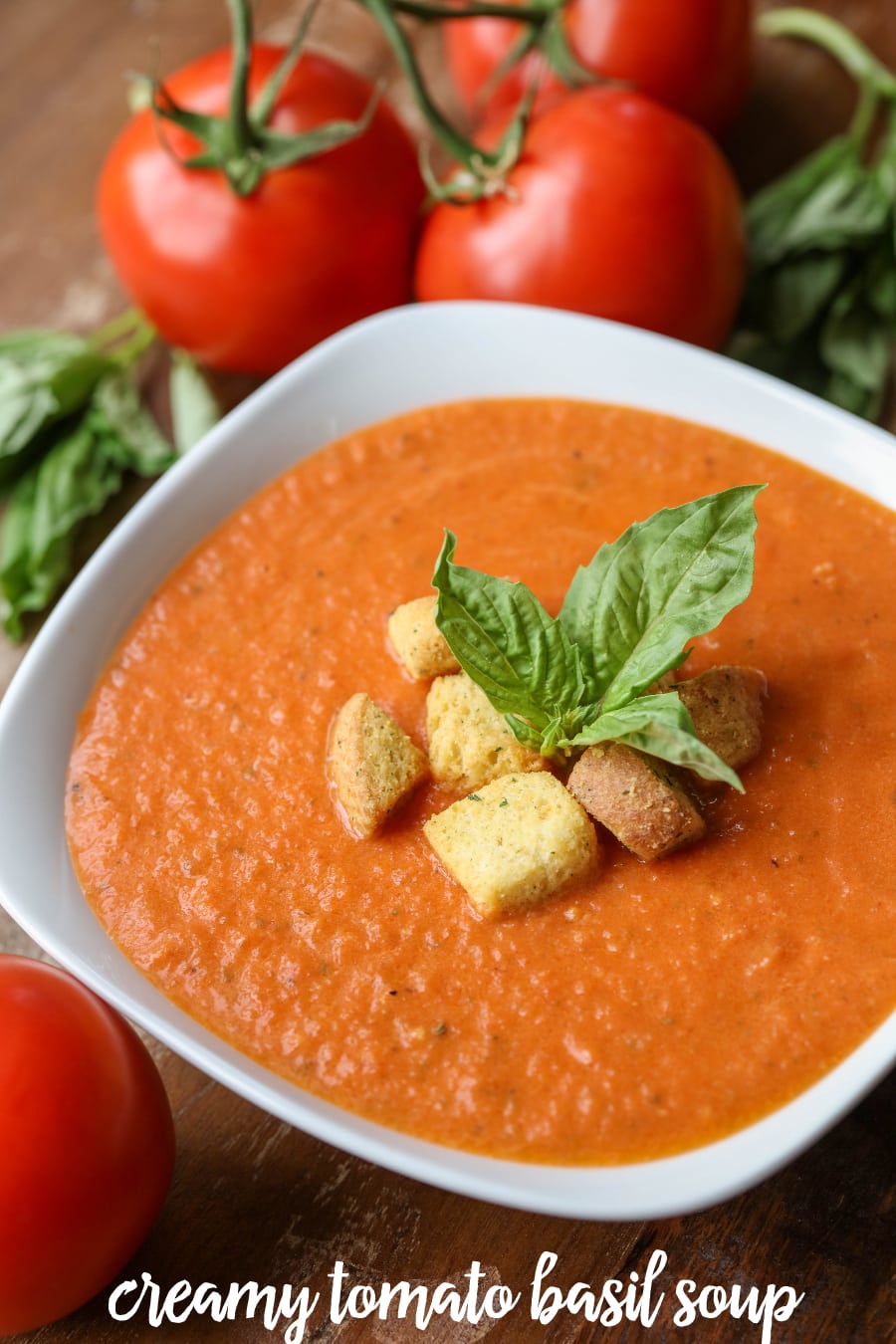 I'm not sure if I have shared this before or not, but I used to hate tomatoes. I used to think they were so gross, and I'd pick them off of everything. Pretty pathetic, I know, but now I LOVE them!! It wasn't until about 12 or so years ago that I started really liking them and now I have them with EVERYTHING! The two exceptions I used to make with tomatoes when I was younger was ketchup and tomato soup – and even then I would only eat if I was dipping my grilled cheese sandwich in it. Fortunately, I've become a big girl now and will eat tomato soup (especially tomato basil soup) without a sandwich or crackers. 😉
It wasn't too long ago that a friend of mine, in Texas, shared with me a delicious recipe for Creamy Tomato Basil Soup. It was, by far, the best Tomato Soup I had ever tried! I'm also a huge fan of basil which I think made the soup so flavorful that it had me going back for seconds. When I made the recipe last month, the family agreed that it was amazing and that it will now be our "go-to" recipe for Tomato Soup. I really don't blame them because it is SO good.
I'm seriously wishing I had a bowl of this with a grilled cheese sandwich right now – total comfort food!! 🙂
For more creamy soups, check out: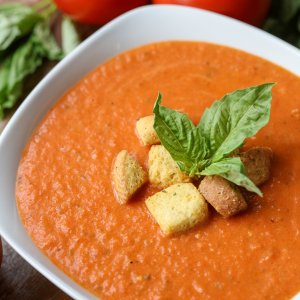 Tomato Basil Soup Recipe
DELICIOUS Creamy Tomato Basil Soup - the most flavorful and tasty Tomato Soup recipe you'll ever try. Everyone loves this soup!
Ingredients
4

tsp

minced garlic

28

oz

diced tomatoes

drained (reserve the liquid)

1/2

tsp

dried thyme

2

tbsp

basil puree or fresh basil chopped

2

cups

chicken broth

1

cup

reserved tomato liquid from can

1/2

cup

heavy cream

garlic salt

to taste

pepper

croutons

fresh parmesan cheese

optional
Instructions
In a large pot over medium heat, add garlic and stir until fragrant.

Add drained, diced tomatoes, basil and thyme. Cook for 10 minutes.

Add reserved tomato liquid and chicken broth. Stir and lower heat to medium-low. Cook, uncovered, for 35-40 minutes, stirring occasionally.

Season with salt and pepper to taste. In small batches, puree chunky soup in a blender until it's the consistency you'd like. Stir in heavy cream and mix well.

Add any more salt and pepper and garnish with croutons, basil and Parmesan cheese. ENJOY!