This collection of best summer salad recipes features all of the best savory salads, sweet salads, pasta salads, and dressings to enjoy during the summer months when seasonal produce is at its peak!
More Collections: Favorite Summer Recipes, Summer Desserts, Summer Dinner Ideas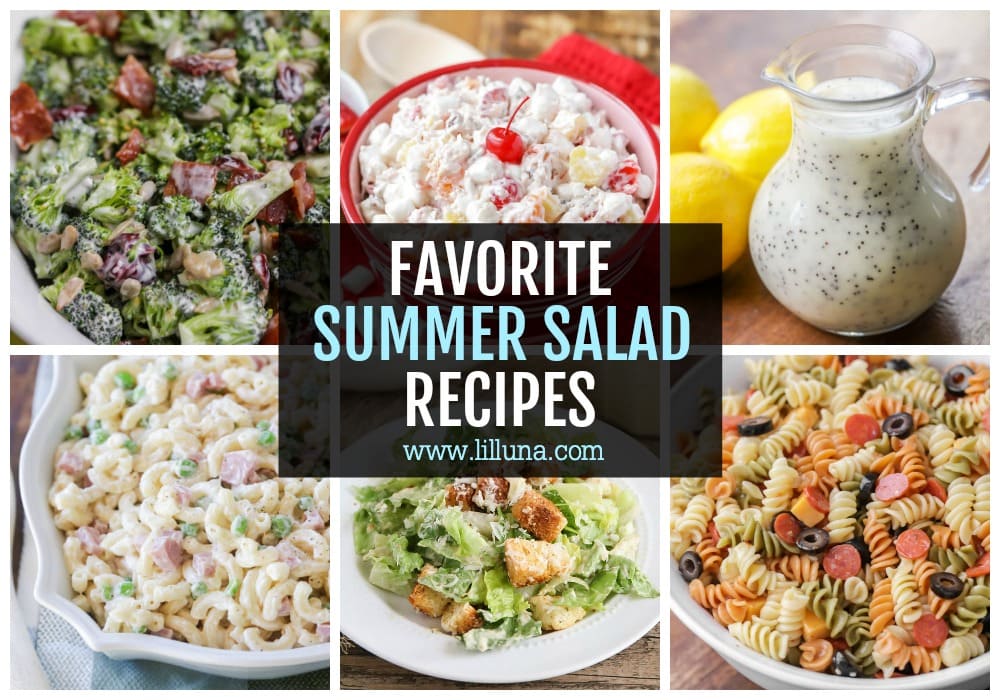 Tips for Summer Salad Recipes
I always love a good salad, but especially in the summertime when produce is fresh and in season, I tend to REALLY crave a refreshing salad.
A delicious salad is like the supporting character in a movie. It's not the star of the meal, but it serves to elevate the entire experience.
Whether you're serving a simple green salad or a fancy sweet Ambrosia Salad here are a few tips for creating the best "supporting cast".
Dressings. Depending on the type of salad served you can offer different kinds of dressing options. There are so many variations of creamy mayo-based dressings as well as different Vinaigrettes.
Hearty. One way to make a hearty and filling salad is to include protein. This can be any type of protein such as beans, boiled egg, bacon, shrimp, chicken, ham, beef, or salmon.
Serving + Storing Tips
Make ahead of time. Salads are nice to be able to make ahead of time. Prep the ingredients and store them separately until it's time to assemble and serve.
How much to make. Plan to serve ½-1 cup or 4-6 oz of fruit salad and pasta salad. For a vegetable salad, plan for 1-2 cups or 2½ -5 oz per person.
STORE. See the individual recipe posts for storage information and other specific tips and tricks.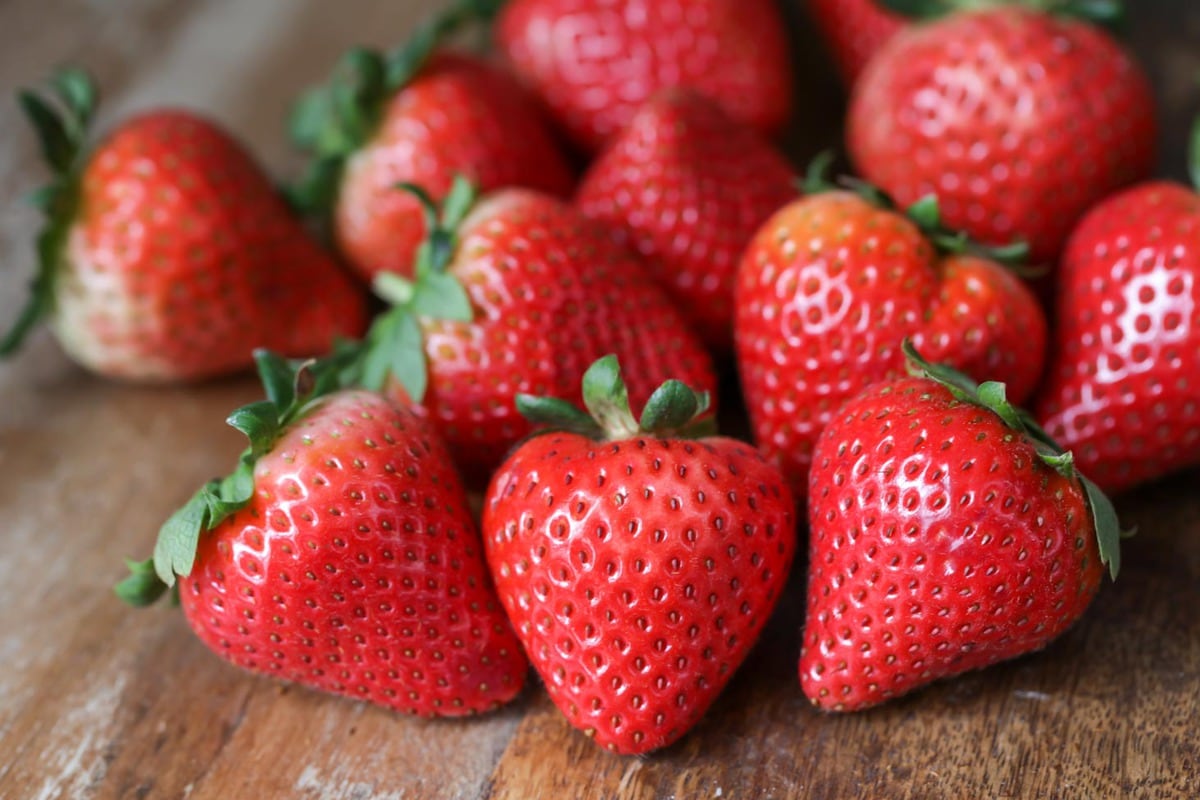 Seasonal Produce
In-season produce is not only cost-effective but typically gives the freshest best tasting fruits and veggies
Produce comes in so many colors! Use those colors to your advantage to create a feast for your eyes before you feast with your mouth.
Fruit:
apples, apricots, avocado, cantaloupe, cherries, figs, grapes, limes, mangos, nectarine, peach, pear, plums, cherry tomatoes, and watermelon
Berries: blackberries, blueberries, raspberries, or strawberries
Vegetables:
bell pepper, beets, carrots, sweet corn off the cob, cucumbers, garlic, green beans, red onion, peas, radishes, and zucchini
Greens: chard, collard, romaine lettuce, or spinach
Fresh herbs: fresh basil, rosemary, dill, parsley, or mint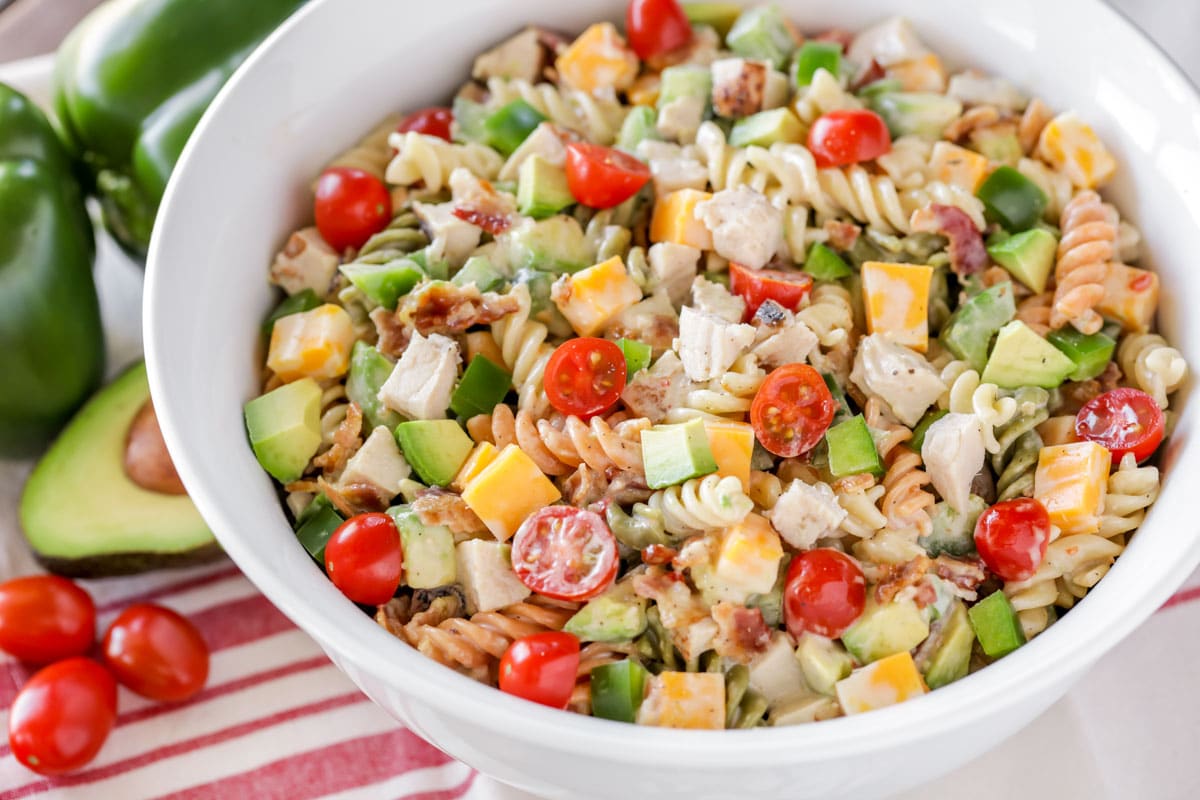 Serving salad outside
Summertime often brings backyard barbeques and picnics. With a bit of preparation transporting and serving these summer salad ideas outside is easy.
Keep your salad in a cold cooler while you travel. This ensures it stays cold until you're ready to serve it.
When serving, only set out as much as can be eaten within 30 minutes. Refill the salad bowl as needed.
Setting platters and bowls on a tray of ice will help keep them cool while sitting out.
What to serve when a salad is the main dish: Salad is most often served as a side, but sometimes it gets to be the main dish.
Here are a few classic sides to pair with your best summer salads.
---
Savory Salads
The salad recipes are endless, but we definitely have our favorites for summertime, including:
FAVORITE Broccoli salad
This sunny broccoli salad is a simple, tasty, and hearty broccoli salad served with bacon, cranberries, and sunflower seeds, and mixed with a delicious, homemade mayonnaise-vinegar-based dressing that is perfect for BBQs and get-togethers.
Summer Corn Salad
This summer corn salad is a light, flavorful salad filled with corn, tomatoes, feta, basil, and cucumber. It's so simple and quick that it's perfect for get-togethers and BBQs.
Tuna Salad
Chopped tuna salad is the perfect summer side dish. Filled with fresh crisp veggies the color of the rainbow, protein-packed tuna, and tossed in a light and refreshing lemon vinaigrette.
Easy Coleslaw
This quick and easy coleslaw makes the perfect side dish for any picnic or BBQ. It takes just minutes to put this classic coleslaw recipe together, and it can easily be customized with the spices and flavors you love most.
Arugula Salad
Fresh arugula salad is loaded with healthy greens, juicy tomatoes, and parmesan shavings with pine nuts and creamy avocado on top!
Cucumber Tomato Avocado Salad
Tomato cucumber avocado salad – a simple, delicious, and quick salad perfect for dinner or for BBQs and get-togethers. So many great flavors!
Homemade Potato Salad
Our all-time favorite potato salad – it's simple, flavorful, and filled with chunks of potatoes, eggs, and olives! It's the perfect addition to any BBQ or picnic and is so creamy and tasty, it will wow everyone who tries it.
Chicken Caesar Salad
Ultimate Caesar salad with grilled chicken, croutons, tomatoes, bacon, hard-boiled eggs, Parmesan cheese, and tomatoes.
Asian Coleslaw
Easy Asian coleslaw is filled with crushed crunchy ramen noodles and covered in a light yummy Asian dressing!
7 Layer Salad
7 layers of goodness in this delicious layered salad. This recipe isn't only delicious, but is easy to customize and is great to make ahead of time too!
Strawberry Harvest Salad
Strawberry harvest salad tastes just like the salad at Zupa's! It's topped with a homemade strawberry vinaigrette dressing.
Chicken Taco Salad
Crunchy and fresh chicken taco salad is a weeknight dinner dream! Easy, flavorful, and a recipe that everyone will enjoy.
Southwest Salad
Simple and delicious southwestern chopped salad filled with chicken, peppers, beans, corn, tomatoes, and avocado and topped with a homemade cilantro ranch dressing.
Applebee's Oriental Chicken Salad
This delicious Copycat Oriental Chicken Salad from Applebees is made with breaded chicken, cabbage, romaine, sliced almonds, and more tossed in a flavorful Asian dressing!
Waldorf Salad
Waldorf Salad is filled with texture and flavor. Tossed in a homemade poppyseed dressing, it's perfect for any lunch, dinner, or appetizer.
Pizza Salad
Delish pizza salad is hearty & refreshing. Toss all of the flavors of pizza on a bed of greens, topped with a homemade herb dressing!
Ramen Noodle Salad
With toasted almonds, sesame seeds, and ramen noodles, this green salad has the perfect crunch to it. Top it all off with a simple homemade dressing, and this ramen noodle salad will win everyone over!
Cobb Salad
This simple cobb salad is so full of tasty ingredients it's a meal all on its own. It is quick to make and utterly delicious.
Antipasto Salad
Antipasto salad Is the perfect summer salad! It's filled with tomatoes, cheeses, cured meats, veggies, and more and can be topped with your favorite dressing.
Tomato Mozzarella Salad
Fresh, light, and healthy tomato mozzarella salad! Perfect for lunches with friends or a side salad for dinner!
---
Pasta Salads
Can you beat a pasta salad in the hot summer months? They're one of our go-to sides for all summer BBQs, get-togethers, and holidays!
Easy Tortellini Salad
Super YUMMY and easy tortellini salad filled with tortellini, salad, ranch, tomatoes, and bacon bits – perfect for summertime!
Macaroni Salad
A simple, creamy macaroni salad loaded with pasta, peas, and ham. It's perfect for parties, family dinners, and potlucks!
Buffalo Chicken Pasta Salad
Buffalo chicken pasta salad is filled with spicy buffalo wings and topped with a tangy blue cheese dressing. It is easy and delish!
Caprese Pesto Pasta Salad
Caprese pesto pasta salad is a light dish with a bold flavor, making it perfect for potlucks, parties, BBQ's, and get-togethers!
Asian Pasta Salad
Easy & delicious Asian pasta salad topped with a sweet and tangy dressing is packed with veggies and flavor!
Asian Noodle Salad
Asian noodle salad – coleslaw, linguine, chicken, and fried wonton strips covered in a delicious homemade Asian dressing!
Greek Orzo Salad
Orzo salad is a Greek pasta salad loaded with Orzo, veggies, and feta topped with a Greek dressing.
Pasta Salad With Italian Dressing
Easy and delicious Italian pasta salad recipe includes Rotini pasta, olives, tomatoes, and cheese in Italian dressing! It takes minutes to make and is perfect for any get-together including BBQs and holidays.
Chinese Pasta Salad
Chinese pasta salad – filled with lettuce, noodles, fried wontons, and more tossed in a delicious homemade dressing.
Fresh Mozzarella Pasta Salad
Easy & fresh mozzarella pasta salad is light, delicious and flavorful. This simply dressed salad is a new favorite!!
Chicken Pasta Salad
Creamy chicken pasta salad is quick, easy, and SO tasty. It is packed with hearty ingredients for a filling side or main dish!
---
Sweet Salads
These sweet salads are always the hit of any potluck or summer get-together!
Pistachio Salad
Everyone loves this pistachio salad! This cool side salad is perfect for summer or any holiday get-together.
Strawberry Jello Pretzel Salad
Strawberry Jell-O pretzel salad is the ultimate combination of sweet and salty. This classic treat is always a crowd pleaser!!
Cheesecake Fruit Salad
This cheesecake fruit salad is the perfect combination of creamy, light, and fresh! Fresh berries tossed in a cream cheese pudding mixture—it's the perfect side or crepe filling!
Easy Fruit Salad
A fresh fruit salad that makes the perfect side dish to any meal! Colorful, healthy, delicious, and filled with all your favorite fruits!
Snicker Apple Salad
Delicious apple Snickers salad that is so good and so easy to make! Layers of apples, Snickers, and caramel in a creamy topping made from cool whip, milk, and vanilla pudding mix.
Ambrosia Salad
This ambrosia salad will take you straight back to your childhood. The best creamy fruit salad with mini marshmallows mixed in!
---
Dressings For Your Summer Salads
Homemade dressings add the perfect touch when making a delicious summer salad. And these dressings are so easy they are soon to become your favorites all year round!
Strawberry Vinaigrette
Quick and simple, this strawberry vinaigrette is delicious. It's sweet, tart, and goes wonderfully on top of a bed of greens.
Lemon Poppy Seed Dressing
A delicious salad with tomatoes, chicken, craisins, sunflower seeds and a delicious homemade lemon poppy seed dressing. The dressing only requires 4 ingredients and takes minutes to make!
Caesar Salad Dressing
Delicious homemade Caesar salad dressing with crispy homemade croutons. This simple salad dressing will become your new go-to for salads!
Cafe Rio Cilantro Ranch Dressing
Copycat recipe for Café Rio Cilantro Ranch Dressing is fresh and creamy with a hint of spice. We LOVE this stuff!
Cilantro Lime Dressing
Easy, creamy and delicious cilantro lime dressing that is great for salads, but also served over veggies, meat or even in tacos and burritos!
Chipotle Ranch
Chipotle ranch has just the right amount of kick. Drizzle it over salads, dip tortilla chips, or serve it on the side of your Mexican entrees.
Creamy Pesto Dressing
This simple creamy pesto dressing is delicious on any salad! Plus, it only requires 5 ingredients and 5 minutes to make.
Greek Dressing
Flavorful homemade Greek dressing is perfect for salads and marinades! It comes together quickly with only a handful of ingredients.
Homemade Ranch Dressing
Delicious homemade buttermilk ranch dressing is made in minutes and is better than any store bought version!
Cilantro Lime Vinaigrette
Cilantro lime vinaigrette is light and refreshing. The lime adds a brightness and cilantro a flair of flavor!
Honey Mustard Chicken Salad
Honey mustard chicken salad is one of the heartiest, most delicious salad recipes you'll try! With greens, fruits, nuts, and a tangy dressing, it's a real winner.
---
Incredible Summer Salads
We hope you enjoy all of the incredible Summer salads listed above. No need to heat up your oven this summer with so many quick, easy, and delicious salad recipes to choose from!
More Collections: Healthy Dinner Ideas, Spring Salad Recipes, Pasta Salad Recipes