This collection of Summer Salad Recipes features all of the best savory salads, sweet salads, pasta salads, and dressings to enjoy during the summer months when seasonal produce is at it's peak!
More Collections: Favorite Summer Recipes, Summer Desserts, Summer Drinks, Summer Dinner Ideas, Summer Slow Cooker Recipes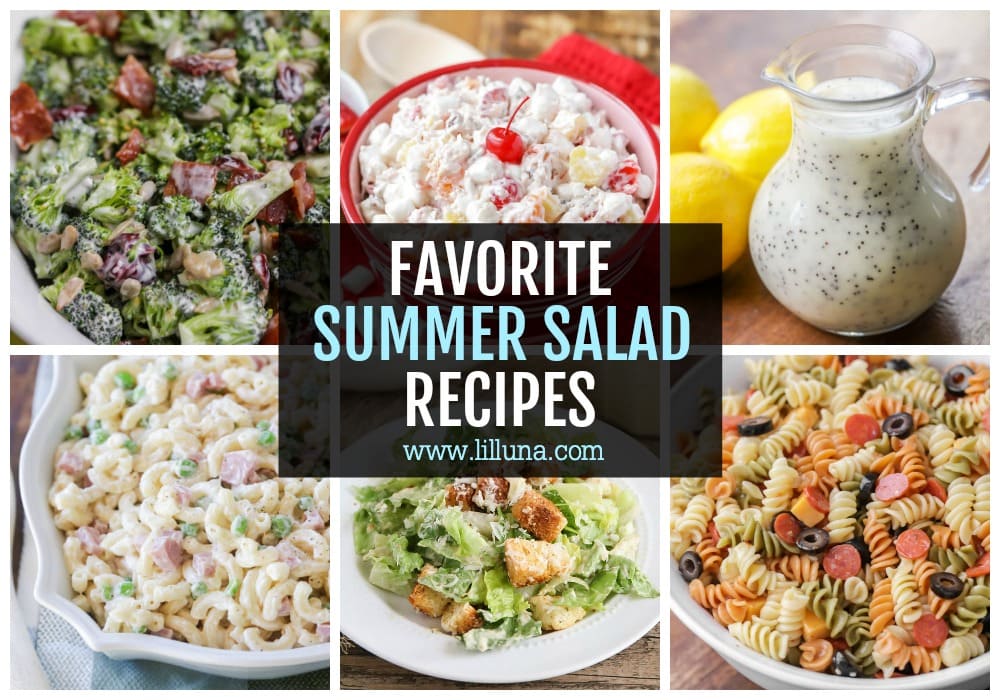 Tips for Summer Salad recipes
I always love a good salad, but especially in the summertime when produce is fresh and in season, I tend to REALLY crave a refreshing salad.
A delicious salad is like the supporting character in a movie. It's not the star of the meal, but it serves to elevate the entire experience. Whether you're serving a simple green salad or a fancy sweet Ambrosia salad here are a few tips in creating the best "supporting cast".
Choose in season: In season produce is not only cost effective, but typically gives the freshest best tasting fruits and veggies 
Make ahead of time: Salads are nice to be able to make ahead of time. Sometimes you want to prep the ingredients and store them separately until it's time to assemble and serve. Either way anytime you can save time by doing it ahead is a win!
Colors: Produce comes in so many colors! Use those colors to your advantage to create a feast for your eyes before you feast with your mouth. 
Dressings: Depending on the type of salad served you can offer different kinds of dressing options.
How much:  Plan to serve ½-1 cup or 4-6 oz of fruit salad and pasta salad. For a vegetable salad, plan for 1-2 c or 2 ½ -5 oz per person. 
Storage: See the individual recipe posts for storage information and other specific tips and tricks.
Savory Salads
The salad recipes are endless, but we definitely have our favorites for summer time, including:
Pasta Salads
Can you beat a pasta salad in the hot summer months? They're one of our go-to sides for all summer BBQs, get togethers and holidays!
Sweet Salads
Dressings for your Summer Salads