Jump to Recipe
A dish that is appealing to both your tastebuds and your eyes! This beautiful Layered Pasta Salad is filled with your favorite ingredients including pasta, chicken, peas, lettuce, celery, and more.
This tasty salad is the perfect make-ahead dish for gatherings and potlucks. It's a happy medium between a green salad and pasta salad—similar to tortellini salad, tuna salad, and asian pasta salad.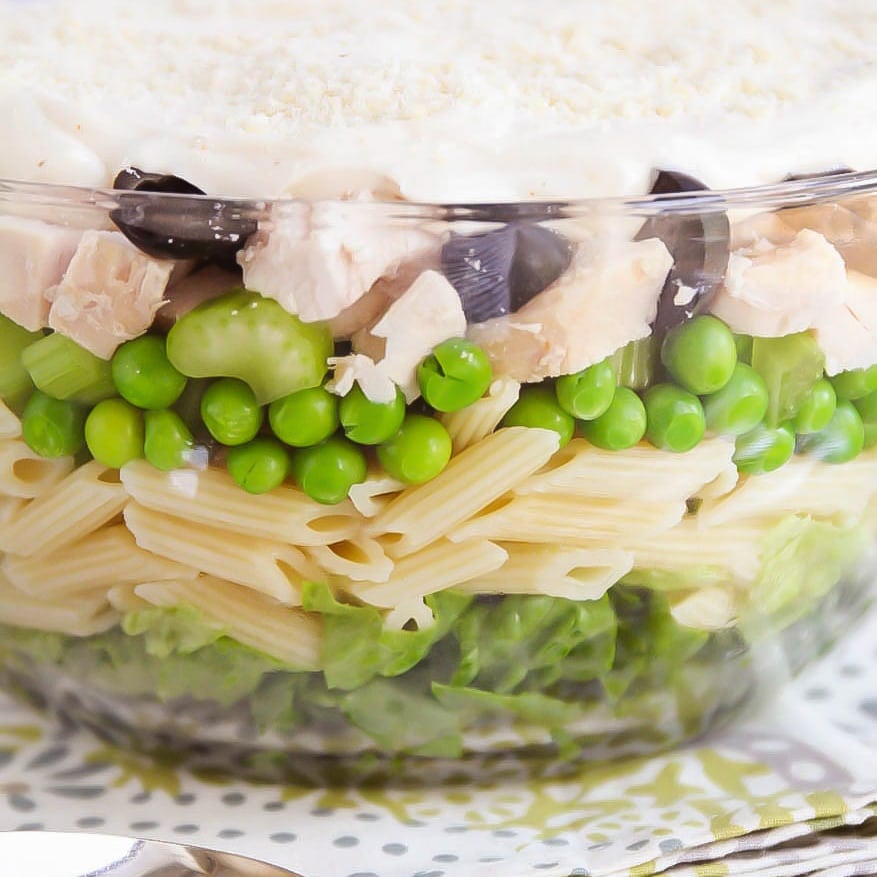 The perfect make ahead salad
It's that time of year when fruits and salads are all I crave! Let's be honest—I want salad all year long, but it's especially this time of year that I feel like I'm consuming it all the time. This is also the time of year when people are ready to head outdoors and barbecue.
We've already started doing that these past few weeks and have been enjoying the great weather and the yummy food. Today's recipe is one my mom and sisters tried out that they said would be perfect for any barbecue or get together. Call it what you want— pea salad, layered pasta salad—whatever you call it, it's delicious!
There's no right or wrong way to make it, and it's great for making ahead, unlike some salads that get soggy when you add the dressing to it before serving. Yet another reason it's perfect for get togethers!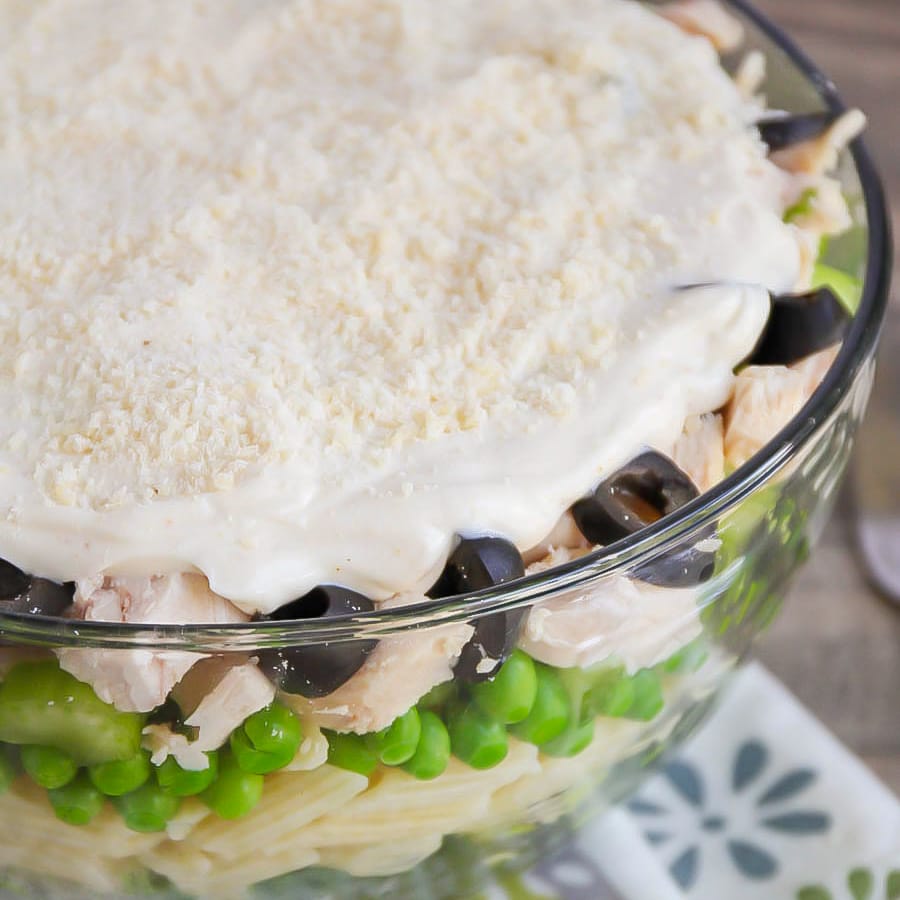 How to Make it
Like I said, there's no wrong way to make this recipe, and honestly you could have more (or less) than seven layers! It's totally up to you. There are some guidelines for what order you layer it in, however, so that it stays nice and fresh until you serve it.
Here are some general guidelines!
DISH. Use a clear dish! Not only does this dish taste good, but it's beautiful. Be sure to show off the layers by using a clear bowl. I use a really large (at least 3 qts) glass bowl or trifle dish. Another idea is to use small plastic or glass cups to make individual layered salads.
LETTUCE. Make sure lettuce is your bottom layer. You can do more or less than the suggested 4 cups depending on how large your bowl is. It will get pretty packed down with all the other layers on top of it.
PASTA. Cook your pasta, let it cool completely, and make it the second layer. Any bite sized pasta would work such as elbow noodles, small shells,  ziti or wagon wheels. You can even use a layer of cauliflower rice in lieu of pasta.
ADDITIONAL LAYERS. The remaining layers can be in pretty much any order you want! Here are some ideas for what ingredients you can use in your layered pasta salad (or however many layers you decide to include.
Peas
Ham/Tuna/Chicken
Olives
Peppers
Onions
Celery
Cucumber
Tomatoes
Nuts
DRESSING. This is your last layer! Be sure that the dressing layer completely covers the salad. This will create a seal that will keep the salad fresh until it's served.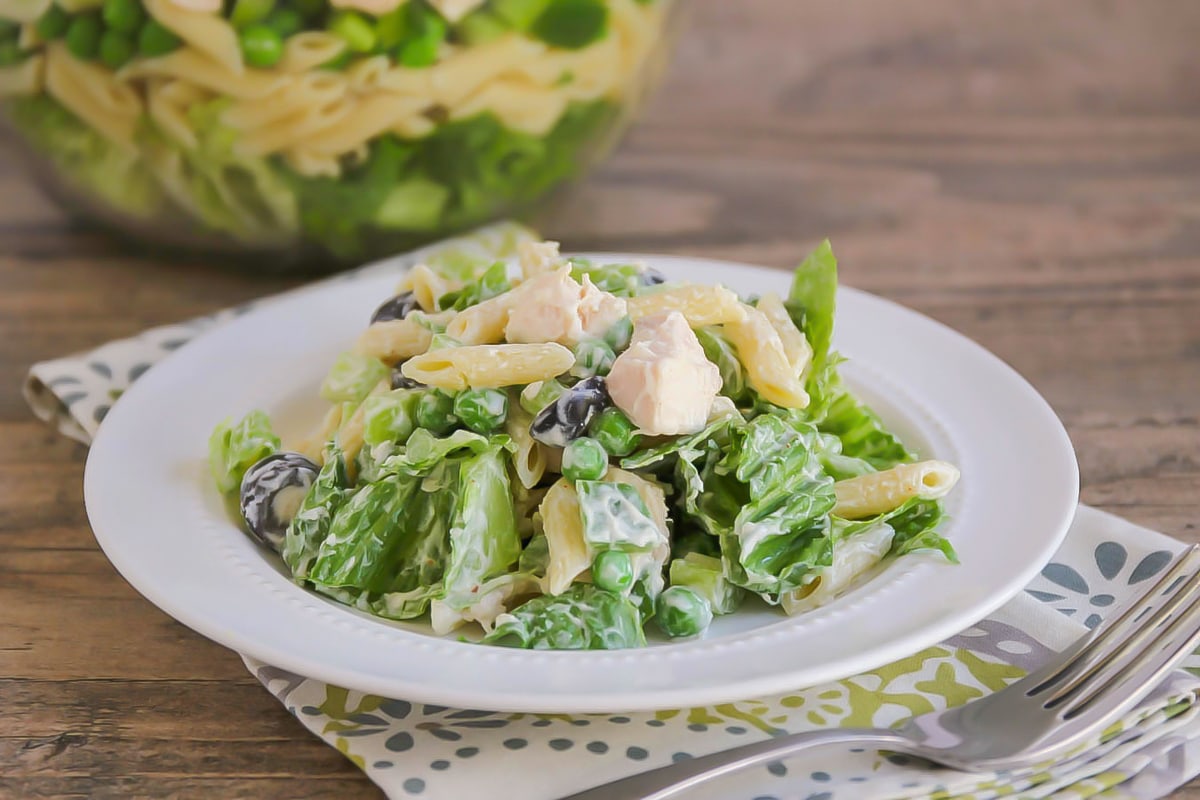 Serving Tips & FAQ
Will the salad get soggy or wilt sitting in the fridge overnight? Nope! As long as the dressing layer completely covers the salad, it should stay nice and fresh until you're ready to serve it. 
Here's a little layering secret: If you want each layer to look even, but you do not want an entire layer of a certain ingredient, then here's what you do: I'm going to use onions as an example. Simply line the circumference of the bowl with the onion layer and fill in the center with something else. You keep the visual appeal as well as keep flavors balanced and no one is the wiser.
Use a serving spoon with a LONG handle. You want each guest to be able to sample a portion of each layer. This means they'll need a spoon that can reach each layer. Once the salad layers are on their plates, they can mix it up with the dressing.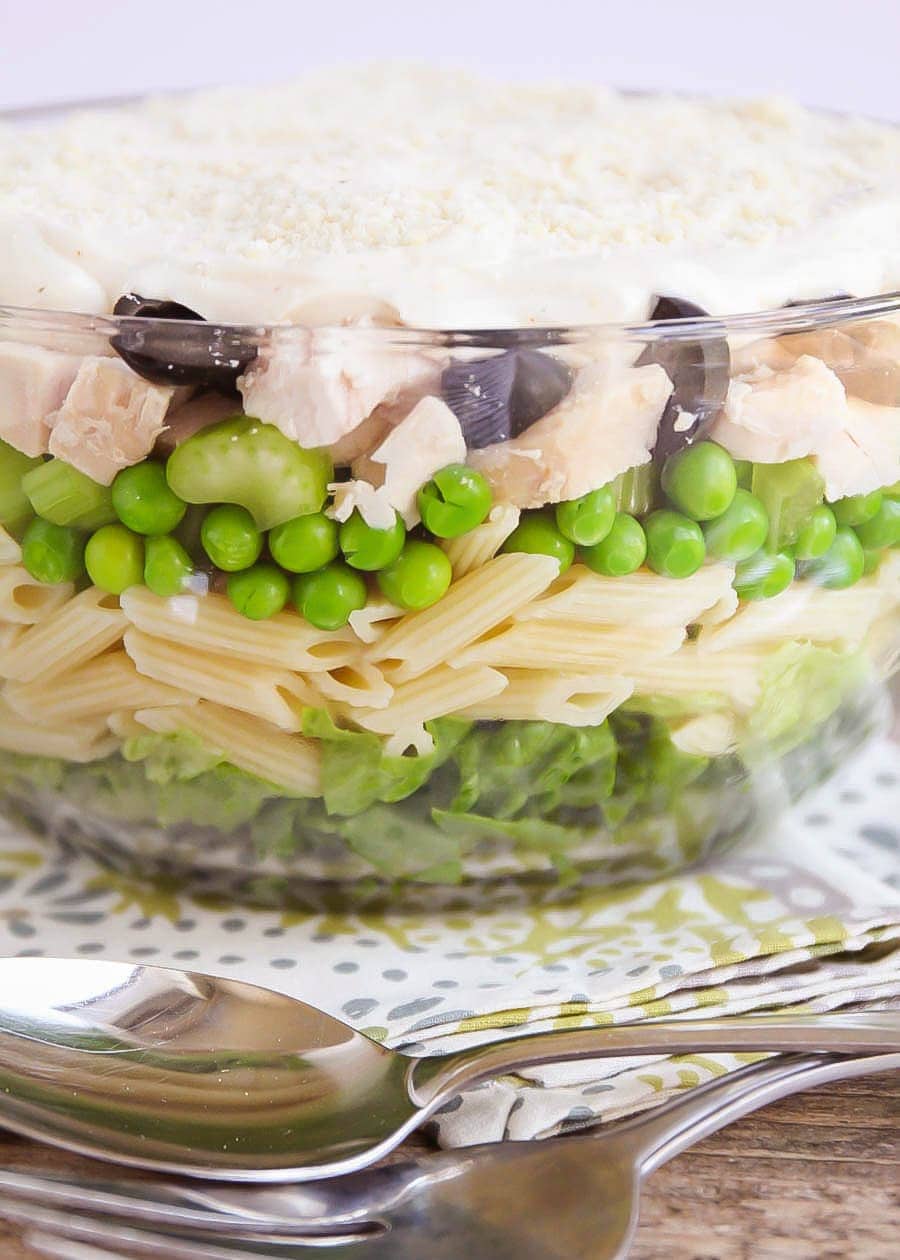 Whether you're hosting a shower, attending a potluck, or barbecuing in the backyard, this layered salad will be the perfect dish for the occasion!
For more great salads and sides, check out: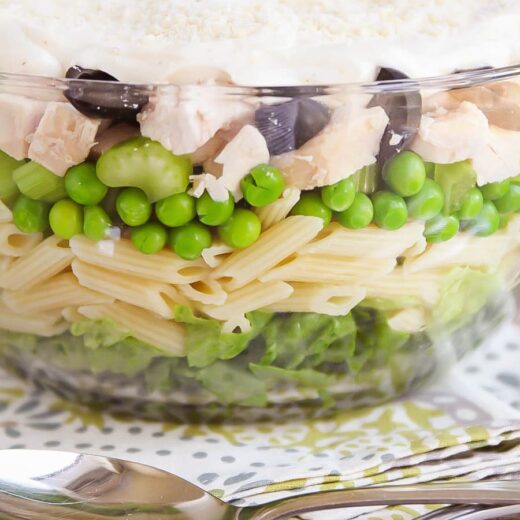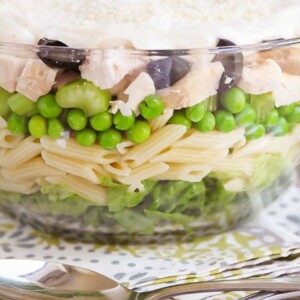 Layered Pasta Salad Recipe
A dish that is appealing to both your tastebuds and your eyes! This beautiful Layered Pasta Salad is filled with your favorite ingredients including pasta, chicken, peas, lettuce, celery, and more.
Ingredients
4

cup

mini penne

or your favorite pasta

3/4

cup

mayonnaise

3/4

cup

sour cream

1 1/2

tsp

sugar

1 1/2

tsp

champagne vinegar

1 1/2

tsp

Dijon mustard

1

tsp

dry mustard

1/2

tsp

Worcestershire sauce

1

tsp

celery salt

4

cup

romaine lettuce

chopped

1/4

cup

green bell pepper

chopped

1/2

cup

green peas

frozen

1/4

cup

celery

chopped

1/4

cup

red onion

sliced (optional)

2

cup

ham, chicken, tuna or salmon

cooked and chopped

1/2

cup

black olives

sliced

1/2

cup

grated Parmesan Cheese
Instructions
Cook your choice of pasta according to directions. Drain and cool.

Mix mayonnaise, sour cream, white sugar, vinegar, Dijon mustard, dry mustard, Worcestershire sauce and celery salt in a medium bowl

In a large bowl, start layering ingredients as follows: Lettuce, then pasta... from there you add the ingredients you like...green peppers, frozen peas, chopped celery, red onion, Meat (ham, chicken, tuna), black olives, dressing

Sprinkle Parmesan cheese on top.

Cover and refrigerate overnight or at minimum 12 hours. Toss all ingredients right before serving.
Nutrition
Calories:
526
kcal
,
Carbohydrates:
24
g
,
Protein:
18
g
,
Fat:
39
g
,
Saturated Fat:
11
g
,
Cholesterol:
62
mg
,
Sodium:
1471
mg
,
Potassium:
347
mg
,
Fiber:
2
g
,
Sugar:
4
g
,
Vitamin A:
3175
IU
,
Vitamin C:
11.8
mg
,
Calcium:
154
mg
,
Iron:
1.9
mg
Nutrition information is automatically calculated, so should only be used as an approximation.
Making this recipe? Tag us!
Share it with us on Instagram using the hashtag #lilluna, so we can see what you're creating in the kitchen!