Strawberry Harvest Salad – tastes just like the salad at Zupa's! It's topped with apples, strawberries, chicken, candied pecans, cheese and a homemade Strawberry Vinaigrette dressing.
If you want the full Zupa's experience when you eat this salad, make sure to pair it with a soup, a roll, and finish it off with a chocolate covered strawberry. 😉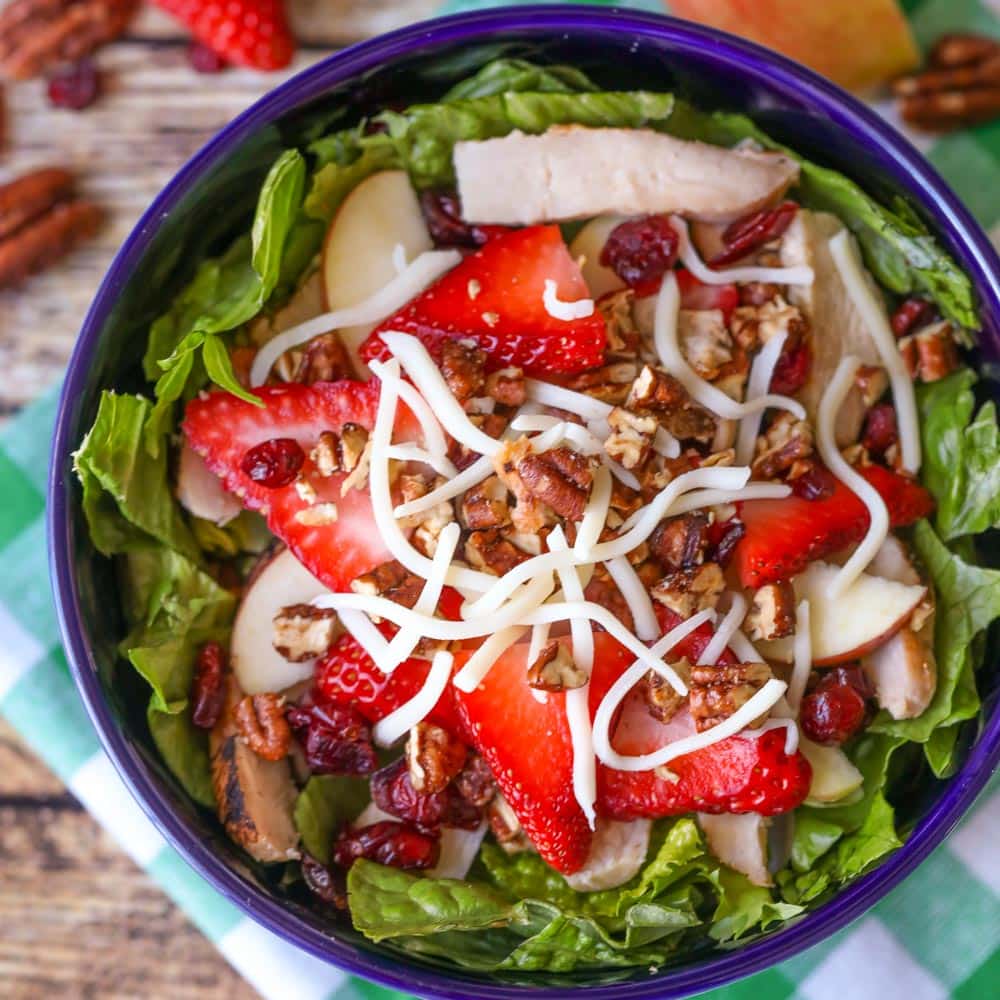 Zupa's Copycat Recipe
I love to try out new salad recipes and especially love it when they have a house dressing to go with it. I do like my ranch and Caesar dressings, but I LOVE a custom dressing that's made especially for a salad, just like today's creation.
This recipe is inspired by the Strawberry Harvest Salad at Zupa's. Have you ever been there? It's similar to a Panera or Paradise Bakery and has soups, salads and sandwiches. They have some great options to order, but my favorite salad is this one.
The last time I ordered it, I decided I had to attempt a copycat recipe. Even if you have never had this salad at Zupa's, it's definitely a good one to try. It has so many wonderful flavors and is simple to make!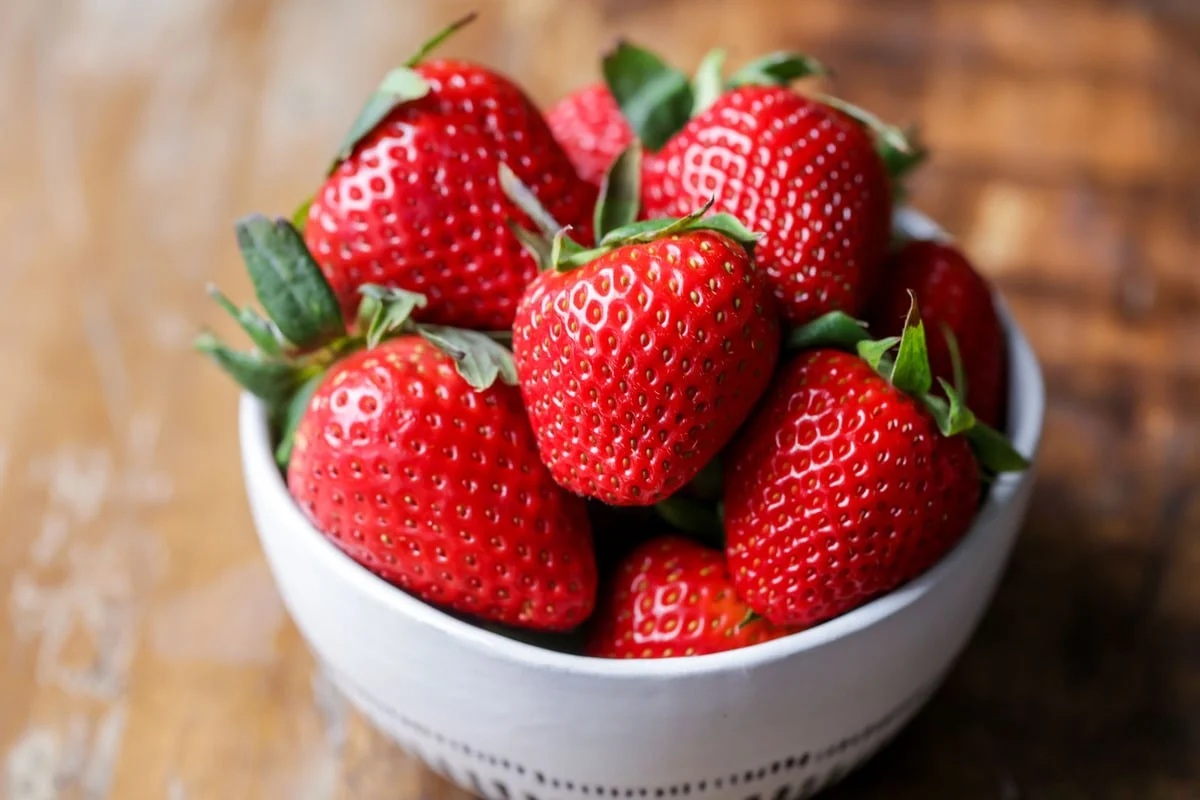 Ingredient Tips and Variations
How do I candy pecans? You can buy candied pecans or you can make your own. You'll need ¾ c roughly chopped pecans, 1 ½ tbsp brown sugar and ½ tbsp butter.  Use a small non stick cooking pan.
Over medium heat add all the ingredients. Stir constantly until the sugar and butter melt together. Continue stirring as it caramelizes; about 2-3 more minutes. Pour pecans, in a single layer, to a plate to cool. You can also check out our candied pecans recipe.
Variations:
Use tart or sweet apples depending on your preference.

Add different berries such as blueberries or raspberries

Add poppy seeds to the dressing

Use sliced pears along with or instead of apples. 

Try walnuts, cashews or sliced almonds

Use feta, blue cheese or a goat cheese
You can assemble the salad a day ahead of time, but don't add the dressing until you're ready to serve it. You may also want to wait to slice the strawberries so they don't get mushy. Store the salad, covered, in the fridge until you're ready to serve.
Cover and store leftovers in the fridge.  It won't keep for very long so you'll want to finish it as soon as possible.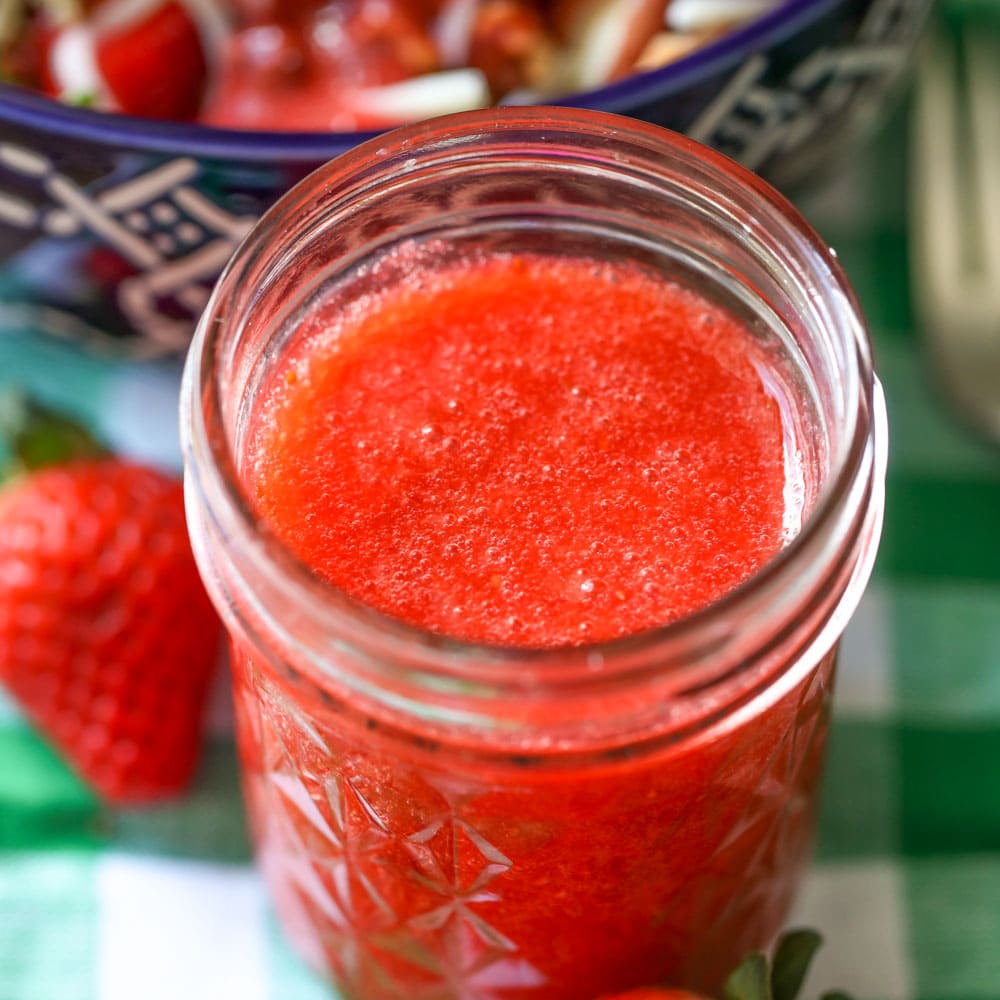 the Dressing
One of the best parts about the salad is the dressing! This Strawberry Vinaigrette is AMAZING!! It takes just a few minutes to make and is delicious too!! 😀
It's literally made of 5 ingredients:
Strawberries
Apple cider vinegar
Olive oil
Salt
Pepper
And you just throw all of it into a blender. Simple! This dressing is the perfect compliment for strawberry harvest salad.
Dressing can be kept in  an airtight container in the fridge for 2-3 days.
For more information, check out our post all about our strawberry vinaigrette.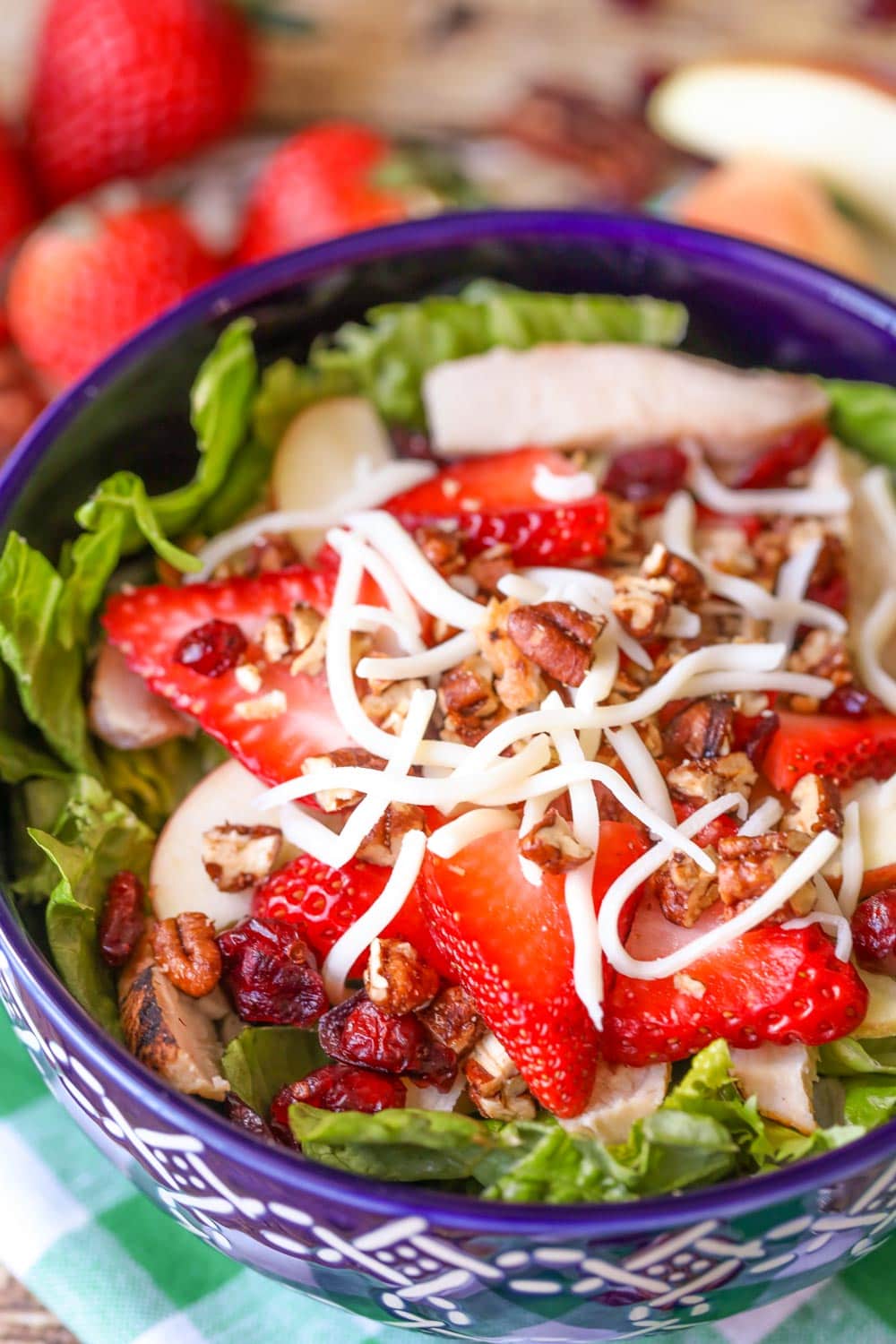 I'm glad I don't have to go all the way to Zupa's for a delicious Strawberry Harvest Salad! I hate having to wait in line. 😉
Pair it with Soup or a Sandwich:
For more delicious salad recipes, try:
Strawberry Harvest Salad Recipe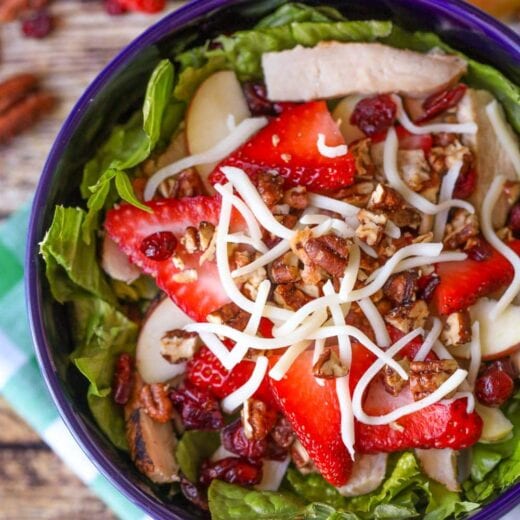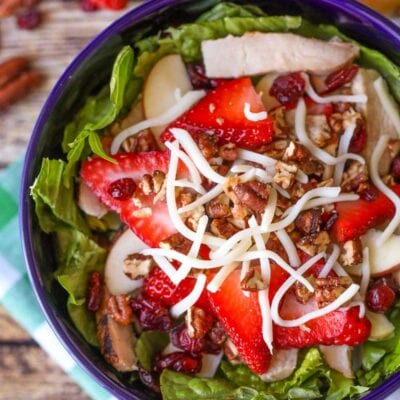 Strawberry Harvest Salad tastes just like the salad at Zupa's! It's topped with a homemade Strawberry Vinaigrette dressing.
Ingredients
6

cups

romaine lettuce

washed, dried and chopped or salad greens

2

large

chicken breasts

cooked and sliced

1

apple

thinly sliced

1/2

cup

craisins

1/2

cup

Mozzarella cheese

1/2

cup

candied pecans
Dressing
1

cup

strawberries

with tops cut off

2

tbsp

apple cider vinegar

2

tbsp

olive oil

1/4

tsp

salt

1/4

tsp

pepper
Instructions
Add the greens to the salad bowl and top with chicken, apple slices, strawberry slices, craisins, Mozzarella cheese and candied Pecans.

Make dressing by blending all the ingredients in a blender or food processor. Add dressing right before serving. ENJOY!