Spring brings new life, and with it fresh and flavorful salads! With all of this tasty produce in season, comes a variety of fruits and veggies at their peak season flavor. Mix 'em all up in these crave-able Spring Salad Recipes!!
More Collections: Spring Dinner Ideas, Spring Desserts, Green Salad Recipes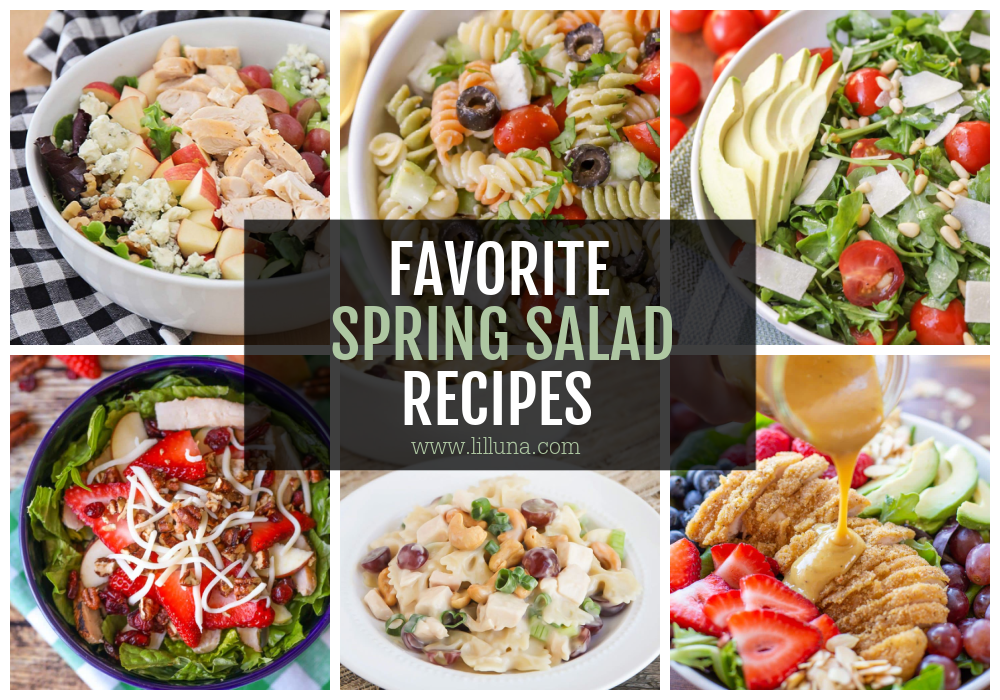 Refreshing and Bright
After the heavy comfort food of winter, I'm itching to taste the bright flavors of spring. Spring salads are the perfect way to enjoy those refreshing flavors!
If you're lucky enough to have a spring garden, you can use all the great produce from there. You can also head down to your local farmers' market and find the freshest produce of the season.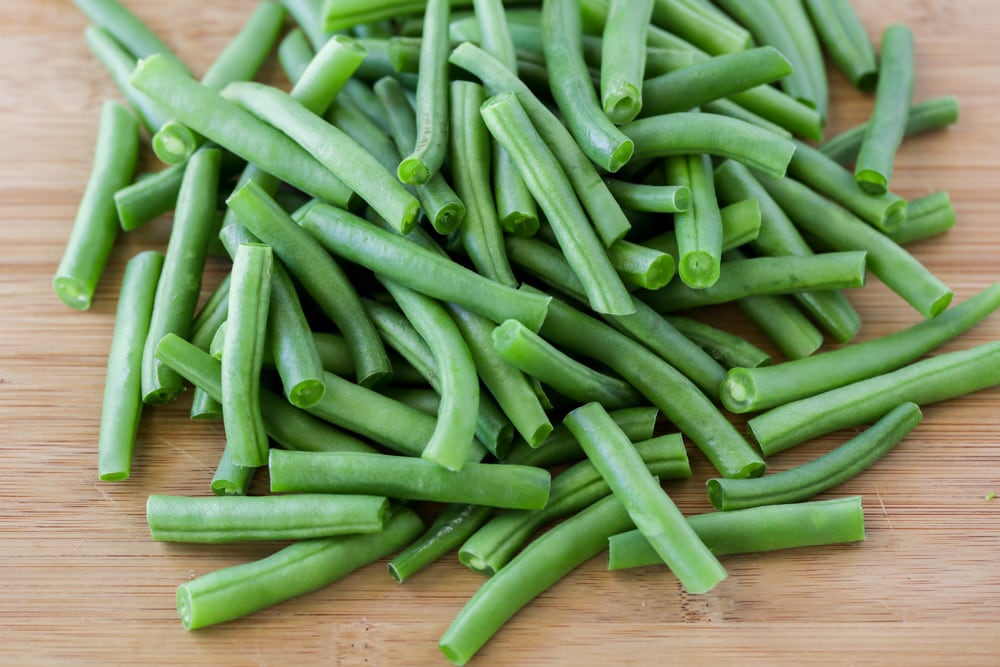 Spring Produce
Here are both vegetables and fruits that are in season and most popular during spring!
Seasonal produce is great to use in these salad recipes. They can offer a tender texture or a bit of a crunch. Their colors and flavors also add to the salad's appeal!
Top 10 Spring Vegetables
Asparagus
Beets
Broccoli
Carrots
Fennel
Spring Greens (lettuce, baby spinach, romaine)
Green Beans
Snap Peas
Potatoes
Rhubarb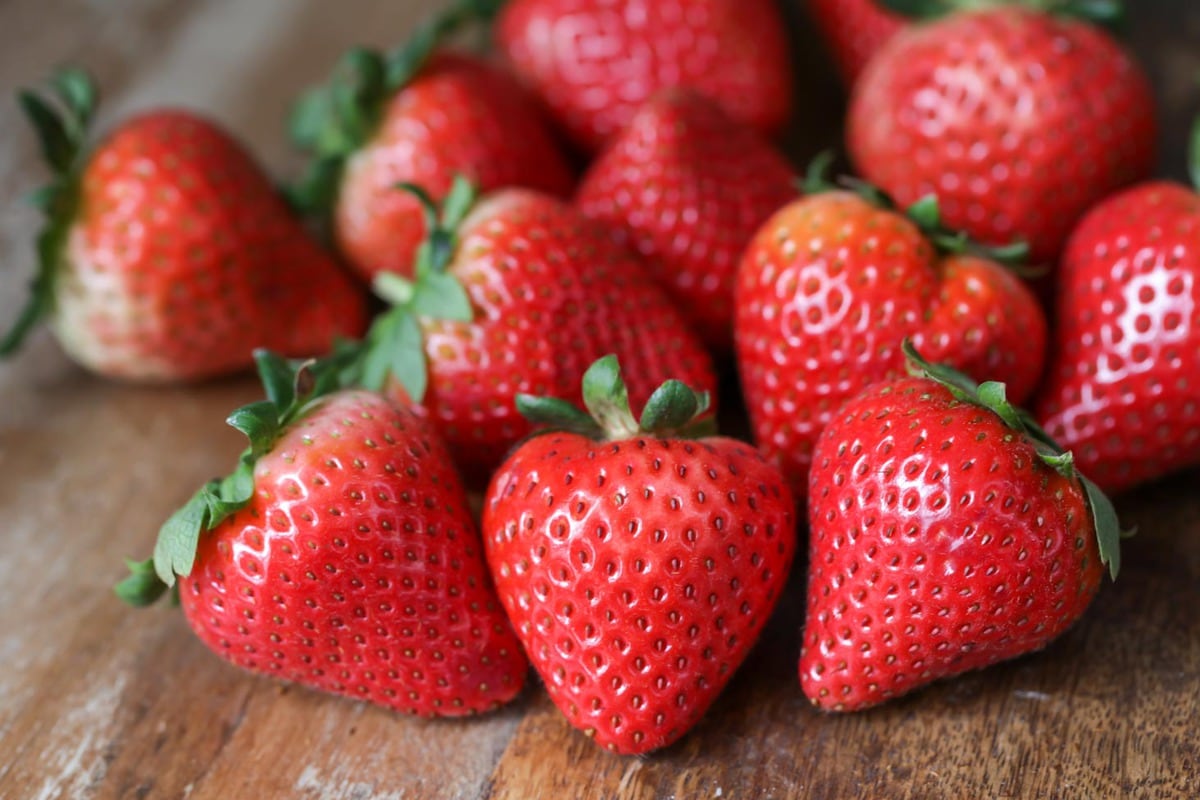 Top 10 Spring Fruits
Apricots
Avocados
Blueberries
Cherries
Kiwi
Lemons
Mangos
Oranges
Pineapples
Strawberries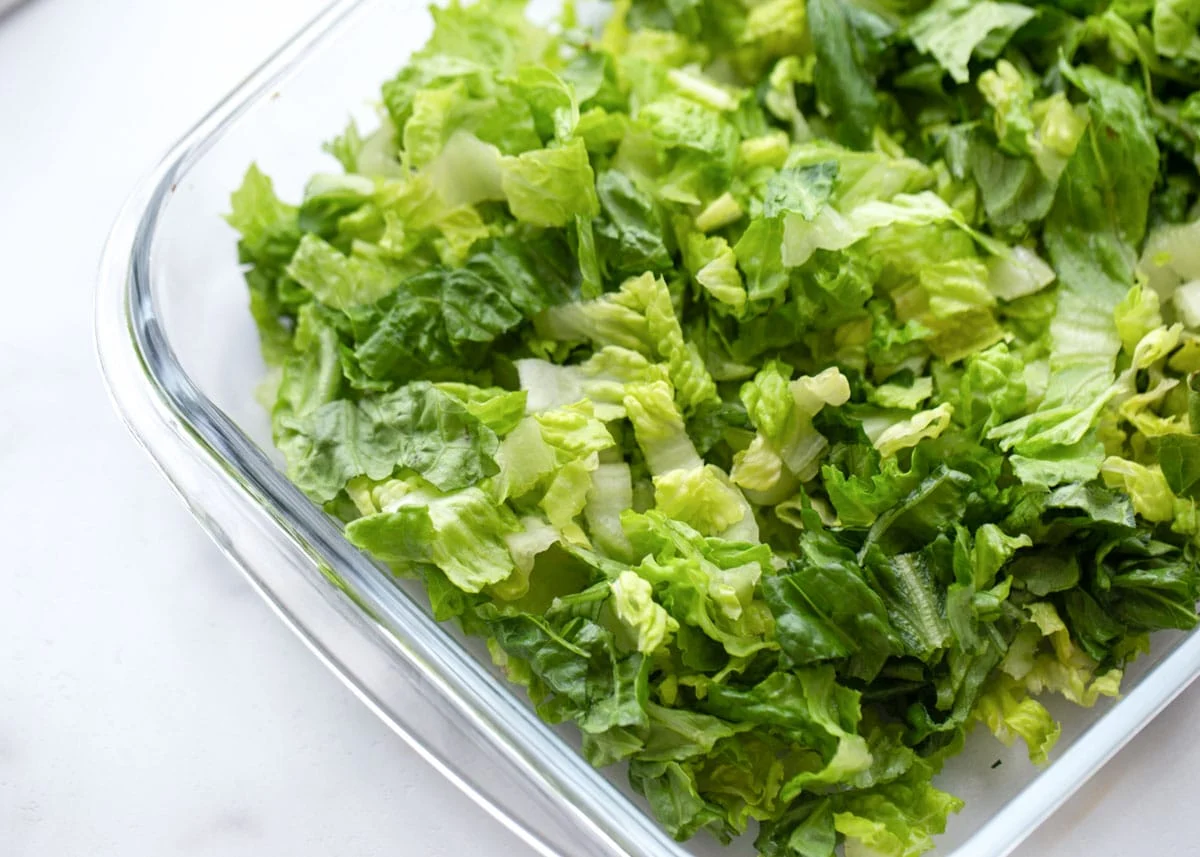 Building a perfect spring salad
Elements of a perfectly satisfying salad include a base of greens, a body full of produce and proteins, a delicious dressing, and top it off with a garnish (often bacon bits, green onions, or croutons).
This post provides the best suggestions for building the perfect spring salad.
Cheese. Cheese is an easy ingredient to use that will add an extra layer of flavor to pasta salads or veggie salads. It can be cubed, shredded, or crumbled. Some favorite cheeses include feta cheese, goat cheese, parmesan cheese, blue cheese, and cheddar cheese.
Nuts and seeds. Nuts work well in salads that include spring fruits or salads with spring veggies. You want to use chopped or sliced nuts. They can be raw, roasted, or candied.
Almonds, walnuts, and pecans are the most used nuts. You can also toss in some poppy seeds, chia seeds, or sunflower seeds.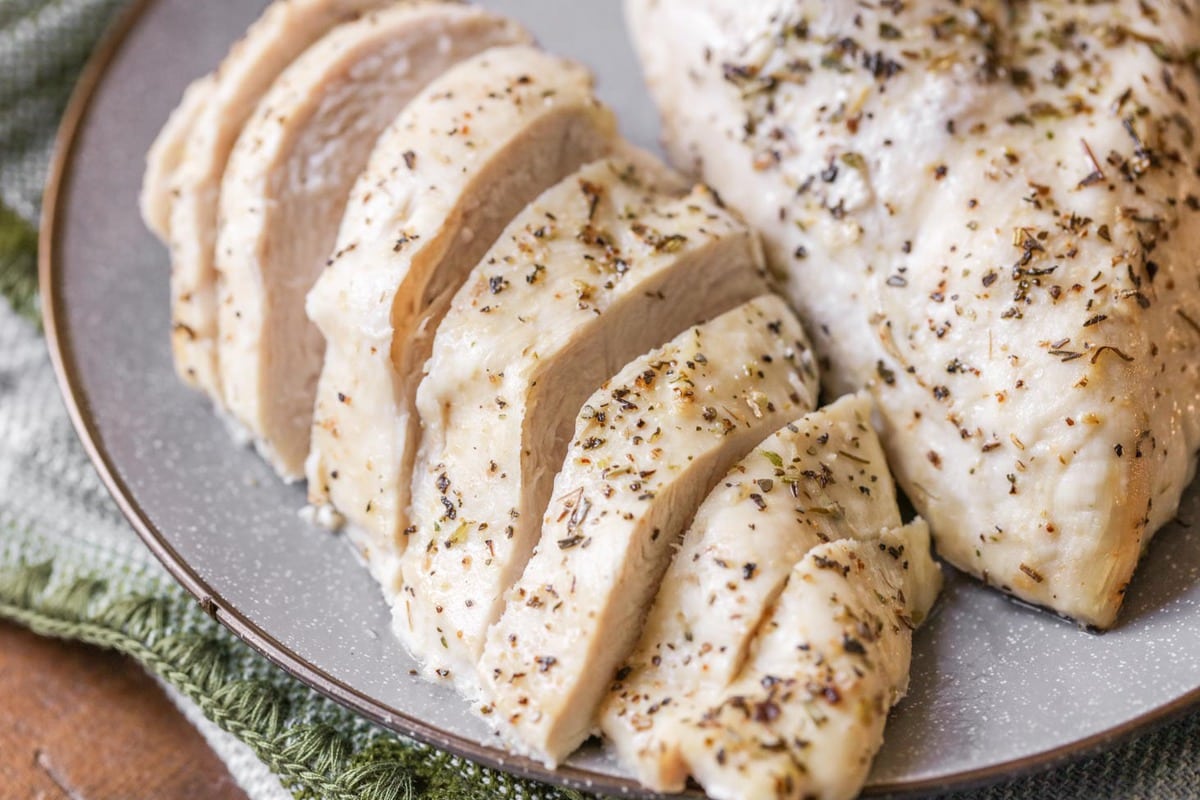 Fresh herbs and spices can be incorporated for a hint of extra flavor. When adding herbs, use a very light touch. You don't want their flavor to overwhelm the rest of the dish.
Fresh dill is particularly good in spring salads. Other herbs often used include fresh mint, fresh basil, cilantro, chives, parsley, and thyme. Simple spices like black pepper and salt can offer a flavor boost.
Salad protein. Whether I want to have the salad for lunch or dinner, when it is being used as a main dish, I like to add protein. Some ideas include grilled chicken, shrimp, bacon bits, black, kidney or white beans, boiled eggs, buffalo chicken, or chickpeas.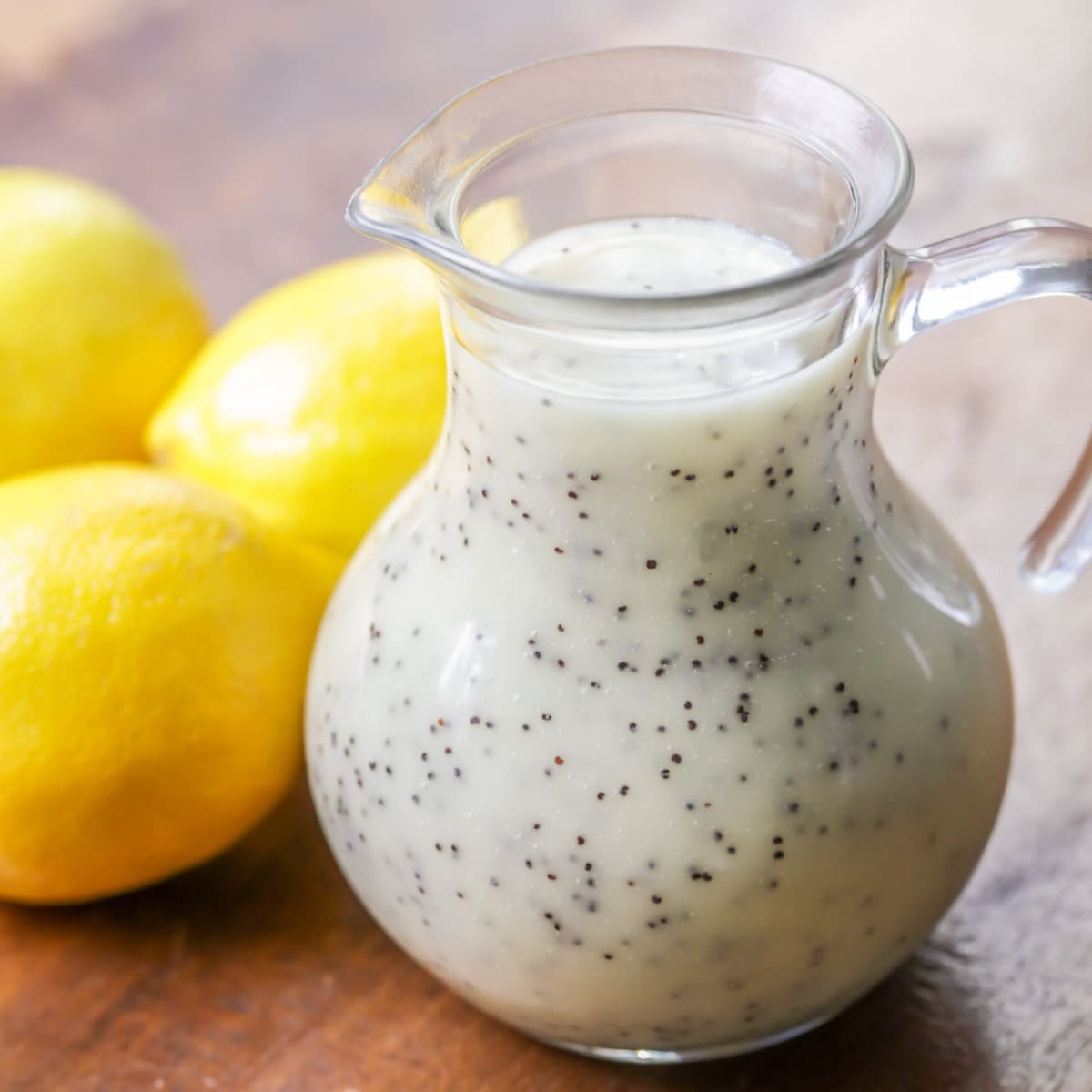 The Dressing
Many salads taste wonderful with a classic combination of extra-virgin olive oil and vinegar to make a light vinaigrette. Sometimes a simple spritz of lemon juice will get the job done.
A creamy dressing can also be the perfect element to complete a salad. Here are a few of our favorite recipes: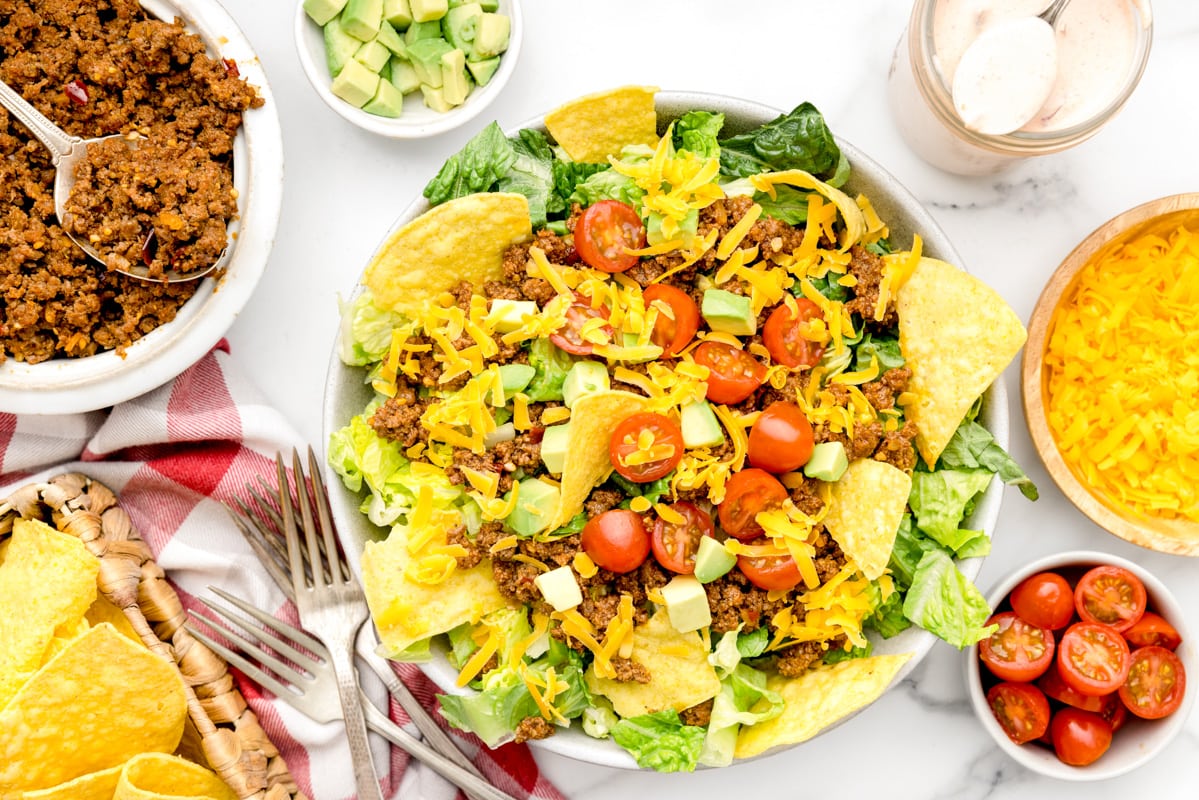 Side Salad or Main Dish
Main dishes require a larger serving size, than side salads. The following information will help you calculate how much you will need.
Pasta salad: Serve ½-1 cup as a side salad or 1½-2 cups as a main dish per person.
For green/vegetable salad: Plan to serve 1-2 cups as a side salad or 2-2½ cups green salad per person as a main dish.
---
Best Spring Salads
We love a fresh salad filled with seasonal fruits and veggies! We have rounded up our favorites, there is sure to be something for everyone.
Quick Caprese Salad
Simple and Quick Caprese Salad is easy and delicious with pops of mozzarella, tomatoes, avocados and drizzled with a balsamic glaze!
Cashew Chicken Salad
Cashew Chicken Pasta – a cream pasta recipe with chicken, grapes, cashews and more tossed in a delicious homemade dressing.
Chicken Caesar Salad
Ultimate Caesar Salad with grilled chicken, croutons, tomatoes, bacon, hard-boiled eggs, Parmesan cheese and tomatoes.
Cobb Salad
This simple cobb salad is so full of tasty ingredients it's a meal all on it's own. It is quick to make and utterly delicious.
Strawberry Harvest Salad
Strawberry Harvest Salad – tastes just like the salad at Zupa's! It's topped with apples, strawberries, chicken, candied pecans, cheese and a homemade Strawberry Vinaigrette dressing.
Strawberry Spinach Salad
This Strawberry Spinach Salad is fresh, naturally sweet, colorful and absolutely celicious. Serve it as a quick lunch, a dinner side, or a potluck item!
Lemon Poppy Seed Salad
A delicious salad with tomatoes, chicken, craisins, sunflower seeds and a delicious homemade lemon poppy seed dressing. The dressing only requires 4 ingredients and takes minutes to make!
Honey Mustard Chicken Salad
Honey Mustard Chicken Salad is one of the heartiest, most delicious salad recipes you'll try! With greens, fruits like raspberries and strawberries, nuts, and a tangy dressing, it's a real winner.
Greek Pasta Salad
This delicious Greek Pasta Salad is filled with rotini pasta, tomatoes, cucumber, olives, and feta cheese and is covered in a tasty Greek dressing! It's our new go-to pasta salad and is perfectly light and refreshing.
Waldorf Salad
Waldorf Salad is filled with texture and flavor. Tossed in a homemade poppy seed dressing, it's perfect for any lunch, dinner or appetizer.
Cheesecake Factory Luau Salad
Loaded with sweet, tropical flavors, this delicious Luau Salad is BETTER than it's Cheesecake Factory double!
Kale Salad
Sweet Kale Salad is topped with chunks of apple, candied pecans, dried cranberries, and bacon, served with a homemade sweet Dijon vinaigrette!
Chinese Chicken Salad
The best crunchy Chinese chicken salad with undeniably delicious flavors that will make you coming back for seconds and thirds! We love this recipe!!
Asian Citrus Chicken Salad
Bright & Flavorful Asian Citrus Chicken Salad topped with crunchy wontons and a fruity vinaigrette is a family favorite!!
Chinese Pasta Salad
Chinese Pasta Salad – filled with lettuce, noodles, fried wontons and more tossed in a delicious homemade dressing.
Arugula Salad
Fresh Arugula salad is loaded with healthy greens, juicy cherry tomatoes, and parmesan shavings with pine nuts and creamy avocado on top!
---
Perfect Spring Salads
We're sure you will find some new favorites from the list of Spring Salad Recipes listed above. Whether you are looking for the best salad to accompany a meal, or to serve as a meal itself, you're sure to find the perfect recipe!
More Collections: Spring Dinner Ideas, Summer Salads, Winter Salad Recipes