Sweet or savory, green or pasta, there is a salad for any occasion. I've rounded up some of our favorite easy salad recipes I think you'll enjoy!
More Collections: Pasta Salad Recipes, Salad Dressing Recipes, Grilled Dinner Ideas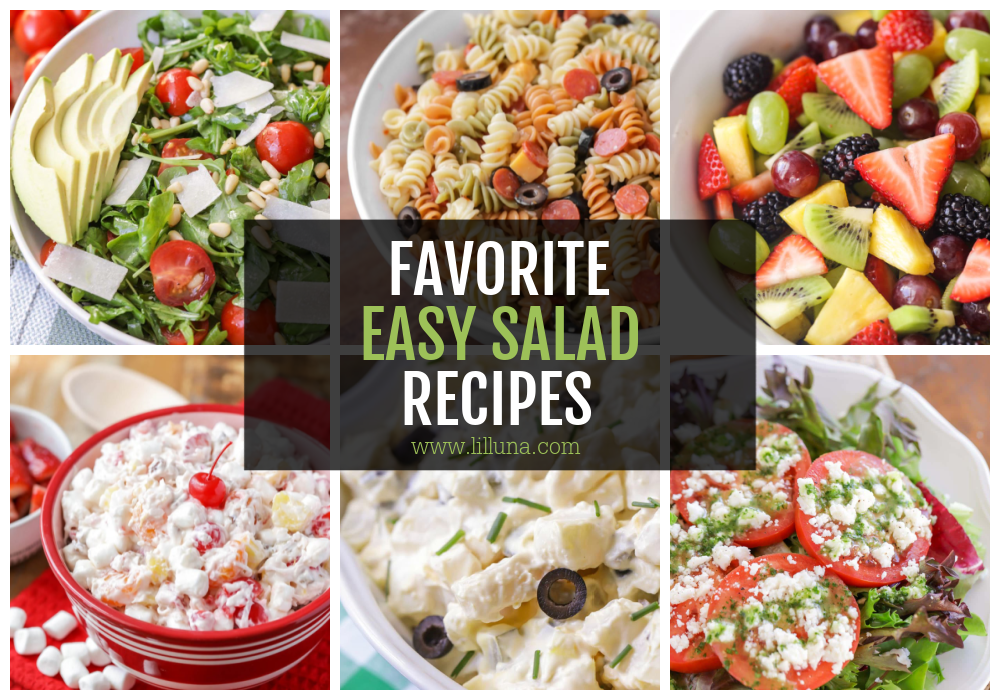 BEST SALADS
I love salad all year long, but I especially crave it during the spring and summer.
Salads are great for so many reasons. They can hold their own as a main dish, or be a great supporting dish. Choose in-season produce and incorporate lots of colors, flavors, and textures into your salad.
From sweet to savory, we know there are so many kinds of salads, and in my book – they're all winners. The best kind, however, are the ones that are EASY to make too!
While some salads are more complex, all the salads in this collection are simple to make (and pretty darn delicious, too)!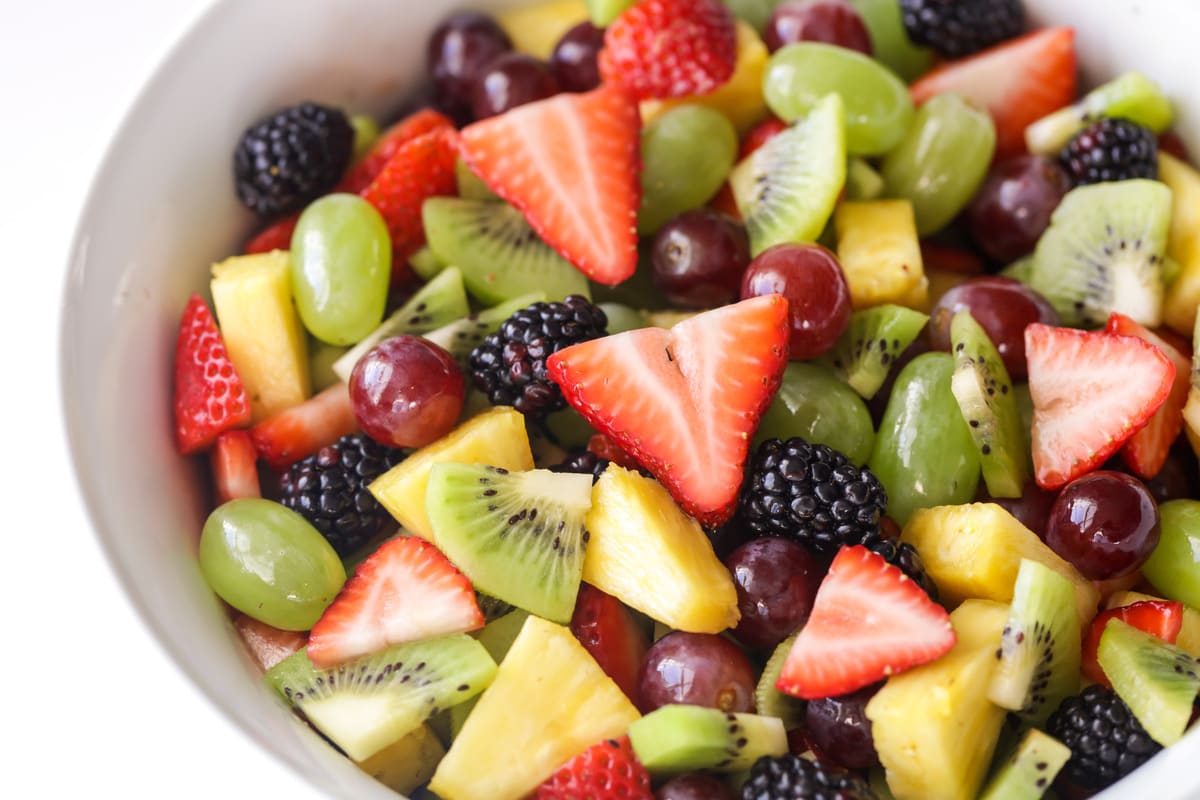 Types of Easy Salads
I have 5 types of salads that I make on a regular basis. Each type has many different varieties and shares similar ingredients. The difference between the salads is what the base, or most prominent, ingredient is.
Green Salad. Green salads use a lettuce base and may include a variety of other chopped fruits and vegetables. The four main types of lettuce used for green salads include iceberg, butterhead, romaine, and leaf. Use just one type or a combination. Some other greens that people often add include kale and spinach leaves.
Vegetable Salads. The base of this type of salad is a vegetable other than lettuce. It may have a creamy dressing or a simple vinaigrette. It may also include other chopped vegetables, nuts, and protein.
Bound Salads. This type of salad contains a mixture of food that is bound together with a thick dressing, often mayonnaise. This would include anything from Egg Salad to Potato Salad.
Pasta Salads. Pasta is the main ingredient for these salads. The pasta is typically smaller like penne, rotini, farfalle, or ditalini. It is often tossed with chopped vegetables and protein along with some type of dressing.
Fruit/Dessert Salads. Fruit is the main ingredient of this salad. It can simply be a combination of 2-3 types of fruit tossed together or it may have a sweet cream coating and resemble more of a dessert.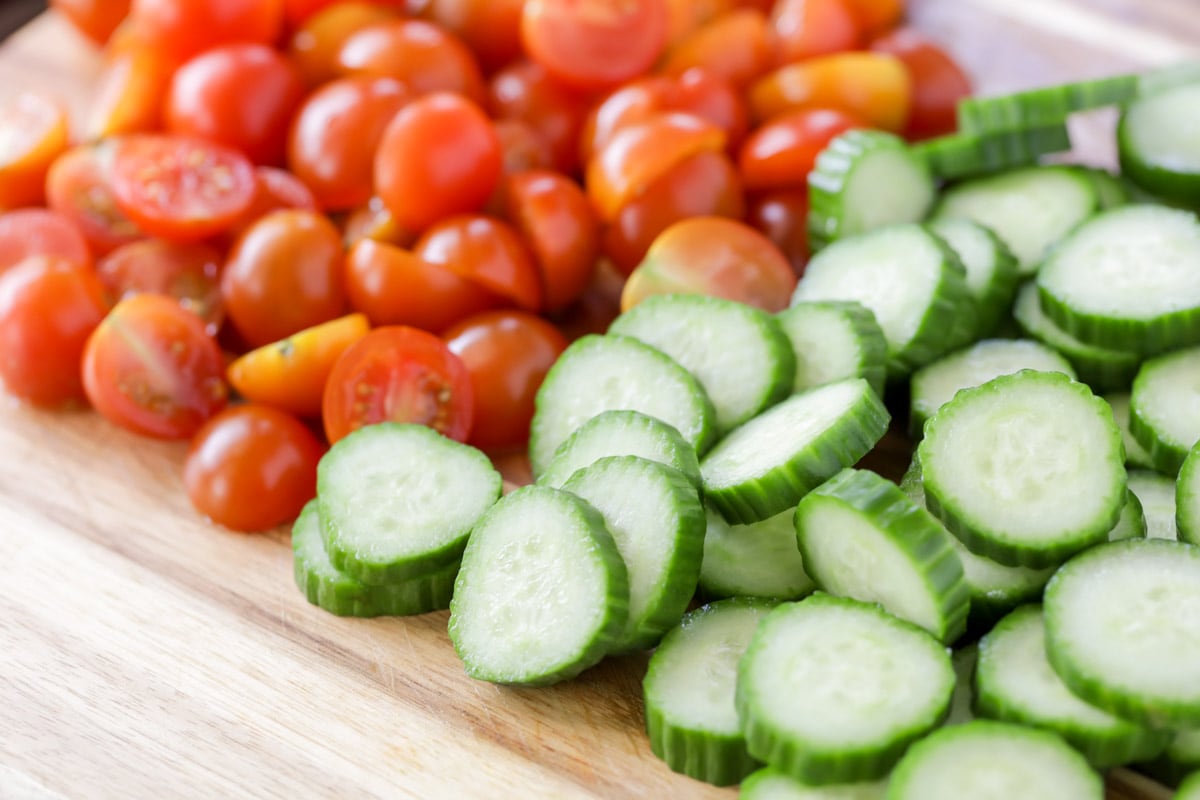 Ingredients for Easy Salads
Make a good salad using the most simple ingredients. Once you know what type of salad you wish to make then you can start adding different elements that work together in taste and texture.
Favorite Salad Vegetables: When adding vegetables to a salad, you often do not need to cook them. Simply wash, chop, and toss. Can't get easier than that!
Leafy greens: Iceberg, butterhead, romaine, baby spinach, kale
Green veggies: Broccoli florets, celery, brussel sprouts, green onion, cucumber
Colorful veggies: Carrots, cauliflower florets, beets, bell pepper, red onion
Fresh herbs: basil, cilantro, chives, dill, mint, parsley, thyme
Favorite Salad Fruits:
Berries
Melons
Diced apples, peaches, or pears
Grapes
Tomatoes
Avocado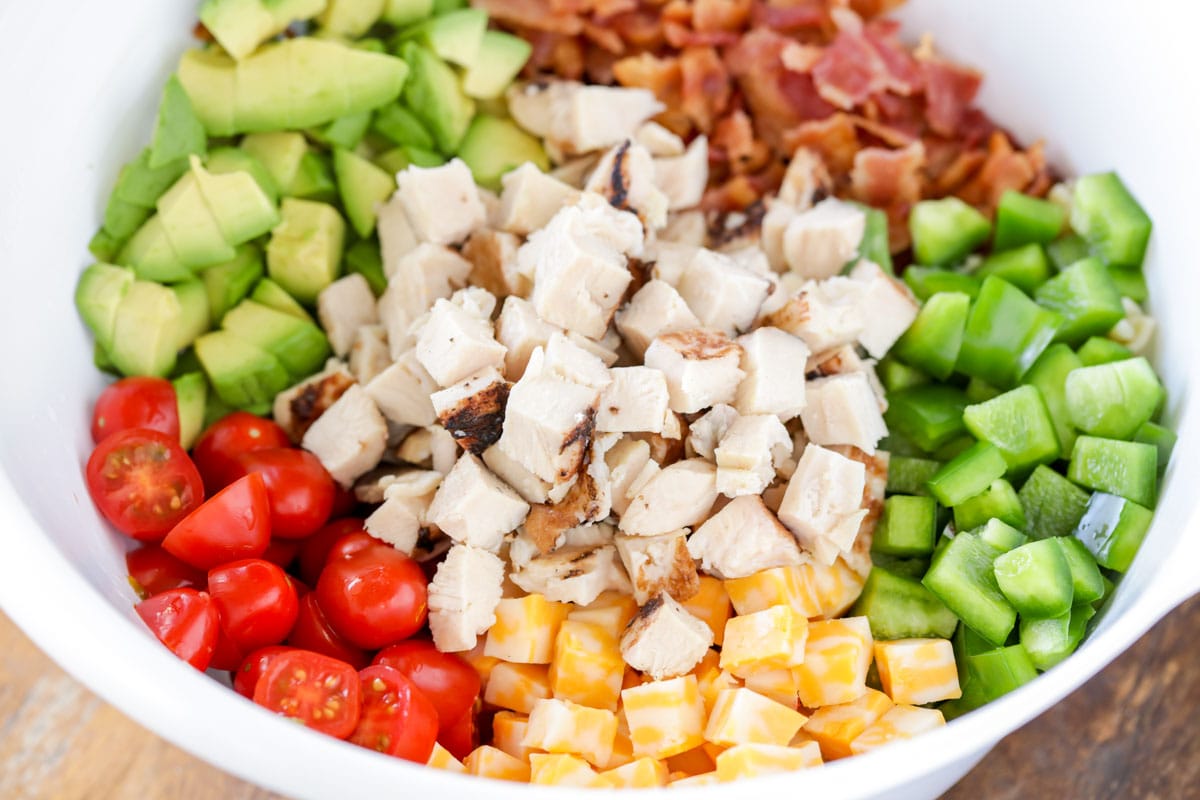 Salad Proteins: Adding grilled chicken or beef to a salad is an easy way to make it more filling and turn it into a main side rather than a side. Some other additions include:
Shrimp
Bacon bits
Black, kidney, or white beans
Boiled eggs
Buffalo Chicken
Chickpeas
Other salad ingredients:
Cheese is often added to salads counting any combination of vegetables. Use a simple cubed cheddar, mozzarella, Parmesan, goat cheese, or feta.
Add some crunch with croutons or nuts.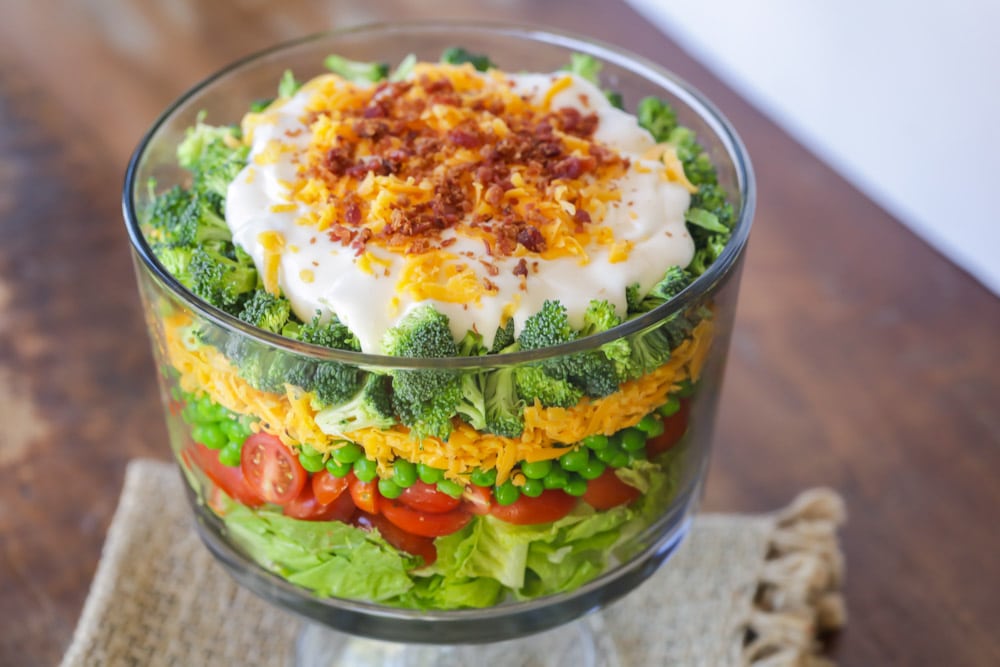 Serving Tips
Meal prep: Among many other aspects, salads are wonderful because they can easily be prepared ahead of time. The different elements can be prepared 1-3 days ahead of time and stored separately until its time to assemble the salad.
Even then, most salads can be assembled several hours before and stored, covered, in the fridge. If you are using a creamy salad dressing or a vinaigrette, I suggest waiting to add that until right before serving. Or even serve it on the side.
Many vegetables can be chopped and stored in separate containers for a few days before you even need to assemble them.
Fruit is a little trickier to prepare ahead. It can often turn an unappetizing brown when cut too far in advance. To help keep cut fruit fresh longer you can dip it in a mixture of water and lemon juice. You can also sprinkle Ball's Fresh Fruit on it.
Cooked pasta can be tossed in a bit of olive oil so it doesn't stick together and then stored in its own air-tight container for 1-2 days in the fridge before being used.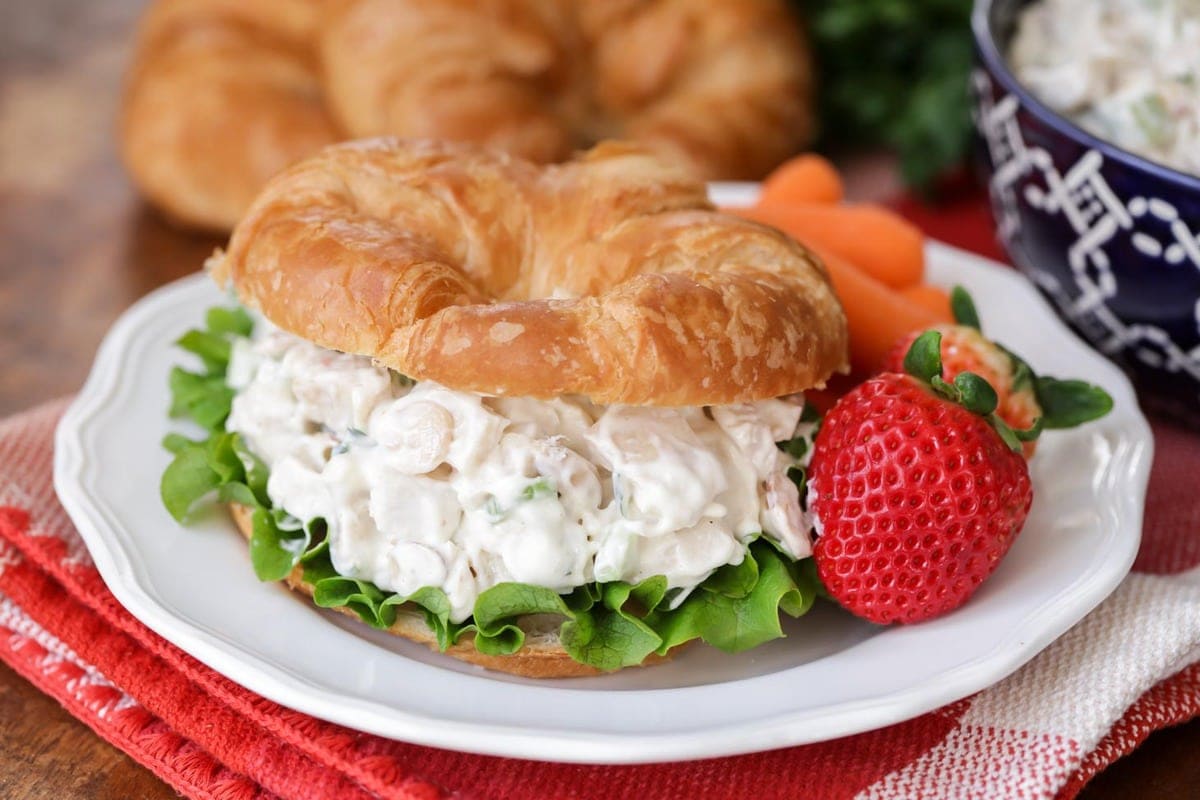 How Much Salad to Serve?
When serving as a side: When serving as a side dish, plan to serve ½-1 cup (4-6 oz) pasta salad per guest. For green/vegetable salads plan to serve 1-2 c (2½ -5 oz) per person. Finally, plan to serve 1 cup (3.5 oz) of fruit salad per person.
If the salad is the main dish, plan to serve 1½ -2 cups of pasta salad or 2-2½ cups of green salad per person.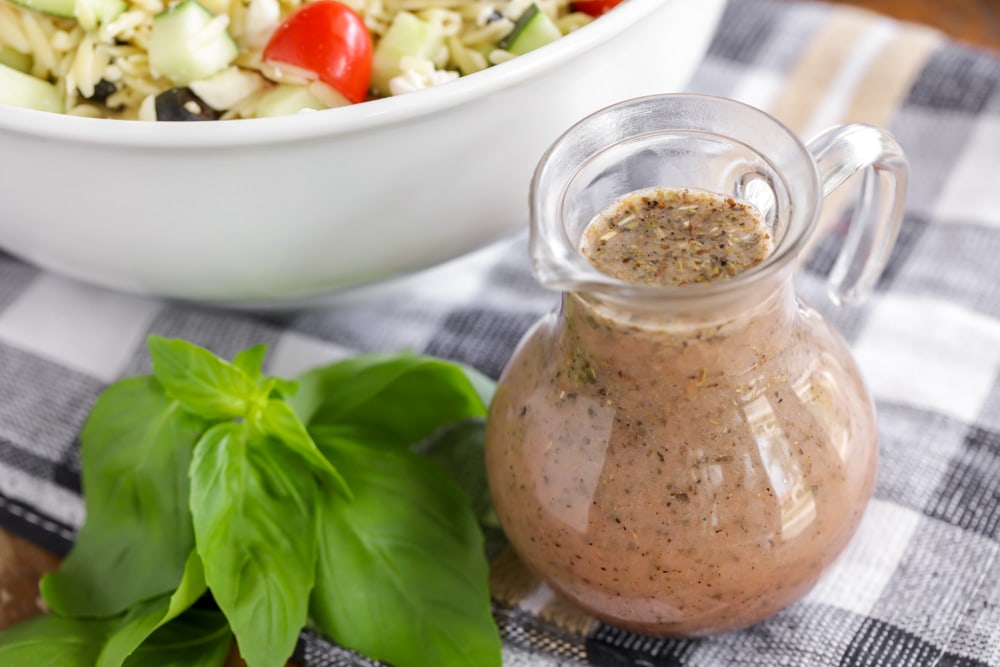 Dressings
"Dressing" is the perfect word for salad dressing. They really do dress up the salad.
Here are some of our favorites:
---
THE BEST EASY SALADS
These easy salads are perfect for a side or main dish. They are all delicious!
7 Layer Salad
7 Layers of Goodness in this delicious layered Salad. This recipe isn't only delicious, but is easy to customize and is great to make ahead of time too!
Arugula Salad
Fresh Arugula salad is loaded with healthy greens, juicy tomatoes, and parmesan shavings with pine nuts and creamy avocado on top!
Cobb Salad
This simple Cobb salad is so full of tasty ingredients it's a meal all on it's own. It is quick to make and utterly delicious.
Wedge Salad
This fresh wedge salad is a classic. It's crisp and refreshing, smothered in creamy dressing and topped with crumbles of cheese and bacon.
Southwest Caprese Salad
Southwest Caprese salad substitutes queso fresco and a bright cilantro jalapeño vinaigrette to add some flair. It is fresh, vibrant, and full of flavor!
Greek Pasta Salad
Greek pasta salad is packed with traditional Greek flavors and covered in a tasty dressing! It's perfectly light and refreshing.
Ramen Noodle Salad
With toasted almonds, sesame seeds, and ramen noodles, this green salad has the perfect crunch to it. Top it all off with a simple homemade dressing, and this Ramen Noodle Salad will win everyone over!
Pasta Salad With Italian Dressing
Easy Pasta Salad with Italian Dressing takes minutes to make. It's a classic side dish, perfect for BBQs, picnics, or any night of the week!
Chicken Pasta Salad
Creamy chicken pasta salad is quick, easy, and SO tasty. It is packed with hearty ingredients for a filling side or main dish!
Asian Pasta Salad
Easy & Delicious Asian Pasta Salad topped with a sweet and tangy dressing is packed with veggies and flavor!
Spinach and Tortellini Salad
Cold spinach tortellini salad is the ultimate side dish for BBQ and potlucks. It's packed with all the best flavors!
Fresh Mozzarella Pasta Salad
Easy & Fresh Mozzarella Pasta Salad is light, delicious and flavorful. This simply dressed salad is a new favorite!!
Caprese Pesto Pasta Salad
Caprese Pesto Pasta Salad is a light dish with a bold flavor, making it perfect for potlucks, parties, BBQ's, and get togethers!
Taco Pasta Salad
Delicious Taco Pasta Salad filled with beans, corn, tomatoes, avocado and more!!
Macaroni Salad
This simple, creamy Macaroni Salad is loaded with pasta, peas and ham. It's perfect for parties, family dinners, and potlucks!
Homemade Potato Salad
This perfect Potato Salad is a famous family recipe. It's simple, packed with flavor, and our most requested side for parties!
Brussel Sprout Salad
Brussel Sprout Salad is as pretty as it is tasty—full of shredded Brussel sprouts, pomegranate seeds, sliced almonds, and a little bit of shaved parmesan.
Kale Salad
Sweet Kale Salad is topped with chunks of apple, candied pecans, dried cranberries, and bacon, served with a homemade sweet dijon vinaigrette!
Chicken Salad
Chicken salad is the perfect food for baby/wedding showers, light lunches, or picnics at the park! Eat your creamy chicken salad on a croissant, in a salad, or by itself!
Egg Salad
Egg salad is classic, simple, and only requires a handful of ingredients! Serve it as a side, or make it into an egg salad sandwich. Either way, it's perfect for feeding a crowd!
Easy Coleslaw
This quick and Easy Coleslaw makes the perfect side dish for any picnic or BBQ. It takes just minutes to put this classic coleslaw recipe together, and it can easily be customized with the spices and flavors you love most.
Ham Salad
Creamy ham salad with hints of dill and chunks of hard-boiled eggs is a tasty appetizer perfect for using up that leftover ham!!
Favorite Broccoli Salad
Simple Broccoli Salad is tasty and hearty topped with a delicious homemade dressing. It's perfect for BBQs and get-togethers.
Summer Corn Salad
Summer Corn Salad is light and flavorful, dressed simply with Italian dressing. It's easy, quick + perfect for summer! 
Broccoli Strawberry Salad
Broccoli Strawberry Salad is creamy and refreshing with pops of juicy fruit. It can easily be made ahead and enjoyed later!
Frito Corn Salad
Fresh and tasty Frito corn salad is bursting with sweet corn and covered in a perfectly spicy creamy sauce. It is perfectly refreshing.
Cucumber Tomato Avocado Salad
Cucumber Tomato Avocado Salad is a simple, delicious and quick salad perfect for dinner or for BBQs and get togethers. It's so light and refreshing!
Cucumber Tomato Salad
Fresh, vibrant Cucumber Tomato Salad is a simple salad perfect for summer and your bounteous harvest. It's a quick side for any meal!
Pea Salad
Pea salad is made with a creamy mayo dressing, bacon, cheese, and bright pops of peas. It only requires a handful of ingredients and is easy to make!
Asparagus Salad
Filled with mozzarella cheese, and cherry tomatoes, seasoned with basil, and covered in a light balsamic vinaigrette, this asparagus salad is bursting with flavor! Best of all, it comes together in less than 10 minutes!
Fall Fruit Salad
Fall fruit salad is full of seasonal fruit and dressed in a bright honey, orange, and poppy seed dressing!
Pistachio Salad
Pistachio Salad dessert is always served at our family gatherings. With whipped cream and marshmallows, it's always a hit!
Easy Fruit Salad
A fresh fruit salad that makes the perfect side dish to any meal! Colorful, healthy, delicious, and filled with all your favorite fruits!
Ambrosia Salad
Ambrosia Salad will take you straight back to your childhood. This Southern creamy fruit salad is filled with mini marshmallows!
Snicker Apple Salad
Snicker Apple Salad is a sweet treat, filled with texture and flavor! Bright pops of apple perfectly complement chewy chunks of Snickers.
Cheesecake Fruit Salad
This Cheesecake Fruit Salad is the perfect combination of creamy, light, and fresh! Fresh berries tossed in a cream cheese pudding mixture—it's the perfect side, or crepe filling!
---
All Easy, All Delicious!
Even if you don't enjoy green salads, I'm sure there's at least one easy salad recipe here that you will like! My personal favorite might be the Cheesecake Fruit Salad. 😉
These are the easiest salads out there, and they all taste amazing.
Be sure to check out all of our Salad Recipes.
More Collections: Summer Salad Recipes, Green Salad Recipes, Fall Salad Recipes