Salads can be hearty and filling, and depending on the goodies you mix in, perfect for any season! These winter salad recipes are delicious main dishes, or perfect pairings.
More Collections: Winter Drinks, Winter Dinner Ideas, Winter Soups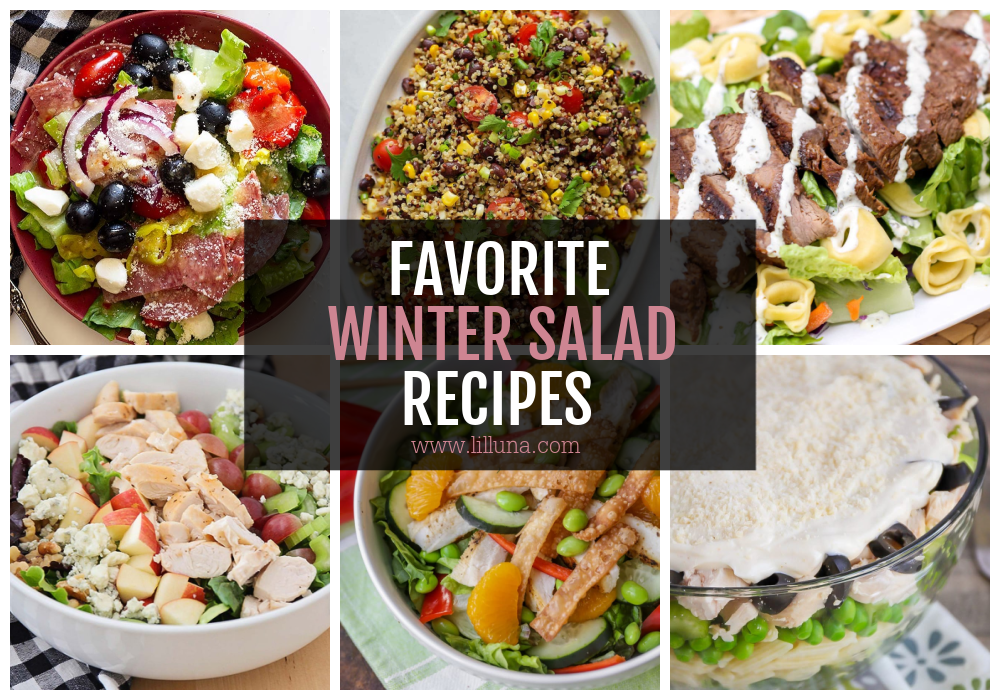 WE love them all winter
During the Winter, salads are not typically at the top of menu ideas. However, they can be quite hearty and filling alone or great to balance out heavier hot dishes. With so many flavor variations, there's plenty to keep it interesting and yummy!
What ingredients are in season for a winter salad? Whether you want to create a tart Citrus Salad, a savory Roast Butternut Squash Salad, a healthy Kale Salad or simply easily build your own unique salad using produce that is in season is not only cost effective but adds vitamins, antioxidants and fiber to your diet.
Top it with delicious cheeses and healthy proteins they'll not only hit the spot, but also give you all the nutrition your body needs. Some of my favorite winter produce and cheeses include:
Leafy Greens: Arugula, Kale, Swiss Chard, Collard Greens, Red Cabbage and even Baby Spinach
Fruits: Orange, Grapefruit, Lemon, Lime, Pears, Pumpkin, Apples, Cranberries, Raisins, Pomegranates, Pineapple, Persimmons, Kiwi, Bananas, Dates, Dried Cranberries, Pomegranate Seeds
Vegetables: Onions, Broccoli, Beets, Brussel sprouts, Cabbage, Cauliflower, Celery, Green or Red Onion, Fennel, Garlic, Ginger, Leek, Parsnips, potatoes, Turnips, Rutabagas, Radish, Roasted Sweet Potato
Cheeses: Goat Cheese, Feta Cheese, Cheddar Cheese, Parmesan Cheese, Mozzarella Cheese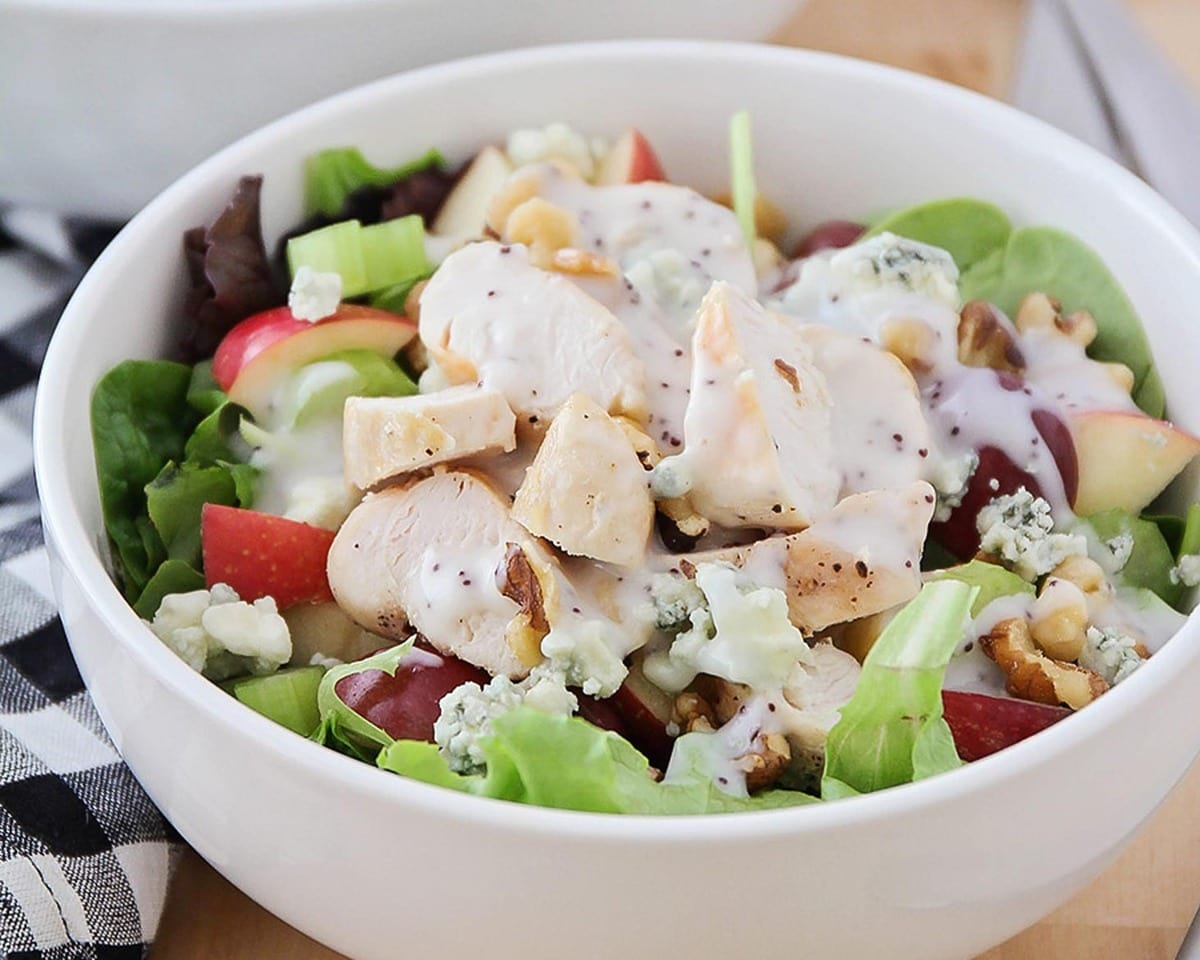 Salad Proteins + Serving Tips
Adding protein to a salad is a great way to make it more nutritious and filling, especially when it is being used as a main dish. My family's number one protein is grilled chicken, but there are so many other delicious additions to use such as:
Grilled beef
Shrimp
Bacon bits
Black, kidney or white beans
Boiled eggs
Buffalo chicken
Chickpeas
Eggs
Pepitas
Main dish: plan to serve 2-2 ½ c green salad per person. Add protein for a heartier dish.
Side dish: plan to serve 1-2 c (2 ½ -5 oz) per person. Sides may or may not include a protein.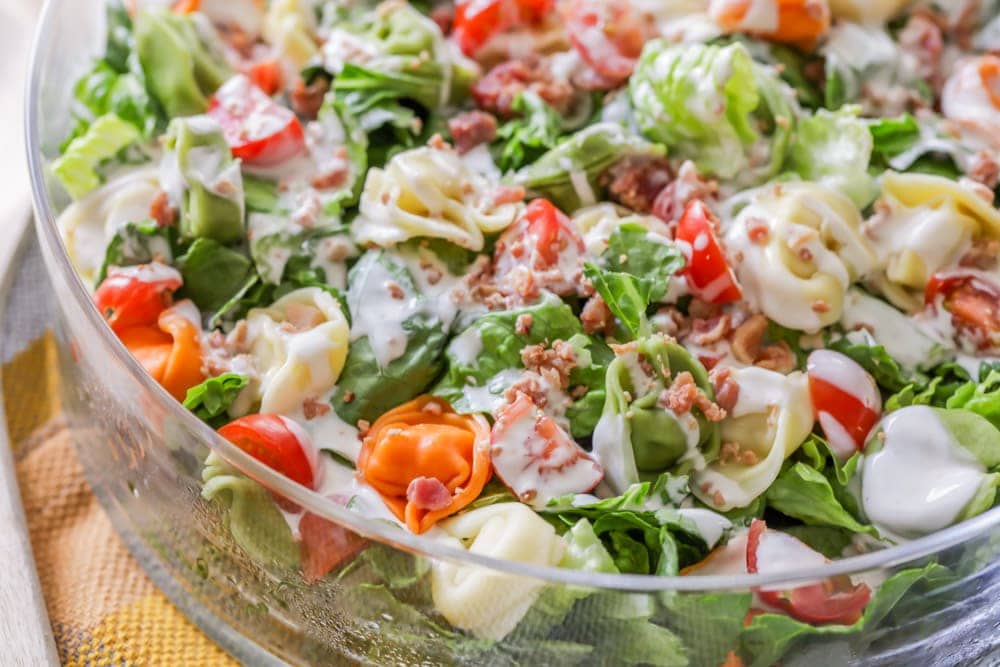 Elements of a Great Winter Salad
Greens: Mix and match 2-3 types of leafy greens.
A bit sweet: This doesn't mean sugary dressing, but use ingredients that are naturally sweeter like carrots and tomatoes.
A bit savory: Proteins add a savory element to a salad as do boiled eggs and roasted vegetables.
Crunch: Of course you can obtain this with the classic crouton, but it can also be provided by other ingredients like broccoli, seeds, nuts, and apples.
Creamy texture from ingredients cheese and produce like avocado.
Dressing: Whether you like to drench the salad or serve it on the side, dressing really does bring all the elements together. Some of our favorite recipes include: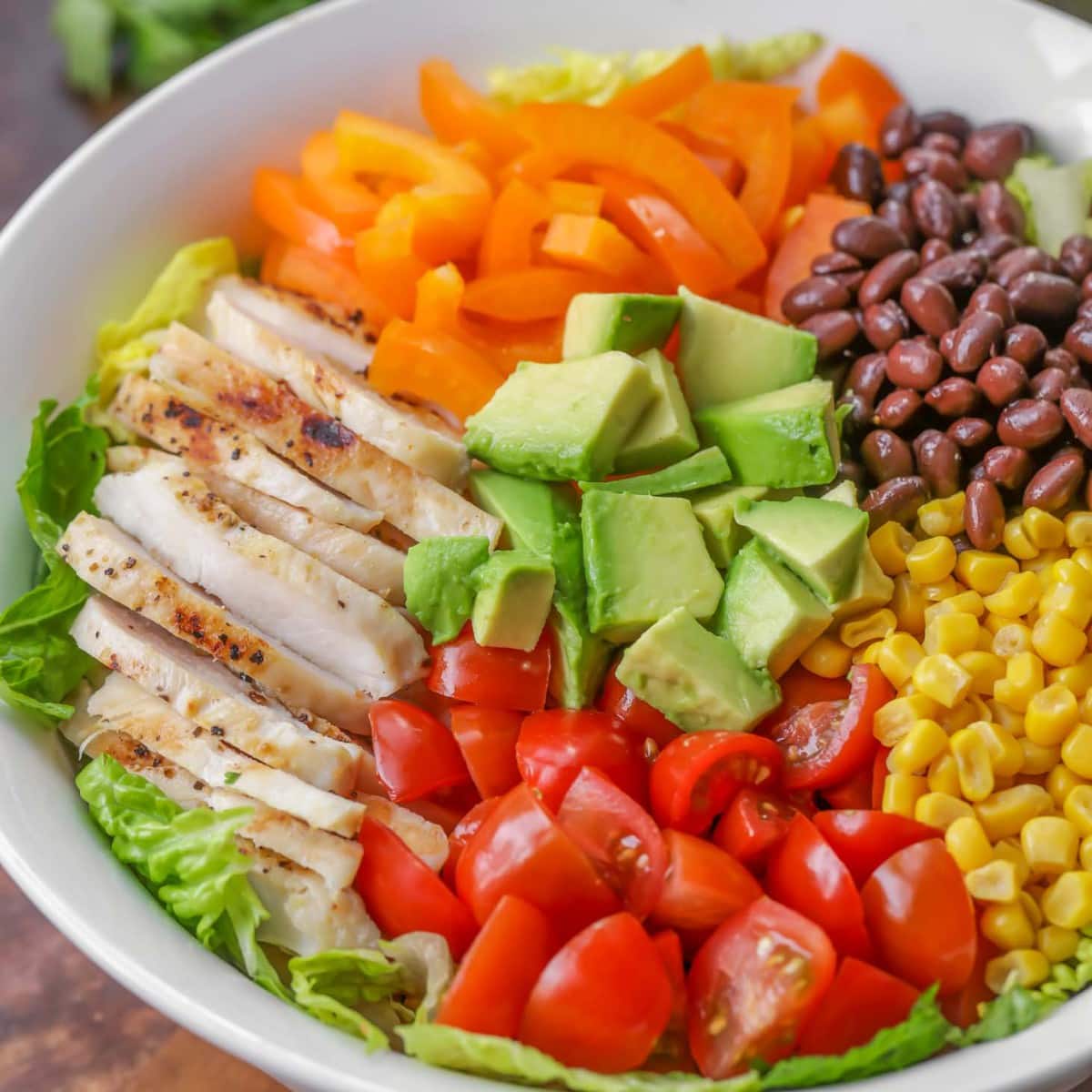 Best Winter Salads
Southwest Salad – Simple and delicious Southwestern Chopped Salad filled with chicken, peppers, beans, corn, tomatoes, avocado and topped with a homemade cilantro ranch dressing.
Chicken Caesar Salad – This Chicken Caesar Salad Is Jam Packed With Grilled Chicken, Croutons, Tomatoes, Bacon, Hard-Boiled Eggs, Parmesan Cheese And Tomatoes. It's So Flavorful, You Won't Believe How Simple It Is To Make!
Strawberry Harvest Salad – Strawberry Harvest Salad – tastes just like the salad at Zupa's! It's topped with apples, strawberries, chicken, candied pecans, cheese and a homemade Strawberry Vinaigrette dressing.
Buffalo Chicken Salad – Spicy Buffalo Chicken Salad is filled with buffalo seasoned chicken, crumbled blue cheese, and ranch. It's your favorite wings in salad form!
Steak And Tortellini Salad – Delish Steak and Tortellini Salad is hearty and refreshing. Tortellini, sirloin & romaine in a creamy pesto dressing is a must-have!
Cobb Salad – This simple cobb salad is so full of tasty ingredients it's a meal all on it's own. It is quick to make and utterly delicious.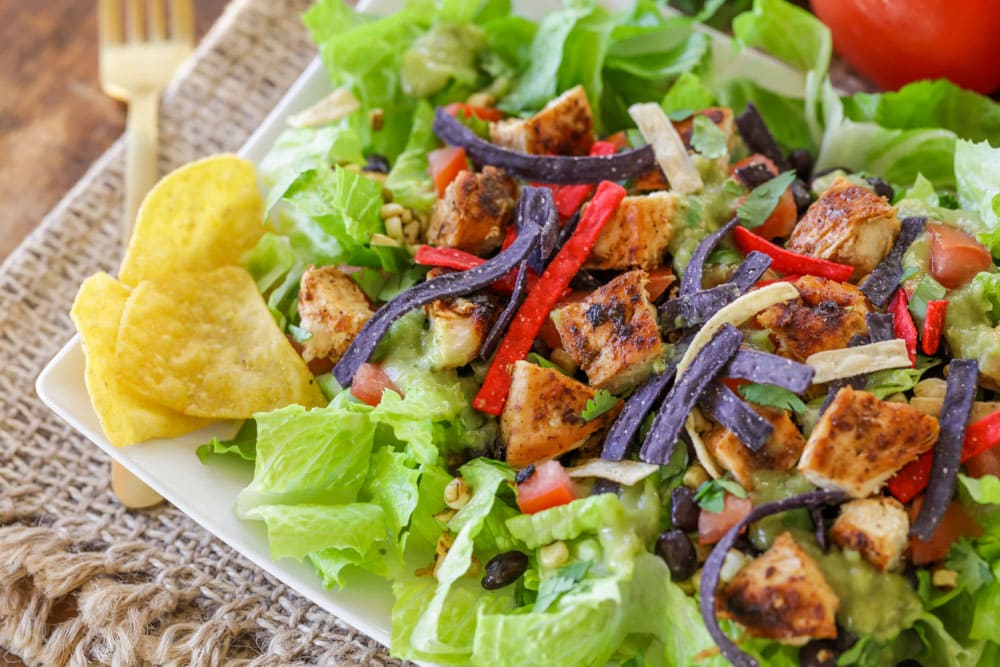 Chicken Taco Salad – Crunchy and fresh chicken taco salad is a weeknight dinner dream! Easy, flavorful, and a recipe that everyone will enjoy.
Layered Pasta Salad – A dish that is appealing to both your tastebuds and your eyes! This beautiful Layered Pasta Salad is filled with your favorite ingredients including pasta, chicken, peas, lettuce, celery, and more.
Asian Citrus Chicken Salad – Bright & Flavorful Asian Citrus Chicken Salad topped with crunchy wontons and a fruity vinaigrette is a family favorite!!
Waldorf Salad Recipe – Everyone Loves This Waldorf Salad That Is Filled With Grapes, Apples, Celery, Walnuts, Cheese And Chicken. Toss It In A Homemade Poppy Seed Dressing And This Salad Is Perfect For Any Lunch, Dinner Or Appetizer.
Lemon Poppy Seed Dressing – A delicious salad with tomatoes, chicken, craisins, sunflower seeds and a delicious homemade lemon poppy seed dressing. The dressing only requires 4 ingredients and takes minutes to make!
Applebee's Oriental Chicken Salad – This delicious Copycat Oriental Chicken Salad from Applebee's is made with breaded chicken, cabbage, romaine, sliced almonds, and more tossed in a flavorful Asian dressing!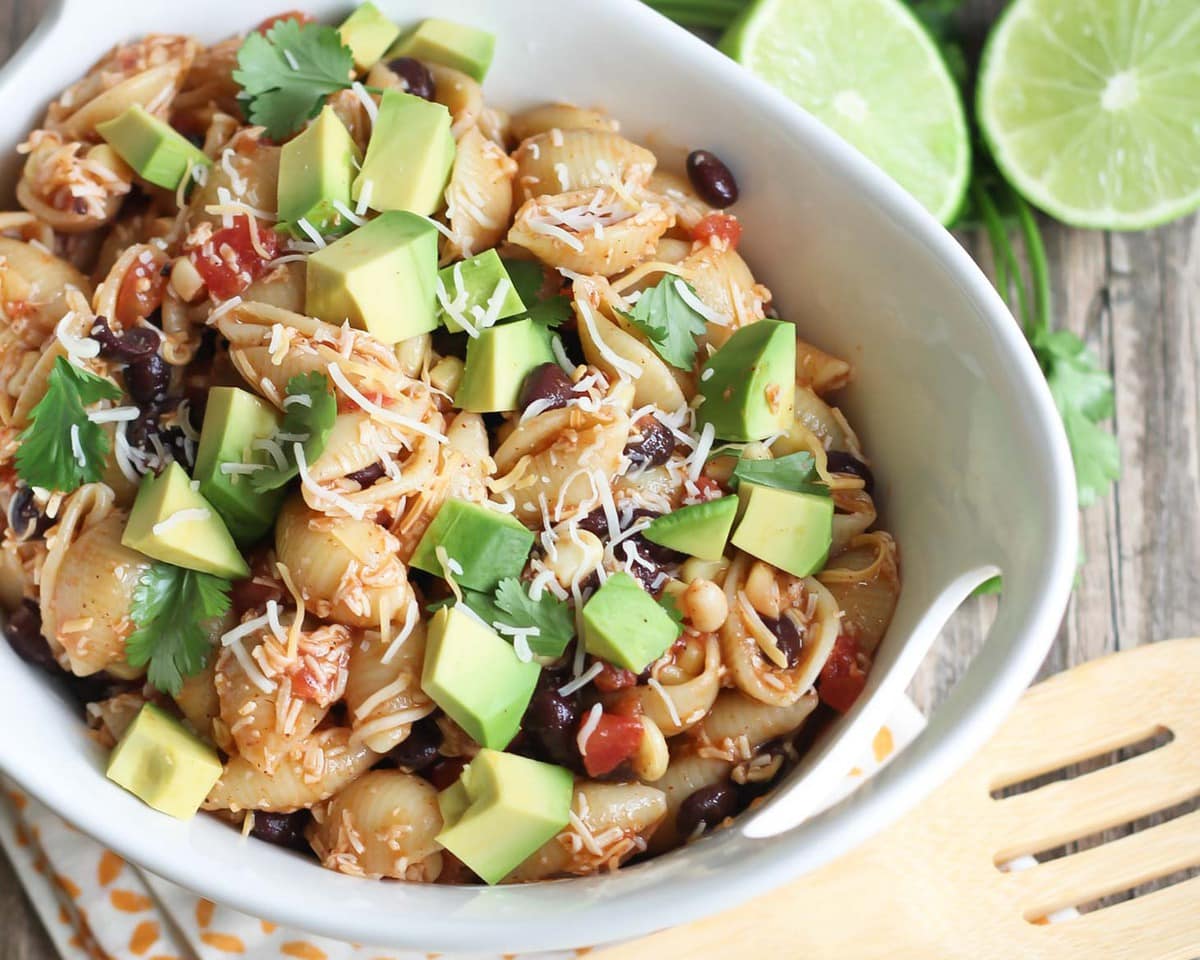 Taco Pasta Salad – Delicious Taco Pasta Salad filled with beans, corn, tomatoes, avocado and more!!
Favorite Broccoli Salad – This Sunny Broccoli Salad is a simple, tasty and hearty broccoli salad served with bacon, cranberries, sunflower seeds, and mixed with a delicious, homemade mayonnaise-vinegar based dressing that is perfect for BBQs and get togethers.
Southwest Quinoa Salad – Southwest Quinoa Salad is bursting with freshness. It's got a ton of texture going on and a whole lot of flavor!
Easy Tortellini Salad – Super YUMMY and easy Tortellini Salad filled with tortellini, salad, ranch, tomatoes and bacon bits – perfect for summer time!
7 Layer Salad – 7 Layers of Goodness in this delicious layered Salad. This recipe isn't only delicious, but is easy to customize and is great to make ahead of time too!
Antipasto Salad – Antipasto Salad is filled with tomatoes, cheeses, cured meats, veggies and more and can be topped with your favorite dressing.
---
The Complete List
Here are the picture cards for ALL of the fantastic winter salads listed above.
Whether it's to accompany a special meal, or serve as a meal on it's own, you're sure to find one of your new favorite salads on this list!
More Collections: Summer Salads, Crock Pot Soup Recipes, Easy Slow Cooker Recipes