From classics like ranch, to amped up sauces like pesto, or mouth-watering copycats, there are Salad Dressing Recipes for you in this collection!
More Collections: Green Salad Recipes, Easy Salad Recipes, Pasta Salad Recipes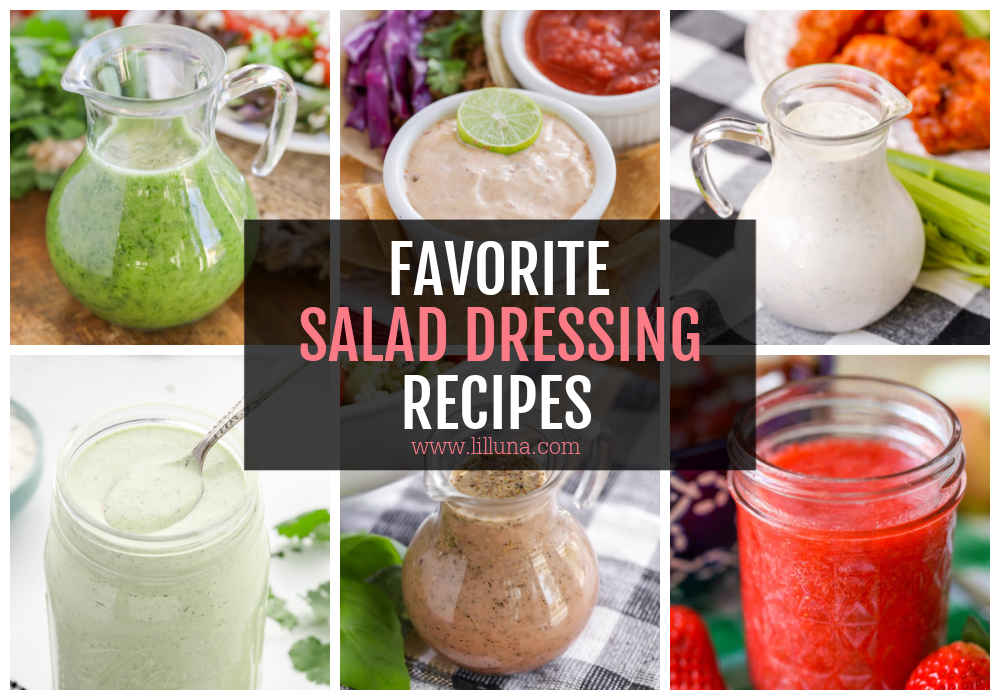 Always Better Than Storebought!
Store-bought salad dressings are always a convenient way to go, but have you ever made your own homemade dressing??
The flavor of homemade dressing is SO much better, and they're actually pretty simple to put together! Plus, I always feel better knowing exactly what ingredients are included in my dressing, especially without any preservatives.
I've rounded up all of our homemade salad dressing recipes for you to check out. And to go along with them, here are some tips on making salad dressing!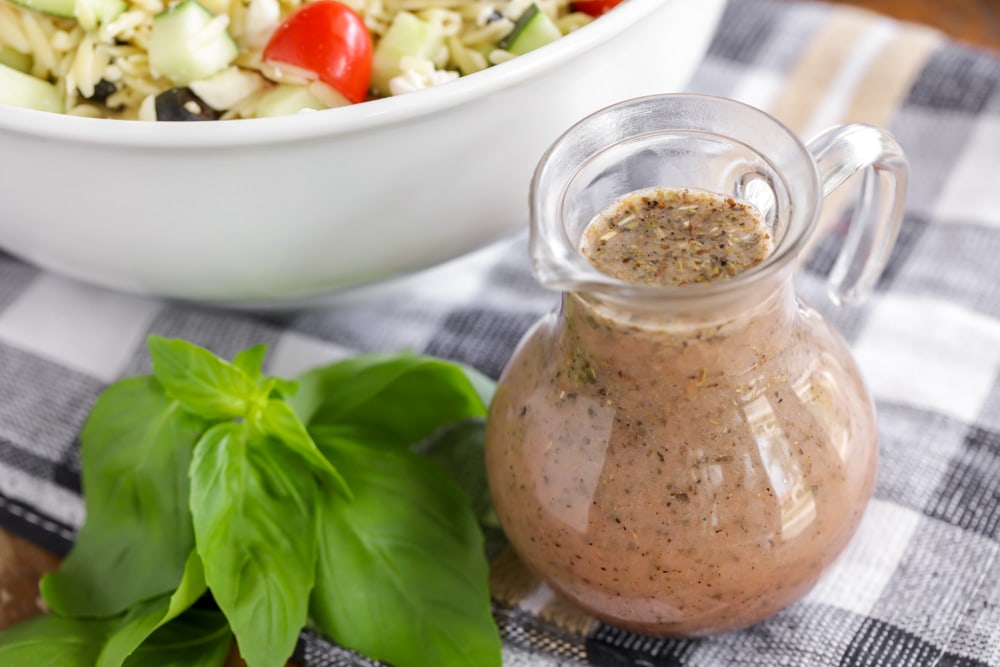 A healthier option
Making homemade salad dressings for your salad is already healthier than ones you can buy in the store because they are free of all the added preservatives and artificial flavorings.
Vinaigrettes tend to be healthier than creamy dressings because they don't have the added sugar and fat from the dairy.
Even so, when making your own cream based dressing, there are small changes you can make for healthier versions. Try using low fat or Greek yogurt instead of sour cream. Use low fat milk instead of whole milk or heavy cream. Sweeten dressings up with a bit of honey instead of using added sugar.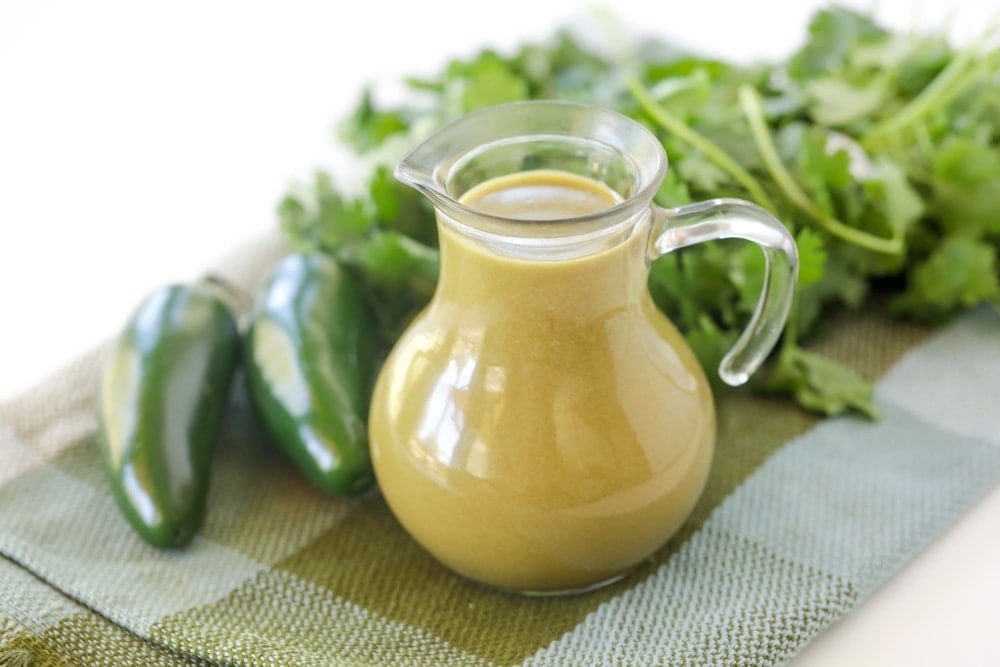 Dressing Tips
3 types of dressing:
Vinaigrettes: Typically oil and vinegar (balsamic vinegar, red wine vinegar,, apple cider vinegar, sherry vinegar, white wine vinegar), or lemon juice, is used as the base with herbs, spices and fruits being added to season it.
Creamy: Often made with a base of mayonnaise or dairy such as buttermilk, yogurt, milk or sour cream.
Cooked dressing: these are typically creamy, and are gently heated with egg yolks being used to thicken the dressing.
Zest it: Many dressings call for citrus juice. You can really elevate the flavor by adding in the citrus zest as well. You can buy a zesting tool or use the small side of a cheese grater to grate the peel on the citrus. Stop grating when you get to the white part under the peel.
Oils: The better the quality of oil, the better the dressing will be. I also recommend using extra virgin when it comes to olive oil.
Oil- free: If your recipe calls for oil, but you would rather use a substitute you can easily make one using cornstarch (or arrowroot) and water. In a small saucepan, mix 1 tablespoon cornstarch with 1 cup of water. Heat the mixture over medium heat. Mix until thickened. Cool. Use this mixture as an even 1:1 substitute for oil.
Herbs: Fresh herbs really bring the best flavor, but dried herbs are easy and convenient. If you use dried herbs, be sure to let the dressing rest for 5-10 minutes to soften the herbs and let the flavors mix.
Many dressings rely on various herbs and spices for flavoring. You can increase or decrease the amounts to get just the right taste that you are looking for. Some common herbs/spices used in dressings include: parsley, dill, chives, garlic salt, ginger, salt, black pepper, oregano, basil, onion salt.
Taste as you go. Note that if you taste it alone, it will be quite strong. Instead dip a piece of lettuce into the dressing. This will give you a more accurate assessment of what may still need to be added.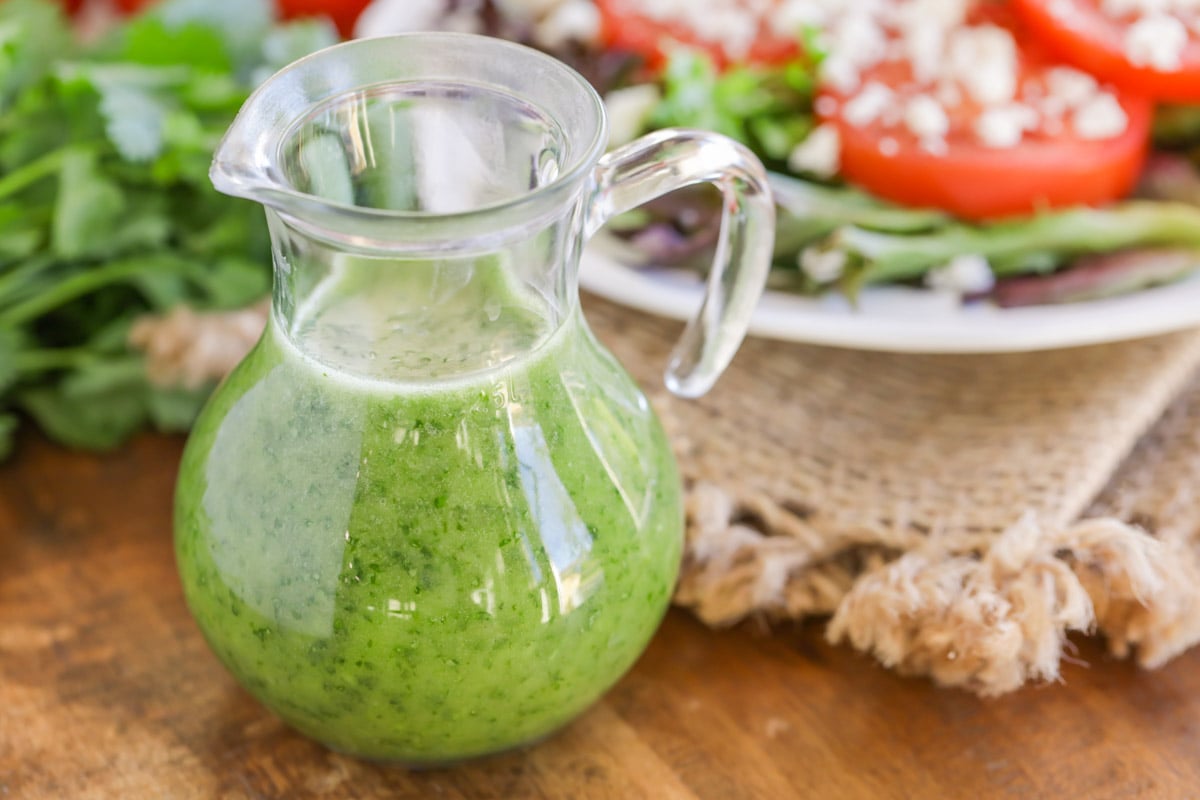 Not just for salads
Dressing can be used to flavor many other dishes as well.
They make a great marinade for steak and chicken.
Brush over skewers headed for the grill.
Flavor cooked pasta.
Toss with potato cubes and then roast.
Dip for veggies and appetizers like these Fried Zucchini.
Condiment for burgers, wraps and sandwiches.
Spread over burritos or tacos.
Storing Info
My favorite way to store dressing is in a Mason Jar with a lid, but any airtight container will work. Most dressings can be stored in the fridge for about one week. Stir or shake the jar, especially after storing a vinaigrette, before pouring.
---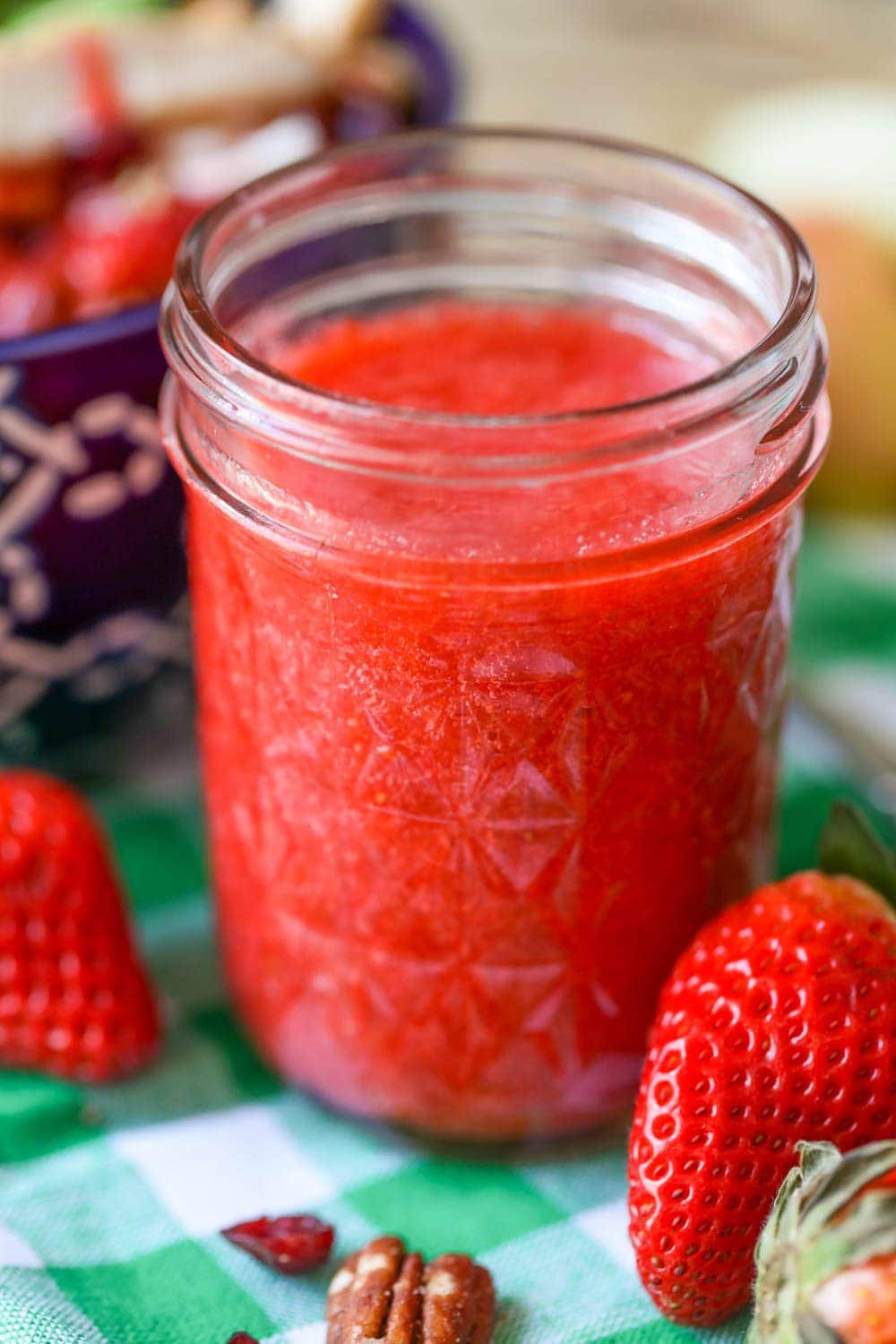 Strawberry Vinaigrette – Quick and simple, this strawberry vinaigrette is delicious. It's sweet, tart, and goes wonderfully on top of a bed of greens.
Creamy Pesto Dressing – This simple creamy pesto dressing is delicious on any salad! Plus, it only requires 5 ingredients and 5 minutes to make.
Caesar Dressing – Delicious Homemade Caesar Salad dressing with crispy Homemade Croutons. This simple salad dressing will become your new go-to for salads!
CIlantro Lime Vinaigrette – Cilantro lime vinaigrette is light and refreshing. The lime adds a brightness and cilantro a flair of flavor!
Homemade Ranch Dressing – Delicious homemade buttermilk ranch dressing is made in minutes and is better than any store bought version!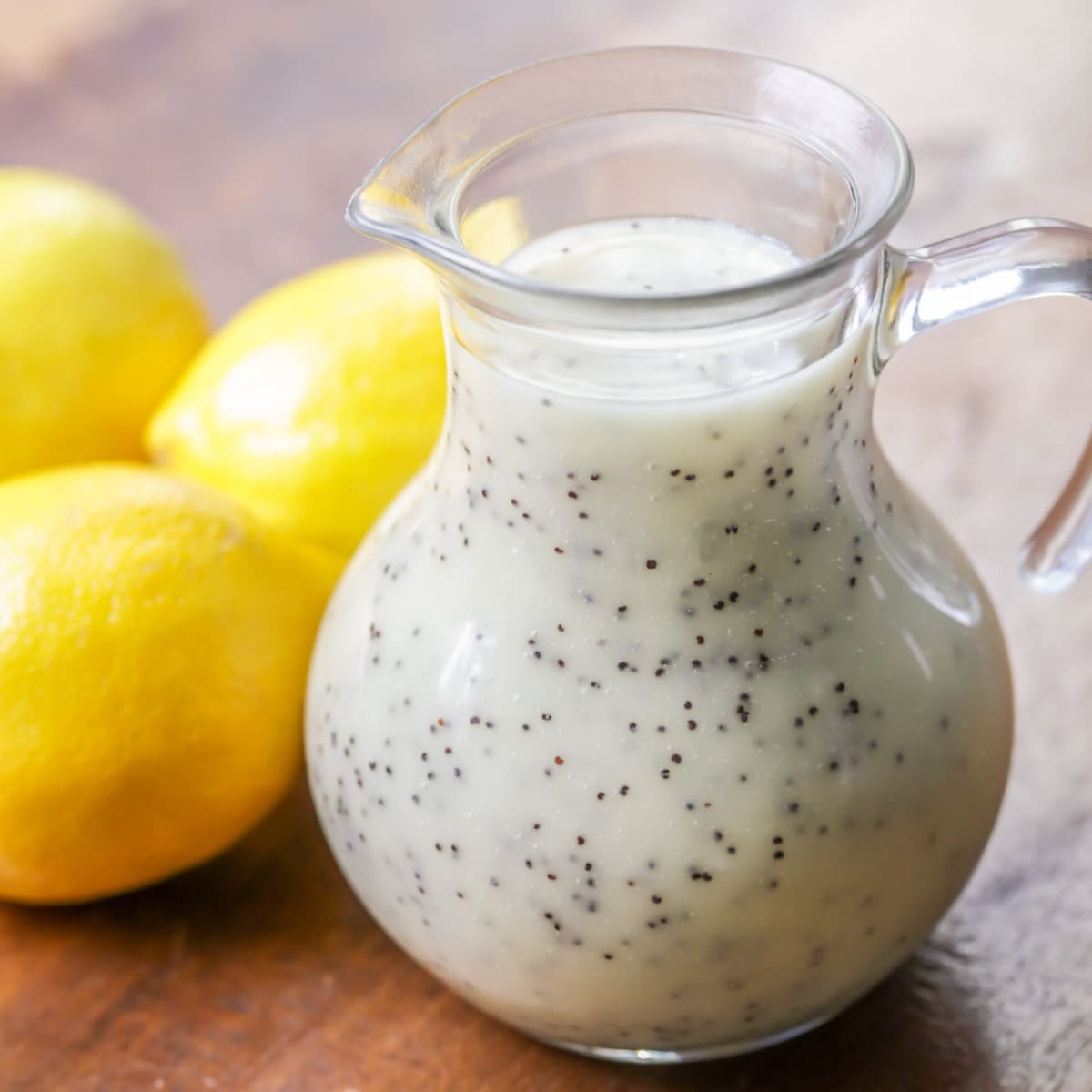 Lemon Poppy Seed Dressing – A delicious salad with tomatoes, chicken, craisins, sunflower seeds and a delicious homemade lemon poppy seed dressing. The dressing only requires 4 ingredients and takes minutes to make!
Chipotle Ranch – Chipotle Ranch has just the right amount of kick. Drizzle it over salads, dip tortilla chips, or serve it on the side of your Mexican entrees.
Cilantro Lime Dressing – Easy, creamy and delicious Cilantro Lime Dressing that is great for salads, but also served over veggies, meat or even in tacos and burritos!
Cafe Rio Cilantro Ranch Dressing – Copycat recipe for Café Rio Cilantro Ranch Dressing is fresh and creamy with a hint of spice. We LOVE this stuff!
Greek Dressing – Flavorful homemade Greek dressing is perfect for salads and marinades! It comes together quickly with only a handful of ingredients.
---
the complete list
Here are the picture cards for all of the fantastic Salad Dressing Recipes listed above.
You'll be pleasantly surprised at how easy it is to take your homemade salads up a notch with these flavorful recipes!
---
More Collections: Spring Salad Recipes, Summer Salads, Summer Soups