Copycat recipe for Cafe Rio's Ranch Dressing – we LOVE this stuff! It's made with cilantro, mayo, ranch seasoning, sour cream, & jalapenos!
I may or may not be obsessed with Cafe Rio. For a while, we didn't have any locations near us, so I had to make my own Cafe Rio style recipes at home. We love their Shredded Chicken, Cilantro Lime Rice, and especially their ranch dressing!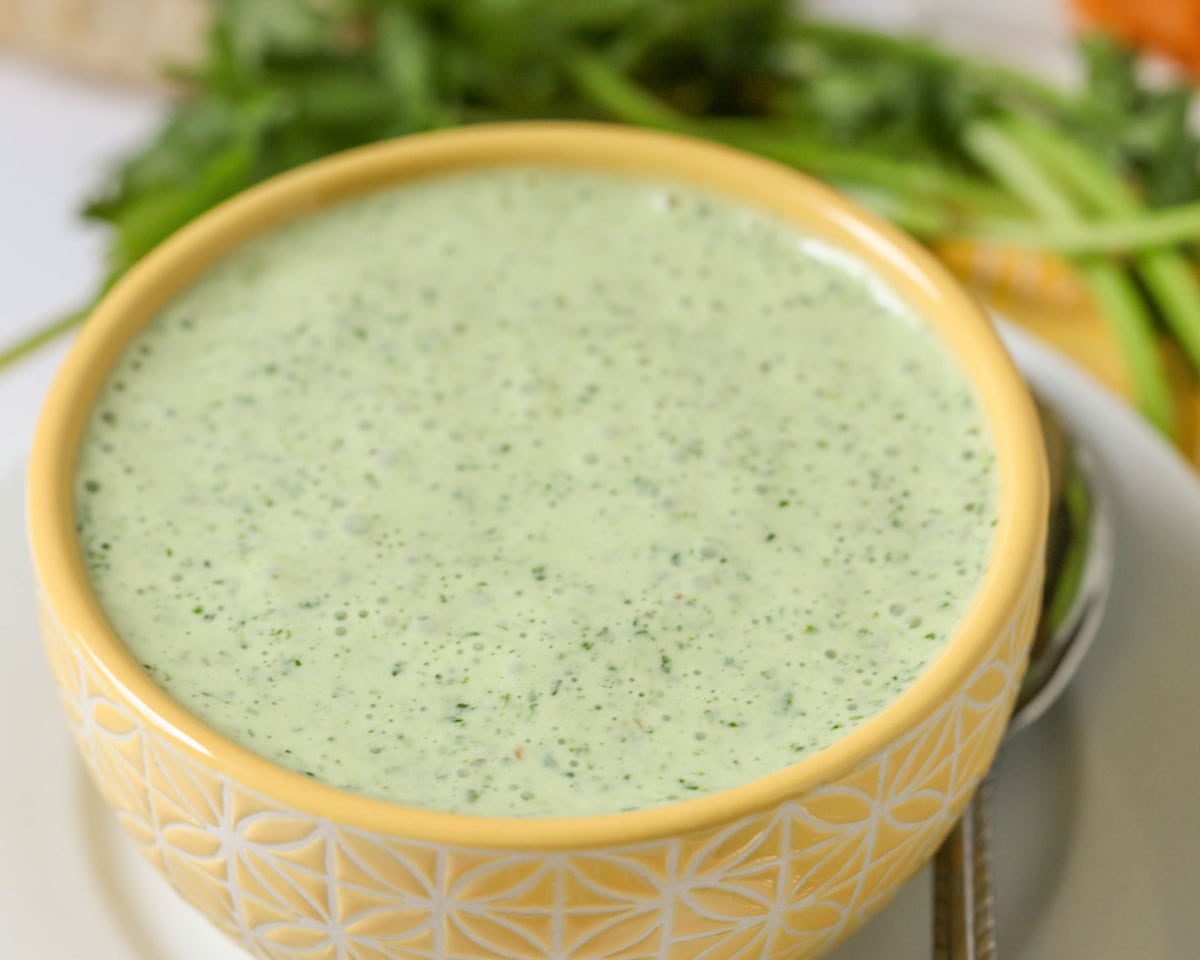 CAFE RIO'S famous HOUSE dressing
We have a favorite recipe for Homemade Ranch Dressing, but when it comes to Mexican dishes, Cafe Rio dressing is the ONLY way to go! I've been on a QUEST to find the perfect Cafe Rio Dressing, and I'm happy to tell you that quest is over my friends!
We made a few modifications to a recipe we found in a church cookbook, and VOILA – the perfect Cafe Rio Cilantro Ranch Dressing Recipe.
This dressing is DELISH!! You'll want this stuff with everything! Like, for reals – we have it on our tacos, chips, quesadillas, salad—you name it!! SO glad we finally found the recipe that is most like Cafe Rio's (in our humble opinion)!! 😉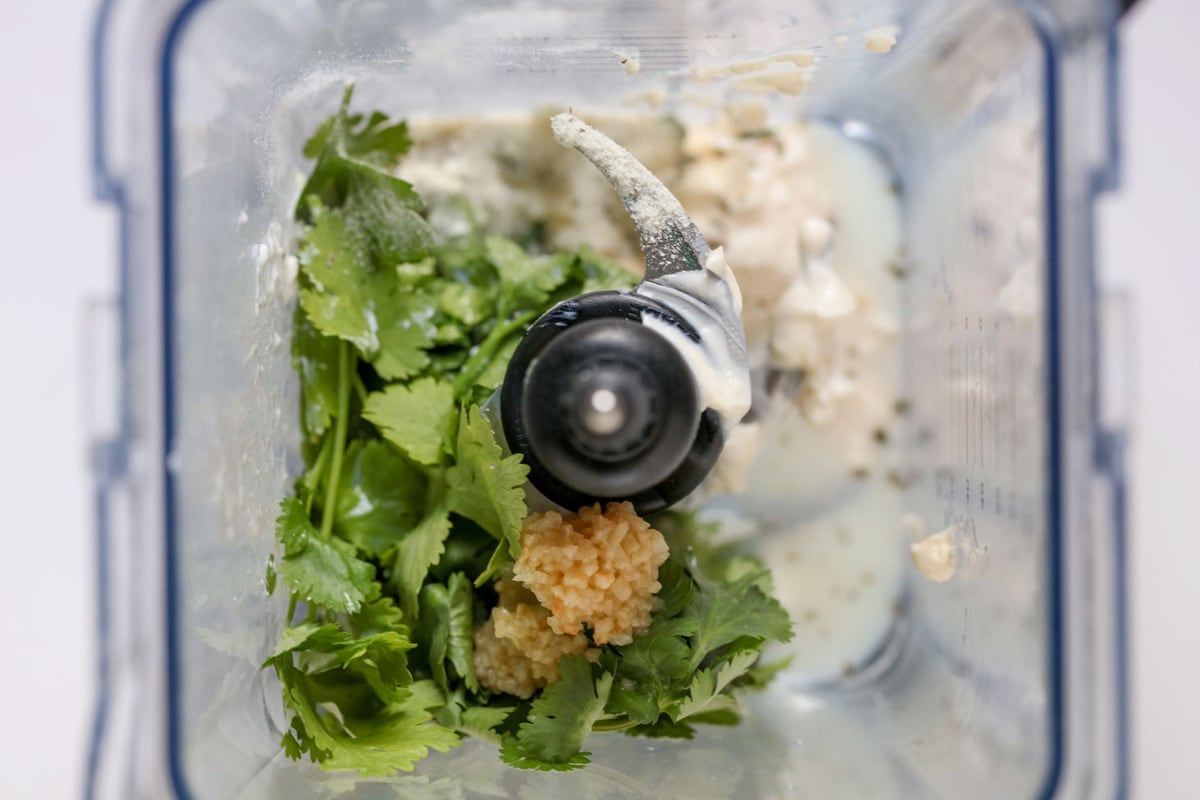 5 minutes + a blender
All you need to make this tasty dressing is 5 minutes of time and a good blender (or food processor). You just throw all the ingredients (minus milk) into the blender, blend, and then add milk until it's a consistency you like. I prefer it right in the middle of thick and thin, so I add about ⅓ cup.
A lot of the copycat recipes I've seen include tomatillos, but we decided not to. If you like the flavor tomatillos add, feel free to use 1-2. Some other add-ins/subs you might like:
lime juice (from 1 lime)

¼ teaspoon of chili powder or cumin (for more of a Tex-Mex taste)

Switch out your mayonnaise or sour cream for plain greek yogurt if you want something lighter.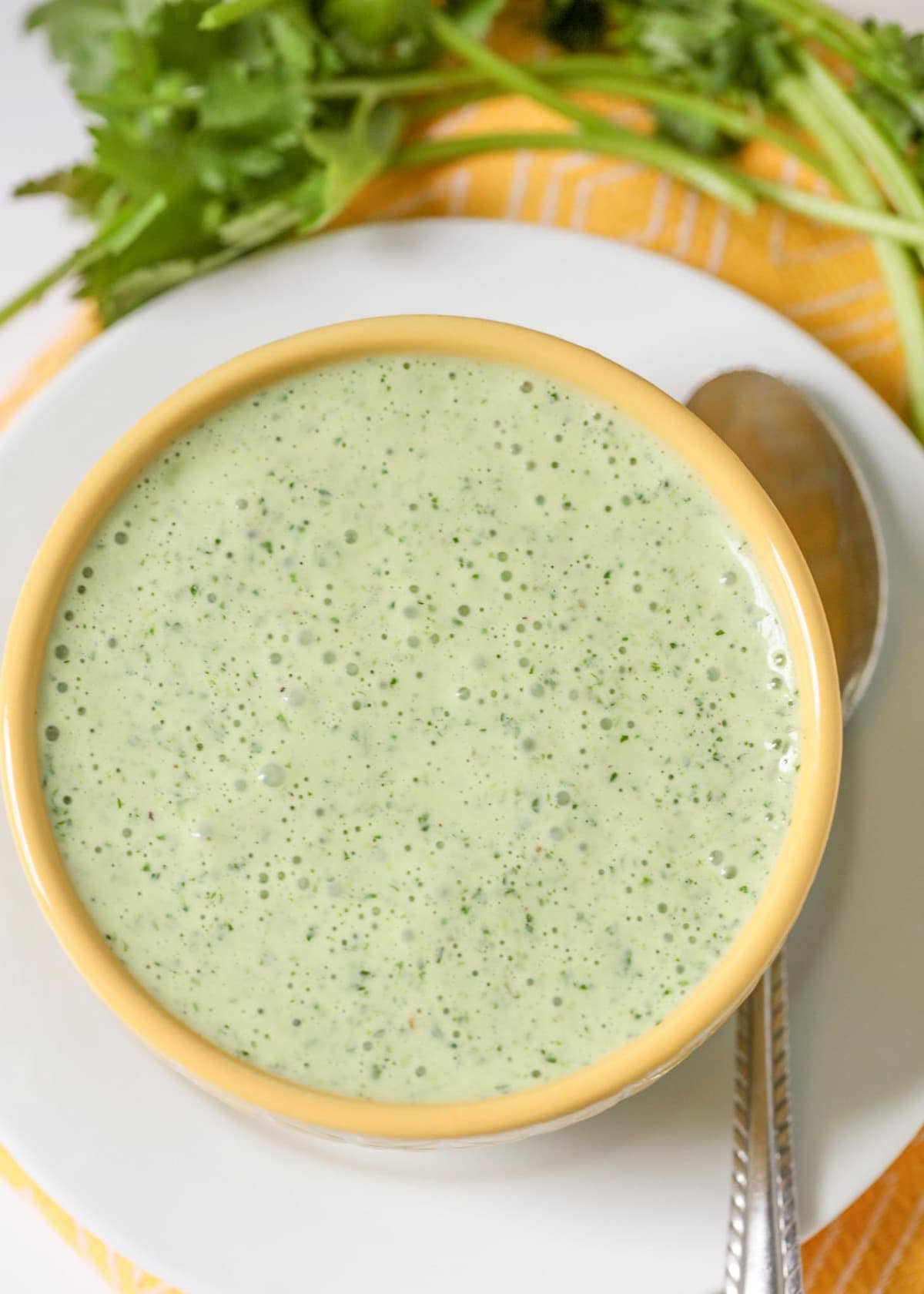 even better with time
I personally prefer making this dressing a day or two ahead of when I want to use it, because then it has time to sit in the fridge and let the flavors all combine.
How long does it last? If the dressing is stored properly, it should last for 1-2 weeks in the fridge. To store it, put it in an airtight container, a glass jar with a lid, or even reuse an empty dressing bottle.
Can you freeze this? I'm not sure how well this would freeze just because I know that dairy doesn't always thaw well after being frozen. It might be worth a try because some people have had success freezing ranch dressing in ice cube trays or in muffin tins.
To freeze it, pour it into the ice cube tray or muffin tins and freeze. When it is frozen then pop them out and put them in a freezer safe ziploc bag and store in the freezer for up to 3 months. When you are ready to serve it, pull out the desired amount and let it thaw in a bowl on the counter. You may need to stir it before eating. Let me know how it goes!
for ideas on what to use this dressing on, try:
Cafe Rio Dressing Recipe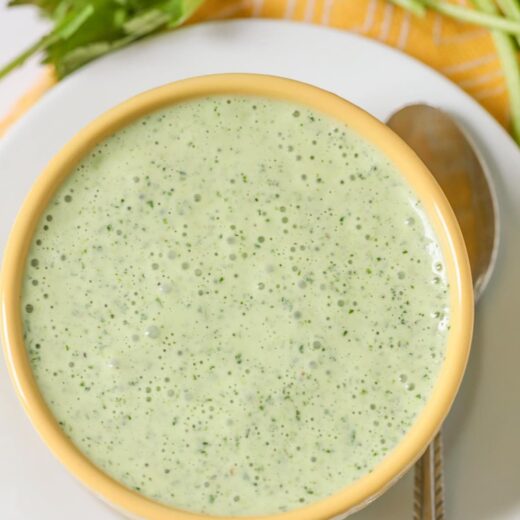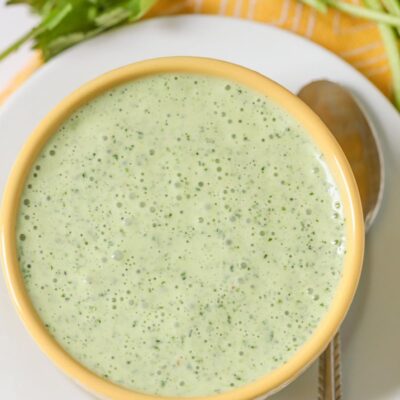 Copycat recipe for Cafe Rio's Ranch Dressing - we LOVE this stuff! It's made with cilantro, mayo, ranch seasoning, sour cream, & jalapenos!
Ingredients
1

packet

ranch dip mix

(or 3 tbsp)

1

cup

mayonnaise

1

cup

sour cream

1

bunch

cilantro

1

tsp

minced garlic

1-3

tsp

diced jalepenos

1/3 to 1/2

cups

milk
Instructions
Blend all ingredients in the blender. Add milk until it's the consistency you want (I did about ⅓ cup).