Sweet + savory Ramen Noodle Salad is topped with a simple homemade dressing. It's easy, delicious, and whips up in only 15 minutes!
Sometimes we like a little Asian twist to our salad recipes. Just like Asian Coleslaw or Asian Noodle Salad, this Ramen Noodle Salad has an oriental flavor that everyone loves!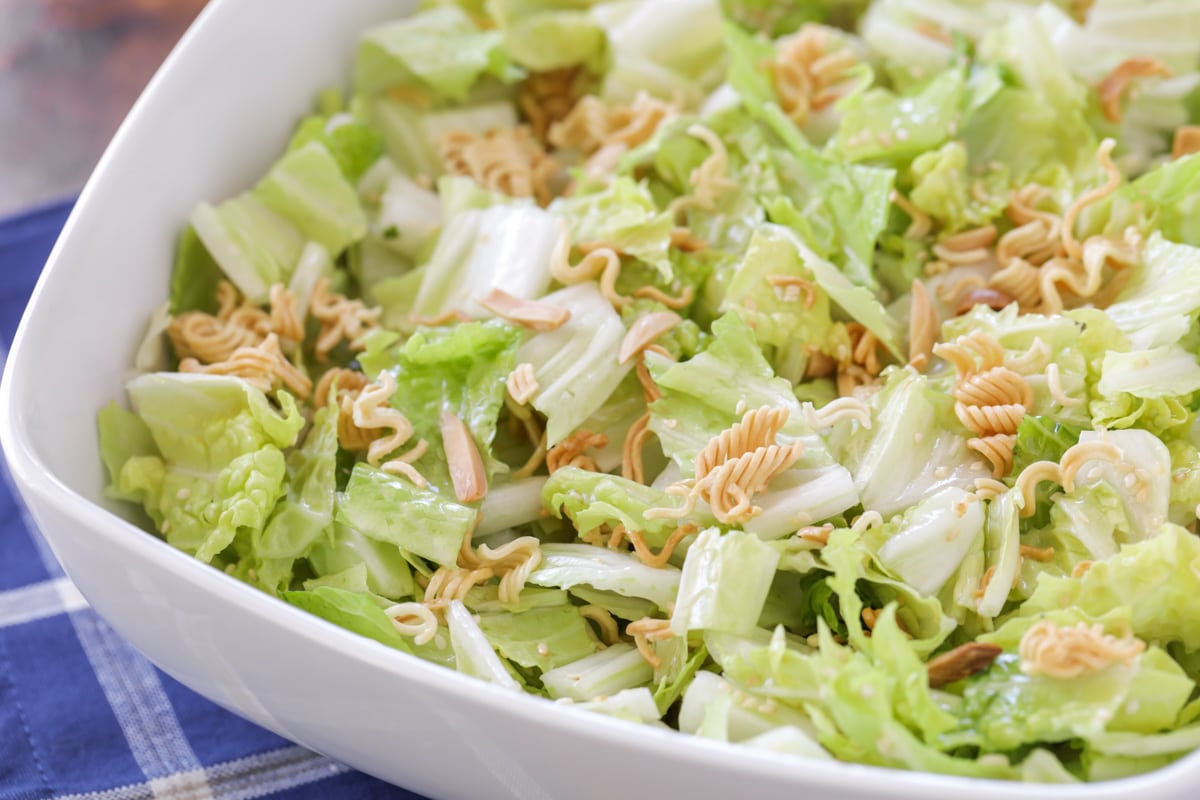 A favorite side salad
Not sure how it happens, but all of us kids on the Luna side end up with the same assignments for family gatherings. I'm always desserts. My little sister always brings cookies. My oldest sister always does a side dish.
Does your family do this?
My sister who always brings a side often gets asked to bring this family-favorite Asian Ramen Salad Recipe. This salad is one we've made for years. It's perfect for potlucks!
I would have never guessed that ramen in a salad would be so amazing, but it adds the perfect crunch! The homemade dressing is just as good. Overall, the Ramen Noodle Salad is SO simple to throw together.
The crunchy ramen noodles, seeds & almonds can be baked and used to top any type of salad. In fact, it would be a fantastic addition to Broccoli Slaw.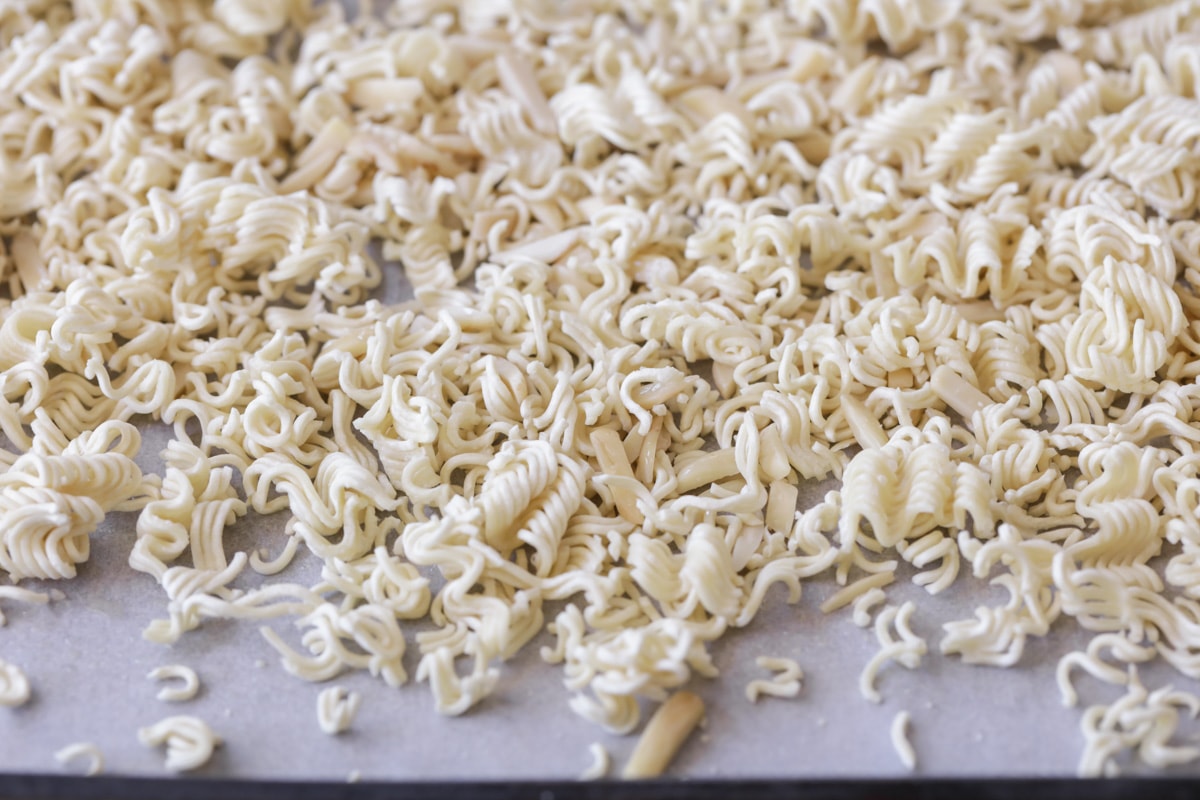 Ready in 15 minutes!
Ramen Noodle Salad requires minimal ingredients, and minimal effort! It doesn't take longer than 15-20 minutes from start to finish, which is perfect when you need a quick and easy side.
TOAST. Lay almonds, noodles and sesame seeds onto a flat baking sheet. Toast in the oven for 8-10 minutes at 375°F.
GREENS. Cut up napa cabbage and mix it with ramen noodle mixture in a large bowl.
DRESSING. Mix the two ramen noodle seasoning packets, vegetable oil, sugar, and vinegar to make the dressing. Whisk well. Pour the dressing over the cabbage just before serving.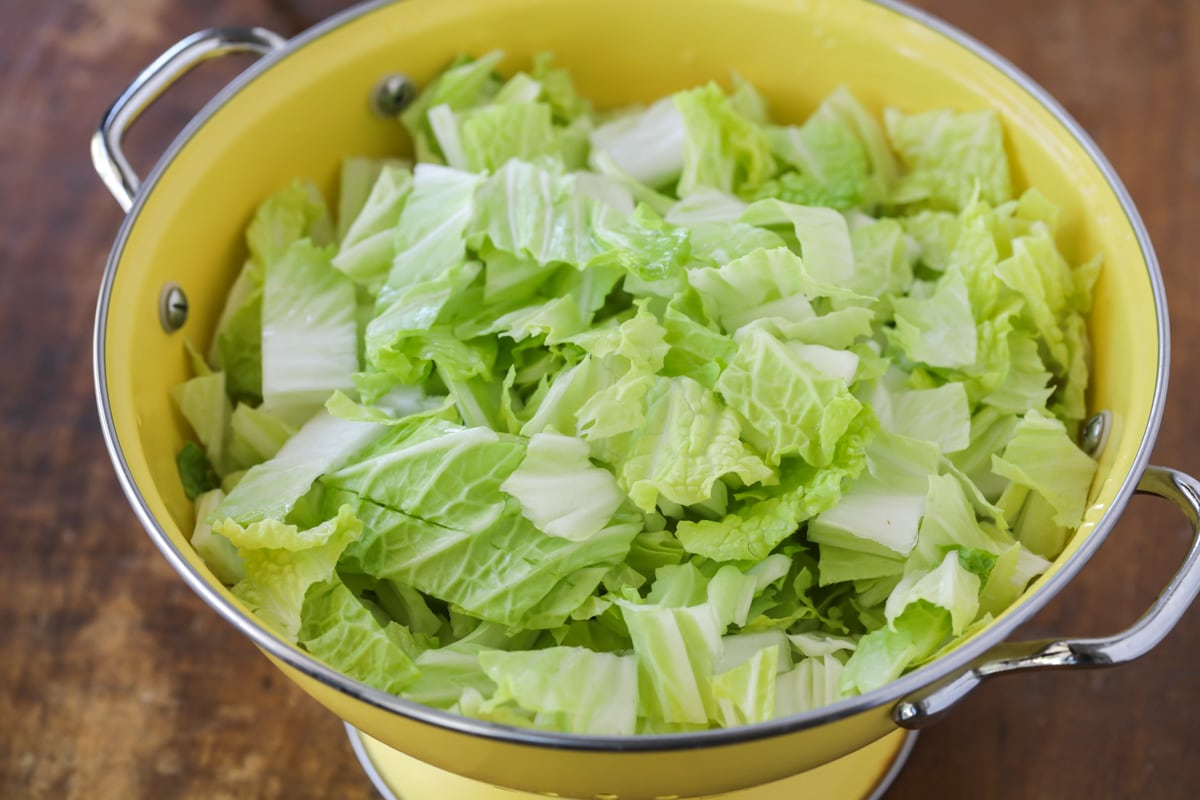 variations
Our recipe is pretty basic, and pairs well with a variety of main dishes from Salmon to Orange Chicken. I love how this simple recipe tastes. However, you can change it up in so many delicious ways:
Protein: Add grilled chicken, steak, or shrimp.
Add extra flavor with green onions or red bell peppers.
Add more veggies: shredded carrots, edamame, broccoli florets, thinly sliced snow peas, canned baby corn, chestnuts, mushrooms.
Add seeds or fruit: Mandarin oranges, sunflower seeds, dried cranberries.
Greens: Use a mix of red cabbage and green cabbage, or a bag of coleslaw mix.
Season with sea salt, garlic salt, ginger.
Use rice vinegar.
Substitute the vegetable oil with sesame oil.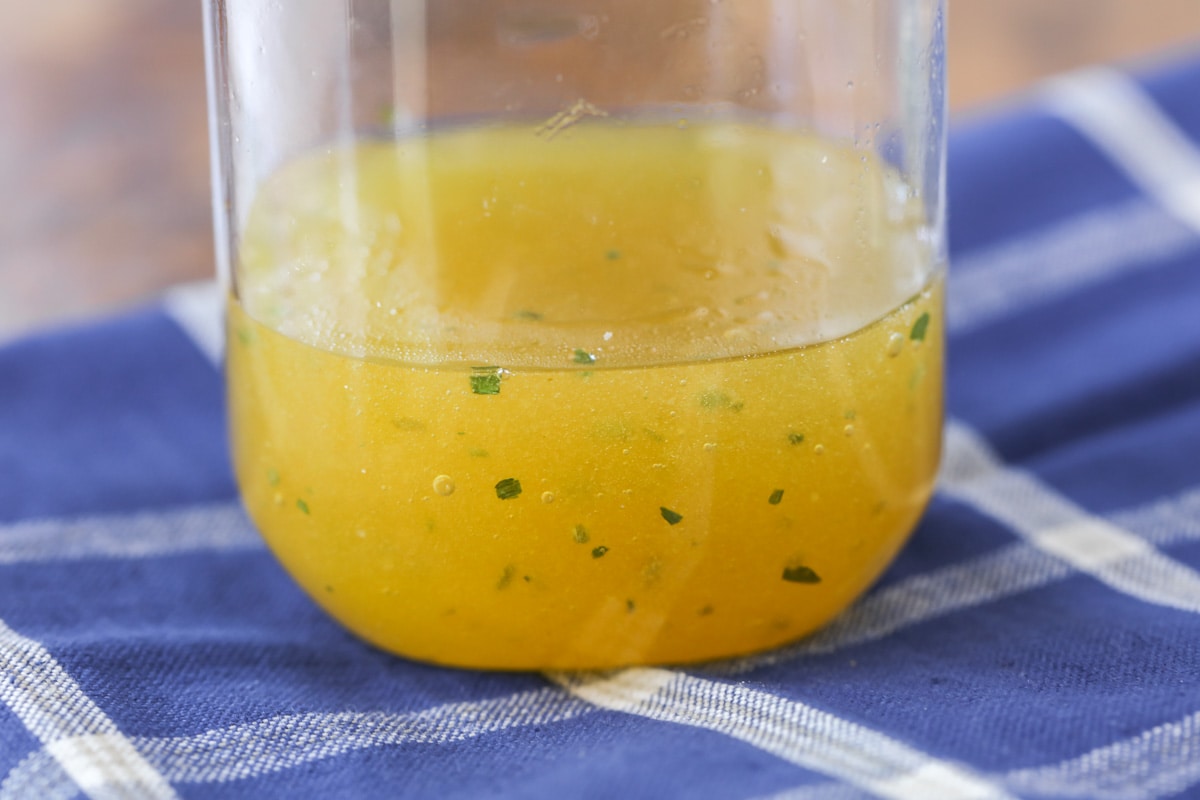 storing info
Make ahead of time. Prepare the ingredients ahead of time, but don't toss it together until you're ready to serve.
Store the cut cabbage in a covered container in the fridge.

Refrigerate the dressing in a jar with a lid.

Place the cooled, toasted ramen mixture in a container and keep on the counter.
STORE. Cover the leftover salad and store in the fridge for up to 3 days. The noodles will absorb the dressing and lose some of their crunchiness, but the salad still tastes great!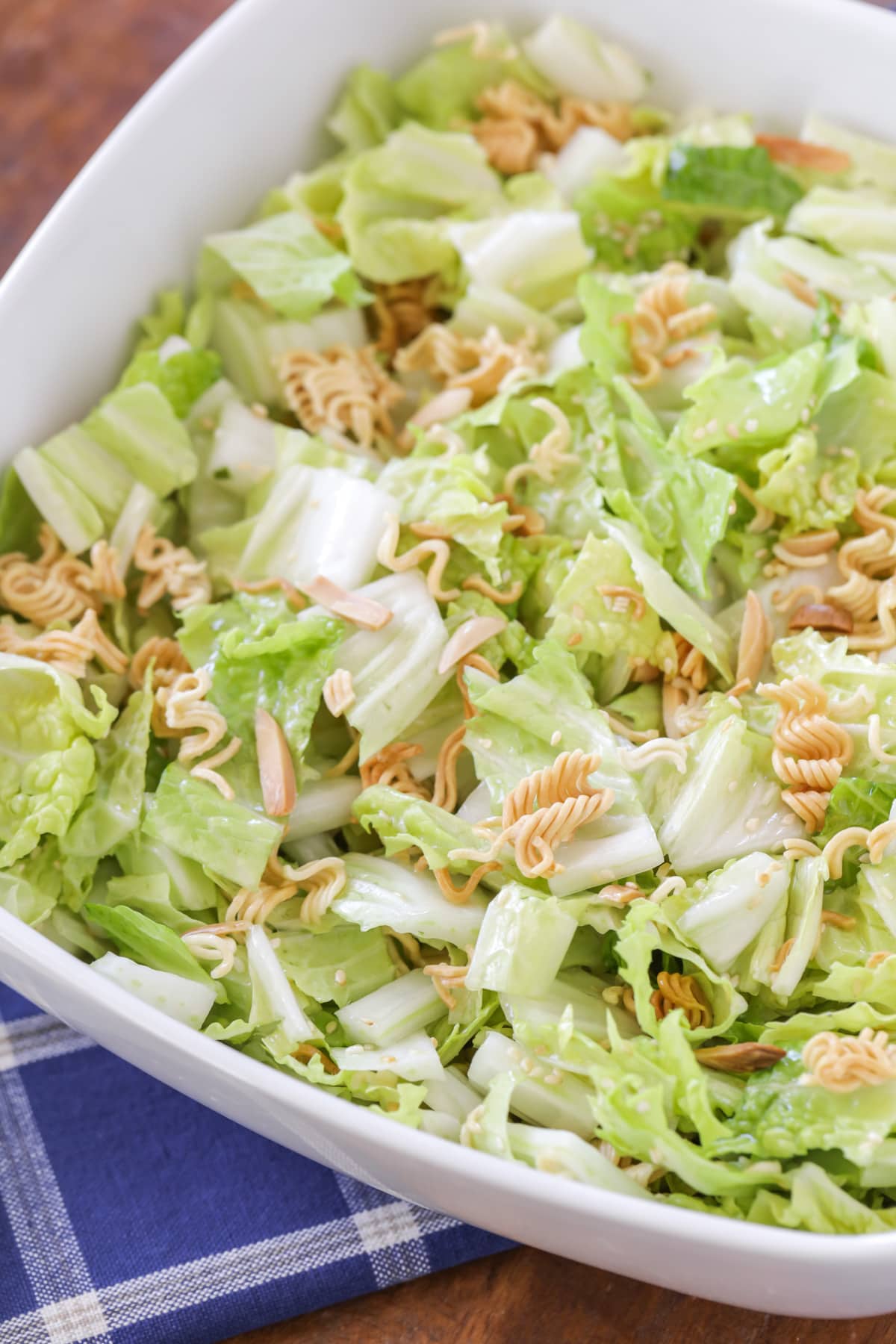 I honestly think I could eat Ramen Noodle Salad all day long! My only suggestion is that it gets eaten quickly.
After it's been sitting out for a few hours, the noodles get soft and it's not as good as when the noodles have a little crunch to them. 🙂
For even more Asian salad recipes, try:
Ramen Noodle Salad Recipe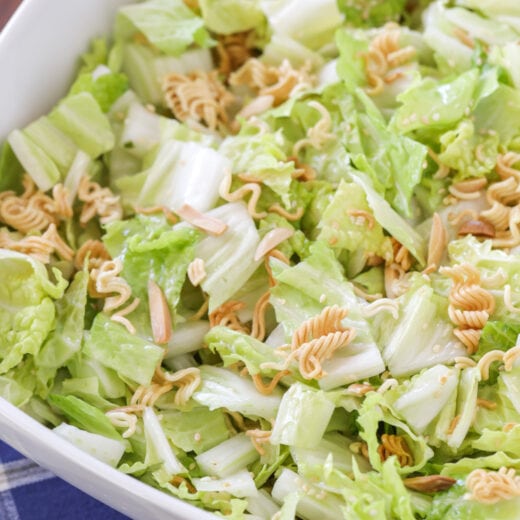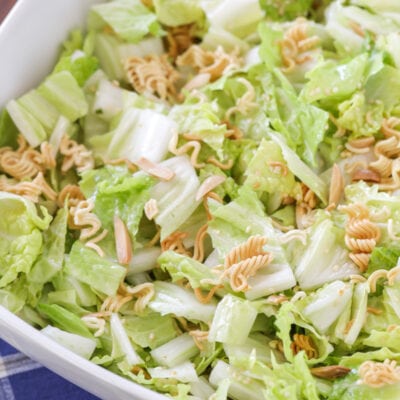 Sweet + savory Ramen Noodle Salad is topped with a simple homemade dressing. It's easy, delicious, and whips up in only 15 minutes!
Ingredients
2

bags

ramen noodles,

(broken up)

1/4

cup

slivered almonds

2

tbsp

sesame seeds

1

head

napa cabbage,

large
Dressing
2

packs

ramen noodle seasoning,

chicken flavored

1/3

cup

vegetable oil

2

tbsp

sugar

2

tbsp

vinegar
Instructions
Lay almonds, noodles and sesame seeds onto a flat cookie sheet. Cook for 8-10 minutes on 375.

Cut up napa cabbage and mix with noodle mixture.

Make dressing by combining two packs of ramen noodle seasoning, vegetable oil, sugar and vinegar. Mix well and refrigerate until ready to add to salad.

Add dressing to cabbage just before serving.