All of these entrees, sides, salads, drinks, and desserts are some of our FAVORITE summer recipes! Fire up the grill, grab some fresh in-season produce, and make these tasty and refreshing dishes.
More Collections: Summer Salads, Summer Drinks, Summer Desserts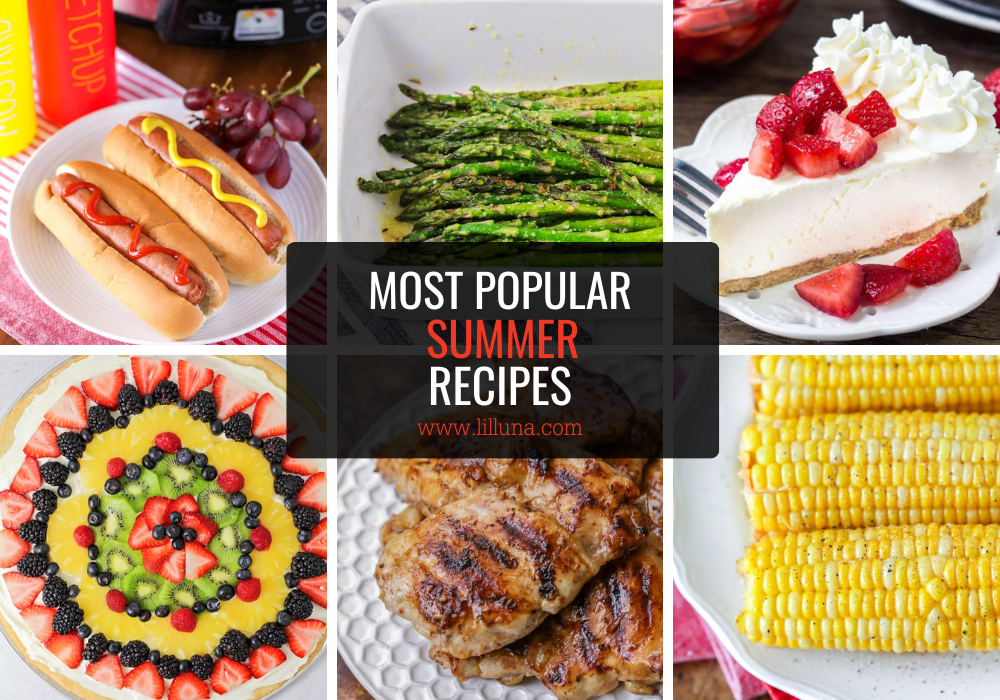 No Time like Summertime!
When the weather warms up, pools open, and summer holidays roll around, we find ourselves wanting to enjoy our meals outside! Especially when we have get-togethers or potlucks with family or friends, we love to fire up the grill and make all kinds of BBQ dishes.
Not to mention all the fresh fruits and vegetables that are in season during the summer months! I love making side dishes, salads, and desserts that include all the veggies and berries that are perfectly ripe and delicious in the summer.
I've put together a collection of our favorite summer recipes. These recipes include a lot of fresh produce, dishes that utilize the grill, and cool desserts and drinks.
Before we get into the list, I also have a few tips for making and serving summer recipes.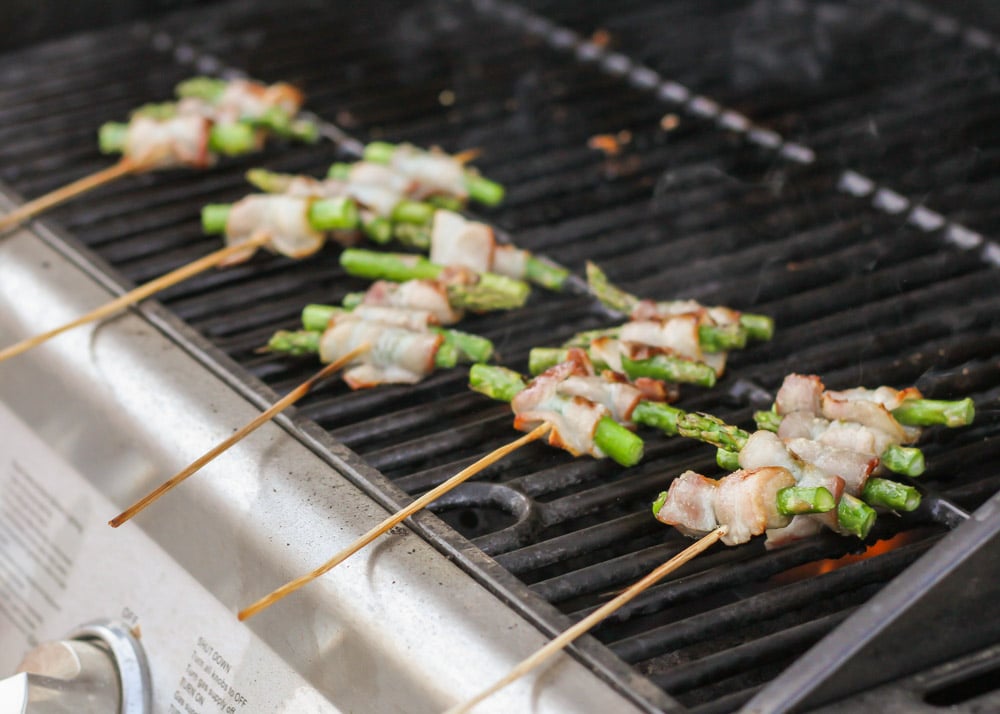 Tips for Summertime Cooking
Here are a few things to keep in mind when cooking in the hot summer months:
Grill meats, fruits, and veggies. I love the char marks and the unique grilled flavor.
Utilize your crock pot! You can still get delicious main dishes and side dishes without spending time in an oven hot kitchen.
Take it outside. Eat out on the patio, go out for a picnic, and head to the lake or the beach.
Lighting. If you're eating outdoors, in the evening string up lights and use tiki torches.
Keeping food cool outside. Put the food table in the shade, don't put everything out at once, put dishes on ice, and keep food covered.
See the individual recipe posts for more tips and tricks for cooking these summer recipes.
Transporting food to cookouts
Using a cooler works for both hot and cold foods. Use ice and cold packs to keep food cold. To keep food warm in a cooler, use hot water bottles, hot rice bags, and hot bricks.
Keep cold food and hot foods in separate coolers. Remove them only when you're ready to serve them.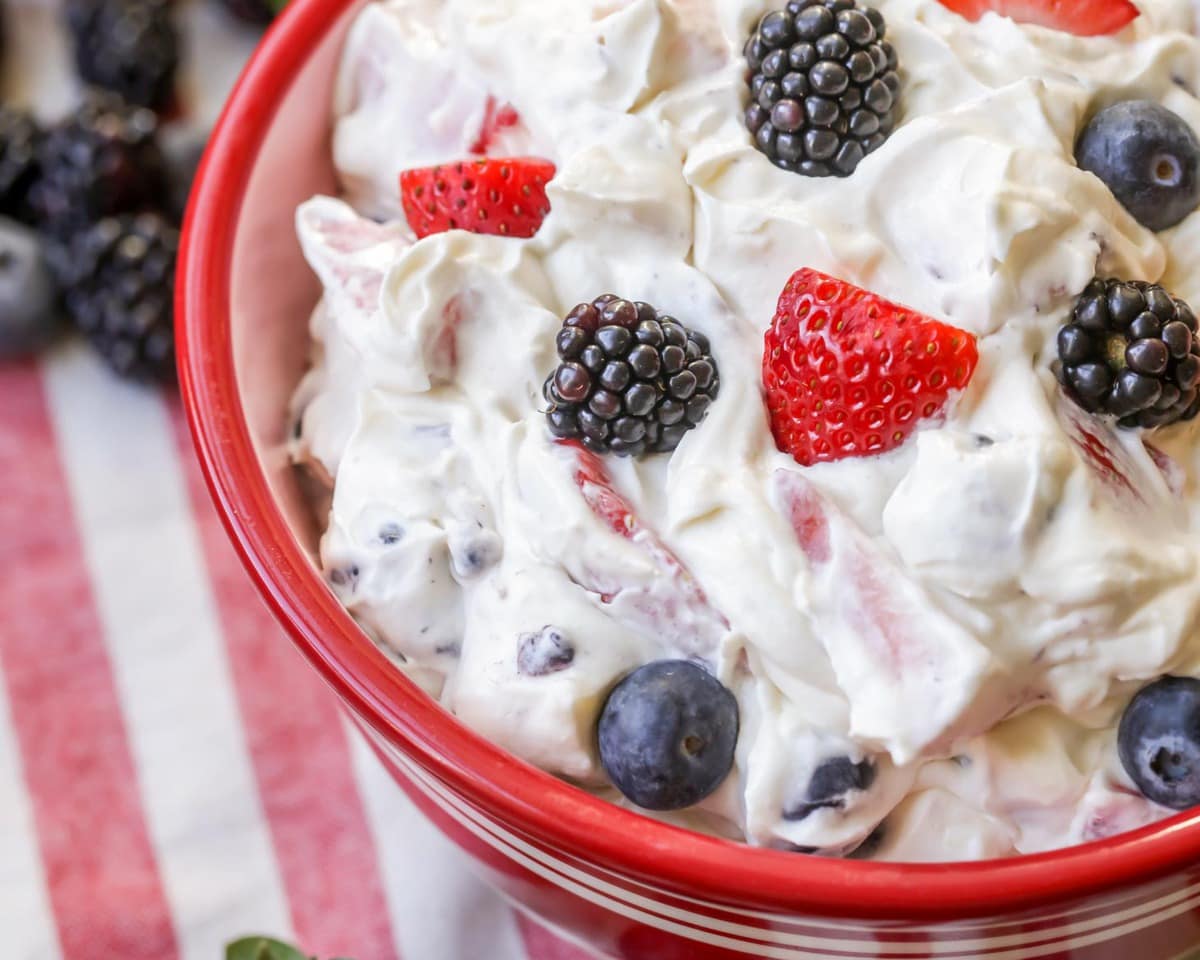 Seasonal produce
Summer produce is in full swing. Watermelon, sweet corn, tomatoes, berries, and zucchini are some of our favorites. Buying in-season produce is not only cost-effective but also ensures the freshest most delicious produce.
Some other favorite summer produce to include in your healthy summer recipes:
Vegetables. mushrooms, bell peppers, green beans, carrots, beets, cucumbers, leafy greens, green beans, onions, cabbage, peas, and radish
Fruits. avocado, apples, melons, stone fruit, figs, grapes, citrus, pear, squash, and tomatoes
Fresh herbs. fresh basil, garlic, cilantro, dill, fennel, parsley, coriander, cumin, or rosemary
---
Summer Entrees
Hot dogs & burgers & pork, oh my! There are so many delicious easy summer recipes to serve on a hot day. Here's a list of our favorites.
Best of all you don't have to turn on the oven and heat up the kitchen. Be sure to check out our complete list of summer dinner ideas as well.
BBQ Pork Chops
These baked pork chops are simple, delicious, and smothered in a homemade BBQ sauce. They're the perfect easy meal for the pork loin lover.
Best Chicken Marinade
This easy chicken marinade is the BEST way to marinate chicken breasts before grilling or cooking. It makes the meat juicy, tender, and so flavorful!
Steak Marinade
This is our all-time favorite steak marinade! It requires only four ingredients, and makes our steak taste SO amazing! Everyone always asks for this easy steak marinade recipe because it's just that good!!
Sweet Pork Barbacoa
Sweet pork barbacoa is the best slow cooker pulled pork recipe you will ever try. Better than Cafe Rio—you better make a double batch!
Ranch Burgers
These ranch burgers make the BEST homemade hamburgers!! This easy burger recipe is complete with the most delicious secret sauce that compliments the ranch burger perfectly!
Slow Cooker Kalua Pork
This slow cooker kalua pork is a classic Hawaiian favorite made easily in your slow cooker with just a few ingredients. Eat it on it's own, or in tacos or sliders.
Chicken Souvlaki
Chicken Souvlaki is a savory kabob infused with Greek flavors. With marinated chicken, onions, and peppers, it's hearty and delicious.
Hawaiian BBQ Chicken Sandwiches
Loaded with juicy grilled pineapple, red onion, and crisp lettuce, this Hawaiian BBQ chicken sandwich is perfect for summer entertaining!
Dr. Pepper Ribs
Pork ribs cooked in Dr. Pepper, grilled to perfection, and smothered in BBQ Sauce. These Dr. Pepper ribs fall off the bone delicious!
Huli Huli Chicken
This grilled Huli Huli chicken is the juiciest and most delicious Hawaiian chicken you'll ever try! Great alone or served on rice or noodles!!
Crock Pot Brisket
Juicy and delicious meat, easily made in your slow cooker! This crock pot brisket is so tender it just falls apart.
Hot Dogs in a Crock Pot
The easiest way to make hot dogs for a crowd! Cook hot dogs in the crock pot for all of your summer potluck needs.
---
Summer Sides
I get just as excited to try the side dishes as I am to eat the main dish. Try to offer a variety of choices both warm and cold, veggie and fruit to balance out the meal.
Boiling Corn On The Cob
Boiling corn on the cob is a cinch! You will love this juicy corn on the cob to put on the side of any summer meal.
Bacon Wrapped Asparagus Skewers
This recipe is inspired by one of our favorite Disneyland foods – Bacon Wrapped Asparagus Skewers from Bengal Barbecue! These skewers only require 4 ingredients and take less than 10 minutes on the grill!
how To Cut A Watermelon
Is there anything better than a ripe juicy watermelon? Learn how to cut a watermelon into cubes efficiently and easily with our tips!
Roasted Tomatoes
Juicy roasted tomatoes are the yummiest and easiest appetizer or side dish. Roasting fresh tomatoes (with a little olive oil, basil, and parmesan) brings out every delicious flavor!
Fruit Kabobs
Colorful fruit kabobs are the best appetizer or side for any occasion! Load up your favorite fruits and get snacking.
Baked Zucchini Fries
These baked zucchini sticks are crusted and baked in panko, parmesan cheese, oregano, and basil. Zucchini fries are healthy AND delicious!
Baked Beans
Easy homemade baked beans are a must-have at all of our BBQ's. Everyone who tries it agrees it's the best-baked bean recipe!
Yellow Squash Casserole
Hot and cheesy squash casserole makes for the best holiday side dish! You'll love this creamy vegetable casserole with a crunchy buttery topping.
Grilled Asparagus
Grilled asparagus is the best side dish alongside almost any dinner recipe! Sprinkled with salt, pepper, and a little parmesan cheese—this recipe is incredible!
Cheesy Zucchini Tots
Cheesy zucchini tots are a fun twist on tater tots, and are loaded with my favorite vegetable. They're super easy and quick to make.
---
Summer Salads
Both sweet and savory salads have a place at my table. Salads are great because they are typically quick to make, can be made ahead of time, and give a nice cool balance to warmer grilled main dishes.
Be sure to check out our complete list of summer salad recipes!
Summer Corn Salad
This summer corn salad is a light, flavorful salad filled with corn, tomatoes, feta, basil and cucumber. It's so simple and quick that it's perfect for get-togethers and BBQs.
Homemade Potato Salad
Our all-time favorite potato salad – it's simple, flavorful, and filled with chunks of potatoes, eggs, and olives! It's the perfect addition to any BBQ or picnic and is so creamy and tasty, it will wow everyone who tries it.
Favorite Broccoli Salad
This sunny broccoli salad is a simple, tasty, and hearty broccoli salad served with bacon, cranberries, and sunflower seeds, and mixed with a delicious, homemade mayonnaise-vinegar-based dressing that is perfect for BBQs and get-togethers.
Snicker Apple Salad
Delicious apple Snickers salad that is so good and so easy to make! Layers of apples, Snickers, and caramel in a creamy topping made from the cool whip, milk, and vanilla pudding mix.
Strawberry Jello Pretzel Salad
Strawberry Jell-O pretzel salad is the ultimate combination of sweet and salty. This classic treat is always a crowd pleaser!!
Tomato Mozzarella Salad
Fresh, light, and healthy fresh tomato mozzarella salad with basil and balsamic glaze! Perfect for lunches with friends or a side salad for dinner!
Macaroni Salad
A simple, creamy macaroni salad loaded with pasta, peas, and ham. It's perfect for parties, family dinners, and potlucks!
Easy Fruit Salad
A fresh fruit salad that makes the perfect side dish to any meal! Colorful, healthy, delicious, and filled with all your favorite fruits!
Broccoli Cauliflower Salad
Flavorful and simple cauliflower salad with a creamy crunch! Filled with veggies, onions, bacon, sunflower seeds, and cheese, this salad is sure to be a hit at any BBQ or get-together.
Easy Tortellini Salad
Super YUMMY and easy tortellini salad filled with tortellini, salad, ranch, tomatoes, and bacon bits – perfect for summertime!
Easy Coleslaw
This quick and easy coleslaw makes the perfect side dish for any picnic or BBQ. It takes just minutes to put this classic coleslaw recipe together, and it can easily be customized with the spices and flavors you love most.
Cheesecake Fruit Salad
This cheesecake fruit salad is the perfect combination of creamy, light, and fresh! Fresh berries tossed in a cream cheese pudding mixture—it's the perfect side or crepe filling!
---
Summer Drinks
Summertime drinks are so much fun to serve!
We have a DIY Beverage Station perfect for bottled water and cans of soda. For homemade drinks, I like to use a beverage dispenser or regular juice pitchers. Adding a lemon wedge and a paper umbrella to drink cups is a fun easy way to spruce up any glass.
Check out our complete list of summer drink recipes for more inspiration.
Pineapple Pink Lemonade Soda
All-time favorite party drink – this pink drink recipe (aka Baby Shower Punch) takes a minute to make and is made with 3 ingredients including – pink lemonade dry mix, sprite, & pineapple juice!
Sonic Ocean Water
Copycat Sonic Ocean Water – so easy to make and so refreshing! It's perfect for parties or a hot, summer day!
Mint Julep (Non-Alcoholic)
Disneyland's Copycat Mint Julep recipe – a non-alcoholic drink that is refreshing and DELICIOUS!! Made with lemonade concentrate, creme de menthe syrup, lime juice, sugar, and club soda – topped with mint leaves and cherries!
Orange Julius
Refreshing & simple Copycat Orange Julius takes a minute to make and tastes just like the real thing. It is a favorite family treat!
Watermelon Juice
Delicious and refreshing watermelon juice – a favorite drink in the summertime! Made with watermelon & strawberries!
Best Strawberry Lemonade
The BEST strawberry lemonade filled with chunks of your favorite fruit including strawberries, pineapple, mangos, cantaloupe, and watermelon!
Patriotic Drink
This layered Patriotic drink is pure magic! It's not difficult to make, all it takes is Hawaiian Punch, blue Gatorade, and sprite zero.
Frozen Strawberry Lemonade
Frozen strawberry lemonade takes minutes to make and is filled with lemonade, strawberries, ice, and pineapple juice.
The Best Homemade Lemonade
The best homemade lemonade recipe includes Lemon juice, sprite and pineapple juice for an extra punch of flavor. It is deliciously refreshing!!
Copycat Sonic Cherry Limeade
Delicious recipe for Sonic's Cherry Limeade – tastes just like it! Ingredients include 7-Up, cherries, lime, and maraschino syrup!
---
summer desserts
Fruity desserts and frozen treats are classic to serve during the summer. No Bake desserts are also welcome. Keep desserts in the fridge, freezer, or cold cooler until you're ready to serve them. For even more inspiration, check out our complete list of summer dessert recipes!
Fruit Pizza Recipe
The BEST fruit pizza recipe ever! A super soft cookie dough with a pineapple cream cheese frosting topped with your favorite fruit!
Ice Cream Sandwich Cake
Oreo studded vanilla ice cream sandwich cake is cool, creamy, and refreshingly delicious. It is perfect for hot summer days!!
dessert parfait
Dessert parfaits are a creamy combination of delicious fluffy pudding and fresh fruit. They are simply heavenly!
Blueberry Delight
Blueberry crumb delight is a delicious layered dessert recipe with a cream middle and topped with blueberries and whipped cream!
Strawberry Pie
Strawberry pie is the perfect springtime dessert! Fresh strawberries piled high, coated in strawberry Jello, and placed in a buttery crust.
No Bake Cheesecake
This NO BAKE cheesecake is the perfect recipe for summer. With a delicious graham cracker crust and a creamy vanilla cream cheese mixture, you can top it with anything – like these sugared strawberries! Everyone goes crazy over this easy no bake cheesecake recipe!
No Bake Snickers Cheesecake
Snickers cheesecake is a no-bake dream. It is cool and refreshing with the perfect amount of rich chocolate and peanut flavor!
strawBerry Icebox Cake
Easy berry icebox cake is simple, light, and full of fresh summer berries. It'll disappear in seconds at your next get-together!
Peach Dump Cake
3 ingredient peach dump cake is quick, simple, and utterly tasty. It is warm, gooey, and perfectly peachy!!
Frozen Strawberry Dessert
This frozen strawberry dessert is made with a buttery graham cracker crust and creamy frozen strawberry filling.
---
Favorite Summer Recipes
We hope you enjoy this list of delicious summer recipes. Whether you're looking for something special to serve at a backyard BBQ or just an everyday weeknight dinner there is something for everyone!
More Collections: Summer Dinner Ideas, Summer Slow Cooker Recipes, Summer Soups