This homemade pizza dough is easy AND delicious. You'll want to ditch delivery and have a pizza making night with your family with this simple and soft pizza dough recipe that everyone loves.
Homemade is always better than store-bought! Pizza is one of my family's all-time favorite dinners, and this homemade pizza dough is the star of the show! Paired with homemade pizza sauce (or white pizza sauce), you can make pizza 100% just the way your family likes it!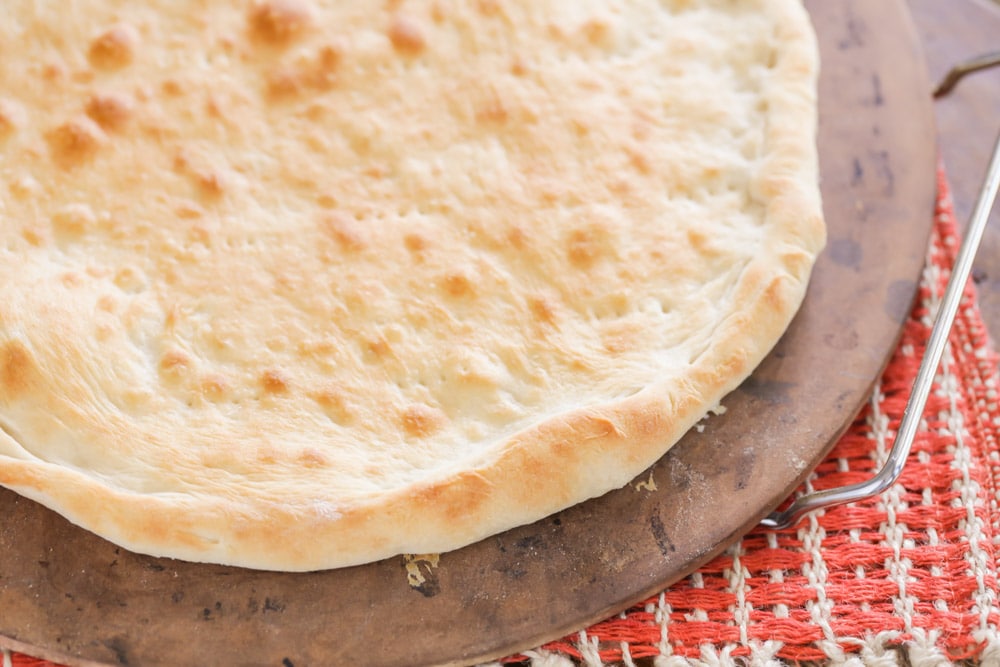 homemade pizza = the best pizza
Homemade pizza is one of our family's FAVORITE meals to make together. It's also so much fun to make with other families or friends. All you'll need is:
Then make THIS homemade pizza dough for the world's most perfect delicious at-home pizza. The smell of fresh pizza when it's cooking in the oven is pure heaven. All that melted cheese and tasty toppings cooking together on top of a soft and crispy dough – just can't be beat.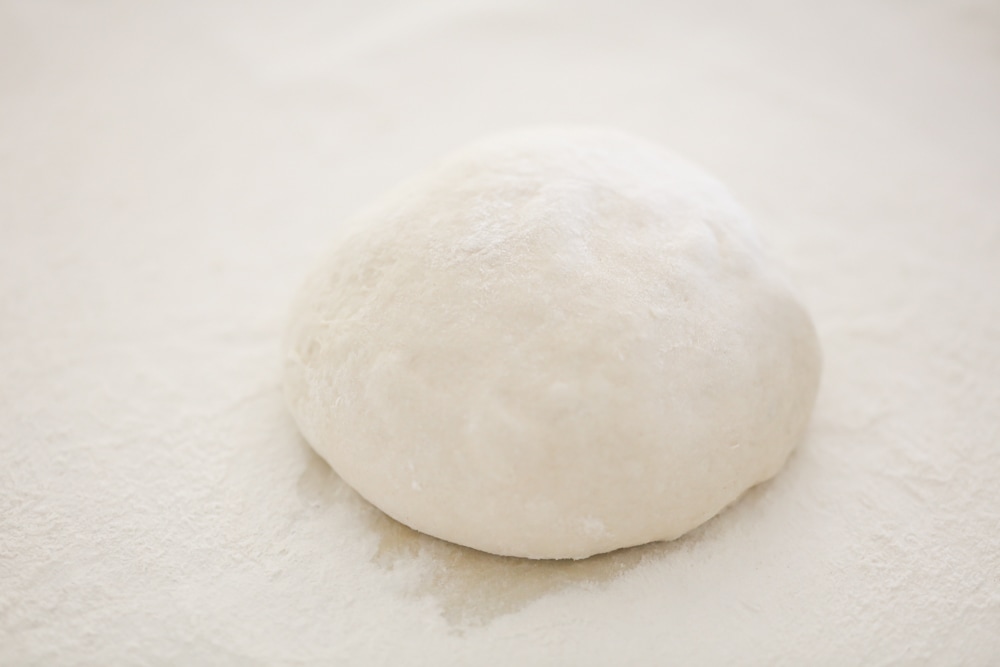 How to Make Pizza Dough
You'll never believe how easy it is to make your own pizza dough. You need just 6 ingredients – and one is water so that practically doesn't count. And don't be afraid of yeast! I swear it's more simple than you think. Say it with me: You can do it!
MAKE DOUGH. Combine your water, yeast, and sugar and let it sit for a couple minutes. You'll need WARM water (about 110° F). This will make your yeast perfect for the dough. Add the salt and oil to the yeast mixture. Then add your flour a cup at a time until it's formed a sticky dough. Knead your dough on a counter or in a mixer for 8 minutes. The dough should no longer be sticky.
DIVIDE. This recipe makes four 14-inch pizza crusts, so divide the dough into four parts. You can freeze the dough or roll it out into a large pizza circle. (I love to have a couple of frozen pizza doughs on hand when we want an impromptu pizza night.)
PREP FOR BAKING. Fold over the outer edge of the dough if you want to have a crust. We also recommend brushing the dough with olive oil and poking with a fork so it doesn't bubble up.
BAKE. Preheat your oven to 500 degrees and bake the dough on a greased cookie sheet or pizza stone for 8-12 minutes to cook completely. You can store this to add toppings on later, OR you can proof the dough by baking for 5-7 minutes and then add the toppings and continue cooking until cheese is melted.
Why does the oven need to be so hot? 500 degrees is super hot!!! The reason being is that a hotter oven causes the dough to become airy and full of holes. A hot oven also creates a nice crisp crust and a soft airy interior.
tips to make sure you get perfect pizza dough:
Fold the outer edge of the dough round over if you want to have a crust.
Be sure to bake dough for at least 5 minutes before adding toppings. This will ensure the crust isn't gooey underneath the toppings, which can happen if you add toppings to the dough before baking.
Using a pizza stone will help it cook more evenly, but it doesn't need to be baked on a pizza stone – any baking sheet works.

To make ahead of time, cook the crust for 8-12 minutes. Cool and wrap in Saran Wrap. Store the crust at room temperature for a couple of days or the freezer for 1-2 months. Since the dough is completely cooked all you will need to do is bake the assembled pizza until the toppings are hot and the cheese has melted.

Bake the dough on the lowest oven rack to make sure dough is closest to the heat.
If dough starts to bubble up, you can use a fork to poke a hole in the bubble so it doesn't puff up too much.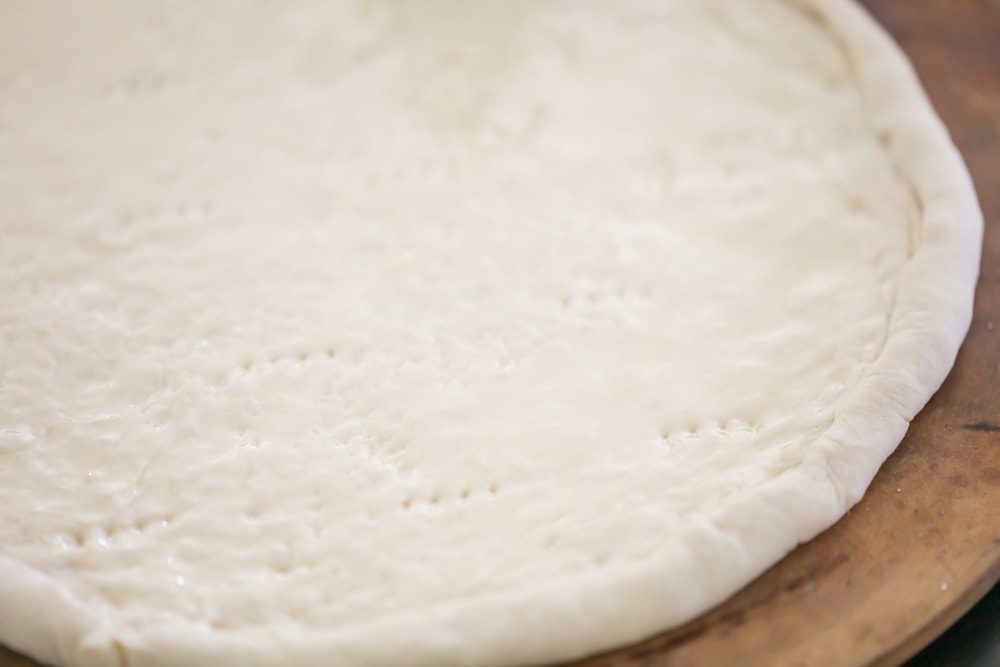 what to do with extra dough
Since this recipe makes 4 pizzas and depending on the size of your family, you may not need all four. Simply freeze the rest for later.
FREEZING. After the dough has been mixed let it proof/rise for 1-2 hours. Punch it down and do not let it rise a second time. Divide dough into 4 equal sections. Dust each dough ball with flour or lightly with olive oil. Place in separate freezer ziploc bags and label. Store in the freezer for up to 3 months
THAWING. You can either thaw at room temperature for at least 2 hours, or thaw in the fridge for 6-8 hours. Then, let the dough sit at room temperature for another 30 minutes. For a thin crust roll out, top and bake. For a thick crust, roll out and let rise for 30 additional minutes before topping and baking. 
Can I refrigerate the dough? Once the dough has risen the first time, cover with a thin layer of olive oil and place into a bowl covered with plastic wrap. Though it's best at about day 3, the dough can last 7-10 days longer. When you're ready to use the dough, take the bowl out and allow the dough to proof to room temperature before dividing and shaping.
Can I freeze an assembled pizza for later?  Yes, you can! Follow the steps make your freezer pizza. They'll keep in the freezer for 4-6 months.
Preheat the oven to 350 degrees. Bake the

plain

crust for 7-9 minutes. Allow it to cool for about 3 minutes on the pan. (It will continue to cook just a bit). Then, place on a cooling rack and let the crust completely cool before adding the toppings.

Place crust back onto a cool baking pan and add toppings, make sure all the ingredients are cool.

Flash freeze the pizza for 3-4 hours.

Remove from pan and wrap frozen pizza with plastic wrap then again with aluminum foil. Label and return to the freezer.

To Heat: Preheat oven to 375 degrees F and bake for 25-30 minutes or until the pizza is hot throughout and cheese has melted.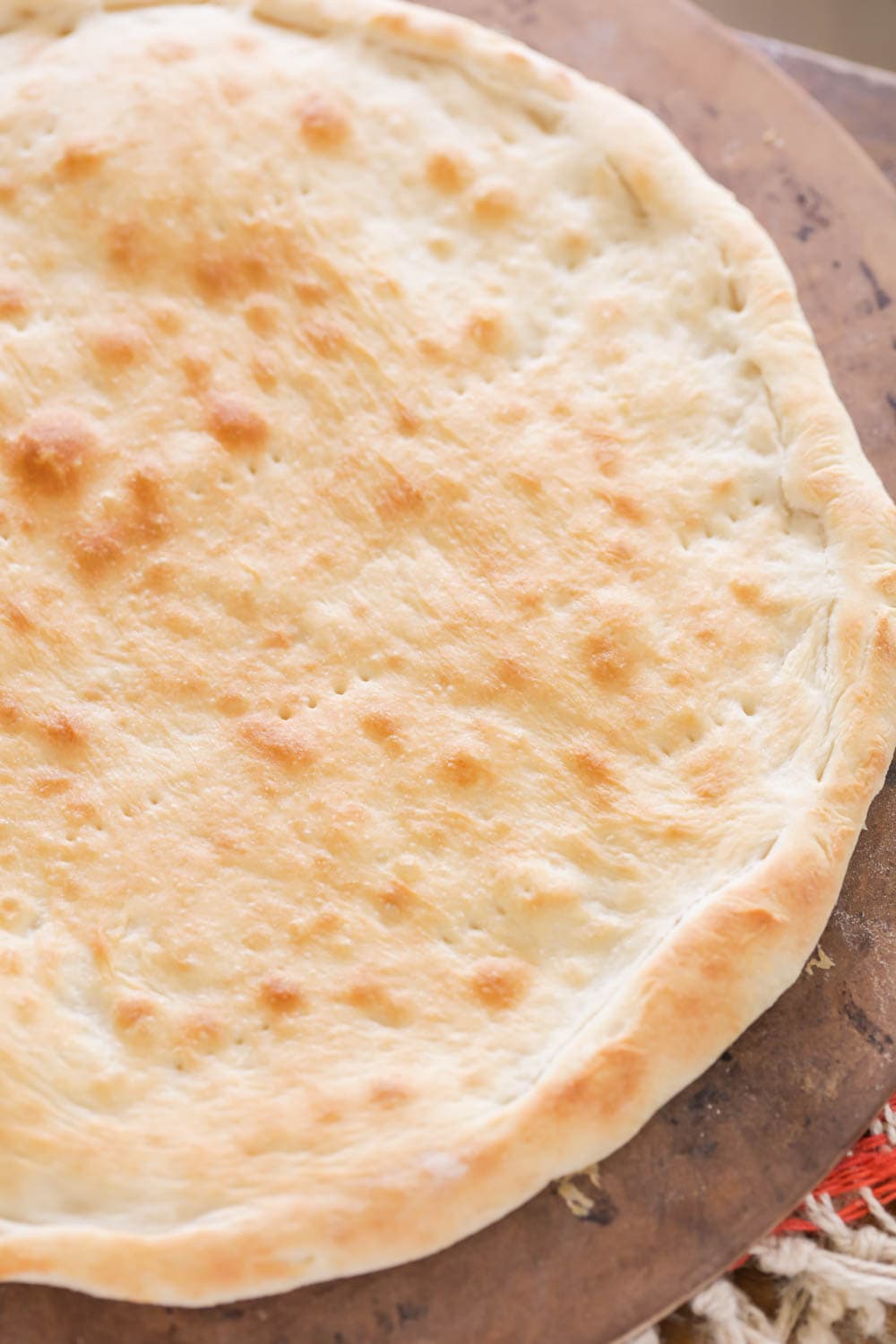 We love that this pizza dough recipe is fail proof. and so simple. You'll want to make this recipe at least once a week (it's that good). My kids are always begging to make homemade pizza – it's simply delicious.
I hope you give this easy pizza dough a try. Invite all of your friends over of a summer pizza party! Bake a whole bunch of different pizzas and then slice them all for everyone to try a piece or two. Sounds like a fun party to me!
What to serve with pizza:
use this dough for these delicious pizzas:
Pizza Dough Recipe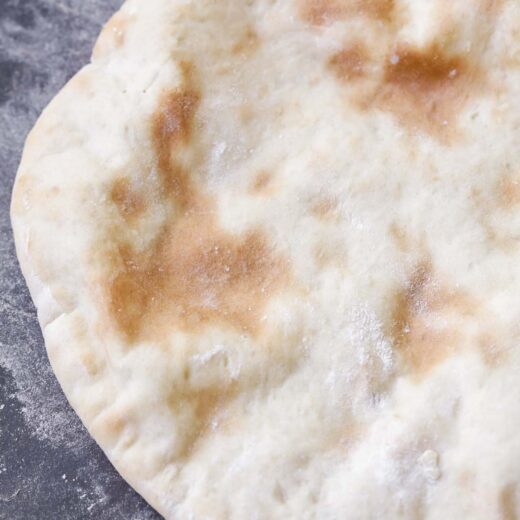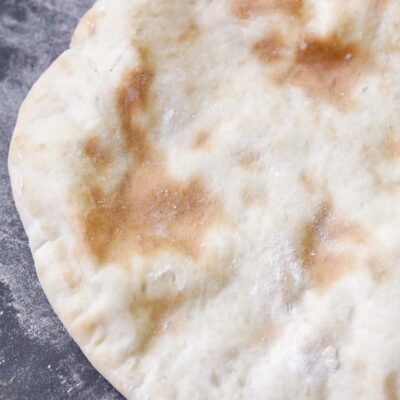 This homemade pizza dough is easy AND delicious. You'll want to ditch delivery and have a pizza making night with your family with this simple and soft pizza dough recipe that everyone loves.
Instructions
Combine water, yeast & sugar and let sit for a few minutes.




Add salt and oil, then mix in flour a cup at a time.

Knead dough for 8 minutes then let raise about 30 minutes.

This dough makes FOUR - 14 inch pizza crusts. Divide dough in 4 and roll out onto floured surface to about 1/2" thickness. You can also brush with olive oil and poke with fork so it doesn't bubble up.

Bake on a preheated stone at 500 degrees for 8 to 12 minutes to save and add toppings to later. OR, you can bake for 5-7 minutes, add toppings and then continue baking until cheese is melted.