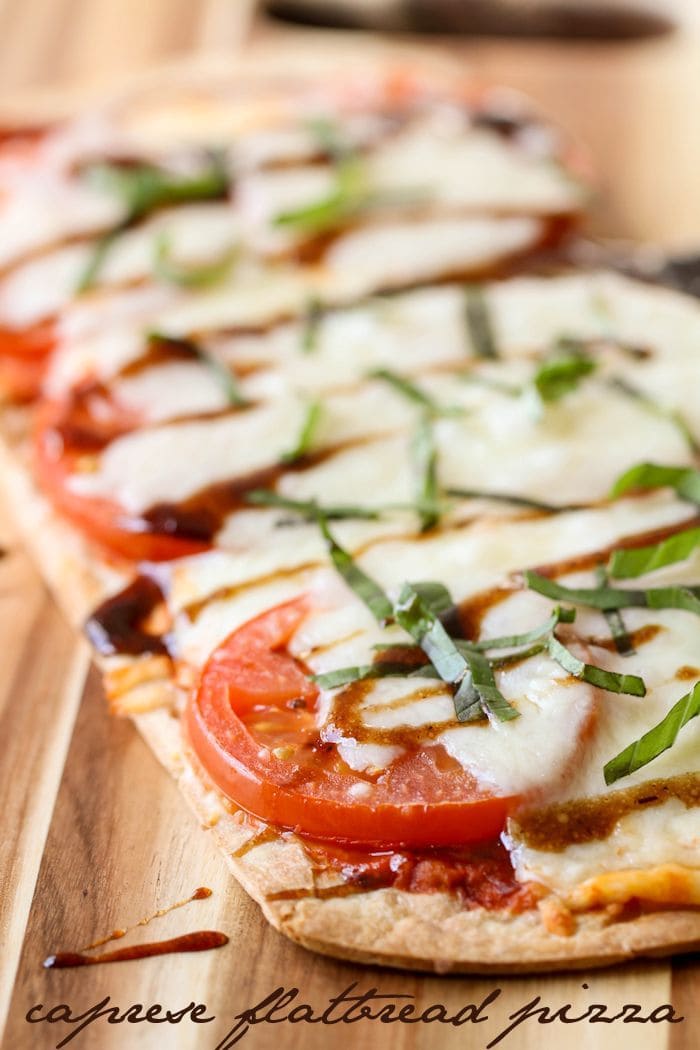 Today is the start of a Disney Series I'm hosting here on the blog for the next two weeks.
It's no surprise that us Merkleys are HUGE fans of Disney and all things related to it, and since we just got back from the Happiest Place on Earth last week, I wanted to share some of my favorite Disney creations with all of you!! There will be copycat recipes, printables, tips and more, so if you love Disney just as much as we do, then you'll want to stop by every day for something new. 😉 I even have my contributors joining the fun, so I hope you like all that we have planned for you!!
This first post is a copycat recipe for Caprese Flatbread Pizza. It comes from Pinocchio Village Haus' at Magic Kingdom in Disney World. This was our first time going to Disney World and first time trying this recipe, but we instantly fell in love with it. I enjoyed it so much that I took a picture and knew I wanted to try a copycat version to have it home. I'm happy to report, that not only was it SUPER easy to duplicate, but it tasted just like it!! Even my hubby who is not a huge fan of dressing (the balsamic glaze) thought it was really good and asked for me to add it to the meal rotation. 😉
I can tell you now that if you love Caprese Salads, then you'll love this Caprese Flatbread Pizza. It was so easy to make and turned out fab!! Here's the recipe in case you'd like to try it at home too. 😉

Caprese Flatbread Pizza
Ingredients
Store bought Flatbread (or homemade)
Pizza Sauce (canned or favorite homemade recipe)
Mozzarella Cheese (however much you like - we used about 1½ cups for each flatbread)
Tomatoes
Basil (chopped)
Balsamic glaze
Instructions
Begin by preheating your oven to 400.
Add pizza sauce to your flatbread (however much you like).
Slice your tomatoes and add 6 to each flatbread.
Sprinkle on mozzarella cheese.
Bake for 11-14 minutes or until cheese is bubble.
Top with a drizzle of balsamic glaze and basil.
ENJOY warm.
The amount of each ingredient varies based on how many/much you are making. We bought a 4-pack of flatbread from the store and even changed up the ingredients based on who was eating it (my husband likes very little pizza sauce and LOTS of cheese; I like a decent amount of sauce and not as much cheese). 😉 You just definitely want to make sure you have the mozzarella, basil and balsamic glaze to give it that delicious Caprese flavor that is so addicting!!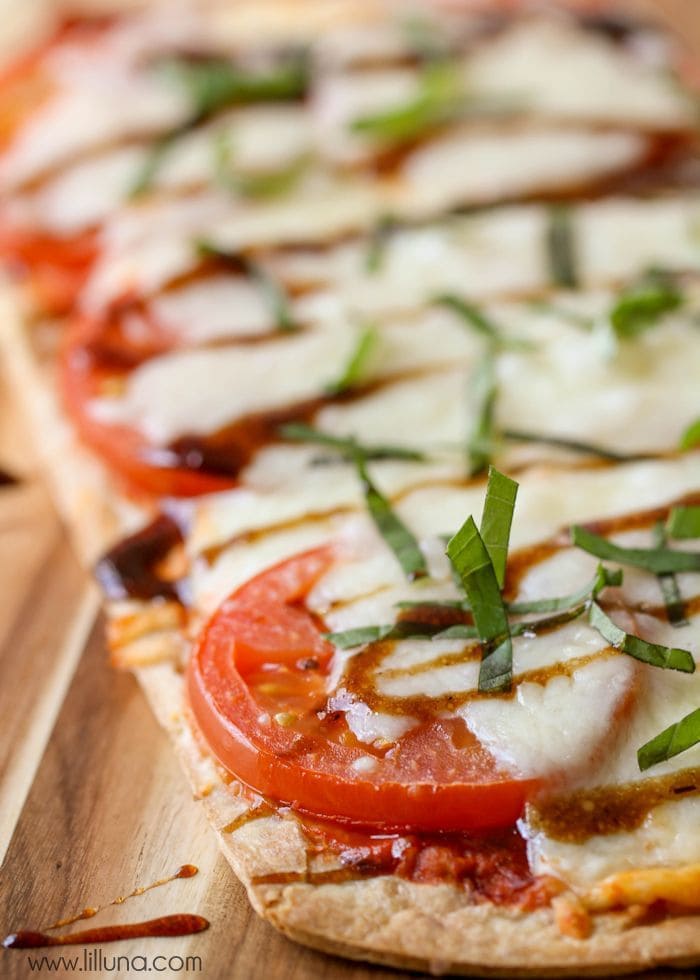 Tomatoes and Basil together is my new addiction!! Seriously – SO GOOD!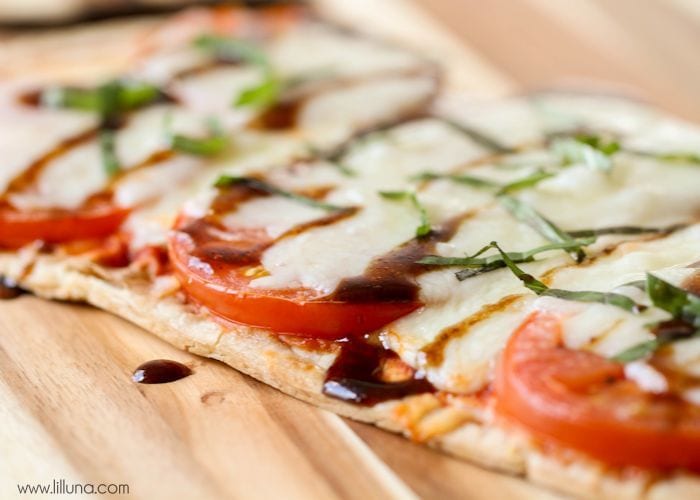 I LOVE Balsamic Glaze!! It's the perfect touch to this pizza. I may have added a ton of glaze to my pizza. 😉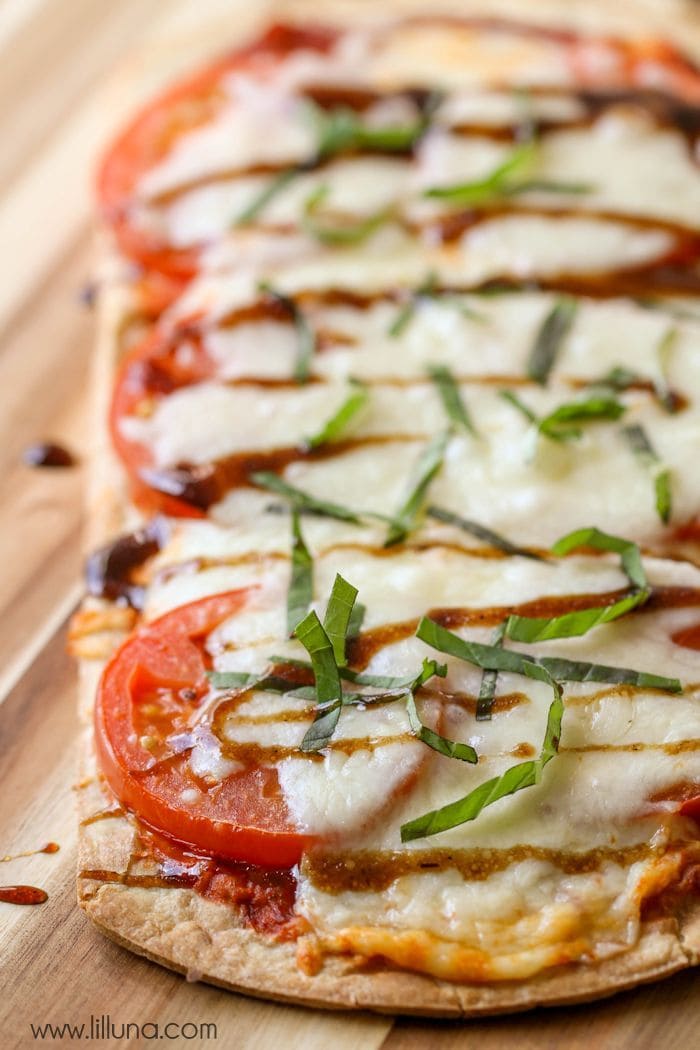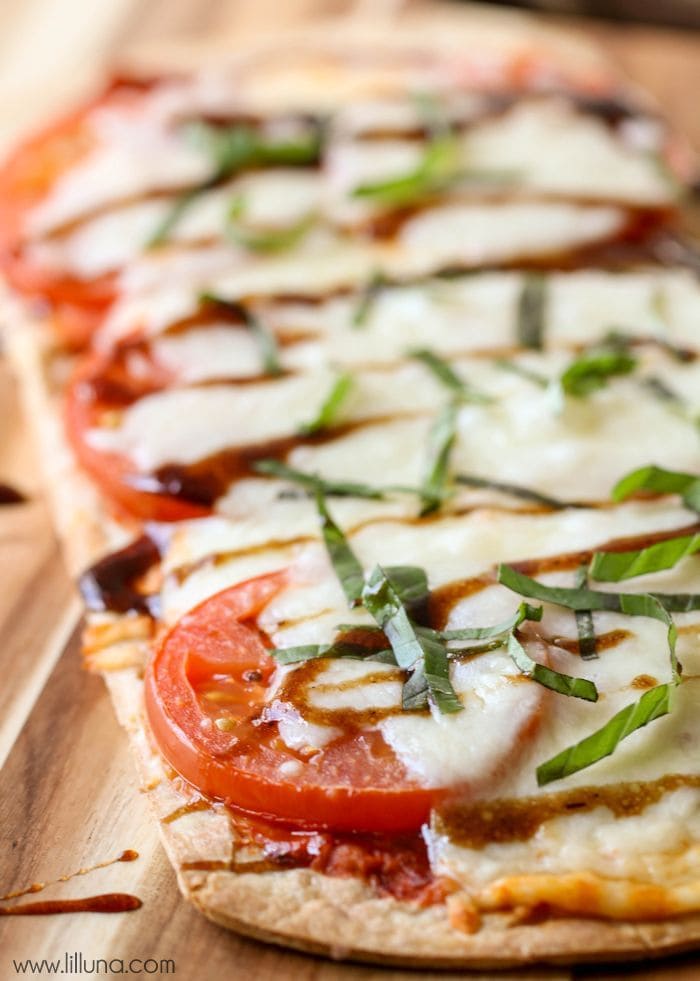 This recipe really was so simple and so delicious. I'm excited to try it again. The kids don't really love tomatoes, so we did theirs without it, but they LOVED the flatbread. We usually have regular pizza crust, but I'm glad they like this because we are planning on making it more often. 😉
Check Out My Other Recipes
For more delicious copycat Disney recipes, check out these favorites: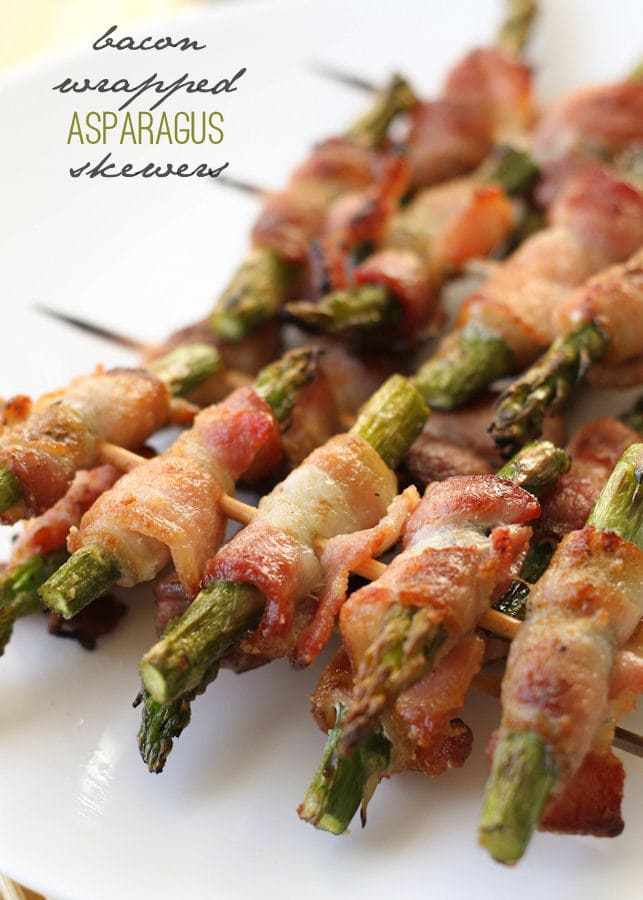 Bacon Wrapped Asaparagus Skewers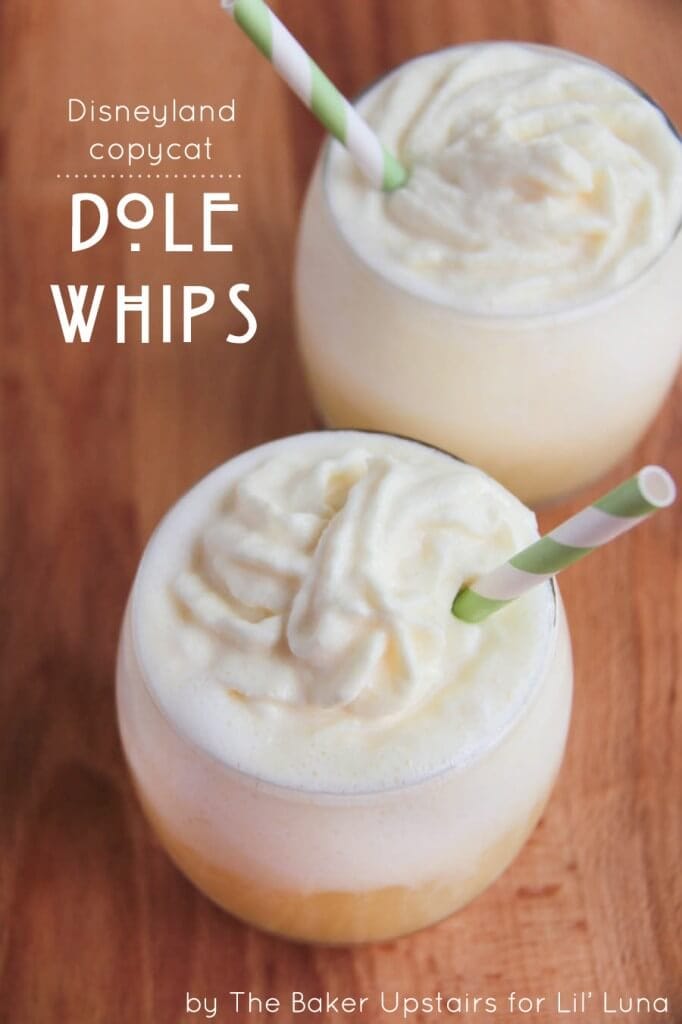 And in case you're looking for another simple and yummy pizza…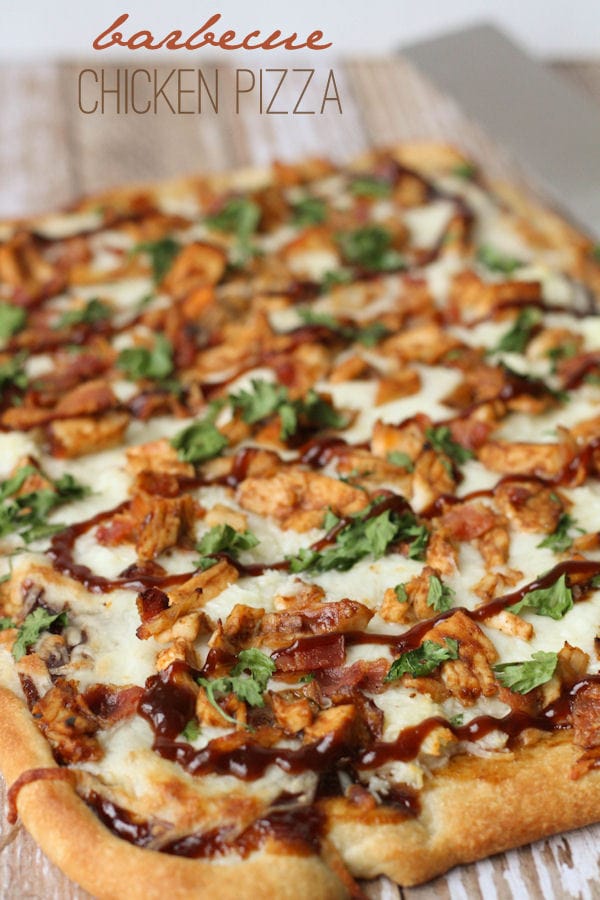 Stay tuned for even more Disney creations the next two weeks!!
For all Dinner ideas go HERE.
For all recipes on the site go HERE.
And get weekly emails with monthly freebies by signing up for the Lil' Luna newsletter. 🙂
For even more great ideas follow me on Facebook – Pinterest – Instagram – Twitter – Periscope – Snapchat.
Don't miss a thing – Sign up for the Lil' Luna Newsletter today!
ENJOY!