It's no secret that my family loves food. So much of what we do revolves around it, and there are just so many recipes that have become family favorites over the years. This next recipe is one of those. It's one we have at least every other month as we gather on Sunday nights to let the cousins play and to have an extended family dinner. We especially crave this Homemade Funnel cake recipe in the fall when it cools down, but that doesn't mean we don't make them all year long – because we do. 😉
We've been using this Funnel Cakes recipe for as long as I can remember, and it's something my sister, Kellyn, is usually making for everyone for our Sunday treat. Half of us like it with powdered sugar while the other half loves it with a Homemade Fudge Sauce (being shared later today). Although we don't go to the fair often to have these guys, it's a treat we ALWAYS get when we go to Disneyland each year, and I'm happy to say we can still enjoy that treat at home. We sure do LOVE Funnel Cakes, and if you enjoy them too I suggest trying out this recipe. It really is super simple and does not take long to make. 😉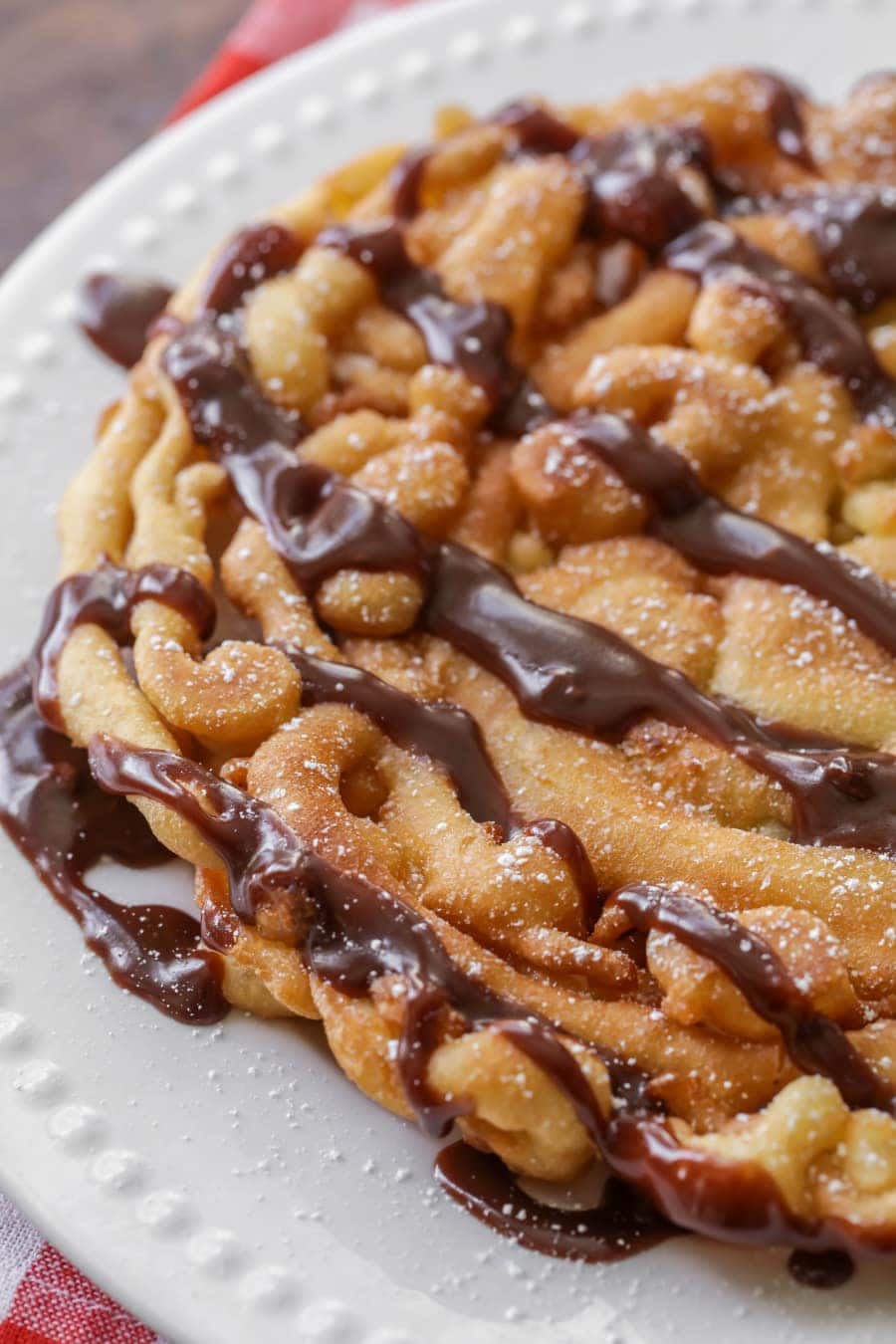 Seriously… doesn't it look amazing?
MY OTHER RECIPES
My mouth is watering just looking at this picture!  With it being fall, you can definitely bet we'll be making this ASAP (even though we like making it all year long.) As I mentioned we are more of the fudge sauce and powdered sugar type, but you can also top it with caramel or add a variety of berries and whipped cream on top.
For more fair food recipes, check out:
How to make funnel cake:
Funnel Cakes recipe
Bring the state fair home with this Homemade Funnel Cakes recipe, which is a yummy batter that can be topped with hot fudge sauce, caramel, powdered sugar, whatever you like!
Ingredients
2 eggs
1½ cups milk
½ tsp. salt
1 tsp. baking powder
2 cups flour
Oil for frying
Instructions
Pour vegetable oil in a frying pan (about 1 inch high) on medium high heat.
Mix ingredients into a smooth batter.
Poor batter into a funnel, blocking the tip of the funnel with your finger. Position funnel over the hot oil and slowly move your finger so batter comes out in a steady stream. Make circular and crisscross motions to form a funnel cake.
Using tongs, flip the funnel cake so each side is browned. Remove to a paper towel to drain.
Enjoy with desired toppings.
Stay tuned later today for the
Homemade Fudge Sauce
we make to go with it. My hubby eats it straight from the jar when it's made because it's just THAT good!!