Everyone loves the funnel cakes from the carnivals and fair. Now you can make them at home with this easy funnel cake recipe. Top it with powdered sugar, fruit, whipped cream, chocolate, caramel or all of the above!
Now you can make one of your favorite fair foods at home! This yummy dessert is simple and delicious, just like our Fried Oreos and Caramel Apples! Serve it with warm chocolate fudge syrup and powdered sugar making it heaven-sent.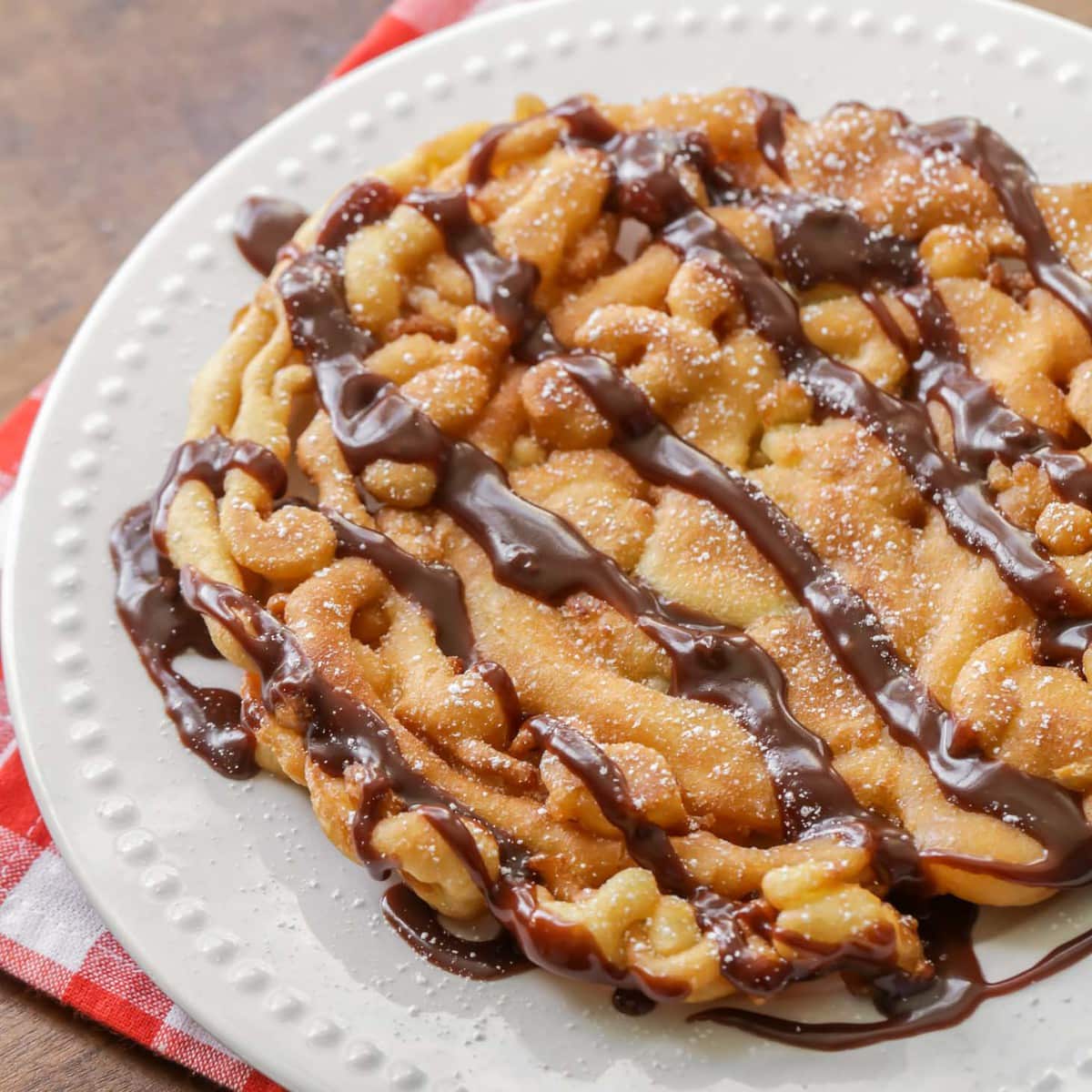 Homemade Fair food
It's no secret that my family loves dessert. So much of what we do revolves around food and treats, and there are so many recipes that have become family favorites over the years.
This next recipe for Homemade Funnel Cakes happens to be one of those. We have it at least every other month as we gather on Sunday nights to let the cousins play and to have an extended family dinner.
We especially crave this mouth-watering Funnel cake recipe in the fall when it cools down, but that doesn't mean we don't make them all year long – because we do (along with our Cookie Bars and Sheet Cake). 😉
We've been using this Funnel Cakes recipe for as long as I can remember. Half of us like it with powdered sugar while the other half loves it with a homemade fudge sauce. Although we don't go to the fair often to have these guys, it's a treat we ALWAYS get when we go to Disneyland, and I'm happy to say we can still enjoy that treat at home.
simple Ingredients
We love that we always have the ingredients for the funnel cake batter on hand. Yes, that does make it more of a temptation to make often, but they're worth it!! Here are the basic funnel cake mix ingredients you'll need to make this recipe:
eggs
milk
salt
baking powder
flour
oil for frying
You probably have all of these in your pantry, huh? So simple to gather these items for this treat.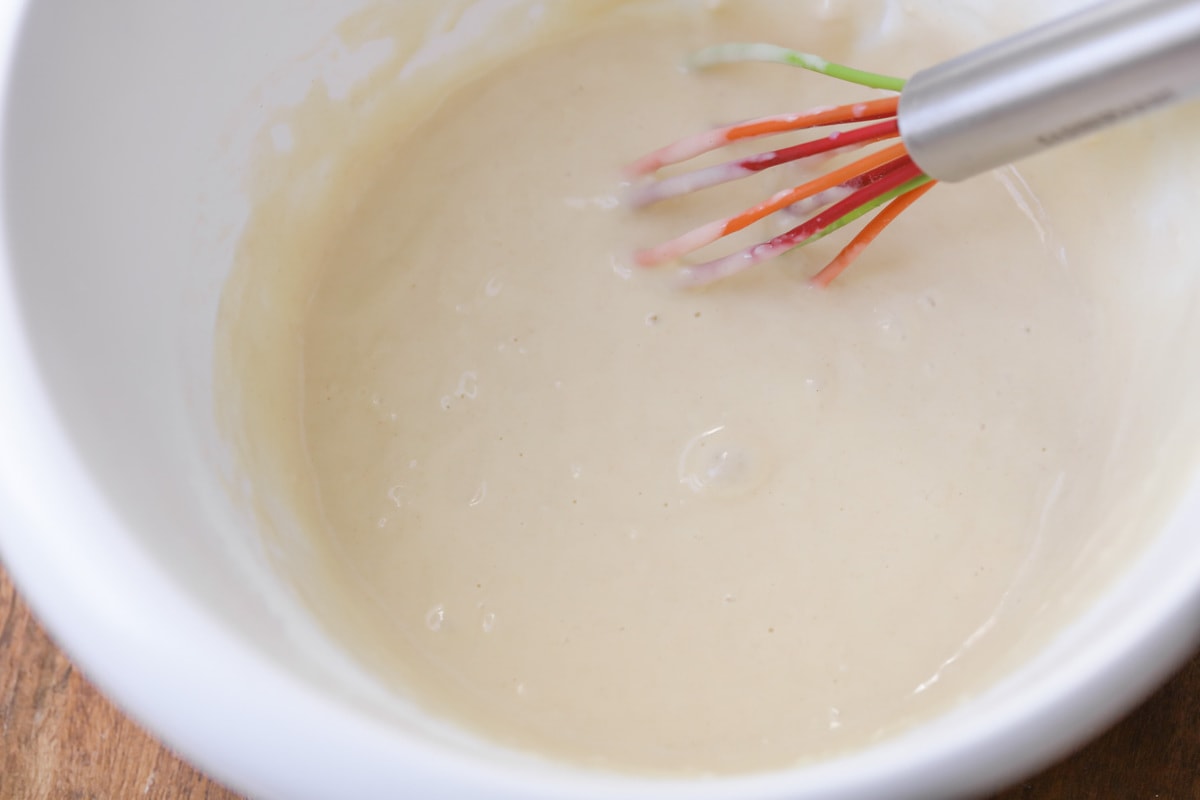 How to Make Funnel Cake
Once you have the ingredients gathered, making the funnel cakes are fairly simple. Just do the following:
OIL. Pour vegetable oil in a frying page (at least 1 inch high) on medium – high heat.
BATTER. Then, pour all the ingredients for the funnel cake batter into a bowl and whisk until the batter is smooth. It will look similar to pancake batter.
FUNNEL. Then, pour the batter into a funnel or squeeze bottle (if using a funnel, block the tip of it with your finger before pouring).
FRY. Position the funnel over the hot oil and slowly squeeze the batter in a circular and criss-cross motion over the oil OR move your fingers so batter comes out in a stead stream. Make circular and crisscross motions to form a funnel cake.
FLIP. Using tongs, flip the funnel cake so easy side is browned. Remove to a power towel to drain. Top with your favorite toppings and enjoy warm.
Variations + Substitutions
Can you make funnel cake mix from pancake mix? Yes, you can – just mix together 1/4-⅓ water, 1 egg, and 1 tsp vanilla. Add ⅓ cup pancake mix and mix until combined. Then, you can add this to your squeeze bottle.
How to Make Funnel cake fries and bites? Another variation is to make funnel cake fries or bites.
For funnel cake  fries: follow the instructions as written except

pipe the batter in long straight lines into oil. Fry until golden and remove.

For funnel cake bites:

Use cookie scooper to drop the batter into the oil. Fry until golden brown and remove.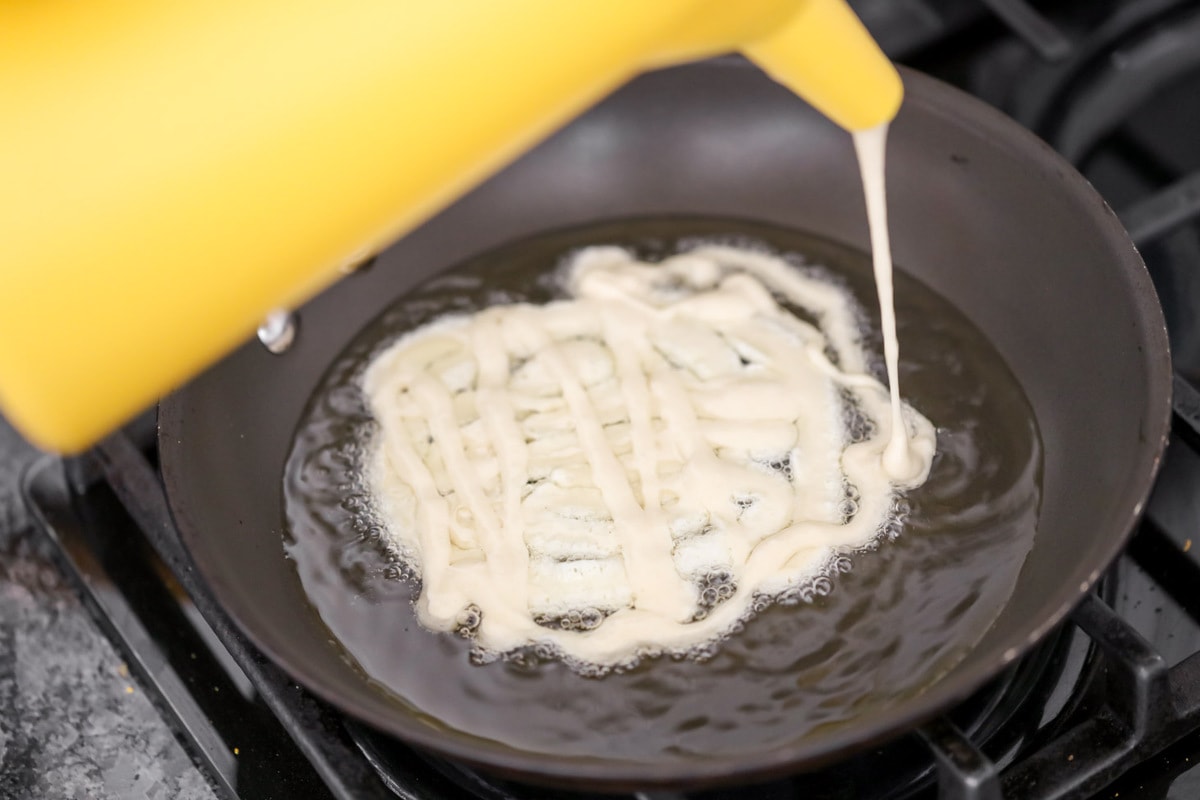 Tips for Making Funnel Cake:
We've been making these for so long that they've become go-to treats in the family. We want them to be the same for your family, so here are some of our best tips for making homemade funnel cakes:
The oil needs to be HOT! If you want it to cook properly, be sure to use hot oil so that it cooks quickly and starts to make the funnel cake strands we all know and love.
Squeeze Bottles actually work better than funnels. Find an old ketchup bottle or something similar that is clean that you can pour the batter into. It makes cooking the funnel cakes so much easier. 😉
Use tongs and a spatula while cooking. Use the tongs to make sure the batter is submerged in the oil and use both the tongs and metal spatula to flip the cake. 😉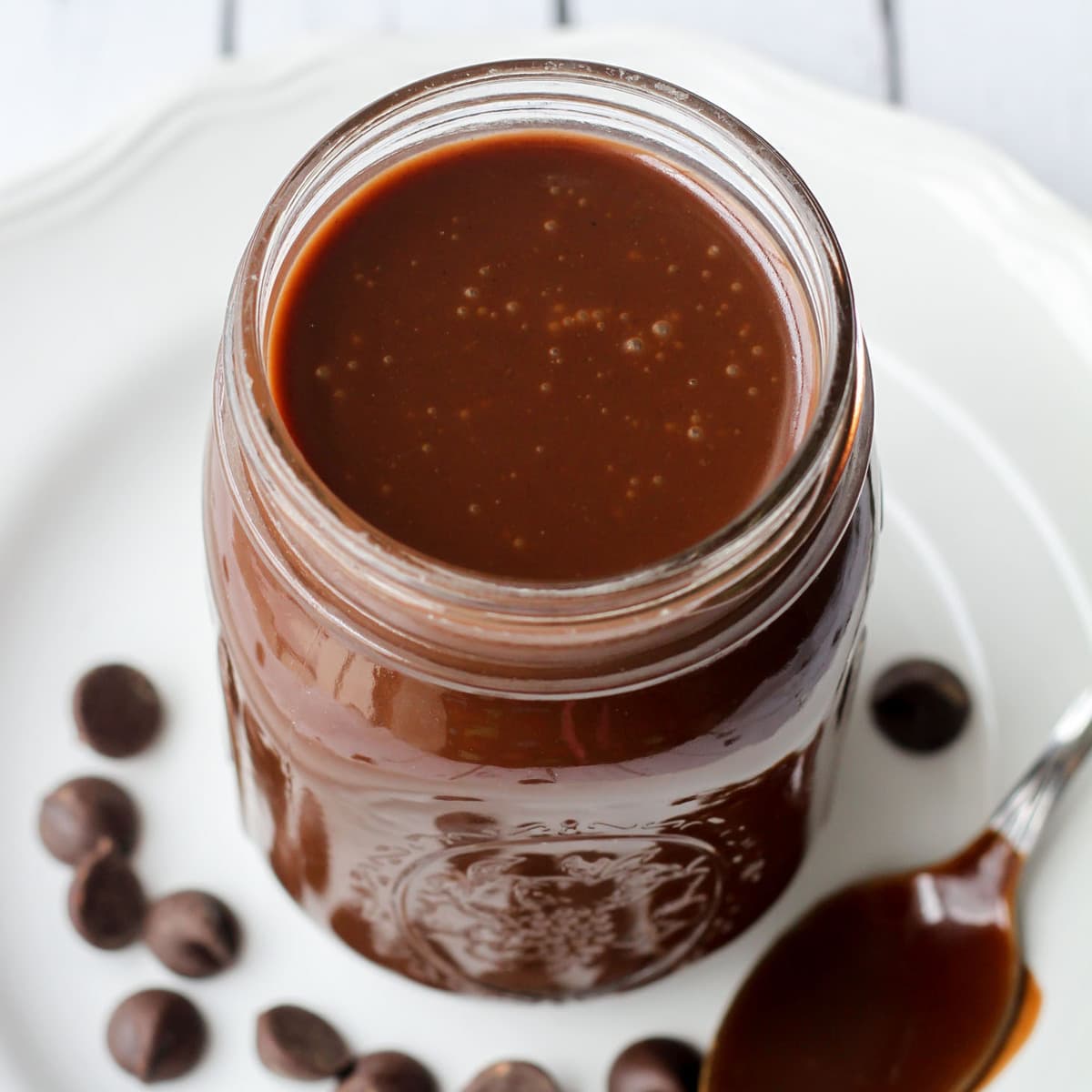 Our favorite funnel cake sauce – homemade hot fudge sauce!!
TOPPINGS + TIPS
There are so many great toppings to add to your funnel cake. It all depends on what you like, but here are some of our favorites:
whipped cream
fruit – strawberries, blueberries, blackberries and peaches are our favs!
caramel sauce
powdered sugar
Can funnel cake batter be refrigerated? Yes, you can make the batter ahead of time and store it in an airtight container in the refrigerator for 3-4 days and still be able to make a delicious funnel cake.
How long do funnel cakes last? Like most fried foods, they don't last long. Having said that, the batter can be made in advance and can last in the fridge (if stored properly) for up to 4-5 days.
Can you reheat funnel cake? If you happen to find that you have left over funnel cakes you can store them in an airtight container the fridge for later. For a soft funnel cake you can microwave them. For a crispier cake you can put them in the over or the toaster.
Can you freeze funnel cakes? Just let your cakes come to room temp, then wrap and store in the freezer for up to 3 months. It definitely want taste as great as it did fresh but can be made a little crispy and warm if reheated in the microwave.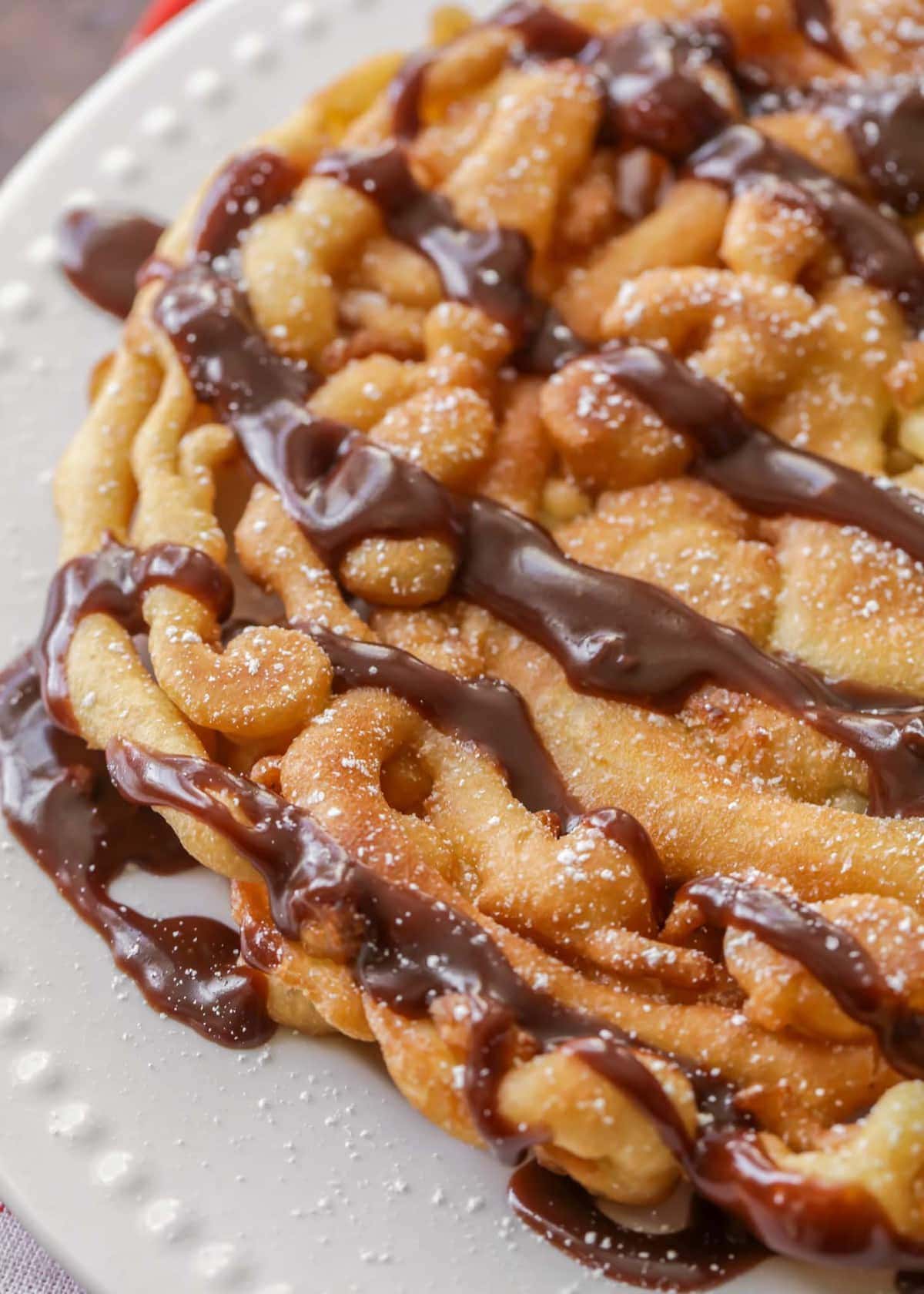 My mouth is watering just looking at this picture! With it being fall, you can definitely bet we'll be making this ASAP (even though we like making it all year long.)
As I mentioned we are more of the fudge sauce and powdered sugar type, but you can also top it with caramel or add a variety of berries and whipped cream on top. Either way you have it, I promise it will be enjoyed and devoured in about .2 seconds. 😉
For more fair food recipes, check out:
Homemade Funnel Cake Recipe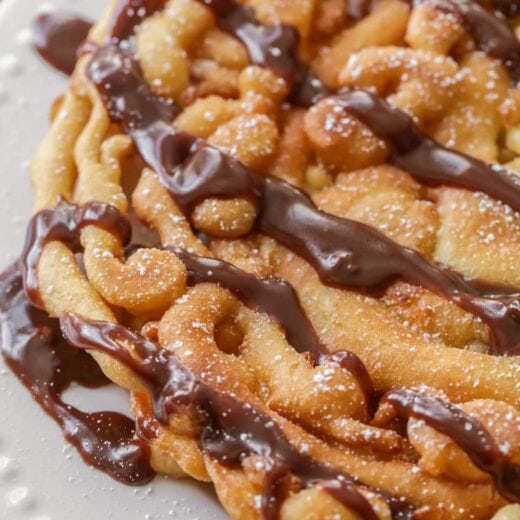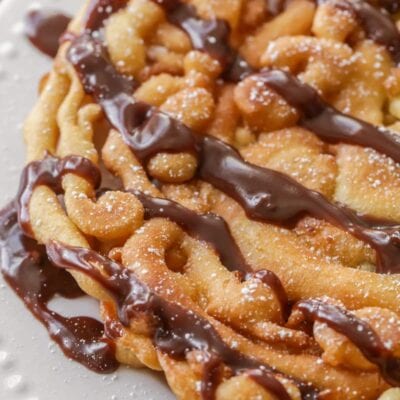 Homemade Funnel Cakes are best-loved fried fair food. Create your own at home and top with all of your favorite toppings!
Instructions
Pour vegetable oil in a frying pan (about 1 inch high) on medium high heat.

Mix ingredients into a smooth batter.

Poor batter into a funnel, blocking the tip of the funnel with your finger. Position funnel over the hot oil and slowly move your finger so batter comes out in a steady stream. Make circular and crisscross motions to form a funnel cake.

Using tongs, flip the funnel cake so each side is browned. Remove to a paper towel to drain.

Enjoy with desired toppings.