Stuffed Zucchini Boats are filled with Italian sausage and tomatoes. They are a delish go-to healthy dinner idea.
Zucchini boats are flavorful, low-carb and have so many amazing variations. Topped with cheese, parsley and bread crumbs, you can't go wrong with this zucchini dish.
For more zucchini recipes, check out our: Fried Zucchini, Zucchini Tots or Zucchini Casserole.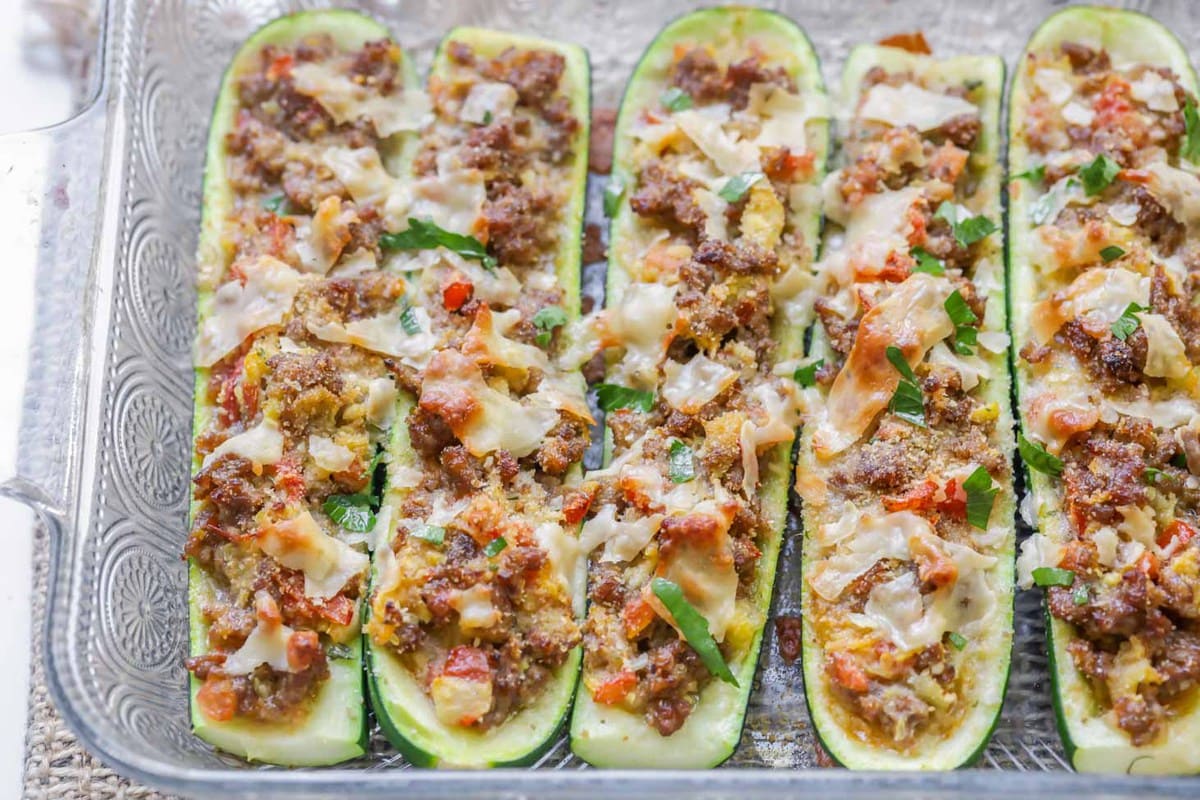 Stuffed Zucchini
We found another dinner recipe we love!!!
Recently, the hubby and I have been trying to eat a little better and have been increasing the amount of protein and veggies we eat while attempting to lessen the amount of carbs we have.
We've always loved Zucchini (hello, Fried Zucchini and Parmesan Zucchini) but had it more as a side dish. We wanted to try making Stuffed Zucchini Boats to make it more of a dinner idea and used Italian sausage and traditional Ragu sauce, and it was amazing!
I knew we'd have to add cheese because my husband is slightly obsessed so that's what we did. We topped it off with Mozzarella cheese, garlic salt and basil.
The result?? A SUPER simple and super yummy dinner recipe that I will definitely be adding to the rotation!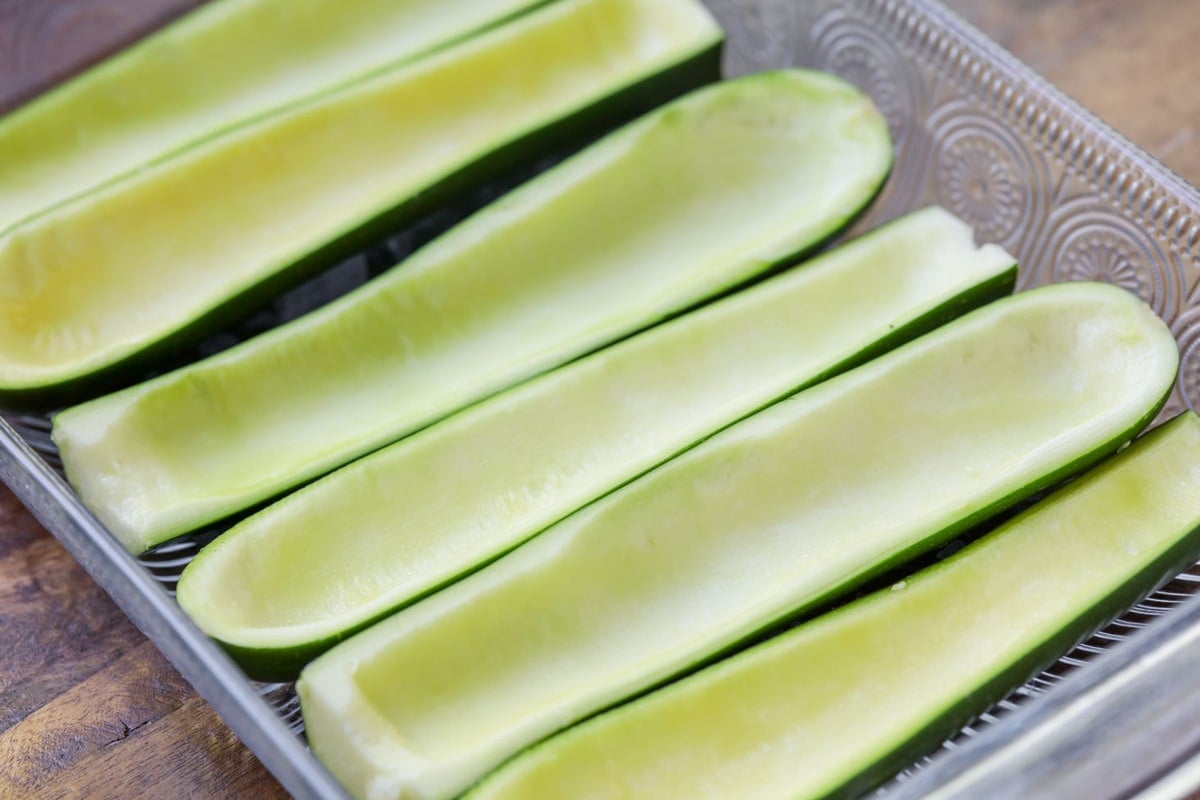 How to Make Stuffed Zucchini Boats
These Stuffed Zucchini Boats are easy to make but take just a little bit of time.
SCOOP. Spoon out the interior flesh from each zucchini (leave skin on). Be sure to keep this because we'll need it to fill the boats later.
FILLING. Cook up sausage in a medium pan with olive oil. Add your spices, the zucchini flesh (that was scooped out) and tomatoes.
BAKE. From there you will spoon this mixture into your zucchini boats (which should be in a 9×13 pan). Top with breadcrumbs and cheese and bake for 20-22 minutes.
Note: If you want even more flavor, add your favorite tomato sauce/pizza sauce to your meat to make the dish even better!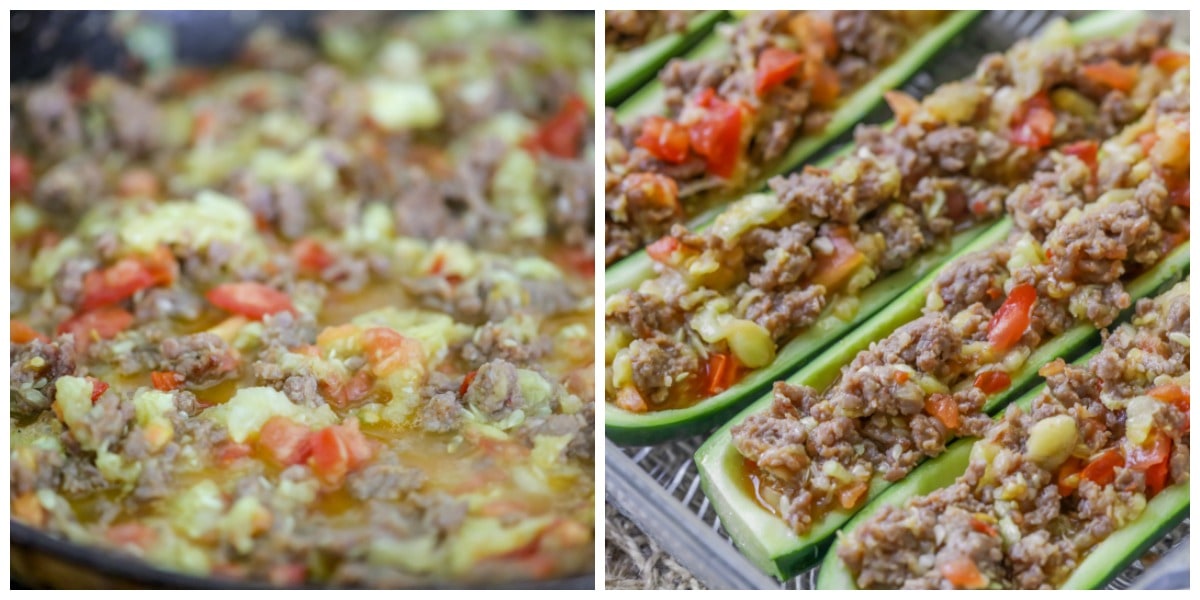 Variations + Storing Tips
There are so many ways to change up these zucchini boats! This is a bit of an Italian version with the Italian sausage, tomatoes, breadcrumbs and cheeses. Here are some more ideas on how to change up these stuffed zucchinis.
Zucchini Taco Boats – hamburger meat, chili powder, cumin, cheese, olives, tomatoes, avocados
Zucchini Lasagna Boats – Ricotta, Mozzarella, & Parmesan cheeses, beef, marinara sauce, Italian seasoning
Chicken Parmesan Zucchini Boats – chicken, garlic, marinara, cheeses and basil
Zucchini Burrito Boats – beans, beef, spices, cheeses, tomatoes, olives and cilantro
Chicken Broccoli Zucchini Boats – chicken, chopped broccoli, cheese, sour cream, spices
Let cool slightly and then place in freezer safe container or bag and FREEZE. You can keep this in the freezer for up to 1 month.
When you are ready to cook it, place in fridge overnight to thaw and then reheat. You need to be careful because zucchini can get mushy when frozen, so we don't do this too often.
This can be REHEATED in the microwave, but we like to reheat in the oven by heating it through and often broiling for the last minute or two since zucchini tends to get mushy.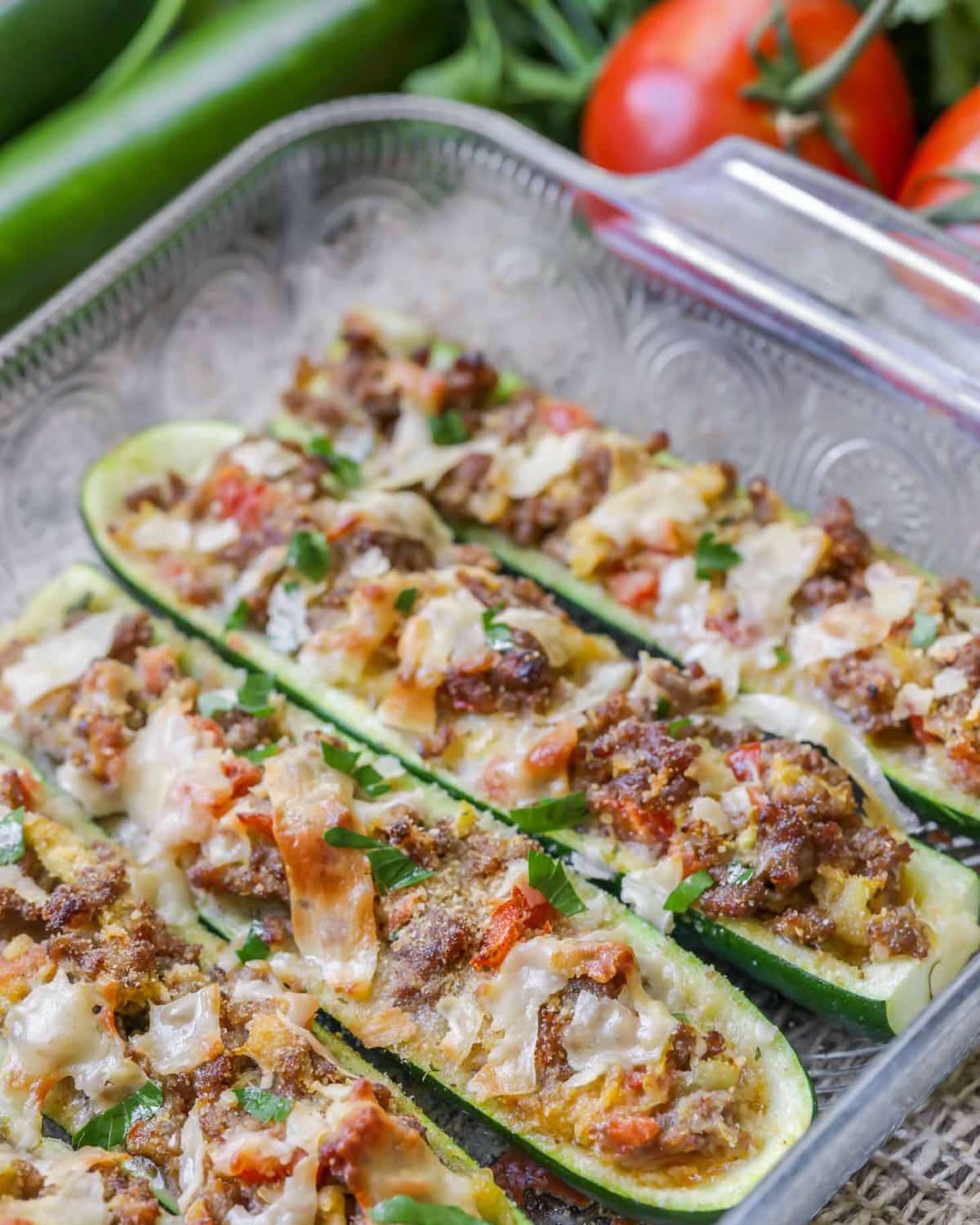 For more great Zucchini recipes, check out:
Zucchini Boats Recipe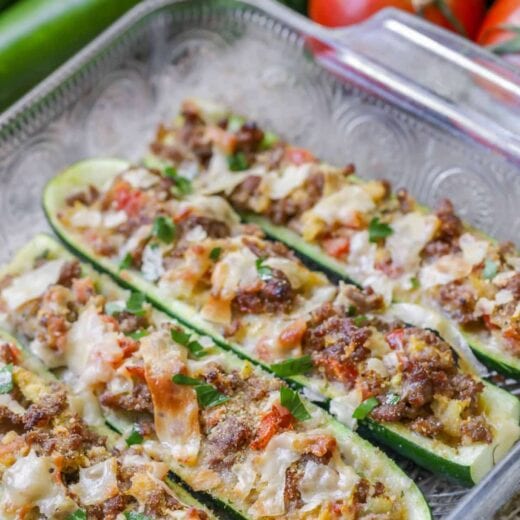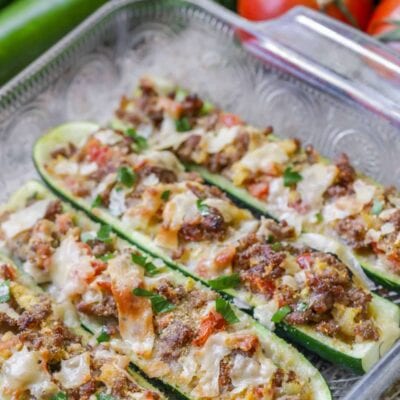 Stuffed Zucchini Boats are filled with Italian sausage and tomatoes. They are a tasty go-to healthy dinner idea.
Ingredients
4

medium zucchini

cut in half, lengthwise

1

tablespoon

olive oil

16

oz.

mild Italian sausage

1

teaspoon

minced garlic

1/4

teaspoon

onion powder

2

medium

tomatoes

chopped

salt and pepper to taste

1/2

cup

grated Parmesan

1/2

cup

Mozzarella

shaved

1/4

breadcrumbs

2

tablespoons

parsley

chopped (or basil)
Instructions
Preheat the oven to 400°F.

Scoop out the interior flesh from the zucchini using a spoon and set it aside (do not throw away). Place the zucchini in a 9×13 pan.

Add olive oil to a medium pan and cook sausage with garlic. Add onion powder, zucchini flesh, tomatoes, salt, and pepper. Cook for 4-5 minutes.

Spoon this mixture into each zucchini boat. Sprinkle with breadcrumbs and cheese. Bake for 20-22 minutes. ENJOY!