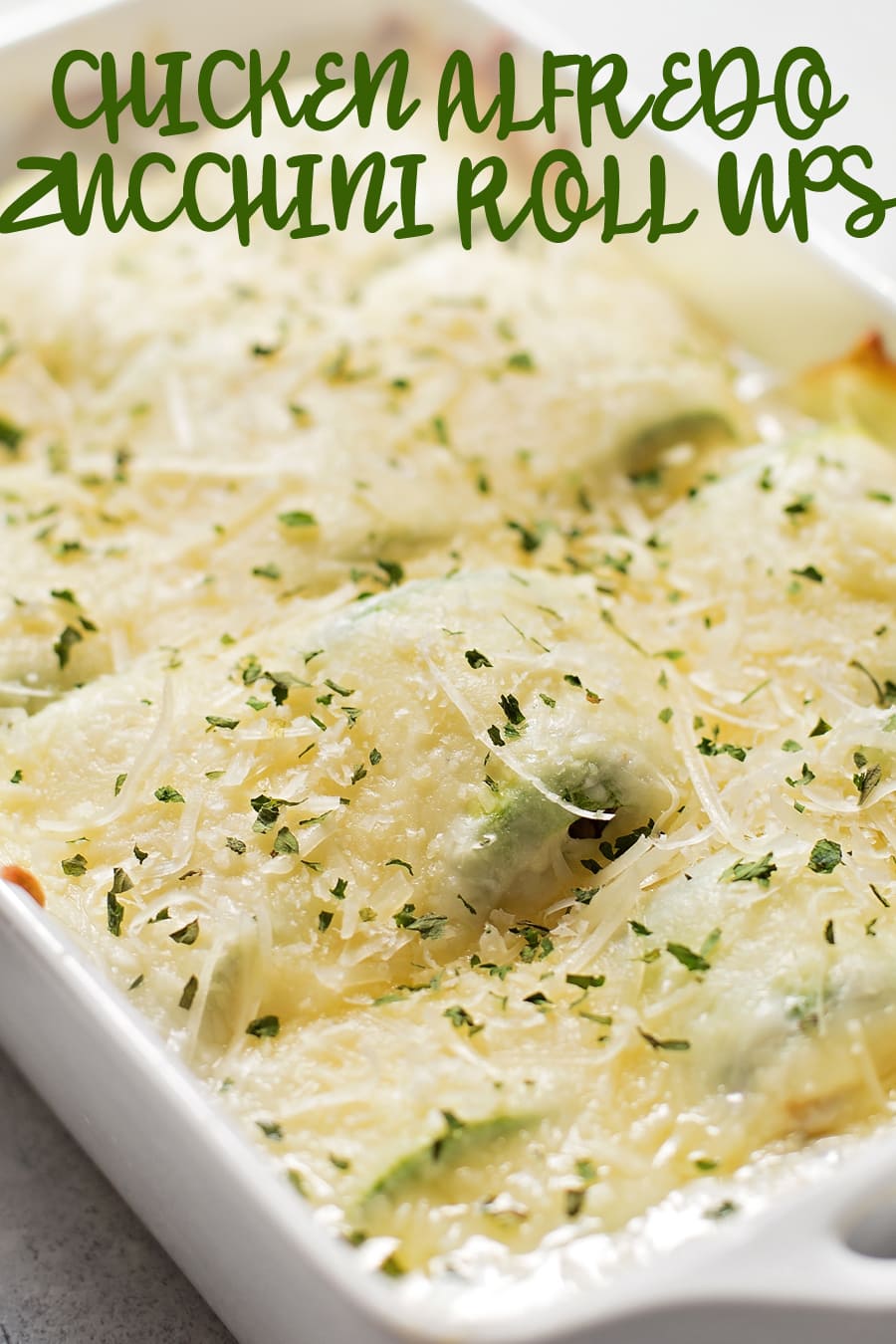 I'm always on the hunt for delicious dinner recipes that involve chicken and veggies. Today's recipe is one that our family has really enjoyed. It's cheesy and comforting without being overly indulgent. These chicken alfredo roll ups only require 6 ingredients and take just over 30 minutes to make. Perfect for rushed weeknight dinners or for a cozy weekend meal.
To make this dish, you'll need an extra large zucchini, a jar of your favorite alfredo sauce (or homemade), shredded chicken (rotisserie works great), shredded mozzarella cheese, parmesan cheese, and parsley. That's it!! Simple enough, right? Rolling them up and waiting for them to bake is the most time consuming part of this recipe, but trust me, the wait is worth it!
The zucchini "noodles" bake up beautifully, nice and tender. So good you'll wonder why you ever used pasta! P.S. if you're making the sauce from scratch and want something a little lighter, try using this recipe- it has rave reviews! I hope you'll these roll ups a try, I think you're really going to love them!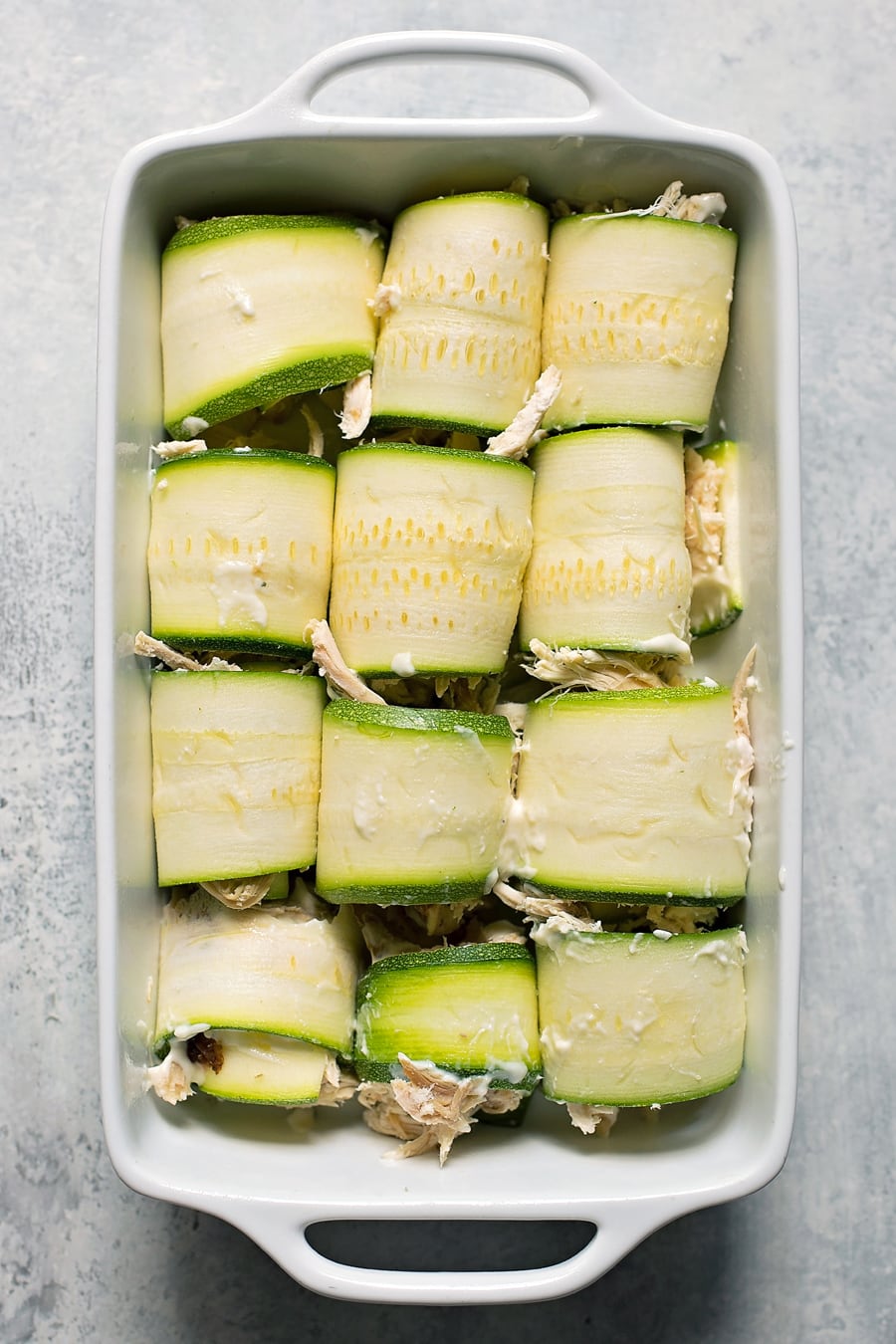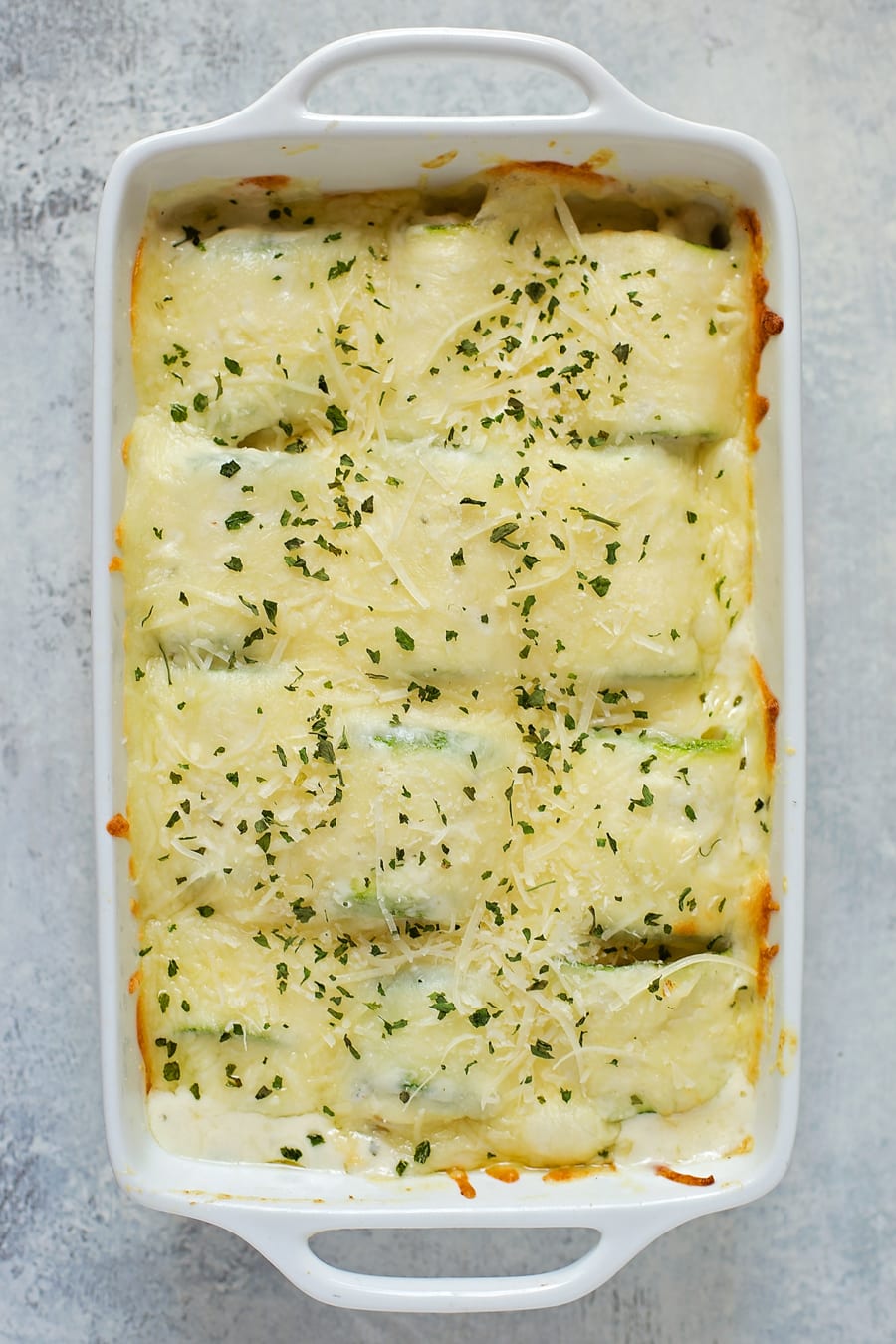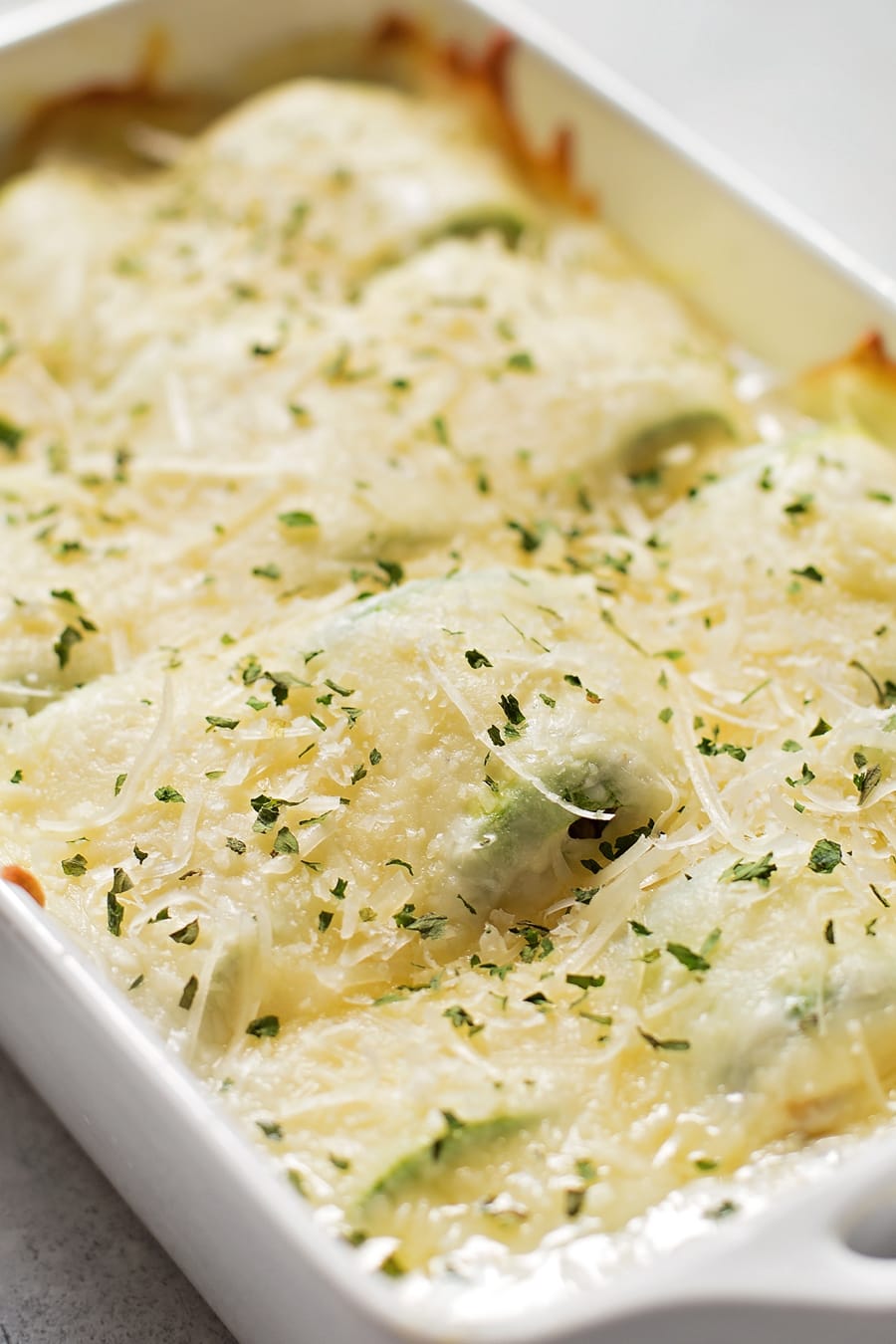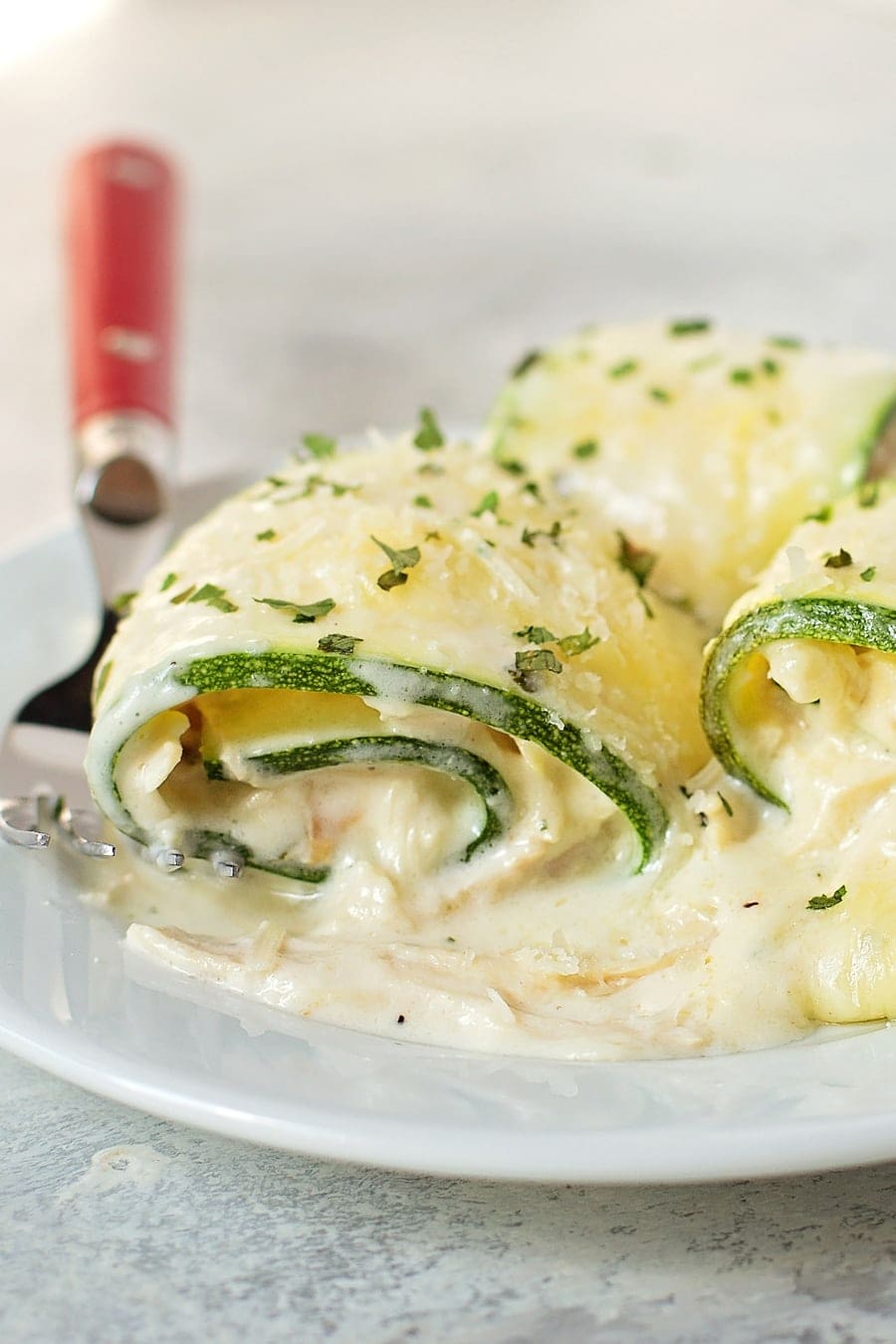 How to make Chicken Alfredo Roll Ups:
Chicken Alfredo Zucchini Roll Ups Recipe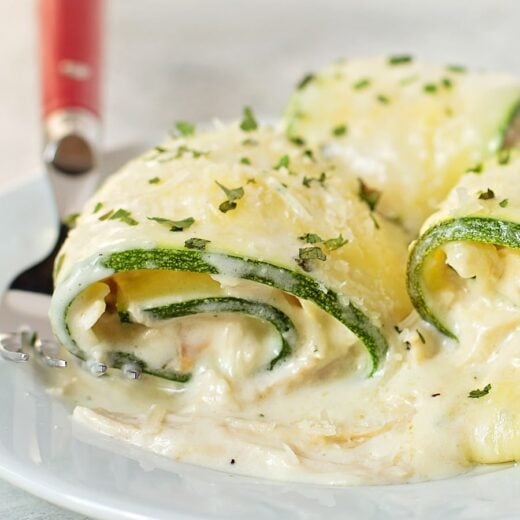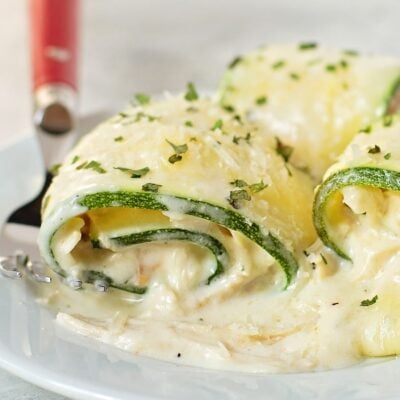 Chicken Alfredo Zucchini Roll Ups-cheesy & comforting, this dish only needs six ingredients & takes only 30 minutes to make!
Ingredients
1

large

thick zucchini

2

cups

shredded chicken

(rotisserie works great)

2

cups

alfredo sauce

(homemade or store bought)

1 1/4

cup

shredded mozzarella cheese

1/4

cup

shaved parmesan cheese

1

tsp

dried parsley or fresh parsley
Instructions
Preheat oven to 375 degrees. Lightly spray a 9x5 or 8x8 inch baking dish with cooking spray, set aside.

Using a mandolin or a large chef's knife, slice the zucchini lengthwise into ⅛-inch thick slices. You'll need about 12.

Place shredded chicken over the top of a zucchini slice, then top with 1 tablespoon of the alfredo sauce. Roll up tightly and place into the pan. Repeat with the remaining ingredients.

Pour the remaining sauce over top, then sprinkle cheese over.

Place in the oven and bake for 25 minutes or until the sauce is bubbly and the zucchini "noodles" are fully cooked. Remove and garnish with parsley. Let rest for 10 minutes before serving.
I am adding this to our menu! It looks so good! Thank you Natalie! Head over to Life Made Simple for more delicious recipes from Natalie!
For another favorite dish of ours, check out: