These low maintenance French Dip Sandwiches are made with hearty beef and melted provolone cheese on a buttery toasted bun, and dipped in au jus!
If you already have some leftover roast, it's even easier to make these french dips for a quick weeknight dinner!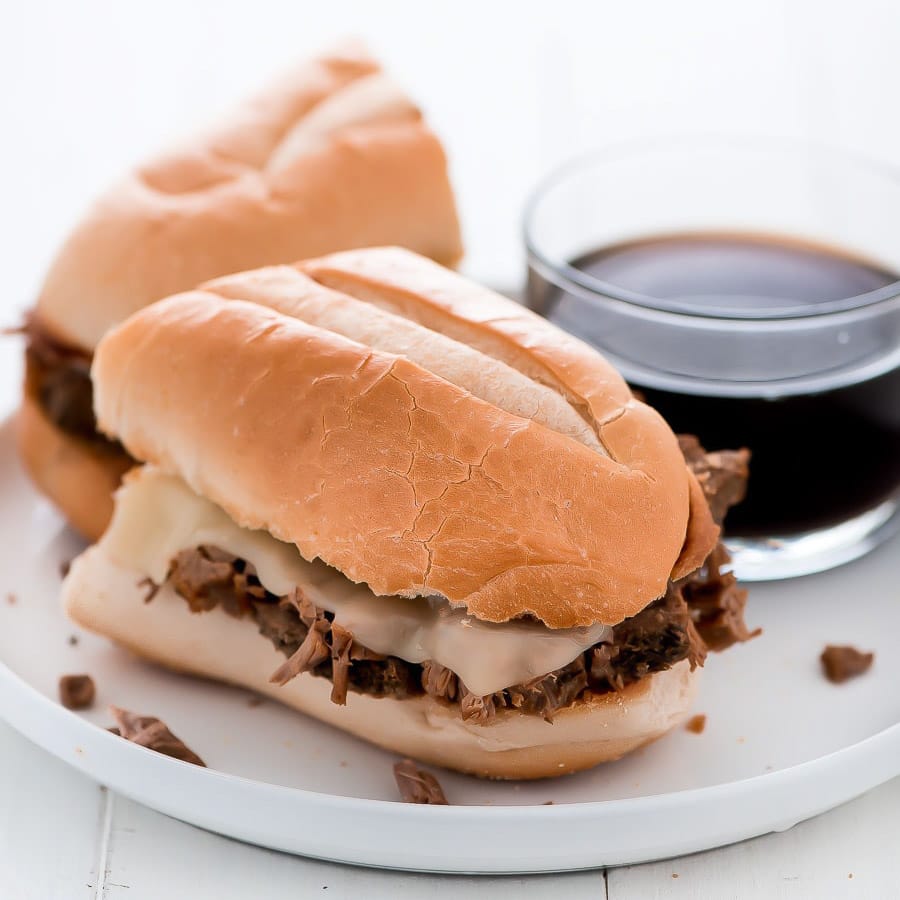 Have you had it?
French dip sandwiches are the perfect sandwich to eat on a cool, crisp day. That warm crusty bread wrapped around that delicious slow cooked beef and melted cheese is heaven.
And of course, you must serve it with au jus—it's own juices. No need to bring out another pan and make a separate sauce. It's made from the meat, broth, and seasoning you put into the slow cooker at the beginning.
In fact, the crock pot does most of the work on this recipe! It requires minimal prep at the beginning and then assembling the sandwiches just before serving.
If you haven't had a French Dip Sandwich yet, you gotta try it!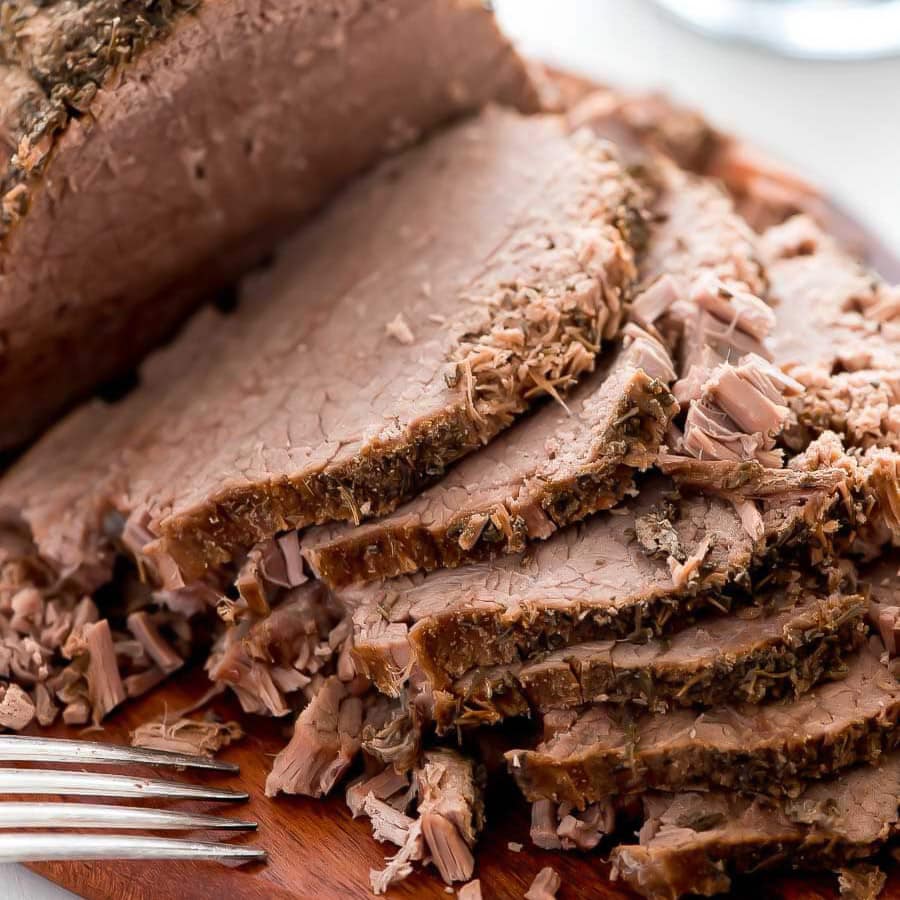 How to Make French Dip sandwiches
This is so easy to make, thanks to your handy dandy slow cooker.
SLOW COOK. You throw in the beef, broth, soy sauce, water, and spices and let it cook for 6-8 hours or until a fork can easily pierce it. Then you slice up the meat and strain the au jus to serve with it.
(Note: Some people like to cook their roast until it falls apart. Others like to cook it until it is tender, but you can still cut it into slices with a knife. Either is fine.)
TOAST. Sure, you can just toss the meat right onto the bread but I like my buns toasted. Just spread some butter on those buns and broil them until they're nice and toasty.
ASSEMBLE. Place some of the beef on the base of each bun and then top it with cheese… because why not?! Pop it back in the oven until it melts and close up the bun and serve the sandwich with the au jus.
Easy and so good! Perfect for a busy day.
*Note: Since you are dipping the sandwich in broth, it's important that the bread you are using is a good quality sturdy bun that you get from the bakery, not a soft hamburger bun/roll. Believe me, you don't want your bread disintegrating and falling apart as you eat it.
You can serve your french dips with some sides such as: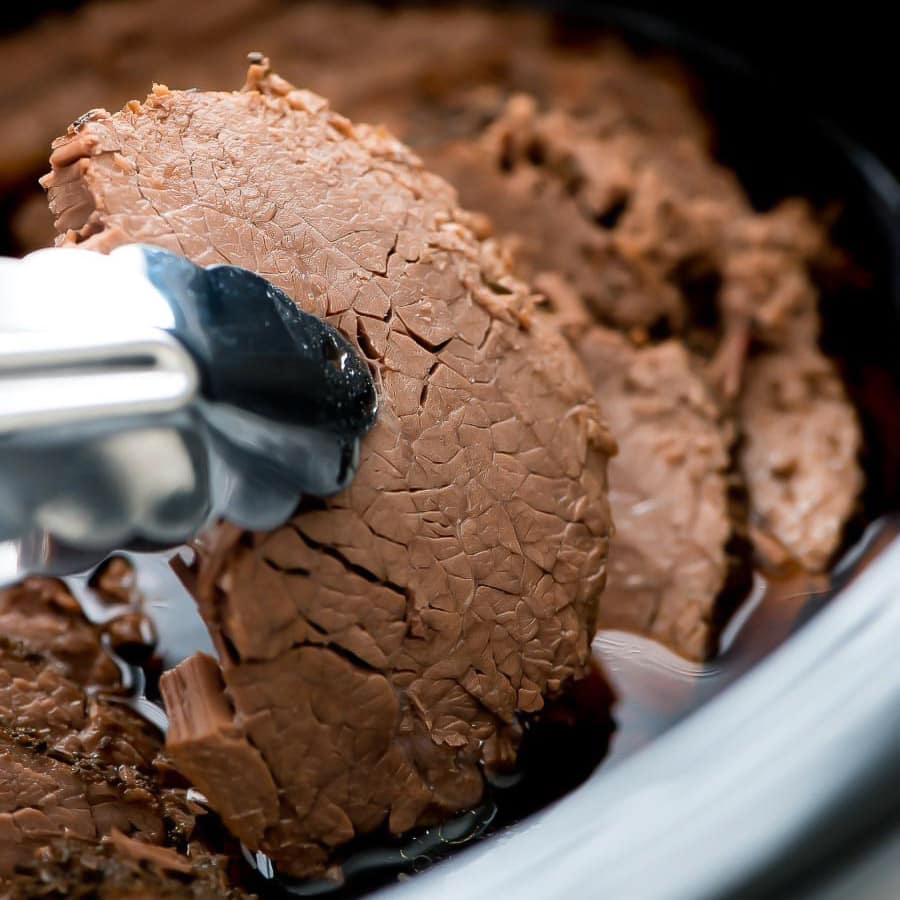 Additional Recipe Tips
Searing: A common question when slow cooking a roast is should I sear it? Many people opt to sear their roast before putting it in the crock pot. Sometimes I do. Sometimes I don't. The reason people would make the extra effort is because searing gives an extra layer of crisp texture and adds a nutty caramel like flavor to the dish. It's a completely optional step for this recipe, but you can give it a try if you wish.
How to sear: Add olive oil to a skillet and heat it up. Once hot cook each side of the roast for about 1 minute per side. That's it!

Note: Some people like to salt or add other seasonings to the raw roast before searing. Others like to flour their roast before searing. Adding flour first essentially makes a roux which helps thicken any juices that are produced while cooking.
Toppings: This sandwich is so tender, juicy and flavorful it honestly doesn't need any toppings. We did opt to add some provolone cheese which was yummy. You can use other cheese like . I'm not an onion fan, but those who are would probably love to add some caramelized onions on top.
Leftovers: If you have any leftover beef you can store it in an airtight container in the fridge or the freezer. Be sure to add some extra juice to the containers to keep the meat moist. Reheat the meat in the microwave, covered in the oven or in a skillet.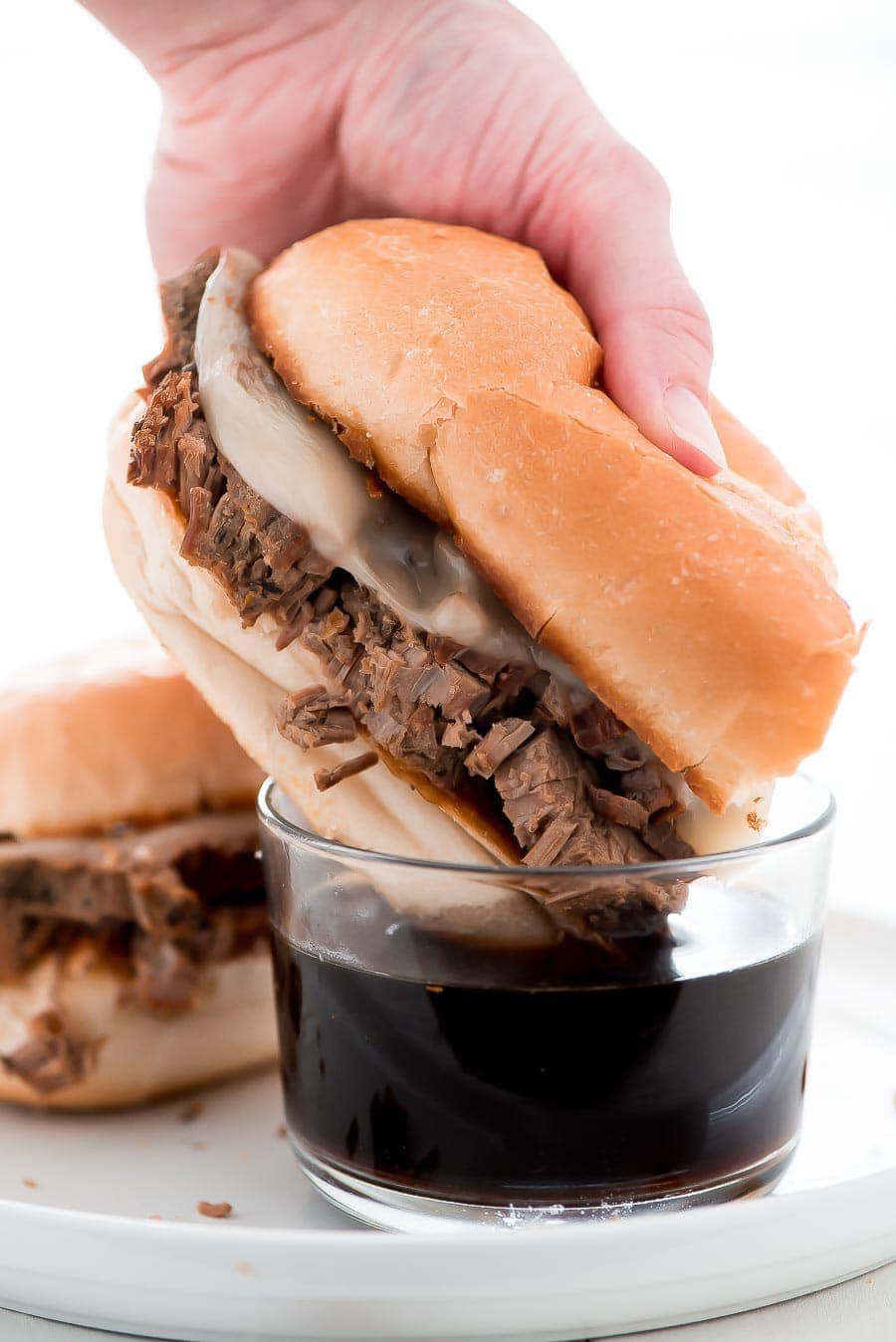 For more sandwich recipes, check out:
French Dip Sandwich Recipe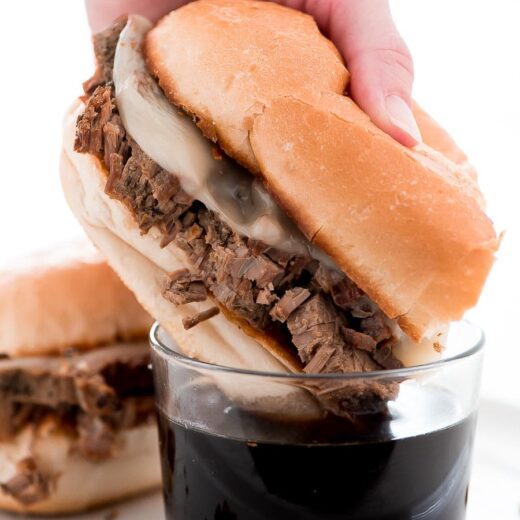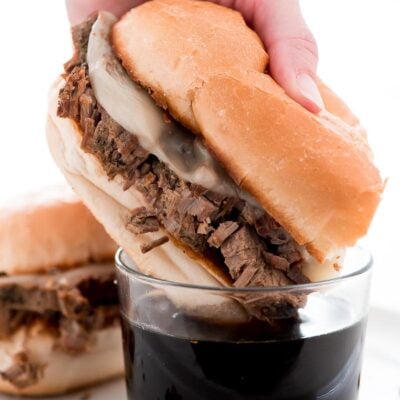 These low maintenance French Dip Sandwiches are made with hearty beef and melted provolone cheese on a buttery toasted bun, and dipped in au jus!
Ingredients
3-4

lb

rib eye beef roast

1

can

beef broth

1/2

cup

soy sauce

1

cup

water

1

tsp

garlic powder

1

tsp

dried rosemary

1

tsp

dried thyme

1/2

tsp

onion powder

1

bay leaf

4

crusty hoaggie buns

8

slices

provolone cheese
Instructions
Place roast in the slow cooker and pour water, beef broth, and soy sauce on top. Sprinkle with the spices, toss in the bay leaf, and cover.

Cook on low for 6 hours. Remove from slow cooker, slice, and place back in broth and cook on low 30 more minutes.

Place meat on a platter and strain all the broth into a bowl to serve with sandwiches.

Cut the buns in half. Spread butter on the inside of each half and place on a baking sheet. Broil of 1-2 minutes until lightly toasted. Turn oven to 350. Set the top buns aside, leaving the bottoms on the pan. Place meat on buns and top with cheese. Place in oven for 3-5 minutes until cheese begins to melt. Remove from oven, close bun, cute sandwich in half, and serve with au jus.
This looks so mouth-watering!! Thank you Melanie for sharing this recipe! For more delicious recipes from Melanie, head over to Garnish & Glaze.