This collection of Summer Crockpot Recipes features all the best main dishes and sides that will spare you from heating up the kitchen during the warm summer months!
More Collections: Favorite Summer Recipes, Summer Salads, Summer Drinks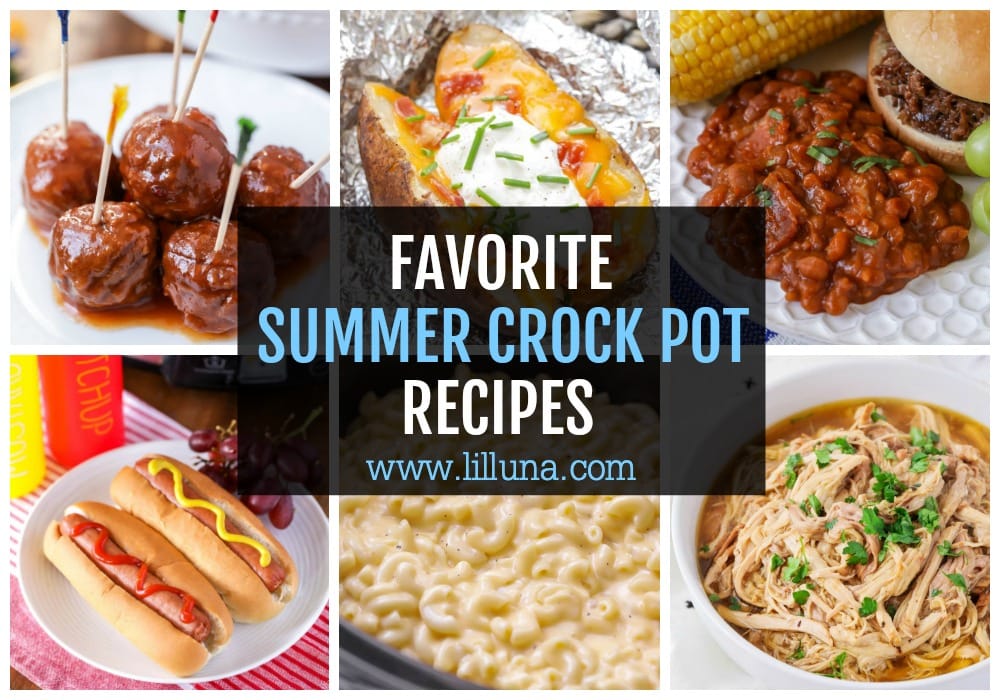 No Need to Heat the Kitchen
The crock pot is a cook's best friend and summer staple for many reasons. For the purposes of this post, a huge bonus to crock pot cooking is not having to use your oven in the heat of the summer!!
This is especially important for me in Arizona as it already costs an arm and a leg to keep the house cool without the added heat of the oven. If that's not enough to sell me on a crock pot meal I love that you can set the crock pot and leave the house.
Whether you have to work or you get to hang out doing fun summertime activities you'll return home to a ready and warm meal.
Before I get to some of our favorite summer crockpot recipes I just wanted to share a few tips!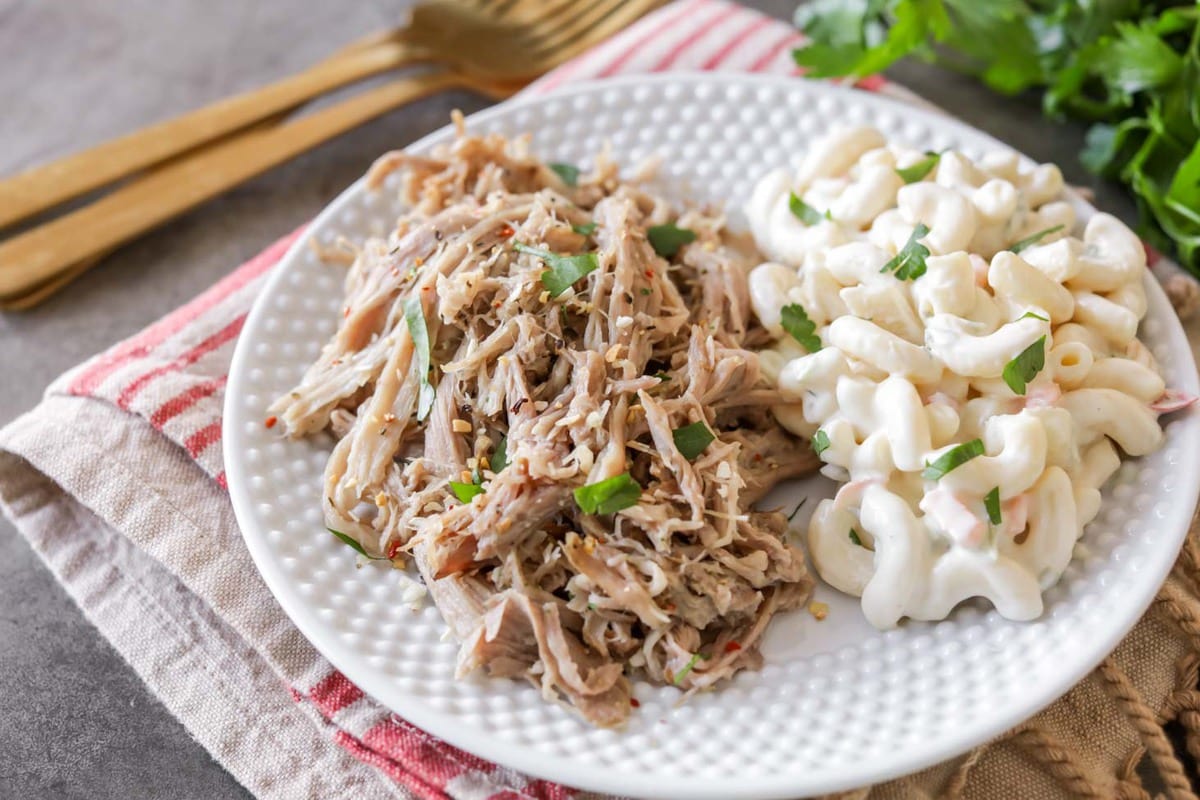 Tips for Summer Crock Pot Recipes
Use the right size pot. The ingredients should fill between ½ and ⅔ of the pot.
Go cheap. In this case, inexpensive cuts of meat are often high in fat and connective tissue which will result in a moist tender fall off the bone meat.
Plan ahead. Prep all ingredients the night before so that you have to do is toss it all in.
Fresh, never frozen. Never use frozen meat in a crock pot.
Preheat. Preheating the crock pot for about 20 minutes while you prep your ingredients helps get things to start cooking more quickly.
Sauté. Brown your meat in a sauté pan first. You'll end up with a richer flavor that can't be achieved by slow-cooking alone
Keep a lid on it! Every time the lid is opened heat escapes slowing the cooking process. It takes 20-30 minutes for the pot to return to the right temperature.
Liner. Use a crock pot liner for easy clean up, or coat the inside with cooking spray.
Temperature. On many slow cookers, the HIGH temp is 280°F and the LOW temp is 170°F. Cooking on high for 1 hour is about the same as cooking on low for 2 hours.
Freshen it up. Add fresh herbs at the end to keep their flavors bright and fresh.
Don't overcook. Even though the crock pot can be left alone without a lot of attention, you do have to make sure that it doesn't overcook the food inside. Once the food is done, simply turn the setting to warm until you're ready to serve.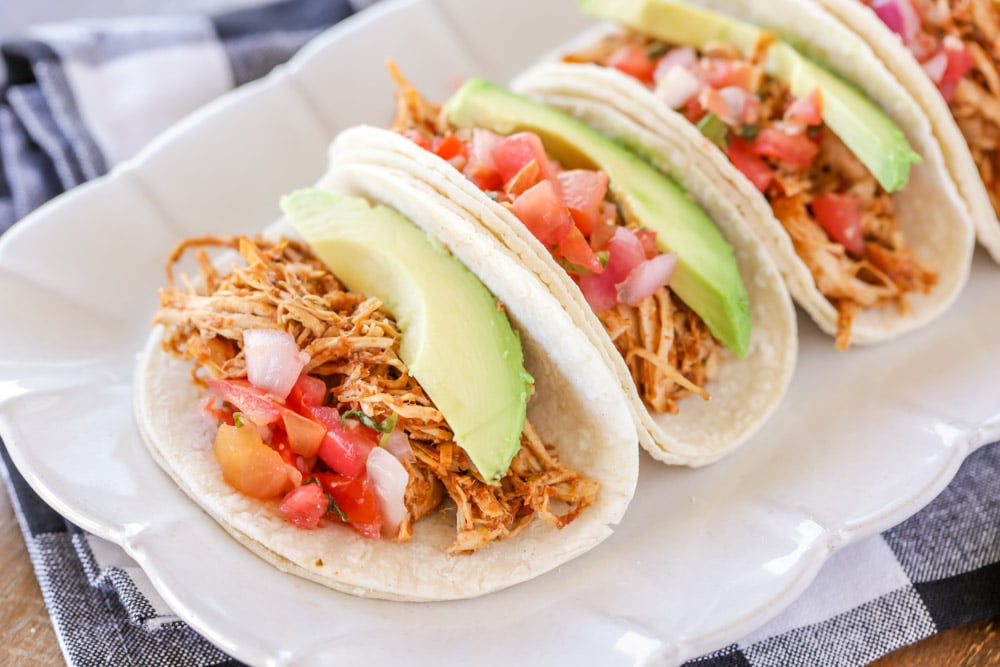 More Tips
Useful for summer meals. I don't typically serve soup and Chili in the summer, but that doesn't mean I forgo all warm meals. Using the crock pot will help put a hot dinner on the table without making you sweat in the process.
Keeps dinners warm. Summer often signals late-night parties with friends and family. Sometimes a meal is easy to quickly cook on the stovetop like beef tacos but needs to be kept warm while serving at a dinner party.
Of course, if you cook the dish in the crock pot, like meat for Pulled Pork Sandwiches, you can simply turn the setting to warm and serve it right out of the slow cooker.
Slow-cooked sides. Side dishes like veggies, black beans and more can also be cooked and kept warm in the crock pot. You can also use a crockpot to keep things like Tortillas warm.
Summer dessert. Don't forget to pair your Summer Crockpot Meals with a summery dessert such as Peach Cobbler with Vanilla Ice Cream or a delicious Pineapple Upside Down Cake.
You can also try Slow Cooker Rice Pudding or Slow Cooker Apple Crisp.
---
Crock Pot Main Dishes
Here are some of our favorite dinner ideas (all made in the slow cooker) that we especially love to make in the summertime.
Sweet Pork Barbacoa
Sweet pork barbacoa is the best slow cooker pulled pork recipe you will ever try. Better than Cafe Rio—you better make a double batch!
Hot Dogs In Crock Pot
The easiest way to make hot dogs for a crowd! Cook hot dogs in the crock pot for all of your summer potluck needs.
Slow Cooker Kalua Pork
This slow cooker kalua pork is a classic Hawaiian favorite made easily in your slow cooker with just a few ingredients. Eat it on it's own, or in tacos or sliders.
Best Slow Cooker Pork Chops
These simple and delicious slow cooker pork chops are sure to become a family favorite. They are so tender and juicy and are topped with an amazing gravy that we love to serve over the chops and mashed potatoes!
Crock Pot Brisket
Juicy and delicious meat, easily made in your slow cooker! This crock pot brisket is so tender it just falls apart.
Crock Pot Ribs
Juicy BBQ crock pot ribs is the best and easiest dinner idea! Great for a small family, big family, or cooking for a crowd!
Crock Pot Meatballs
These crockpot meatballs are full of so much flavor, and perfect for parties. Best of all, they only require 5 minutes of prep work!
Crock Pot Spaghetti
We make this yummy crock pot spaghetti all the time! Buttery noodles topped with a flavorful meaty sauce—DELISH!
Crock Pot Ranch Chicken
You'll love how simple, yet flavorful, this delicious chicken is. Made entirely in the crockpot, creamy ranch chicken is perfect on its own or served over rice.
Crock Pot Orange Chicken
This crockpot orange chicken is simple, and tastes even better than takeout. With breaded chicken pieces covered in a phenomenal orange sauce and cooked to perfection in a slow cooker, it's a recipe the whole family loves!
Slow Cooker Barbacoa
With only 5 minutes of prep, this beef slow cooker barbacoa is tender, savory, and perfect for filling tacos or burritos!
Carnitas Tacos
Tender pulled pork makes up these delicious carnitas tacos! These tacos are super flavorful and really easy to make for dinner with the help of a crock pot.
Slow Cooker Chicken Enchiladas
Hot and cheesy slow cooker chicken enchiladas to feed your family any day of the week! So easy to throw all the ingredients in and let the crock pot do the work for you.
Crockpot Lasagna
Classic lasagna made in the slow cooker! This delicious crock pot recipe has all the layers of noodles, cheese, sauce and meat that everyone loves but made more simply.
Crock Pot Pork Roast
Prepare to be amazed by this ultra tender, fall off the bone crock pot pork roast. It only takes a handful of ingredients to make, including the complimentary gravy.
Pork Tacos
Pork tacos made simple using slow cooker pork and all of your favorite taco toppings! These tacos are flavorful, easy to make, and a big crowd pleaser.
Beef Stroganoff
This easy beef stroganoff recipe is simple and flavorful. Served with egg noodles, this creamy stroganoff made in the slow cooker is a classic Sunday dinner recipe and is perfect to enjoy any night of the week.
Cafe Rio Shredded Chicken
Copycat Cafe Rio Shredded Chicken – a simple and delicious chicken recipe that is perfect for salads, burritos, quesadillas and tacos!
Crock Pot Cashew Chicken
Crock pot cashew chicken is an easy and delicious dinner that takes little time to prep and has a delicious sauce!
Crock Pot Teriyaki Chicken
Make this super easy crock pot teriyaki chicken in your slow cooker, and serve over warm white rice for a delicious teriyaki bowl!
Slow Cooker Chicken Tacos
We love this slow cooker version which involves salsa, taco seasoning, cilantro and more. You'll never find an easier way to enjoy chicken tacos!
Pork Carnitas
Carnitas AKA Mexican slow cooker pulled pork takes minutes to prep and is great in tacos, bean burritos, quesadillas, chimichangas and pork sandwiches!
---
CROCK POT SIDES
Can't forget the sides too! These are perfect for weeknight dinner or to pair with favorite meats cooked on the grill. Cook up some of these easy, delicious sides in the slow cooker to go with any of your favorite meals.
Slow Cooker Mashed Potatoes
These cheesy garlic crock pot mashed potatoes are the perfect accompaniment to any meal, and so incredibly easy to make. They're creamy, smooth and savory, and the cheese adds so much delicious flavor.
Crock Pot Baked Potatoes
The crock pot takes all the guesswork out of baked potatoes. Simply prep and wrap your potatoes, throw them in the crock pot, and they come out perfectly ready to be topped with all your favorite fixings!
CrockPot Cheesy Potatoes
Crockpot cheesy potatoes are the perfect easy side dish to your next family dinner. Just dump, cook, and enjoy some cheesy tender potatoes for your next meal or holiday gathering.
Crock Pot Mac And Cheese
Everyone loves a good slow cooker recipe, and this crock pot mac and cheese is so simple, cheesy and delicious. With loads of cheese, butter, and sour cream it's hard not to love this creamy macaroni and cheese recipe.
Baked Beans
This homemade baked beans recipe is a must-have at all of our barbecues.  It's such a simple and easy recipe, requires only FIVE ingredients, and cooks in the crock pot. 
Crock Pot Creamed Corn
A big holiday dinner wouldn't be complete without rich flavorful creamed corn! It's creamy, buttery, and cheesy. Everyone's favorite holiday side dish!
Crockpot Green Beans With Bacon
Crock pot green beans – just a few ingredients make the yummiest green beans ever! We love this delicious side dish recipe.
Crock Pot Rice
No need for a rice cooker when you have a crock pot in your cupboard! Follow our recipe for crock pot rice—it's the easiest method!
Pinto Beans Crock Pot Recipe
Nutrient rich pinto beans cooked to perfection. These make a great meal or a tasty side dish to any of your Mexican dishes.
Crockpot Scalloped Potatoes
Slow cooker scalloped potatoes – these creamy potatoes are a perfect side dish to just about any meal! You only need a few simple ingredients, and your crock pot does all the work.
---
sensational summer crockpot recipes!
We absolutely love using our crockpot for easy summer recipes that won't heat up the whole house while they're cooking. The list above has some of our most favorite and most requested recipes that we love to make all year long! We'd love to know which ones you've tried too!
More Collections: Summer Desserts, Grilled Dinner Ideas, BBQ Side Dishes