This collection of Summer Crock Pot Recipes features all the best main dishes and sides that will spare you from heating up the kitchen during the warm summer months!
More Collections: Favorite Summer Recipes, Summer Salads, Summer Drinks, Summer Dinner Ideas, Summer Desserts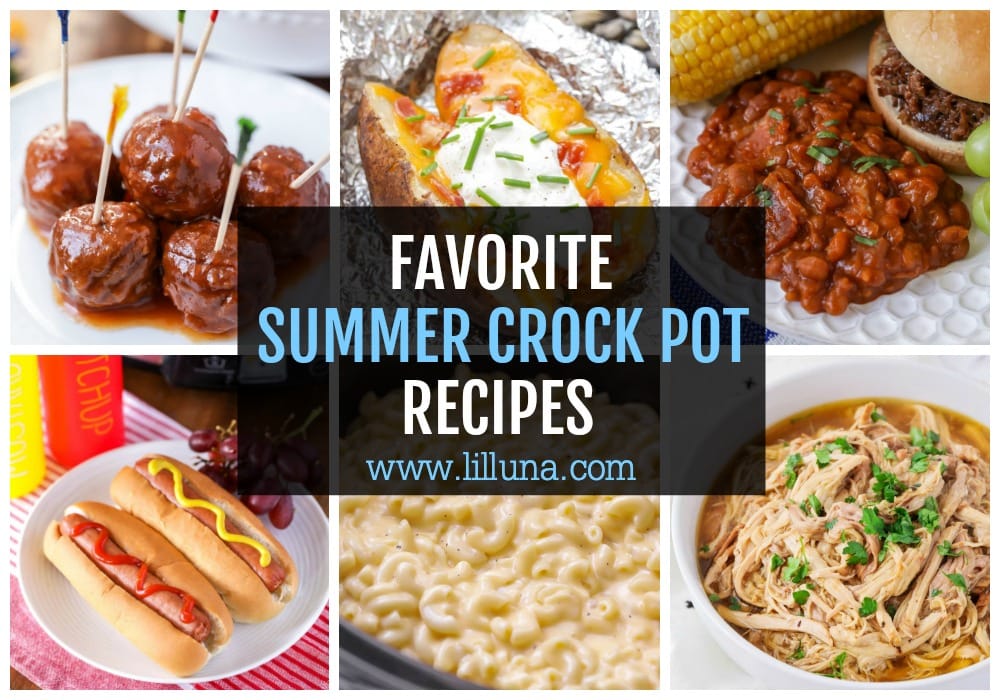 Tips for Summer Crock Pot Recipes
The crock pot is a cook's best friend for many reasons. For the purposes of this post, a huge bonus to crock pot cooking is not having to use your oven in the heat of the summer!! This is especially important for me in Arizona as it already costs an arm and a leg to keep the house cool without the added heat of the oven. That's enough to sell me on a crock pot meal. 
Before I get to some of our favorite crock pot dishes I just wanted to share a few general crock pot cooking tips: 
Use the right size pot: The ingredients should fill between ½ and ⅔ of the pot. 

Go Cheap: In this case inexpensive cuts of meat are often high in fat and connective tissue which will result in moist tender fall of the bone meat. 

Plan ahead: make sure you have all your ingredients prepped the night before so that you have to do is toss it in.

Never use frozen meat in a crock pot.

Preheating your crock pot for about 20 minutes while you prep your ingredients helps get things cooking faster.

Brown your meat in a sauté pan firs

t.

You'll end up with a richer flavor that can't be achieved by slow-cooking alone 

Keep a lid on it! Every time the lid is opened heat escapes slowing the cooking process. It takes 20-30 minutes for the pot to return to the right temp. 

Use a crock pot liner for easy clean up, or coat the inside with cooking spray.

On many pots the High temp is 280°F an

d the low temp is 170°F. Cooking on high for 1 hour is about the same as cooking on low for 2 hours.

Add fresh herbs at the end to keep their flavors bright and fresh.
Crock Pot Main Dishes
Here are some of our favorite dinner ideas (all made in the slow cooker) that we especially love to make in the summer time.
Crock Pot Sides
Can't forget the sides too! Cook up some of these easy, delicious sides in the slow cooker to go with any of your favorite meals.