Hello again, Lil' Luna readers! It's Alicia from The Baker Upstairs, and I have the most delicious fall recipe to share with you today! Now that the days are getting colder, I love coming home from work to something warm and delicious in the slow cooker, and what could be better than homemade mashed potatoes? These cheesy garlic crock pot mashed potatoes are the perfect accompaniment to any fall meal, and so incredibly easy to make. These are without a doubt the very best mashed potatoes I've ever made! They're creamy and smooth and savory, and the cheese adds so much delicious flavor.
The garlic adds a great depth of flavor without being overpowering at all. Because it cooks so long with the potatoes, it gets nice and mellow and so delicious. My kids normally hate garlic but they loved these potatoes and could not get enough! These potatoes would be super fun for a Thanksgiving side dish, but they're easy enough to make for a weeknight dinner. Cheesy garlic mashed potatoes for the win!
MY OTHER RECIPES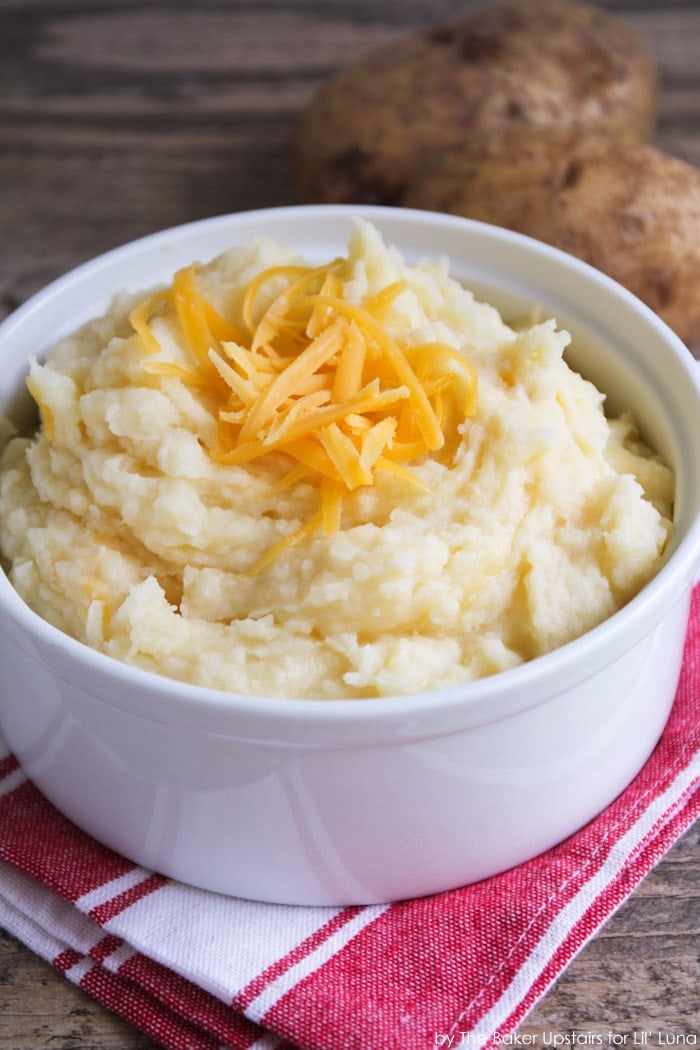 Cheesy Garlic Crock Pot Mashed Potatoes:
Slow Cooker Mashed Potatoes
Crock Pot Mashed Potatoes - one of the easiest and yummiest crock pot side dish recipes!
Ingredients
3 pounds russet potatoes
2 teaspoons minced garlic
4 cups chicken broth
1 bay leaf
¾ cup milk
3 tablespoons butter
½ cup sour cream
¾ teaspoon salt
¼ teaspoon pepper
1 cup shredded sharp cheddar cheese
Instructions
Peel and chop the potatoes into one inch pieces. Add the potatoes and garlic to a slow cooker and pour the chicken broth over the top. Add the bay leaf and cook on low 6-8 hours or on high for 3-4 hours.
Drain the potatoes, reserving the cooking liquid. Mash the potatoes with the milk and butter until mostly smooth. Add cooking liquid as needed to achieve desired consistency. Stir in the sour cream, salt, pepper, and cheese. Serve warm and enjoy!
__________________________________
Alicia, I am DROOLING just looking at this recipe. Definitely not waiting until Thanksgiving to try this one out! Thanks so much for sharing these Slow Cooker Mashed Potatoes!! Head over to The Baker Upstairs to see more delicious recipes from her!
If you want another yummy potato side dish, check out:
Brown Sugar Glazed Red Potatoes
Brown Sugar Glazed Red Potatoes
And for more great potato recipes, check out:
ENJOY!!