This sweet and savory Mango Salsa is perfect with chips or any Mexican meal. It's filled with sweet pineapple, cilantro, mangoes, onion, cilantro and jalapeños making it full of flavor and simple to make.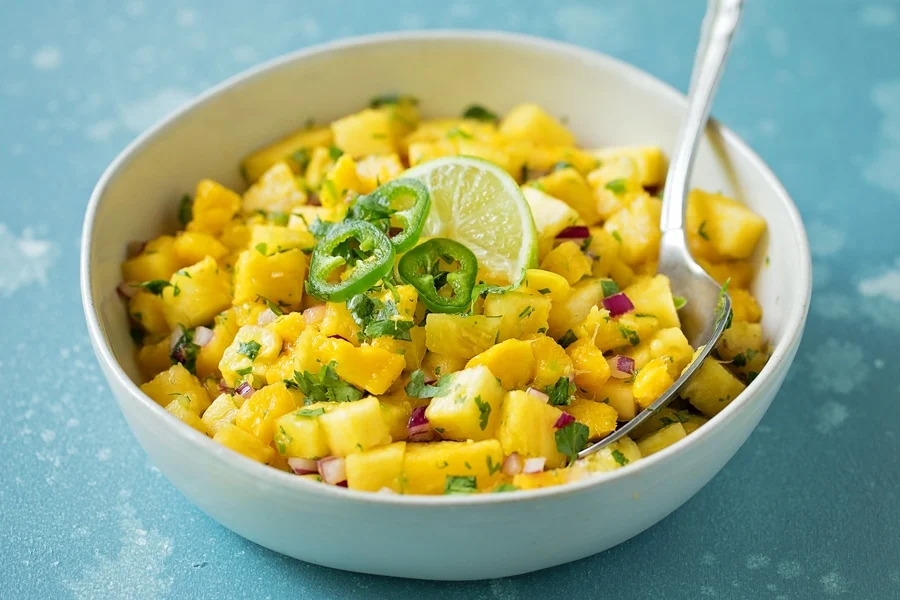 Mango Salsa with pineapple too!
We love finding new recipes to make and enjoy, and with summer around the corner, we especially love cool, light and fresh recipes.
We also tend to make a ton of recipes with fruits, like today's recipe for mango salsa (with pineapple!), which is perfect for hot summer days. There's absolutely NO cooking or roasting involved. Simply chop everything up, add some lime juice and zest, a pinch or two of salt and it's good to go!
We've been long-time fans of salsa! We have our go-to homemade salsa as well as our corn salsa and salsa verde (green salsa). Adding this sweet salsa to our go-to list is going to be perfect for all our Mexican recipes.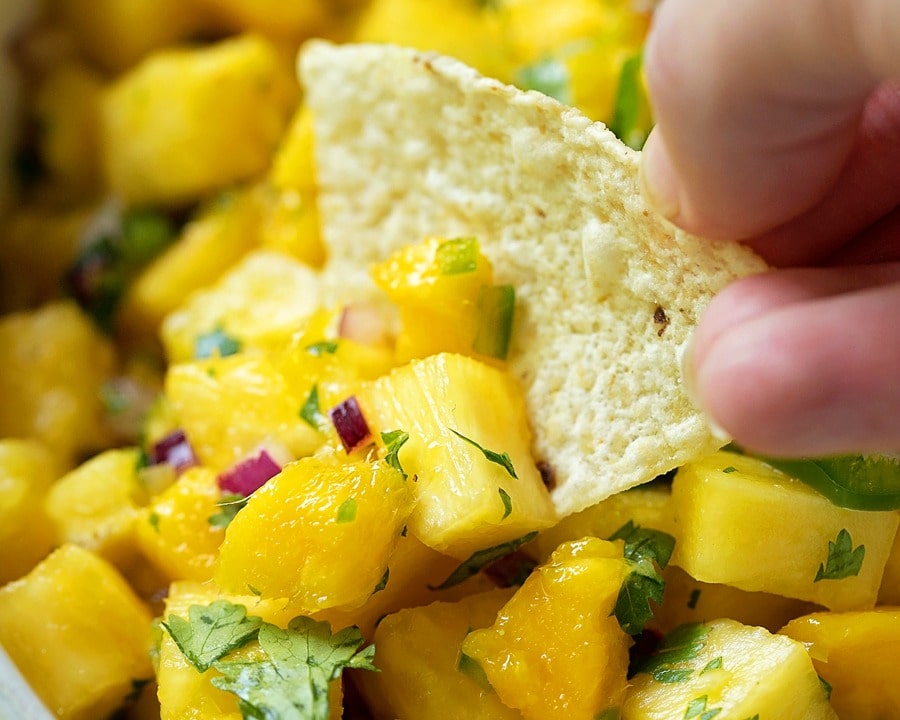 How to Make Mango Salsa
As with any recipe, you can customize it based on the ingredients you love most. Not all mango salsas have pineapple, but we decided to add it for even more sweetness. Here are some other common ingredients that are great additions to your mango salsa:
pineapples
cucumbers
onion
cilantro
red bell pepper
green bell pepper
jalapeños
lime juice
lemon juice
One of the best things about mango salsa is the sweet and savory combo that it provides, so don'g be nervous to combine but the fruits and veggies to make your own custom mango salsa. 😉
Can mango salsa be made ahead of time? Yes, just make as instructed and this place in an air-tight container until ready to serve. Although this salsa lasts for a few days in the fridge, we recommend serving it within 24 hours of making.
Can you freeze mango salsa? You can freeze mango salsa by placing in an air-tight container for up to 2 months. Thaw in fridge overnight before serving and add any extra lime juice if needed.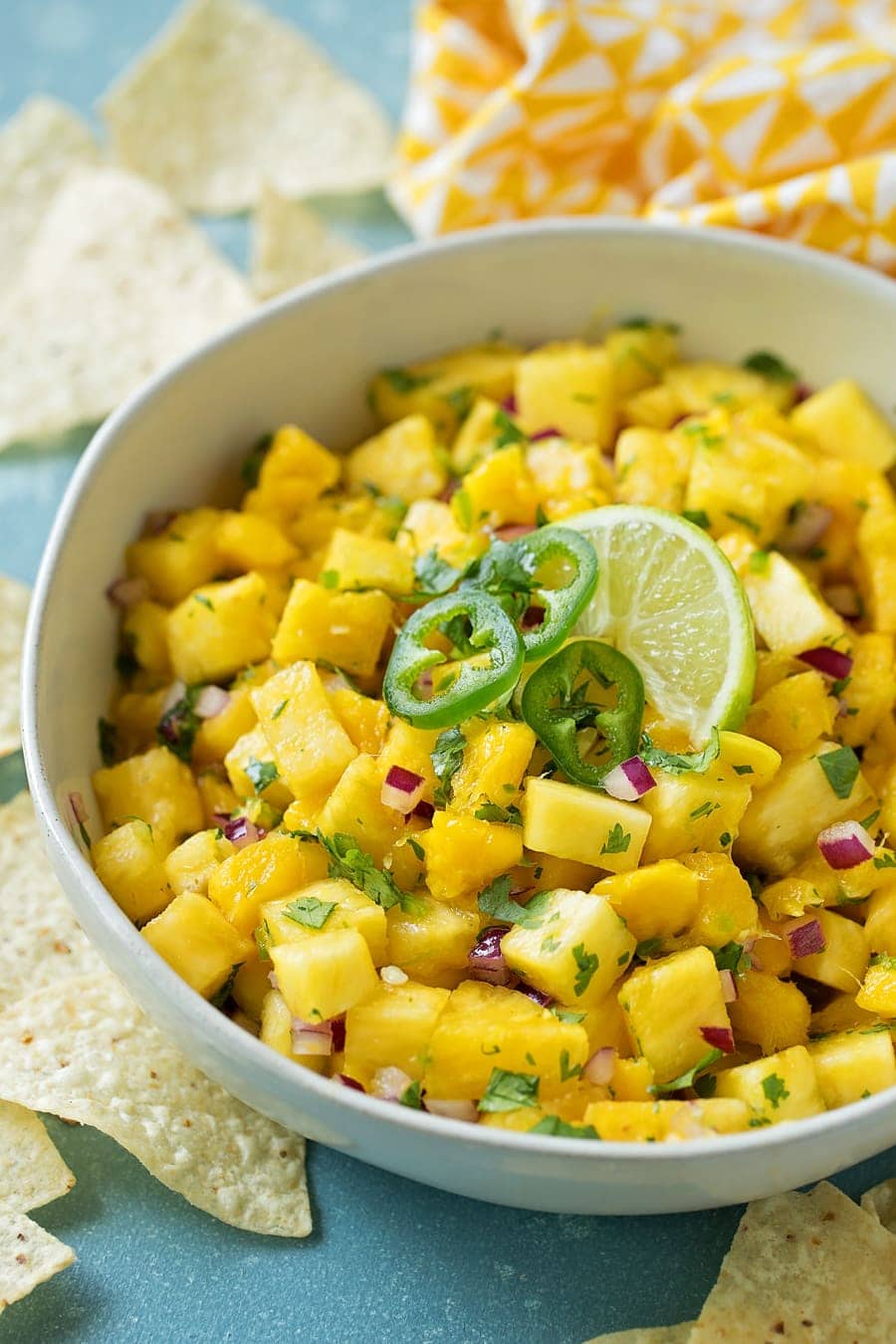 The only thing about this salsa is that it needs to be eaten within an hour or so of making it. Otherwise the pineapple begins to brown. That definitely shouldn't be a problem, because this salsa is absolutely delicious, and I'm sure it will be gone in no time!
what to serve with mango salsa?
For even more salsa recipes, be sure to check out:
Mango Salsa Recipe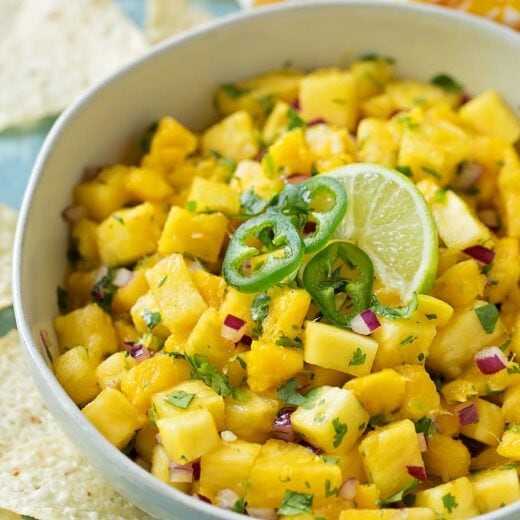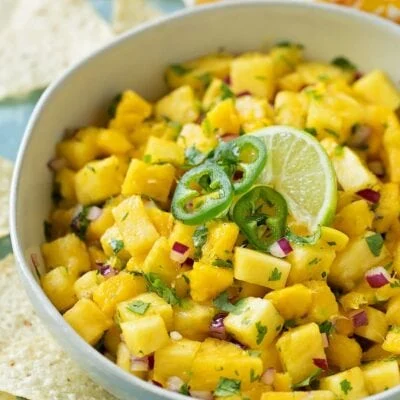 This sweet and savory Mango Salsa is perfect with chips or any Mexican meal. It's full of flavor and simple to make.
Ingredients
3

cups

pineapple, diced into 1/4-inch chunks

2

cups

mango, diced into 1/4-inch chunks

1/3

cup

red onion, finely diced

1/4

cup

fresh cilantro, coarsely chopped

1

jalapeño pepper (seeds discarded), minced

1

lime, zested and juiced

2

tsp.

olive oil or avocado oil

1/2

teaspoon

coarse sea salt
Instructions
In a large bowl, combine the pineapple, mango, onion, cilantro, lime zest, lime juice, oil, and sea salt. Gently toss to combine. 

Let rest for 15 minutes before serving. Serve within 1 hour of making.
Notes
Try adding chili powder, cumin or coriander for a slightly more savory salsa.