Real comfort food at it's finest! Corn pudding is creamy, buttery, and sweet! It's the perfect side dish to any dinner or holiday meal – and especially great during cold weather!
It takes just 10 minutes to prep and is one of our favorite side dishes. If you love corn, you'll also love our slow cooker creamed corn, corn bread, or our Mexican Street Corn.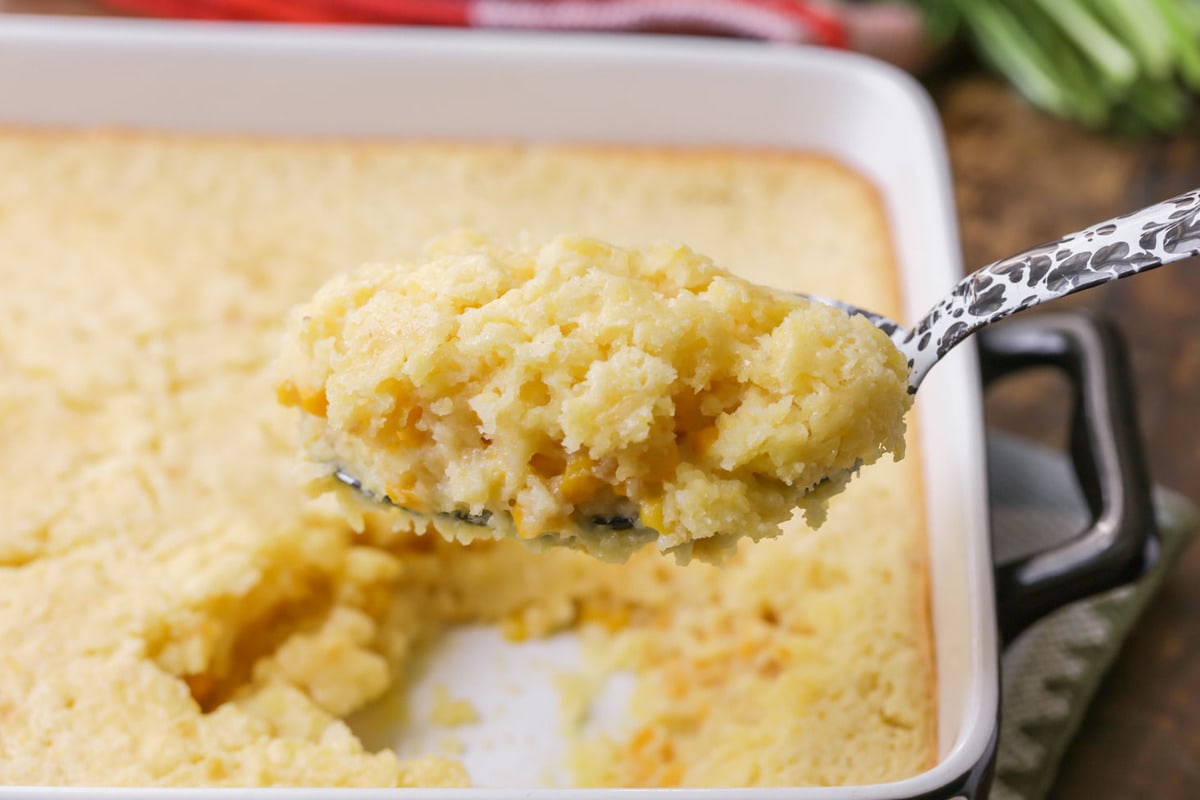 Corn Pudding with Jiffy Mix
Ready for the easiest recipe ever? This corn pudding made with a Jiffy Mix is your new best friend. It's so simple that anyone can make it, I promise!
This is such a great side dish for all of your holiday dinners ahead. It's a little bit sweet and a little bit savory (similar to our Glazed Carrots and Candied Sweet Potatoes), making it the 100% delicious.
I love when the weather starts to cool down and family dinners become more consistent. It's easier to cook when it's colder outside. It means I'm not sweating through my clothes with my oven heating up my house. Enjoying a nice hot meal around the dinner table with my loved ones is the best. With all of the yummy dinners in my future, I am going to be making this corn pudding a lot. It compliments so many different main dishes.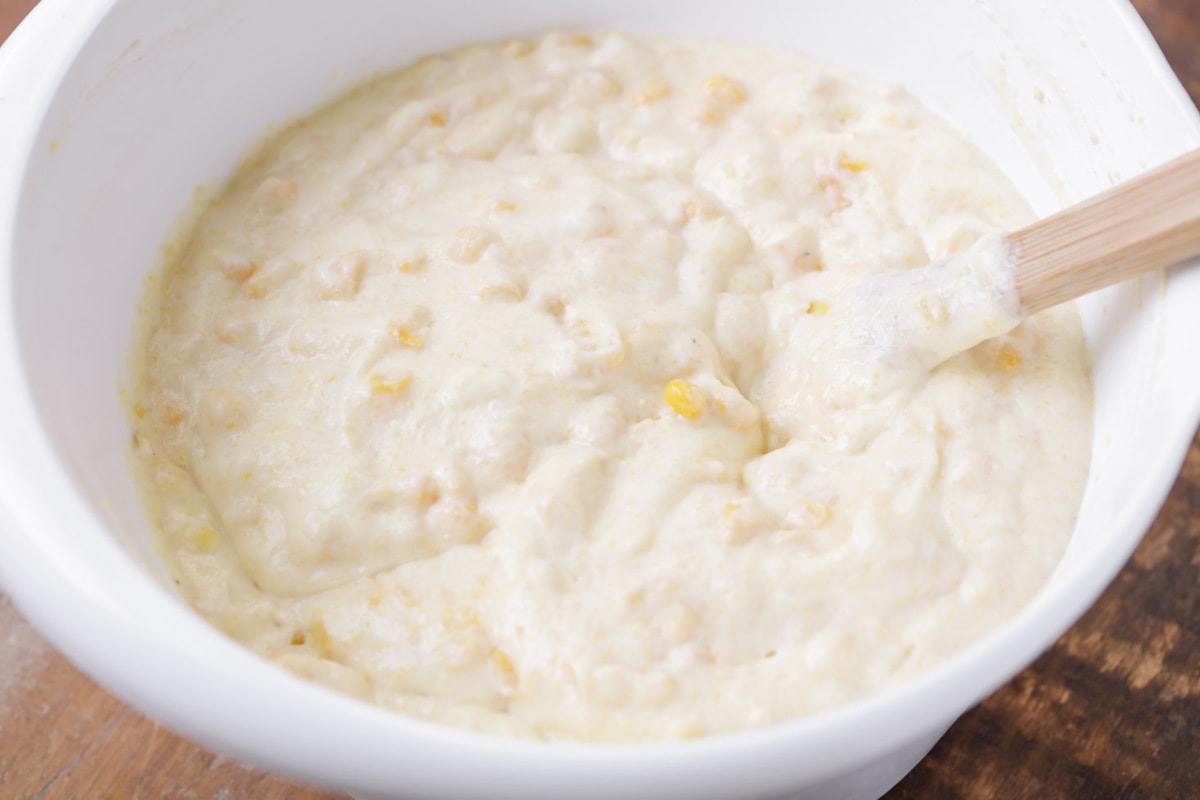 Corn Pudding Ingredients
There are just a few ingredients in this corn pudding which makes it that much easier to mix up. Just some butter, sugar, a couple of eggs, sour cream, milk, a package of frozen corn, a can of creamed corn, and of course – the Jiffy cornbread mix! If you have some fresh corn you'd like to use – go right ahead! Fresh corn would be super delicious in this recipe.
If you can't find the Jiffy cornbread mix anywhere, just use another cornbread mix. Simple as that… or you can use homemade cornbread mix. Here is a simple recipe you can use:
Homemade corn mix recipe
2⁄3 

cup all-purpose flour

1⁄2 

cup yellow cornmeal

1⁄3 

cup sugar

1 

tablespoon baking powder

1⁄2 

teaspoon salt

2 

tablespoons vegetable oil
Just combine the first 5 ingredients in a bowl and mix well. Whisk in vegetable oil and mix until dry mixture is smooth and lumps are gone!
How to Make Corn Pudding
Before you start making the corn pudding, preheat your oven to 325 degrees and grease a 9×13 baking pan.
In a large bowl, cream the butter and sugar until it looks light and fluffy. Beat in each egg one at a time until well combined. Don't forget to scrape those sides! Mix in the sour cream. Alternate mixing in the milk and muffin mix one at a time until each are combined. Then fold in the corn until it's all mixed together.
Pour the corn pudding into your greased baking pan and put it into your preheated oven. Bake the pudding uncovered at 325 for 50-55 minutes. When it's done and ready to be taken out of the oven it should feel set and lightly browned. Serve warm on the side of dinner!
How to store corn pudding? Just place it in an airtight container or covered with Saran Wrap and place in fridge for 3-4 days.
How to freeze corn pudding? You can also freeze any leftover corn pudding! Just seal it tightly in a container and freeze. When you're ready to use it, let it thaw it completely and then re-heat it and enjoy.
Can I make a Tex-Mex version? Yes – for a little bit of a savory Tex-Mex taste, you can add a some diced green chilies from a can to the corn pudding before you bake it in the oven. Then top it with a cup of shredded Monterey Jack cheese – YUM!!!
What if I want the corn pudding to be a little more savory? Just take out the sugar. This corn pudding is very easy to change up based on your preferences.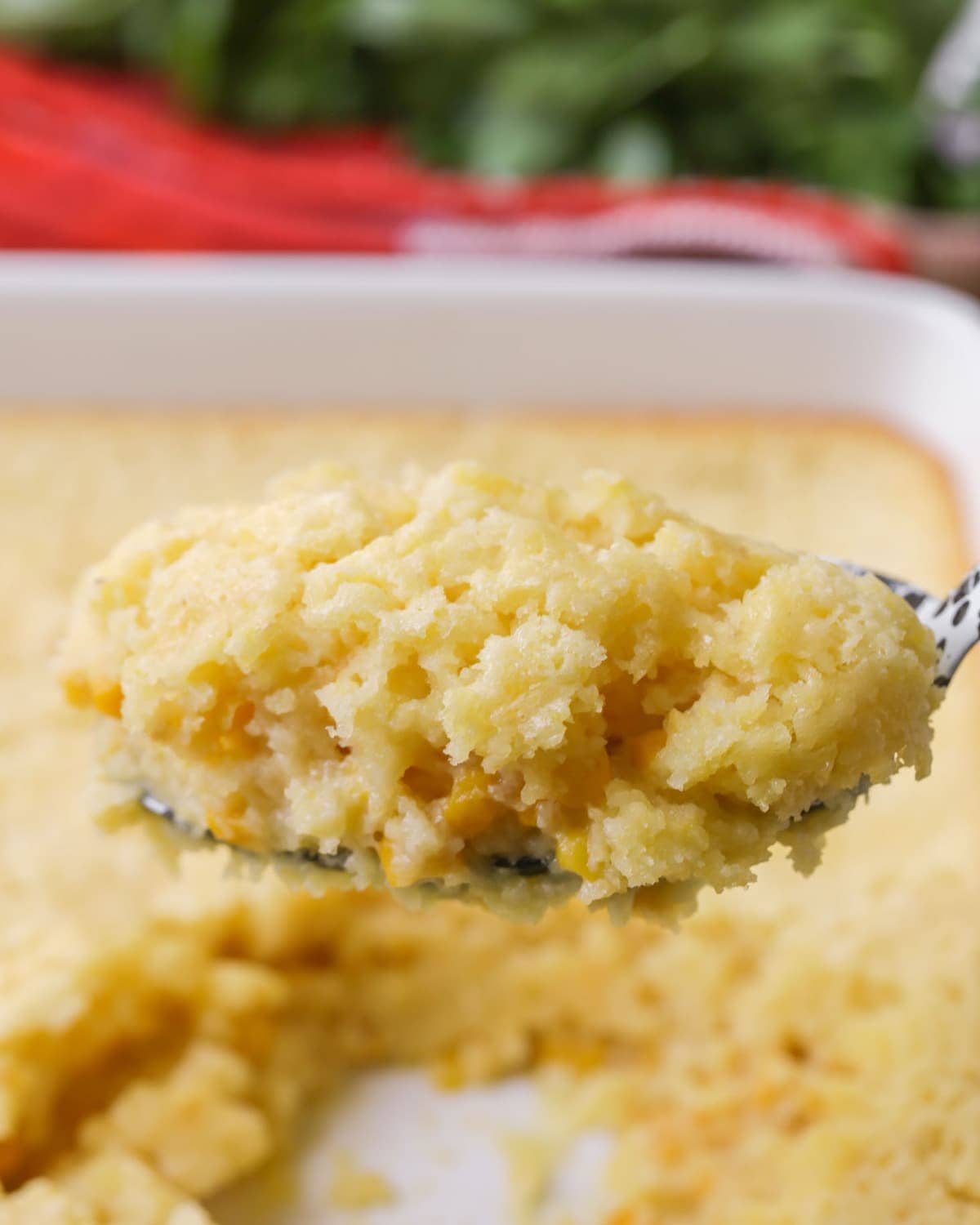 Easy Corn Pudding recipe
I'm telling you – this is the easiest side dish you'll make all fall/winter. It would be PERFECT to make for Thanksgiving dinner. It's definitely a crowd please and goes great with turkey and all the other Thanksgiving side dishes.
Because holidays can get crazy and busy, it's nice to have at least a few easy recipes in the mix. This is definitely one of them. And to make things even easier, here is what you'll need for large crowds at holidays:
1 dish of corn pudding = feeds about 8 people
2 dishes of corn pudding = feeds about 16-17 people
3 dishes of corn pudding = feeds about 24-25 people
Hope that helps!
For more corn side dishes, check out:
Corn Pudding Recipe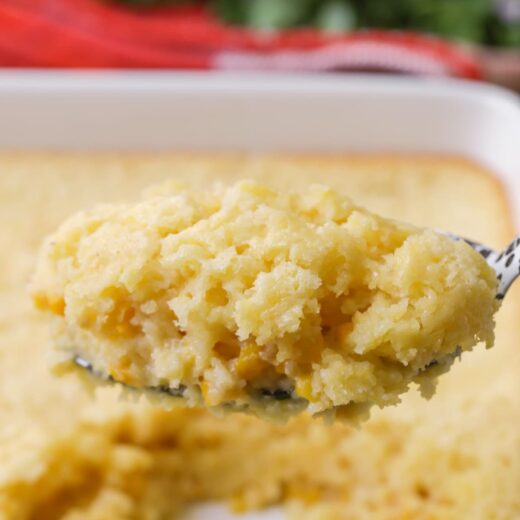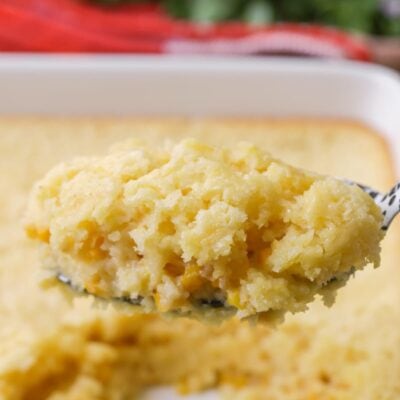 Real comfort food at it's finest! Corn pudding is creamy, buttery, and sweet! It's the perfect side dish to any dinner or holiday meal.
Ingredients
Instructions
Cream butter and sugar in a large bowl until light and fluffy. Beat in eggs one at a time. Add sour cream. Gradually alternate adding muffin mix and milk. Fold in corn.

Pour into a greased 9x13 baking dish. Bake uncovered, at 325 for 50-55 minutes, or until set and lightly browned.