Bread pudding is a simple, easy dessert made with fluffy white bread and simple, everyday ingredients. It's an old-fashioned recipe that your whole family will love.
Ooey, gooey warm bread pudding is a classic dessert recipe! Just like our famous peach cobbler, this recipe is served warm and is especially delicious with ice cream and caramel syrup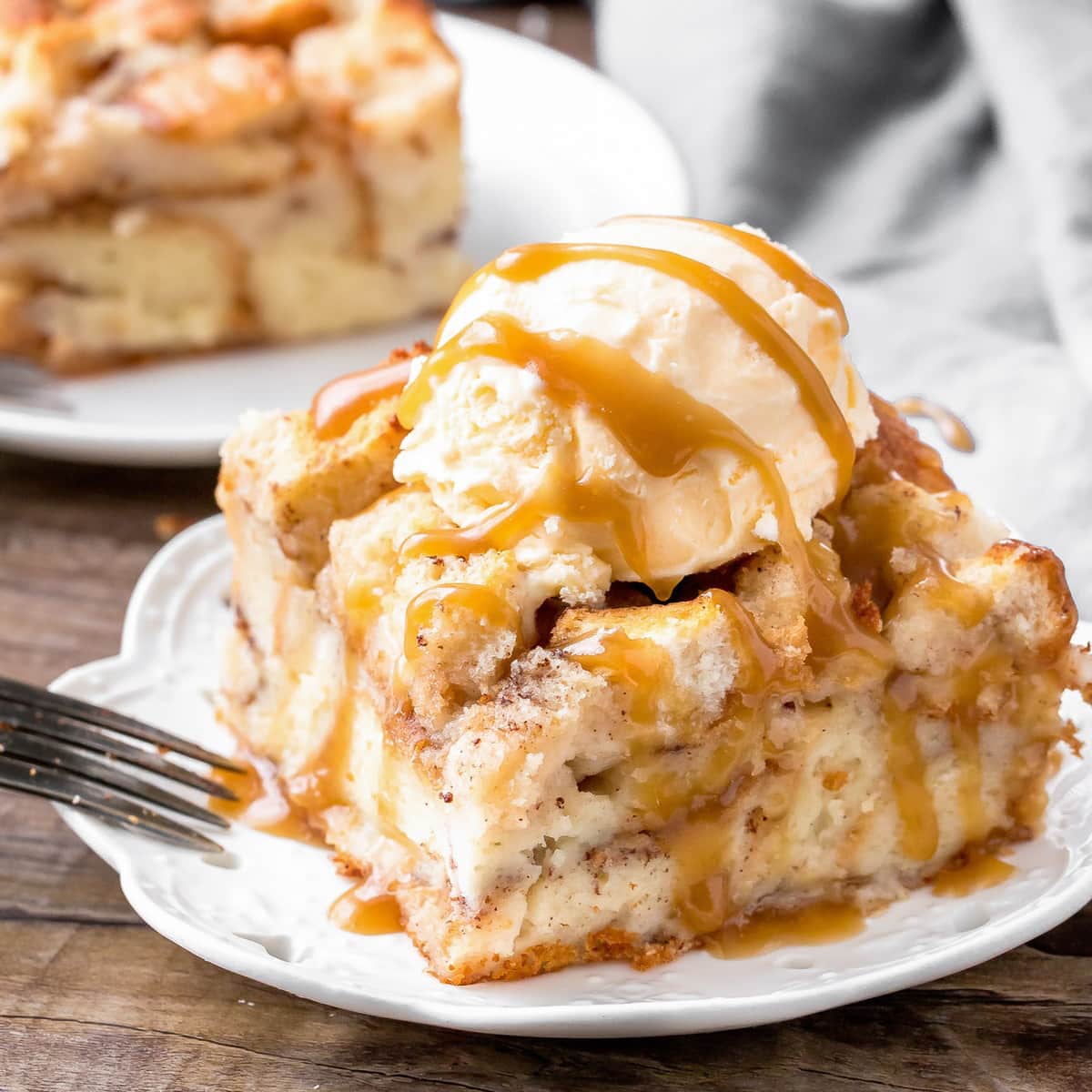 Easy Bread Pudding
Bread pudding is such a comforting, cozy dessert. It has a delicious hint of cinnamon and creamy flavor. You can add in raisins or chopped pecans – but I like it best served with a drizzle of caramel sauce and ice cream.
It's similar to French toast casserole, only it's creamier, sweeter, and a little gooier – which makes it perfect for dessert.
What is bread pudding? Bread pudding is an old-fashioned dessert made from cubes of day-old bread. The bread gets soaked in a simple custard mixture made from eggs, milk, sugar, and a little cinnamon and nutmeg. It's then baked in a big roasting pan until the top is golden and the middle is still slightly gooey.
It tastes warm, cozy, and completely addicting. And it's definitely proof that you don't need fancy ingredients or equipment to make a super tasty dessert.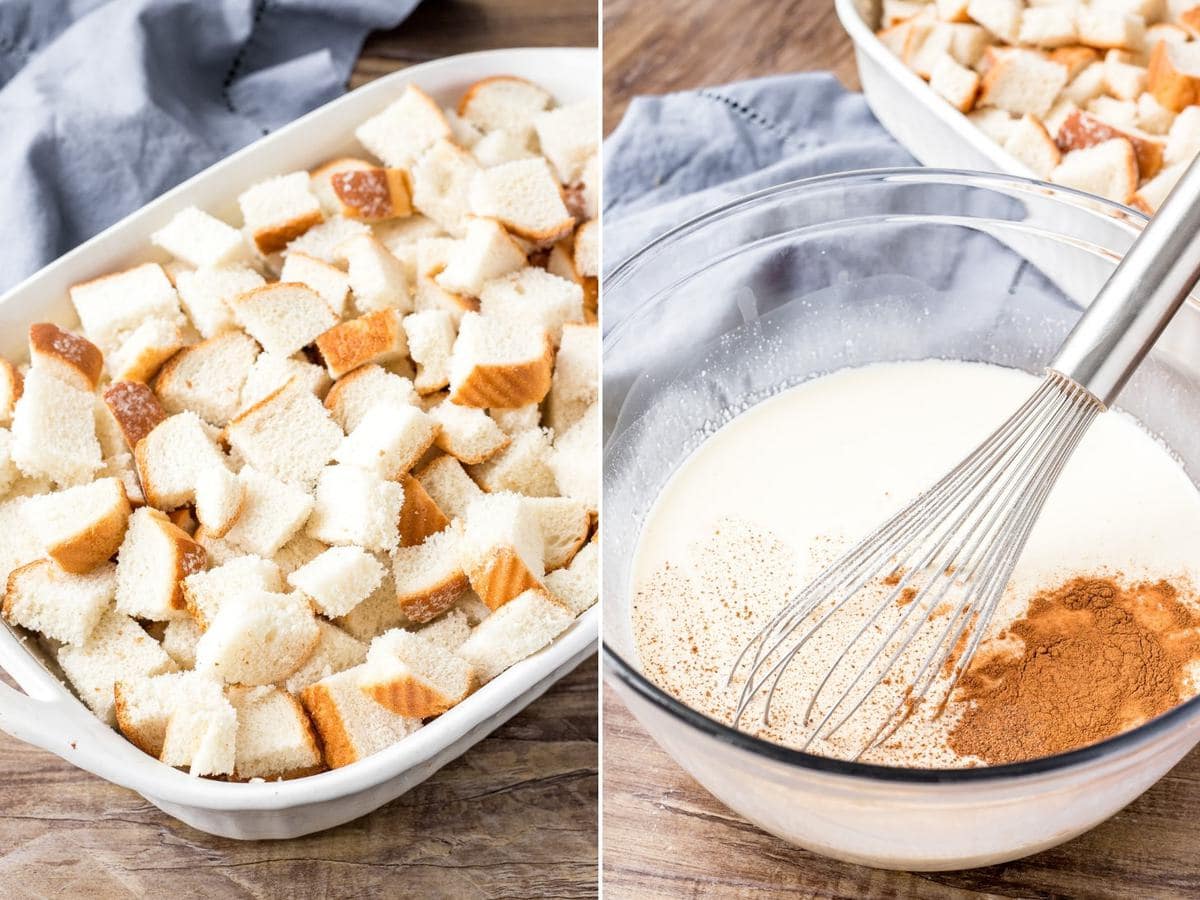 How to Make Bread Pudding
This recipe seriously couldn't be easier to make.
I like to start with slightly stale, white fluffy bread. When the bread is a little stale I find it holds up to an extra soaking of the custard mixture. Any kind of thick cut, white bread works well – I typically opt for brioche or challah bread. Slice the bread into cubes, then place in a greased 9×13 inch casserole pan.
To make the custard-like sauce, whisk 6 large eggs. Then whisk in 1 cup sugar, 4 cups whole milk, 2 teaspoons vanilla extract, 2 teaspoons cinnamon and ½ teaspoon nutmeg. I like to use whole milk because it makes it extra creamy & delicious.
Then pour the egg mixture over top of the bread, giving it a stir as necessary so that all bread is coated. At this point, you can also toss in ½ cup raisins or ½ cup chopped pecans.
Let the pudding sit for 20 minutes before baking. This allows the bread to soak up all the milk.
Then bake the mixture in your preheated oven at 350F for 40-45 minutes. I like to bake it for the first 20 minutes with the pan covered with aluminum foil, then uncovered for the last 20 minutes so that the top doesn't get too brown.
Can you make bread pudding ahead of time? You can prepare the pudding in advance (up to 12 hours before enjoying). Cover the pan with aluminum foil, and place in the fridge. Then when you're ready to enjoy – pop it in the preheated oven.
How to make THE sauce:
To make things easier, we typically serve bread pudding with caramel syrup and ice cream, but you can also make a homemade bread pudding sauce.
Our favorite is a vanilla sauce that is made by whisking together ½ cup brown sugar, 1 tablespoon flour, ¼ teaspoon cinnamon, 1 egg, 2 tablespoons melted butter, 1 ¼ cups milk, and 1 tablespoon vanilla in a pot. You will cook this for about 10 minutes, whisking the whole time.
The sauce will thicken up and be delicious poured over this bread pudding.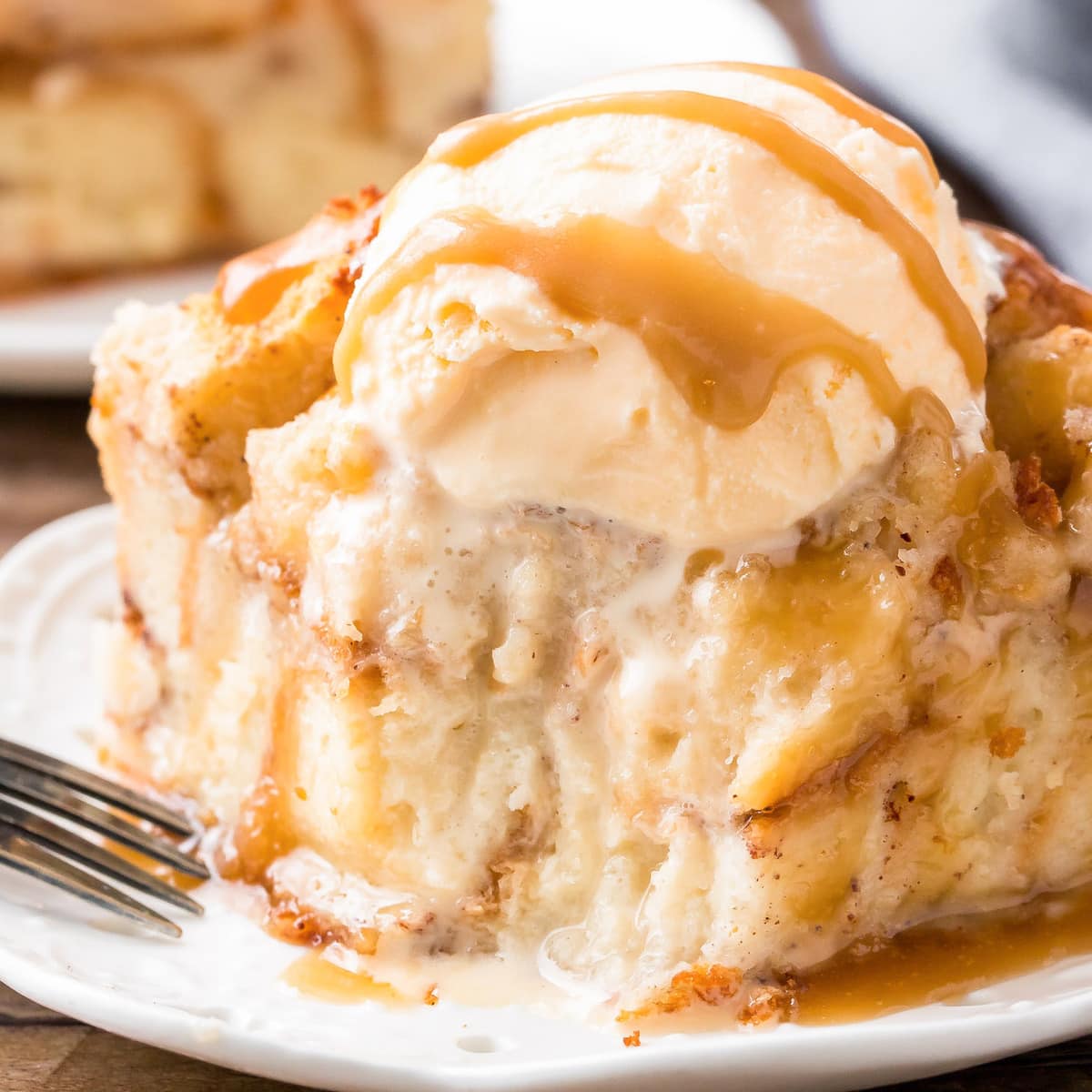 STORING, REHEATING + FREEZING
How to store/reheat bread pudding? Place in an air-tight container and store in the fridge for 3-4 days. Be sure to cover well since it's typically already dry and you don't want it to dry out even more.
You can reheat in the oven or microwave, but be sure it reaches an internal temp of 165. If you want the top crisp, we recommend broiling for the last minute.
How to freeze bread pudding? Cover tightly and place in fridge for 3-4 months. Be sure to let it thaw in the fridge overnight before reheating. If it's lost too much moisture we recommend adding a bit of caramel sauce or heavy cream before reheating.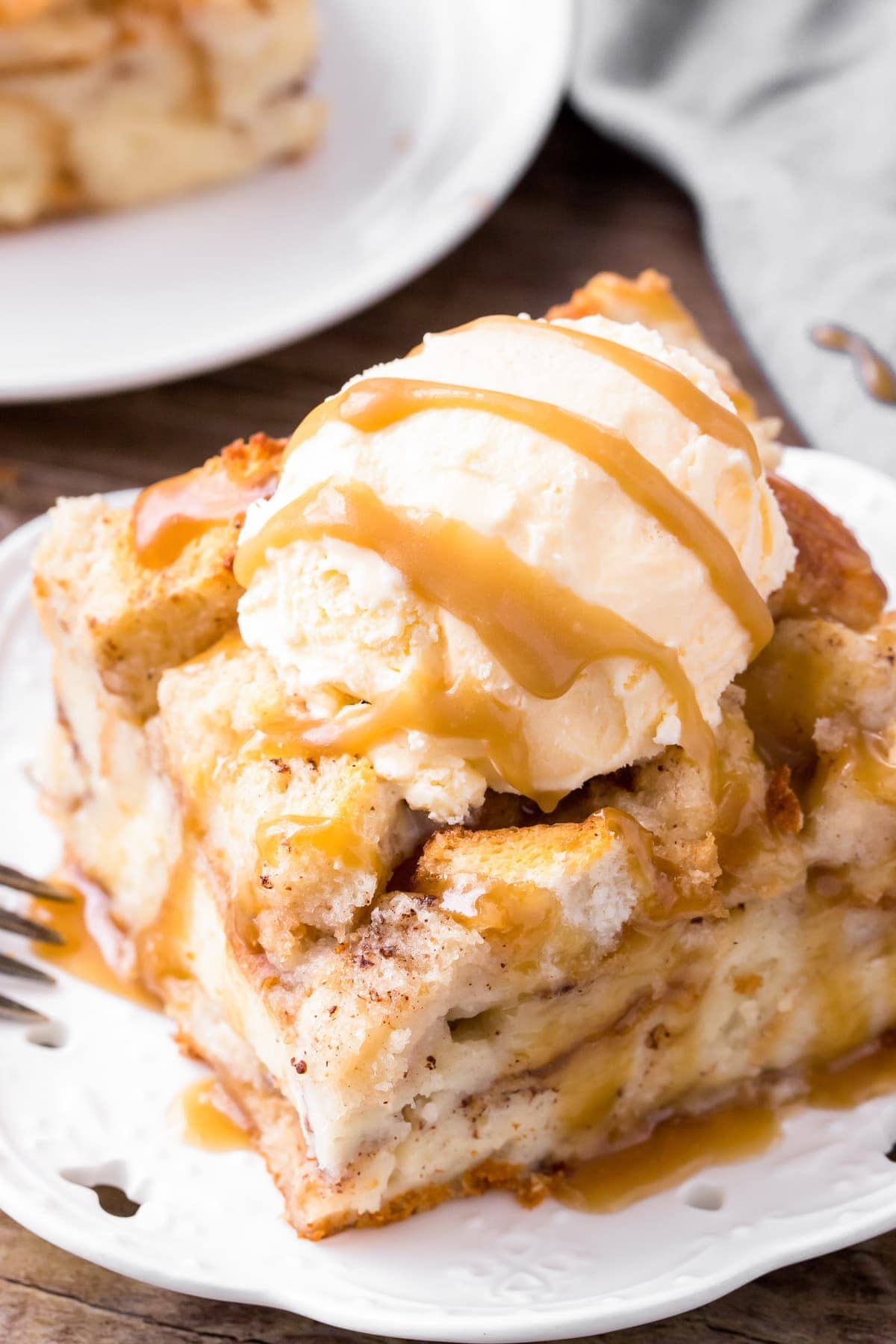 This bread pudding is so delicious as a simple dessert recipe, or an extra decadent breakfast. It proves that you only need a few everyday ingredients to make a delicious treat, and everyone always wants a second helping!
For more yummy recipes, check out:
Bread Pudding Recipe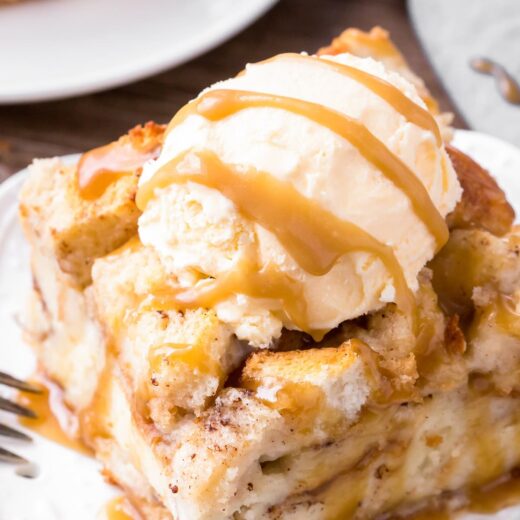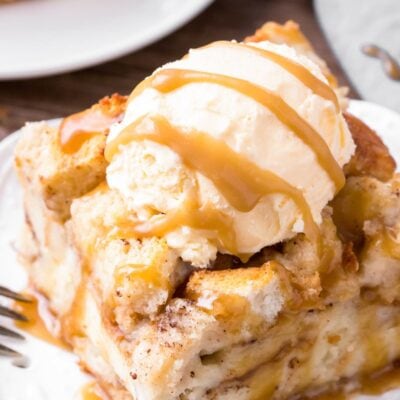 Bread pudding is a simple, easy dessert made with fluffy white bread and simple, everyday ingredients. It's an old-fashioned recipe that your whole family will love.
Ingredients
1

large loaf

white bread

I typically use an 18 oz loaf

6

large

eggs

4

cups

whole milk

1

cup

sugar

2

teaspoons

vanilla extract

2

teaspoons

cinnamon

1/2

teaspoon

nutmeg

butter

for greasing the pan
Instructions
Grease a 3-quart (9x13 inch) casserole pan.

Cut the bread into cubes and place in the greased pan.

In a very large bowl, whisk the eggs.

Then whisk in the sugar, milk, vanilla extract, cinnamon, & nutmeg.

Pour the egg mixture over top of the bread, tossing the bread as necessary so that it's all covered in the egg mixture.

Allow the pudding to sit for 20 minutes so that the bread soaks up the egg mixture. As you wait, preheat the oven to 350F degrees.

Cover the dish with aluminum foil and bake for 20 minutes, then remove the aluminum foil and continue baking for 20-25 minutes or until the top is golden brown.

Let it cool for at least 10 minutes before slicing into pieces and serving.
Notes
*Store leftovers covered in the fridge. Bread pudding is best served warm. You can either warm it up in the microwave or preheat the oven to 350F and bake covered for 10 minutes to warm it up.