The biggest party to end the year is our favorite time for grazing. A BIG part of that snacking includes these decadent New Years Eve Desserts!
More Collections: Party Appetizers, Healthy Appetizers, New Years Appetizers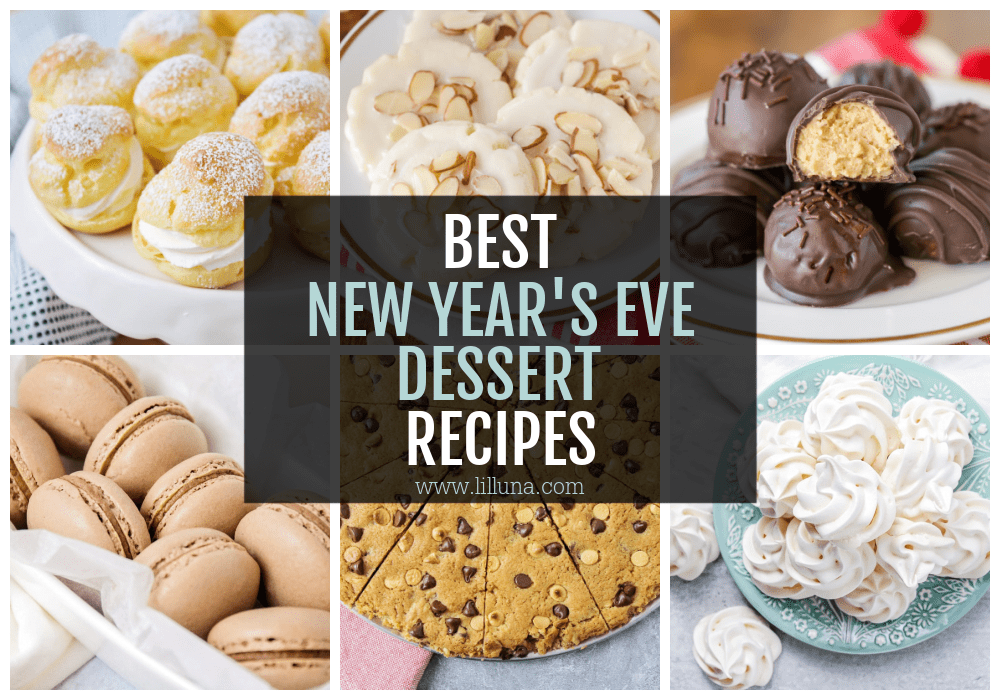 Ring in the New Year with Your Best Sweets
Before everyone recommits to healthy eating on January 1st, pull out all the delicious desserts to serve on New Year's Eve. It's a great chance to showcase some of your most delicious and fanciest sweets.
I've rounded up plenty of yummy desserts for New Year's, it will be hard to choose just a few!
Be sure to let us know which are your favorites to make for the 31st!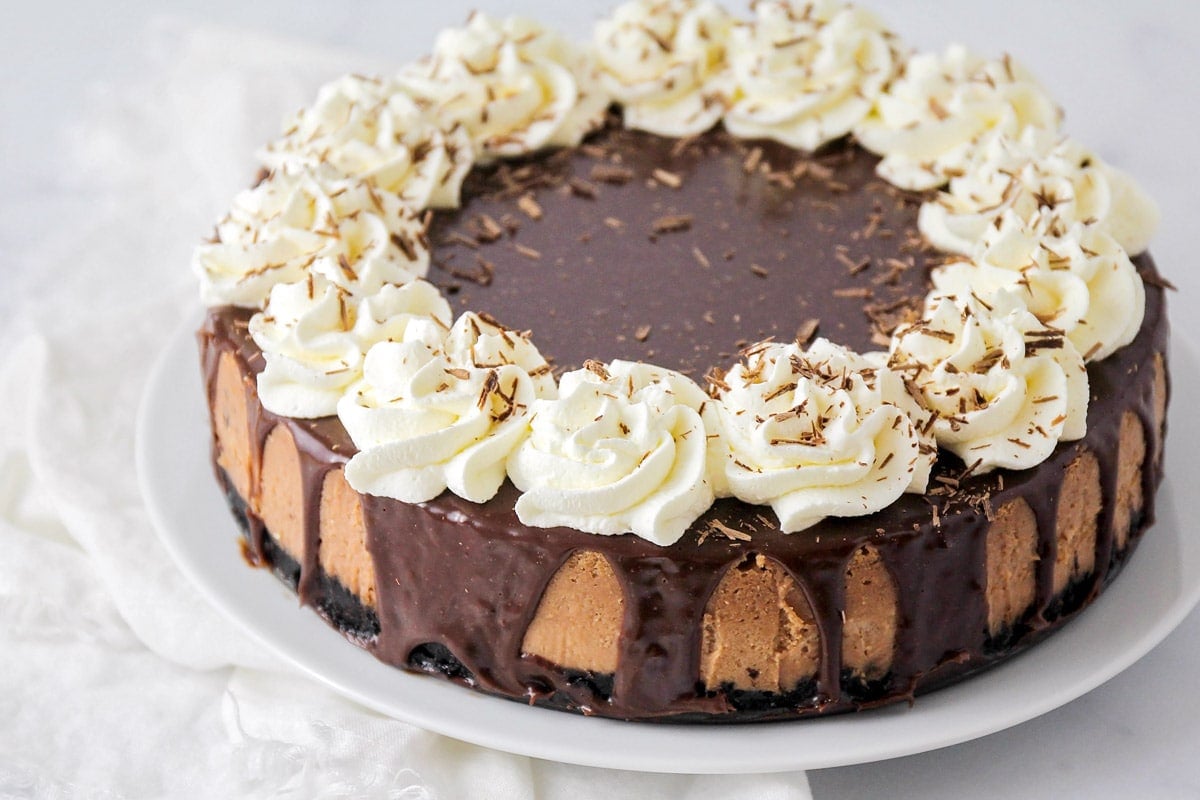 party Perfect display
A visually appealing display is as much a feast for your eyes as the desserts will be for your body. Use an assortment of bowls, trays, and stands to display your foods. If your venue is large enough, try to have more than one dessert area.
Theme. Pick a theme for the party and incorporate it into the different elements of the dessert table display.
Vary the heights. Use cake stands and tiered platters as well as flat trays and bowls.
Add other decorative elements such as flowers, candles, signs, and figurines.
Label desserts and include ingredient information: dairy-free, nut-free, and gluten-free.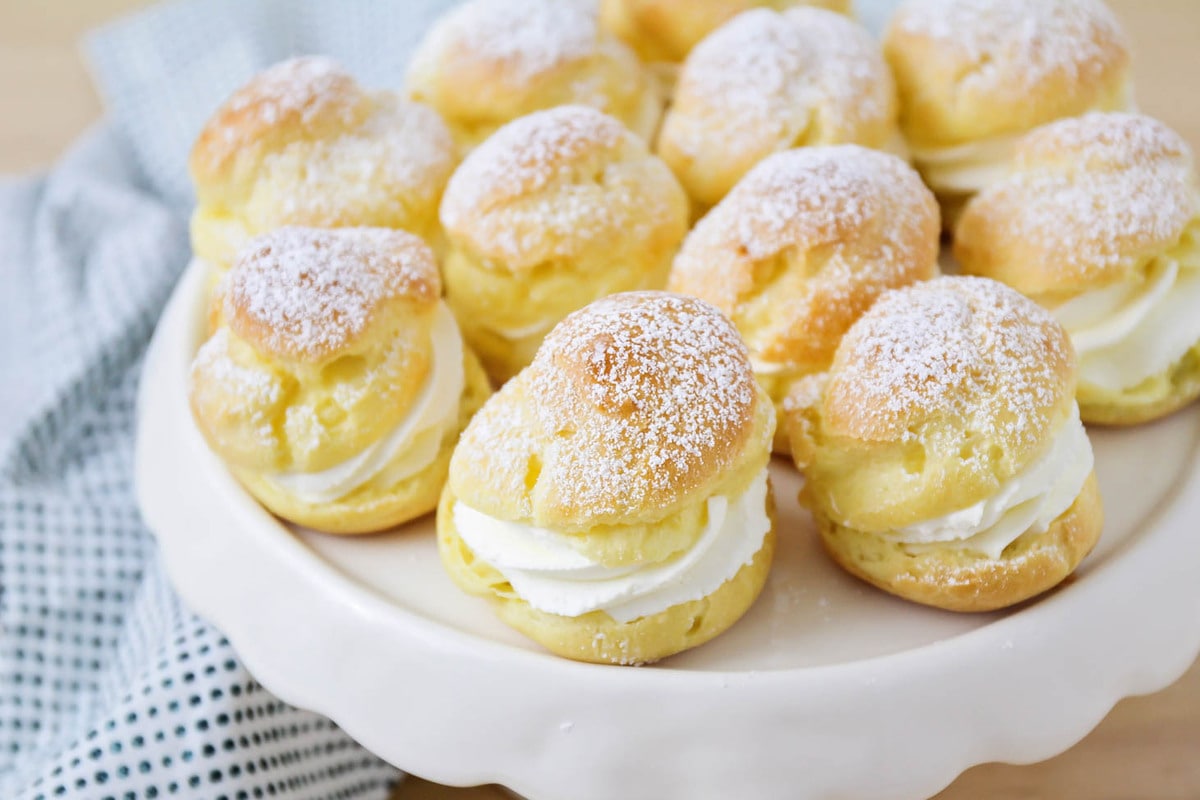 How Much to Make
The amount of New Years Eve Desserts you provide depends on how long your party lasts, how much other food there will be, and how many people attend.
Since New Years' parties extend well into the night and typically include other foods, I usually plan to have more desserts than a normal dinner party. Also, I suggest setting out different types of desserts throughout the evening.
Mini desserts. Plan for 3-4 mini desserts per person every 2-3 hours. Mini desserts just mean items that are set out as individual servings: cookies, brownies, cream puffs, candy, chocolate strawberries, etc.
Main dessert. For a main featured dessert that is cut into slices (cake and cheesecake), or a more filling individual dessert (cupcakes), plan for guests to eat 1 serving per guest, plus 1-2 mini desserts every 2-3 hours.
Additional desserts. Make and set out 2 more dessert choices than the allotted servings. For example, if you're planning on guests to eat 1 slice of cake and 2 other mini desserts, then set out the cake and 3-4 other mini dessert choices.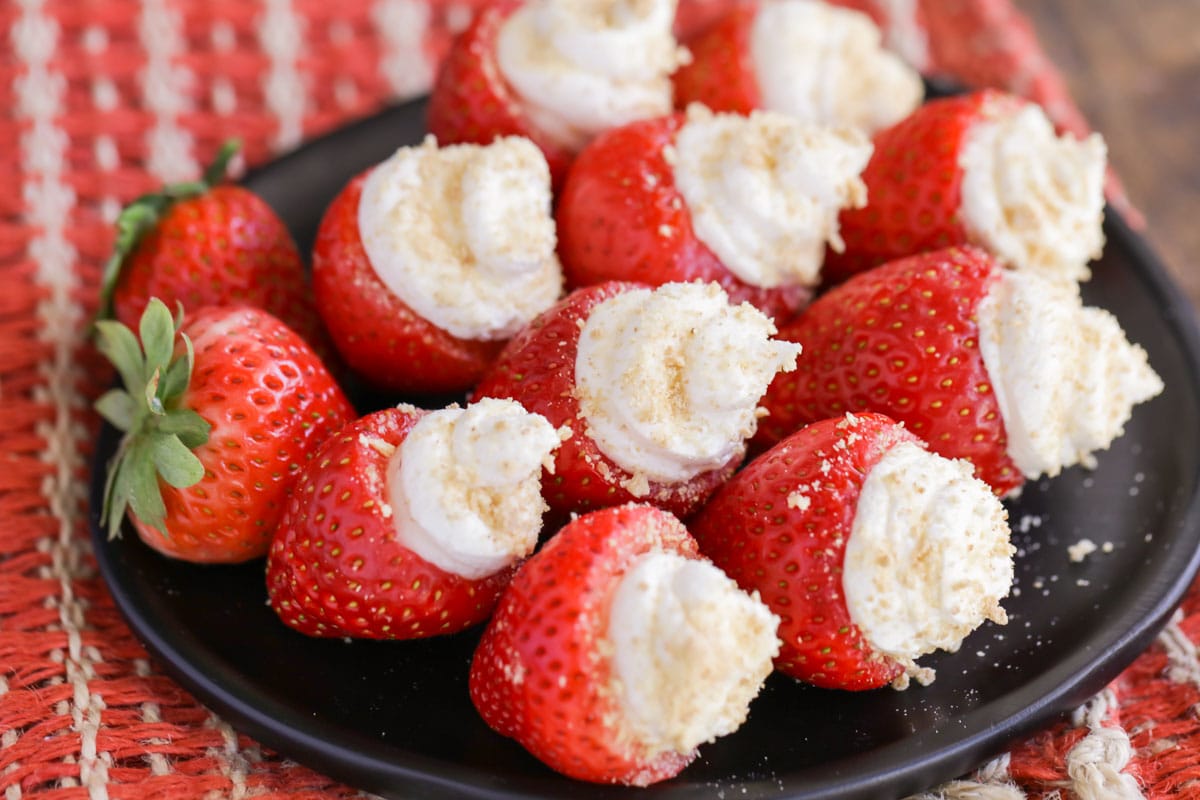 Dessert Tips
Did you know that it is believed that serving round desserts, or ring-shaped desserts, will bring a full circle of good fortune the following year? Some other New Year's dessert tips include:
Dessert variety. When planning your New Year's Eve Menu choose desserts that vary in color, texture, temperature, and flavor to satisfy everyone's sweet tooth.
Make ahead of time. Many desserts can be made ahead of time and kept in the freezer.
Include store-bought sweets. Don't feel like every dessert needs to be homemade. Incorporate both store-bought and homemade desserts. Consider allowing guests who offer to bring dessert as well.
New recipes. If you're planning to serve a new recipe, I suggest making it a couple of times in the week preceding the event to create the perfect treat.
A midnight treat. Save a signature dessert to serve as the clock strikes midnight.
Transporting desserts. Be sure to find a carrier or box that will fit the dessert snugly. Insulated coolers can help keep desserts warm or cool.
Place all carriers, boxes, and coolers on the floor of the car. You can also provide barriers with rolled blankets to keep items from sliding around.
---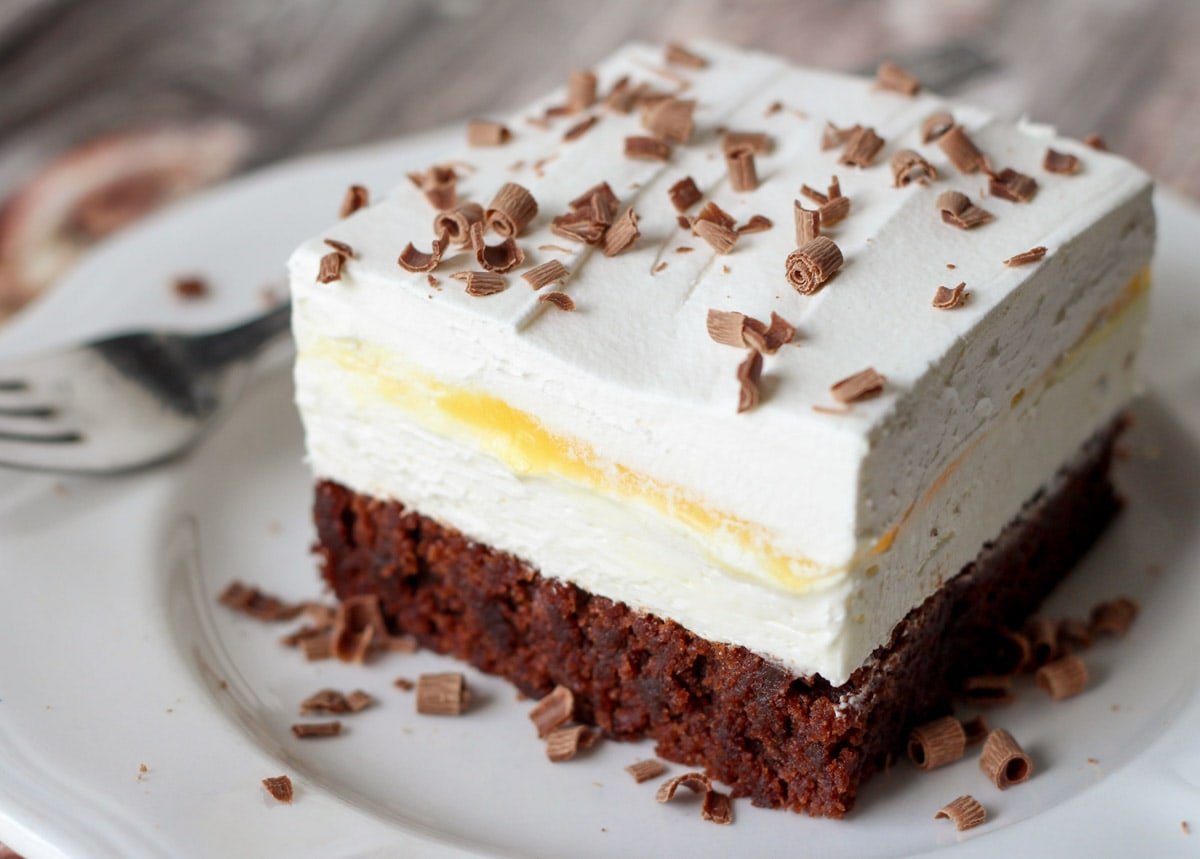 best new years eve desserts
Enjoy this collection of some of our best-loved treats and sweets! They are perfect for ringing in the New Year.
Brownie Delight – Brownie Delight is a delicious 4-layer dessert that is cool, creamy and chocolate-y. It is deliciously refreshing!
Peanut Butter Balls – Simple Peanut Butter Balls are perfect for every peanut butter-chocolate lover. These decadent bites are SO easy to whip up!
Gooey Butter Cake – Gooey butter cake is a simple and amazingly delicious dessert with a cake batter crust and soft, gooey cream cheese top that makes it addicting!
Chiffon Cake – Chiffon cake is moist and airy-like sponge cake with delicate flavor. our version is light and is topped with a citrusy frosting with berries.
Chocolate Cheesecake – An Oreo Crust, Chocolate Cheesecake Layer, And Rich Chocolate Ganache Topping Combine To Make This Decadent Dessert Made For The Ultimate Choco-Holic.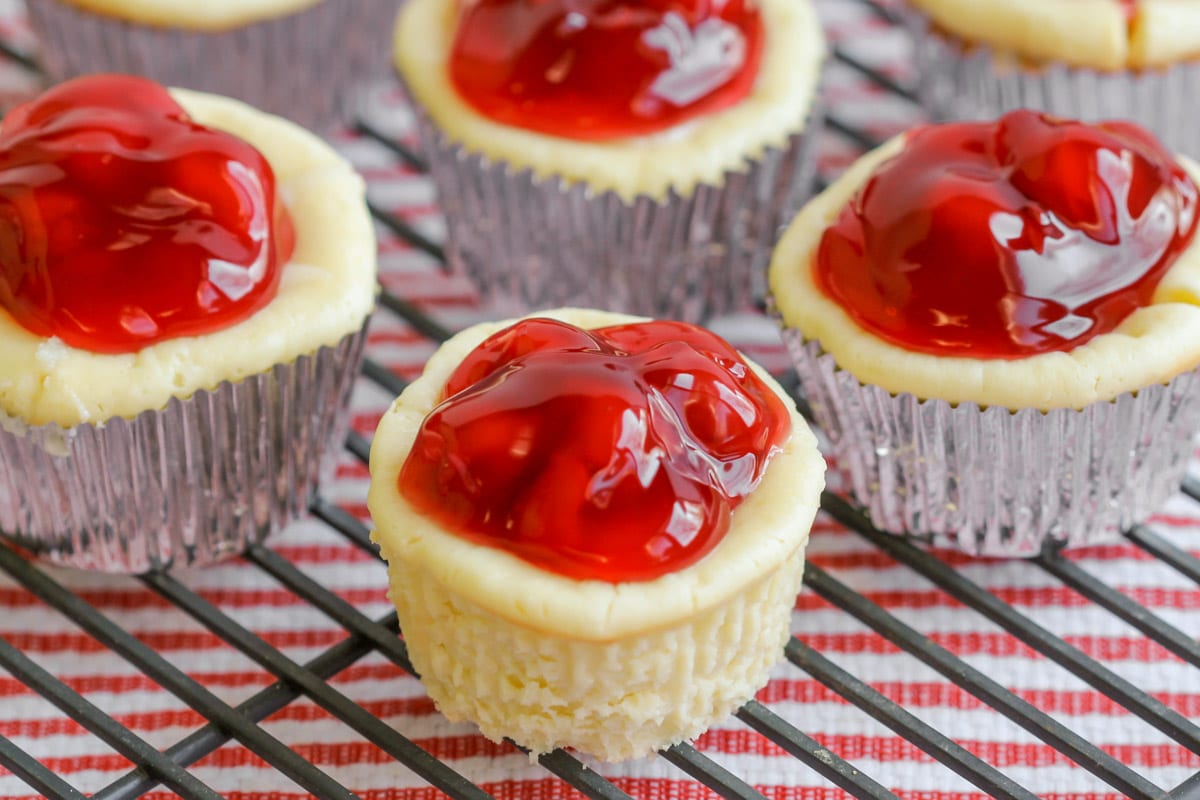 Cherry Cheesecake Cupcakes – Cherry cheesecake cupcakes are bite-sized treats made with a cream cheese base and topped with cherry pie filling. They're sweet, tart, and ultra simple to make!
Caramel Cake – Caramel cake is tender and tasty, with layers of light cake smothered with caramel frosting and topped off with caramel syrup!
Chocolate Covered Strawberries – How to make Chocolate Covered Strawberries – a simple and quick tutorial on how to make everyone's favorite treat that is perfect for snacking, special occasions and even Valentine's Day!
Homemade Cream Puffs – Homemade Cream Puffs are better than the bakery. You won't believe how simple and easy these elegant little pastries are to make!
Angel Food Cake – This tender, light as air angel food cake is a must-try! With the perfect amount of sweetness, it's perfect to enjoy all year long.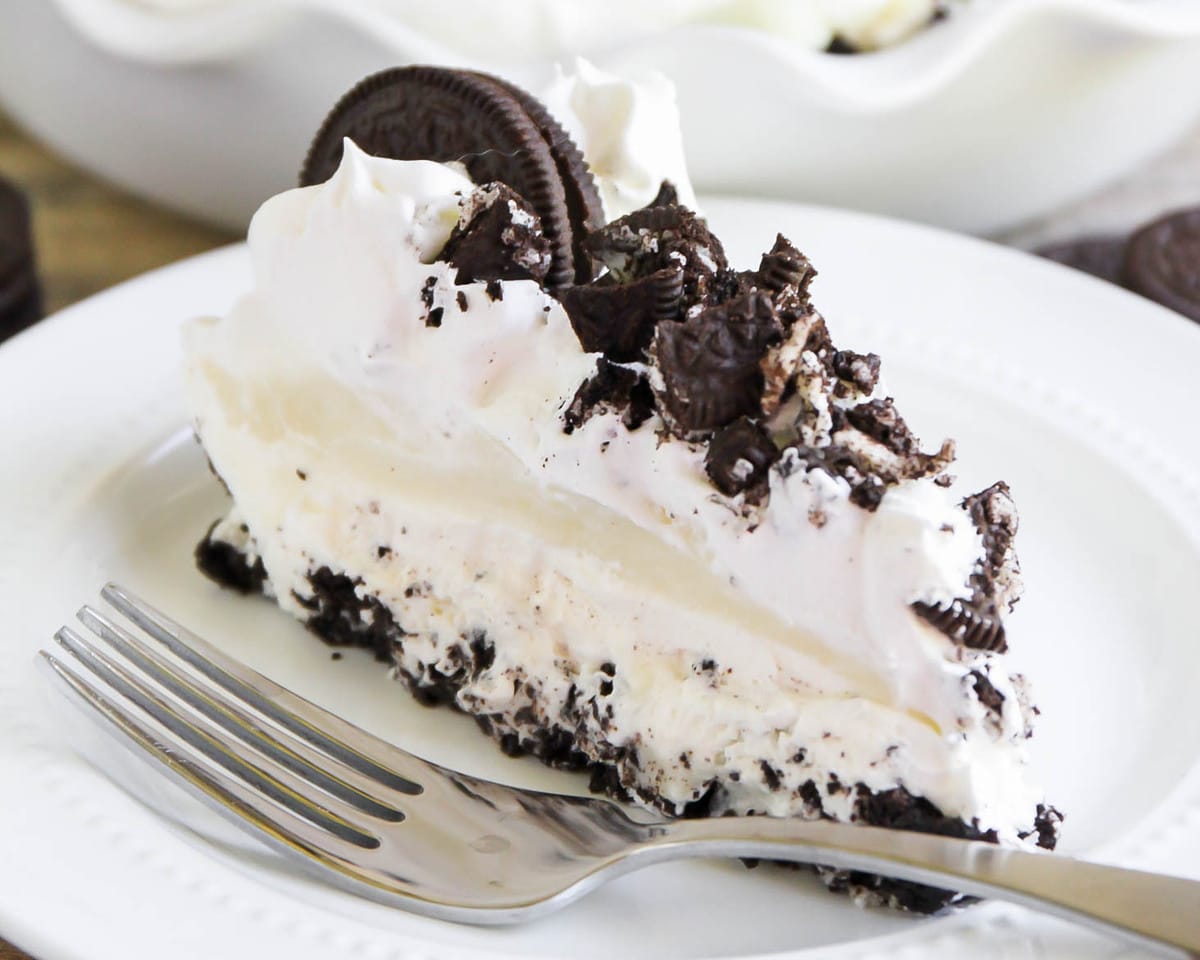 Oreo Pudding Pie – No bake Oreo Pudding Pie is a quick and easy dessert perfect for any time of the year. It comes together in 15 minutes!!
Strawberry Nutella Pizza – Strawberry Nutella Pizza is an easy dessert recipe that will wow your guests! There are so many great flavors in this treat.
Chocolate Mousse – Chocolate Mousse is a sophisticated, smooth and creamy dessert perfect for dinner parties or any time you are feeling fancy!!
Chocolate Bundt Cake – You will love indulging in this this simple chocolate bundt cake with a chocolate ganache glaze. This moist chocolate cake is just the right amount of rich without being too heavy!
White Chocolate Raspberry Cheesecake – White chocolate raspberry cheesecake with a rich Oreo crust, white chocolate cream cheese base, and tasty raspberry swirl. Just like Cheesecake Factory's recipe!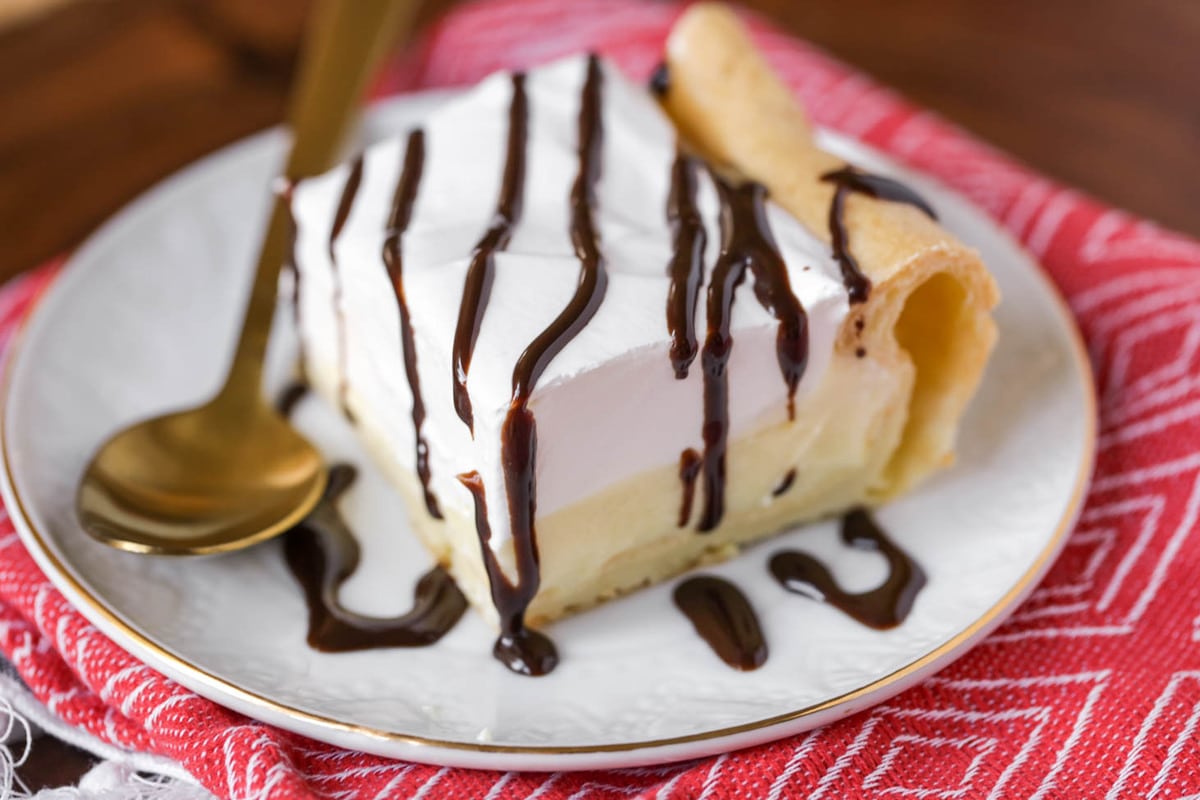 Quick New Year Desserts
Get back to the partying in a flash with any of these quick and tasty desserts! They are party perfect but nice and snappy.
Cream Puff Cake Recipe – The BEST Cream Puff Cake ever!! A cake version of the popular cream puff, it has a puffy crust, pudding and whipped cream layers and often drizzled in chocolate.
White Chocolate Lasagna – Layers of Golden Oreos, cream cheese, pudding, whipped cream and white chocolate curls make up this DELICIOUS White Chocolate Lasagna that is a hit at every function.
Dessert Kabobs – Dessert Kabobs are a simple and delicious way to serve several "mini" treats at once. They are perfect for parties, BBQs and every day!
White Chocolate Reeses Fudge – White Chocolate Reeses Fudge is a simple and delicious recipe filled with white chocolate Reeses, white chocolate chips & marshmallow creme!
Dirt Cake Parfaits – Dirt Cake Parfaits are just like a classic dirt cake, but in single servings made from alternating layers of crushed Oreos and a light cream filling.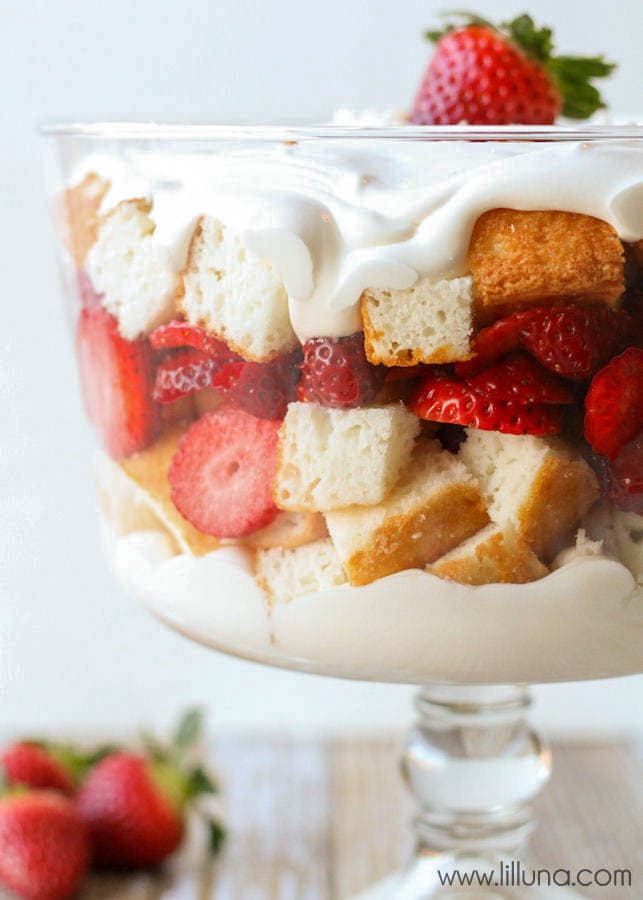 Strawberries And Cream Angel Food Cake Trifle – Light + Fresh Strawberries and Cream Angel Food Cake Trifle takes minutes to assemble, which makes it great for entertaining!
Mini Peanut Butter Cheesecakes – Mini Peanut Butter Cheesecakes are simple, delicious and perfectly bite-size. These are so great for parties and get togethers!!
Brownies And Cream Fruit Trifle – Chocolatey Brownies and Cream Fruit Trifle is utterly decadent. It's a perfectly easy and stunning dessert to share!!
The Grey Stuff – Disney World's "Grey Stuff" recipe!! It's so easy to make and so delicious. Tastes just like the recipe from the Be Our Guest restaurant. So smooth and made with vanilla and chocolate pudding mix, milk, cool whip, and Oreos and topped with sprinkles!!
Cheesecake Strawberries – These cheesecake stuffed strawberries are filled with a sweet cream cheese filling and topped with crushed graham crackers!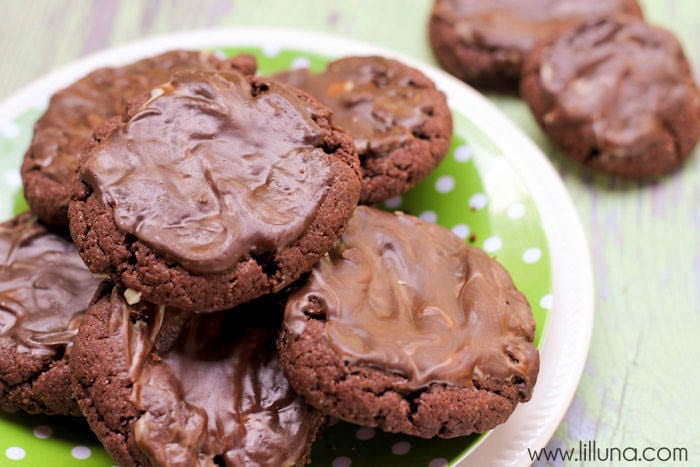 More New Years Dessert Ideas
Need even more sweets? Here are more of our favorites, perfect for your soiree!!
Andes Mint Cookies – Andes mint cookies are chocolate and mint perfection. The best part is they are crazy quick & easy to make!!
Butterscotch Brownies – Chewy butterscotch brownies have a brown sugar base and are filled with butterscotch chips. They are rich and absolutely yummy!
Almond Cookies – Tasty almond cookies are soft and a bit chewy. They are easy to make, FULL of flavor and are sure to be a family fav in no time.
White Chocolate Dipped Snickerdoodles – Super soft white chocolate dipped snickerdoodles are chewy and full of cinnamon. They are one of our favorite cookies!!
7 Layer Bars – 7 layer magic bars are filled with gooey layers of baking chips, pecans, and coconut on a buttery graham cracker crust. They are pure magic!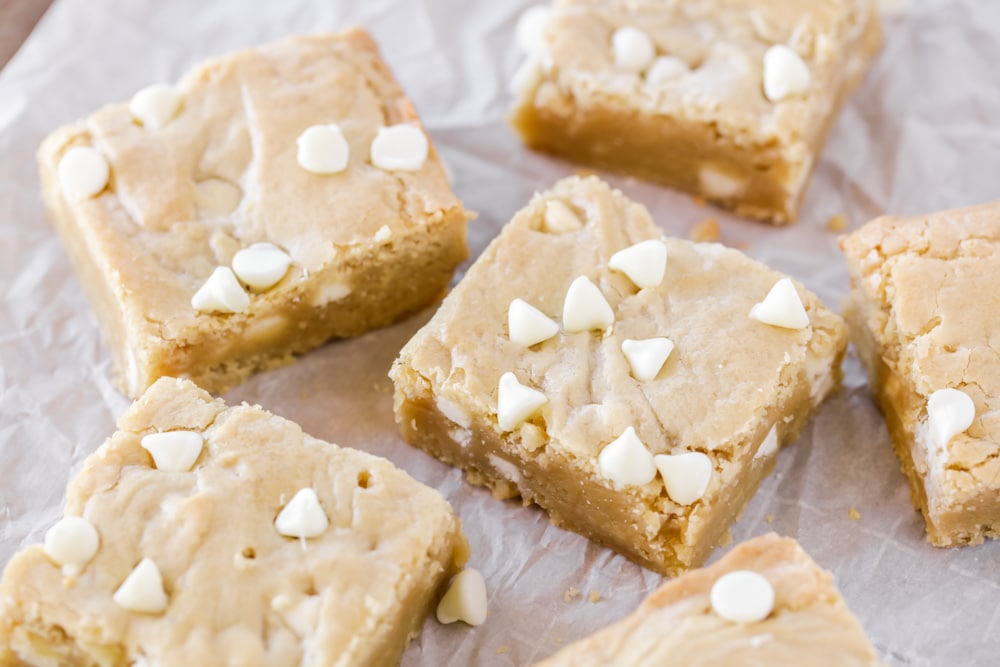 Blondie Recipe – These blondies have an incredible flavor and are perfectly rich and chewy. They are chewy, the vanilla form of a brownie and topped with white chocolate chips.
Chocolate Macarons – These crispy, chewy, chocolate macarons are delicious. These delicate little cookies are filled with chocolate buttercream for a perfect bite and are great for holidays, showers or gifting.
Lemon Cream Cheese Bars – Lemon Cream Cheese Bars have a sweet and tangy zing to them, balanced by the subtle sweetness of the vanilla wafer crust.
Cream Cheese Cookies – Cream cheese cookies are soft and delicate. These sweet morsels will be ready for eating in just over 20 minutes!
Millionaire Bars – These millionaire bars have a perfectly crumbly crust, an ooey gooey caramel middle, and a thin layer of delicious semi-sweet chocolate on top. They definitely earn their name!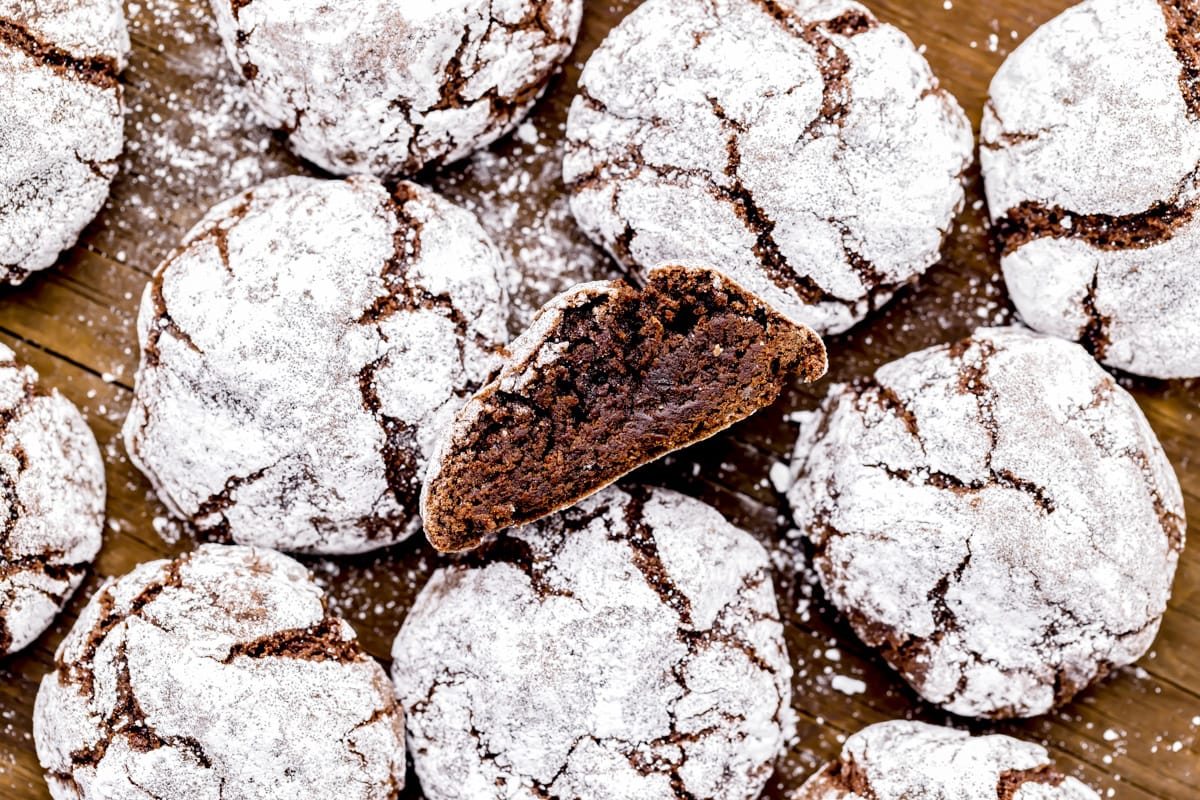 Crinkle Cookies – Deliciously fudgy, chocolate Crinkle Cookies are soft and chewy. They are dipped in powdered sugar and baked to perfection!
Copycat Swig Cookies – Make Swig's famous sugar cookies from home with this copycat recipe! These Copycat Swig Cookies are THICK and delicious, topped with a creamy frosting.
Buckeye Brownies – These Buckeye Brownies have 3 layers of goodness with a brownie base, a peanut butter fudge center and chocolate top. They're the perfect dessert for the chocolate and peanut butter lover.
Giant Chocolate Chip Cookie – This Giant Chocolate Chip Cookie slices up like a pizza for an ideal party treat and whips up in under 30 minutes!!
Meringue Cookies – These Easy 5-Ingredient Meringue Cookies Are Lots Of Fun To Make! Get Your Kids Involved In Making These Sweet Treats.
---
the complete list
Here are the picture cards for ALL of the irresistible New Years Eve Desserts listed above.
You can't go wrong ringing in the New Year with any of these delicious desserts. You'll want to try them all!
---
More Collections: Valentine's Day Desserts, Cakes That Feed A Crowd, Cookie Recipes, Dessert Bar Recipes