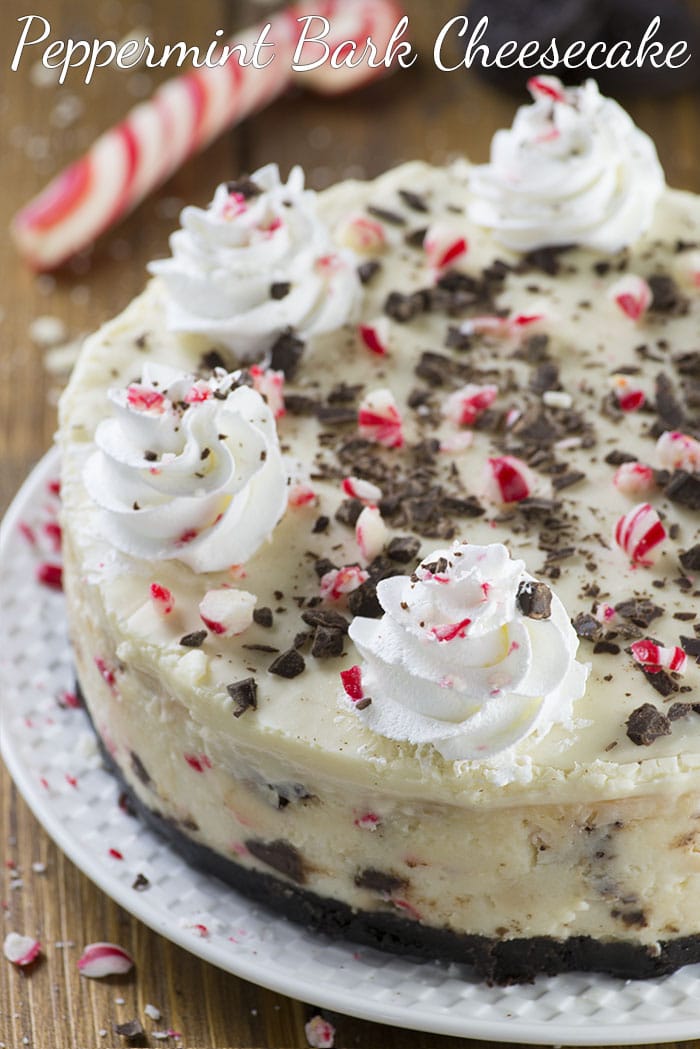 Hi guys, it's me Vera from OMG Chocolate Desserts!
Last time I promised you that I'll complete my series of cheesecake recipes here on LilLuna with a real festive treat. And here it is- Peppermint Bark Cheesecake!
I know it's not Thanksgiving yet, but when it comes to Christmas and New Year I'm always excited like a kid. I could hardly wait to share this delicious Christmas cheesecake recipe with you. It's good to be ready in time for this special holiday season.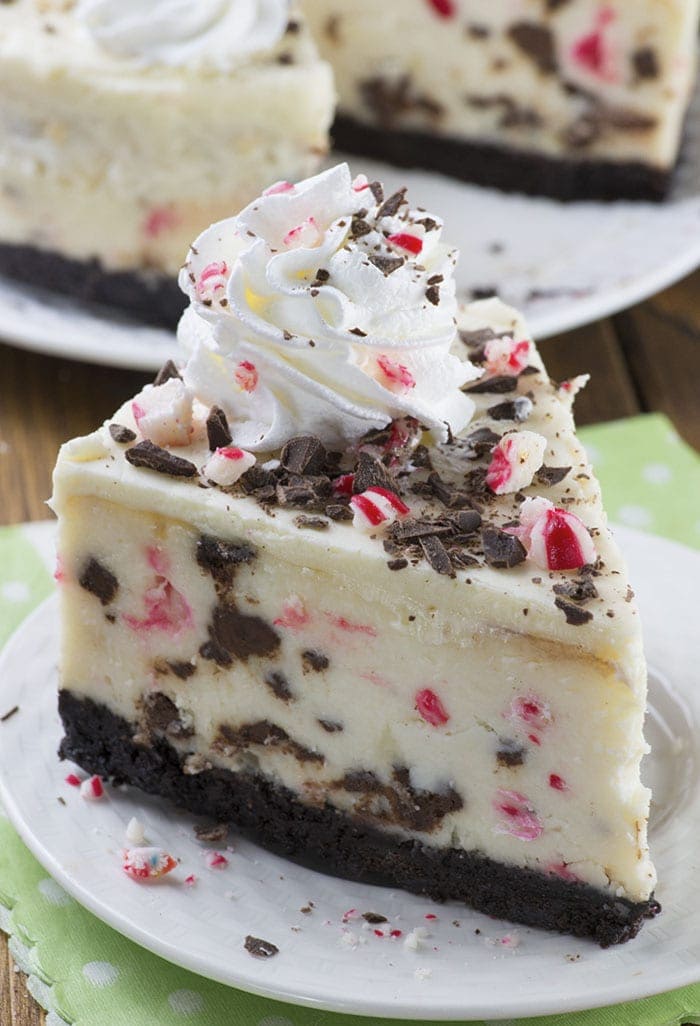 If you love chocolate, peppermint and Oreo you'll love this cake. It has three delicious layer-Oreo crust, creamy cheesecake filling loaded with peppermint bark pieces and white chocolate ganache on top garnished with crushed candy canes, whipped cream and dark chocolate.
Don't let the recipe instructions discourage you. It's like two recipe in one because you'll have to make homemade peppermint bark first and then use it to make the cake, but it's really simple, I promise!
Your peppermint bark doesn't have to look perfect, it will end up chopped and mixed into cheesecake filling. All you need to do is to melt separately dark chocolate and white chocolate, stir in a few drops of peppermint extract, spread it onto parchment paper and sprinkled with crushed candy canes or hard peppermint candies. You can do this step a few days in advance, but it's incredibly dangerous. It could be so hard not to eat it but save this yummy treat for the cake.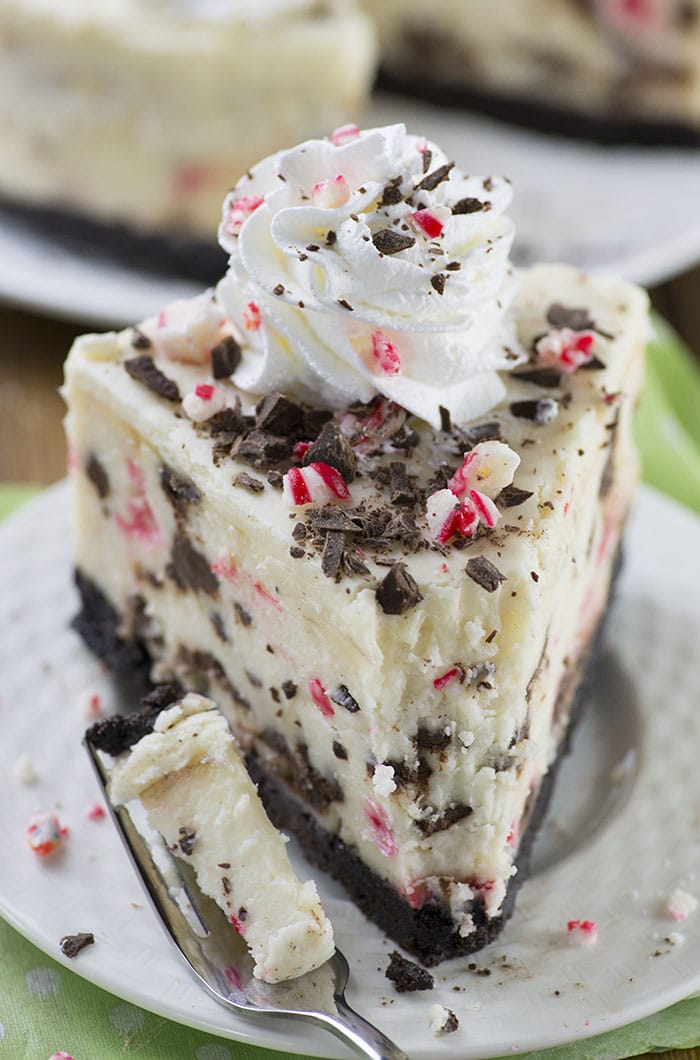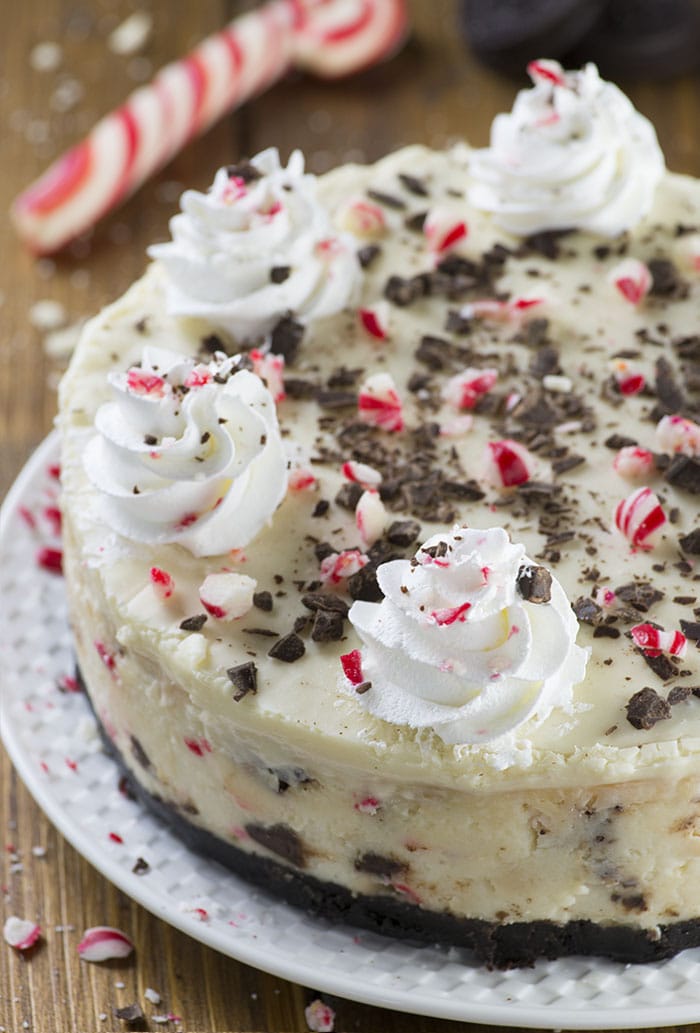 Peppermint Bark Cheesecake
Ingredients
For peppermint bark:
4 oz. high quality white chocolate, broken into pieces
4 oz. high quality semi-sweet chocolate, broken into pieces
1 teaspoon vegetable, coconut, or canola oil-divided
¼ teaspoon peppermint extract, divided
⅓ cup candy cane-crushed
For Oreo crust:
24 Oreo cookies(with the filling)-finely crushed
5 tablespoons unsalted butter-melted
For cheesecake filling:
4 - 8oz cream cheese-softened
1 ¼ cups sugar
¾ cup sour cream
3 tablespoons flour
¼ teaspoon salt
2 teaspoon vanilla extract
2 tsp peppermint extract
3 eggs
peppermint bark –chopped into small pieces
For white chocolate ganache:
5.5oz. high quality white chocolate-finely chopped
½ cup heavy cream
For garnish:
¾ cup whipped cream
Crushed candy cane or hard peppermint candies
dark chocolate pieces
Instructions
To make peppermint bark:
Melt 4 oz. high quality white chocolate broken into pieces with ½ vegetable oil, stir in ⅛ teaspoon peppermint extract and spread onto parchment paper lined tray or baking sheet. Place in the freezer for 15-20 minutes.
Melt 4 oz. high quality semi-sweet chocolate broken into pieces with ½ vegetable oil, stir in ⅛ teaspoon peppermint extract and spread onto white chocolate layer, sprinkle with crushed candy cane and place in the freezer .
It's better do this step a day or at least a few hours ahead!!!
When the bark is chilled completely, cut it into small pieces and save it in the freezer until ready to make the cake.
To make the crust:
Line the bottom of 9 inch springform pan with parchment paper and grease the sides of the pan, then place springform pan on a double thickness of heavy-duty foil and securely wrap foil around pan to make sure no water gets in during the baking.
Combine finely crushed Oreo crumbs and melted butter, then press the mixture evenly into bottom of 9 inch springform pan. Set in the fridge to firm the crust while making the filling.
To make the filling:
Preheat oven to 350 degrees.
In a large bowl, beat cream cheese and sugar until smooth. Beat in the sour cream, flour, salt and extracts. Add eggs one at a time and beat on low speed just until combined.
Toss chopped frozen peppermint bark with 1 tablespoon flour, then gently stir the pieces into the cheesecake filling and pour over the Oreo crust, smooth the top and place springform pan in a large roasting pan and add 1 inch of hot water to larger pan.
Reduce temperature to 325 degrees and bake the cake for 70-90 minutes (until center is just set and top appears dull).Turn off the oven and leave the cheesecake in the oven for additional 30 minutes.
Remove springform pan from water bath. Cool on a wire rack 10 minutes. Carefully run a knife around edge of pan to loosen; cool 1 hour longer, then refrigerate for at least 4 hours or overnight.
To make white chocolate ganache:
Bring heavy cream just to a boil, and pour over chopped chocolate. Stir until chocolate is melted and smooth. Cool and pour over the cheesecake. When the ganache is set run a thin knife around the edge of the cake and remove sides of pan.
Garnish with whipped cream, crushed candy cane and chopped chocolate.
Store in the fridge.
Check more Vera's delicious Christmas treats:
Christmas Cranberry Pound Cake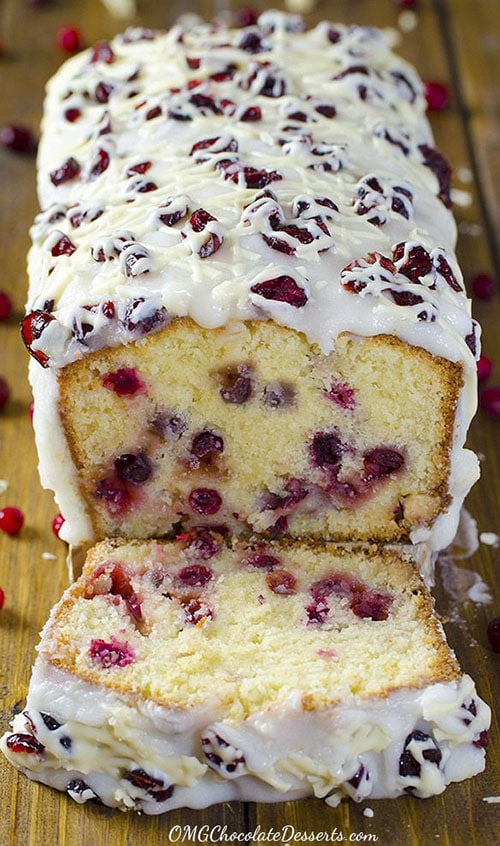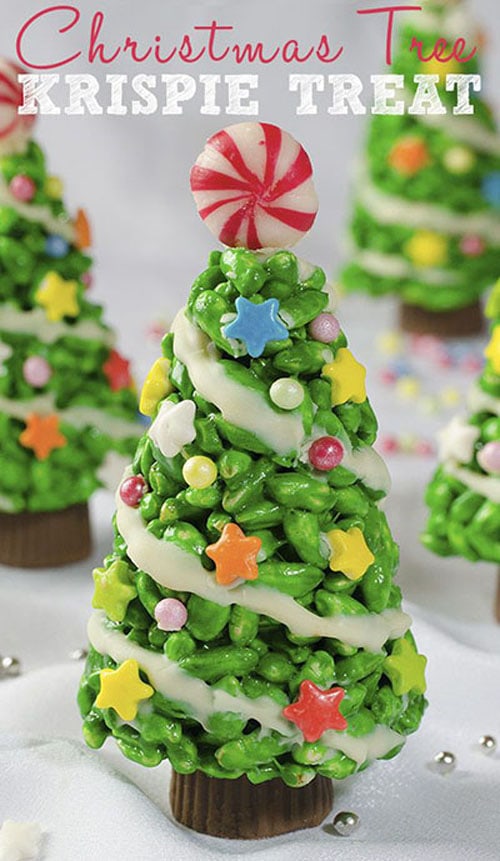 Christmas Coconut Snowball Cookies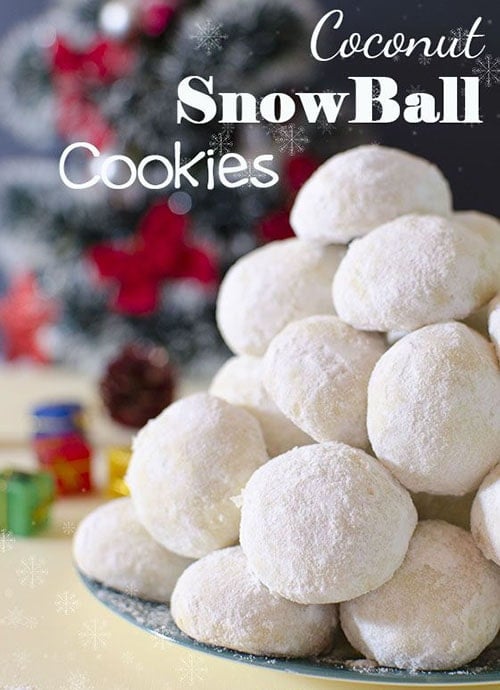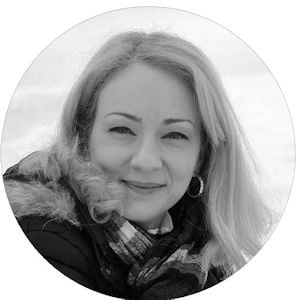 ——————————
Oh, Vera! You've done it again! This Peppermint Bark Cheesecake looks PHENOMENAL!
I'm a huge fan of the Oreo and Peppermint combo, so I'm very excited to try this out. 😉
For more great recipes from Vera, go to OMG Chocolate Desserts.
If you're a fan of the peppermint and Oreo combo, check out: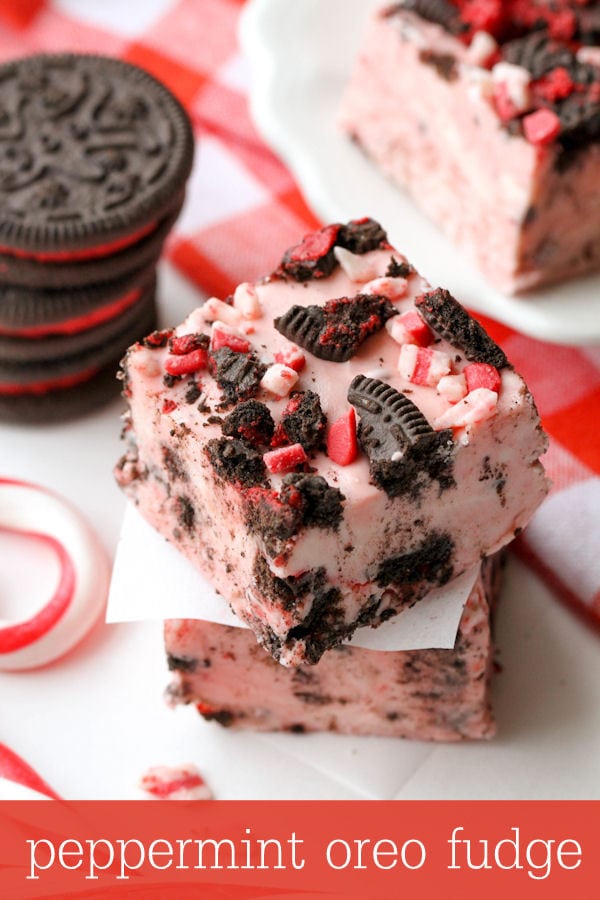 For another great cheesecake recipe, check out: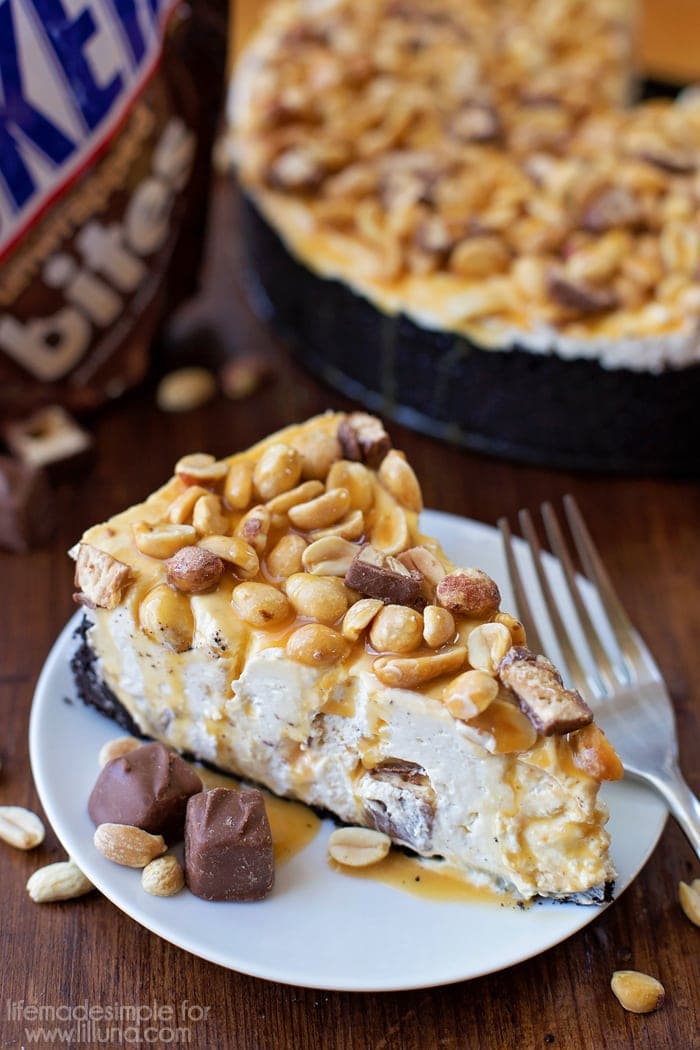 And for another Peppermint recipe that is quick and melts in your mouth, check out: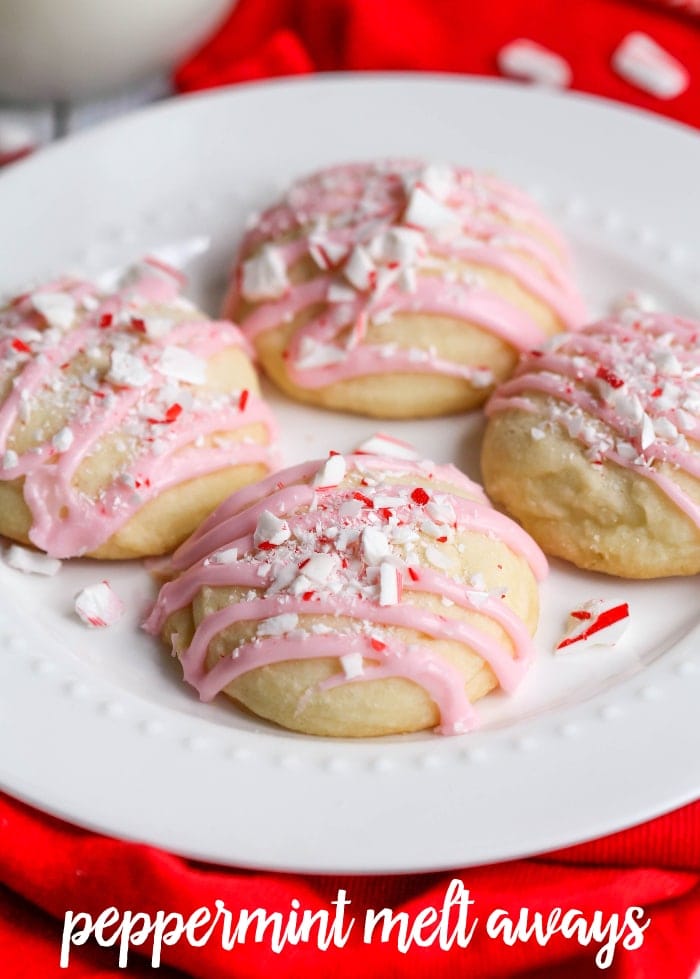 You hungry?! 😉
ENJOY!