Layered Peppermint Brownies are a delicious treat with a brownie base, cream center, and chocolate topping sprinkled with crushed peppermint candy!
Brownies are awesome year round, but I love making the festive brownie recipes during the holidays! The kids love Brownie Christmas Trees, and I like to whip up a fancy Peppermint Brownie Trifle when I want to wow party guests.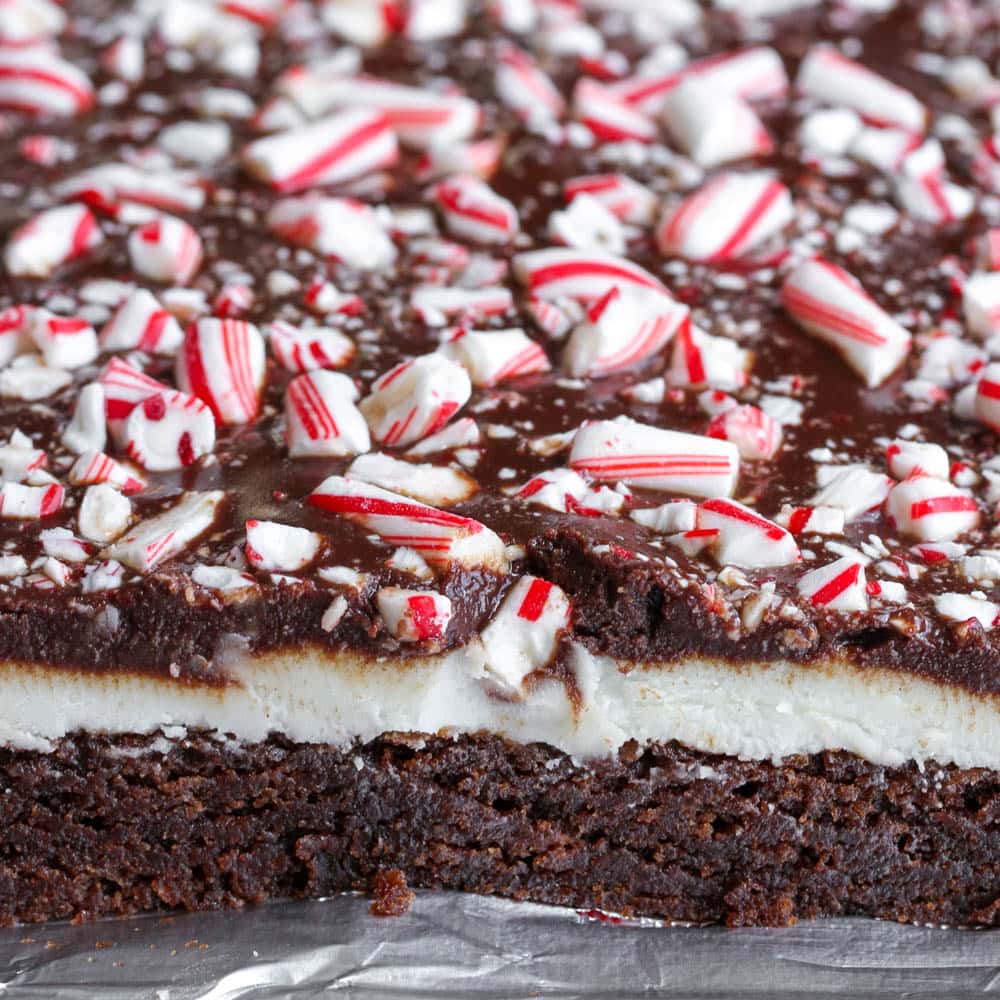 Chocolate + Peppermint = YUM
Hellllllllo! It's me, Lily – again! Guess what I'm doing in a little bit?? I have my first Piano Recital!! I'm playing "Silent Night." I'm a little nervous since it's my first one but my mom says not to worry about it because I'll do just fine. 😉 I'm very excited about it, just like I'm excited for today's recipe for Peppermint Brownies.
Everyone in my family LOVED these Peppermint Brownies! They are delicious! I love the chocolate and peppermint combo. If you like that combo too and your mouth is watering, then you should try them.
These treats have a brownie base, cream layer and delicious chocolate topping with peppermint pieces on top. It's great for any holiday event and especially perfect for Christmas!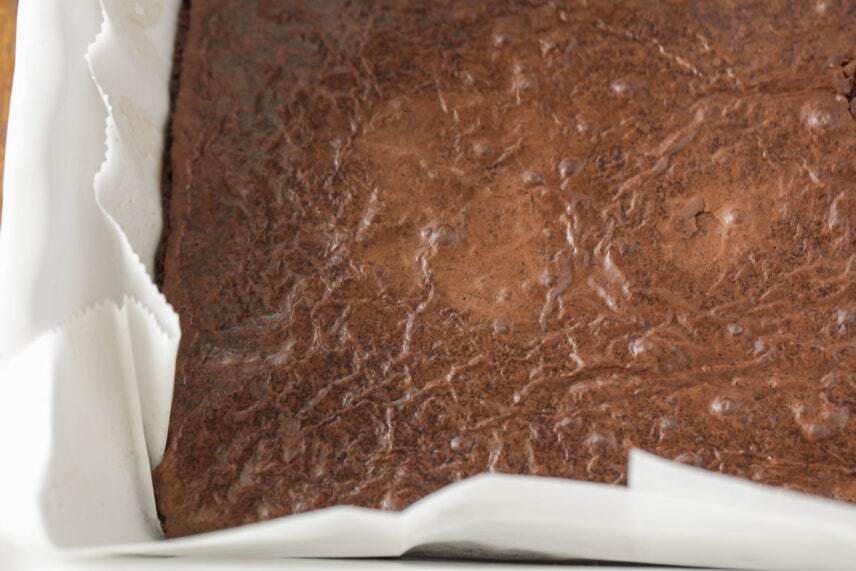 Tips for Perfect Peppermint Brownies
Brownie Base: I took a shortcut and used a box brownie mix to make this dessert.You can certainly use a homemade brownie recipe—just be sure that it is enough to bake in a 9×13 pan.
Another note about the brownie base is that you can add mix ins if you wish. We did not, but I think it could add a delicious element. Some ideas include:
Adding white chocolate peppermint chips

Crush 12-15 whole peppermint oreos and mix into the batter

Mix in milk chocolate chips or chunks
Chill: When making the brownies be sure that you chill each layer otherwise the heat from the brownie base may melt the frosting layer. The same could happen when you add the chocolate ganache topping. If the peppermint frosting isn't sufficiently chilled, the hot chocolate will melt right through.
Topping: If you don't like crunchiness of candy canes, but still want the peppermint flavor, you can use Andes Crushed Peppermint Pieces – they're softer. 😉
Cut and Serve: This is such an easy recipe for a delicious looking dessert. The only tricky part of the recipe is cutting them into nice neat squares. After going through the effort of making layers, I want them to be seen with every serving. Here are some tips:
Line the baking pan with parchment paper or foil. This way you can lift the entire brownie block out of the pan to cut without the pan sides getting in the way.
Cut the brownies when they are chilled and use a warm clean knife. After each cut, clean the knife in warm water and wipe it clean.
You can cut the brownies into any size you wish. They are quite decent, so I usually cut them a bit smaller than I would a normal brownie. They also make really beautiful bite size treats. Just cut them into smaller pieces and place each piece into a mini paper liner.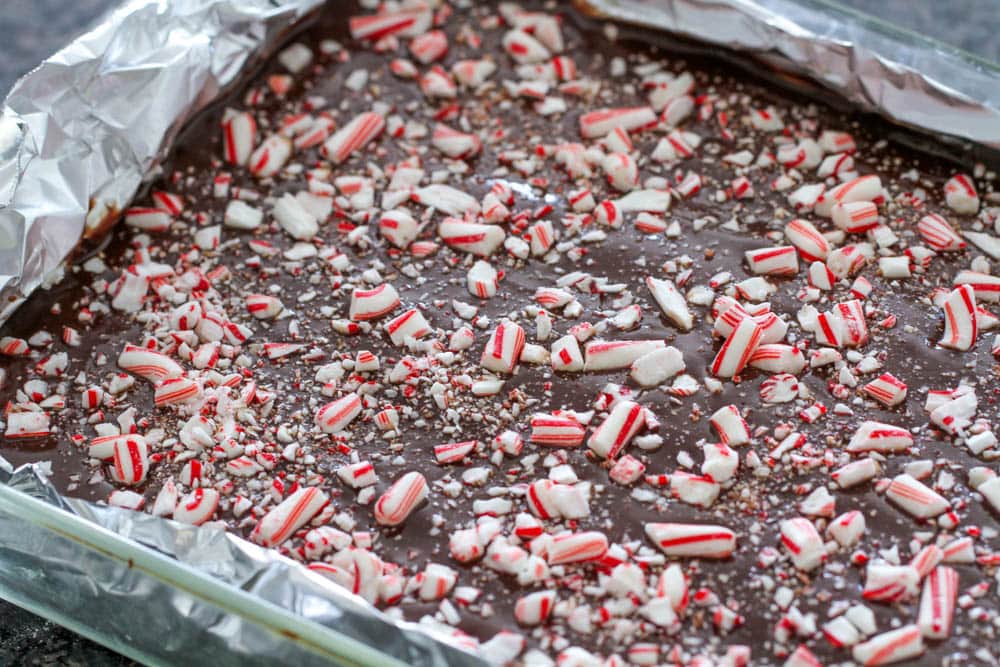 Storing and Freezing
Again I like these to be chilled, so I STORE them in the refrigerator. Store in an airtight container for up to 4 days. You can keep them in a container at room temperature, but you may find the layers soften and melt together a bit.
As far as FREEZING them, I have not done this myself. However, since all the elements we used are freezable, I would not hesitate to try it. Whether you freeze it in a large block or smaller pieces, I would flash freeze it first. You do this by sticking it in the freezer until it is solid. Wrap with plastic wrap then again with foil, or place in a Freezer Ziploc. Freeze for 1-2 months. Unwrap before thawing so that the frosting layers don't stick to the plastic.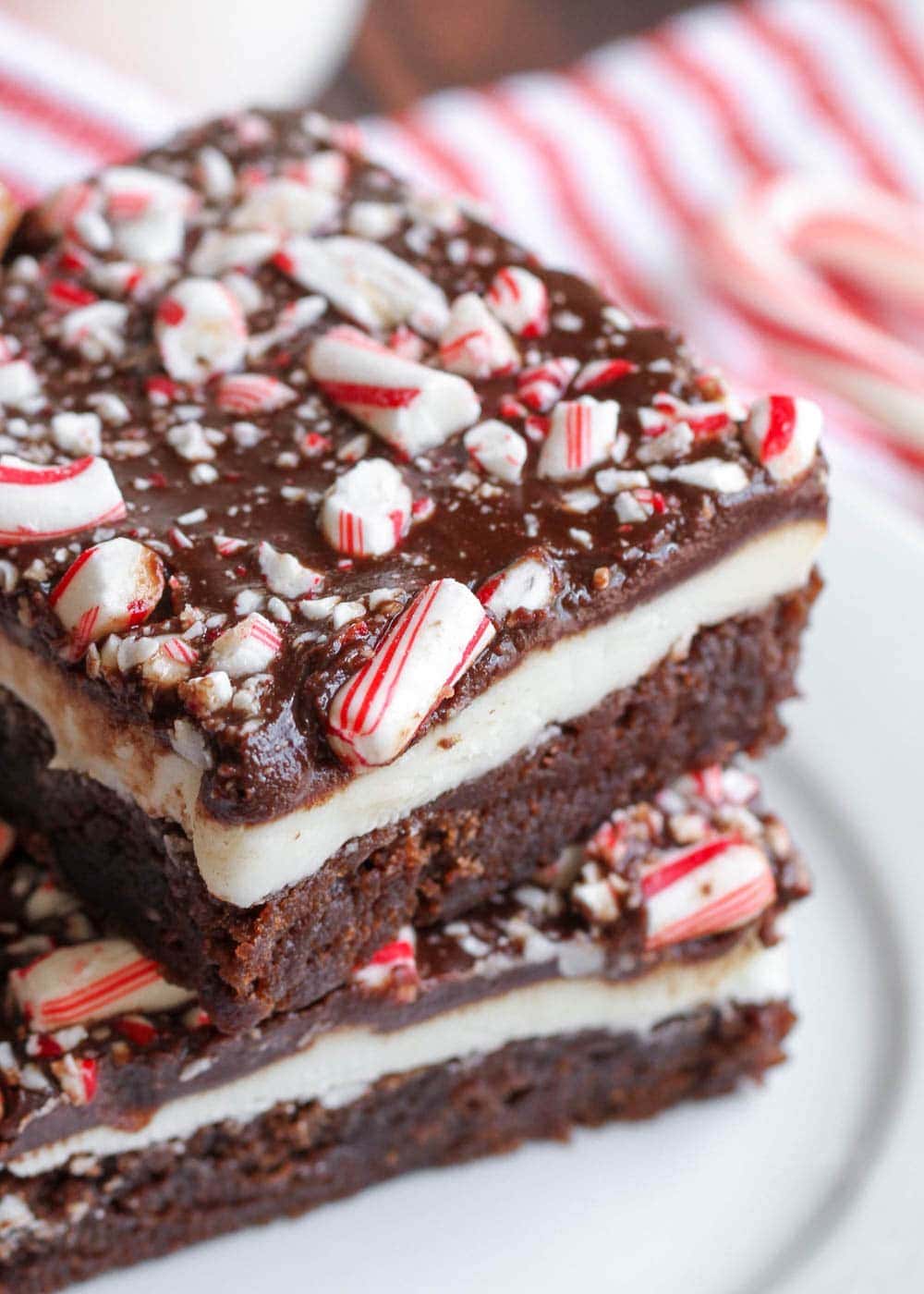 For more peppermint recipes, check out:
More Collections: Christmas Desserts
Peppermint Brownies Recipe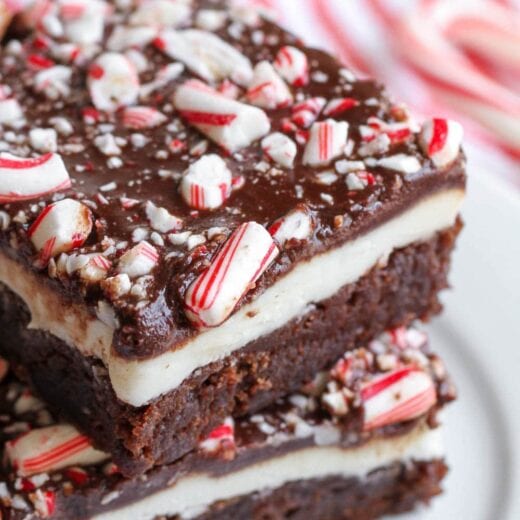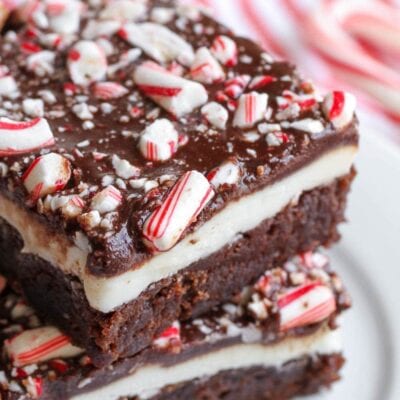 Layered Peppermint Brownies are a delicious treat with a brownie base, cream center, and chocolate topping sprinkled with crushed peppermint candy!
Ingredients
1

package

fudge brownie mix (family-size) + ingredients on the back

2 1/2

cups

powdered sugar

1

cup

butter (2 sticks)

softened

2-3

tbsp

heavy whipping cream

1

tsp

peppermint extract

1 1/2

cups

mini chocolate chips

crushed candy canes
Instructions
Prepare brownies as directed on box. Pour into greased 9×13 dish. Bake 20-25 minutes.

While brownies are cooling, beat powdered sugar, ½ cup butter (softened), cream and peppermint in a large bowl. Spread evenly over cooled brownies.

Refrigerate for 30 minutes.

In a small pot melt mini chocolate chips and ½ cup butter on low heat, stirring constantly. Spread over chilled brownies.

Sprinkle with candy cane pieces and ENJOY!