Whether you want cookies, cake, brownies, cheesecakes, or something else – we have all kinds of Christmas Desserts for you! Look no further for fun and festive holiday treats.
More collections: Christmas Appetizers, Christmas Cookies, Christmas Dinner Ideas, Christmas Side Dishes, Mexican Christmas Food, Italian Christmas Dinner
Yummy + Easy Christmas desserts
When it comes to Christmas festivities, do you prefer your desserts to be holiday-themed like a Yule Log and Gingerbread Cookies? Or do you opt for favorite classics like Chocolate Bundt Cake and Scotcheroos? Regardless of your preference, this list will have something for you!
Maybe you're throwing a Christmas party, delivering treats to neighbors, or just want to enjoy festive desserts during the holiday season!
It doesn't matter the reason, (do you even need a reason to make Christmas desserts?!), we have all the Christmas Dessert Recipes you could possibly need!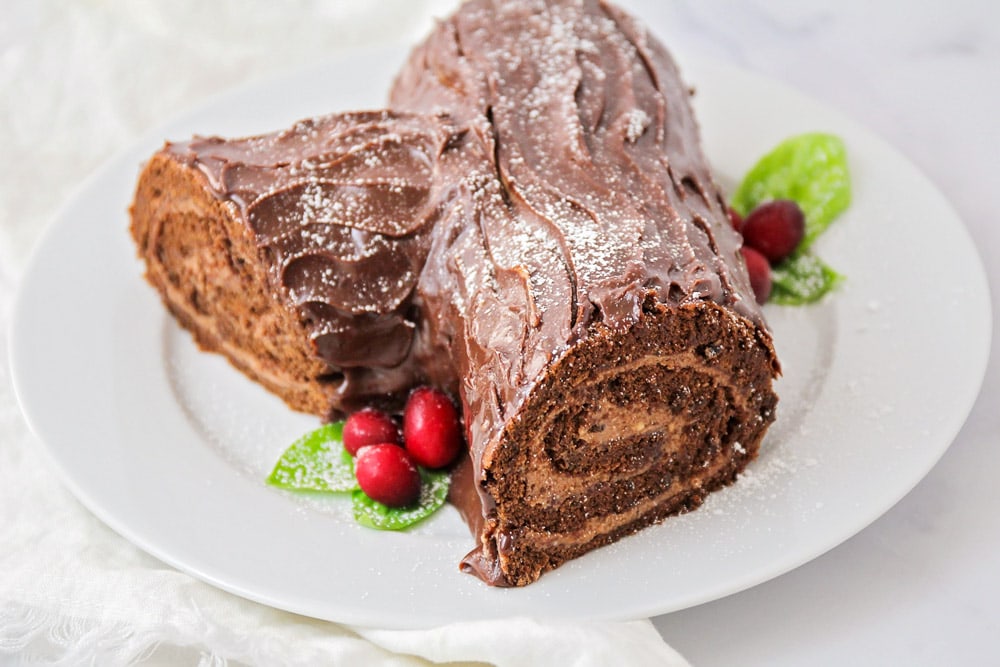 Make any treat a Christmas treat!
With cookies, cakes, brownies, cheesecakes, candies, and more – there's something for everyone to enjoy!
Before we get into the details of the recipes, I have a few tips on how to turn any treat into fun and festive Christmas desserts!
Colors. Red and green are immediately recognizable as Christmas colors. Use frosting, food coloring, or embellishments in red and green.
Embellishments. Christmas-themed sprinkles, candies, or toppers can easily be added to most desserts. Some signature shapes of Christmas include stars, candy canes, stockings, Santa, trees, ornaments, gingerbread men, and more.
Serving trays. There are lots of vibrant and festive Christmas trays to display the desserts. Make a whole spread by using themed tablecloths and napkins as well!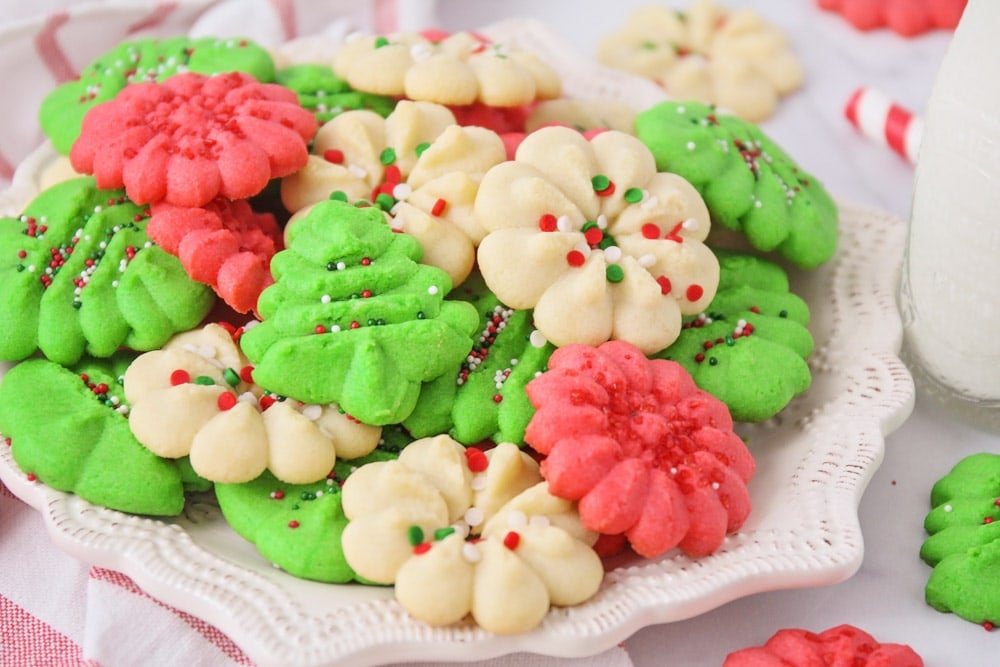 Cookies – a Christmas classic
Cookies and Christmas go hand in hand. Christmas Cookies are served with Hot Chocolate and Eggnog. They're the traditional treat set for Santa on Christmas Eve.
A batch of cookie dough can usually make at least 2 dozen cookies, making them perfect to deliver to all your family and friends. Now because of my sweet tooth and love for baking, I'm glad that the Christmas desserts don't stop with cookies.
You've got delicious candies, tarts, cakes, and more. Here are a few tips that will help make your holiday baking the best.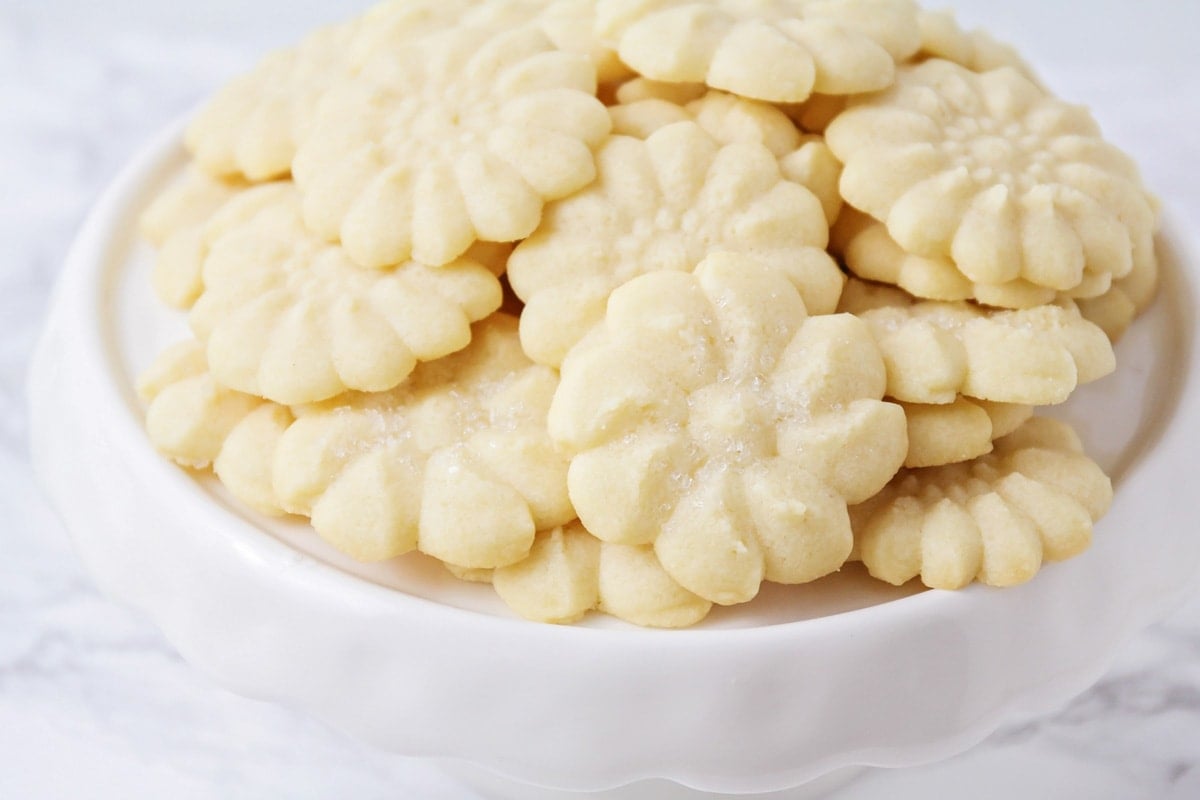 Transporting Desserts
After spending time making your dessert look beautiful and taste delicious, you want to ensure that it arrives at your destination intact.
Pans, boxes, and bins. Use containers that you already have to protect the dessert. Some desserts, like cupcakes and cakes, can benefit from special boxes designed to transport them.
Temperature is an important factor to consider. Use a cooler packed with heating pads or ice packs, depending on what type of dessert you have. You can also use a crockpot to keep desserts warm.
In the car. Whether traveling 1 mile or 20, set the desserts on the floor where they cannot tumble off the seat.
Further padding is always a good idea so that they don't slide around.
Place a blanket or towel around the container to keep it snugly in place.
If you have a yoga or other non-stick mat, place it on the floor to help keep them from sliding around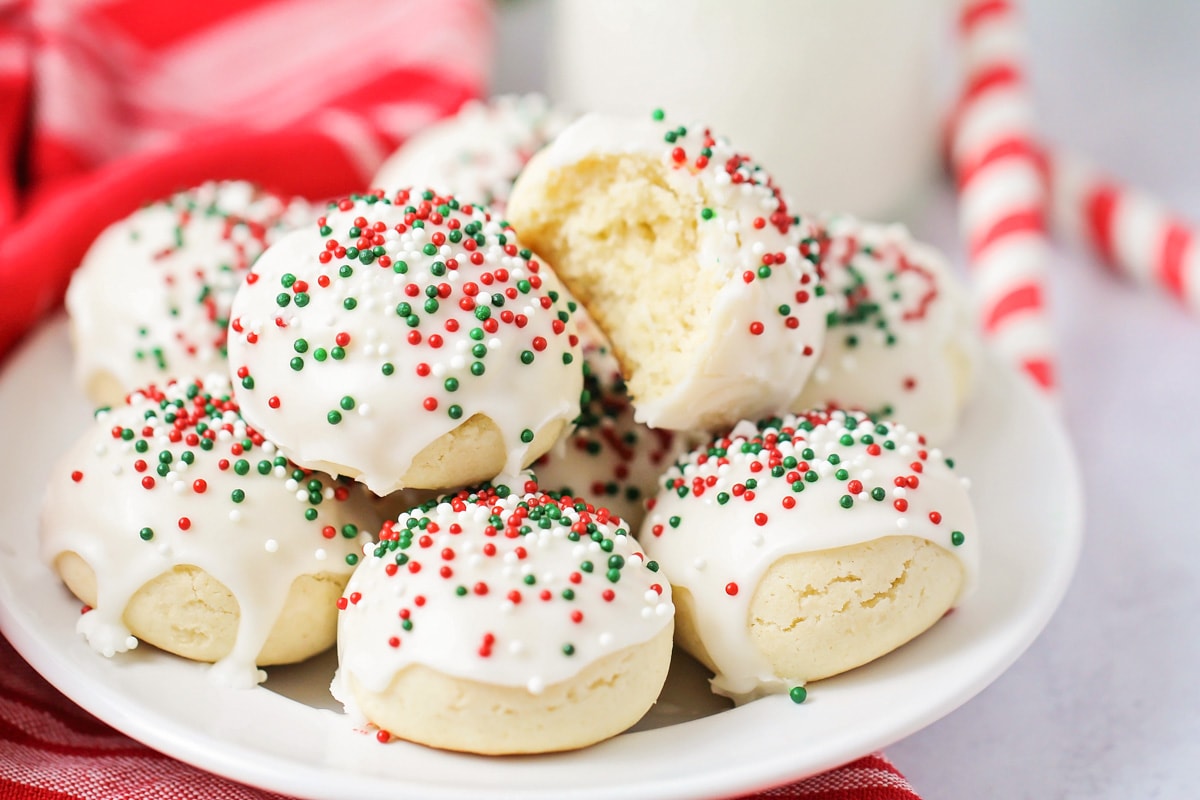 Making gift plates
Every year my mom, sisters, and I have a goodie exchange. We each make 3-4 different treats to divide amongst ourselves and we leave with an assortment of cookies, bars, brownies, candies, and treats.
I usually find some pretty Christmas boxes/tins to divide my treats into and deliver them to friends and neighbors.
My SIL always puts her treats on different plates, wraps them with plastic wrap, and then with Cellophane tied with a ribbon.
I have also seen treats in a simple brown paper bag tied up with string.
No matter how they are displayed you'll have recipe requests for the delicious morsels.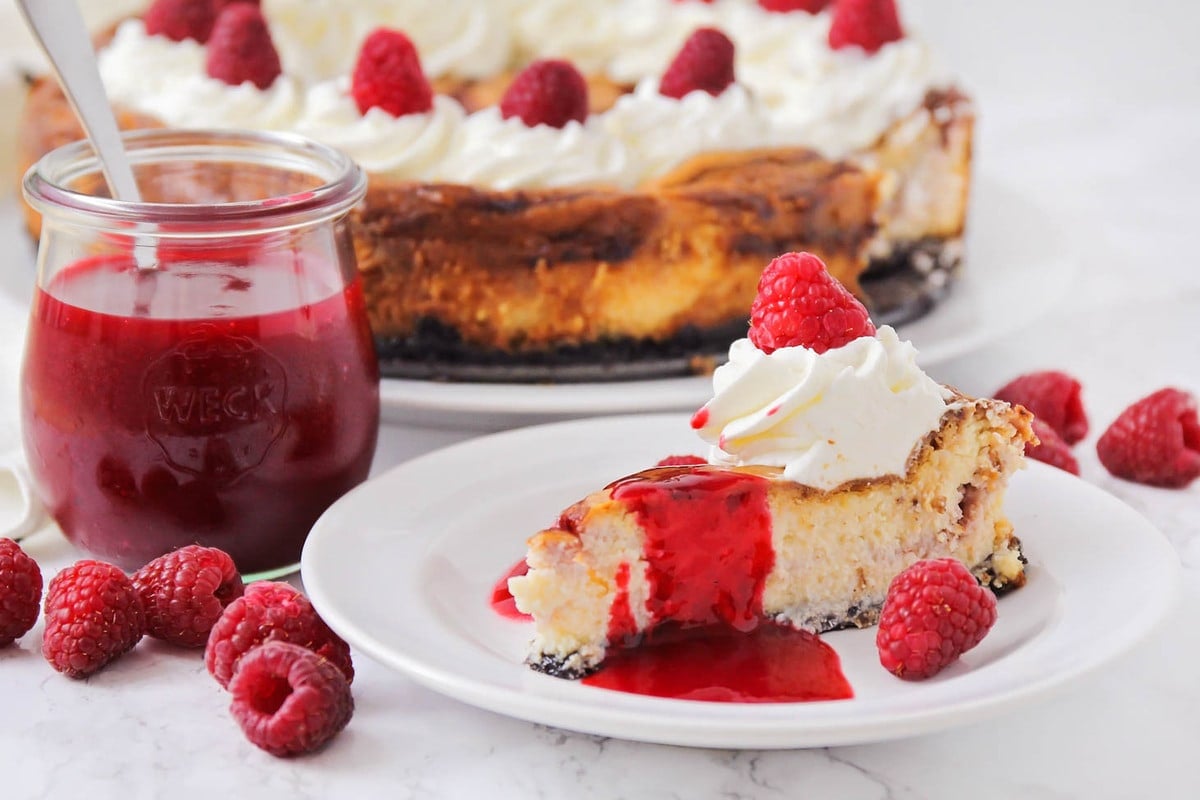 Best Christmas Desserts
There are so many great choices when it comes to serving the perfect dessert for your Christmas celebrations, and these are some of our tried and true favorites. We're sure you'll love them too!
White Chocolate Raspberry Cheesecake – White chocolate raspberry cheesecake with a rich Oreo crust, white chocolate cream cheese base, and tasty raspberry swirl. Just like Cheesecake Factory's recipe!
Peppermint Brownies – Layered Peppermint Brownies are a delicious treat with a brownie base, cream cheese center, and chocolate topping sprinkled with crushed peppermint candy!
Gingerbread Cookie Recipe – These gingerbread men cookies have soft centers and crispy edges. Then they're filled with brown sugar, molasses & warm spices for a delicious gingerbread flavor. Frost with royal icing or a buttercream frosting for the perfect holiday cookie.
Christmas Sugar Cookies – Soft and tender Christmas sugar cookies are the perfect holiday treat to make and eat as a family.
Yule Log Cake – Yule log is a traditional holiday dessert made from a chocolate cake rolled with a chocolate filling and covered in a chocolatey ganache. It's as beautiful as it is tasty!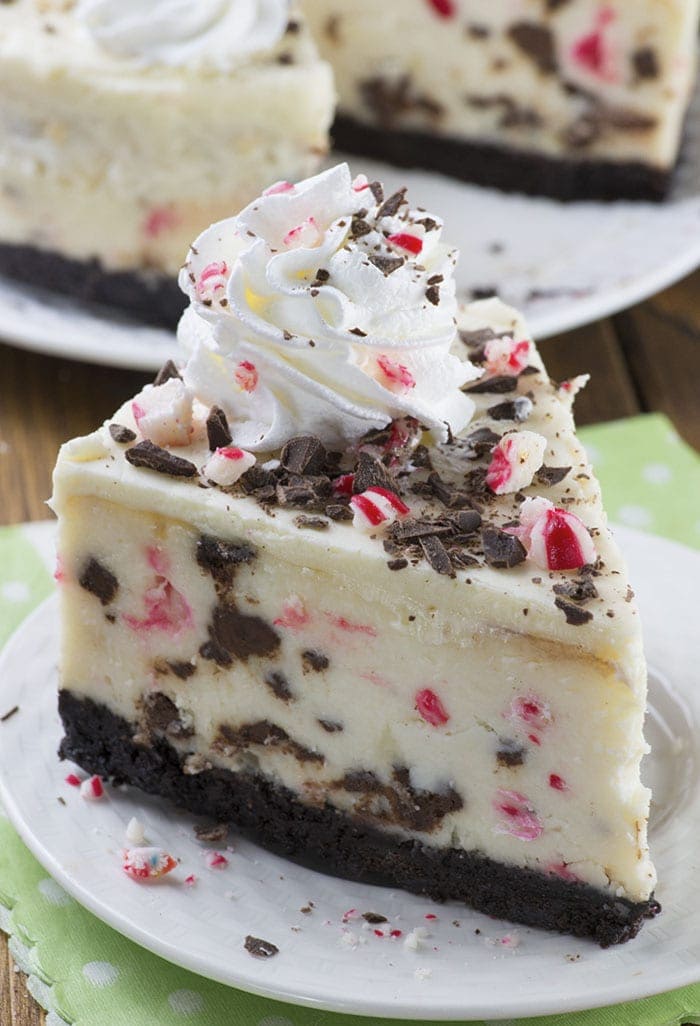 Peppermint Bark Cheesecake – Oreo crust Peppermint Bark Cheesecake is packed with both white and milk chocolate and loaded with peppermint flavor!!
Hot Cocoa Cheesecake Minis – These Hot Cocoa Cheesecake Minis are the cutest and most delicious way to enjoy the winter season and spread Christmas cheer.
Peppermint Sugar Cookies – Peppermint Sugar Cookies – the softest sugar cookie with hints of peppermint and topped with a creamy peppermint frosting and candy cane pieces.
Pistachio Dessert – A delicious Pistachio pudding dessert with layers of crushed Sandies Cookies, cream cheese/cheesecake layer, pistachio pudding layer and topped with whipped cream!
Cream Puff Cake – The BEST Cream Puff Cake ever!! A cake version of the popular cream puff, it has a puffy crust, pudding and whipped cream layers and often drizzled in chocolate.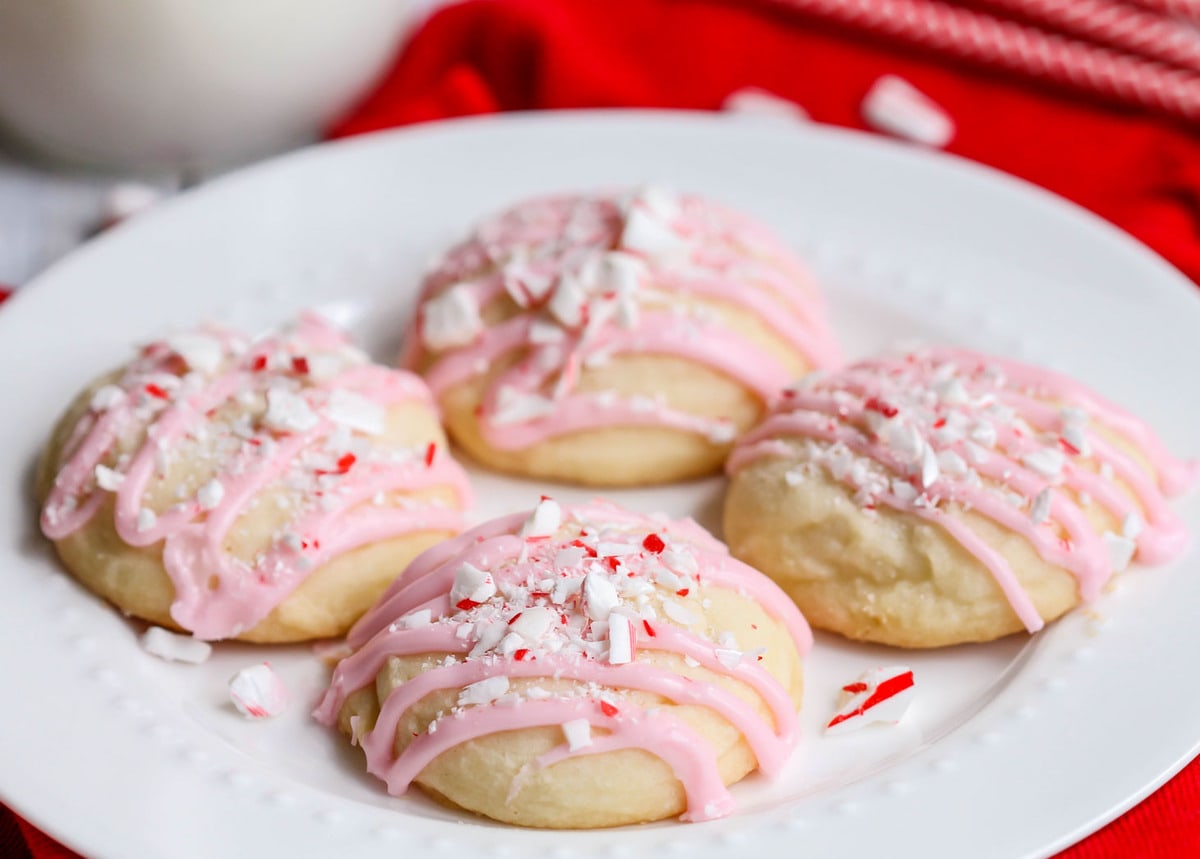 Peppermint Meltaways – Soft and butter-y Peppermint Meltaways are a delicious holiday cookie topped with a peppermint glaze and crushed candy canes!
Caramel Cake – Caramel cake is tender and tasty, with layers of light cake smothered with caramel frosting and topped off with caramel syrup!
7 Layer Bars – 7 layer magic bars are filled with gooey layers of baking chips, pecans, and coconut on a buttery graham cracker crust. They are pure magic!
Chocolate Lava Cake – Deliciously decadent chocolate lava cakes are perfect for company or a date night in. These chocolatey cakes are made in just 30 minutes!!
Spritz Cookies – Spritz cookies are buttery and sweet pressed cookies. They are festive and so fun to make, with all kinds of shapes!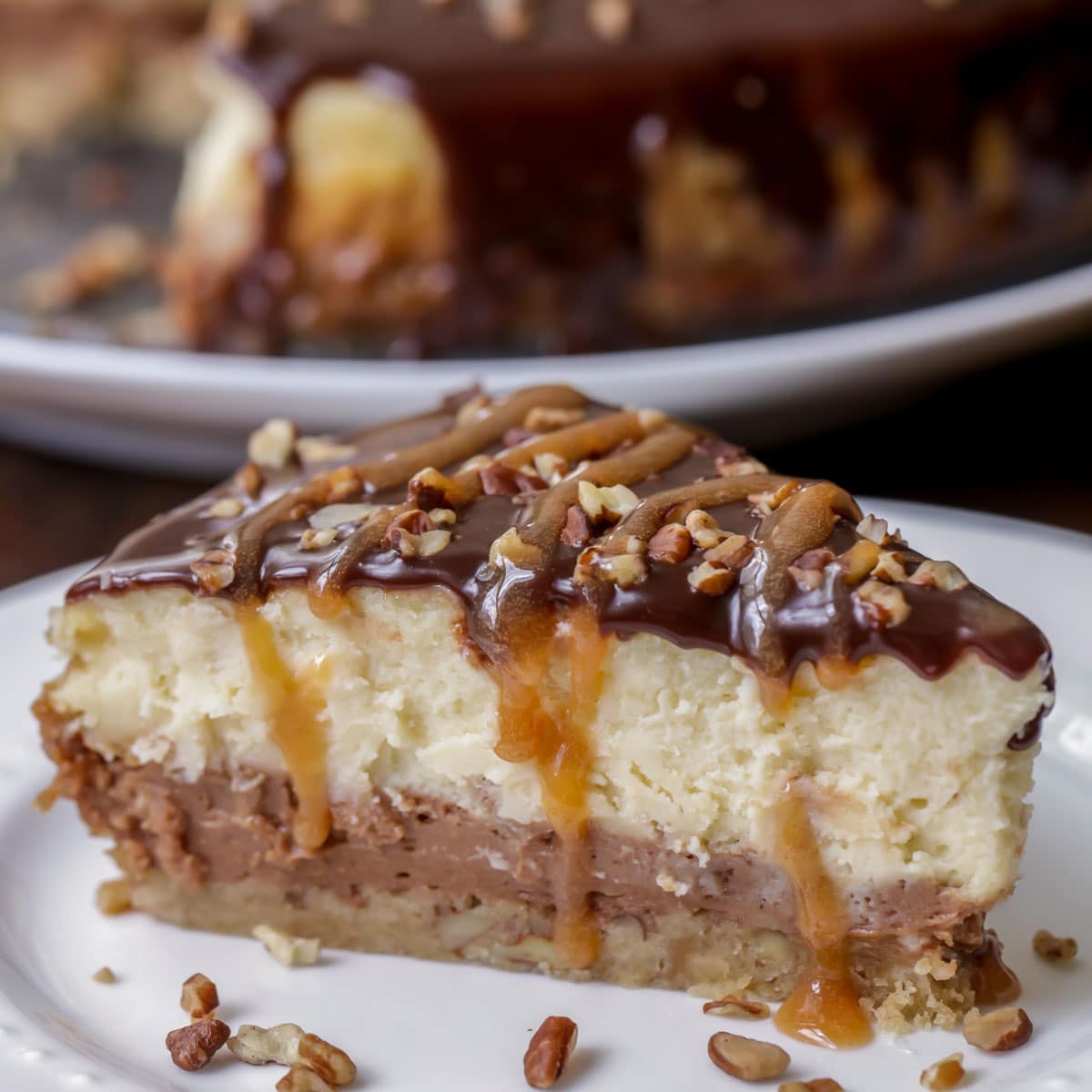 Turtle Cheesecake – Turtle Cheesecake has a delicious crumbly crust, chocolate layer, and cheesecake layer, all topped with chocolate ganache, pecans and caramel!
Christmas Wreath Cookies – Christmas Wreath Cookies are made from cornflakes mixed in a marshmallow coating and speckled with cinnamon candies. They are fun and easy kid-friendly goodies.
Christmas Trifle – This layered Christmas trifle is made with chocolate cake pieces, Oreos, peppermint pudding and Peppermint Andes. It's perfect for your holiday get together!
Peppermint Ice Cream Dessert – Peppermint Ice Cream Dessert is a cool and refreshing holiday dessert stuffed with candy cane bits, all atop an Oreo crust.
Coconut Cream Pie – A classic pie recipe, filled with coconut pudding and topped with cool whip and toasted coconut shreds. This pie is perfectly sweet and creamy, it's hard to resist!
Christmas Cupcakes – Christmas Cupcakes topped with candy melt trees are full of holiday cheer!! Everyone will love these tasty treats.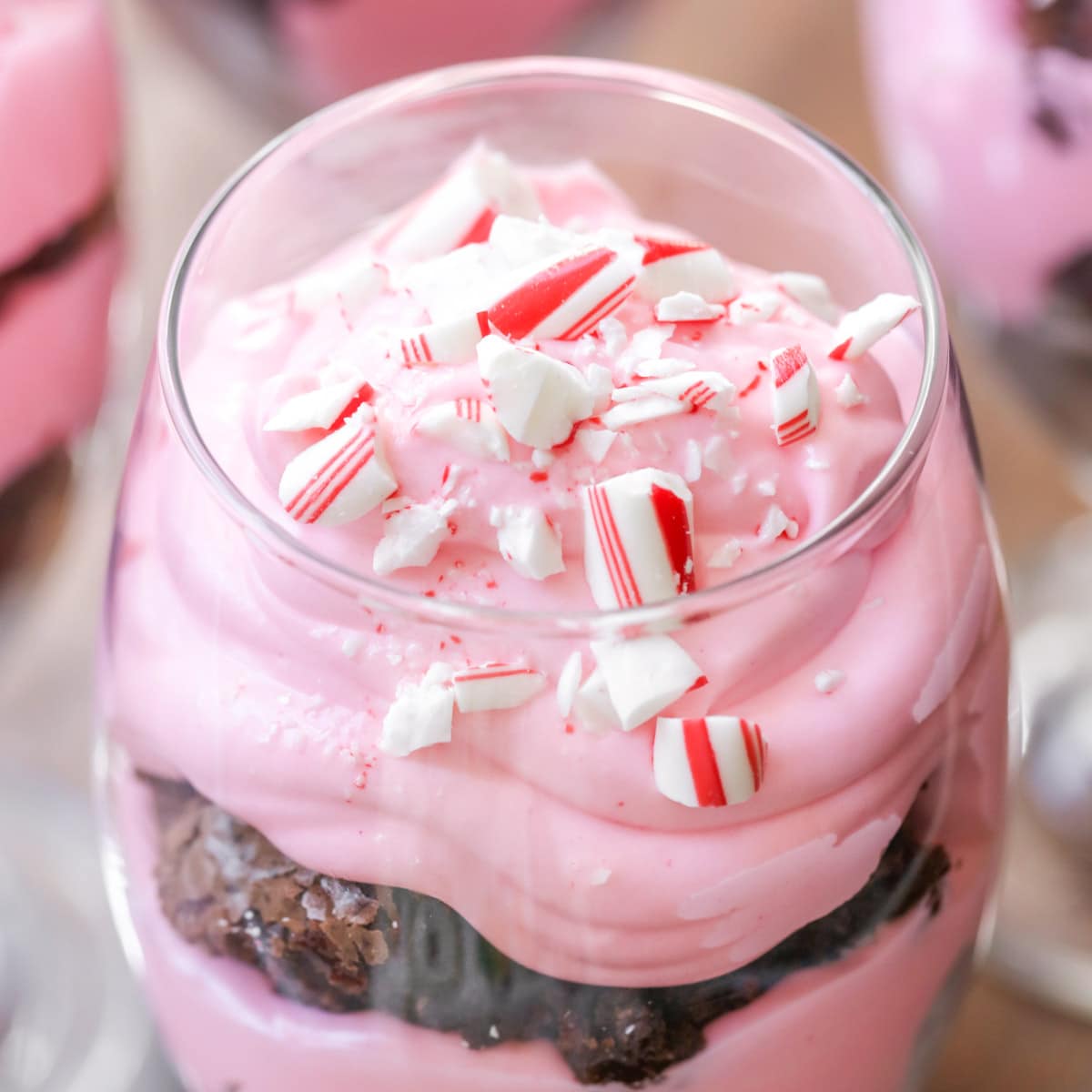 Peppermint Brownie Trifle – Beautiful Peppermint Brownie Trifle is a festive chocolate and peppermint dessert topped with crushed candy canes!
Andes Mint Cookies – Andes mint cookies are chocolate and mint perfection. The best part is they are crazy quick & easy to make!!
Peppermint Oreo Fudge – Seasonal Peppermint Oreo Fudge is a great holiday treat that is both easy AND yummy. It is kid-friendly and perfect for sharing!!
Christmas Cookie Bars – Christmas cookie bars are chewy and delicious. The M&Ms add a festive pop, making them perfect for any party!
Sticky Toffee Pudding – Buttery, sweet, and moist – this sticky toffee pudding is a MUST have treat! It takes several steps but is one of those desserts that is well worth the work and great for holidays and get togethers.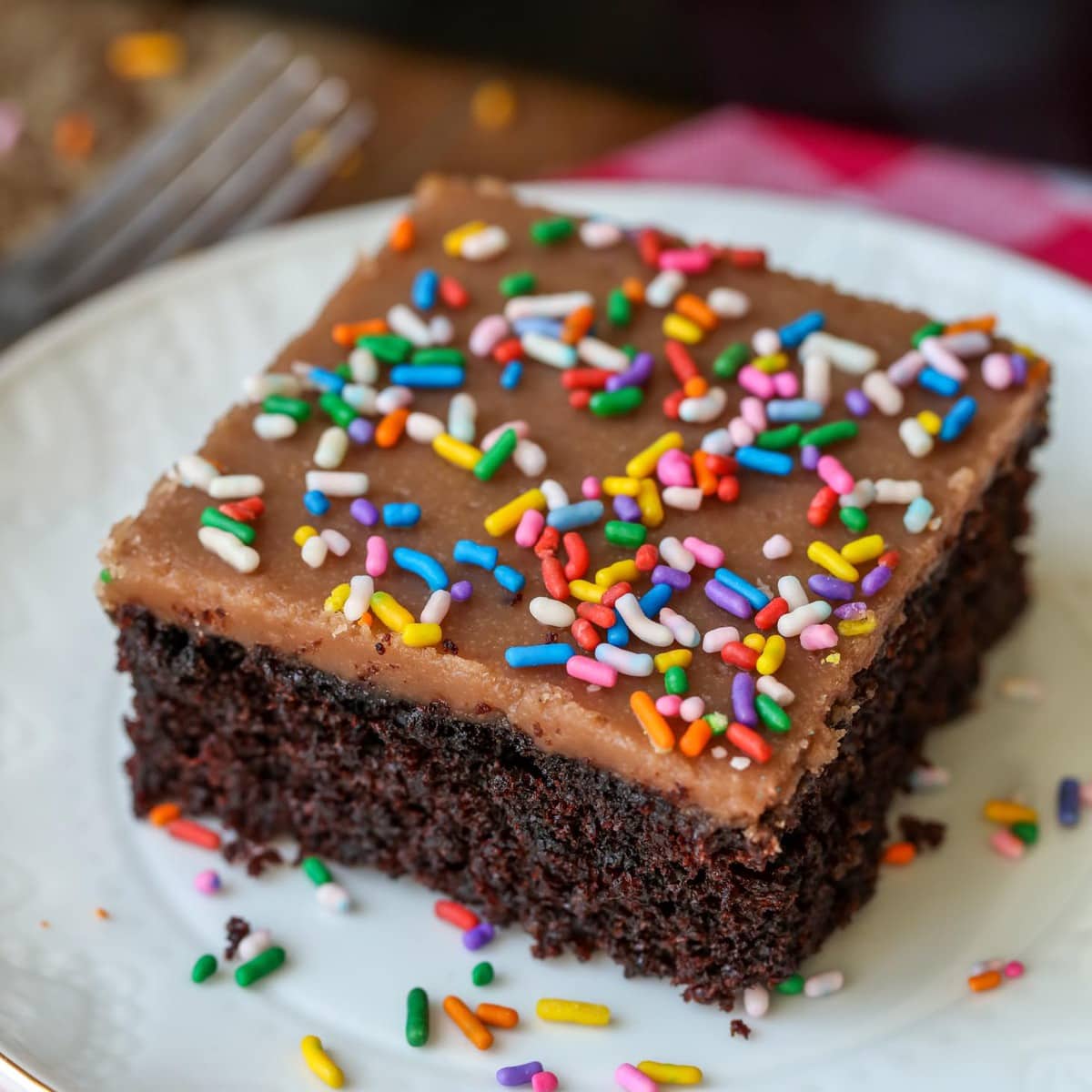 easy Christmas desserts
All of these desserts are both delicious and easy – the perfect combination for your busy holiday season!
Chocolate Sheet Cake – Our favorite chocolate sheet cake recipe. It's simple, moist, delicious and serves a lot making it our go-to party dessert – perfect with ice cream.
Easy Bread Pudding – Easy Bread Pudding is a cozy old-fashioned dessert made with simple ingredients and is completely addicting.
Snickerdoodle Bars – Chewy Snickerdoodle Bars taste just like the famous cookie only thicker, for a more filling bite. Powder sugar glaze is the icing on top!
Peppermint Cheesecake Bars – Simple, Cool & Creamy Peppermint Cheesecake bars are topped with candy cane pieces and perfect for a quick holiday treat!
Snowball Cookies – Buttery soft snowball cookies loaded with crunchy pecans. Not only are they simple, but they're also the best holiday cookie in the world!
Rice Krispie Wreath – This edible Rice Krispie wreath is ooey gooey marshmallow perfection. The fun and festive presentation is spot on, and is great for large holiday parties!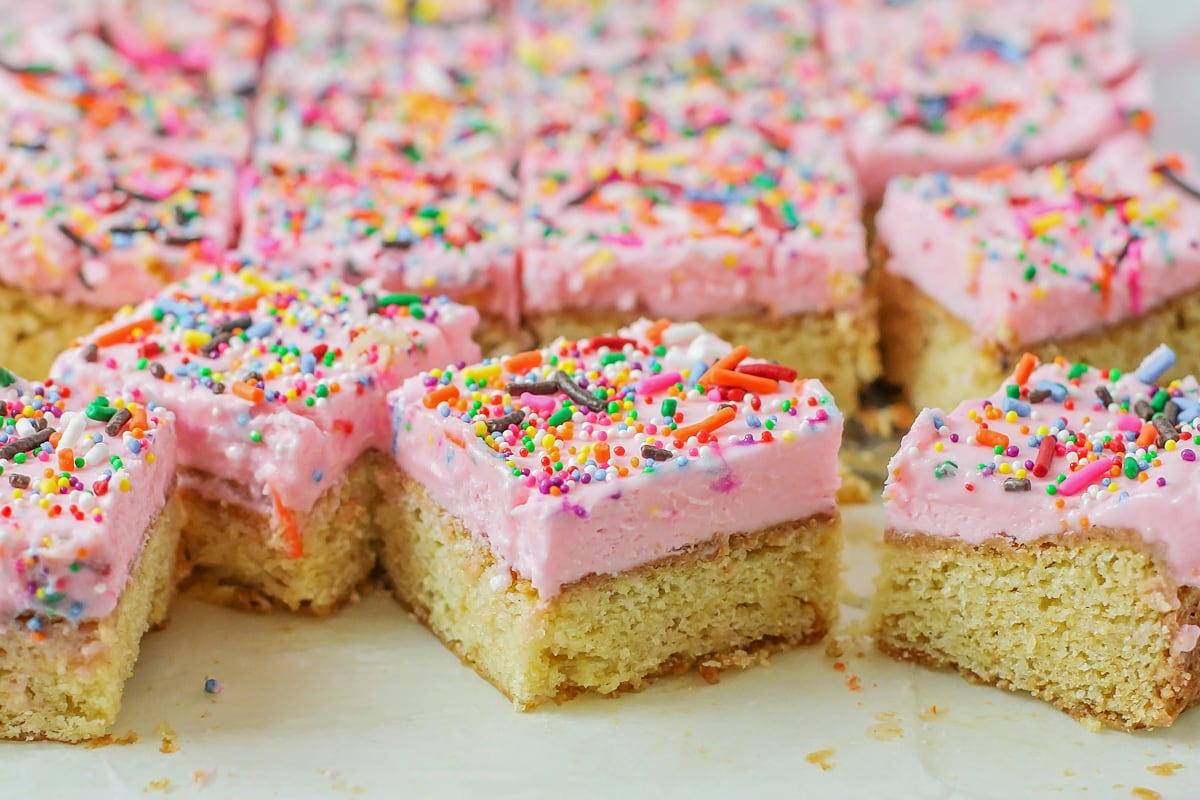 Sugar Cookie Bars – One of everyone's favorite cookies in bar form – these soft Sugar Cookie Bars are simple and are topped with a delicious buttercream frosting that makes this dessert irresistible.
Cream Cheese Sugar Cookies – Cream cheese sugar cookies are a perfectly soft, melt-in-your-mouth cutout cookie! They are easy to make and fun to decorate.
Scotcheroos – Chewy, peanut butter Rice Krispie bars topped with a rich, chocolate and butterscotch frosting. It's hard to say no to these delicious chocolate Scotcheroos!
Triple Berry Pie – Fresh and fruity Triple Berry Pie is easy and delicious, with only 30 minutes prep time. It's perfect all year long!
Chocolate Mousse – Chocolate Mousse is a sophisticated, smooth and creamy dessert perfect for dinner parties or any time you are feeling fancy!!
Christmas Tree Brownies – Chewy Christmas Tree Brownies whip up in minutes and are perfectly delightful to decorate for kids of all ages.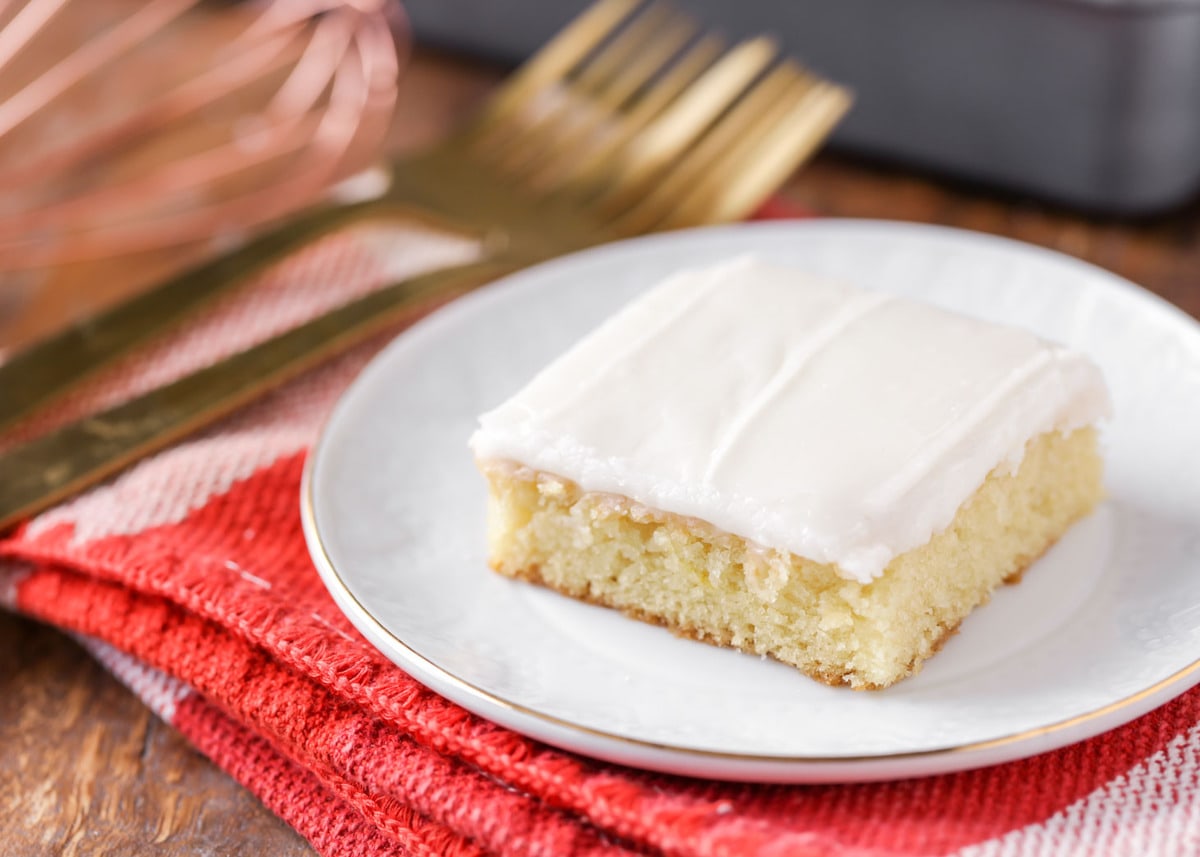 White Texas Sheet Cake – This white sheet cake is moist, and is topped with an amazing frosting with hints of almond throughout. It also feeds a ton, making it great for parties and get together.
Shortbread Cookies – What's not to love about these delicious and buttery shortbread cookies that just melt in your mouth? It only takes a small handful of common ingredients!
Cake Mix Cookie Bars – Cake Mix Cookie Bars are a simple, quick, and delicious treat everyone will love! They are a fab option for lovers of cake and cookies.
Chocolate Bundt Cake – You will love indulging in this this simple chocolate bundt cake with a chocolate ganache glaze. This moist chocolate cake is just the right amount of rich without being too heavy!
Pecan Pie Bars – With a buttery shortbread crust, and caramelized pecan filling, it's impossible not to love these sweet and nutty Pecan Pie Bars!!
Peppermint Chocolate Delight – Deliciously fluffy layered Peppermint Chocolate Delight is simple, yet impressive. It's our new favorite Christmas dessert!
Baked Rice Pudding – Old fashioned Baked Rice Pudding is studded with raisins for a warm and cozy classic dessert. It's easy and delicious!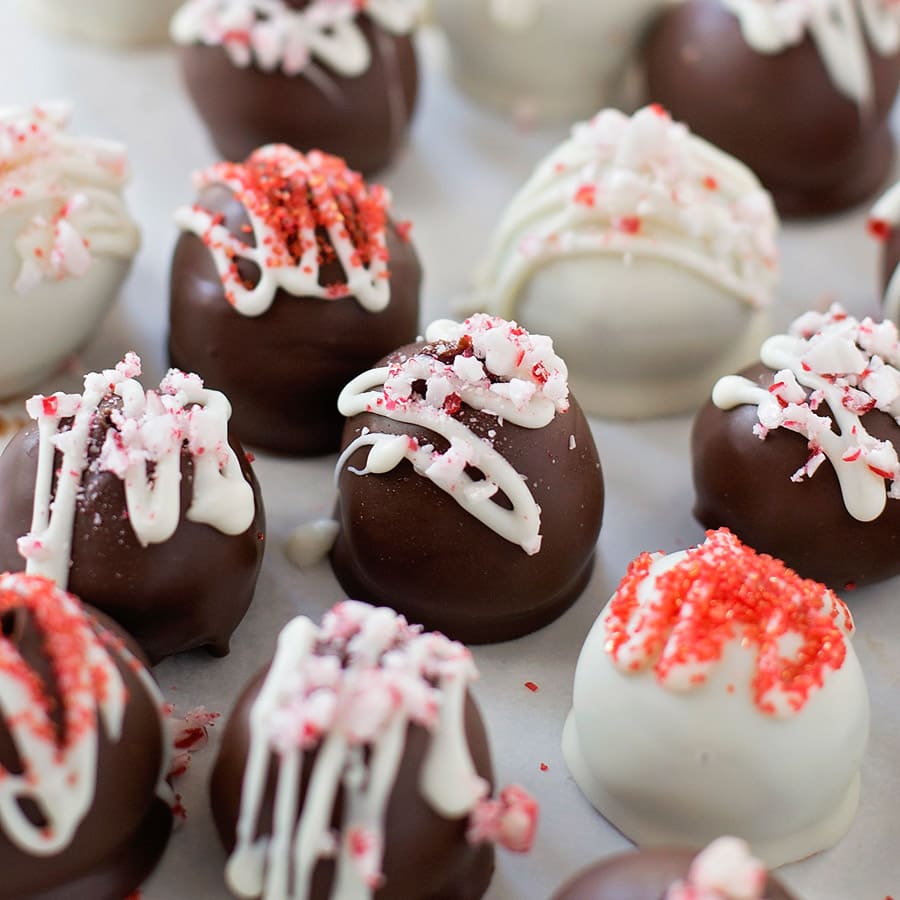 more Christmas dessert ideas
Here are some more of our favorite desserts and treats that are sure to be a hit whether you share them at a party or give them as gifts this Christmas season!
Peppermint Chocolate Truffles – Easy homemade peppermint chocolate truffles are simple and the perfect addition to any holiday party or cookie tray.
Snickerdoodle Cookies – Super soft and full of cinnamon, these are our FAVORITE Snickerdoodle Cookies. They always get rave reviews!
No Bake Cheesecake With Strawberry Topping – This NO BAKE cheesecake is the perfect recipe any time of year. With a delicious graham cracker crust, and a creamy vanilla cream cheese mixture, you can top it with anything and everyone loves it.
Homemade Brownies – Is there anything better than a chocolate ooey gooey brownie fresh out of the oven? These classic homemade brownies are so simple to make and worth every single calorie.
German Chocolate Cake – Homemade German Chocolate Cake is always a favorite. Two layers of tender chocolate cake topped with a decadent coconut pecan frosting. What's not to love?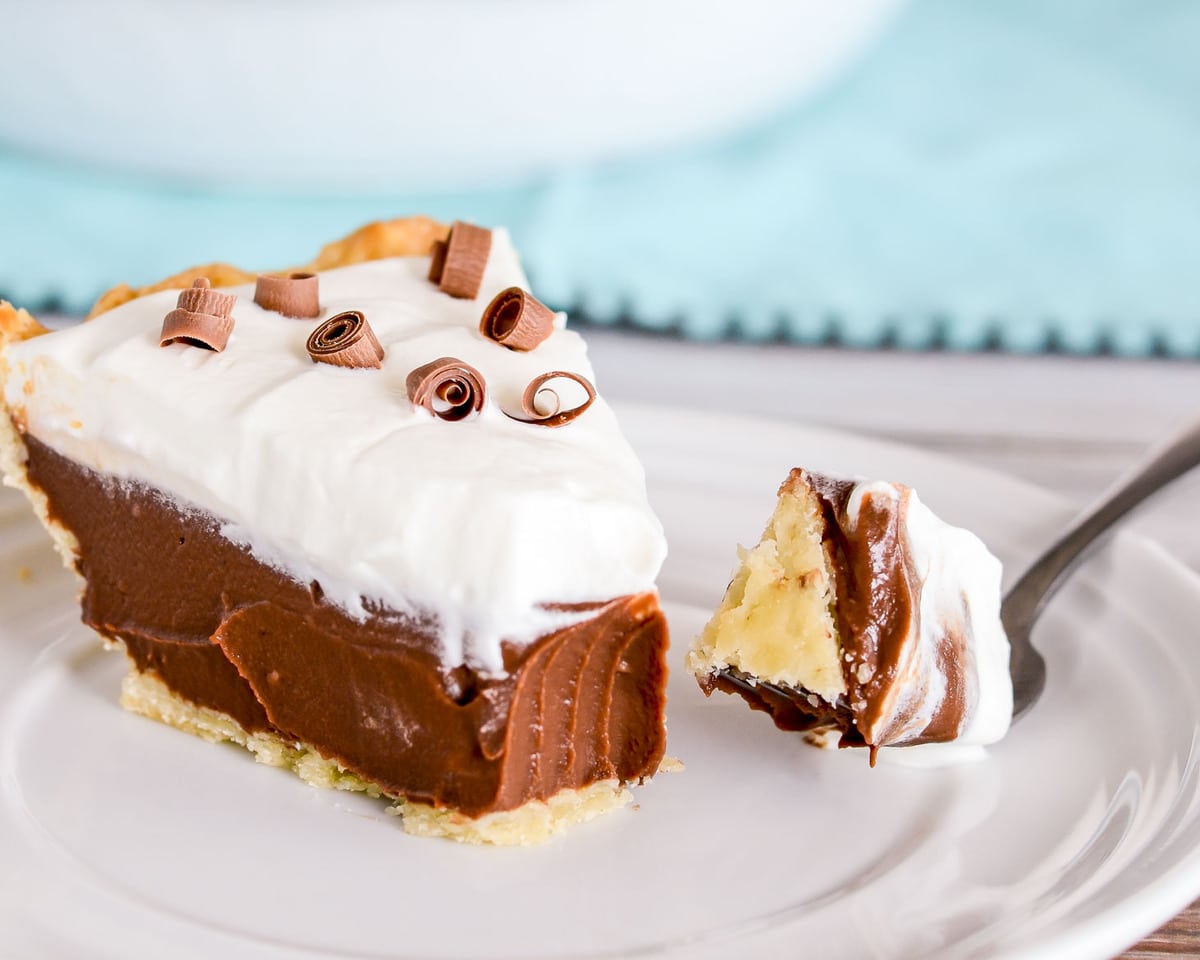 Chocolate Cream Pie – This Chocolate Cream Pie has two types of chocolate in a creamy pudding, topped with whipped cream and chocolate curls!!
Christmas Popcorn – White chocolate dipped Christmas Popcorn is drizzled with M&Ms and crushed candy canes! It's the perfect Christmas treat for the family.
Coconut Cake – This Coconut Cake is made from scratch, and topped with a scrumptious cream cheese frosting that is so addicting. The toasted coconut topping gives it an incredible flavor, making it a dessert to enjoy all year long!
White Chocolate Brownies – Soft & gooey White Chocolate Brownies are bursting with white chocolate chips and chewy vanilla brownie delicious-ness!
Toffee – This easy toffee recipe is the perfect homemade treat. With sweet and buttery toffee, creamy chocolate and crunchy pecans, it's perfect for the holidays and for gifting too!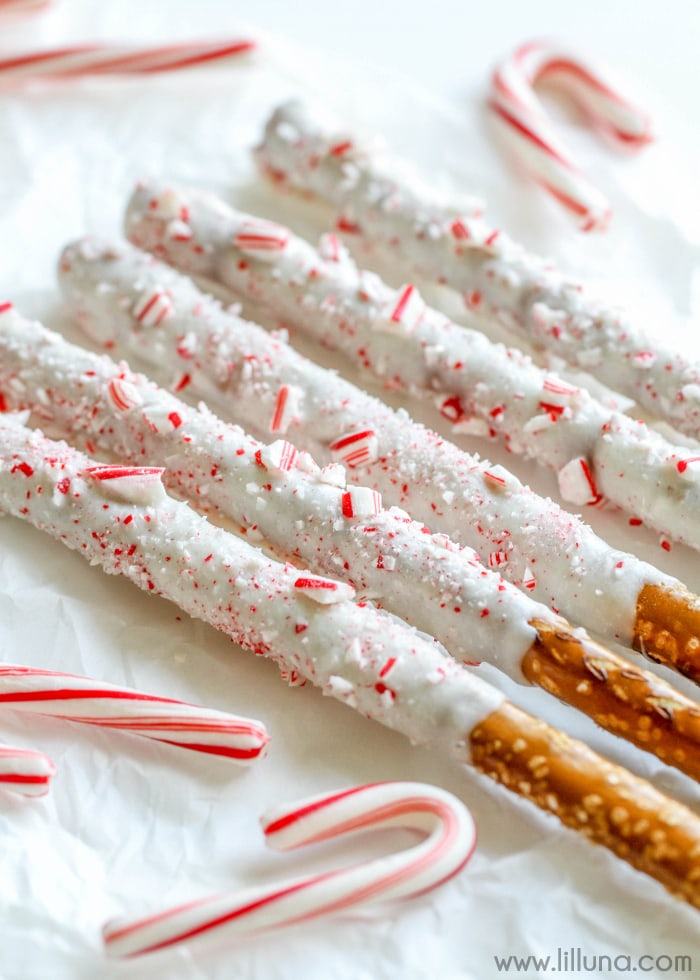 White Chocolate Peppermint Pretzels – Simple & deliciously crunchy White Chocolate Peppermint Pretzels are so easy to make and are perfectly giftable!!
Mini Lemon Drop Cakes – Mini lemon drop cakes are drenched in a mouthwatering lemon glaze making them delicious and addicting and perfectly sweet + tangy!
Ginger Snaps – Super soft and chewy Gingersnap Cookies – Nutmeg, molasses, ginger, cloves, cinnamon, and applesauce make these cookies so soft tasty!!
Best Apple Pie – With a flaky, buttery crust made from scratch, and a gooey, sweet filling, this BEST Apple Pie will not disappoint!
Christmas Crack – Christmas crack – also known as saltine cracker toffee – is a delicious homemade candy that's impossible to resist. Made with saltine crackers, caramel sauce & chocolate.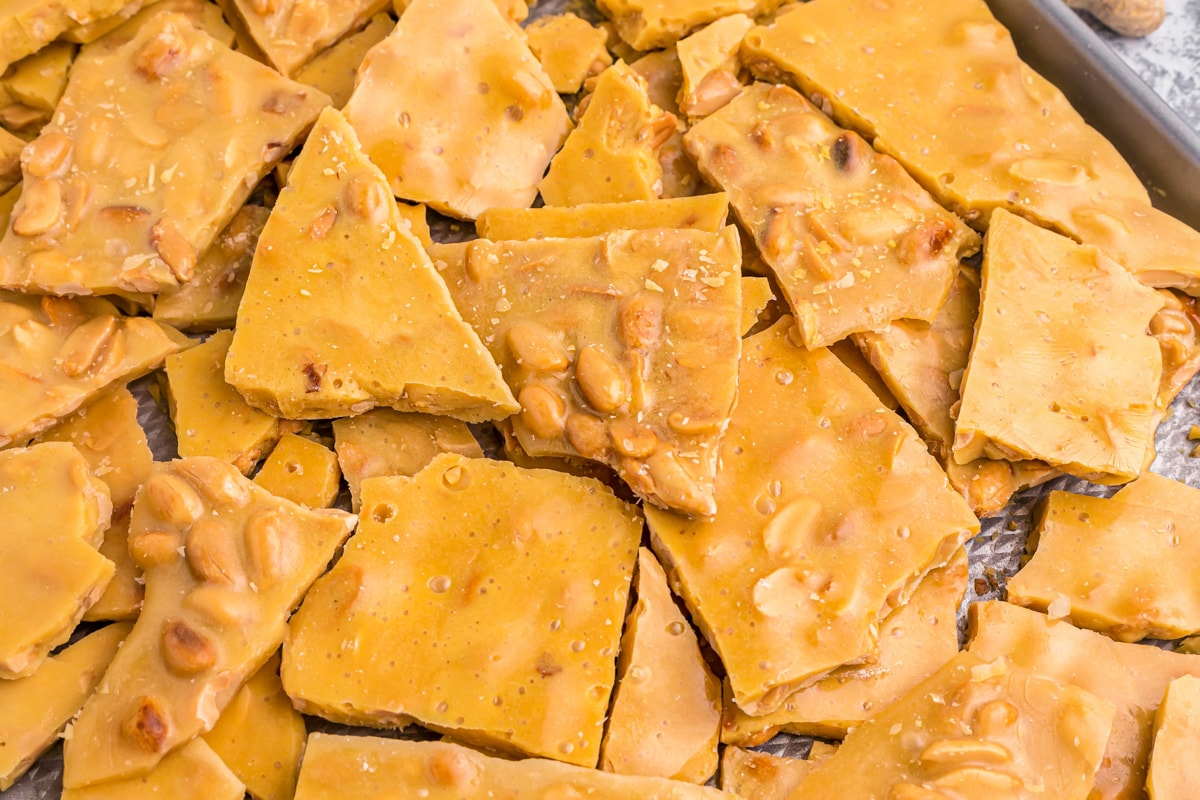 Peanut Brittle – Deliciously homemade Peanut Brittle makes a great gift over the holiday season. It's sweet and buttery, and super crunchy!
Cranberry Salad – Simple Cranberry Salad has the perfect balance of sweet and tart. It's a delicious side dish or refreshing dessert – great for holidays!
Christmas Chex Mix – Almond bark-coated Christmas Chex Mix is made in minutes, completely customizable, and perfect for sharing during the holidays.
Peanut Butter Fudge – Peanut butter flavored fudge is an easy, chewy treat that is classically delicious. You're going to love this recipe!
Italian Christmas Cookies – Traditional Italian Christmas Cookies are soft and buttery, topped with a sweet glaze and festive sprinkles!
Chocolate Gravy – Thick chocolate gravy is as good as it sounds. Pour it over warm biscuits, or on anything else your heart desires!
---
A Christmas Dessert Fav!
SOOO many great ideas to choose from!! Be sure to check out all Dessert Recipes for even more inspiration.
One last favorite is a go-to for us – Christmas Fudge.
This Christmas Fudge recipe is great for cookie plates, charcuterie boards, parties and more.
And the best part is that we use the base for most fudge recipes.
All you need is:
1 cup sugar
½ cup heavy cream
½ tsp salt
½ cup butter
1 bag white chocolate chips
7 oz. Marshmallow Fluff
From there you can add in any mix-ins to make it what you want.
For this recipe we added Peppermint Bits and crushed Oreos. Here are a few other ideas:
M&M Fudge – Add mini Christmas m&ms in and on top
Peppermint Andes Fudge – Add crushed Peppermint Andes in and top
Hot Cocoa Fudge – Add marshmallow bits in the recipe and on top and sprinkle with chopped milk chocolate
Festive Fudge – Add Christmas sprinkle and edible glitter in and on top of the fudge.
The options are endless!!
We hope this Roundup of Christmas desserts helps you out with all your making and baking this holiday season.
---
The Complete List
Here are the picture cards of ALL the Christmas Dessert Recipes listed above.
Hopefully this list helps you as you decide which desserts to make this holiday season! When in doubt, just try one of everything. 😉
---
Be sure to check out all of our Christmas Recipes.
More Collections: New Years Eve Desserts, Cakes That Feed A Crowd, Pies/Tarts