Have an Italian-style Christmas dinner with yummy bread, soups, salads, meats, and pasta. Check out this collection of all kinds of Italian Christmas Dinner ideas!
More Collections: Christmas Side Dishes, Christmas Desserts, Christmas Appetizers, Christmas Cookies, Mexican Christmas Food, Christmas Dinner Ideas
the best Italian Christmas food!
Italian + Family + Food – you really can't have one without the other. Christmas is an especially wonderful time for all three.
Italians begin celebrating on December 8th and celebrate into the New Year. The climax of the celebration is, of course, Christmas.
You can easily celebrate your own Christmas Cenone. That delectable-sounding Italian word translates to 'big dinner'.
From start to finish, an Italian meal certainly satisfies the senses. The smells, tastes, textures, and beauty of the dishes draw everyone in for a delicious and satisfying meal. Buon Natale!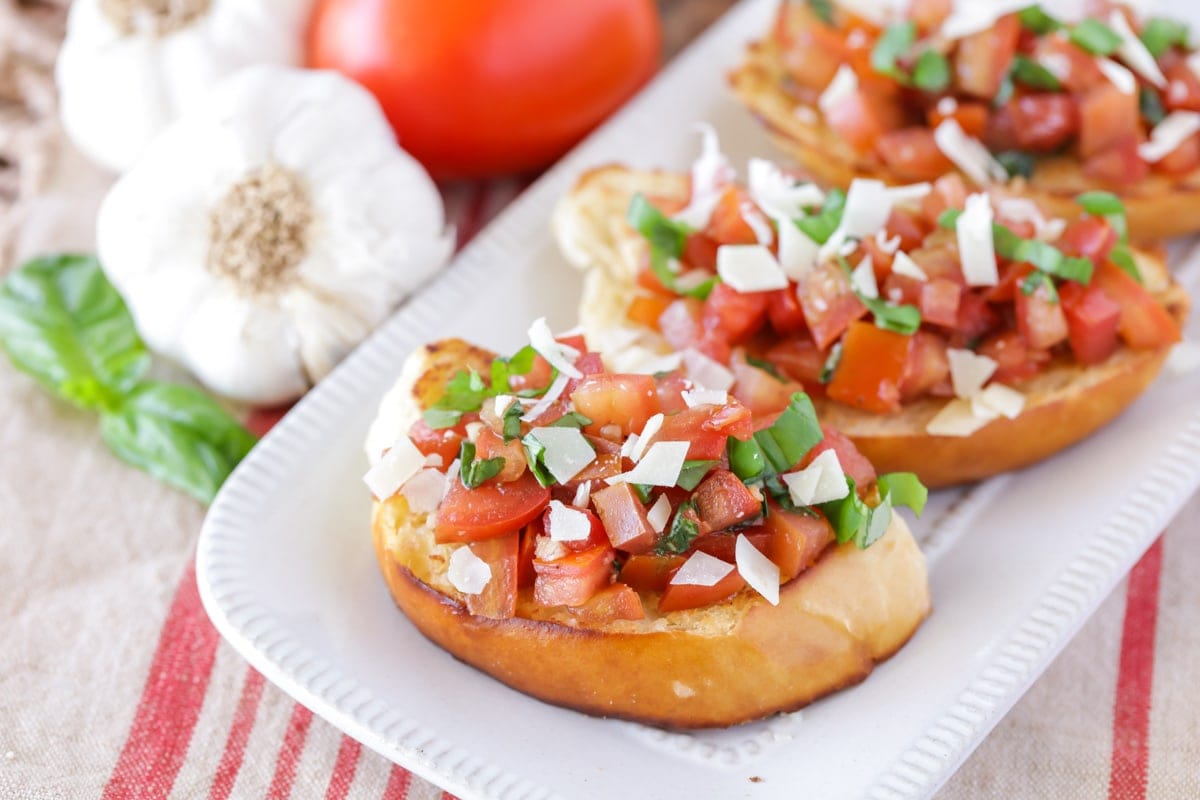 Italian Christmas Eve Dinner
I love learning about other cultures, and most often food is an integral part of celebrations. In Italy, La Vigilia Di Natale is celebrated the day before Christmas. It translates to the "Vigil of the Birthing", fitting right?
Another way of referring to this day is as "The Feast of the Seven Fishes". Catholicism has a heavy presence in Italy, and as far as I can tell 7 is a reoccurring number: 7-day creation, 7 Catholic Sacraments, and 7 deadly sins.
Also, Catholics refrain from eating red meat on Christmas Eve and serve seafood dishes like frutti di mare, or clams, eel (capitone), salt cod (baccalà), halibut, shrimp, mussels, anchovy, calamari, scallops, and more.
Once the 25th comes, all delicious foods are fair game to eat. Whether you're serving a big dinner on Christmas Eve or Christmas Day, a traditional Italian Christmas meal will typically consist of 5 courses:
Tips to Consider
Menu variation. Italian food is definitely delicious, but all the creamy pasta and bread can sit heavy. Be sure to serve a mix of heavier dishes with lighter ones.
Prepare ahead of time. When hosting, you want to be able to enjoy the company of those who have come and not spend the entire time in the kitchen. Include dishes that can be made ahead of time and prep any other ingredients that you can the day before.
Keeping the dishes warm. Use chafing dishes and crock pots to help keep things warm throughout the evening.
Serve family style. If there's any type of food that asks to be served family style, it's Italian. Serving family style means the dishes are set out on large plates and bowls and you serve yourself at the table.
It's less formal than individual courses but more formal than buffet style. Figure out how many tables you will be setting up and be sure to have a platter/bowl of each dish at every table.
Enjoy this collection of delicious Italian recipes!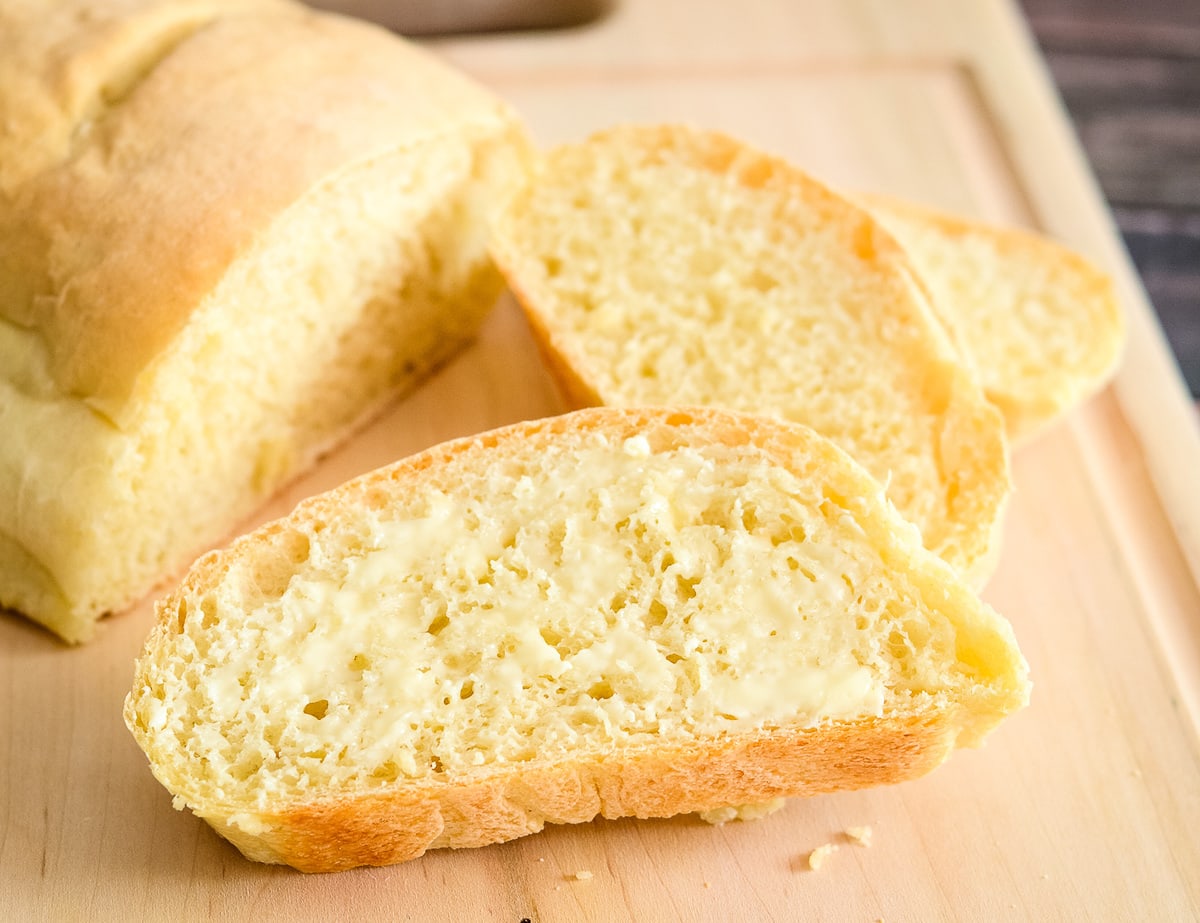 Italian Christmas Appetizers
We have so many yummy appetizers on the site that would be great for your Italian Christmas Dinner. While I love a good loaf of bread dipped in olive oil topped with pepper, there are so many other delicious first bites to choose from!
Just pick a few of the following and you'll be sure to impress with these Italian Christmas appetizers.
Italian Bread – It is so easy to make Italian Bread at home with just a few simple ingredients. Nothing beats a soft and crusty bread warm from the oven!
Mozzarella Bites – Fried mozzarella bites are delicious, easy and the perfect party appetizer when served with marinara. Everyone loves this bite-sized snack!
Focaccia Bread – Crisp yet fluffy bread topped with delicious herbs and seasonings. This flavorful focaccia bread is so easy to make, and is perfect for sandwiches, dipping in soups, or enjoying on its own!
Fried Ravioli – Fried Ravioli – one of our favorite side dishes or appetizers when serving Italian food!
Homemade Bruschetta – This yummy Homemade Bruschetta is simple and perfect for any party! It includes fresh ingredients and is the perfect Italian appetizer!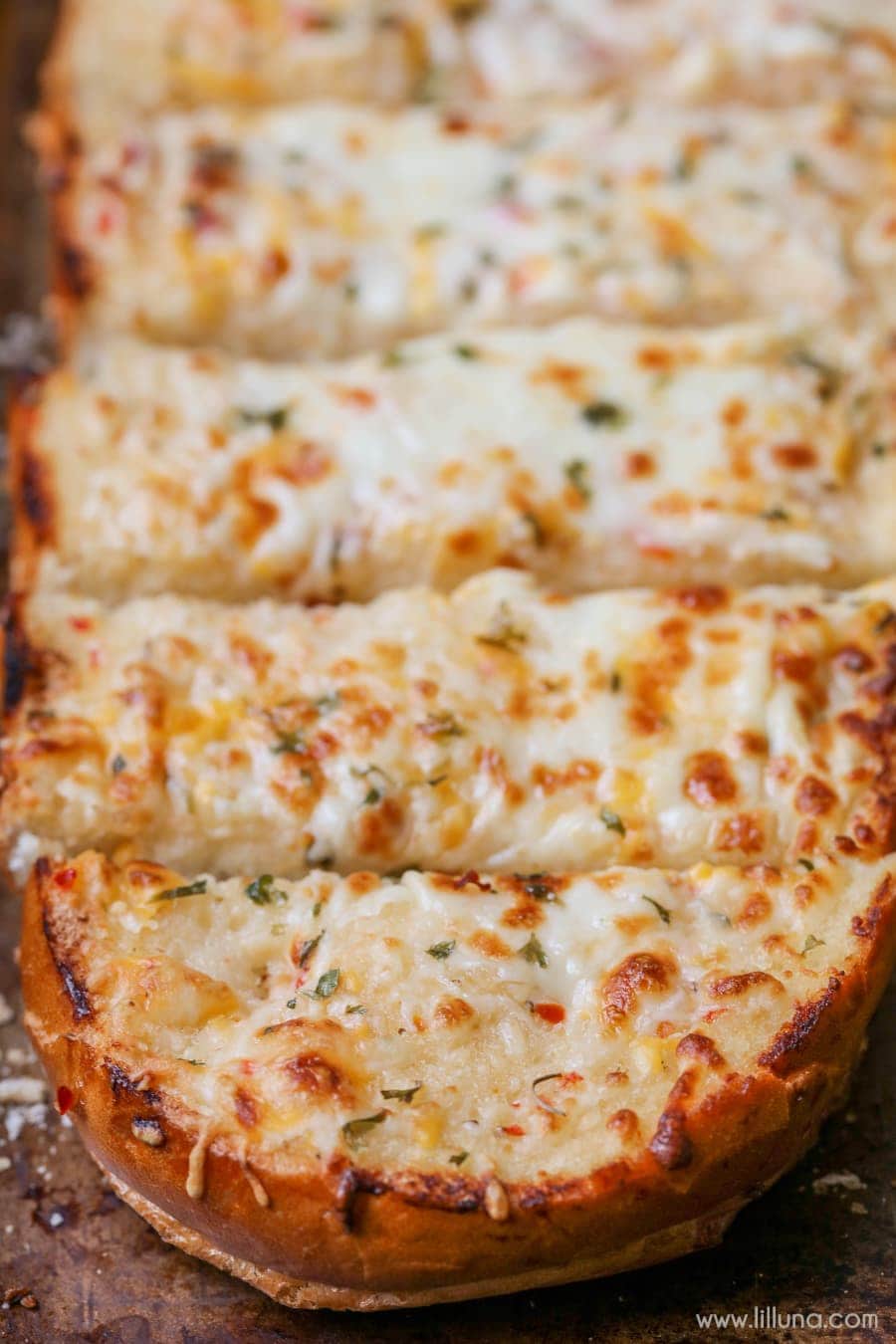 Cheesy Garlic Bread – This is by far our favorite Garlic Bread recipe. It takes minutes to put together and is SO cheesy and delicious. It's the perfect side dish for any meal, but especially for pasta and Italian dishes!
Mini Deep Dish Pizza – Mini Deep Dish Pizzas are our new favorite dinner recipe. They're easy, quick and can be made custom for each person with their favorite toppings!
Olive Garden Breadsticks – Just like the originals, these copycat Olive Garden breadsticks are light and airy on the inside, and flavored with butter and garlic salt on the outside. You can never eat just one!
Mozzarella Sticks – Everyone is obsessed with these ooey gooey homemade mozzarella sticks, breaded with a flavorful coating and fried to a golden perfection.
Bruschetta Caprese – Toasted bread rounds are topped with a mixture of juicy tomatoes, ripe avocado, and fresh mozzarella to make this Bruschetta Caprese. Top it all off with a balsamic glaze!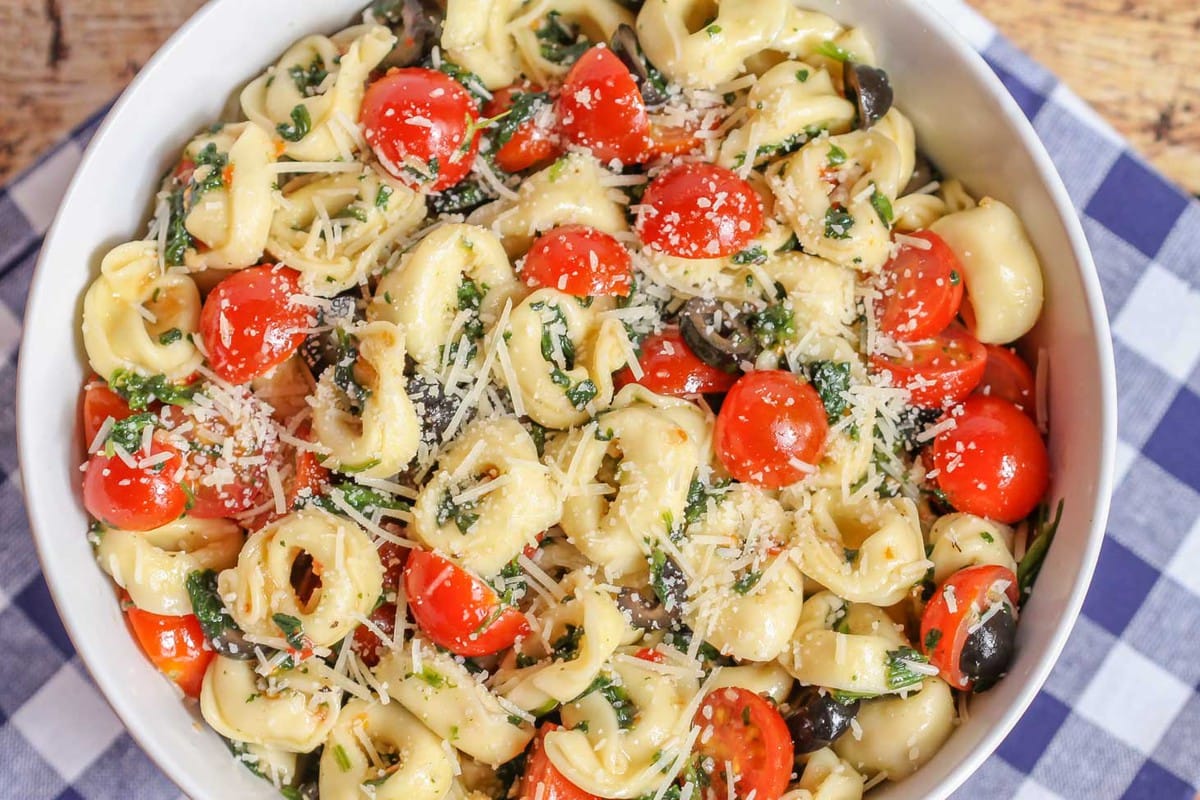 Italian Christmas Soup and Salad
We love a good soup and salad around Christmas time. We've collected a few of each and hope these help out as sides for your Italian Christmas Dinner Ideas.
Spinach and Tortellini Salad – This cold tortellini salad is the ultimate side dish for bbq and potlucks! With tortellini, spinach, tomatoes, olives, and parmesan tossed in Italian dressing, this Tortellini Spinach Salad is packed with all the best flavors!
Tomato Mozzarella Salad – Fresh, light, and healthy tomato mozzarella salad! Perfect for lunches with friends or a side salad to dinner!
Sausage Tortellini Soup – Italian Sausage Tortellini Soup is hearty, delicious, and full of healthy, tasty ingredients. Best part, it's on the table in no time!!
Italian Chicken and Vegetable Soup – Hearty Italian Chicken Vegetable Soup is packed full of flavor. It's is a great lightweight soup option perfect for any day of the year!
Lasagna Soup – Everything you love about lasagna (noodles, meat, and cheese), minus all the things you don't (layering, and tons of time)! This lasagna soup is easy, filling, and beyond delicious!!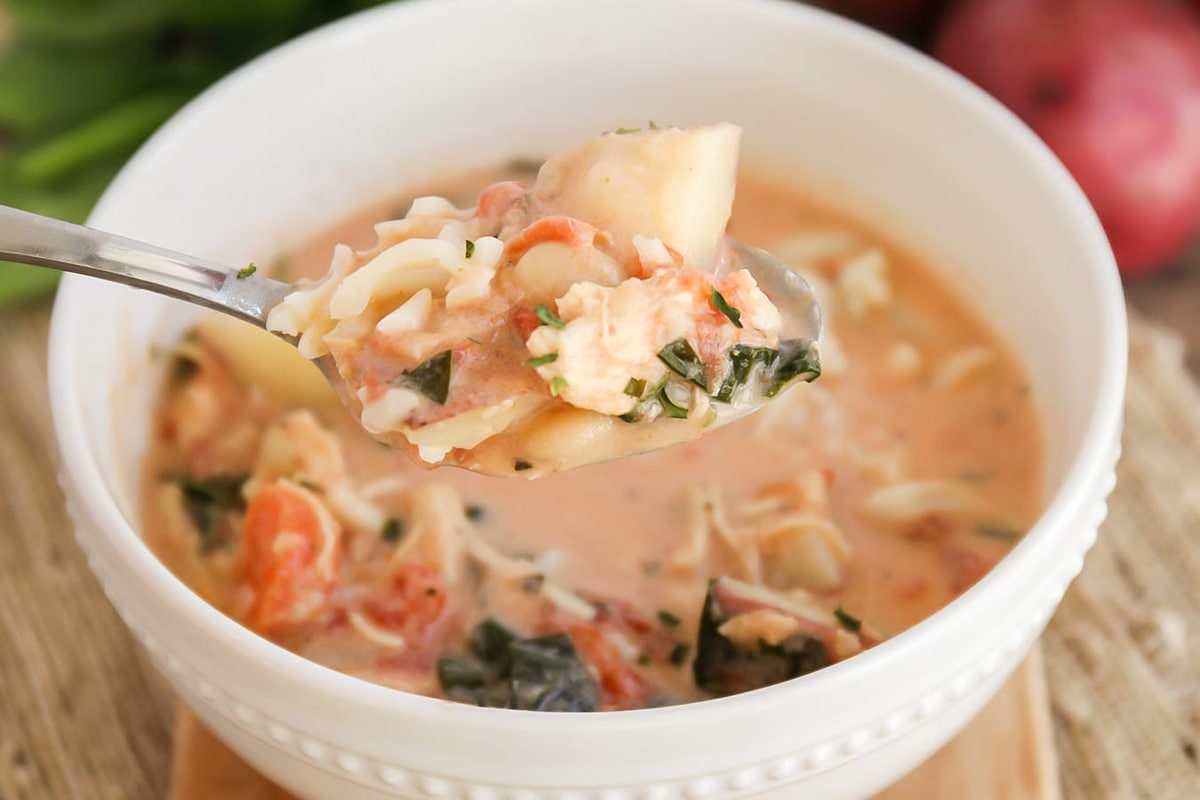 Chicken Florentine Soup – With a combination of chicken, potato, white beans, carrots, spinach and more, this Chicken Florentine soup is hearty and absolutely delicious. It tastes similar to Olive Garden's recipe, but it's made in the slow cooker!
Fresh Mozzarella Pasta Salad – Easy & Fresh Mozzarella Pasta Salad is light, delicious and flavorful. This simply dressed salad is a new favorite!!
Caprese Stuffed Avocados – Simple and Fresh Caprese Stuffed Avocados are a twist on classic flavors. This is a perfect appetizer or side to any meal!
Easy Tortellini Salad – Super YUMMY and easy Tortellini Salad filled with tortellini, salad, ranch, tomatoes and bacon bits – perfect for summer time!
Zuppa Toscana – Bring the taste of Italy home with this creamy and delicious Copycat Olive Garden Zuppa Toscana soup. The whole family loves this soup!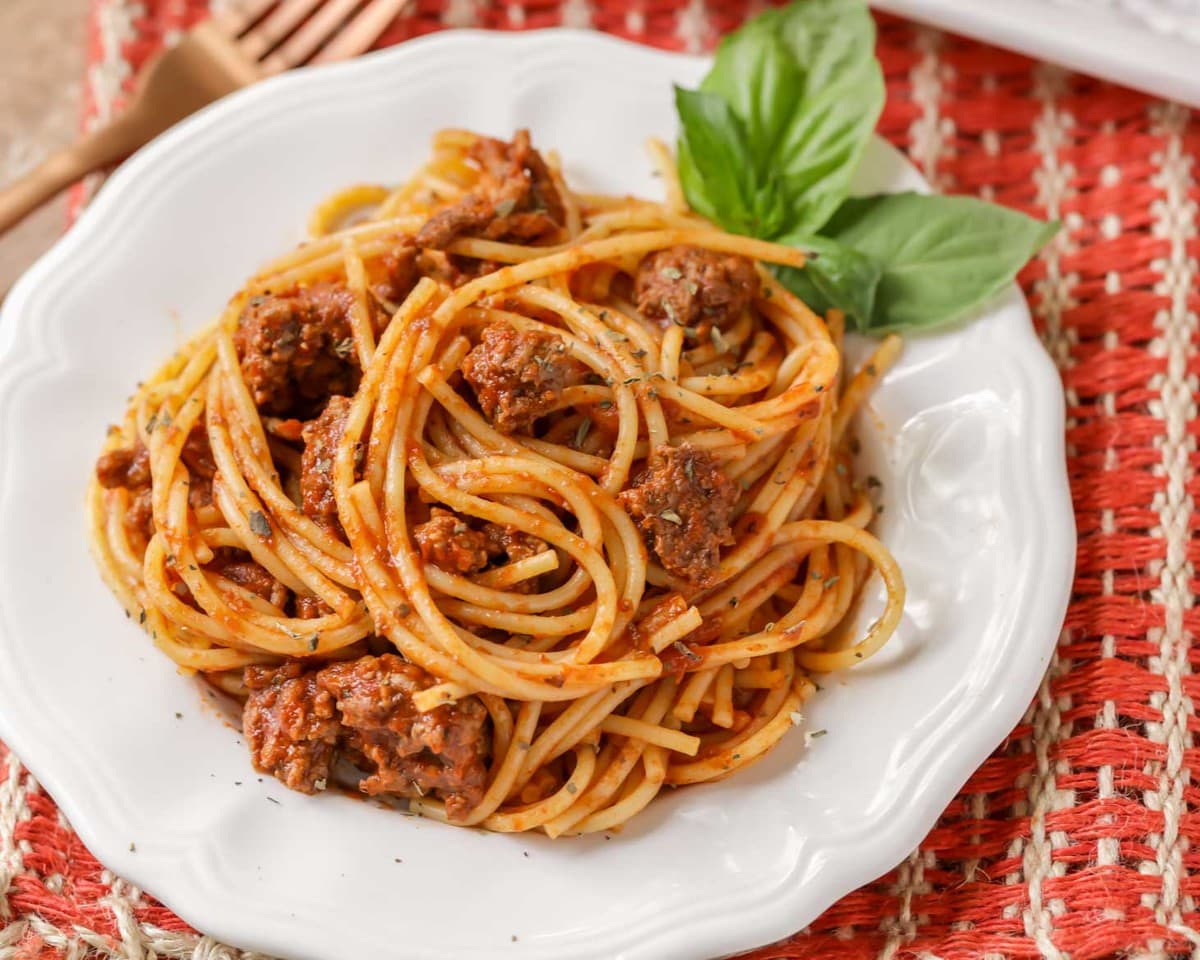 Italian Christmas main dish ideas
I think it's safe to say that all Italian dishes are delicious.
With the cheese, sauces, and spices – they're hard NOT to love. Here are some of our favorites to try for your Italian Christmas Eve or Christmas day dinners.
Easy Spaghetti – This easy spaghetti recipe is kid-friendly and is made with a delicious homemade spaghetti sauce making it the perfect family dinner recipe!
Bruschetta Chicken – Baked Bruschetta Chicken is marinated in Italian dressing and topped with cheese. It is simple and delicious!!
Italian Pork Chops – These Italian Pork Chops require just a few ingredients and are baked in the oven with loads of veggies and topped with fresh parsley. Have it ready and on the table in just 30 minutes!
Spaghetti Casserole – Spaghetti casserole is the definition of comfort food! Hearty, delicious, and an easy way to make and eat spaghetti.
Parmesan Chicken Manicotti – These manicotti shells are stuffed with a cheesy chicken mixture, and topped with tasty marinara!
Homemade Lasagna – This BEST Homemade Lasagna is rich and cheesy and packed with meat. Create perfect layered lasagna with these easy-to-follow steps!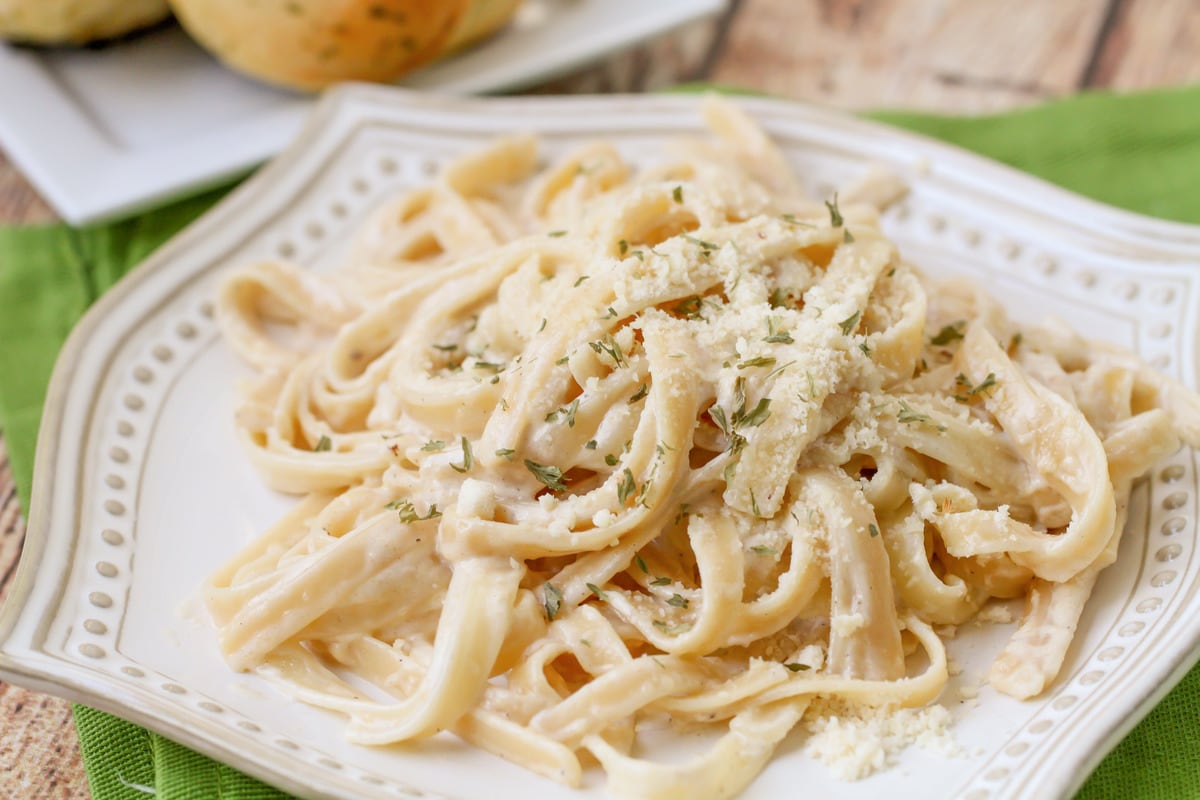 Easy Fettuccini Alfredo – Easy and Quick Fettuccine Alfredo that takes just 15 minutes to make! This family favorite recipe includes fettuccine, garlic, parmesan, and whipping cream and is sure to become a go-to dinner idea!
Chicken Scallopini – This Chicken Scallopini is a delicious dish of crusted chicken over lemon butter pasta. The flavorful, butter chicken and pasta combo is irresistible and perfect for dinner any night of the week.
Easy Lasagna Recipe – Our family's favorite lasagna recipe – not only because it's delicious but because it's so EASY! You don't even have to precook the lasagna noodles! With beef, pork, three cheeses, and tons of seasonings, you know this recipe is going to be a hit!
Pasta Carbonara – A creamy, delicious and flavorful pasta dish filled with cream cheese, parmesan, garlic and bacon. For only having a few ingredients, this Pasta Carbonara has big flavor!
Chicken Parmigiana – Tasty chicken parmigiana is hearty and filling crispy chicken a top a bed of pasta covered in a rich homemade tomato sauce.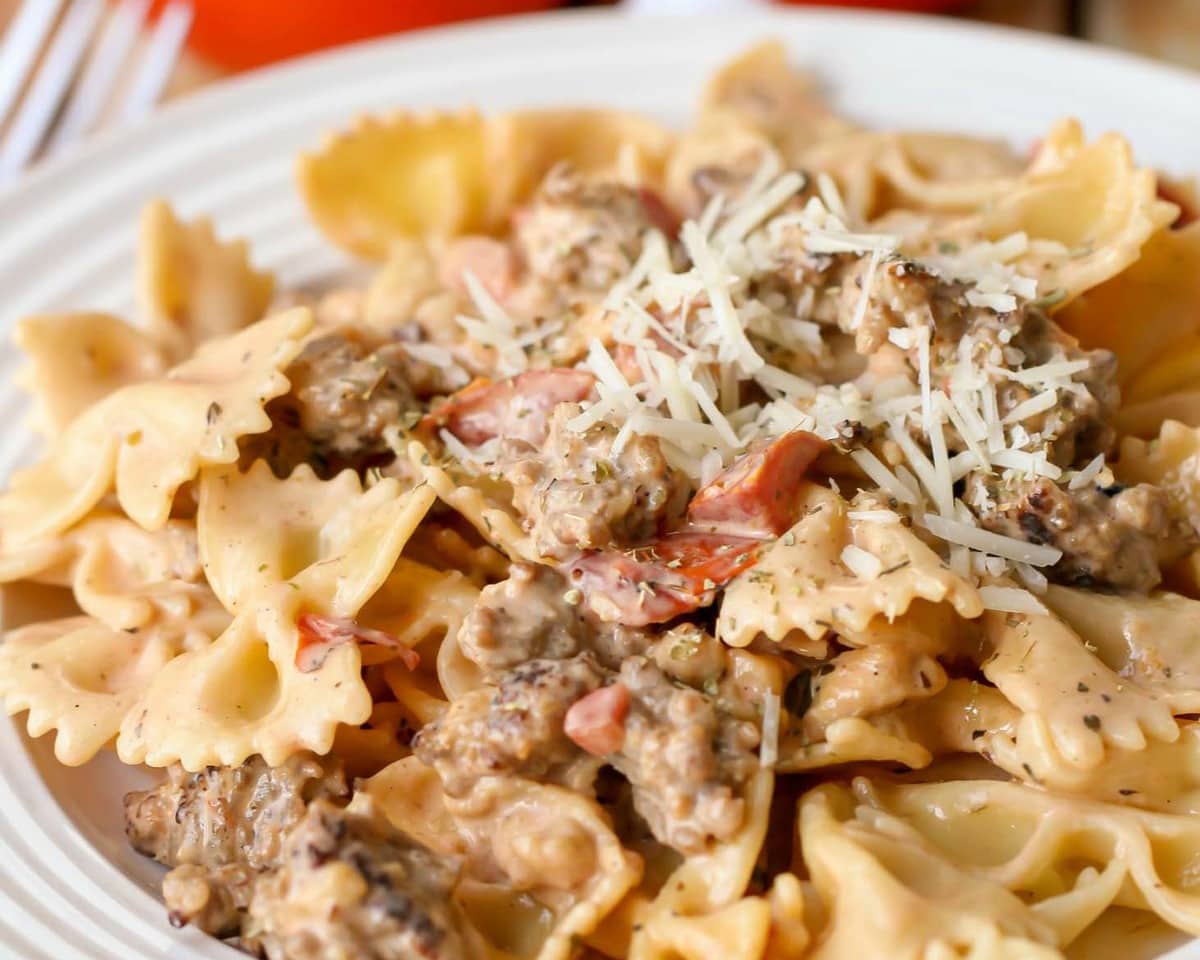 Italian Sausage Pasta – Easy cheesy Italian Sausage Pasta is creamy, delicious and perfectly spiced. It's a family favorite ready in only 20 minutes!
Crock Pot Spaghetti – We make this yummy crock pot spaghetti all the time! Buttery noodles topped with a flavorful meaty sauce or meatballs – DELISH!
Chicken Piccata – Chicken piccata is flavorful and beyond easy to make! This tasty dish requires surprisingly few ingredients and is cooked in a lemon butter sauce topped with capers.
Chicken Alfredo – Cheesy chicken Alfredo pasta is a go-to dinner meal in our house. Creamy sauce mixed in with fettuccine pasta and sautéed chicken. A one-pot meal that the whole family will enjoy!
Spaghetti Pie – Spaghetti Pie makes a hearty and delicious twist for a dinner time win! It's a perfect recipe for busy weeknights and family-friendly dinners.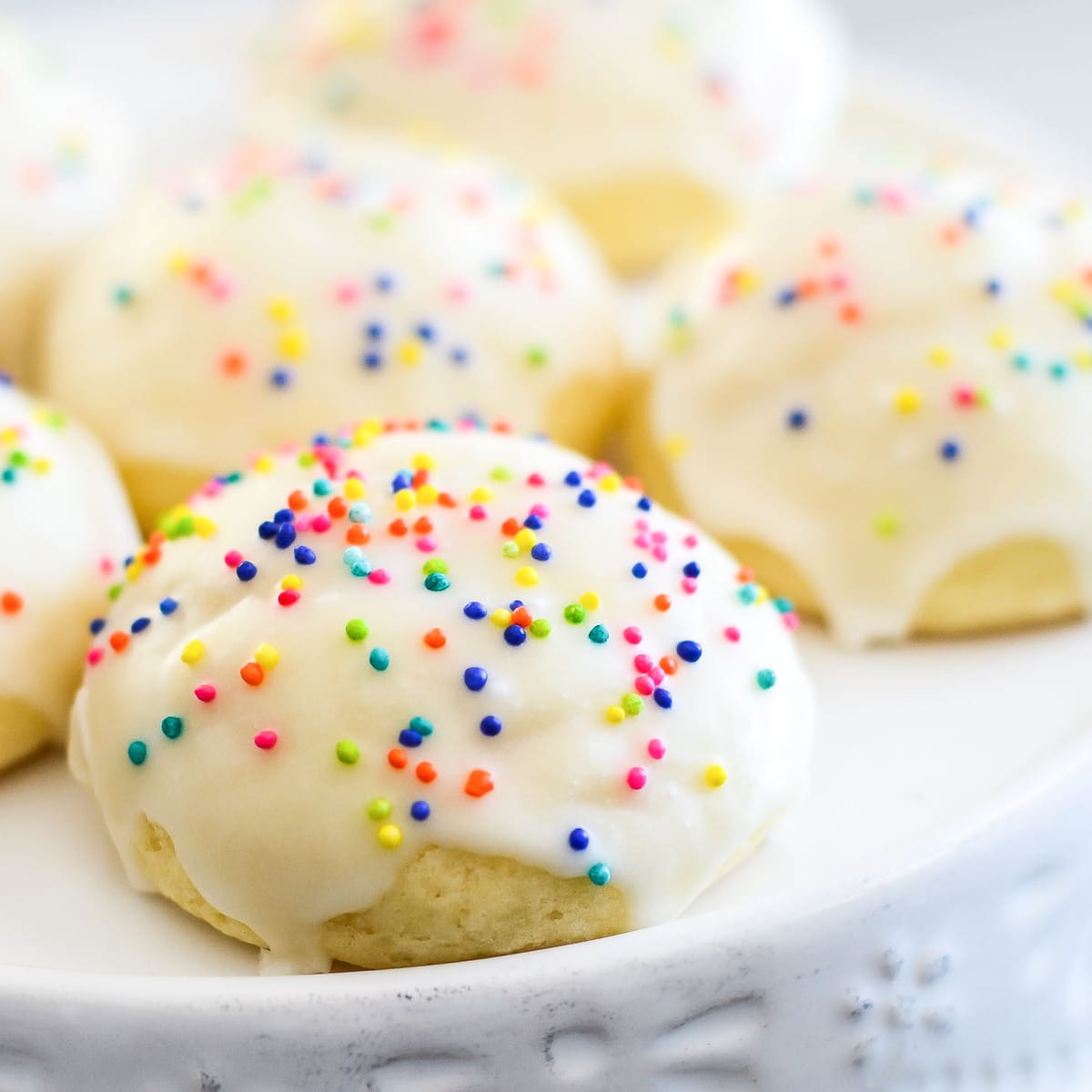 Desserts to add to the menu
We don't have many Italian desserts, like Panettone, Pandoro, or Struffoli here on the site, but our Italian Cookies are out of this world.
Be sure to check out some of these other favorite sweets that would be great with your Italian meal.
Italian Cookies – Soft Italian Cookies are dipped in a creamy glaze, topped with colorful sprinkles. They are perfect for holidays and special occasions!!
Pistachio Dessert – A delicious Pistachio pudding dessert with layers of crushed Sandies Cookies, cream cheese/cheesecake layer, pistachio pudding layer and topped with whipped cream!
Bread Pudding – Bread pudding is a simple, easy dessert made with fluffy white bread and simple, everyday ingredients. It's an old-fashioned recipe that your whole family will love.
Sticky Toffee Pudding – Buttery, sweet, and moist – this sticky toffee pudding is a MUST have treat! It takes several steps but is one of those desserts that is well worth the work and great for holidays and get togethers.
Yule Log Cake – Yule log is a traditional holiday dessert made from a chocolate cake rolled with a chocolate filling and covered in a chocolatey ganache. It's as beautiful as it is tasty!
---
Our Go-To Italian Christmas Dessert
With an Italian menu, you have to top it off with dessert.
Even though we listed a few other ideas above, a MUST-HAVE are these Italian Christmas Cookies.
Not only are they soft and simple, but they're the perfect addition to your Christmas menu and are especially festive with Christmas sprinkles.
Here is how you make them:
The Complete List
Here are the picture recipe cards for all the recipes in this collection! We hope this helps you in creating a delicious Italian Christmas dinner menu. It's sure to be a big hit!
We hope you enjoy this list of Italian Christmas Dinner ideas.
Be sure to check out all of our Christmas Recipes!
More Collections: Italian Appetizers, Italian Side Dishes, Italian Soups