Caroling, decorating the tree, Christmas Eve, or Christmas dinner all deserve a delicious refreshment. I have gathered up our favorite Christmas drink recipes with something perfect for any occasion throughout the holiday season!
More Collections: Christmas Appetizers, Christmas Cookies, Christmas Desserts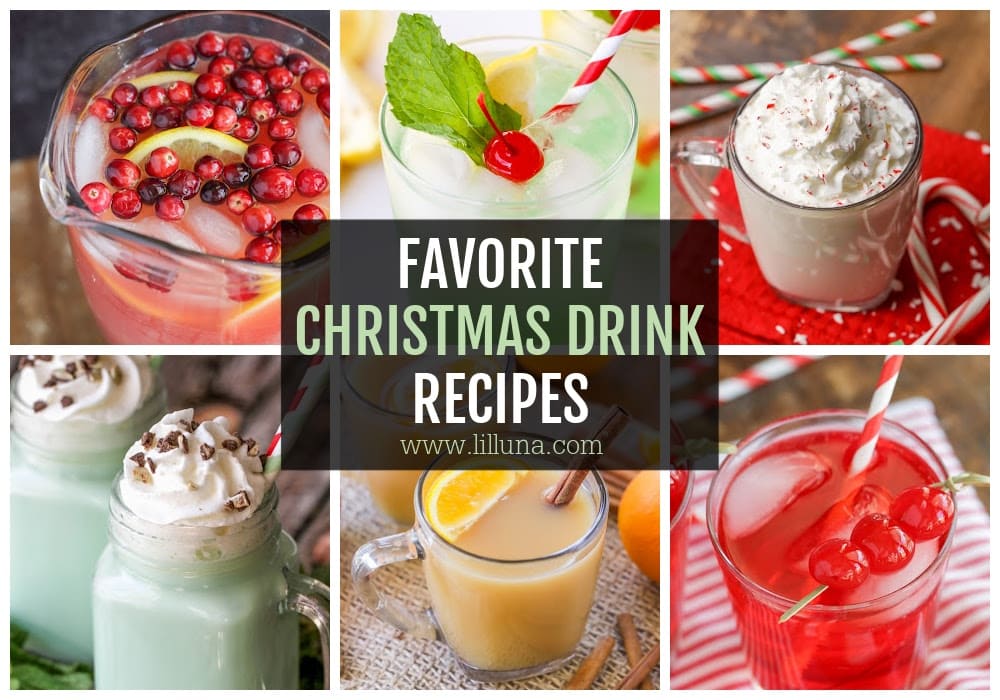 The Best Non-Alocholic Christmas Drinks
With all of the special holiday baking, appetizers, and elaborate dinners thrown throughout the holiday season, it's easy to neglect the beverages. Wash down every festive snack or meal with a delicious Christmas Drink!!
All the Christmas Drink Recipes in this list are non-alcoholic. And best part is, they're all simple and delicious.
Whether it's for adults or kids, these drinks will be the perfect addition to your Christmas party and festivities!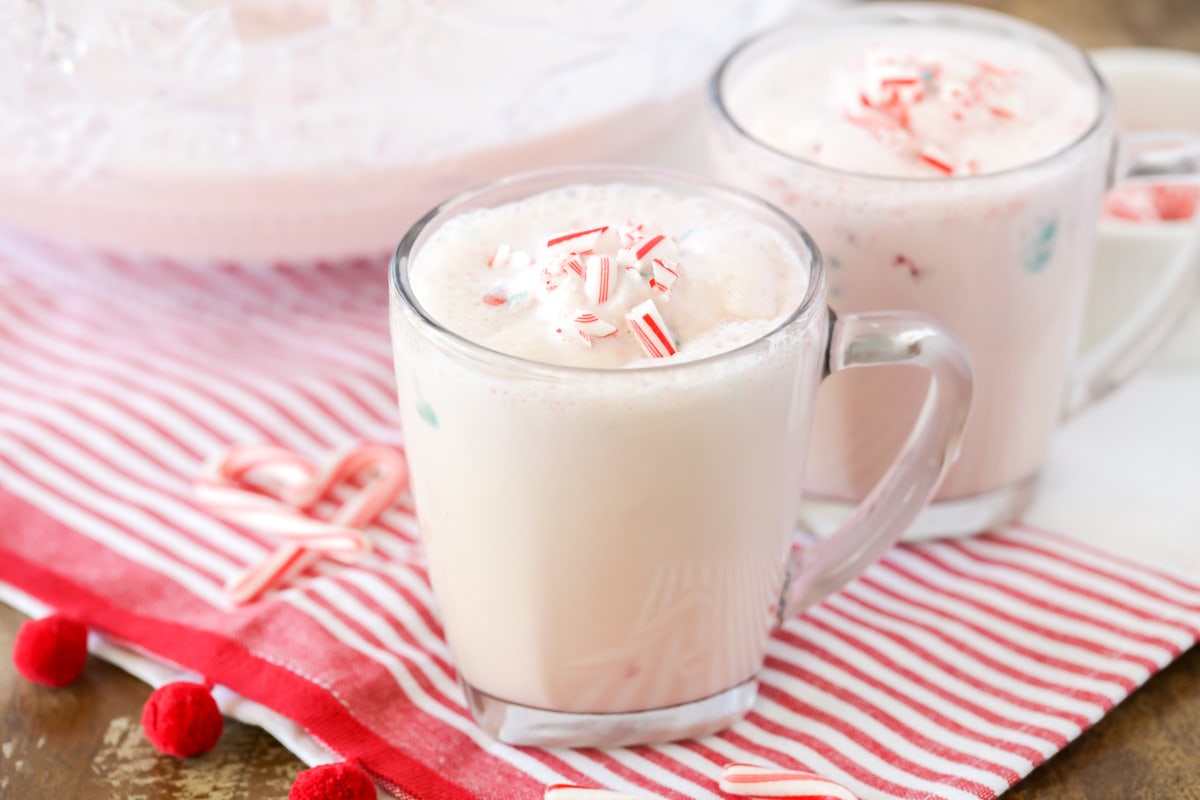 COLD VS. WARM DRINKS
Today, we've broken down the drinks for you by cold vs. warm. Both are great for your holiday festivities, but we thought it would be easier broken into these two sections.
Here are some tips and tricks to consider when choosing a warm or cold drink.
Cold Christmas Drinks: Of course you can just use ice, but that tends to melt and make the drink watery. Instead, try pre making a batch of the drink and freezing it into ice cubes. That way when the cubes melt you have even more delicious punch to quench your thirst with. You can even find Christmas shaped ice cube trays.
Another way you can keep drinks cold is to add frozen coordinating garnishes. For example if you will be placing sliced citrus or adding berries to the punch bowl as a garnish, then freeze them ahead of time.
Warm Christmas Drinks: You can invest in a sleek looking insulated beverage dispenser or use a stainless steel thermos. My favorite way is to just keep the drink warm in my crockpot set to the warm setting. Hot drinks should be between 140-160°F. If your drink includes milk or cream, then you only want to keep it warm for 1-2 hours and keep the temperature low, otherwise the cream may curdle.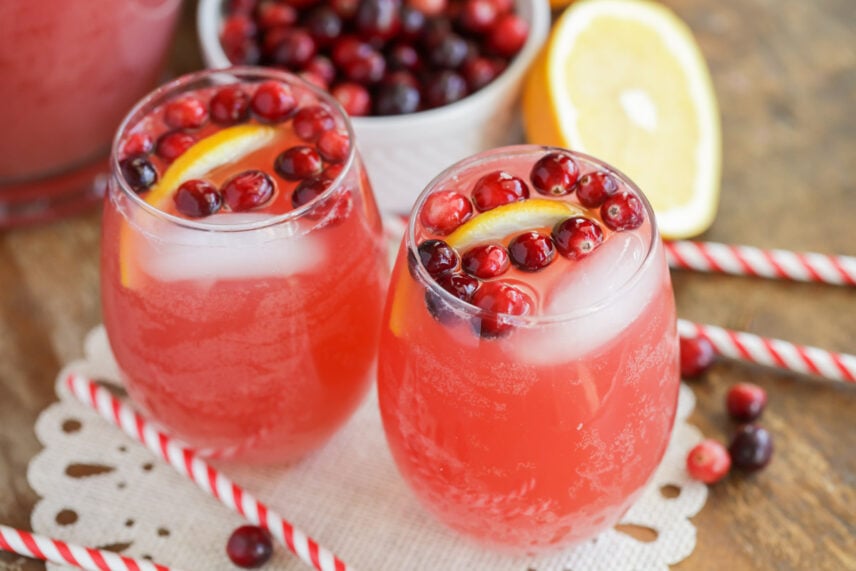 Serving Suggestions
How much to serve guests: Christmas usually brings large family gatherings. Whether you're serving punch with dinner or simply enjoying cocoa with cookies you want to make sure you have enough.
A beverage is usually 6-8oz. Plan for guests to drink 1-2 glasses during the first hour and one for every hour after.
Christmas Drink Garnish: I always find an excuse to make anything fun and fancy, especially at Christmas. You can easily turn any drink into a festive Christmas drink using garnishes and holiday cups.
Using red and green cups.
Garnish with cranberries or cherries
Garnish with sprigs of rosemary and mint
Rim fancy glasses with red and green sugar: First, add a few scoops of the colored sugar to a bowl. Then, add a few tablespoons of lemon juice to a separate bowl. Next, dip the rim of the glass into the lemon juice then into the sugar. Finally, allow it to dry.
Use peppermint sticks or candy canes when serving mint drinks
Create fun Christmas Drinks for kids using festive straws, placing little toys on the rim of the glass (make sure kids are old enough not to try and eat them).
Cold Christmas Drinks
Peppermint Milkshake – This cool & Refreshing Peppermint Milkshake is a simple, quick and very tasty holiday treat everyone will enjoy.
Mint Julep (non-alcoholic) – Disneyland's Copycat Mint Julep Recipe – A Non-Alcoholic Drink That Is Refreshing And DELICIOUS!! Made With Lemonade Concentrate, Crème De Menthe Syrup, Lime Juice, Sugar, And Club Soda – Topped With Mint Leaves And Cherries!
Pineapple Pink Lemonade Soda – All-Time Favorite Party Drink – This Pink Drink Recipe (Aka Baby Shower Punch) Takes A Minute To Make And Is Made With 3 Ingredients Including – Pink Lemonade Dry Mix, Sprite, & Pineapple Juice!
Shirley Temple – Shirley Temple drink is perfect for year round enjoyment! It's sweetness and pretty red color make it a great party drink.
Egg Nog – Eggnog Is The Best Holiday Drink! It's Creamy, Rich, And Completely Delicious. Make It For All Of Your Holiday Parties.
Frozen Hot Chocolate – Frozen Hot Chocolate Only Takes 3 Ingredients And A Few Minutes To Make! Top It Off With Whipped Cream And Chocolate Curls For A Real Treat.
Christmas Punch – Delicious Peppermint Christmas Punch is incredibly festive, takes minutes to make, and only has 3 ingredients!!
Eggnog Milkshakes – Deliciously Festive Eggnog Milkshakes Are A Quick 5 Minute Holiday Drink That The Whole Family Will Enjoy!
Horchata – A Creamy, Refreshing, Cinnamon Flavored Mexican Drink That Will Knock Your Socks Off With Flavor! It's Festive And Perfect For Any Occasion.
Holiday Punch – This festive and simply delicious Christmas punch recipe is full of fall flavor and pizzazz! It is non-alcoholic, making it great for everyone at your holiday get together.
Hot Christmas Drinks
Caramel Apple Cider – All the best fall flavors come together in this hot Caramel Apple Cider. It tastes just like Starbuck's Caramel Apple Spice!
Wassail – Wassail Is A Sweet And Spicy Mulled Cider Full Of Citrus And Cinnamon Flavor. Make This Cozy Drink A Part Of Your Family Holiday Traditions!
White Chocolate Peppermint Hot Chocolate – Rich And Creamy White Chocolate Peppermint Hot Cocoa Is One Of The Best Drink Recipes You'll Try This Holiday Season!
Mexican Hot Chocolate – Curl Up With A Good Book, Blanket, And This Mexican Hot Chocolate. One Cozy Cup Of This Hot Chocolate And You'll Be Hooked With Its Yummy Spices And Delicious Cinnamon Cocoa Flavor!
Apple Cider – You'll be surprised how simple it is to make homemade Apple cider from scratch. It is spiced to perfection and the coziest fall drink.
Double Chocolate Hot Chocolate – Decadent Double Chocolate Hot Cocoa Is Filled With White Chocolate Chips, Chocolate Milk And Heavy Whipping Cream For One Rich Cup Of Yum!!
Mint Hot Chocolate – A Smooth And Creamy Homemade Hot Cocoa Made From White Chocolate Chips, With Just The Right Touch Of Mint. Add Some Food Coloring, And Top It Off With Whipped Cream And Crushed Andes Mints For A Festive Holiday Mint Hot Chocolate!
---
---
The Complete List
Here are the picture cards of ALL the show stopper Christmas Drink Recipes listed above.
Whether it's to accompany a special meal, or serve as a treat around the tree, you are sure to find one (or several) must-make drinks for this holiday season!
---
Be sure to check out all of our Christmas Recipes!
More Collections: Christmas Appetizers, Christmas Cookies, Christmas Desserts