Curl up with a good book, blanket, and this Mexican hot chocolate. One cozy cup of this hot chocolate and you'll be hooked with its yummy spices and delicious cinnamon cocoa flavor!
This cup of warm goodness isn't much different than a traditional hot cocoa, with the exception of a little extra spice. Enjoy it with some dippable sweets, like Mexican Wedding Cookies or Shortbread Cookies!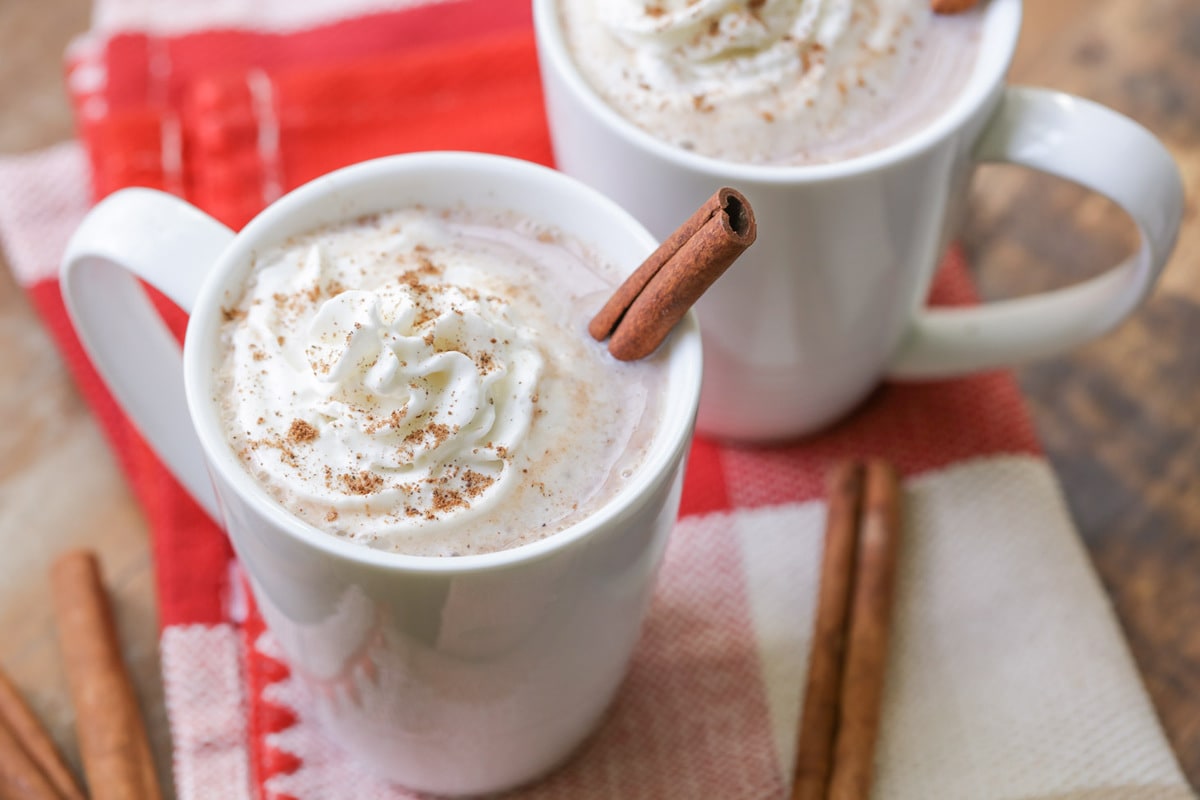 Mexican Hot Cocoa
When winter and the colder months hit, all I want to do it drink hot cocoa and read good books all day. Too bad I have kids…and a business to run…and a house to take care of. 
I will drink just about any flavor of hot chocolate, but this Mexican hot chocolate is one of my very FAVORITES. The cinnamon, clove and nutmeg mix together with the cocoa so well. Spiced chocolate is so yummy.
Pour yourself a nice warm mug of this Mexican hot chocolate and don't forget to top it with some whipped cream! Sprinkle on some extra spices and throw a cinnamon stick in there for good measure. Then sit back, relax, and pretend you don't have a million other things to do. You deserve that cup of hot cocoa.
Hot Chocolate vS. Mexican Hot Chocolate
Do you know the difference between regular hot chocolate and Mexican hot chocolate?
It's pretty simple. Mexican hot chocolate usually has some sort of blend of spices in it. In this particular recipe it has cinnamon, cloves, and a pinch of nutmeg. In other recipes, Mexican hot chocolate can even include some chili powder as well as different kinds of cocoa powder.
Yes, you can still taste the cocoa in each, but you'll expect to find more spice in today's version.
How to Make Mexican Hot Chocolate
COOK. Combine the sugar, flour, cocoa, water and spices in a medium pot over the stove. Cook this mixture for 4 minutes on medium heat.
SCALD. Add in the milk and let the mixture scald, but not boil!
*Note: Scalding means to heat the mixture until it's just about to hit boiling point. Once it's there, remove from the heat and add the vanilla. Now it's ready to drink!
TOP. Top with whipped cream and a sprinkle of nutmeg. It makes the perfect spiced hot cocoa.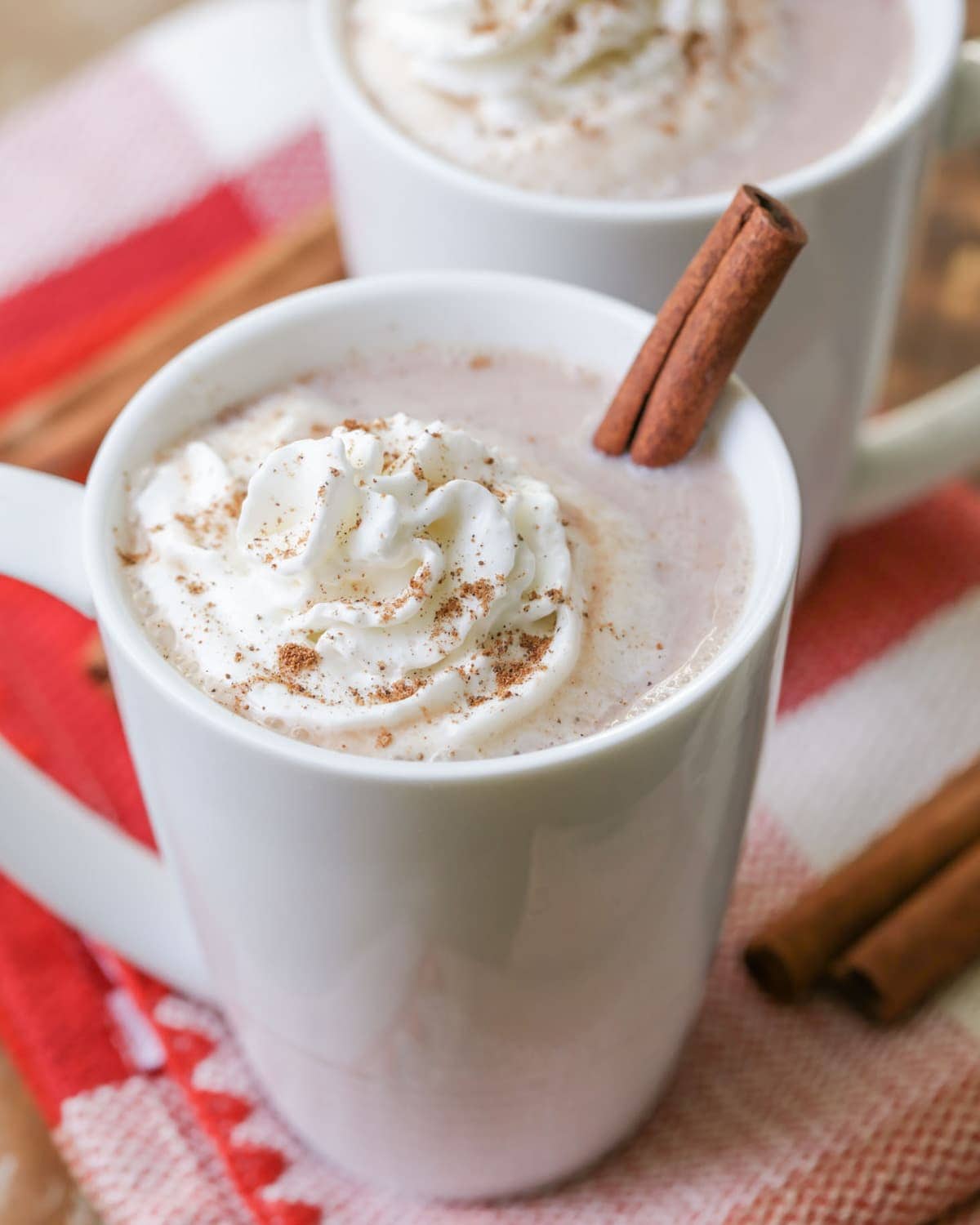 We are definitely hot cocoa fans in our house, so we have several varieties on the site. Be sure to check them out!
More Hot Cocoa recipes:
Mexican Hot Chocolate Recipe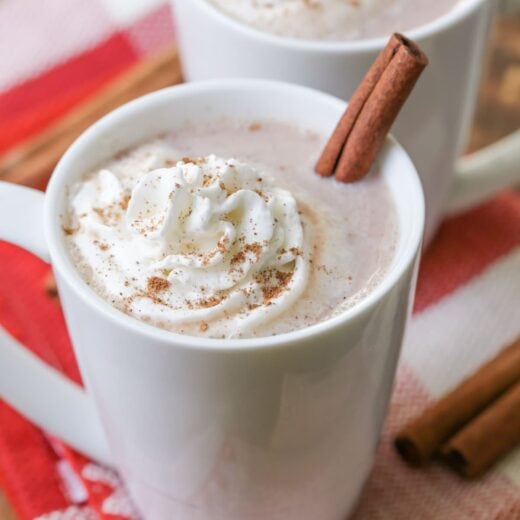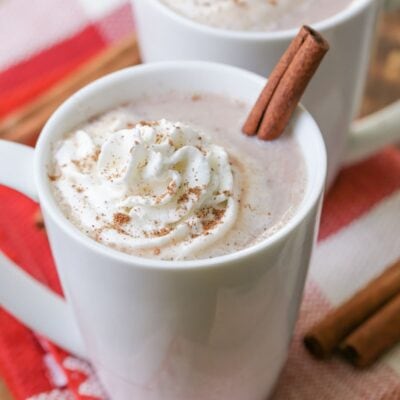 One cozy cup of this Mexican Hot Chocolate, and you'll be hooked with its yummy spices and delicious cinnamon cocoa flavor!
Instructions
In a medium pot, combine sugar, flour, cocoa, water, and spices. Cook for 4 minutes over medium heat.

Add milk and let scald but do not boil.

Stir in vanilla and remove from heat.

If desired, top with whipped cream and nutmeg.