Top off your sensational holiday gatherings and festive parties with a glass full of one of these tasty Holiday Drink Recipes. Cool off or warm up, there is something for any occasion!
More Collections: Non-Alcoholic Drinks, Frozen Drink Recipes, Christmas Desserts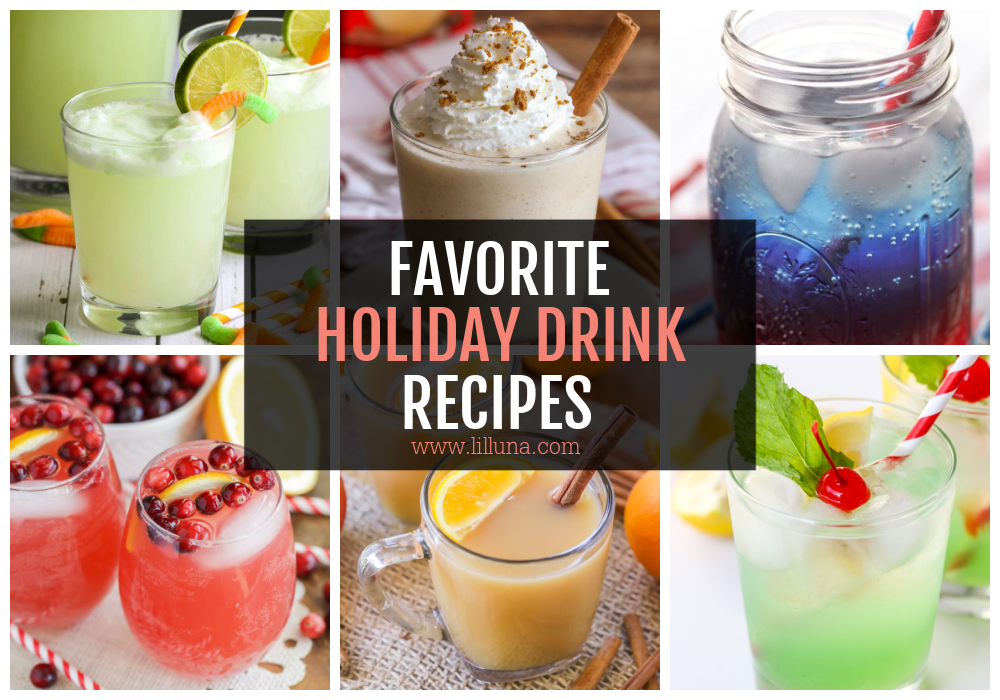 In my book, there are two types of drinks that make the Best Holiday Drinks: punch and cocoa. Whether you are serving punch at a party or Christmas dinner, or want to serve cocoa during a cozy evening with friends, here are some Holiday Drink Recipes that will help give you the best beverages.
All things punch
Serving suggestions. A glass of punch is usually 6-8oz. Guests typically drink 1-2 glasses during the first hour, and one for every hour after.
Mix it ahead of time, but hold the ice until just before serving.
Punch cubes. Instead of using regular ice cubes, make a small batch of punch and freeze it in ice cube trays. As the cubes melt, they will add more flavor and not water down the drink. Cranberry juice, orange juice, and pomegranate juice would also make great frozen cubes.
Carbonation. Carbonation in punch will last for a few hours, allowing you to mix up the punch a little ahead of time. I still usually add it along with the ice, just before serving.
Garnishing drinks. Decorative straws and drink umbrellas are always fun. Adding sliced fruits like orange slices or cranberries to punches looks very pretty. Cinnamon sticks are also a nice touch.
Sugar rimmed glasses.
Add a few scoops of sugar to a bowl, and a few tablespoons of lemon juice to a separate bowl.
Dip the rim of the glass into the lemon juice, then into the sugar.
Allow it to dry.
Punch Bowls are pretty, but using a ladle to scoop it into glasses can get messy. If you have a lot of children attending, or would simply like to avoid a mess, I recommend using a beverage dispenser instead of a punch bowl. They come in a variety of sizes and designs. Just be sure not to add any smaller garnishes that can clog the tap.
Transporting Drinks. Whether you need to transport a hot drink or a cool drink, be sure to use an airtight container so that it won't spill in your car. Placing it in a cooler will not only keep your drink the right temperature, but it can act as a backup in case of any spills.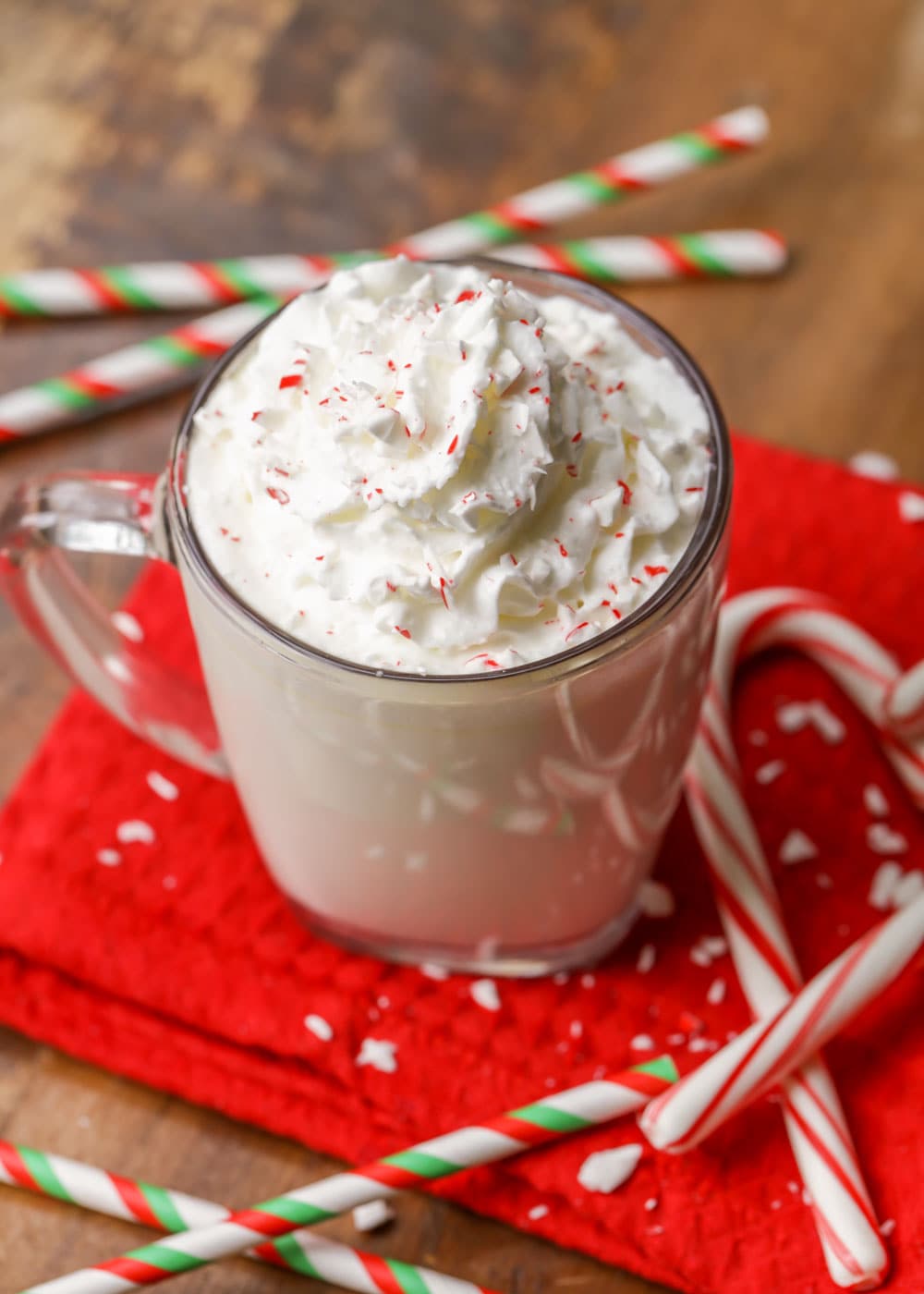 Hot Cocoa Tips
Garnishes. Add a dollop of Whipped Cream. You can even use flavored whipped cream. Peppermint sticks are great for stirring cocoa.
Milk matters. The higher fat content your milk has, the creamier the cocoa will be.
Temperature. The ideal temperature for cocoa is 140°F. If you won't be serving it right away, heat to 160°F. That will ensure it cools to the perfect temperature.
Add flavor. Drizzle with caramel sauce or a dash of cinnamon. Use an extract like vanilla, mint or peppermint. Spice it up with hot sauce.
How much to make. I'll usually plan for 8 oz per guest for the first hour. Then, I'll reduce the amount to 4-6 oz per guest for the next couple hours.
Keep cocoa warm. For larger amounts, use a hot drink dispenser. If you don't have one on hand, use a crock pot to keep cocoa warm. I've also seen people use large orange igloo drink dispensers. For smaller amounts, use a coffee thermos.
---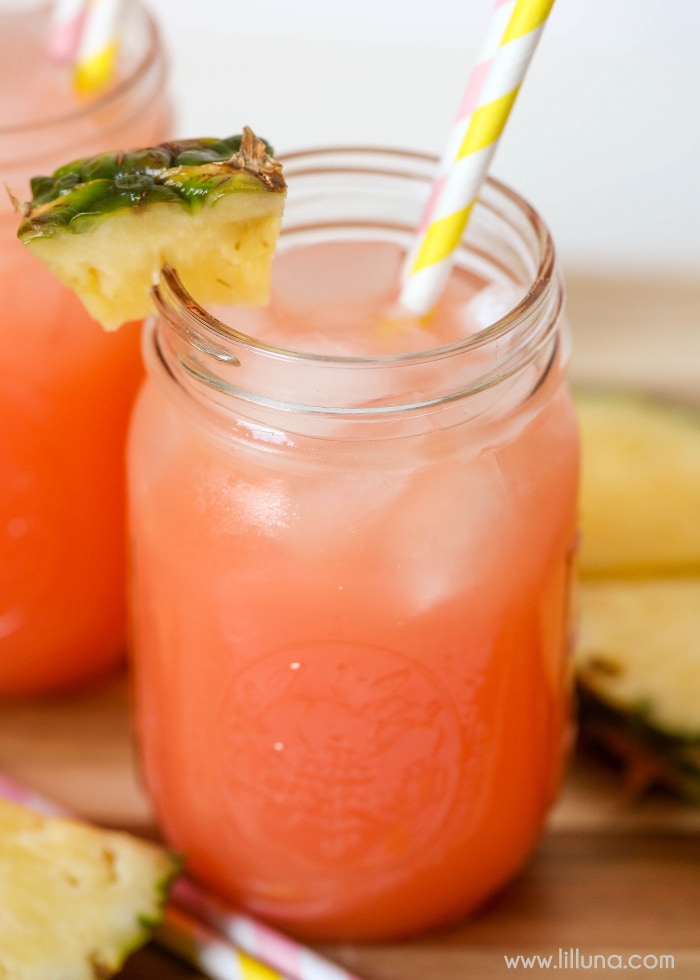 Classic Holiday Drinks
A pretty, and tasty Holiday Drink can be the "cherry on top" of a perfectly planned party. Whether hot or cold, there is something for every occasion.
Pineapple Pink Lemonade Soda (aka Pink Punch) – All-time Favorite Party Drink – this Pink Drink recipe (aka Baby Shower Punch) takes a minute to make and is made with 3 ingredients including – pink lemonade dry mix, sprite, & pineapple juice!
Mint Julep (Non-Alcoholic) – Disneyland's Copycat Mint Julep recipe – a non-alcoholic drink that is refreshing and DELICIOUS!! Made with lemonade concentrate, creme de menthe syrup, lime juice, sugar, and club soda – topped with mint leaves and cherries!
White Chocolate Peppermint Hot Cocoa – Rich and creamy White Chocolate Peppermint Hot Cocoa is one of the best drink recipes you'll try this holiday season!
Eggnog – Homemade eggnog is creamy, rich, and completely delicious. Make it for all of your holiday parties.
Wassail – Wassail is a sweet and spicy mulled cider full of citrus and cinnamon flavor. Make this cozy drink a part of your family holiday traditions!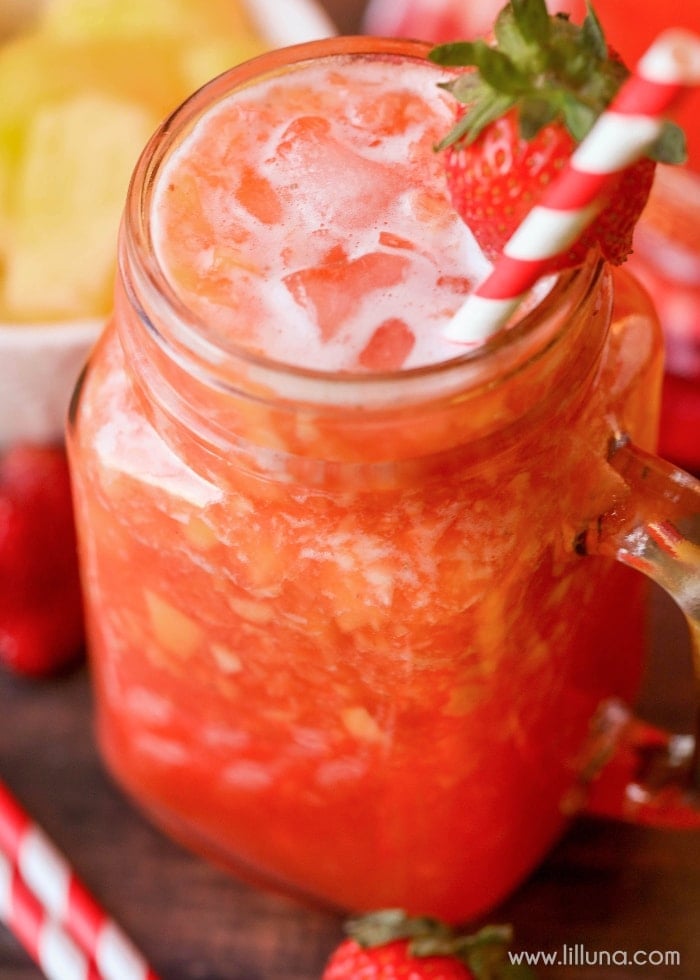 Best Strawberry Lemonade – The BEST Strawberry Lemonade filled with chunks of your favorite fruit including strawberries, pineapple, mangos, cantaloupe and watermelon!
Halloween Punch – This sweet & fizzy orange sherbet punch is one of our all-time favorite Halloween drinks!! It is a perfectly festive Halloween punch!
Mint Hot Chocolate – A smooth and creamy homemade hot chocolate made from white chocolate chips, with just the right touch of mint.
Apple Cider – You'll be surprised how simple it is to make homemade Apple cider from scratch. It is spiced to perfection and the coziest fall drink.
Shirley Temple – Shirley Temple drink is perfect for year round enjoyment! It's sweetness and pretty red color make it a great party drink.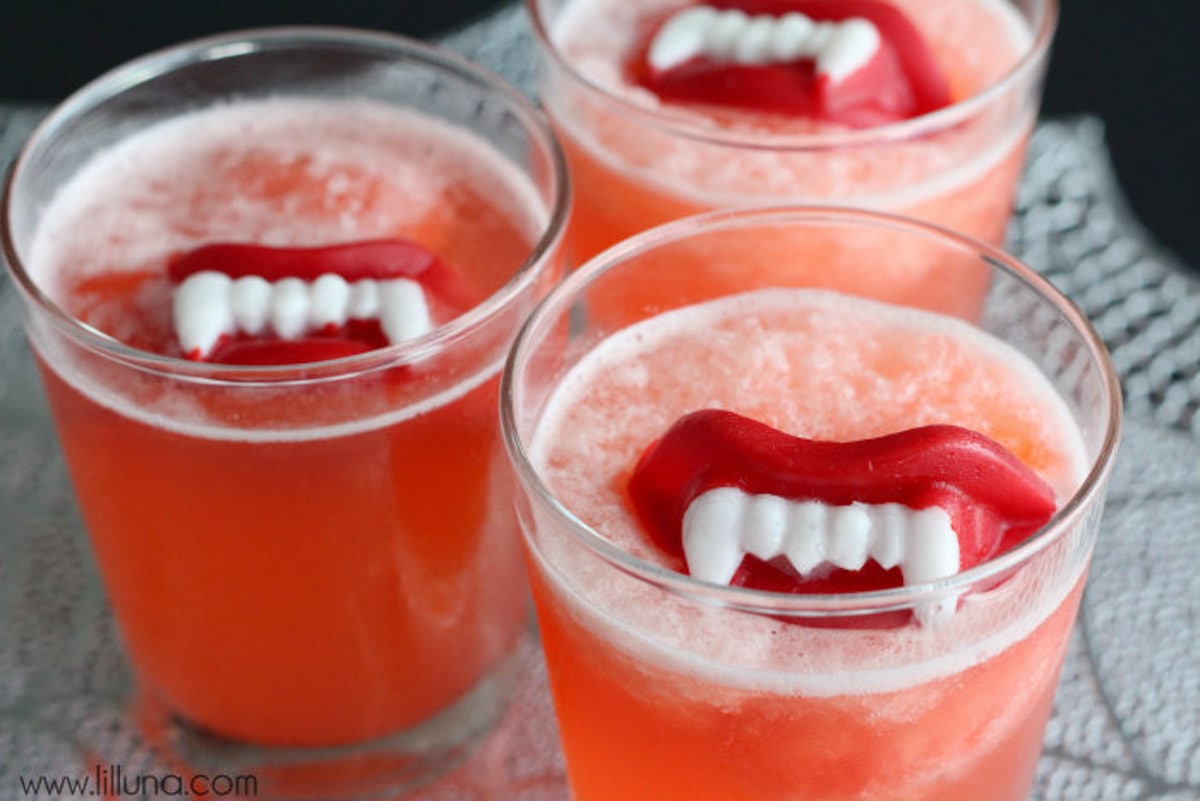 Slushy Punch Recipe – Slushy punch is fruity and fizzy and perfect for any occasion. Adding wax fangs make it a Halloween must!
Double Chocolate Hot Chocolate – Decadent Double Chocolate Hot Cocoa is filled with white chocolate chips, chocolate milk and heavy whipping cream for one rich cup of yum!!
Christmas Punch – Delicious Peppermint Christmas Punch is incredibly festive, takes minutes to make, and only has 3 ingredients!!
Mexican Hot Chocolate – Curl up with a good book, blanket, and this Mexican hot chocolate. One cozy cup of this hot chocolate and you'll be hooked with its yummy spices and delicious cinnamon cocoa flavor!
Holiday Punch – This festive and simply delicious holiday punch recipe is full of fall flavor and pizzazz! It is non-alcoholic, making it great for everyone at your holiday get together.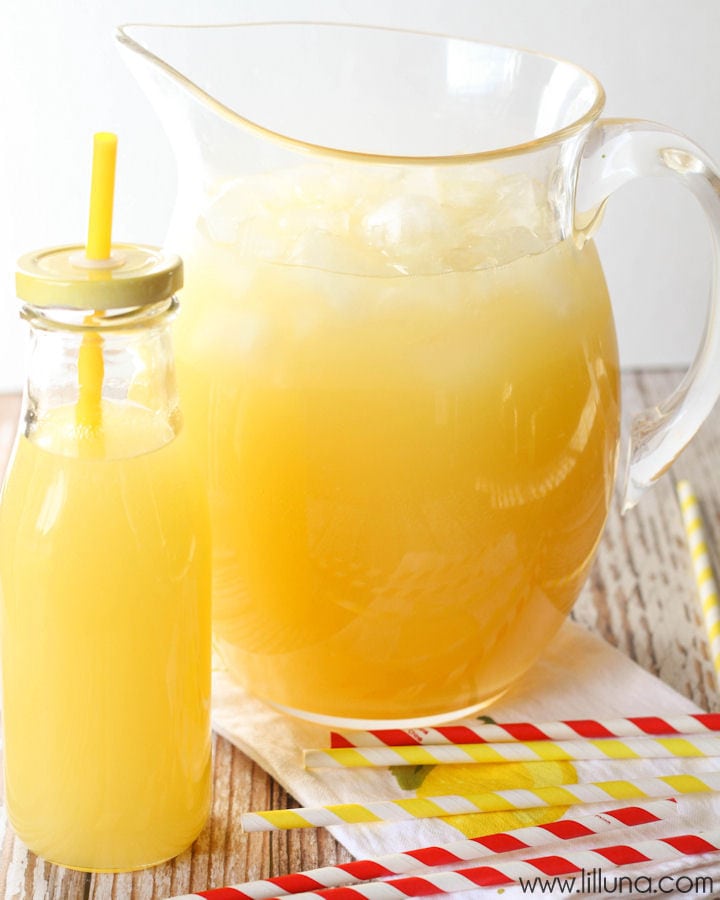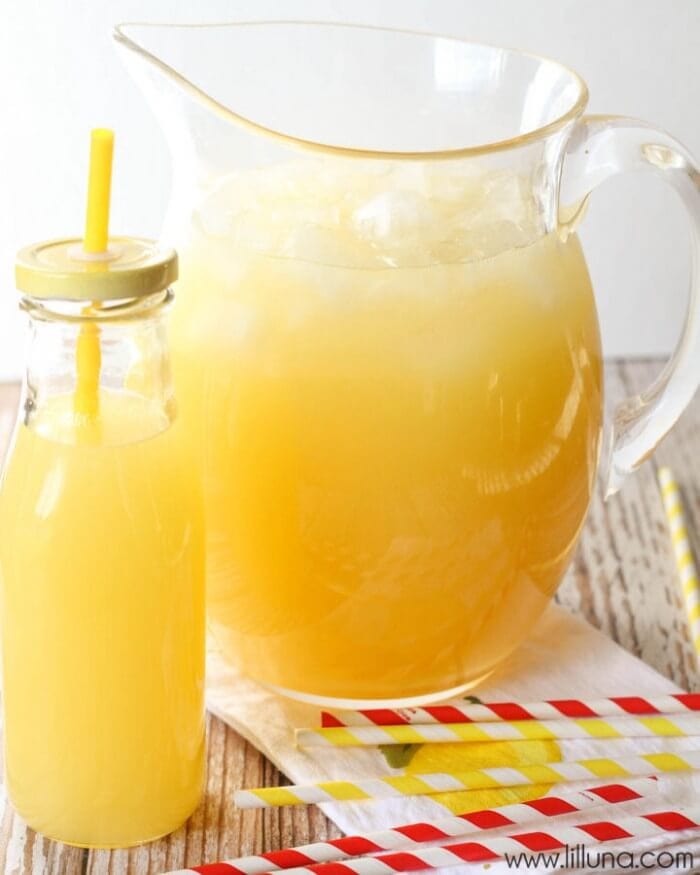 THESE RECIPES ALSO MAKE THE BEST HOLIDAY DRINKS
Fun twists and tasty flavors make these drinks the best for sharing during the holidays!
Homemade Lemonade Recipe – The best homemade lemonade recipe includes sprite and pineapple juice for an extra punch of flavor. It is deliciously refreshing!!
Caramel Apple Cider – All the best fall flavors come together in this hot Caramel Apple Cider. It tastes just like Starbuck's Caramel Apple Spice!
Patriotic Drink – This layered Patriotic drink is pure magic! It's not difficult to make, all it takes is Hawaiian Punch, blue Gatorade, and sprite zero.
Witches Brew – Fun & festive lime flavored witches brew uses only a few ingredients and takes minutes to make!! It is perfect for any party or celebration.
Horchata – A creamy, refreshing, cinnamon flavored drink that will knock your socks off with flavor! It's festive and perfect for any occasion.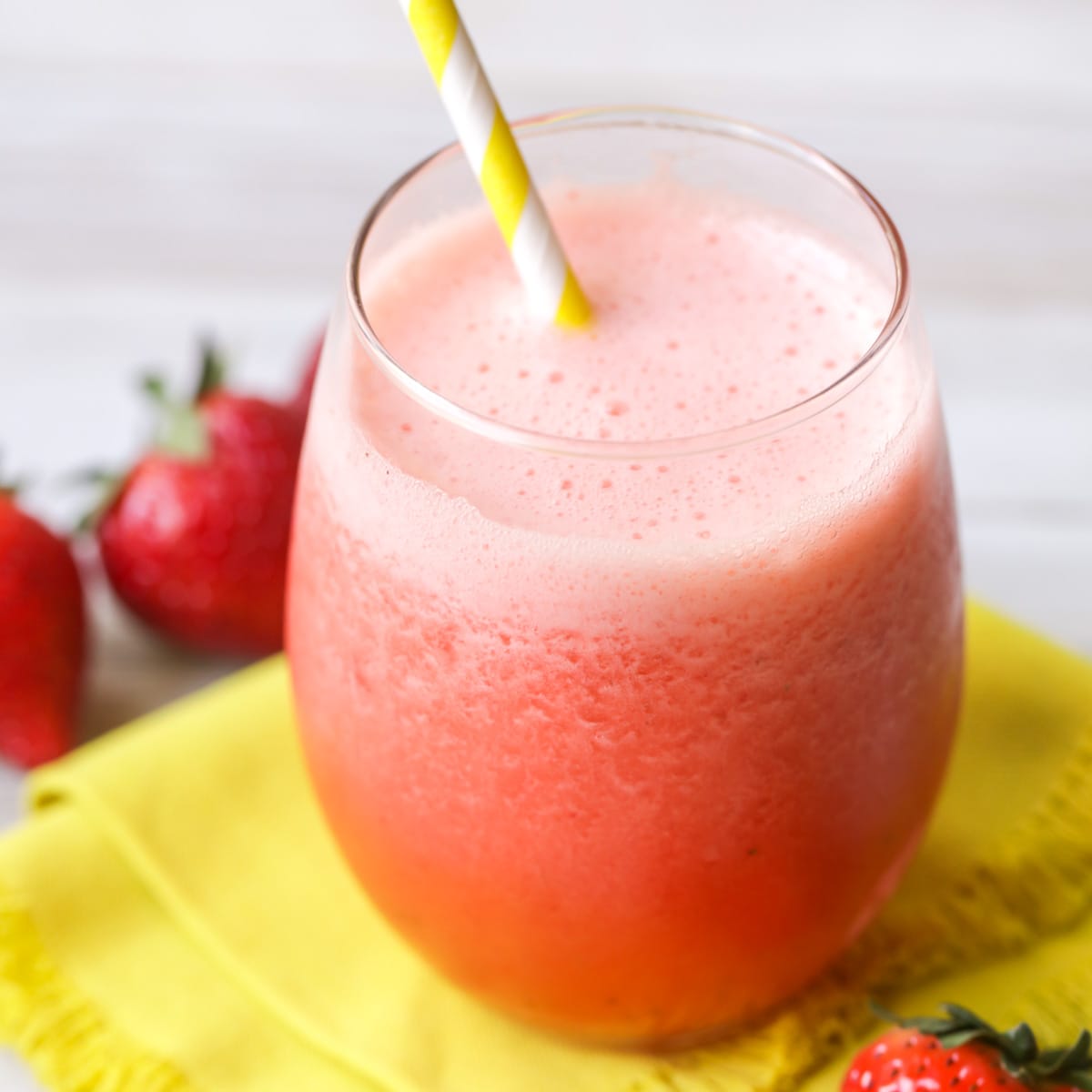 Frozen Strawberry Lemonade – Frozen Strawberry Lemonade takes minutes to make and is filled with lemonade, strawberries, ice and pineapple juice.
Boo-Nilla Ghost Milkshakes – Boo-nilla Ghost Milkshakes are delicious vanilla treats turned into adorable ghosts that are perfect for Halloween!
Peppermint Milkshake – This cool & Refreshing Peppermint Milkshake is a simple, quick and very tasty holiday treat everyone will enjoy.
Frozen Hot Chocolate – Frozen Hot Chocolate only takes 3 ingredients and a few minutes to make! Top it off with whipped cream and chocolate curls for a real treat.
Butterbeer – Butterbeer is a rich, delicious chilled drink with butterscotch flavoring. It is alcohol-free, and perfect for sharing on any occasion!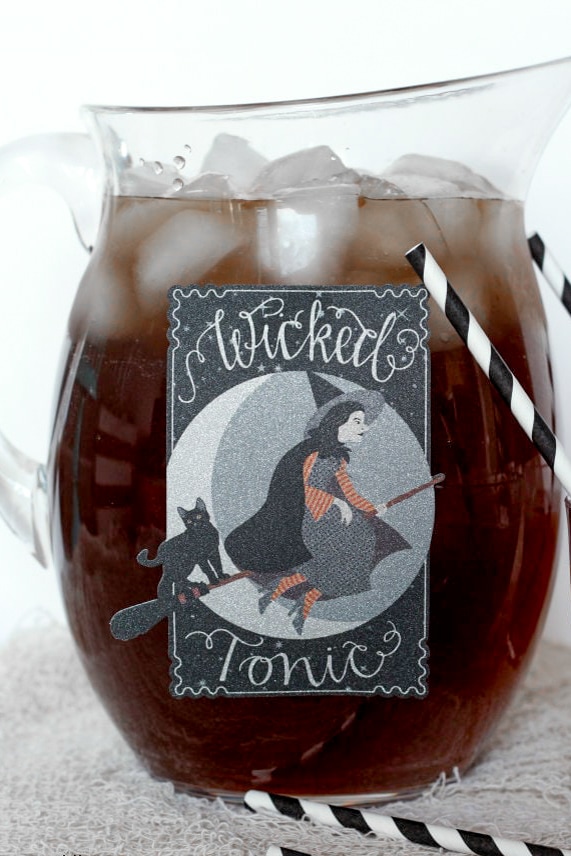 Ghoul Aid – Ghoul-Aid recipe is perfect for Halloween! Just mix and enjoy this spooky Orange & grape kool-aid concoction.
Kool Aid Ice – Kool Aid Ice drink recipe is perfectly festive for the kids to enjoy at a party or get together!
Eggnog Milkshakes – Deliciously festive Eggnog Milkshakes are a quick 5 minute holiday drink that the whole family will enjoy!
Halloween Hot Chocolate – Ghoulishly green White Chocolate Halloween Hot Cocoa is so delicious and perfect for a Halloween party or celebration!
Red Velvet Milkshake – This cupid-approved creamy, dreamy red velvet milkshake is a simply sweet treat for your Valentine. It's ready in only 5 minutes!
---
the complete list
Here are the picture cards for all of the fabulous Holiday Drink Recipes listed above.
Serving a fun drink makes each holiday even more special, and the recipes on this list are sure to be a big hit at your next get together!
---
More Collections: Summer Drinks, Winter Drinks, 4th of July Drinks