This festive and delicious Holiday Punch is full of fall flavor and pizzazz! It's a delicious cran-citrus drink that everyone can enjoy.
Holiday Punch comes together quickly, is very simple to make, but still has that wow factor. You can even make this ahead for a stress-free party, which is always a bonus. For more tasty drinks to spice up your festivities, try Wassail, Mint Julep, and Frozen Hot Chocolate.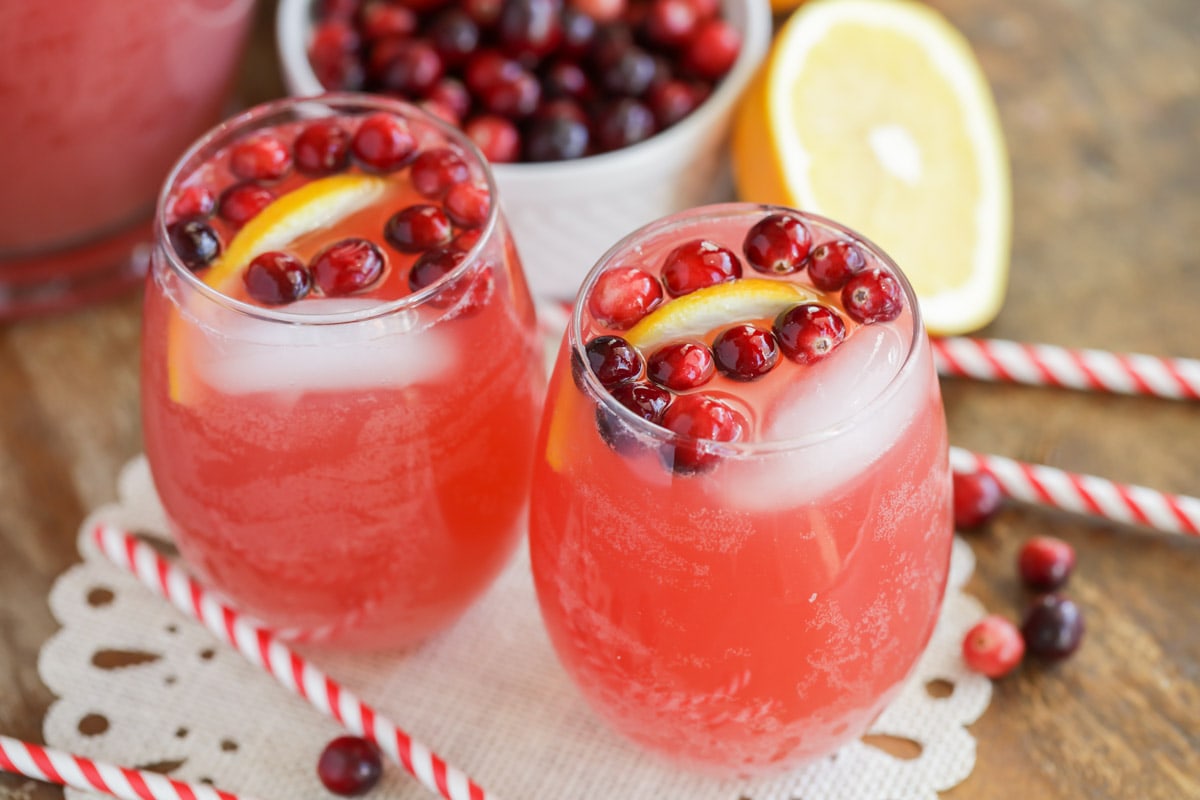 NON-alcoholic holiday punch
It's fun to have something festive to drink during special occasions. It really seems to just add to the fun!! We love to create tasty concoctions that all can enjoy together. That's where this non-alcoholic, fresh Holiday Punch comes in.
The citrus and bright flavors pair perfectly with all of that heavy food we'll be consuming during the holidays.
And how can you not love how it looks?! It's so bright and cheery. I, of course, love that it matches my tablescape décor.
I love that the base can be made ahead (even frozen), to be used later on. Right before serving add the fizz, and garnish. Voila! I love to pop in some cute straws as a finishing touch.
Whether it's for Thanksgiving or Christmas, this drink is sure to be a hit with the WHOLE crowd!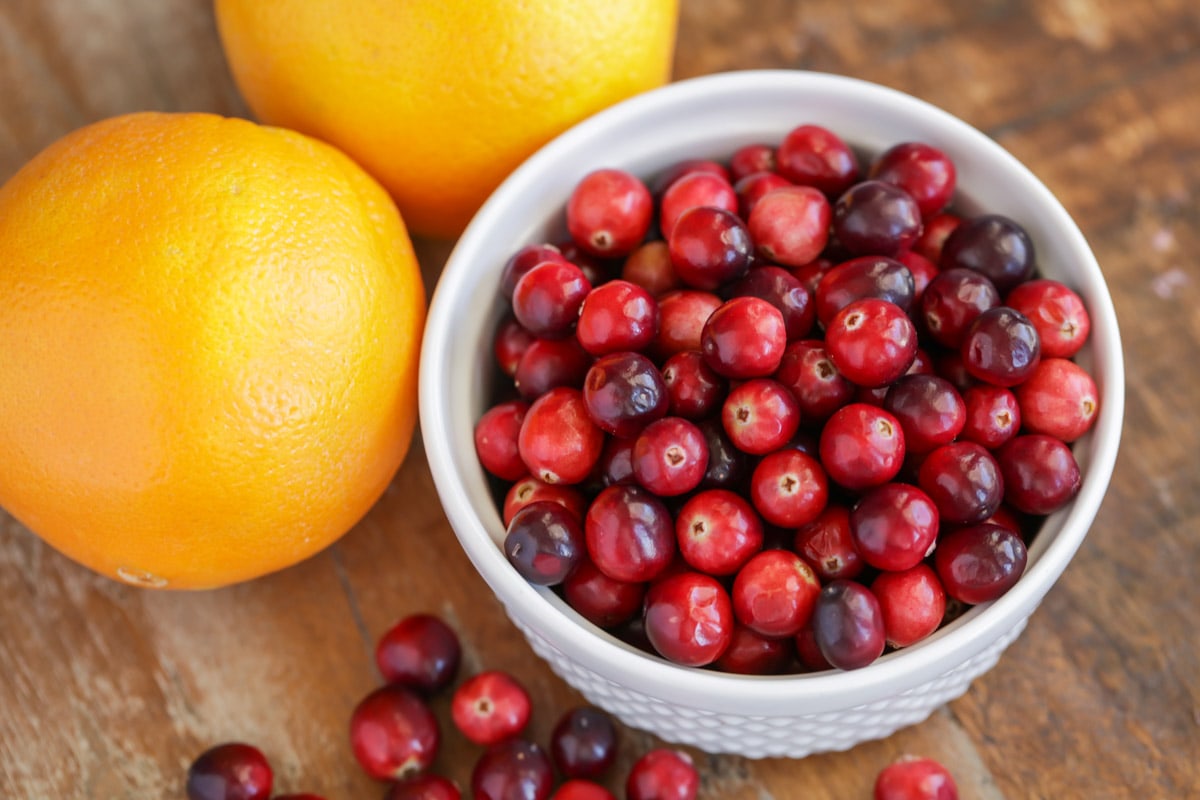 Christmas punch recipe
MIX. Pour and mix together the fresh fruit juices (cranberry juice, lemonade, and orange juice) in a large punch bowl. Refrigerate for 1-2 hours.
FINISH. Right before serving, stir in Sprite (or any lemon-lime soda), and mix. Top with fresh cranberries, orange slices, and ice.
Serve this easy Christmas punch recipe in a large drink dispenser, or festive holiday punch bowl.
Variations
Change out the lemon-lime soda for ginger ale.
Replace the tart cranberry juice with pomegranate juices.
Add a splash of pineapple juice.
Mix in raspberries.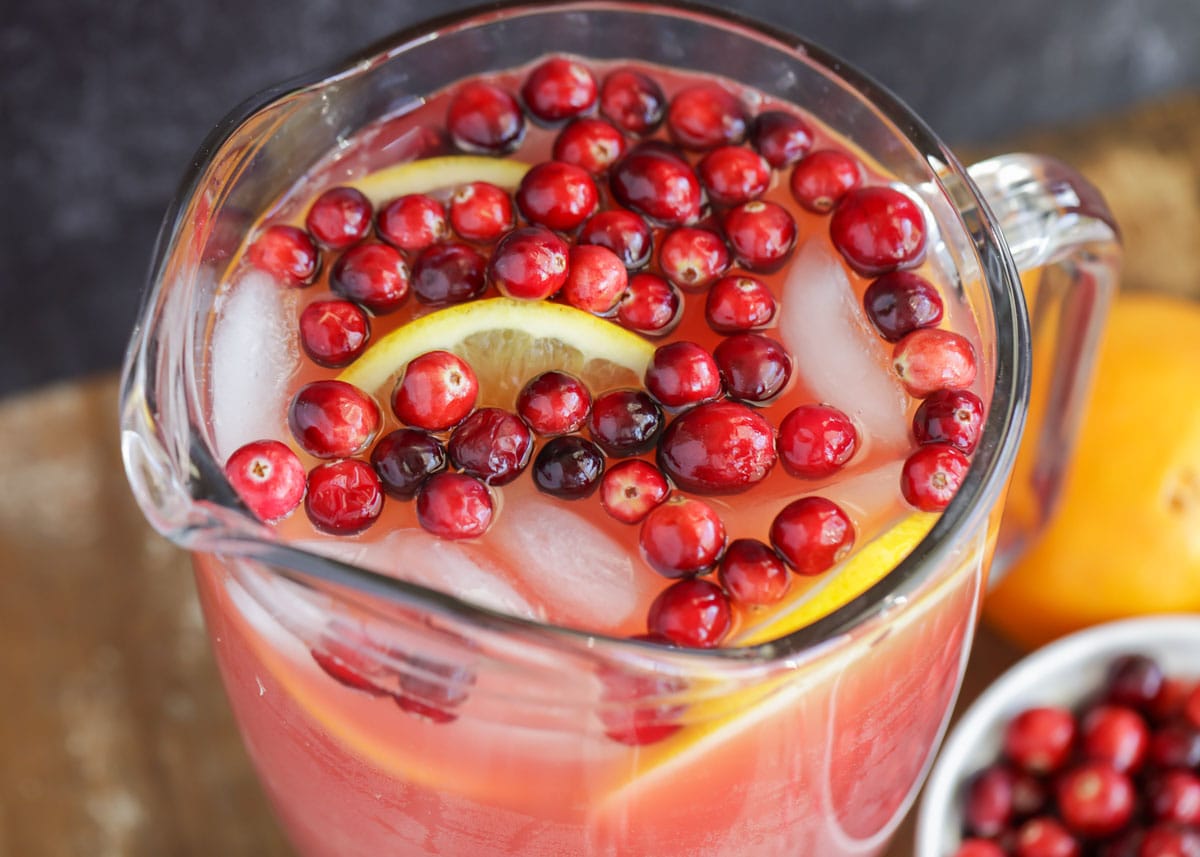 How Much to Make
Guests will typically drink 2 glasses during the first hour of a party, and another glass for every hour after. A glass of punch is usually 6-8 ounces.
If you have other beverages available, reduce the amount of punch people will drink.
If you are serving a lot of food at your party (like appetizers or a full dinner), expect your guests to drink more. Increase the punch amount by 1-2 drinks per guest.
Don't make all of the punch all at once. Have extra ingredients so that you can whip up more batches as needed. That way, if you don't happen to use it all, you won't be left with large amounts of punch.
Impress Your Guests!
There are a few easy things you can do to serve this Holiday Punch in an appealing way that will wow your guests.
Rim your glasses with sugar. I've always thought rimming a glass with sugar is super fancy. If you would like to go for this look, it's quite easy.
Pick your sugar:

plain white or coarse turbinado sugar work great. You can even use colored sugar crystals.

Pour the sugar into a bowl, or plate, that's larger than the rim of your glasses.

Moisten the rim using citrus juice. Lemon or orange juice both work.

After moistening the rim of the glass, dip it in sugar.

That's it. Easy right?
Showcase it. Since this Holiday Punch is both delicious, and visually appealing, I suggest you serve it in some sort of clear container to show off how pretty it is. A drink pitcher, punch bowl, or beverage dispenser are all great choices.
Ice ring. When you want to serve the punch out of a large bowl, making an ice ring is not only pretty, but will keep the punch cold without making it watery.
Add a few cranberries and orange slices to a Bundt pan and pour in a little of the punch.
Freeze, then add another layer of cranberries, oranges and juice.
Repeat until the bundt pan is full.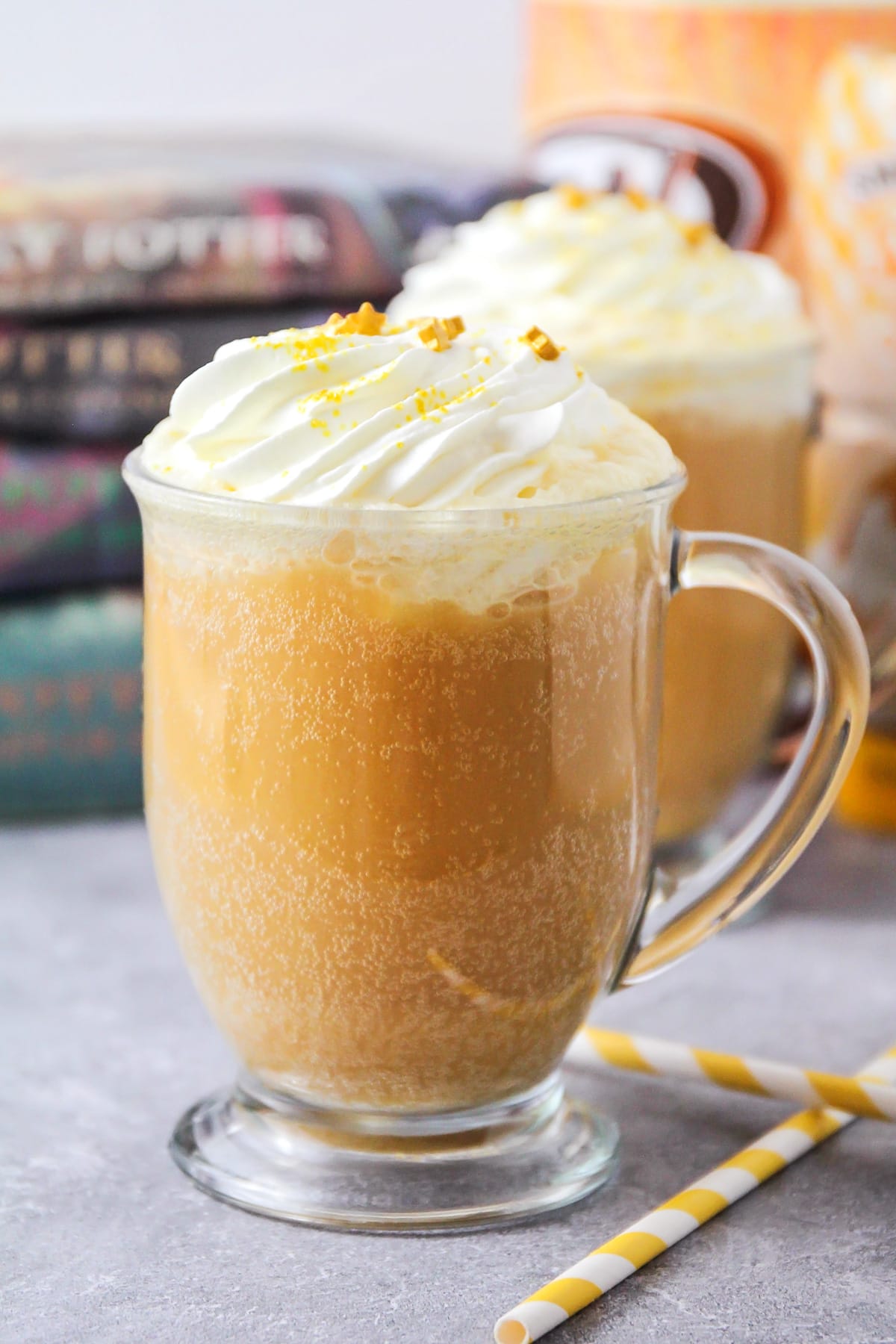 Serving + storing
Keep it cold. Chilling the soda beforehand will help keep the punch cold. However, you may want to consider freezing some of the punch into ice cubes. This will help the punch stay cold longer, and when the cubes do melt, the punch doesn't get watered down.
Another idea is to use frozen cranberries. They will also keep the punch cool without watering it down later.
STORE leftover Holiday Punch in the fridge. Due to the carbonation, this drink will eventually go flat, but not for several hours. You can still drink it for many days, but I wouldn't recommend making it days before you'll be serving it.
We love this Holiday Punch for it's ease and flavor, and think it will be great for your next holiday party!
More delicious chilled drinks:
These chilled drinks are perfect for serving with your Holiday Punch!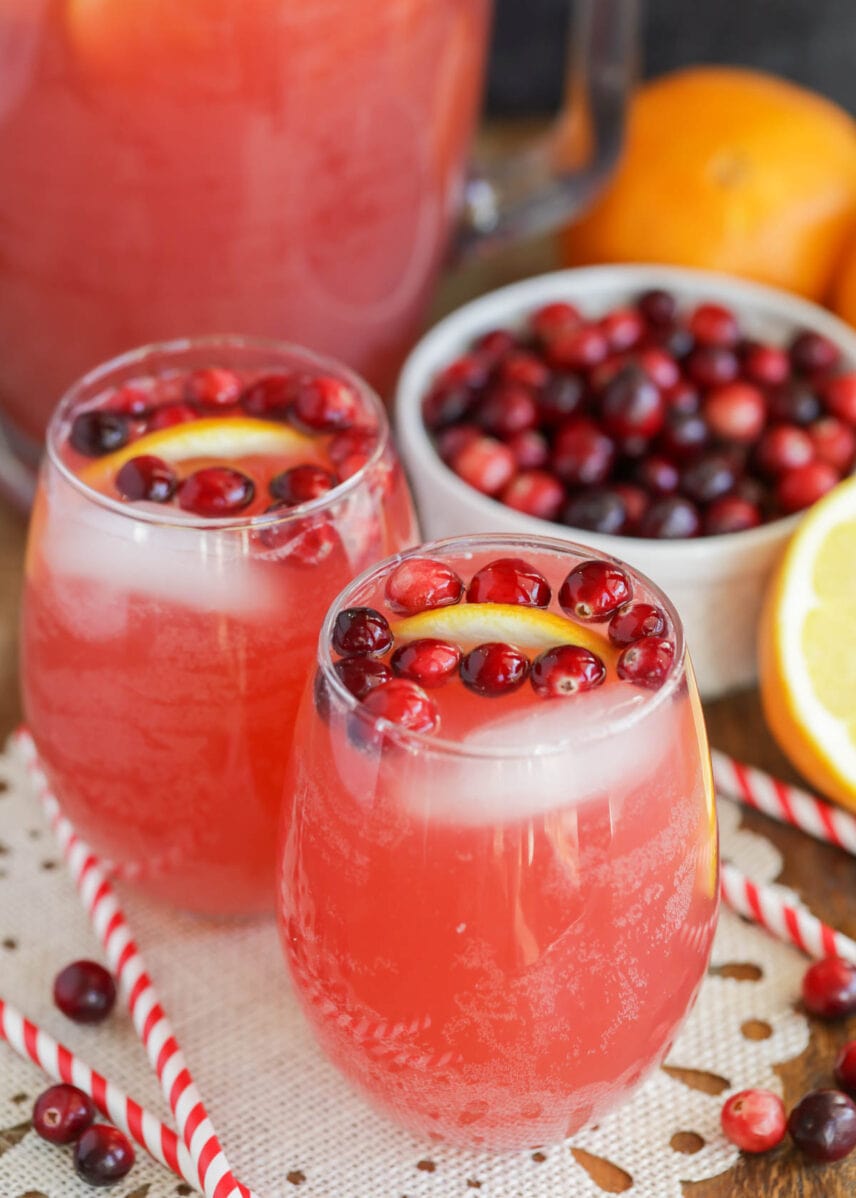 For more holiday drinks, check out:
More Collections: Non Alcoholic Drink Recipes
Holiday Punch Recipe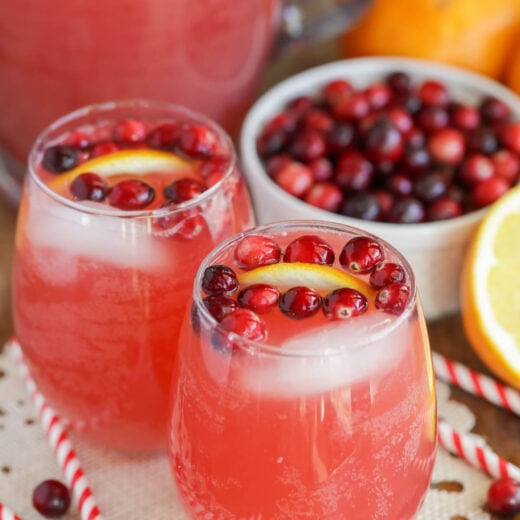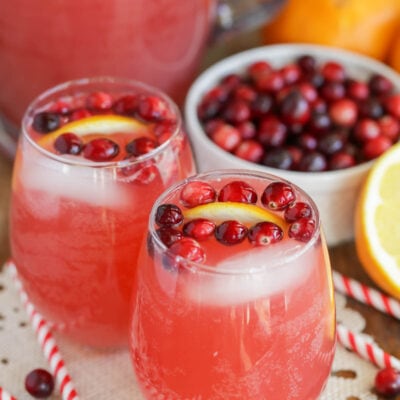 This festive and delicious Holiday Punch is full of fall flavor and pizzazz! It's a delicious cran-citrus drink that everyone can enjoy.
Ingredients
4

cups

cranberry juice

100% concentrate

8

cups

lemonade

4

cups

orange juice

1

2 liter

Sprite or 7UP

chilled

1

cup

cranberries

1

orange

sliced
Instructions
Pour and mix together the cranberry juice, lemonade, and orange juice in a large punch bowl. Refrigerate for 1-2 hours.

Right before serving, add Sprite and mix. Top with cranberries, orange slices and ice.