Every Christmas party needs an assortment of tasty appetizers. This round up includes all the best appetizers—ones that are easy to make ahead, healthy, made in the crock pot, and appetizers that are always crowd favorites!
MORE COLLECTIONS: Christmas Cookies, Christmas Desserts, Christmas Dinner, Christmas Side Dishes, Mexican Christmas Food, Italian Christmas Dinner
Best Christmas Party Appetizers
With so much entertaining that happens around the holidays, a list of go-to appetizer recipes is never a bad idea.
You can't go wrong picking appetizers that your family loves. Try to offer a mix of warm and cold, heavy and light, proteins and produce.
If you can, try to incorporate appetizers made in different ways – oven, slow cooker, instant pot, stove – so that they're easier to prepare at the same time. 😉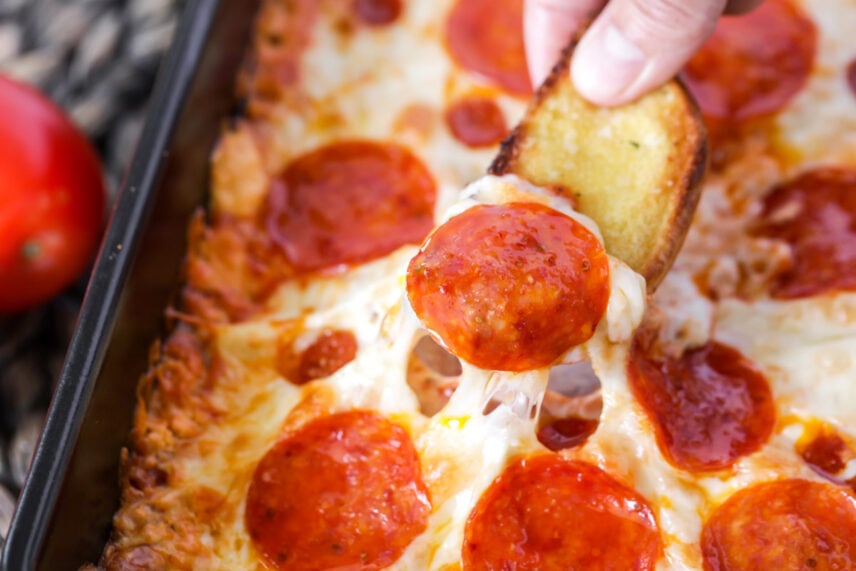 How Much + Tips
How many Appetizers to Plan For:
When serving appetizers before Christmas Dinner you will only need to plan for about 3-5 pieces per person.
When the appetizers are the main food at a Christmas Party you'll need to plan to serve about 10-12 pieces per person for a two hour party. Add about 5 more pieces per person for every hour after.
If you have fewer than 10 guests offer 2-3 different types of appetizers. If you are having more than 10 guests add another dish for every 5-8 more people.
Appetizer Tips:
Choose appetizers that are easy to make as well as ones that can be made ahead of time. Practice new recipes beforehand so you can work out any kinks.

If you're serving appetizers before dinner don't forget to include cooking and reheating time to your Cooking schedule.

Don't hesitate to ask guests to bring appetizers to help ease your to do list.

Divide the appetizers on to several plates or tiers and have them placed in various areas around the room. Include plates, napkins and utensils at each station.

If you're having one central serving area be sure to place larger and taller items, such as crock pots and tiers in the back. Place smaller and shorter items, like cutting board displays, near the front of the table.
Use holiday themed table decorations and serving dishes to dress up your table.
make ahead Christmas appetizers
I know holidays—and especially preparing for holiday gatherings—can be hectic and busy! Ease the stress by making some of your appetizers ahead of time. Any of these recipes are great options.
Homemade Hummus – If You Need A Quick Healthy Snack Or Party Appetizer, You Can Whip Up This Homemade Hummus In 5 Minutes Or Less! With Just A Few Simple Ingredients, This Delicious Hummus Is Perfect For Dipping Pita Bread, Fresh Veggies, And Tortilla Chips.
Bacon Ranch Cheese Ball – Spruce Up Your Holiday Appetizers With A Tasty Bacon Ranch Cheese Ball. Not Only Is It Easy But It's Delicious And Perfect Served With Crackers And Veggies.
Deviled Eggs – Nothing Better Than A Smooth Deviled Egg Appetizer! You'll Be Surprised With How Easy These Are To Make. Tons Of Flavor, Super Delicious And Perfect For Parties And Holidays.
Homemade Bruschetta – This Yummy Homemade Bruschetta Is Quick, Simple And Perfect For Any Party! It Takes Just 5 Ingredients And Is The Perfect Appetizer For Any Occasion.
Veggie Tortilla Roll Ups – These delicious Veggie Tortilla Roll Ups are made from a rolled tortilla filled with Ranch Veggie dip, and chopped veggies, making them the perfect bite-sized party appetizer!
Ham Salad – Creamy ham salad with hints of dill and chunks of hard-boiled eggs is a tasty appetizer perfect for using up that leftover ham!!
Fiesta Pinwheels – Fiesta pinwheels are bite-size tortilla rolls filled with a spiced cream cheese mixture. They are a party in your mouth!
Chili's Salsa – The restaurant salsa you know and love, made at home anytime you like! This Chili's Salsa copycat recipe is literally made in minutes with the help of a blender.
7 Layer Bean Dip – This Is Our Family's Favorite 7 Layer Bean Dip Recipe! It Has Loads Of Flavor And All Your Favorite Dip Ingredients Including Avocados, Olives, Tomatoes, Cheese, Guacamole And More! It's A Must-Have Appetizer At Every Family Function.
Dill Vegetable Dip – The Perfect Go-To Veggie Dip For Parties And Snacking. Use It For Vegetables, Chips, Or Whatever You Feel Like! Even If You Don't Like Dill Pickles, You'll Love This Dill Vegetable Dip.
Healthy Christmas appetizers
Most of our favorite appetizers are extra cheesy, fried, and full of calories. But that doesn't mean we don't have some favorites that are on the healthy side! These few appetizers are lighter, full of veggies, and lower in calories like this festive Christmas Tree Veggie Platter.
Veggie Cup Appetizers – Veggie Cup Appetizers – Perfect For Parties And After School Snacks For The Kids! This Mess Free Concoction Is Great For So Many Occasions!
Baked Chicken Wings – Deliciously Crispy Baked Chicken Wings Have Endless Possibilities. Bake In The Oven, And Dip In Your Favorite Sauces!
Veggie Christmas Tree – This Veggie Christmas Tree is sure to be a show stopper! It is tasty, impressive, and oh so festive.
Buffalo Cauliflower Bites – Make these buffalo cauliflower bites for your next party! No one will even notice they are healthier or even made with cauliflower. They're our new go-to appetizer!
Caprese Kabobs – Simple, quick and delicious Caprese Kabobs take minutes to throw together and are perfect for any party or get together.
Fruit Kabobs – Colorful Fruit Kabobs Are The Best Appetizer Or Side For Any Occasion! Load Up Your Favorite Fruits And Get Snacking.
Baked Zucchini Fries – These baked zucchini sticks are crusted and baked in Panko, parmesan cheese, oregano, and basil. Zucchini fries are healthy AND delicious!
Strawberry Salsa – You Can't Go Wrong With This Sweet And Spicy Strawberry Salsa! The Flavors Are So Unique. You Can Serve As An Appetizer, Or With Fish, Tacos, Or Any Mexican Dish.
Charcuterie Board – We all love to graze during holidays and parties, and what better way to do it than with a Charcuterie board?! Customize with all your favorite meats, cheeses, crackers, veggies, fruits and dips!
Lunch Kabobs – Kid-friendly lunch kabobs are filled with savory meats and fresh veggies. They're perfect for parties, BBQs, Lunches and more!
easy christmas appetizers
Some of these recipes are traditionally made in the oven or on the stove top, but they can also be made in the crock pot.
You might have to scroll through the individual post to find the slow cooker instructions, but they're there!
Thank goodness for crock pots and not having to be entirely hands on with a recipe!
Grape Jelly Meatballs – Delicious 3-Ingredient Grape Jelly Meatballs. They Take Just Minutes To Prep And Are The Perfect Dinner Or Appetizer For Any Party Or Get Together.
Buffalo Chicken Dip – All The Flavor Of Buffalo Wings In A Creamy, Cheesy, Simple Dip! This Super Easy Buffalo Chicken Dip Is Filled With Chicken, Buffalo Sauce, Ranch, And Three Different Types Of Cheese! It's Perfect For Parties And Get Togethers, Served With Chips Or Veggies.
Bacon Wrapped Smokies – Bacon Wrapped Little Smokies Sprinkled With Brown Sugar, And Baked To Perfection. These Bacon Wrapped Weenies Are The Ultimate Appetizer For Any Party, And Always The First To Disappear!
Hamburger Dip – A cheesy, hearty dip made with only 4 ingredients—this Savory Hamburger dip is always a hit at parties.
Crock Pot Meatballs – One Of The Easiest And Tastiest Meatball Recipes You'll Ever Try! These Crockpot Meatballs Are Full Of So Much Flavor, And Perfect For Parties. Best Of All, They Only Require 5 Minutes Of Prep Work!
Spinach Artichoke Dip – This Is The BEST Spinach Artichoke Dip Recipe, And The Ultimate Dip For Any Get Together! Filled With Spinach, Artichoke Hearts, Cheese, Sour Cream, Cream Cheese, And Mayo – This Dip Is Sooo Cheesy And Perfect For Any Gathering!
Puff Pastry Wrapped Asparagus Rolls – Asparagus Rolls Wrapped In Puff Pastry, Filled With Cream Cheese And Topped With Parmesan. So Simple And Delicious, It's The Perfect Side For Any Meal.
Sausage Balls – Sausage Balls Are Cheesy, Savory, And Delish. It Only Takes 5 Ingredients To Make This Savory Appetizer!
Cheese Fondue – This cheese fondue is gooey perfection made in literally minutes. It's a showstopper dip to share, or not!
Jalapeño Popper Dip – Jalapeño Popper Dip Is Packed With 4 Kinds Of Cheese, Just Enough Spicy Jalapeños To Give It A Kick, And A Golden Crispy Topping. This Dip Is Sure To Be A Hit At Your Next Party!
more Christmas appetizer ideas
These recipes are all appetizers that are long standing favorites. We've made them for all kinds of holidays, game days, parties, and get togethers, and every time they are winners. Rest assured, your guests will enjoy these appetizers at your Christmas party.
Fried Mac & Cheese – This copycat version of Cheesecake Factory's Fried Mac and Cheese appetizer is to die for! It's made of creamy mac and cheese inside a delicious and crispy breading.
Bacon Wrapped Potatoes – Bacon Wrapped Potatoes are a delicious appetizer combing two favorite ingredients – bacon and potatoes. Just add your favorite dip!!
Fried Zucchini – Whether You Serve It As A Side Or An Appetizer, This Restaurant Style Fried Zucchini Is A Family Favorite. Fried To Perfection, This Dish Is Simply Addicting, Especially Dipped In Ranch And Marinara!
Spinach Puffs – Buttery spinach puffs are cheesy and savory with pops of bacon. As you can imagine, they are a hit at parties!
Cranberry Brie Bites – These Yummy Little Cranberry Brie Bites Are Perfect For Holiday Entertaining, And Simple To Make. With Buttery Crescent Dough, Melty Brie, And Sweet Cranberry Sauce All In One Bite, They Won't Last Long Around Hungry Family And Friends!
Deep Fried Pickles – Deep Fried Pickles Are Crunchy, Flavorful, And SO Tasty! These Pickle Slices Are Breaded And Fried To Perfection, Making Them A Crowd-Favorite Party Appetizer!
Jalapeño Poppers – Spicy Fried Jalapeño Poppers Are A Classic Appetizer That Everyone Wants! Bite Into These Cheesy Poppers For A Flavor Explosion!
Baked Brie Puff Pastry – Buttery & Flaky Baked Brie Puff Pastry is cheesy with a pop of bright apricot jam. It is fancy and delicious!
Mozzarella Bites – Fried Mozzarella Bites Are Delicious, Easy And The Perfect Party Appetizer When Served With Marinara. Everyone Loves This Bite-Sized Snack!
French Onion Dip – French Onion Dip Is Tangy And Savory. It Requires Only Two Ingredients And Is Made In Under A Minute Making It The Perfect Chip Dip!
MORE COLLECTIONS: Christmas Cookies, Christmas Desserts, Christmas Dinner, Christmas Side Dishes, Mexican Christmas Food, Italian Christmas Dinner
---
Be sure to check out this go-to Christmas Appetizer – a Christmas Veggie Tray.
It's quick, simple and a hit at any holiday functions.
Serve it up with:
THE COMPLETE LIST
Here are the picture cards of ALL the Christmas Appetizer Recipes listed above.
Hopefully this list helps you as you decide which desserts to make this holiday season!