This pull apart bread is a favorite appetizer. With cheese, butter and seasonings, there is cheesy, delicious goodness in every bite!
Pull Apart Bread makes such a perfect party pleasing appetizer. Southwest Egg Rolls, Bacon Wrapped Smokies, and Sausage Balls are also sure to be a hit!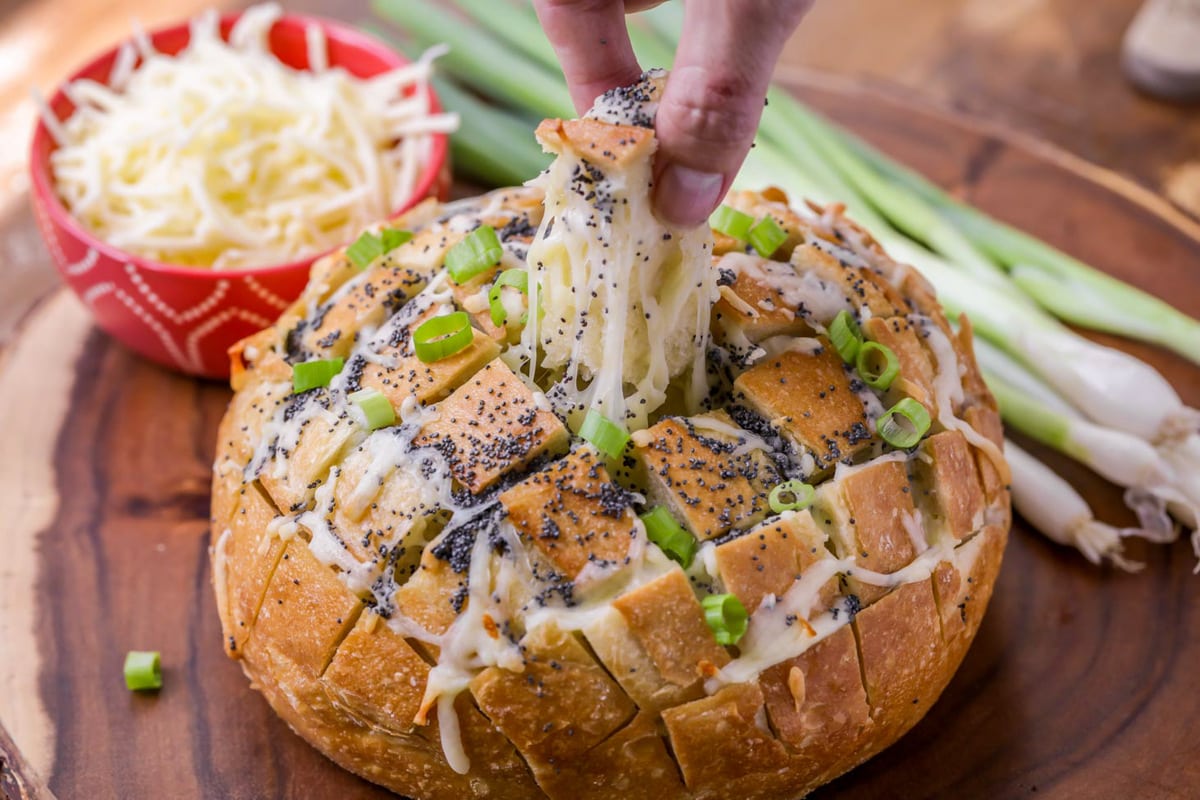 Cheesy Pull Apart Bread
In need of an appetizer that will feed a crowd? Something really delicious, can be eaten with hands, and is easy to whip up? THIS cheesy pull apart bread is your answer!! Look at all that ooey gooey cheese in every piece of bread. It's bound to be a huge hit with all of the party guests. Both kids and adults will love this recipe.
One of the best things about this pull apart bread is that you don't need a big platter to serve it on. All of the ingredients are in the bread loaf and stay in the bread loaf. Then everyone just pulls apart pieces of it to snack on.
The Monterey jack cheese is the perfect cheese for this cheesy bread appetizer. It's flavor is mild but super tasty and it melts really well. You'll definitely want melty cheesy for this bread.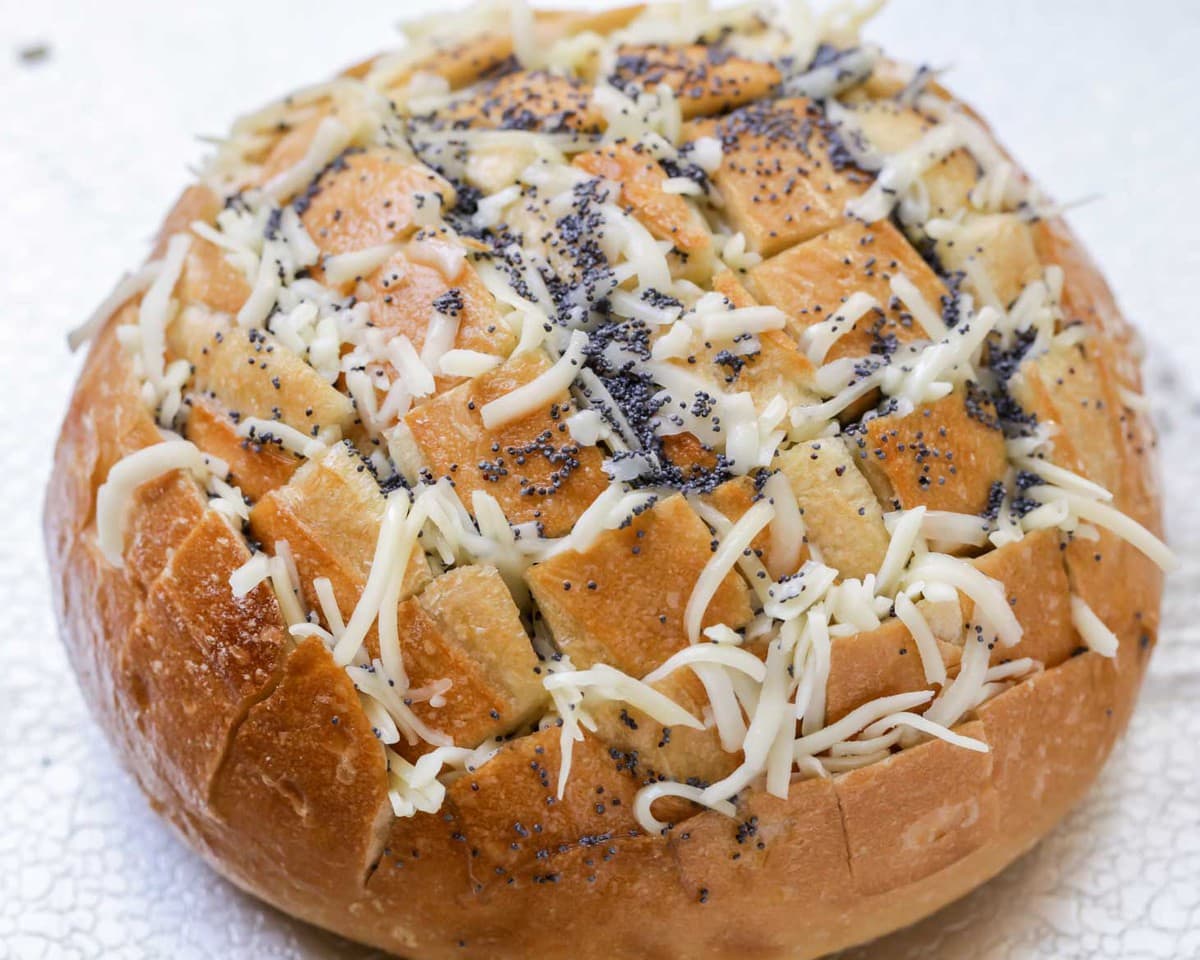 How to make Pull Apart Bread
CUT. Cutting the bread is the hardest part of this recipe… and it's not even hard. Just take a bread cutting knife and cut 1 inch slices width wise in the loaf. Make sure you don't cut through the bottom of the loaf! Stop cutting when you're about 1 inch to the bottom. Repeat the 1 inch cuts in the opposite direction. That's it!
You've prepped your bread and it's ready to be loaded with all the cheese and other yummy ingredients.
TOPPINGS. Once the bread is cut, shred the Monterey jack cheese and stuff it into every nook and cranny in the bread cuts. Make sure to get it everywhere so that the bread is cheesy throughout! Mix the melted butter and poppy seeds and drizzle it all over the bread and cheese.
PREP. Preheat your oven to 350 degrees and grab a baking sheet for the bread. Place the cheesy bread onto the baking sheet. Before you stick it in the oven, make a loose tent out of foil and place it over the bread. This will prevent the bread from over-browning or burning. But it will keep all of the heat in which makes the cheese melt nicely. Bake the bread for about 15 minutes.
BAKE. After 15 minutes of baking, remove the foil and bake for an additional 10 minutes. Once the cheese is melted, take out of the oven and garnish with the green onion!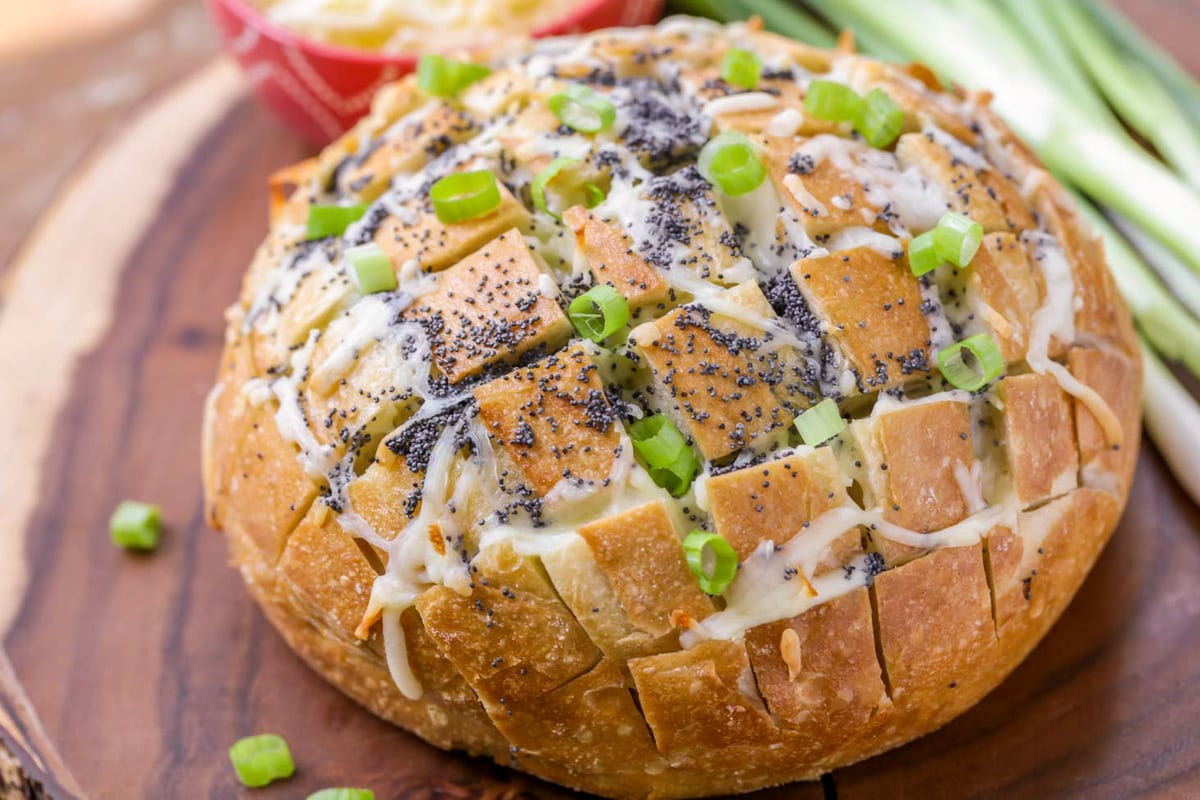 Tips, Variations + SToring Info
The best bread to use is a round, crusty sourdough bread or another dense bread. You could also use a plain, crusty baguette in a pinch.
Substitute mozzarella for the Monterey Jack cheese.
If you are bringing this to a party it is best to assemble it at home and bake it once you get there so it will be warm out of the oven. It could also be reheated for 2 min in the microwave if needed.
Variations:
There are many different kinds of pull apart bread flavors you can make. Try any of these flavors with your favorite ingredients! The cinnamon roll flavor sounds amazing.
Buffalo – fill with mozzarella cheese/bleu cheese, buffalo sauce and parsley
Pizza – fill with mozzarella cheese, pizza seasoning and mini pepperonis
Cinnamon Roll – fill with cream cheese frosting, cinnamon and sugar
Breakfast – fill with cheddar cheese, bacon/sausage, green onions
If you're prepping for your next get together and want to make this bread in advance – we've gotcha! Start a few hours before you are planning to serve it. Just cut the bread, stuff with the ingredients, and wrap it up tightly in plastic wrap or aluminum foil. Keep it in the fridge until you have time to bake it before serving.
STORE wrapped up in the fridge. When you are ready to reheat, wrap them in foil and warm them up in the oven for 8-10 min at 350 degrees. This will keep the bread soft and re-melt the cheese. Or pop them in the microwave for 2 min or so until the cheese is warm and melty. This recipe will store well in the fridge for up to 3 days.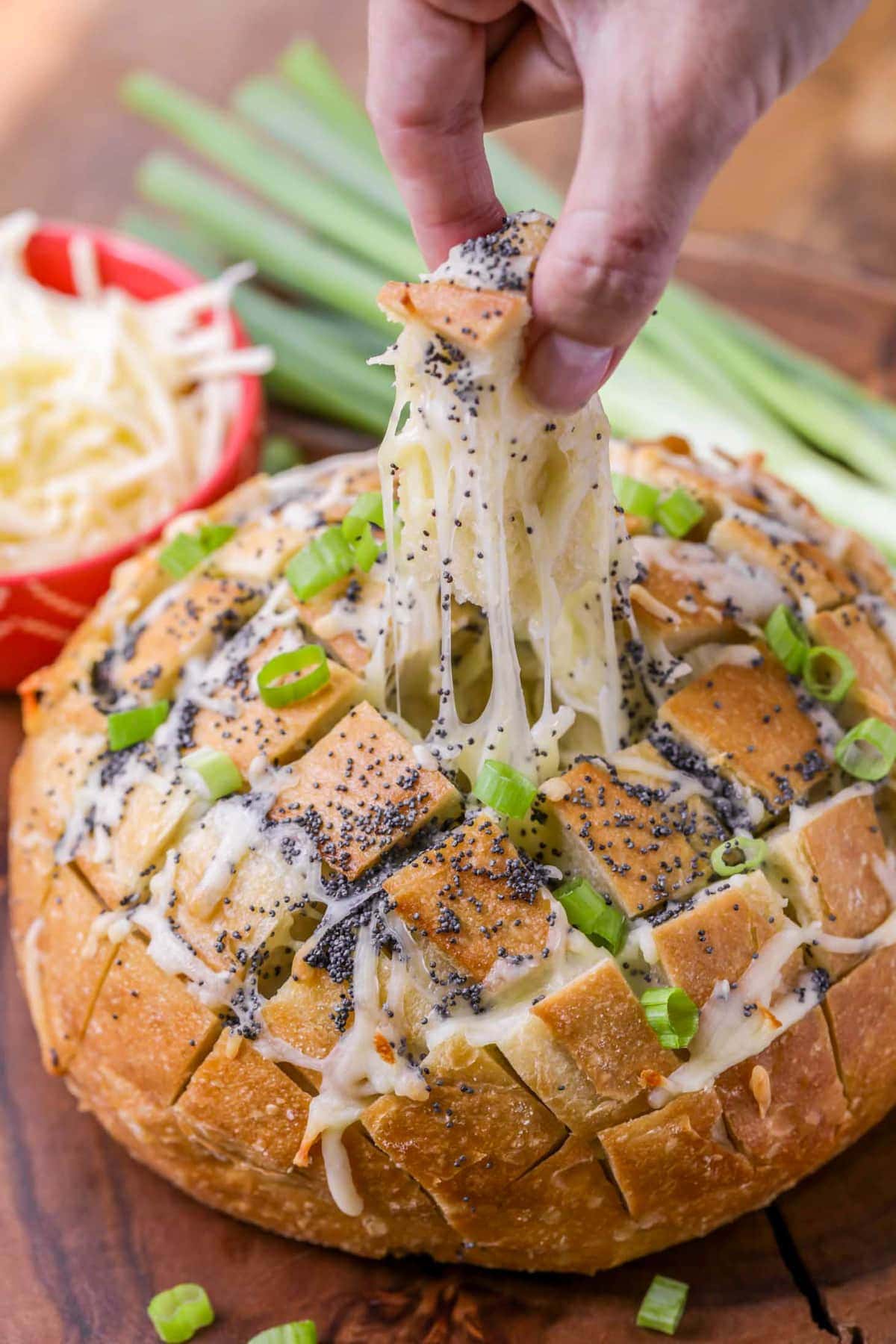 For more great bread appetizers, check out:
Pull Apart Bread Recipe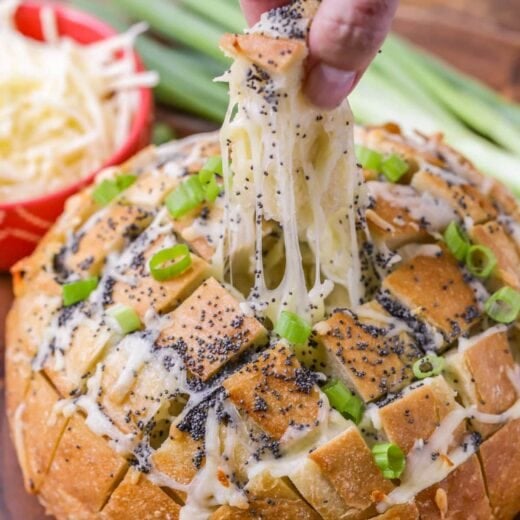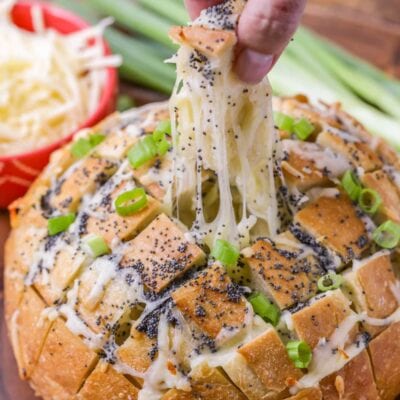 This pull apart bread is a favorite appetizer. With cheese, butter and seasonings, there is cheesy, delicious goodness in every bite!
Ingredients
1

lb

round sourdough loaf

unsliced

1

lb

Monterey Jack cheese

1/2

cup

butter

melted

2-3

tsp

poppy seeds

1/2

cup

green onions

chopped
Instructions
Cut bread width wise into 1-in. slices, 1 inch from the bottom of loaf. Repeat cuts in opposite direction. Place Monterey Jack cheese in cuts.

Mix melted butter and poppy seeds and drizzle over bread.

Tent foil over bread and place on a baking sheet. Bake at 350 for 15 minutes. Remove foil and bake a additional 10 minutes, until cheese is melted. Garnish with green onions.