YOU GUYS!
I'm skipping the pleasantries because I am soooo excited to share this amazing recipe with you today. The beauty about Tried and True is that we put so much work into all the recipes we try, and we truly do not share the ones that are just so-so. We want you to have the BEST of the BEST. Well, today's is just that! I absolutely loooved this buffalo chicken pull-apart bread. It was bursting with buffalo flavor and I just couldn't stop at one slice (seriously sooo good)! We usually use butter to tame the spice in the buffalo sauce, but feel free to skip that step if you like things a little bit more spicy. Next time we're going to try barbecue chicken pull-apart bread. Doesn't that sound delicious? If you are a fun of all things buffalo tasting, then you must try this recipe. The bread itself is really good and super soft, so add all the flavor and it's darn right addicting!! 😀
Like we mentioned, we want to try another version of this soon but the possibilities are endless. You'll have to let us know what you think of this Buffalo Chicken Pull Apart Bread, because we loved it.
MY OTHER RECIPES
Here is the printable recipe:

Buffalo Pull Apart Bread
Ingredients
Dough
½ cup warm water
½ tsp honey
½ package dry active yeast
1¼ cups all-purpose flour
½ TB extra-virgin olive oil
½ tsp salt
Filling
1 chicken breast, cooked and shredded
2 TB butter
¼ cup buffalo sauce
½ cup bleu cheese crumbles
1 TB butter
2 tsp minced garlic
Instructions
Split dough into two. Roll out onto a floured working surface. Trim ends for two clean 4 x 16" rectangles.
Brush dough with buffalo sauce and top with shredded chicken then crumbled blue cheese. You may use more or less than the suggested amounts, based on your liking. Cut in 3" pieces
Using a greased 9" pan, carefully stack each piece on top of each other, by tilting the pan and adding one piece at a time. The last should be stacked so the raw edge is lined up against the pan.
Bake at 350 for 15 minutes.
While baking, melt your butter and mix in the minced garlic.
After 15 minutes of baking, pull out and brush the top with garlic butter. Bake for an additional 18-20 minutes.
Sprinkle with cilantro and serve warm.
Adapted from Bev Cooks.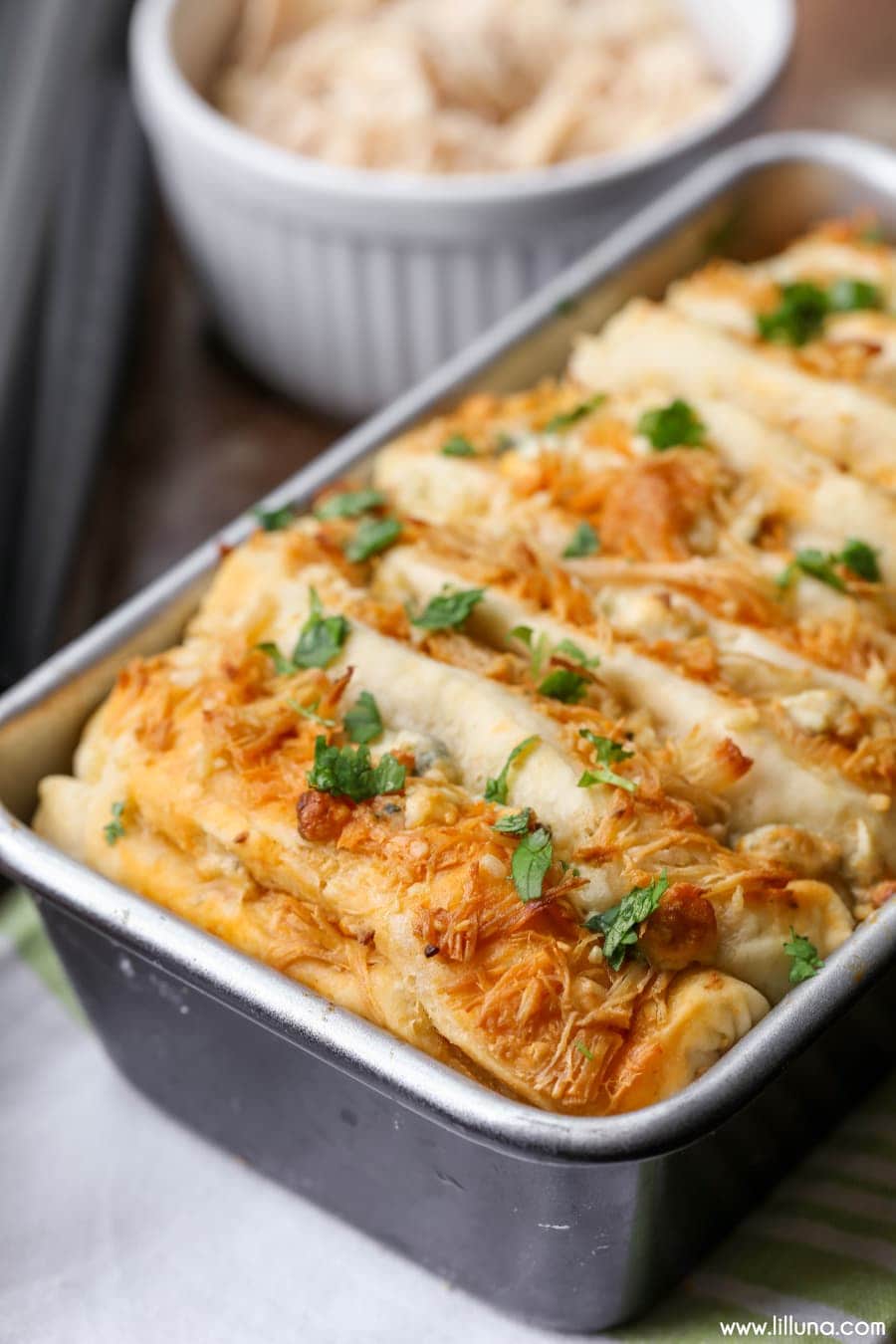 DIFFICULTY: Easy
HOW MANY DOES IT FEED: 8
ANY CHANGES MADE: we used a 9″ pan
ANY SUGGESTIONS FOR NEXT TIME: next time we're going to try bbq sauce in place of buffalo. Yum!
If you need more recipes to satisfy your buffalo chicken cravings, here are some favorites!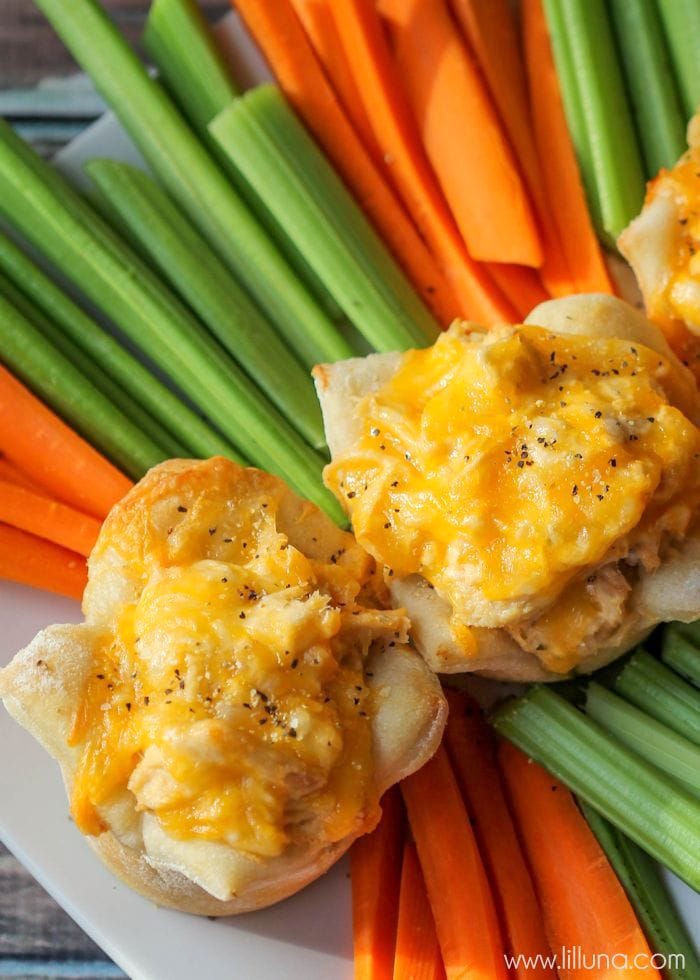 For all Appetizer recipes go HERE.
For all Side Dishes go HERE.
For even more great ideas follow Kristyn on Facebook – Pinterest – Instagram – Twitter – Periscope.
ENJOY!