Crispy tender chicken wings tossed in the most wonderful buffalo sauce! The best party appetizer for a crowd or party!
It's a go-to appetizer for party, and these classic buffalo wings are always a hit! Serve them up with homemade ranch and watch them disappear in seconds. Be sure to check out our boneless version too!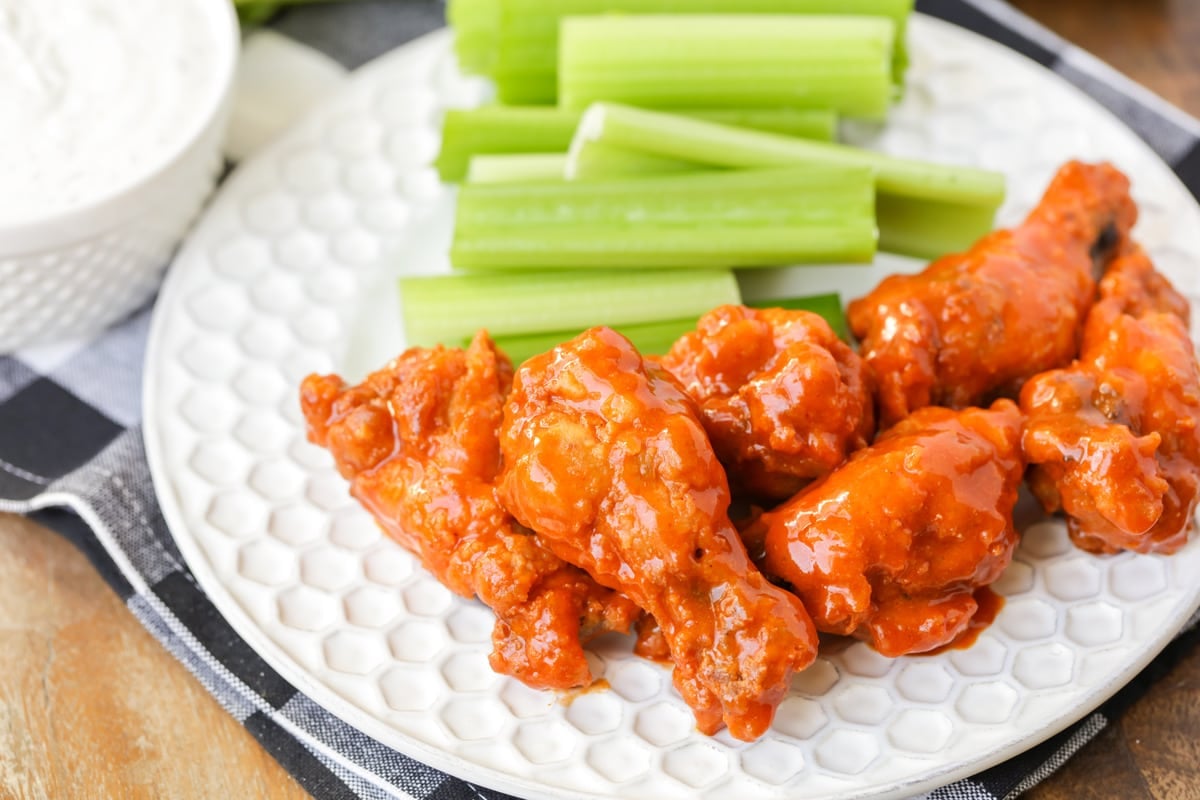 Classic appetizer
Everyone loves a classic hot wings appetizer. They are a total crowd pleaser. We love to make a big plate of these when friends or family are coming over for parties and get together.
We also love to make these boneless buffalo wings for a quick dinner or appetizer (for a different flavor, try these boneless honey BBQ wings). But we all know that Classic Buffalo Wings are everyone's favorite!
Have you ever wondered why they call them "buffalo" wings?
The buffalo name comes from where they originated – a restaurant in Buffalo, New York. And can we talk about the sauce for a minute? It's spicy, tangy, and just SO good. The sauce is what makes these wings irresistible!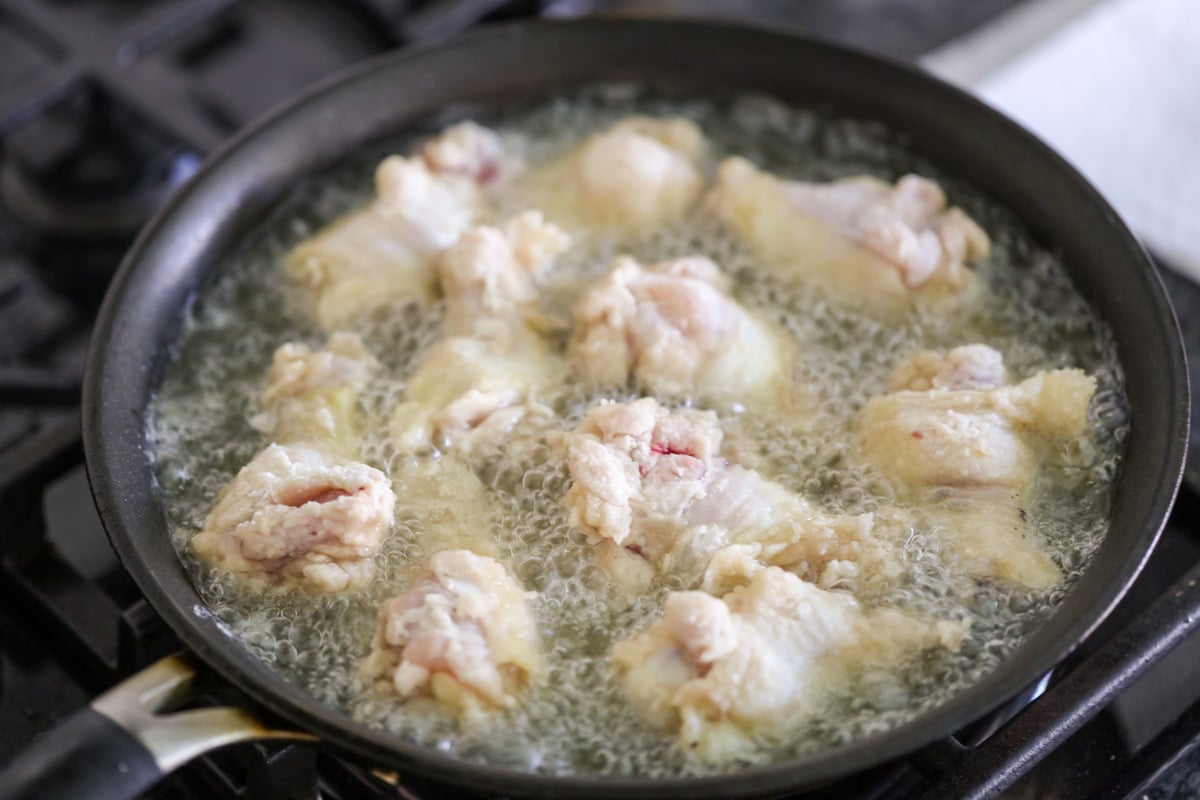 How to Make Hot Wings:
This recipe is all about how to fry hot wings. If you prefer a baked version, make sure to try our baked buffalo wings baked buffalo wings—equally delicious!
OIL. Get that oil hot a ready. Add the oil to a heavy pot and fill to about 2-3 inches high and heat the oil on medium high heat. While the oil is heating up, get your chicken ready to be fried.
DREDGE. Coat (dredge) all of the wings in the flour, making sure to shake off any excess.
FRY. Add the chicken to the hot oil and cook for about 5-7 minutes until golden brown. Transfer the cooked chicken to a paper towel to drain and dry.
SAUCE. Now for the buffalo hot sauce. Heat up the hot sauce and butter in a saucepan. Add in the Worcestershire sauce and mix everything to combine. Toss the cooked chicken wings in the sauce. Make sure they are completely coated in the sauce!
Serve warm with ranch and your other favorite dipping sauces. ENJOY!!
Hot wings tips:
Want super crispy wings? Make sure to cook them until they are golden brown. Don't skip the part of letting them drain on the paper towel. The paper towel will help suck up all the extra moisture.
Make sure to cook the chicken wings in batches. Don't crowd the pot of oil. Cook a few at a time- or however many you are comfortable with.
Serve these warm!! Nothing better than a fresh hot spicy chicken wing.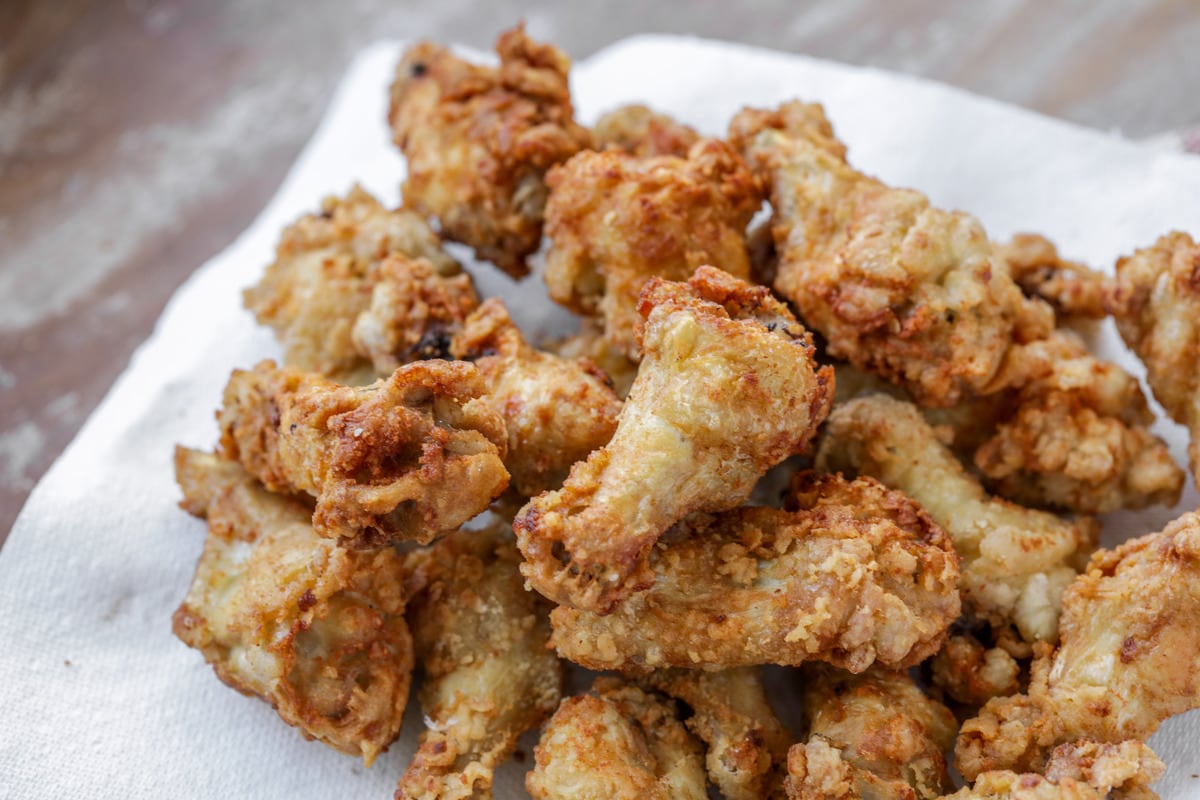 Storing, reheating + Serving
How to store hot wings? You can store leftover chicken wings in an airtight container in the fridge for up to 4 days. But really these are best fresh right after cooking!
How to reheat buffalo wings? Reheat them in the a preheated 350 degree oven for about 10 minutes.
What to serve with wings? Ranch dressing is the only way to go with these spicy buffalo wings. It's SO easy to make and tastes way better than store bought- I promise! The cool creamy ranch with the hot and spicy chicken wings is such a great combination.
I also like to serve slices of celery and carrots on the side. It gives a nice crunchy and healthy side dish to the buffalo wings.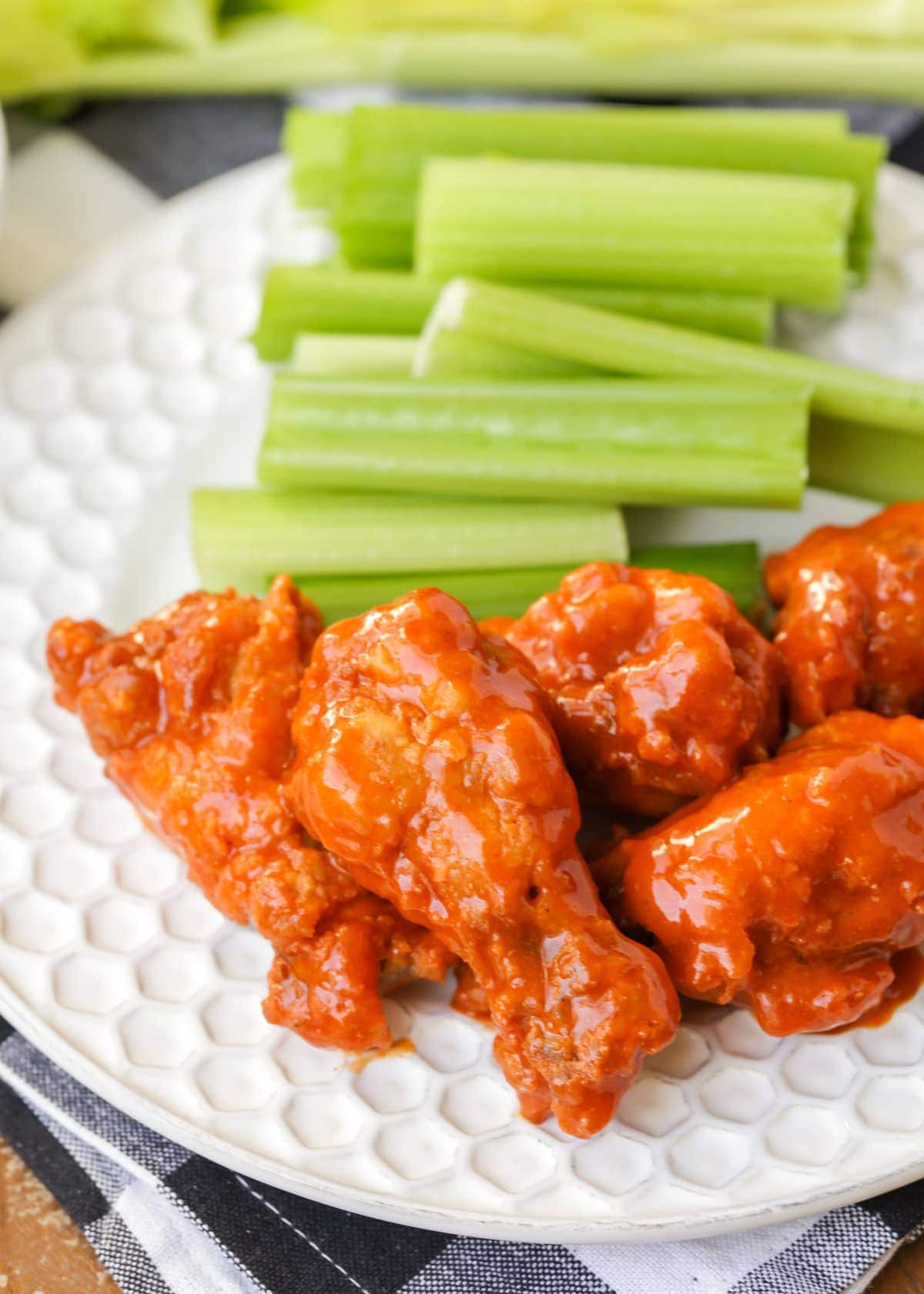 We sure love this classic dish. It's a hit anywhere and although they may be messy, they are so worth it!
For more wing recipes, check out:
Delicious Appetizers:
Buffalo Wings Recipe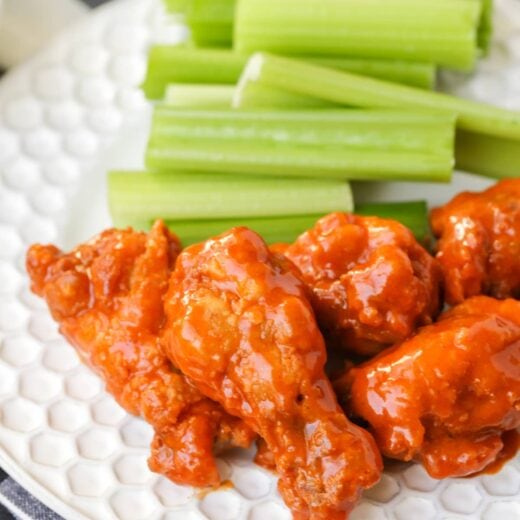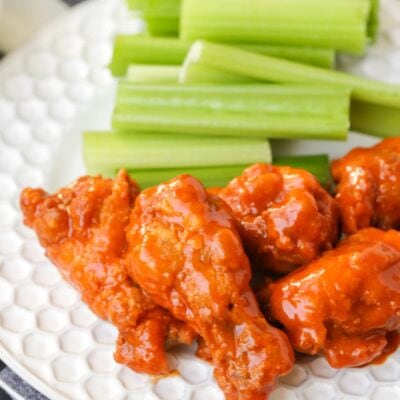 Crispy tender chicken wings tossed in the most wonderful buffalo sauce! The best party appetizer for a crowd!
Ingredients
vegetable oil

for frying

24

chicken wings

1

cup

all-purpose flour

12

oz

hot sauce

1/2

cup

butter

1

tbsp

Worcestershire sauce
Instructions
Add oil to a heavy pot and fill to about 2-3 inches high and heat on Medium High Heat.

While oil is heating, dredge wings in flour.

Add chicken to hot oil and cook until golden brown (about 5-7 minutes). Drain on paper towels.

While frying wings, also heat hot sauce and butter in a saucepan along with the Worcestershire sauce.

Toss fried wings in sauce, making sure to coat. Serve warm with Ranch.