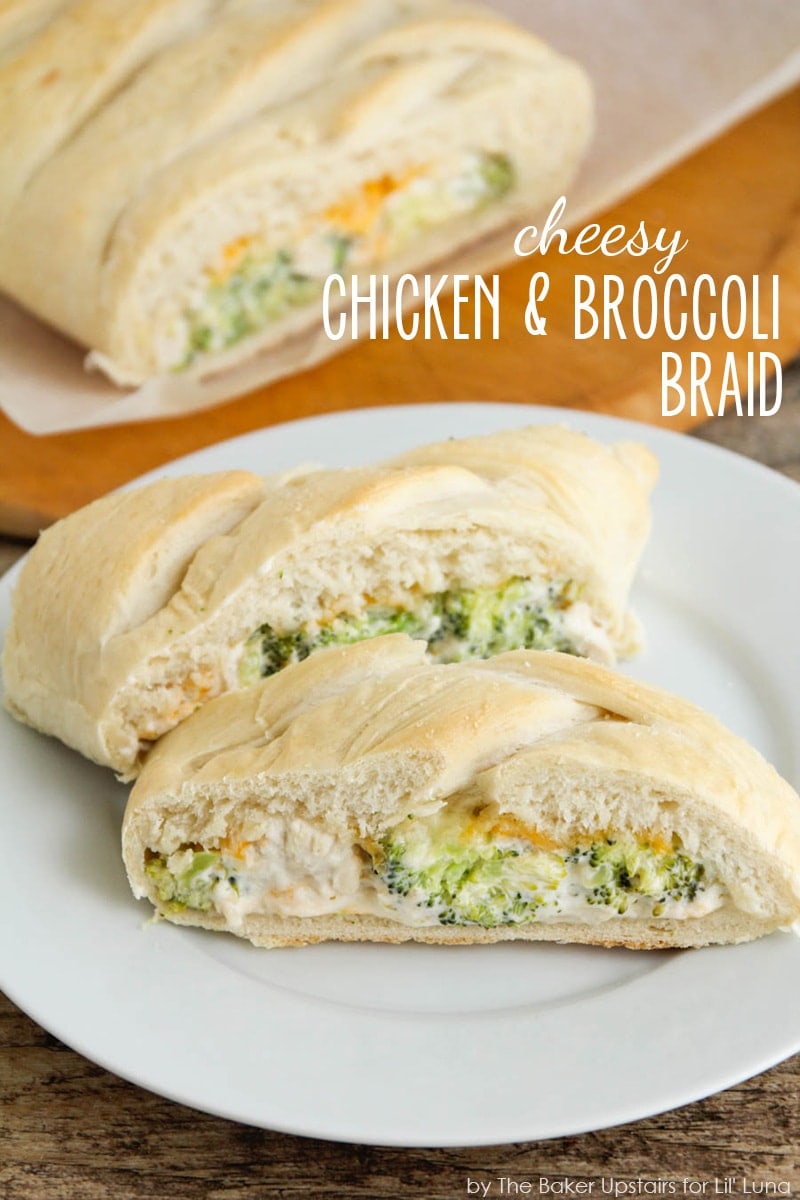 Hello again! It's Alicia from The Baker Upstairs, and I have another delicious recipe to share with you! With the cold weather outside, I find myself craving something warm and cheesy for dinner, and this cheesy chicken and broccoli braid is perfect for satisfying those comfort food cravings! It's super easy to make, and savory and flavorful. It starts with a quick yeast dough that takes only a few minutes to make and has a short rise time. If you haven't worked with yeast doughs before, have no fear! This recipe is super simple and perfect for beginners.
When the dough has risen, it is rolled out into a rectangle, topped with a delicious creamy chicken and broccoli mixture and sprinkled with cheese, then cut into strips and braided. Although it looks a little complicated, the braiding process is really simple and straightforward. You just take strips from alternating sides and fold them over each other. Easy peasy!
Once it's all braided, it gets brushed with an egg wash, sprinkled with sea salt, and baked for 25-30 minutes.
Super simple, and delicious too! It makes an impressive presentation that's perfect for company, but is easy enough to make for a weeknight dinner. It's a favorite at our house, and one that the kids love!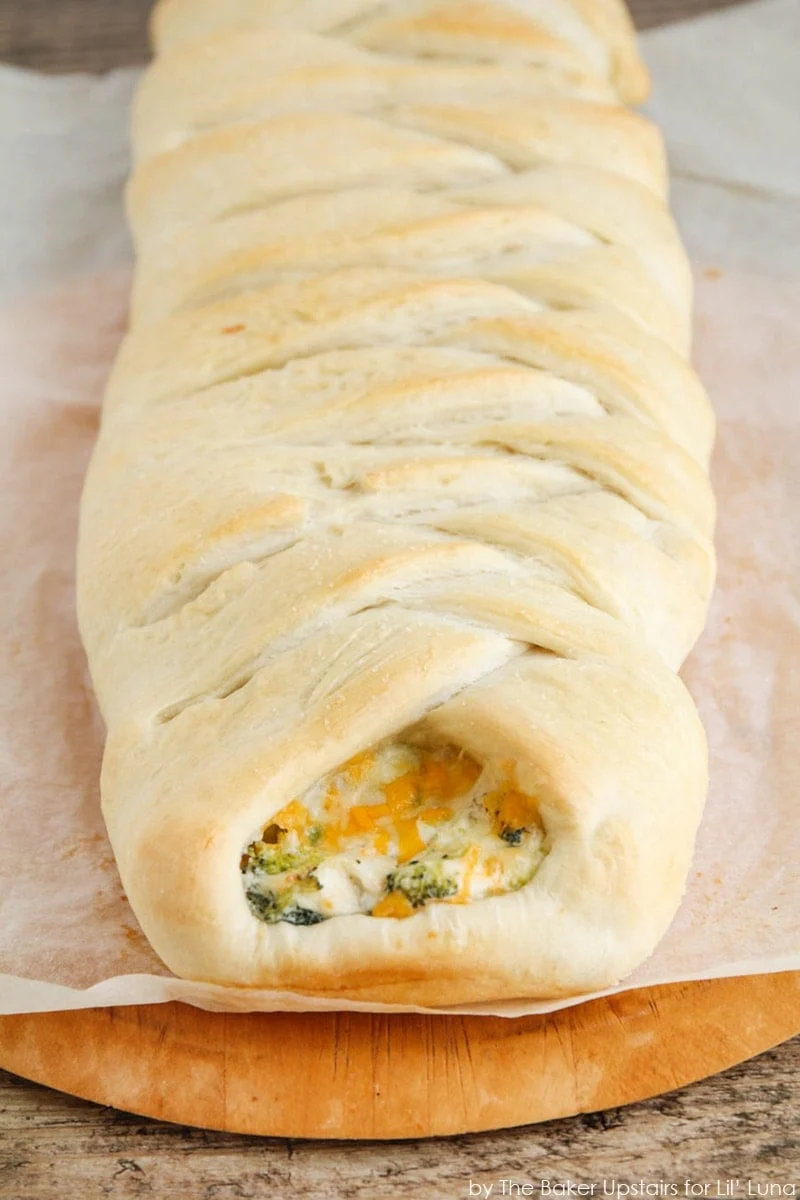 The creamy chicken mixture is my favorite part… you really can't go wrong with cream cheese and chicken!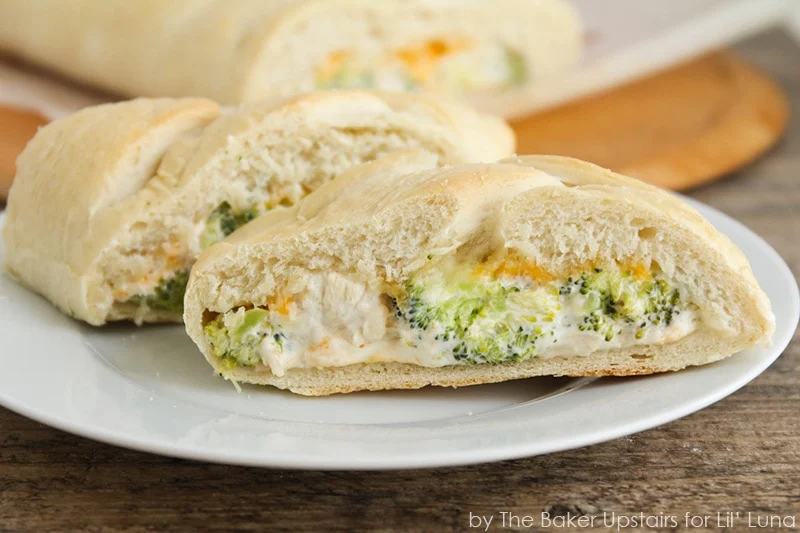 Cheesy Chicken and Broccoli Braid
Ingredients
for the crust:
2¼ teaspoons yeast
1 cup warm water
2 teaspoons sugar
2 - 2½ cups flour
1 teaspoon salt
2 tablespoons olive oil
for the filling:
8 ounces cream cheese, softened
2 cups diced cooked chicken
2 cups broccoli, steamed and cooled, and chopped
½ teaspoon garlic powder
½ teaspoon salt
¼ teaspoon pepper
1 cup shredded cheese, divided
1 egg
1 teaspoon water
sea salt
Instructions
In a medium bowl or the bowl of a stand mixer, dissolve the yeast in the warm water with the sugar. Allow to sit 5 minutes, or until bubbly. Mix in two cups of flour, the salt, and the olive oil to form a smooth dough. Add additional flour as needed to reach a dough consistency that is slightly tacky to the touch but not overly sticky. Let the dough rise in a greased bowl for 30 minutes.
While the dough is rising, preheat the oven to 350. Mix together the cream cheese, chicken, broccoli, garlic powder, salt, pepper, and ½ cup cheese.
When the dough has risen, gently punch it down and then roll it out on a piece of parchment paper or silpat to a rough rectangle that is approximately 15 by 20 inches (it does not need to be perfect!).
Spread the chicken and broccoli mixture down the middle of the dough, then sprinkle with the remaining ½ cup of cheese. Using a pizza cutter or sharp knife, cut one inch strips at a diagonal from the outside of the rectangle to the filling in the center. Fold the strips of the dough over the filling, alternating sides to make a braid pattern. When you get to the end of the braid, tuck the ends in.
Carefully move the parchment or silpat to a baking sheet. Beat the egg lightly with the water and brush the egg mixture over the braid. Sprinkle lightly with sea salt.
Bake 25-30 minutes, or until light golden brown. Serve warm.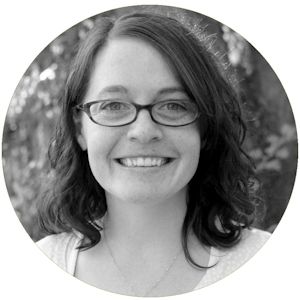 Check Out My Other Recipes
————————————-
This looks so delicious!! I had no idea the braid was so simple.
Can't wait to try it myself.
More great recipes from Alicia go to The Baker Upstairs.
For more great recipes, check out: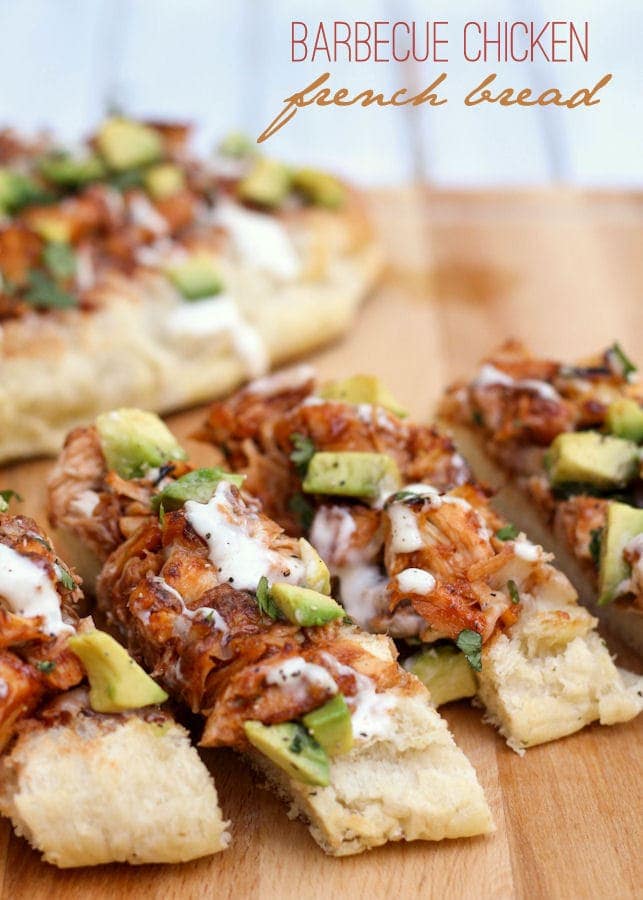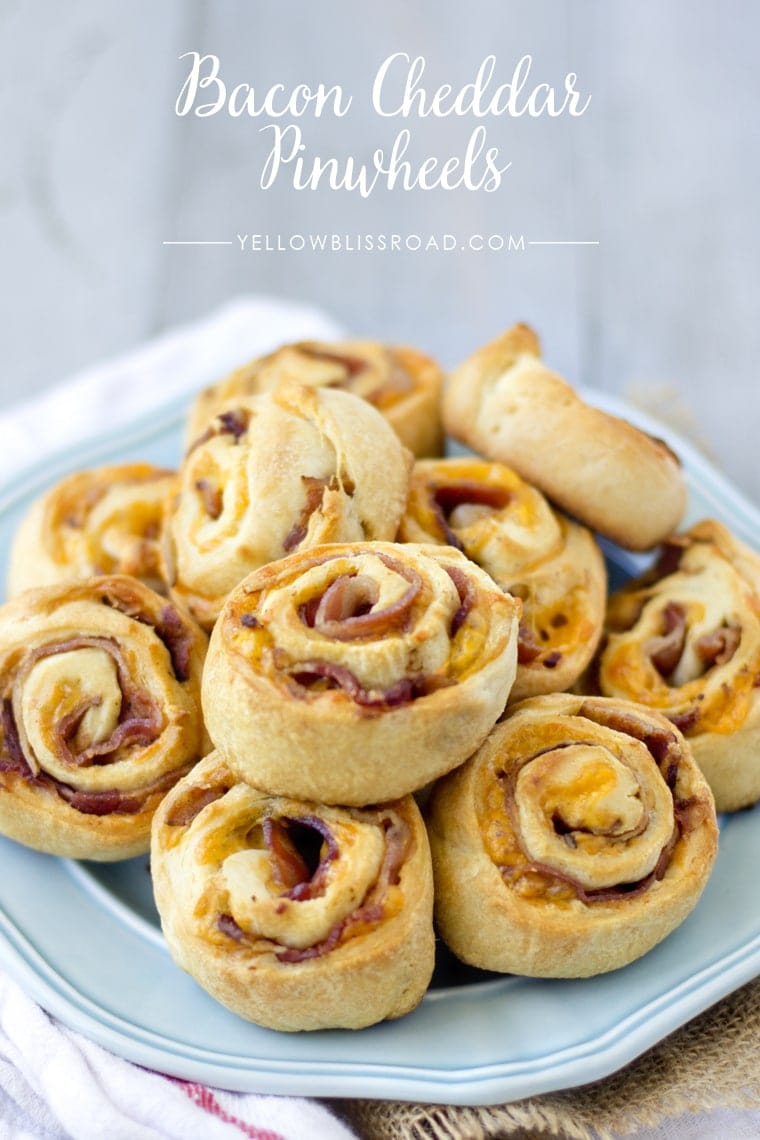 For all Dinner ideas go HERE.
For all Recipes go HERE.
And get weekly emails with monthly freebies by signing up for the Lil' Luna newsletter. 🙂
For even more great ideas follow me on Facebook – Pinterest – Instagram – Twitter – Periscope.
ENJOY!