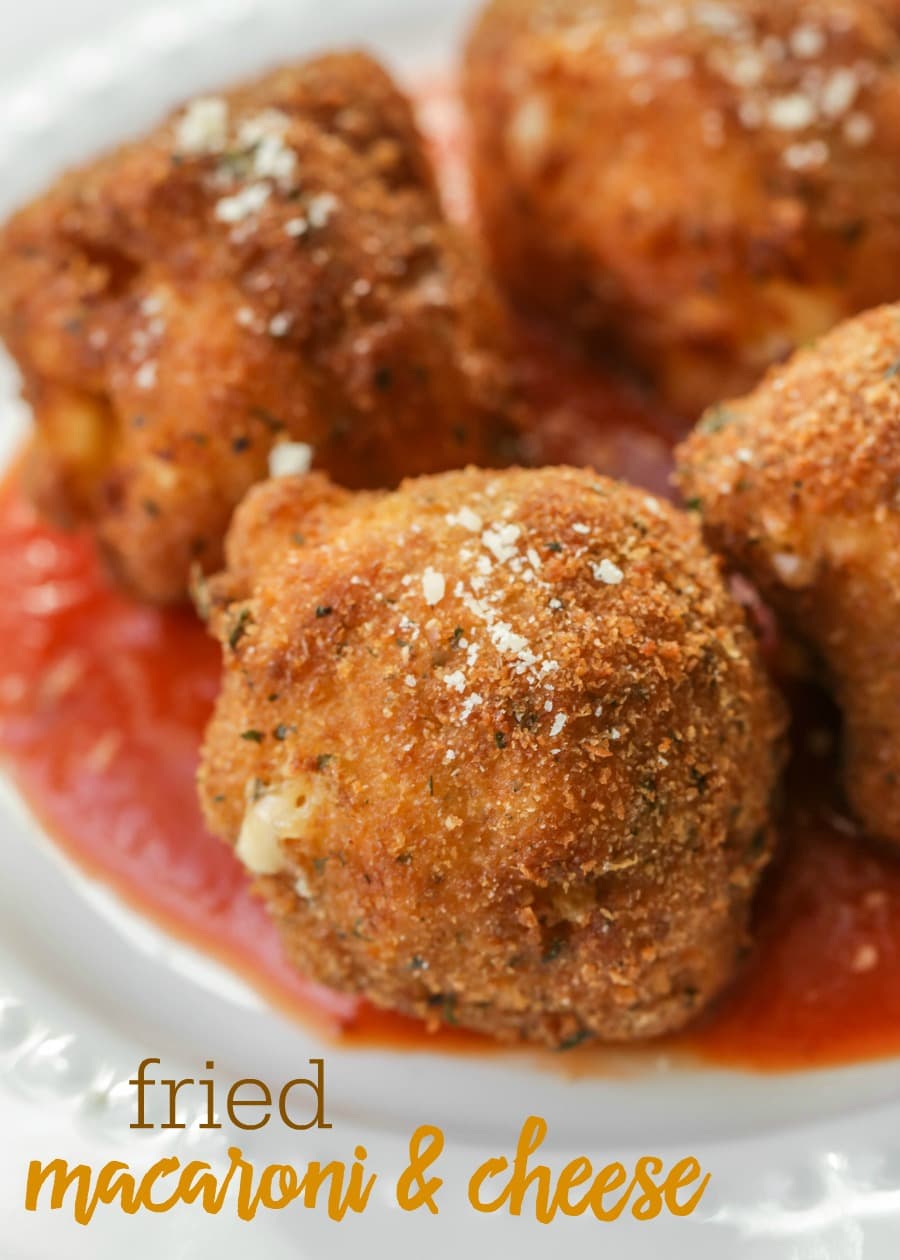 Hey all! Hope you are all having a great day. If not, I'm about to make it better! Have you ever had the Fried Macaroni and Cheese from Cheesecake Factory? They are to die for (along with everything else there). If we haven't mentioned it before, it's one of our favorite places to visit. We've redone several of their recipes, like their Luau Salad, or their famous Avocado Egg rolls, or my very favorite recipe from their – Sun-Dried Tomato Fettuccine. They are ALL amazing recipes and we were excited to try these Fried Mac and Cheese balls as well. I warn that they take a little time to put together, but every second is so worth it. After the first coat of bread crumbs, we decided that they didn't look covered enough, so we decided to give them one more dip and I think it made a big difference. They were perfectly crunchy on the outside and deliciously soft and creamy on the inside. We made them again for our New Years Eve party and I'm guessing it wont be too long before we whip some more up. They were a HIT!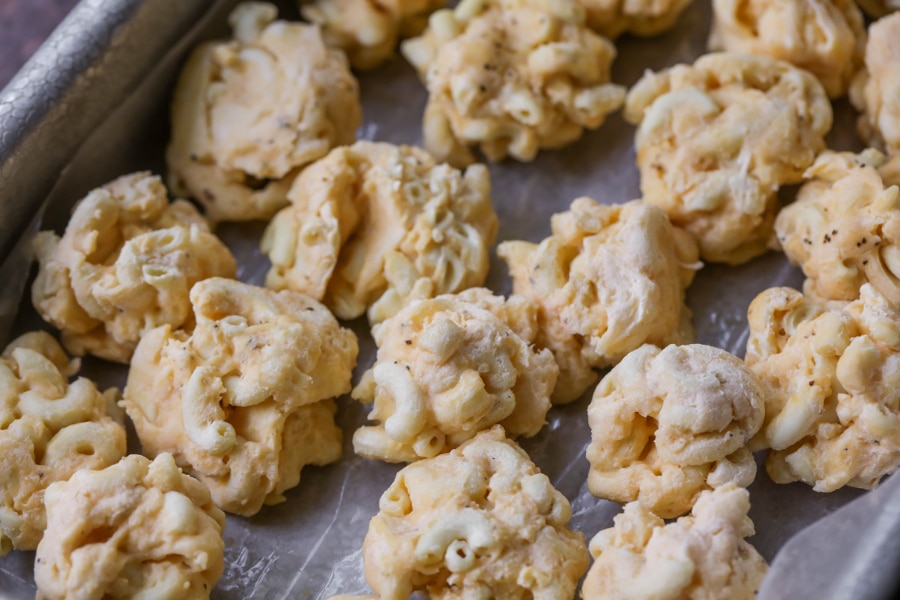 Frozen Mac n Cheese balls.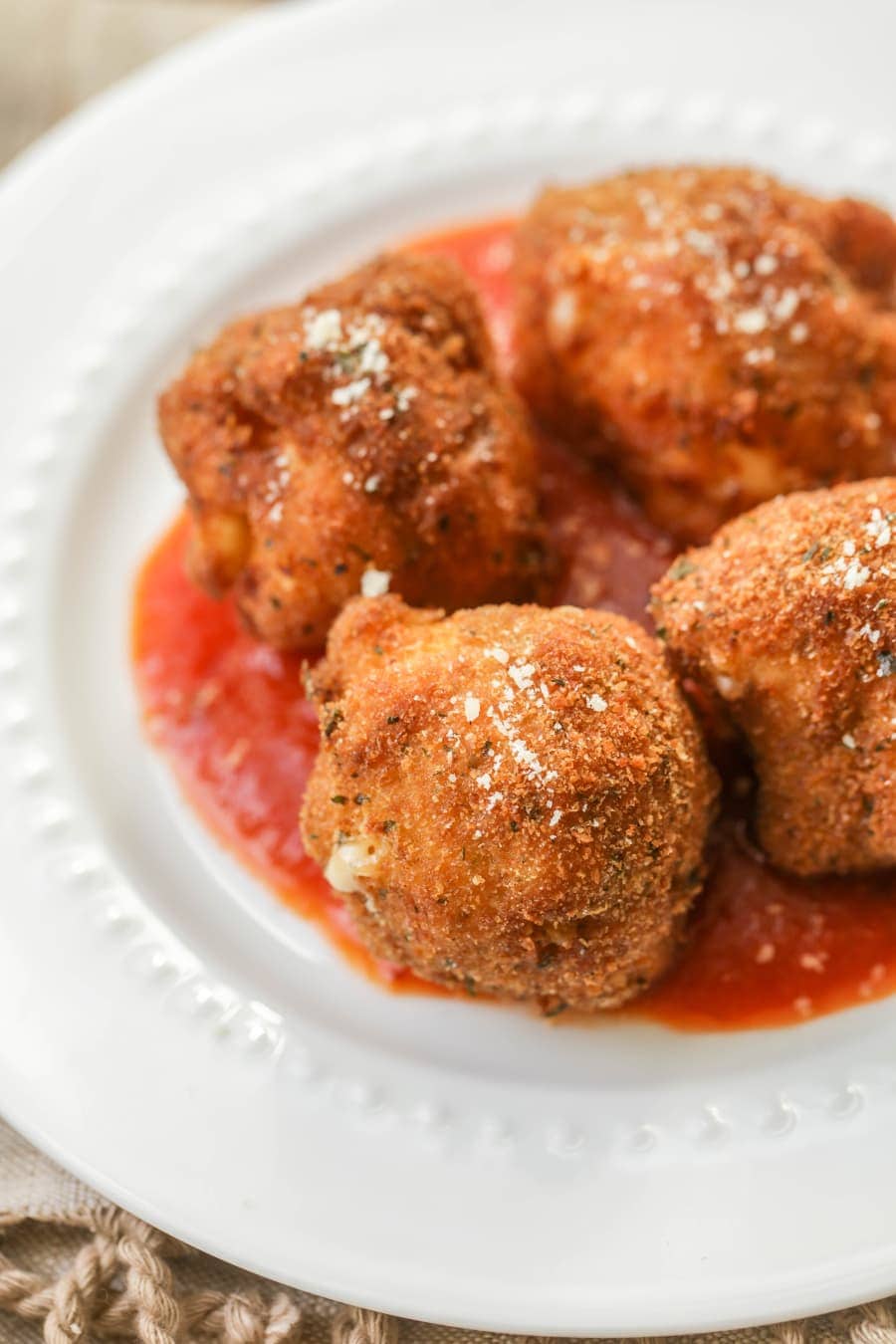 Fried to perfection! YUM!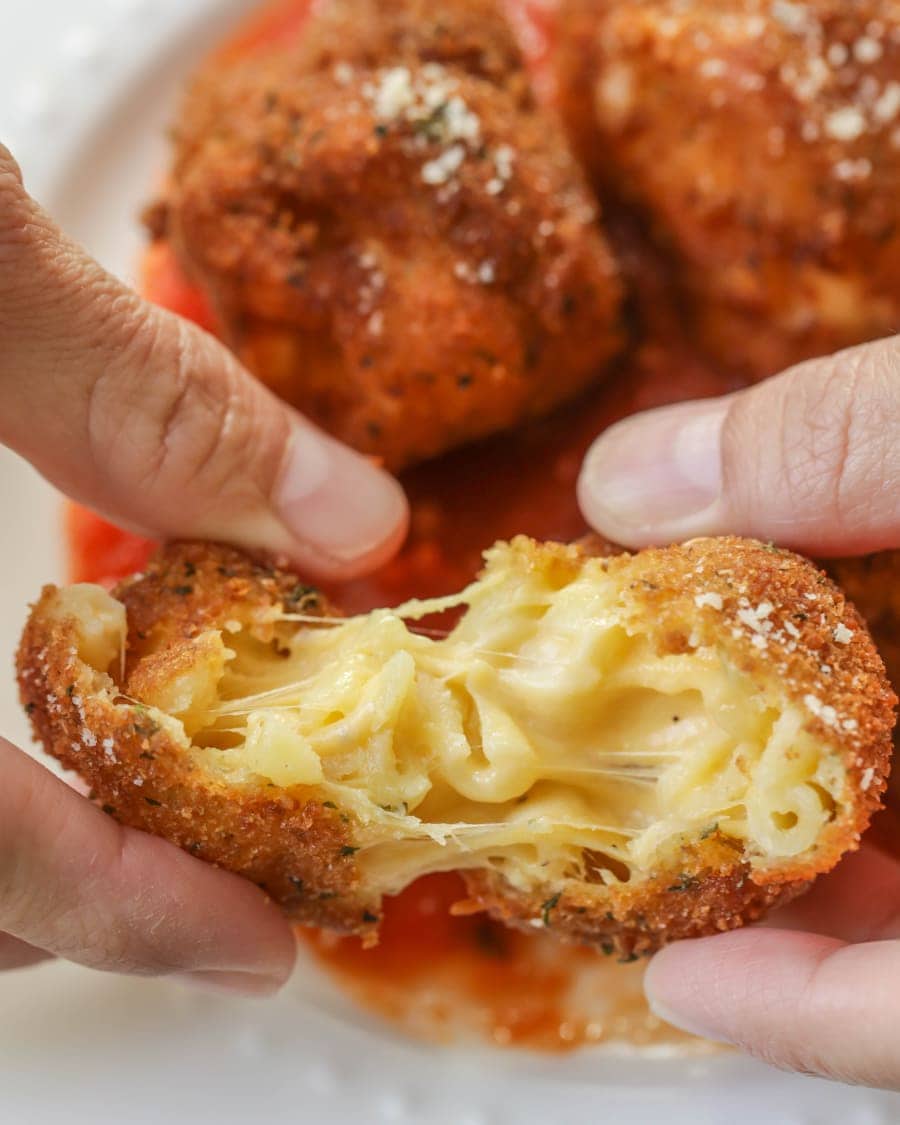 Seriously?! Look at the cheesy center!! SO GOOD!!! This cheesy, delicious appetizer is definitely a new favorite, and we hope you like them as much as we did.
For more mac and cheese recipes, check out:
For more cheesy appetizers, check out:
to make Fried Mac and Cheese:
Fried Mac and Cheese Balls Recipe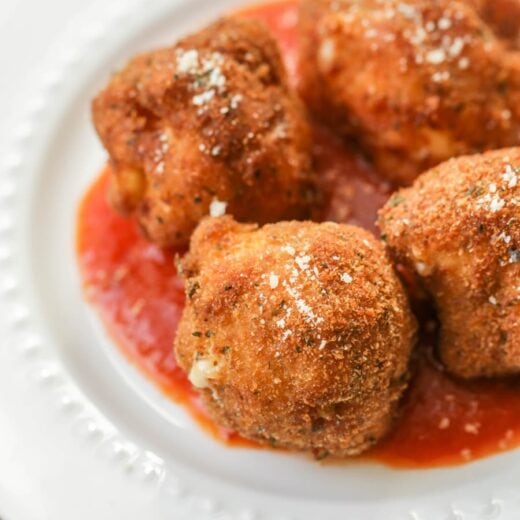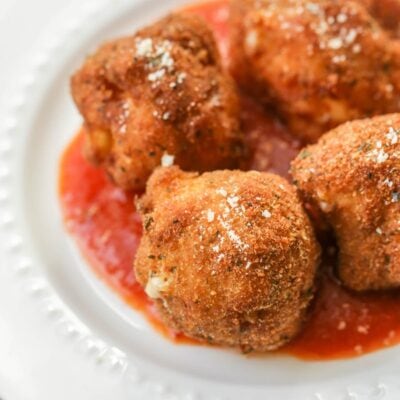 Fried Macaroni & Cheese - a copycat of the appetizer from Cheesecake Factory! Creamy mac and cheese inside a delicious and crispy breaded outside! To die for!!
Ingredients
1

lb

elbow macaroni

2

tbsp

unsalted butter

2

tbsp

all purpose flour

2

cups

milk

warmed, plus 2 tbsp for egg wash

1

lb

grated cheddar

1

lb

grated smoked gouda

salt and pepper to taste

3

large

eggs

4

cups

seasoned bread crumbs

vegetable oil

for frying

marinara or alfredo sauce

for dipping
Instructions
Cook macaroni according to package instructions. Immediately drain and rinse with cold water. Drain again and set aside.

Melt butter in a saucepan over medium heat. Sprinkle in flour and stir with a whisk. Cook for 2 minutes. Whisk in warm milk, working out any lumps. Cook for about 2 minutes until sauce has thickened. Remove from heat. Add both cheeses and stir until melted and smooth. Season with salt and pepper. Fold in macaroni noodles and pour into a shallow pan and refrigerate for at least 2 hours, until macaroni is cold.

Shape the cold mac and cheese into meatball-sized balls and place them onto a waxed paper-lined tray. Freeze overnight.

Beat together your eggs with your 2 tablespoons milk and pour it into a shallow bowl. Pour your bread crumbs into another shallow bowl. Remove the mac and cheese balls from the freezer. Dip the frozen balls into the egg wash then into the bread crumbs. Repeat these steps twice for each ball. This will give it a nice thick coat. Put back into the freezer until you are ready to fry.

Fry the coated mac and cheese balls for 5 minutes, until golden brown and center is hot. Serve hot with your favorite marinara or Alfredo sauce for dipping.
Adapted from Food Network.