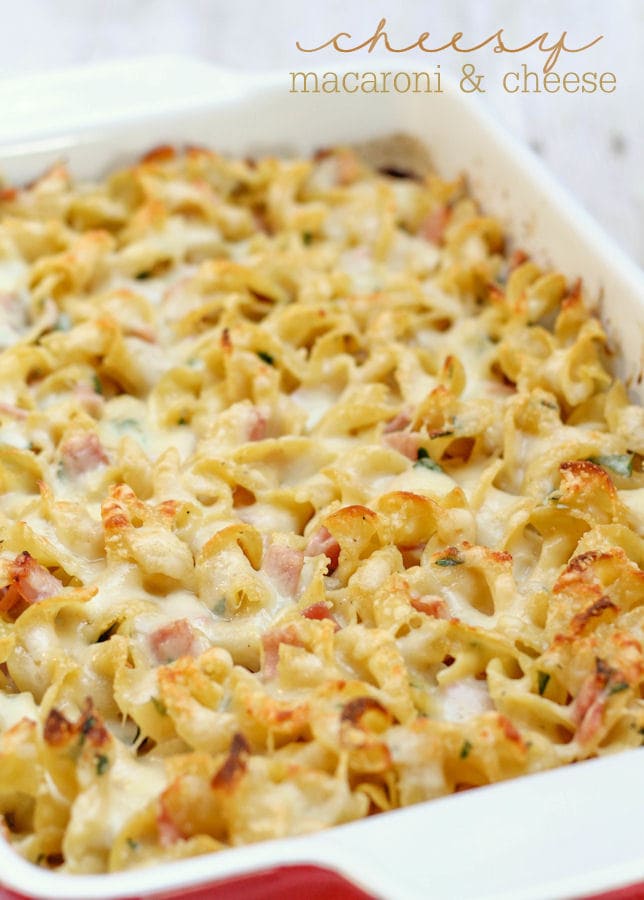 I can't remember the first time I had this recipe, but it was years ago and my one sister, Tara, made for one of our Sunday dinners. It quickly became a favorite Homemade Macaroni and Cheese recipe. I don't know if it's the white sauce or the chunks of ham, but the recipe is PHENOMENAL and we've been making it ever since we first tried it years back. The recipe comes Giada De Laurentiis of Food Network, and if you've ever seen her show or tried any of her recipes, then you'd know just how good they are.
Over the past several years, this recipe has also become a staple at our Luna Thanksgiving meal. Yes, we have Mac and Cheese, and it's always one of the first recipes gone. Not sure if you guys have it as well, but in case you do you should definitely give it a try. I promise it will become a favorite in no time. 😉 Like I said… maybe it's the heavy cream or the 3 kinds of cheeses in it, but this Mac and Cheese is absolutely sinful and will be loved by all. We usually have it as a side dish, but it's great as a main dish too. I promise, your kids won't be disappointed and neither will you!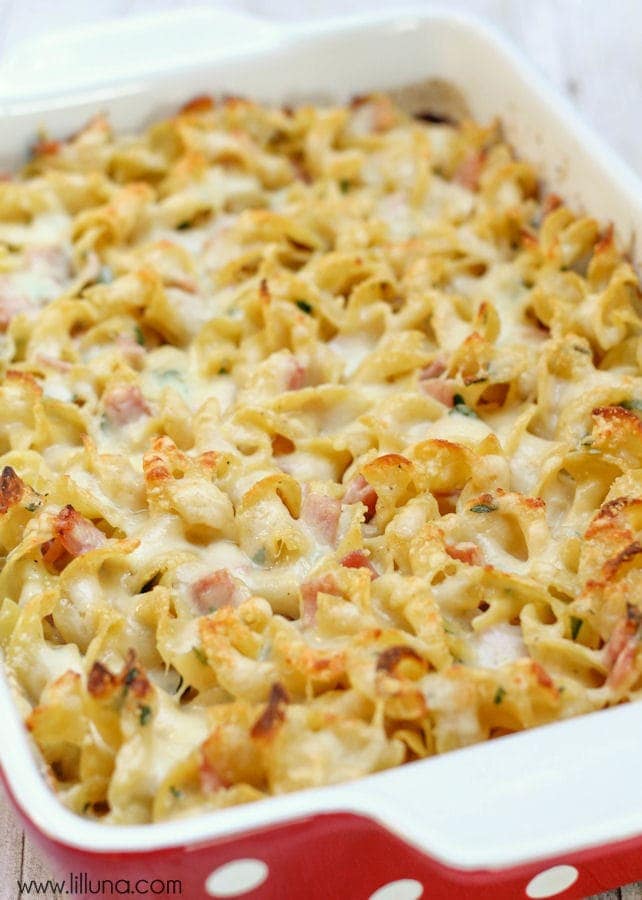 Yes, there's a reason Giada has her own cooking show! The chick has got skills and knows what she is doing!! This should just be a further testament as to how good this dish is. 🙂
I know we'll definitely be making it for Thanksgiving and for many more Sunday dinners to come!
Homemade Macaroni and Cheese recipe:
Homemade Macaroni and Cheese Recipe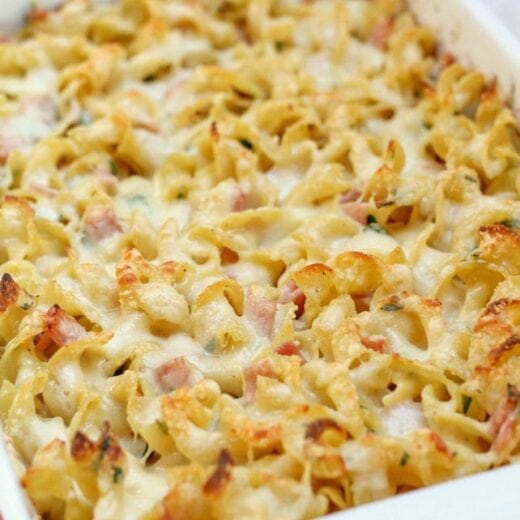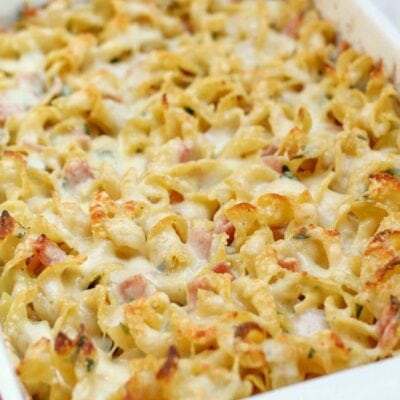 Homemade Macaroni and Cheese - noodles in heavy cream and 3 kinds of cheeses along with chunks of ham. It's a recipe everyone will love!
Ingredients
12

oz

egg noodles

wide

1 1/2

cups

heavy cream

2

cups

whole milk

2

tbsp

all purpose flour

1/2

tsp

salt

plus more

1/4

tsp

black pepper

freshly ground

2

cups

fontina

packed, grated

3/4

cup

parmesan cheese

packed, finely grated

3/4

cup

mozzarella cheese

packed, grated

4

oz

ham

cooked and diced

2

tbsp

parsely

fresh, finely chopped
Instructions
Butter a 13 by 9-inch glass baking dish and set aside.

Cook the noodles according to package directions. Add salt to water for boiling. Do not rinse noodles.

In a lager bowl, whisk the cream, milk, flour, ½ teaspoon salt, and pepper to.

Stir in 1 cup Fontina, ½ cup Parmesan, ½ cup mozzarella, ham and parsley. Add the noodles and toss to coat.

Transfer to your prepared baking dish.

In a small bowl, mix the remaining 1 cup Fontina, ¼ cup Parmesan, and ¼ cup mozzarella. Sprinkle the cheese mixture over the noodle mixture.

Bake at 450 for approx 20 minutes. Until sauce is bubbly and the cheese melts, slightly browning on top, about 20 minutes.

Let sit for about 10 minutes before serving.
 Recipe from Giada De Laurentiis.
For another favorite pasta dish, check out: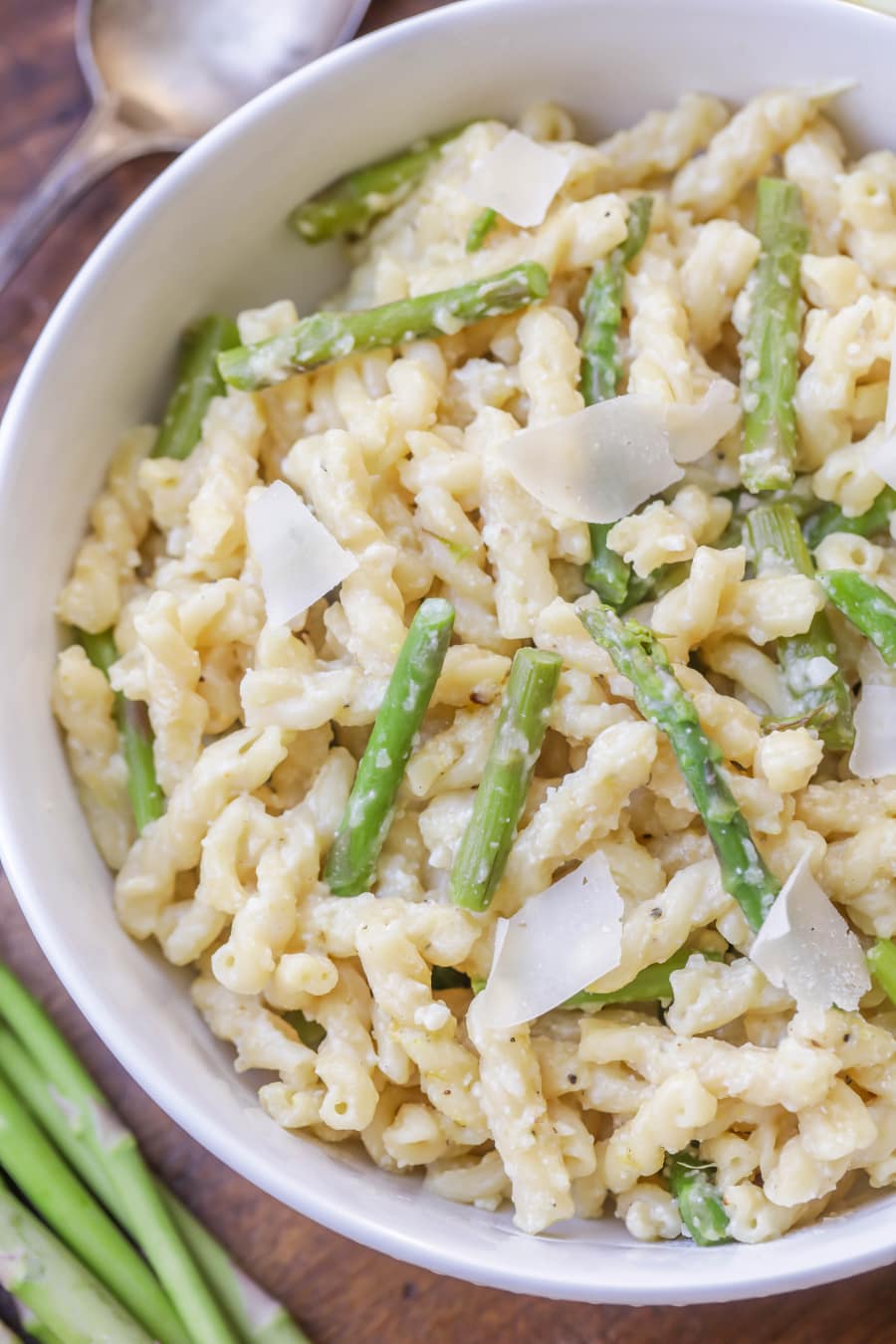 For other favorite side dishes, check out:
ENJOY!