Easy and Quick Fettuccine Alfredo that takes just 15 minutes to make! This family favorite recipe includes fettuccine, garlic, parmesan, and whipping cream and is sure to become a go-to dinner idea!
This classic dinner is quick and perfect for picky eaters! Add some chicken to make this even heartier or for a crowd, our Alfredo casserole is also a must-make. You can never go wrong with this simple meal!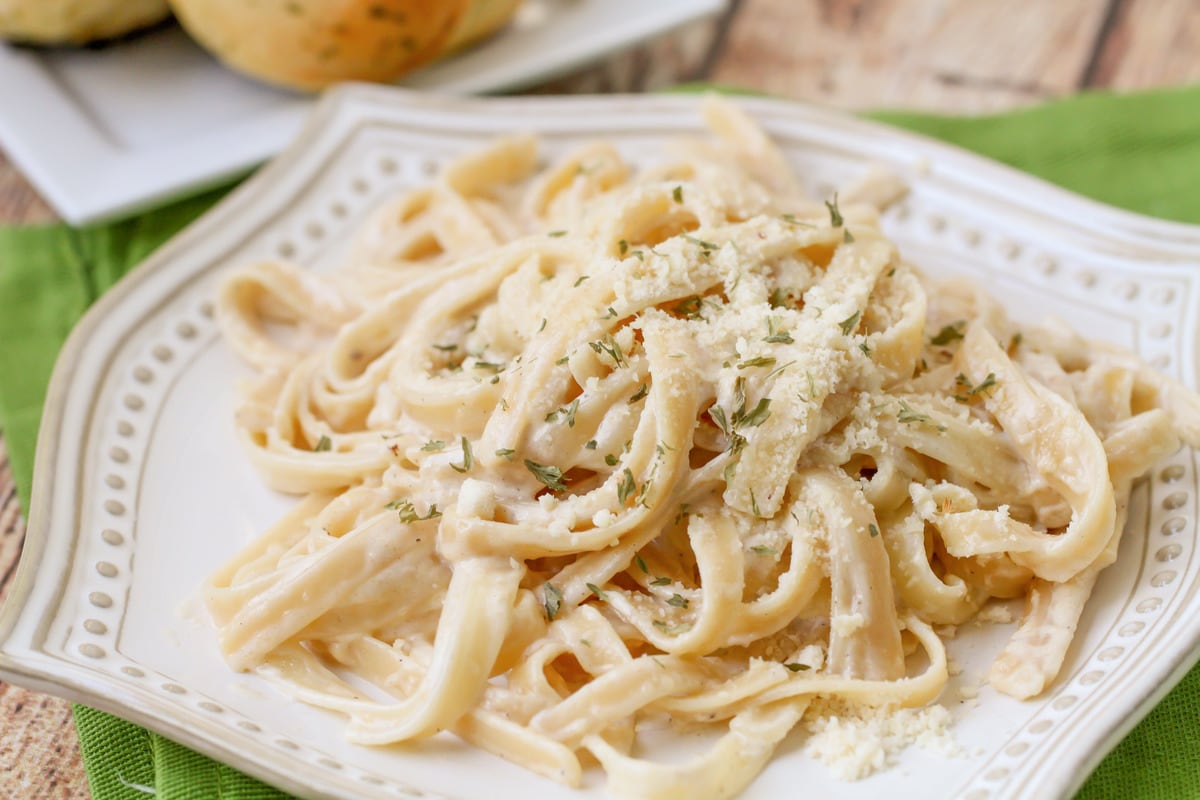 QUICK + EASY = WIN!
Fettuccine Alfredo happens to be one of the recipes that everyone has a version of. It also happens to be one of my kids' favorite dinner recipes.
My kids love chicken but are sometimes picky when chicken is mixed into things (ridiculous, I know) so I thought I would make this easy fettuccine without it (although Baked Chicken or Parmesan Crusted Chicken would be great with this pasta dish).
The recipe is the best and ends up making a delicious Alfredo sauce that everyone loves. And did I mention that it can be made in about 15-20 minutes? Quick and easy – my favorite kind of meal!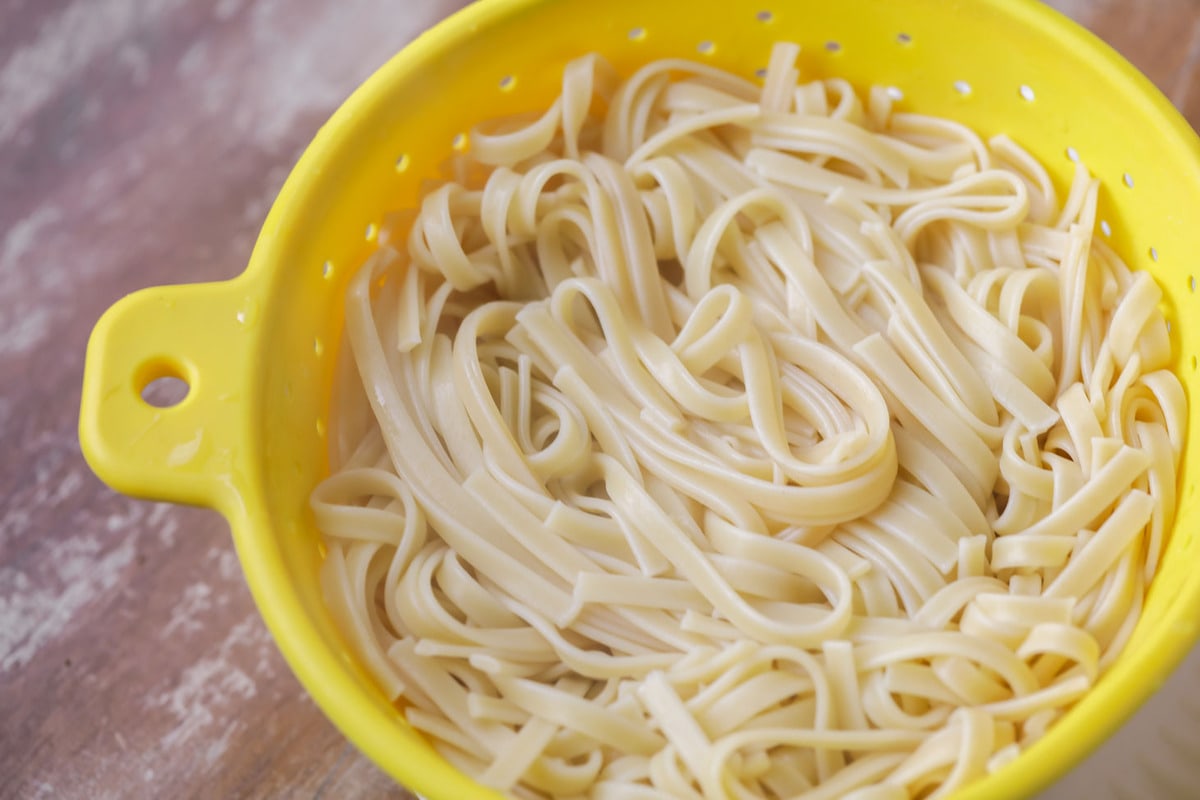 kids love it!
The kids loved this simple fettuccine recipe, and so do we. Along with the chicken, we love to added grilled veggies (asparagus and broccoli are great with this). We also like to add shredded cheese to make it even cheesier. It really is the best!
The thing we love most about this recipe is just how simple and quick it is. I try to have these ingredients on hand at all times so that I can make this when I'm out of ideas for dinner – AND it's delicious!! Our favorite part is the sauce!
The sauce takes just a few minutes to make so once your noodles are cooked and ready, you just mix the two together. We like to season with garlic salt and pepper. We also added dried parsley on top.
As we mentioned, this can also be topped with chicken too making it so easy and delicious.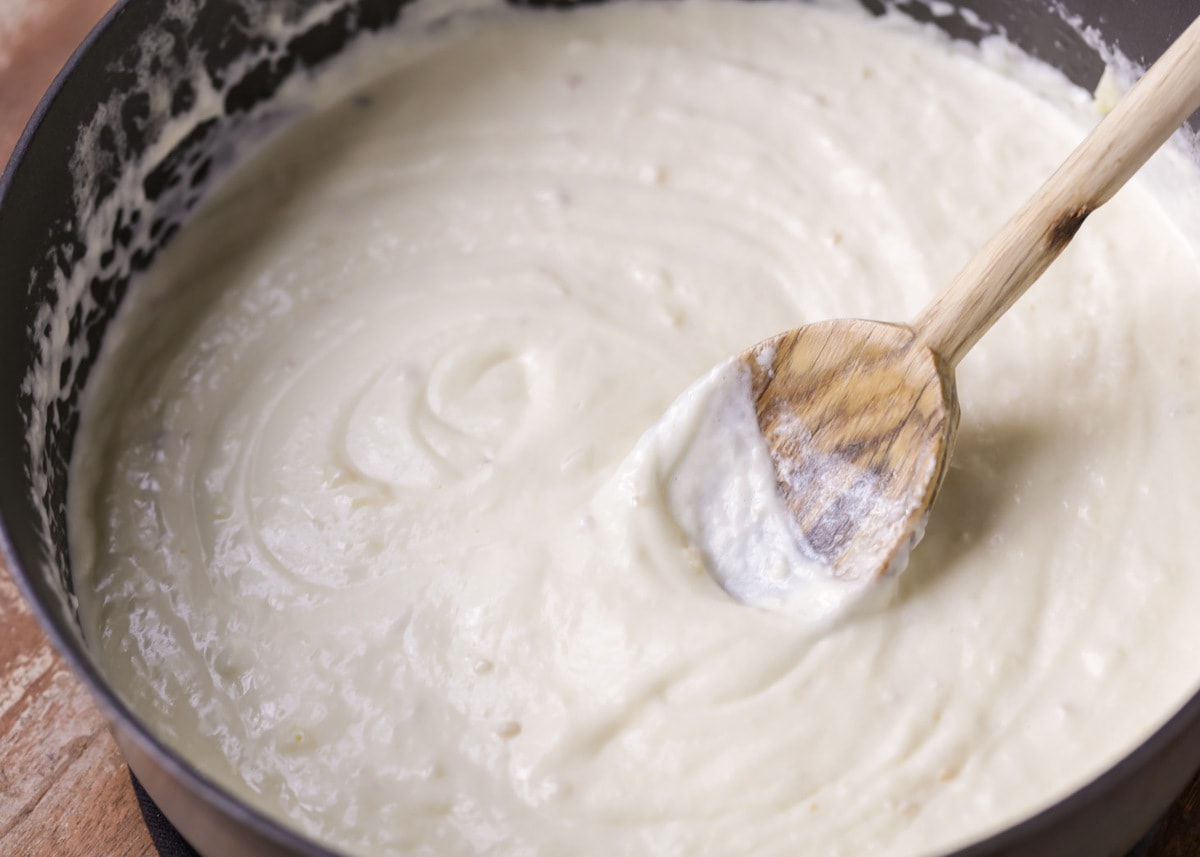 delicious Homemade Sauce
To make this homemade Alfredo sauce recipe, you only need a few ingredients including:
butter
minced garlic
whipping cream
Parmesan cheese (grated)
garlic pepper and salt
COOK. The sauce is made by melting the butter and then adding the minced garlic. Let this cook for about a minute and then add the whipping cream.
SIMMER. Bring this to a simmer and then add the Parmesan cheese. The sauce will thicken up. You will then add the noodles and season with garlic pepper and salt.
How to thicken Alfredo sauce? We typically add a little bit more Parmesan cheese which does the trick, but you can also add flour. To make it more thick and cheesy, you can also add ½ – 1 cup shredded Parmesan or Mozzarella cheese before serving.
How to make without cream? If you're wanting a lighter version of fettuccine alfredo you can substitute the heavy cream. Some good substitutions for heavy cream are milk, half 'n half, greek yogurt, or cream cheese.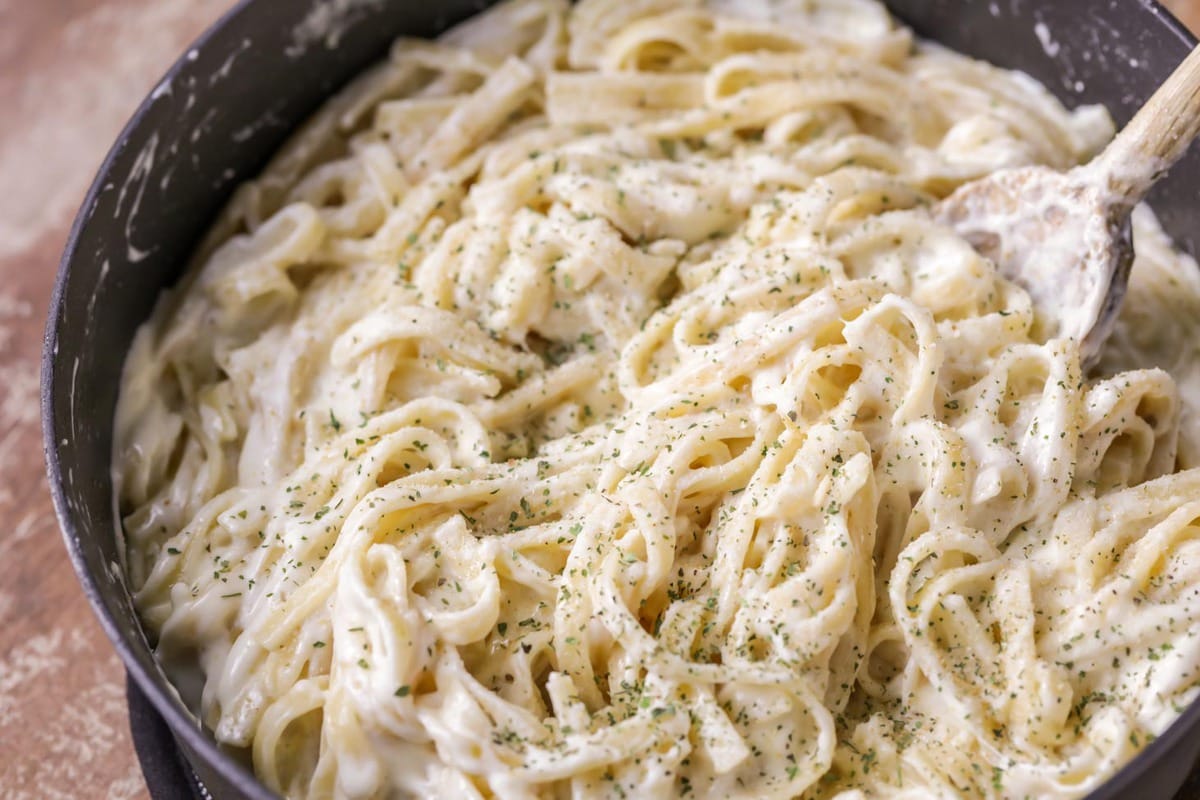 Storing, REHEATING + Freezing
How long does Alfredo last in the fridge? Place your fettuccine Alfredo pasta in an airtight container when you're ready to store it in the fridge. For best results and taste quality it can stay in the fridge for up to 5 days.
It's a little tricky but it's best to reheat it slowly over low heat. Low and slow over the stove. This will help prevent the sauce from separating. Make sure to stir it continuously to keep the sauce together. You can even add a little bit more cream to freshen it up a bit.
Can it be frozen? In my personal opinion, I wouldn't freeze leftover fettuccine Alfredo. For the best flavor and quality, it should be eaten right away.
If you need to make this recipe ahead of time you could freeze the Alfredo sauce separately from the pasta. Then thaw it when you're ready to serve and eat. Make fresh pasta to go with the frozen Alfredo sauce.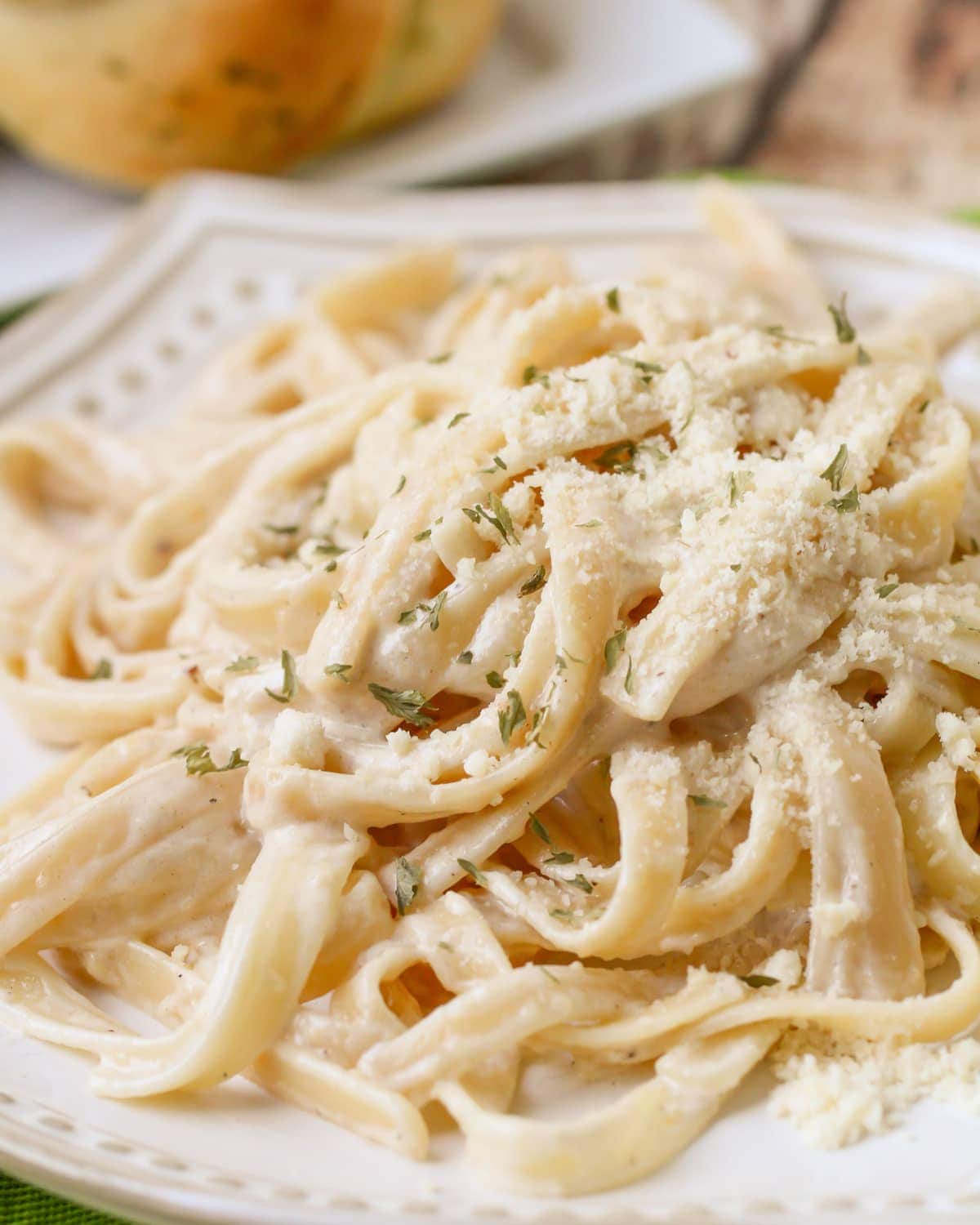 Definitely one of our favorite dinner recipes, and we hope you love it as much we do!!
what to serve with fettuccine:
For more pasta dishes, check out:
Fettuccine Alfredo Recipe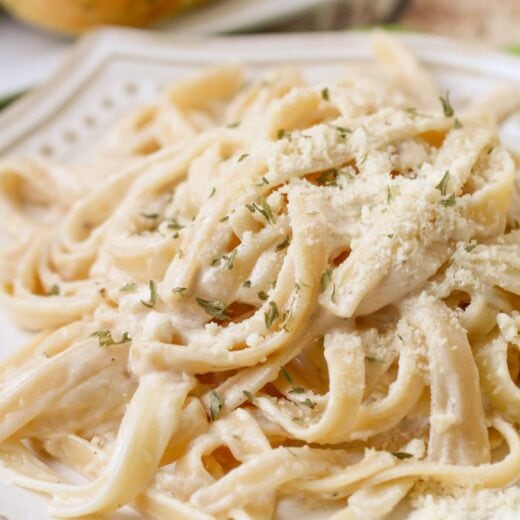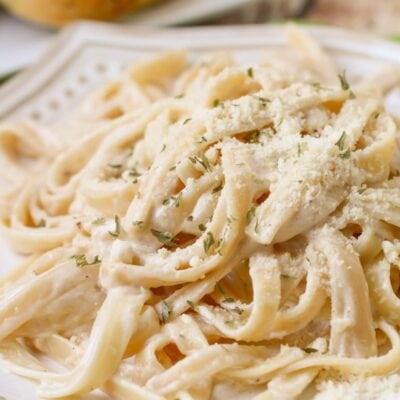 Easy and Quick Fettuccine Alfredo that takes just 15 minutes to make! This family favorite recipe includes fettuccine, garlic, parmesan, and whipping cream and is sure to become a go-to dinner idea!
Ingredients
1

lb

fettuccine pasta

2

TB

butter

2

tsp

minced garlic

1

pint

heavy cream

1

cup

Parmesan cheese

grated

1/2

tsp

garlic pepper
Instructions
Cook noodles as directed on package.

While noodles are cooking, add 2 TB butter to a pan and let melt. Add minced garlic and saute for 1-2 minutes.

Add whipping cream and bring to a simmer. Add 1 cup Parmesan Cheese and mix well. (Sauce will thicken up)

Add pasta and mix until covered. Top with garlic pepper (salt if needed) and more Parmesan Cheese.
Recipe modified from Love, Pomegranate House.