Spruce up your holiday appetizers with a tasty Bacon Ranch Cheese Ball. It's easy, delicious, and perfect served with crackers and veggies.
Cheese Balls are great for parties, and take minutes to make! Bacon Ranch Cheese Ball is one of our go-to appetizers, along with Veggie Cups and Tortilla Roll Ups – because they're simple and delicious.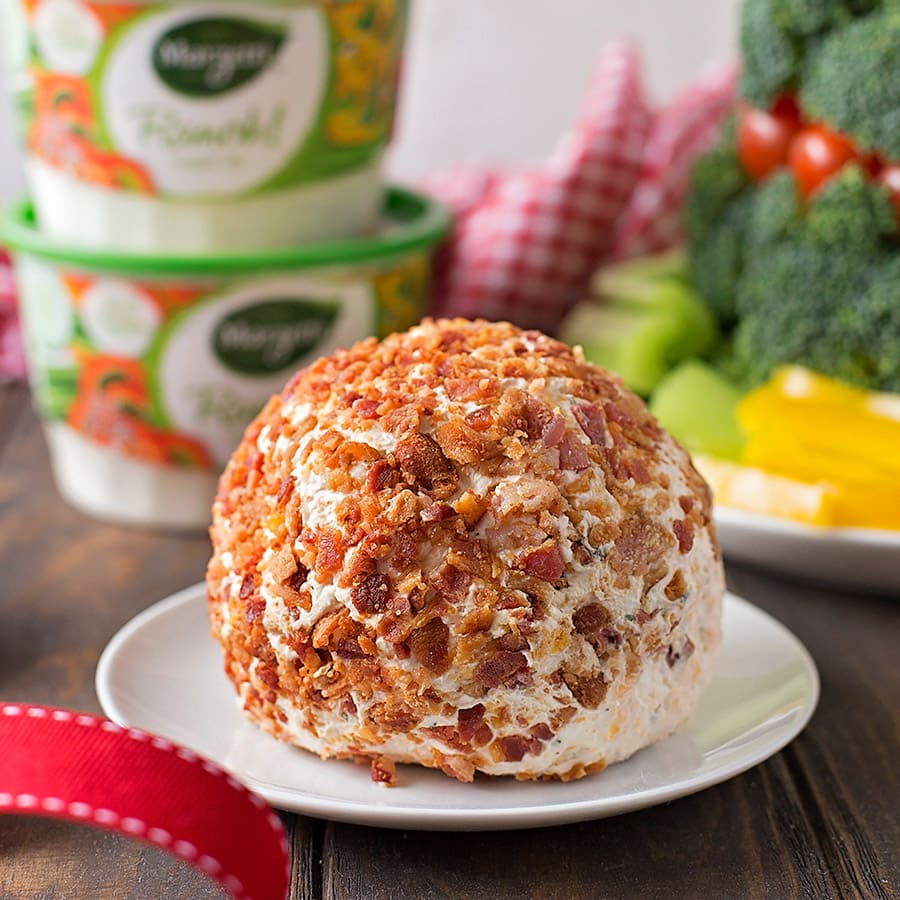 A perfect appetizer
Who loves cheese balls? We love them, but usually only make them for special occasions or holidays. In fact, they have become one of our go-to appetizers for Thanksgiving and Christmas, because everyone loves them!
We like to serve these cheese balls with a variety of items, but recently made a delicious Bacon Ranch Cheese Ball, and are in love! We used about ⅓ cup of the creamy, rich dip to mix into the cheese ball, which added so much flavor!
In addition to the ranch dip, we also added bacon and cheese, cream cheese, and spices. The result was a tasty ranch cheese ball that was a hit with everyone!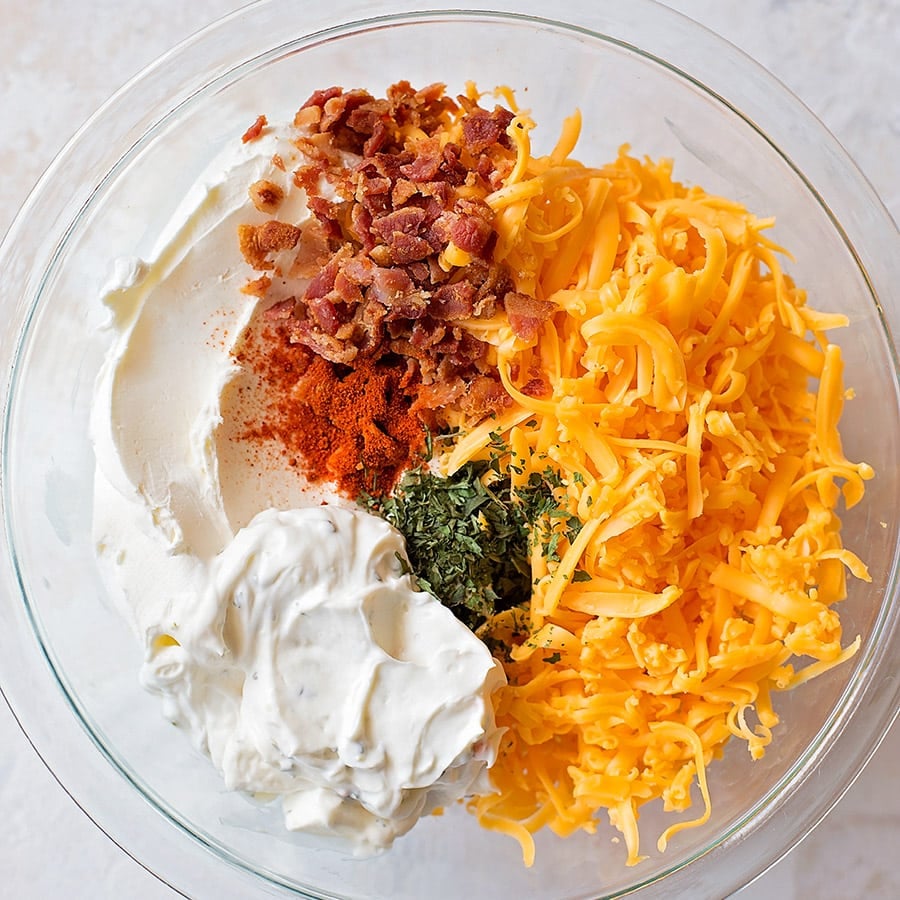 10 minute prep!
The best part about this cheese ball is that it literally takes no more than 10-15 minutes to prep.
MIX. Throw the ingredients in a bowl, and mix with a hand mixer.
CHILL. Form into a ball, roll in bacon pieces, and chill! It doesn't get much easier than that!
A cheese ball shouldn't sit out at room temperature any longer than 2 hours. After that, harmful bacteria can start to form.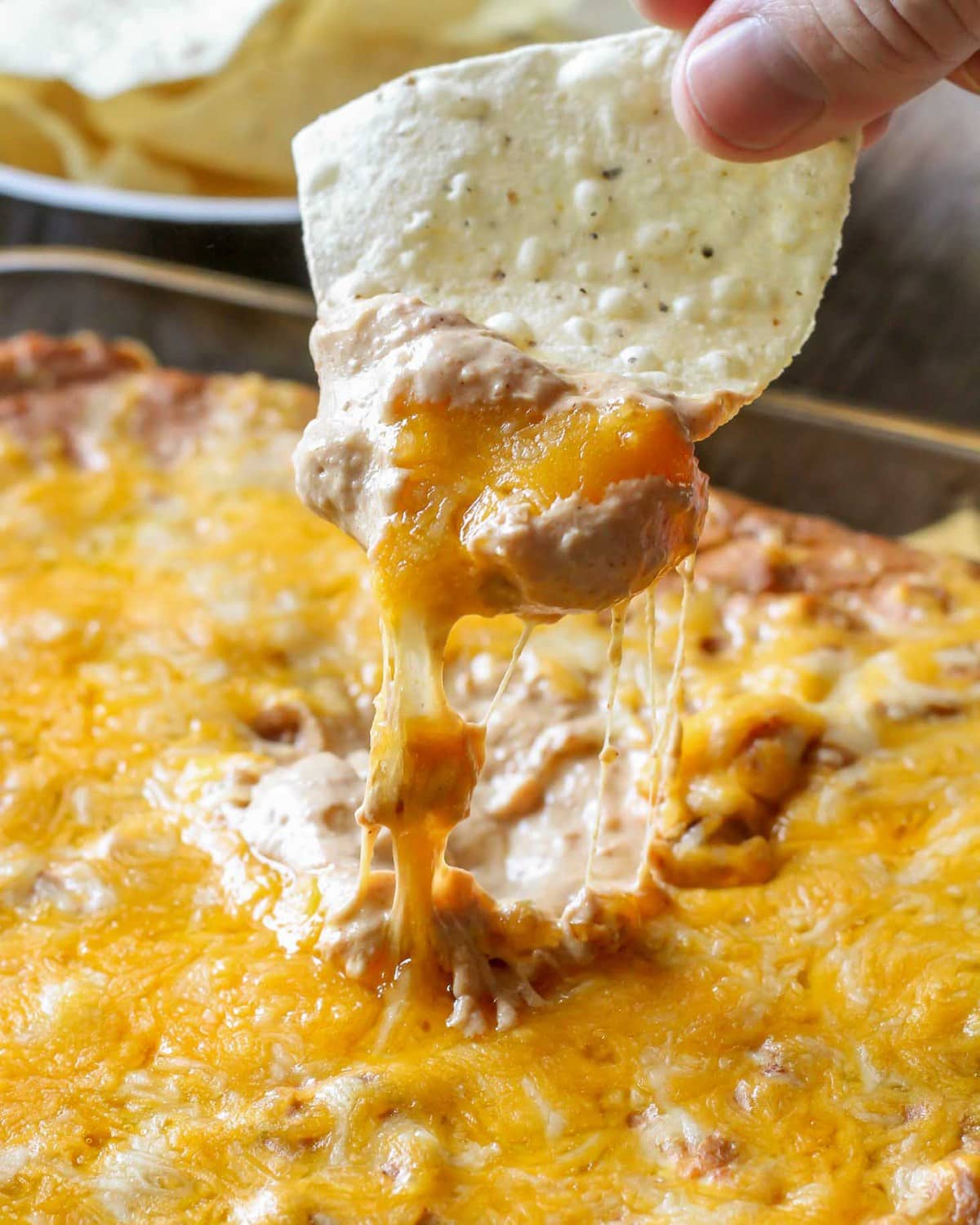 what to serve with cheese balls
There are so many fun finger foods to serve with cheese balls, but we definitely have our favorites:
Veggies: carrot and celery sticks are our top choices
Fruit: pears and apples especially
Mini Bagels
Pretzels
Crackers – of any variety
Pita Chips
For even more dips, check out: Cream Cheese Bean Dip, Buffalo Chicken Dip, Queso Blanco, Cheesy Sausage Dip.
Recipe Tips
Bacon. I like to use this Bacon in the Oven recipe to make real bacon bits.
Make Mini Cheese Balls by forming the cheese mixture into 1-inch cheese balls. Roll each ball in bacon bits and place on top of a cracker or stick with pretzels.
Cheese. I like sharp cheddar cheese, but pepper jack or Colby are also yummy.
Nuts. Mix in chopped nuts like almonds, walnuts, or pecans, but don't add too many or the cheese ball won't hold together.
Variation. Add a bit of flavor by rolling in chopped green onions and bacon bits.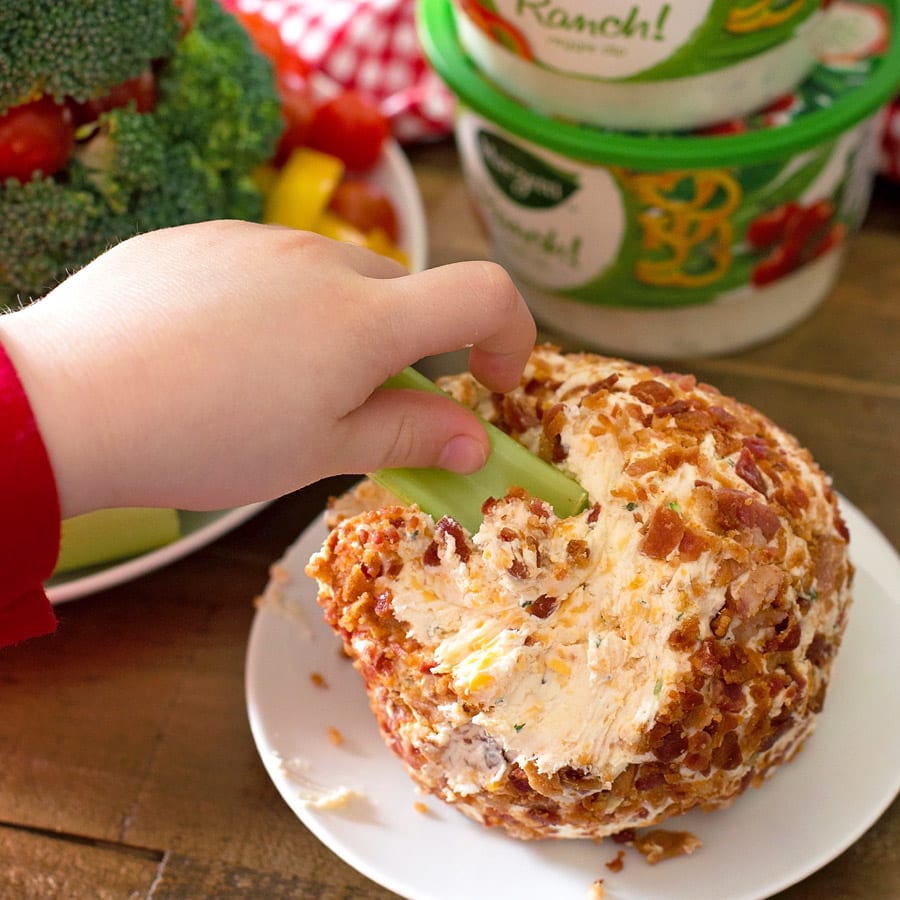 Storing info
Make ahead of time. Make this Bacon Ranch Cheese Ball a few days in advance, but wait to coat it in bacon bits until the day of, or they might get a little soggy.
STORE. It will last as long as the most perishable ingredient, which in this case is probably the bacon (if you use freshly cooked bacon).
If you use fresh bacon, 4-5 days is probably safe. If you use packaged bacon bits, however, you could make it last up to a week or so.
FREEZE the cheeseball (before you coat it in the bacon bits) by wrapping it tightly in plastic wrap, and putting it into a freezer bag. It will last in the freezer for up to a month.
When you're ready to use it, let it defrost in the fridge for a day or two before coating it in bacon and serving it.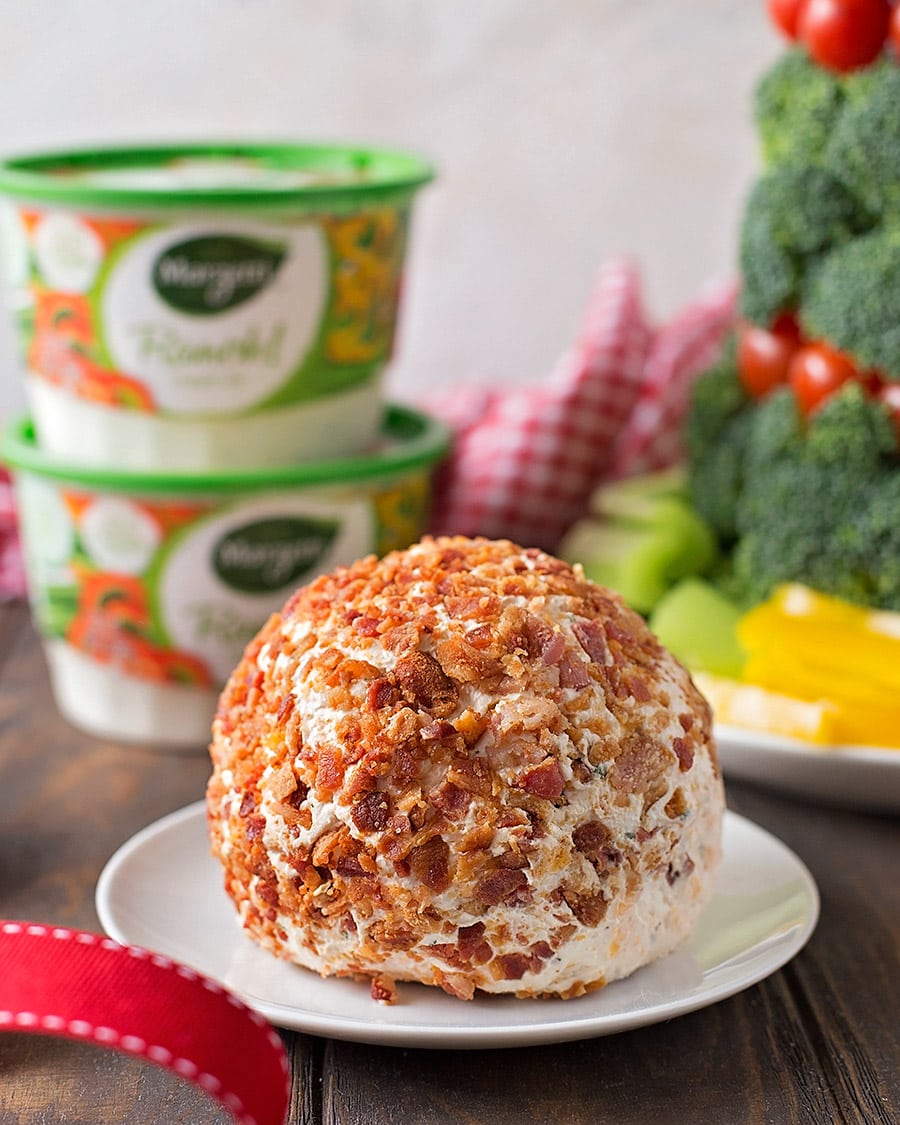 I think this is our new favorite savory cheese ball by far. If you want to try our favorite dessert cheese ball, try this sweet and tasty Chocolate Chip Cheese Ball.
For more veggie appetizers, try:
More Collections: New Years Eve Appetizers,
Bacon Ranch Cheese Ball Recipe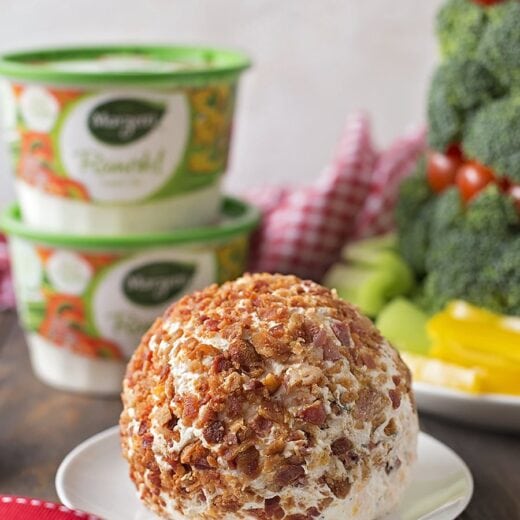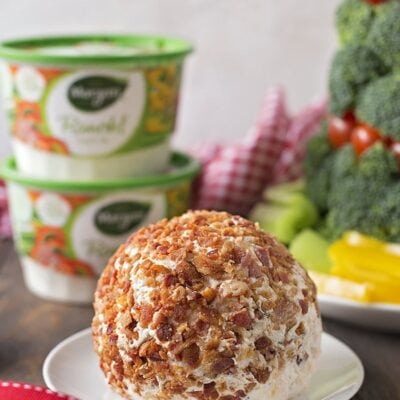 Spruce up your holiday appetizers with a tasty Bacon Ranch Cheese Ball. It's easy, delicious, and perfect served with crackers and veggies.
Ingredients
2

8 ounce packages

cream cheese, cold NOT room temperature

⅓

cup

Marzetti Ranch Dip

1 1/2

cup

shredded cheddar cheese

1/3

cup

chopped bacon, divided

1/2

teaspoon

garlic powder

¼

teaspoon

paprika

1/4

teaspoon

dried parsley

1/8

teaspoon

ground black pepper
Instructions
In a large bowl, combine the cream cheese, ranch dip, shredded cheddar, 3 tablespoons chopped bacon, garlic powder, paprika, parsley, and pepper. Using a hand mixer, mix just until combined.

Roll mixture into a large ball, or two smaller balls. Roll in remaining bacon.

Refrigerate for 1 hour before serving.
Marzetti® dips are so tasty and great for any occasion!! For more information about Marzetti go HERE or find them on Facebook HERE.