While our evenings no longer hold all of the glitz and glamor, we try to "do it up" with the kids and have an epic party to ring in the New Year. Peruse our fav New Year's Eve Appetizers to help you start your year right!
More Collections: Healthy Appetizers, Super Bowl Appetizers, Party Appetizers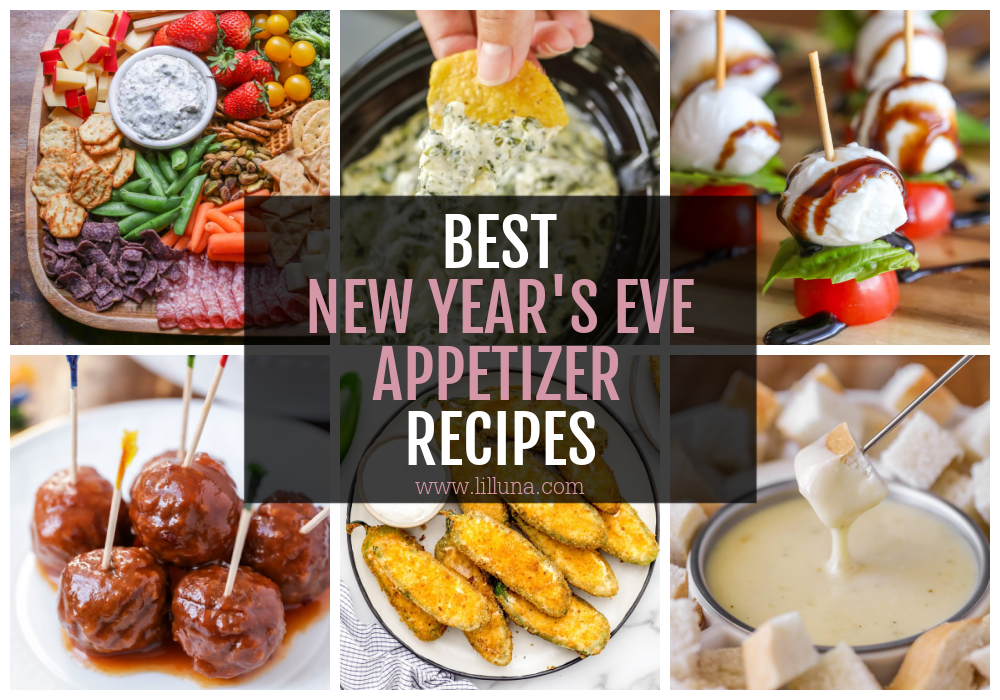 Apps Only for NYE!
For years, our New Year's Eve traditions have included all things bite-size.
And by that, I mean a killer variety of delicious appetizers!
Everything from meat pops, to dips, to decadent desserts adorn our table for enjoyment all evening long. It's one of our favorite guilty pleasures!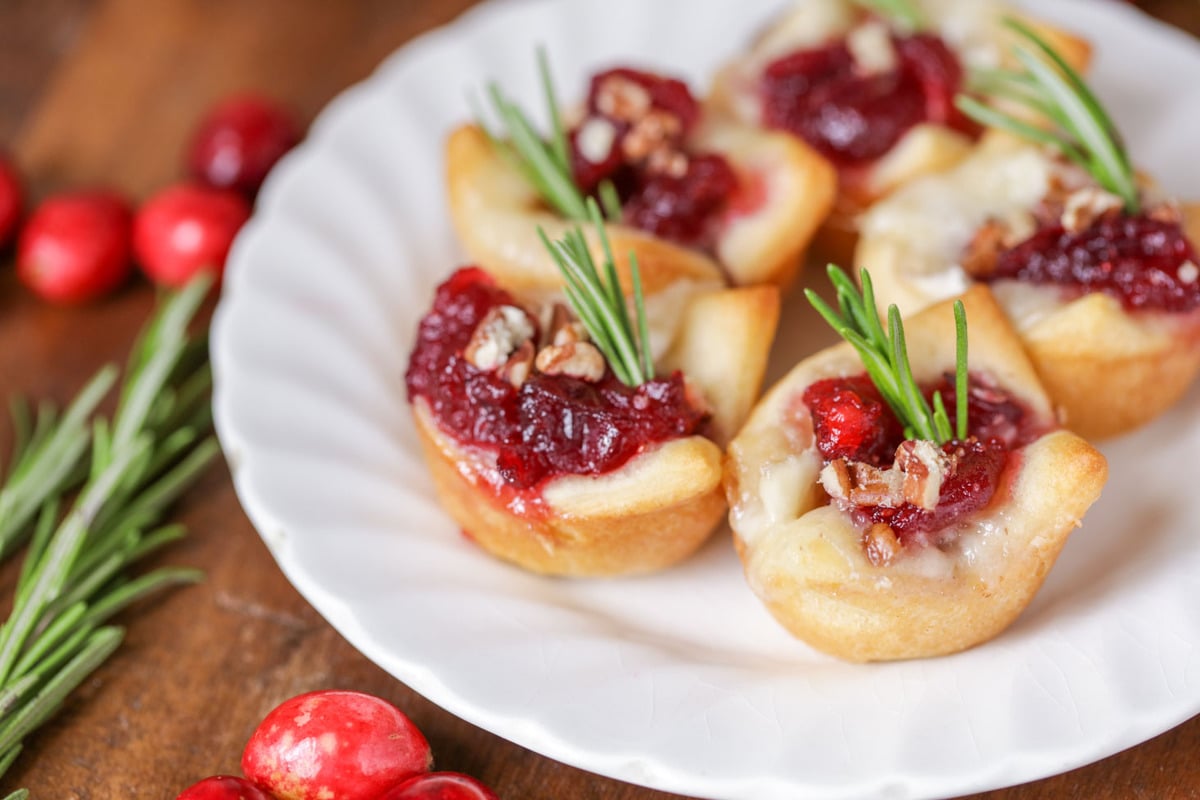 Planning the party
I have to be honest, by the time New Year's comes I am usually tired from all the parties and events from Christmas. Planning ahead helps, even if I don't actually put the plan into action until after Christmas, it's just nice to have.
Since New Year's Eve is a party that lasts long into the night, chances are you're going to be feeding people all night as well. The following information is the guidelines I use when deciding how many appetizers I'll need.
Headcount. Figure out how many guests you'll have. Making an RSVP note on the invite helps, but keep in mind about 10% will still show up without having responded.
How many dishes to make. For fewer than 10 guests, offer 2-3 different types of appetizer recipes. For more than 10 guests, add another dish for every 5-8 more people.
How much per person.
When appetizers are the main food at an event, plan to serve about 10-12 pieces per person for a two-hour party. Add about 5 more pieces per person for every hour after.
If you will be serving dinner, then you need fewer appetizers. In this case, you'll only need a total of 3-5 appetizers per person.
Stagger the appetizers. I do want to note that no one wants to be eating the same appetizers for hours on end. It's a good idea to stagger which dishes you set out throughout the night.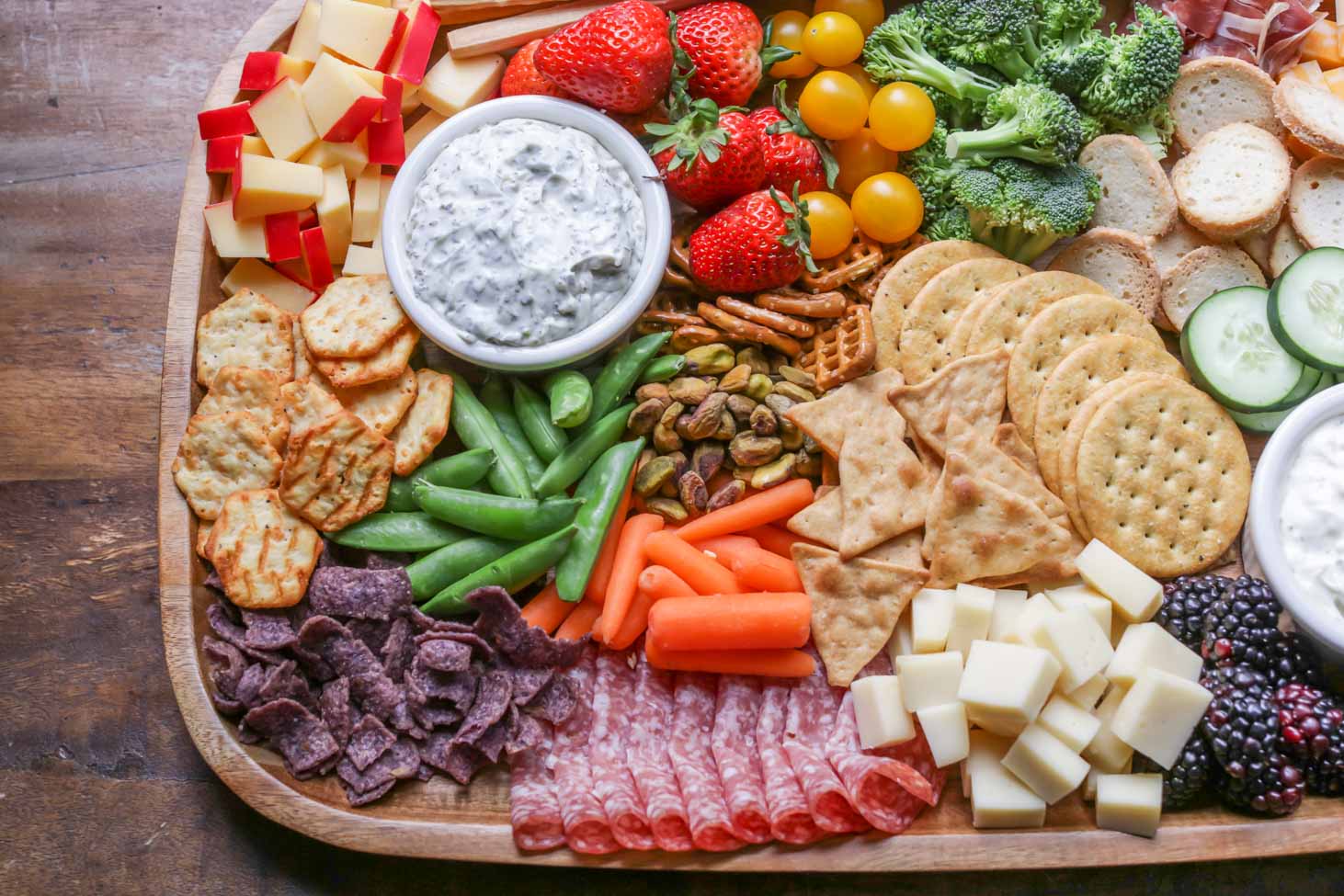 Planning the Menu
Depending on who you are inviting, it is perfectly acceptable to ask people to bring an appetizer to share. When planning what you want to serve consider the following:
What ingredients are in season and on sale?
Use a variety of colors and textures.
Make sure that the flavors are complementary.
Offer both warm and cool, sweet and savory, veggie and meaty.
If you want to use new recipes, do a practice run a couple of weeks beforehand to work out any kinks.
Which foods need to be heated and do you have enough space to heat the dishes properly?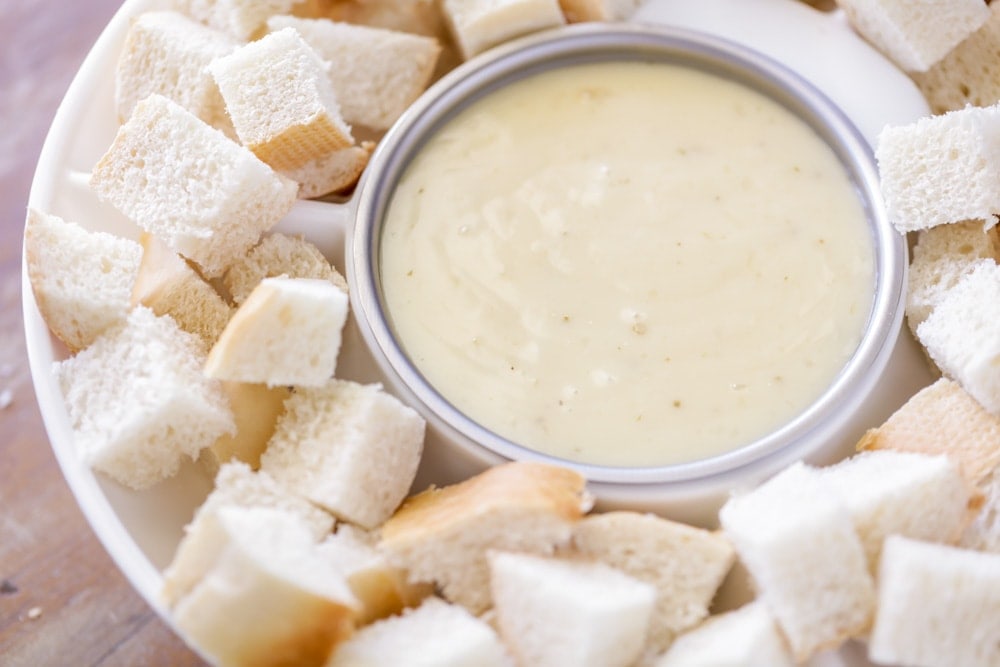 Party Tips
Since a New Year's Eve party is often full of delicious appetizers, I thought I would share some specific tips to make it easier for you and the guests to best enjoy the food and the party.
Serving utensils.
Be sure every appetizer has tongs and spoons to make it easy for guests to put it on their plates.
Provide plenty of plates and napkins at every appetizer station throughout the event.
Provide study plates and cups so that guests who are mingling around the room can balance their plates on top of their cups, leaving one hand free.
You can also provide places for guests to sit for those who may have trouble mingling and eating.
A good flow. Place appetizer tables or stations in a way that traffic can flow easily around them.
Keep it clean.
Be sure to provide several receptacles throughout the venue so guests don't need to hunt for a trash can.
Many appetizers are finger foods, so providing hand sanitizing stations will help keep hands clean to eat with.
Label any foods that you have specifically made dairy-free, gluten-free, or nut free.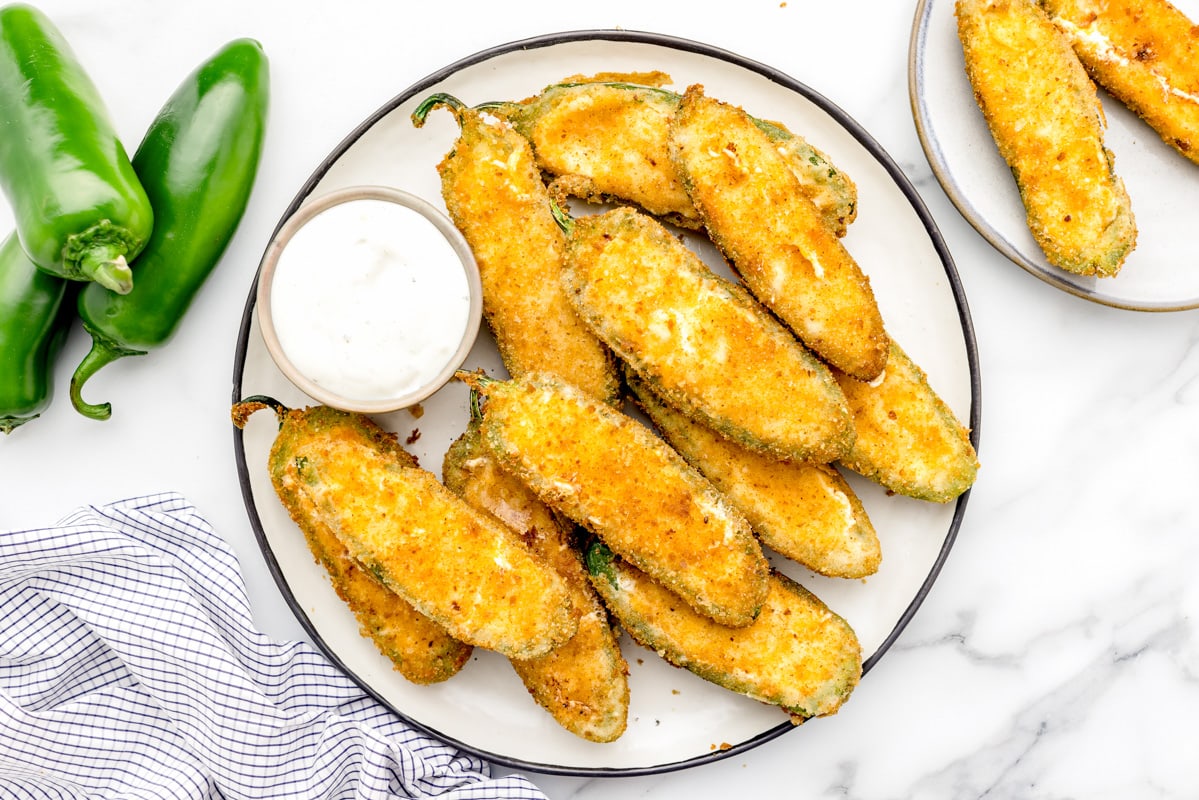 Keeping Foods Warm/Cold
Warm Appetizers:
Crock pots are great to keep food warm at a party. Be sure that you use the warm setting and not the low. Also, make sure cords are out of the way.
Chafing dishes work well.
Small electric heating pads can be placed under trays.
Cold Appetizers:
Place ice in the bottom of a bowl. Use a slightly smaller bowl to fill with food, then nestle it in the larger bowl on top of the ice.
Place serving bowls in the freezer before filling them with food.
Only place out enough dip that can be eaten within the hour. Refill with extra as needed.
---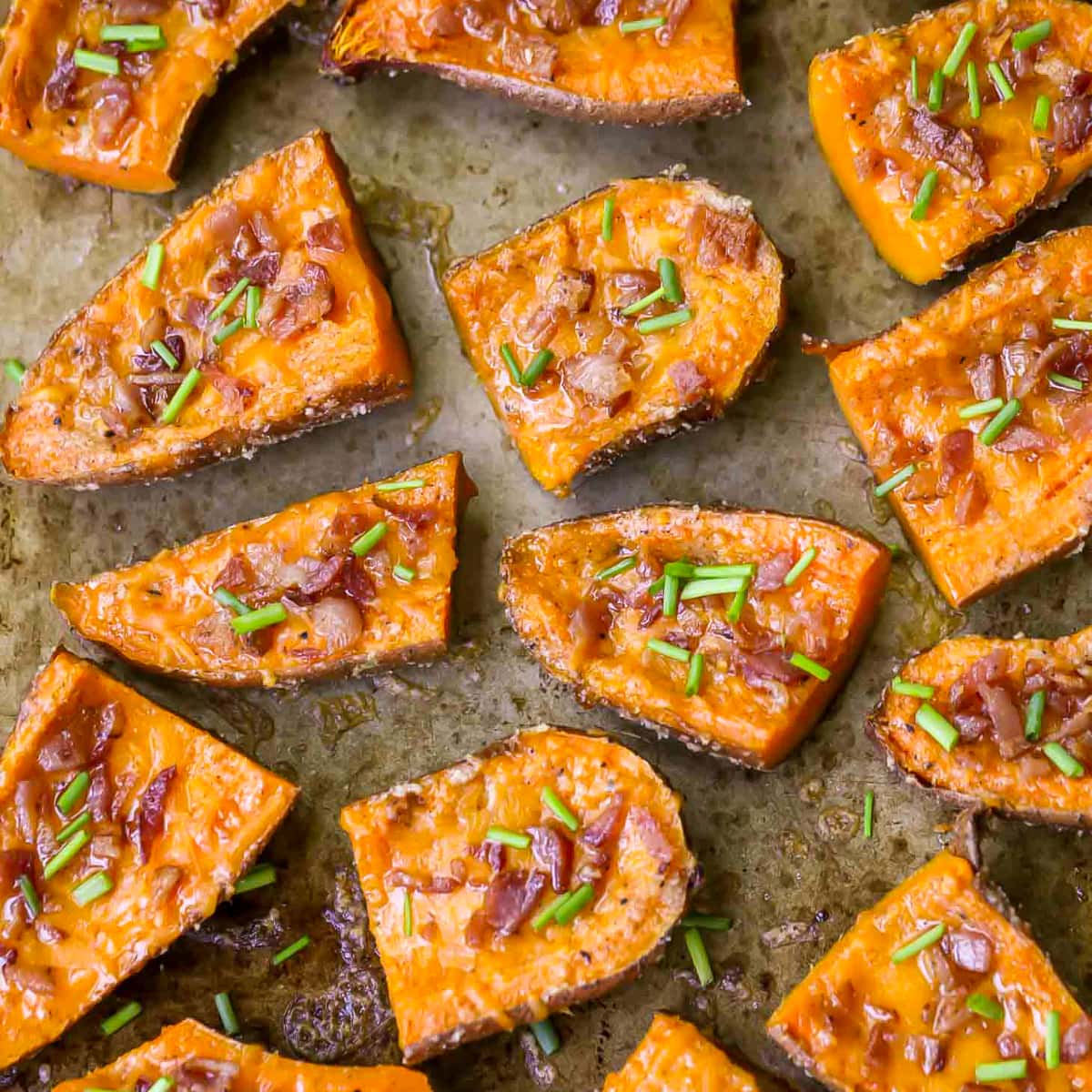 Best New Year's Eve Appetizers
We love a good appetizer spread for our New Year's Eve festivities and we've rounded up a selection of favorites!
Sweet Potato Skins – Crispy Sweet Potato Skins are a delicious buttery parmesan crusted appetizer. Whip these up for your next party!!
Buffalo Chicken Taquitos – Serve these Buffalo Chicken Taquitos as an easy dinner idea, or as an appetizer at your next party or get together.
Ham And Cheese Sliders – Everyone loves these Hot Ham and Cheese Sliders because they're easy, cheesy and addicting! They don't take long to make, and are perfect for any get together—always a crowd pleaser!
Sausage Rolls – Sausage mixed with delicious seasonings, all wrapped up in puffy pastry make these Sausage Rolls delicious and addicting!
Jalapeño Poppers – Spicy fried Jalapeño Poppers are a classic appetizer that everyone wants! Bite into these cheesy poppers for a flavor explosion!
Cranberry-Brie Bites – These Yummy Little Cranberry Brie Bites Are Perfect For Holiday Entertaining, And Simple To Make. With Buttery Crescent Dough, Melty Brie cheese, And Sweet + tart Cranberry Sauce All In One Bite, They Won't Last Long Around Hungry Family And Friends!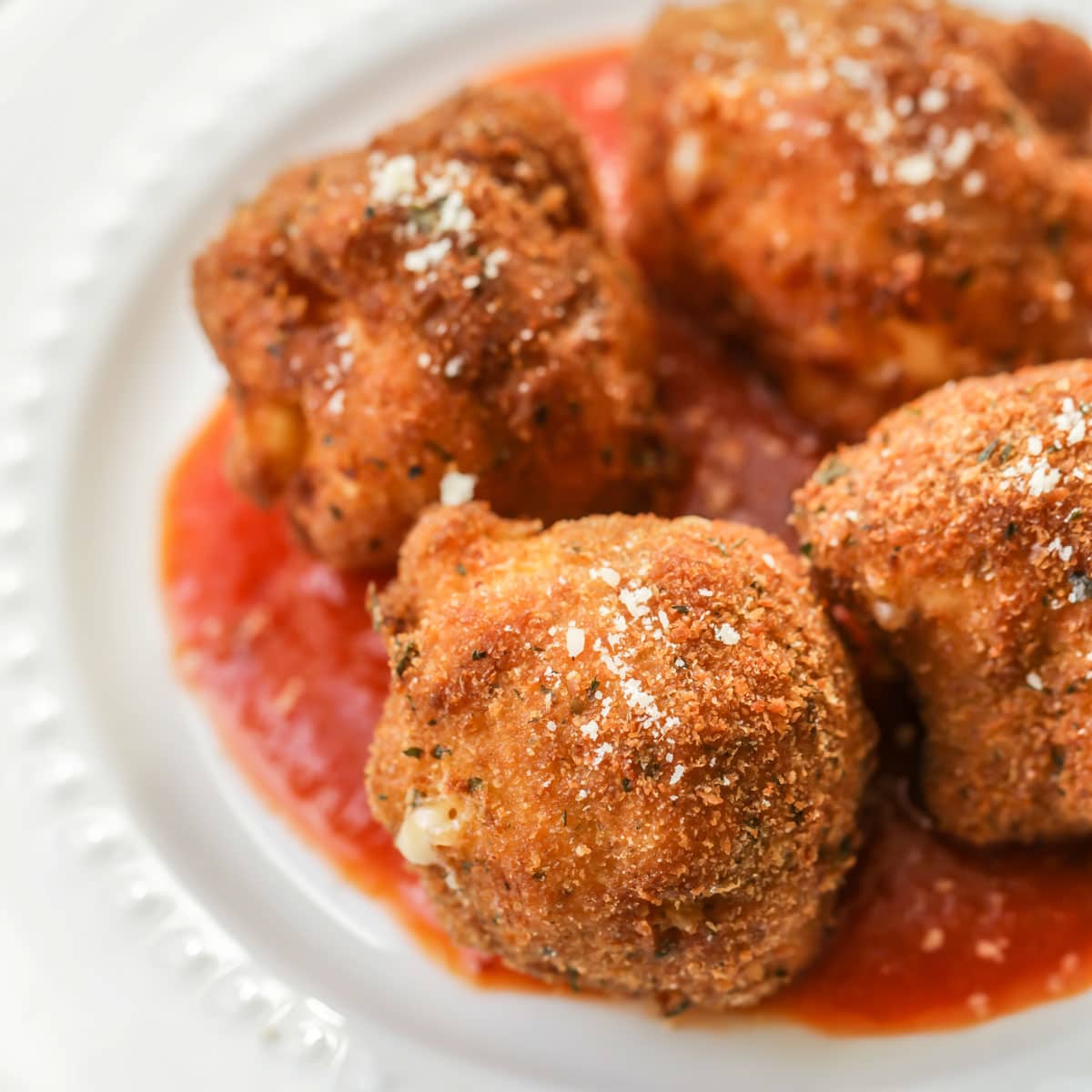 Fried Mac And Cheese – This copycat version of Cheesecake Factory's Fried Mac and Cheese appetizer is to die for! It's made of creamy mac and cheese inside a delicious and crispy breading.
Greek Cucumber Cups – This copycat version of Cheesecake Factory's Fried Mac and Cheese appetizer is to die for! It's made of creamy mac and cheese inside a delicious and crispy breading.
Bruschetta – This yummy Homemade Bruschetta is simple and perfect for any party! It includes fresh ingredients and is the perfect Italian appetizer!
Crockpot Meatballs – Sweet + savory Crockpot Meatballs are packed with flavor, and perfect for parties. They are SO easy, yet SO tasty!
Charcuterie Board – We all love to graze during holidays and parties, and what better way to do it than with a Charcuterie board?! Customize with all your favorite meats, cheeses, crackers, veggies, fruits and dips!
Cinnamon Sugar Pretzel Bites – This Copycat Recipe For Auntie Anne's Cinnamon Sugar Pretzel Bites Makes Pretzels That Are Super Soft On The Inside And Bursting With Cinnamon Sugar Flavor On The Outside!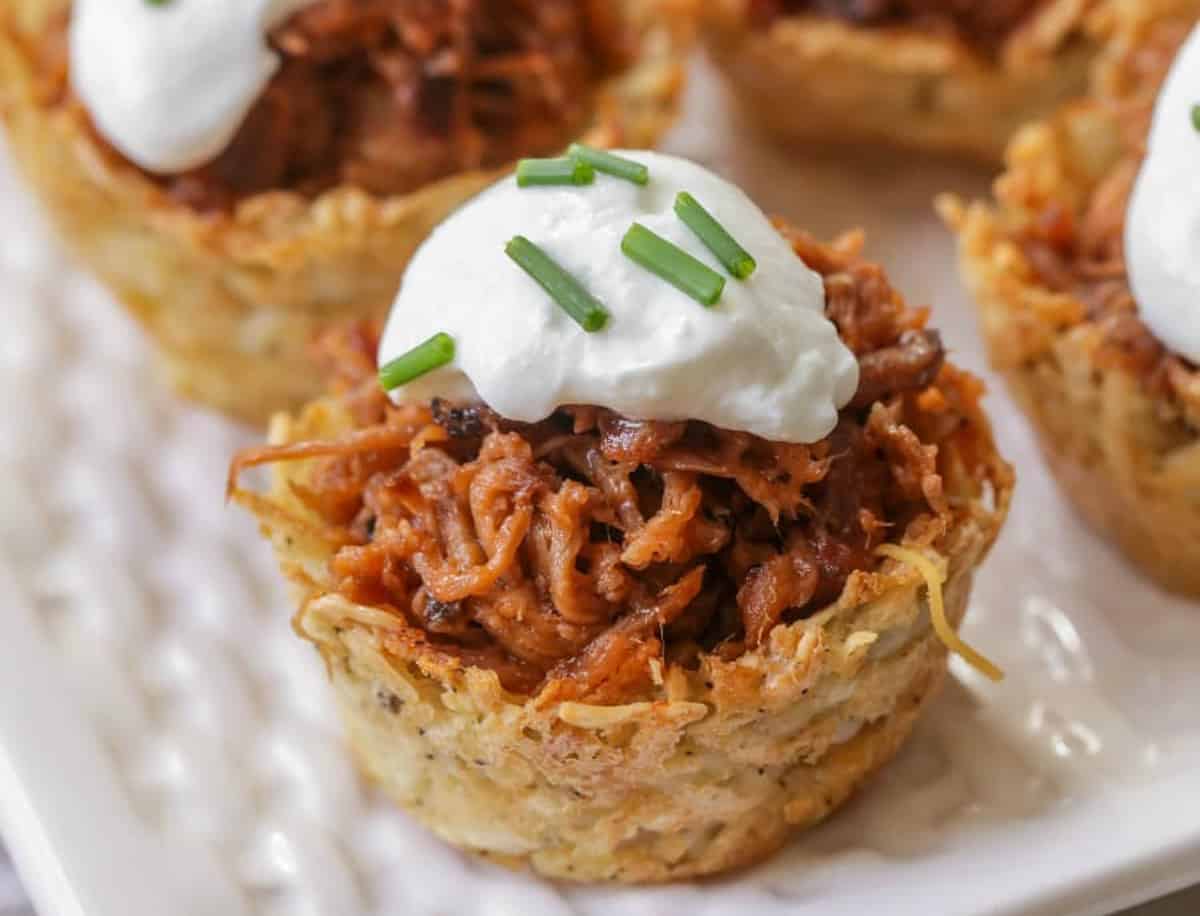 Loaded Pulled Pork Cups – Savory and delicious Loaded Pulled Pork Cups have all of the tasty flavors of a BBQ dinner in one convenient bite!
Cream Cheese And Chicken Taquitos – Everyone loves these cheesy taquitos! They're filled with chicken, cream cheese, salsa, and spinach and are great as appetizers or even a main dish.
Chicken Lettuce Wraps – This PF Chang's Lettuce Wraps recipe is a copycat of a restaurant favorite. A mixture of ground chicken, minced mushrooms, and onions, seasoned and cooked in oriental sauces and wrapped in fresh lettuce. Best of all, they take just 20 minutes to make!!
Hot Dog Nuggets – Hot Dog Nuggets only require TWO ingredients and make a perfect for lunch, dinner or even a party appetizer! Kids and adults alike will love these little bites.
Loaded Baked Potato Rounds – Loaded Baked Potato Rounds are a simple, quick and delicious side. Dip it in sour cream or your favorite dip!
Bacon Ranch Cheeseball – Spruce Up Your Holiday Appetizers With A Tasty Bacon Ranch Cheese Ball. Not Only Is It Easy But It's Delicious And Perfect Served With Crackers And Veggies.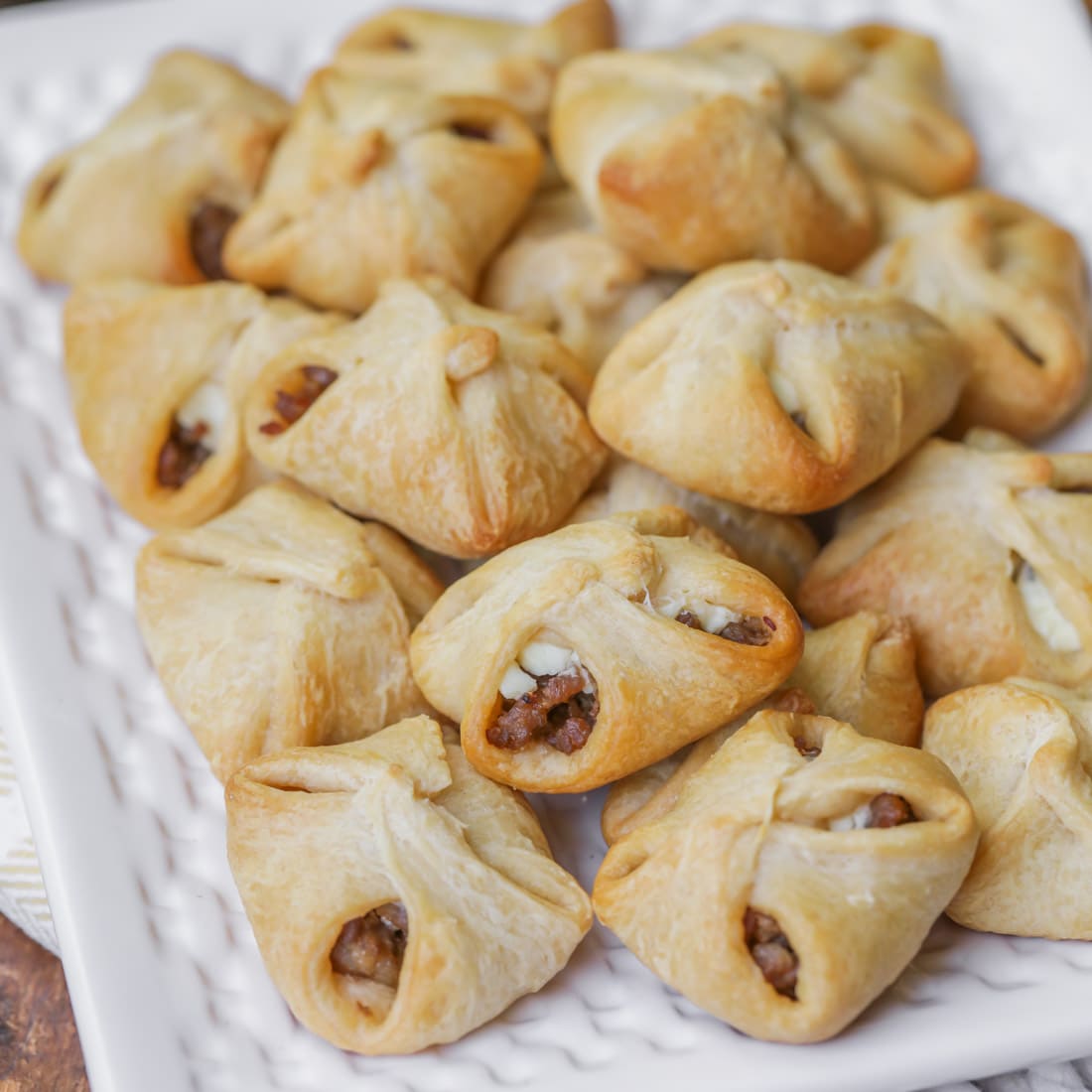 easy new year's Eve appetizers
Save time for partying with these delicious and EASY appetizers.
Sausage Cream Cheese Crescent Rolls – This simple 3-ingredient appetizer is great for parties and get togethers and is so full of flavor! Everyone will love these Sausage Cream Cheese Crescent Rolls.
Baked Buffalo Wings – Hot wings are a staple at any get together or party. This easy recipe will show you how to make this appetizer in the oven resulting in crispy, Baked hot wings.
Tortellini Skewers – Quick + simple pesto Tortellini Skewers whip up in minutes for a tasty appetizer perfect for any occasion. They are cheesy and delicious!
Bacon Wrapped Smokies – Bacon wrapped little smokies sprinkled with brown sugar, and baked to perfection. These bacon wrapped weenies are the ultimate appetizer for any party, and always the first to disappear!
Mini Pizzas – These Mini Pizzas are bite-sized pizzas topped with cheese, tomatoes, fresh basil and more. They're perfect for lunch, dinner, or even as an appetizer at parties!
Boneless Honey BBQ Wings – Delicious homemade boneless chicken wings, double breaded, baked to a crispy perfection, then smothered in sweet and tangy honey BBQ sauce.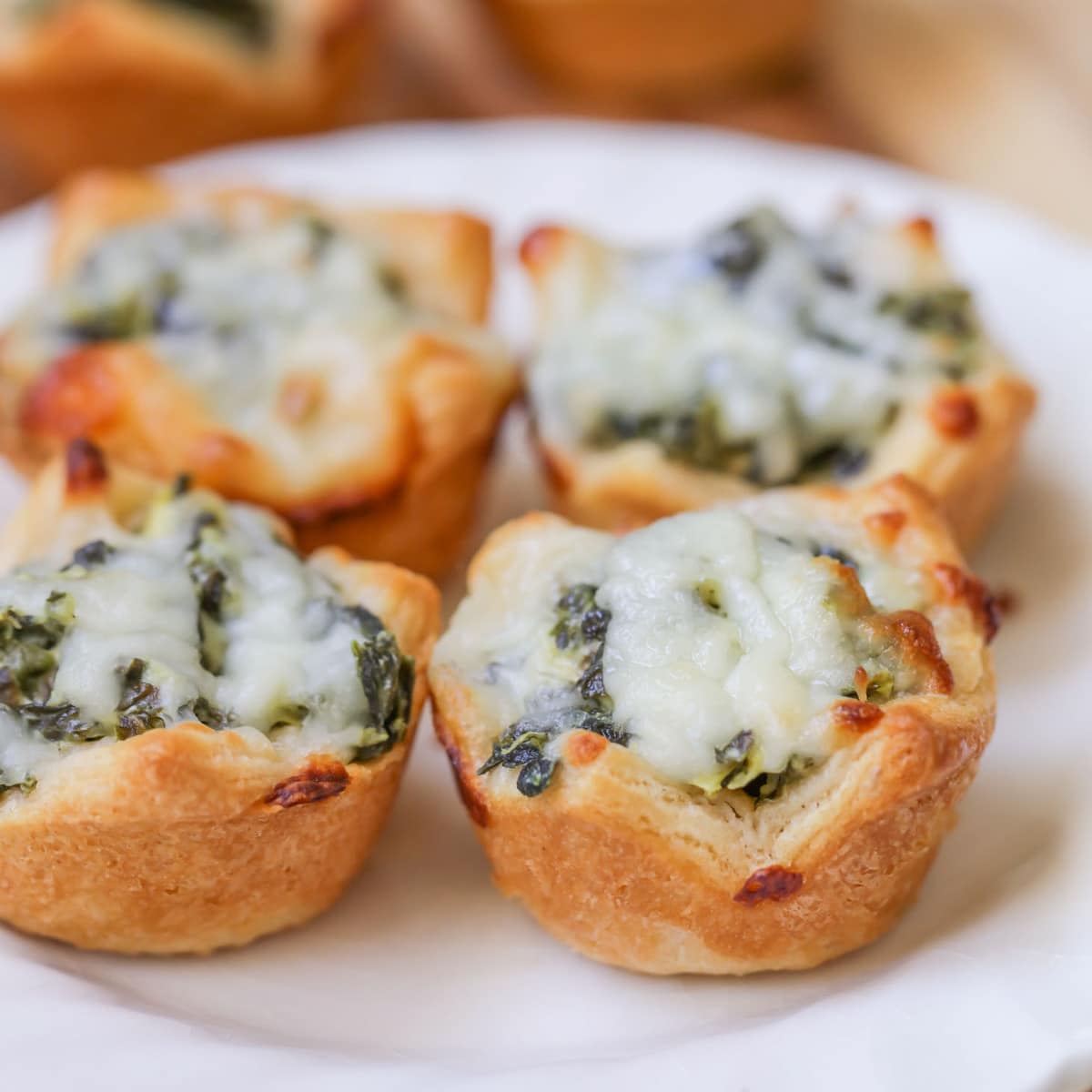 Spinach Dip Bites – Spinach Dip Bites are crunchy, bite-size treats are cheesy and buttery, making them a great appetizer. They are a hit every time!
Bacon Wrapped Potatoes – Bacon Wrapped Potatoes are a delicious appetizer combing two favorite ingredients – bacon and potatoes. Just add your favorite dip!!
Caprese Kabobs – Simple, quick and delicious Caprese Kabobs take minutes to throw together and are perfect for any party or get together.
Velveeta Spinach Dip – Cheesy Velveeta Spinach Dip is a simple 5 ingredient dip that everyone will love! It's quick, easy, and SO tasty!
Mini Deep Dish Pizzas – Mini Deep Dish Pizzas are our new favorite dinner recipe. They're easy, quick and can be made custom for each person with their favorite toppings!
Grape Jelly Meatballs – Delicious 3-ingredient Grape Jelly Meatballs. They take just minutes to prep and are the perfect dinner or appetizer for any party or get together.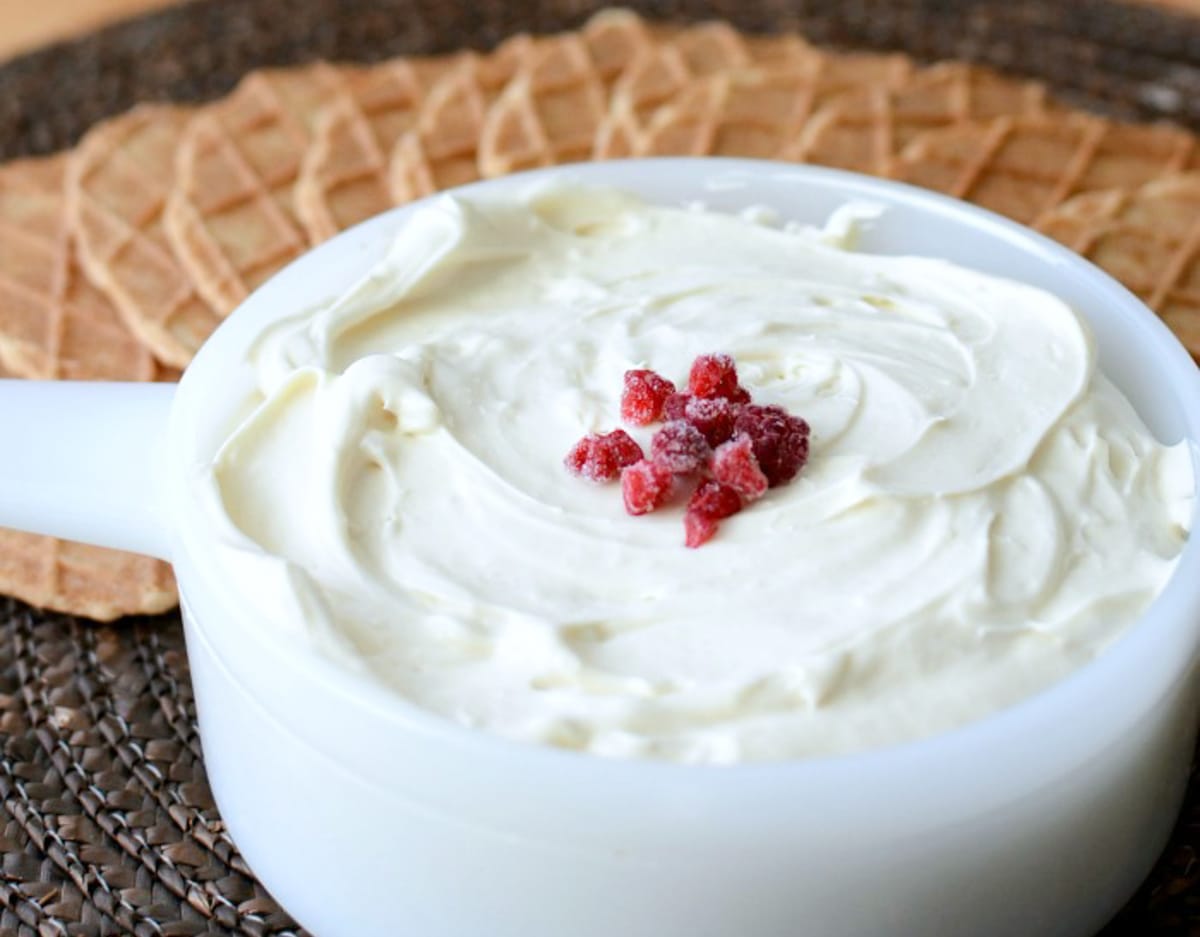 new year's dips and salsas
Break out a spread of your favorite dippables to pair with these sweet or savory dips and salsas! There is something for everyone.
Cheesecake Dip – You've never tasted a better combo of 4 ingredients that comes together in less than 5 minutes! I am always needing a quick treat to throw together for Girls Night, movie night, or after school snackin', and this Cheesecake dip is the perfect solution.
Caramel Apple Dip – The creamiest and most delicious Caramel Apple Dip you'll ever find. Just a few ingredients are required, but dark brown sugar and sweetened condensed milk make this recipe a crowd pleaser at any get together.
Yogurt Fruit Dip – Cream cheese, cool whip, vanilla yogurt, and vanilla pudding mix blended together to make this amazing Vanilla Yogurt Fruit dip for your favorite fruit!
Crock Pot Spinach Artichoke Dip – Crockpot Spinach Artichoke Dip is made easy in a slow cooker! With creamy cheese, shredded spinach, and chopped artichokes all melted together, it's the ultimate party dip.
BLT Dip – This creamy BLT Dip is the ultimate warm, cheesy, party dip! It's loaded with cream cheese, cheese, and sour cream, then baked and topped with crispy bacon, shredded lettuce and fresh tomato!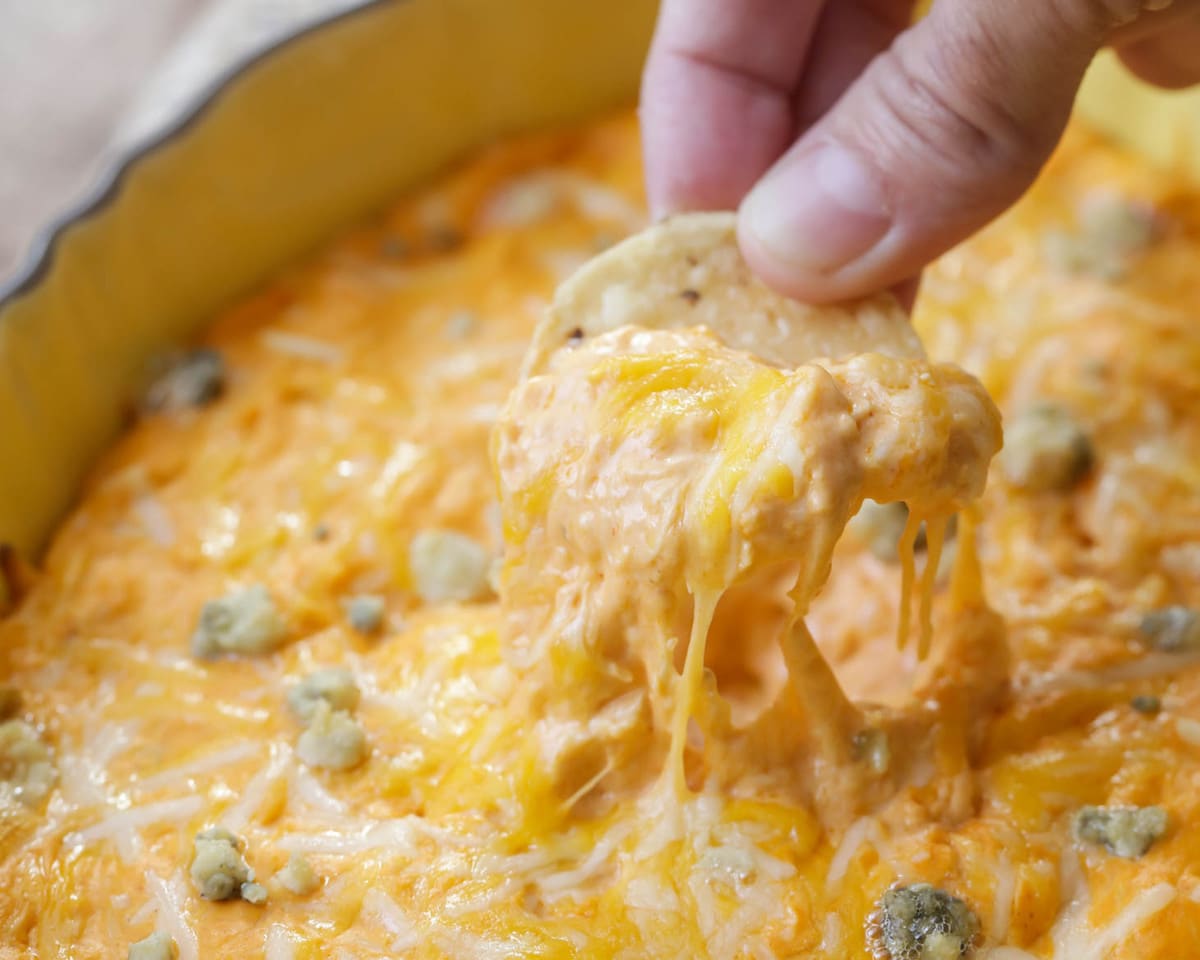 Buffalo Chicken Dip – All the flavor of buffalo wings in a creamy, cheesy, simple dip! This super easy Buffalo Chicken Dip is filled with chicken, buffalo sauce, ranch, and three different types of cheese! It's perfect for parties and get togethers, served with chips or veggies.
Homemade Salsa – This is such an EASY homemade salsa recipe! All you have to do is throw all the ingredients into your blender, and blend!
Cream Cheese Green Chili Dip – Cream Cheese Green Chili Dip is one of our favorite appetizers. It is is delicious and takes just 1 minute to make!!
Cheese Fondue – This Cheese Fondue is gooey perfection literally made in minutes. It's a showstopper dip to share, or not!
Simple Guacamole – Spicy, chunky simple guacamole is so easy and addicting, it's sure to be a crowd pleaser! You won't be able to stop eating it.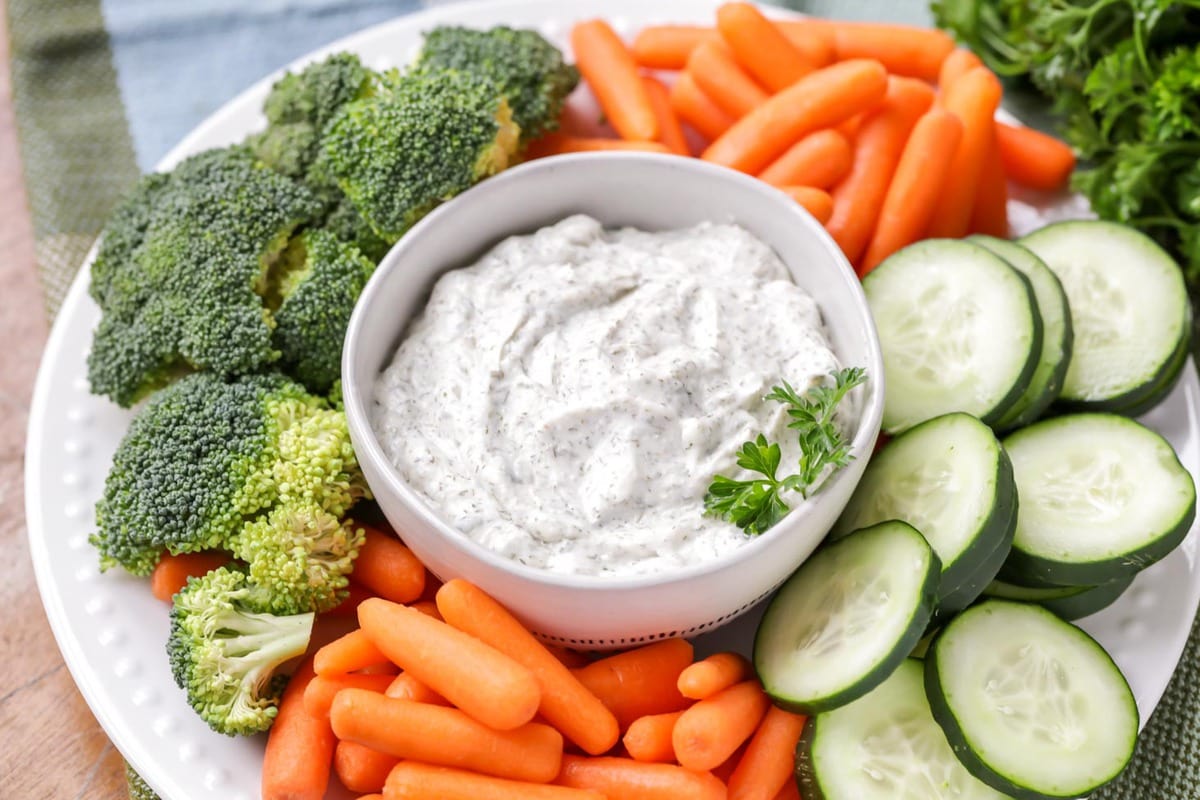 Dill Vegetable Dip – The perfect go-to veggie dip for parties and snacking. Use it for vegetables, chips, or whatever you feel like! Even if you don't like dill pickles, you'll love this Dill Vegetable Dip.
Crack Chicken Dip – Bacon, Ranch, and cheese make this Crack Chicken Dip irresistible! It's savory, gooey and a great appetizer for any occasion.
Homemade Hummus – If You Need A Quick Healthy Snack Or Party Appetizer, You Can Whip Up This Homemade Hummus In 5 Minutes Or Less!
Cranberry Salsa – Tangy cranberry salsa has just the right amount of zip. It is a gorgeous snack or appetizer for any gathering, especially during the holiday season!
Chili Cheese Dip – Just four ingredients make for the BEST and yummiest chili cheese dip! Melty cheddar cheese and hearty chili are so tasty together! It's the perfect appetizer for any party.
---
the complete list
Here are the picture cards for all of the fantastic New Years Appetizers listed above.
Nothing rings in the New Year better than a spread of delicious foods for your guests to munch on and with this list your celebration is sure to be a big success!
---
More Collections: Easy Appetizers, Appetizer Dips, Crock Pot Appetizers