If you're looking for pre-dinner dishes that are mess free and easy to eat without utensils, try something from this collection of Finger Food Appetizers!
More Collections: Mexican Appetizers, BBQ Appetizers, Cold Appetizers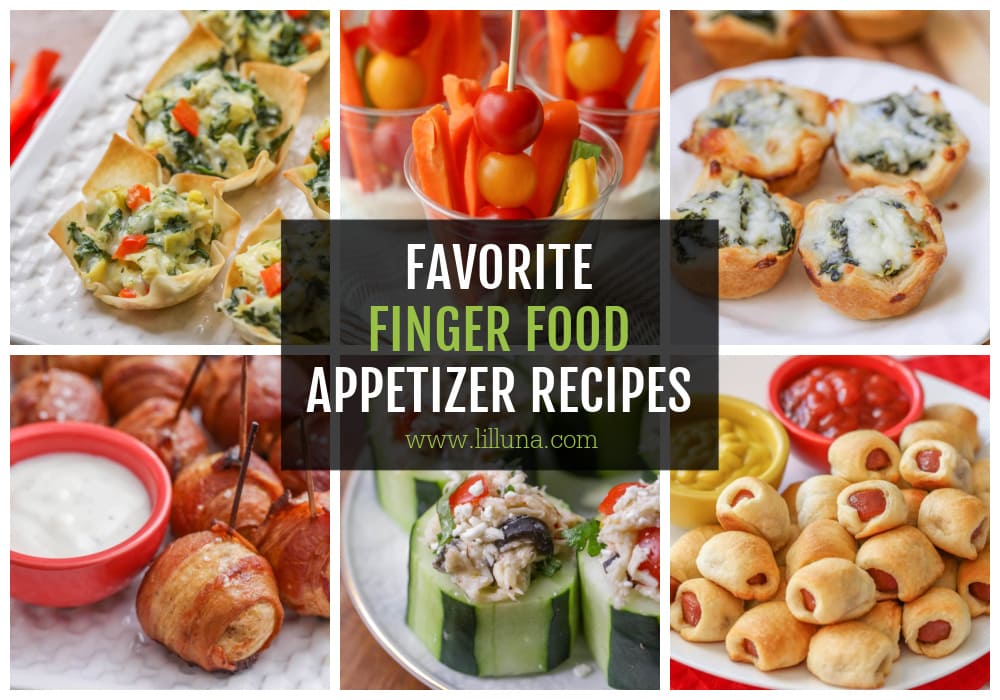 What makes an appetizer Finger Food?
Finger Foods are often served with other appetizers, before dinner, to wet your guests' appetites. All finger food recipes are appetizers, but not all appetizers are finger foods.
I classify dishes as Finger Food Appetizers when they are small, individual portions of food. Ideally, they can be eaten in 1-2 bites, and do not create a mess. There are no sticky fingers, no drips, no crumbs. Think – crostini topped with goat cheese and prosciutto, or something like Cranberry Brie Bites.
Although plates and utensils can be provided, finger foods can be eaten without them. They can be served as an appetizer for a sit down meal, but are often served when hosting a mix and mingle event, where people are often walking around chatting.
We've compiled a list of appetizers that also classify as easy finger food recipes including: meatless options, mini versions, and just our favorites!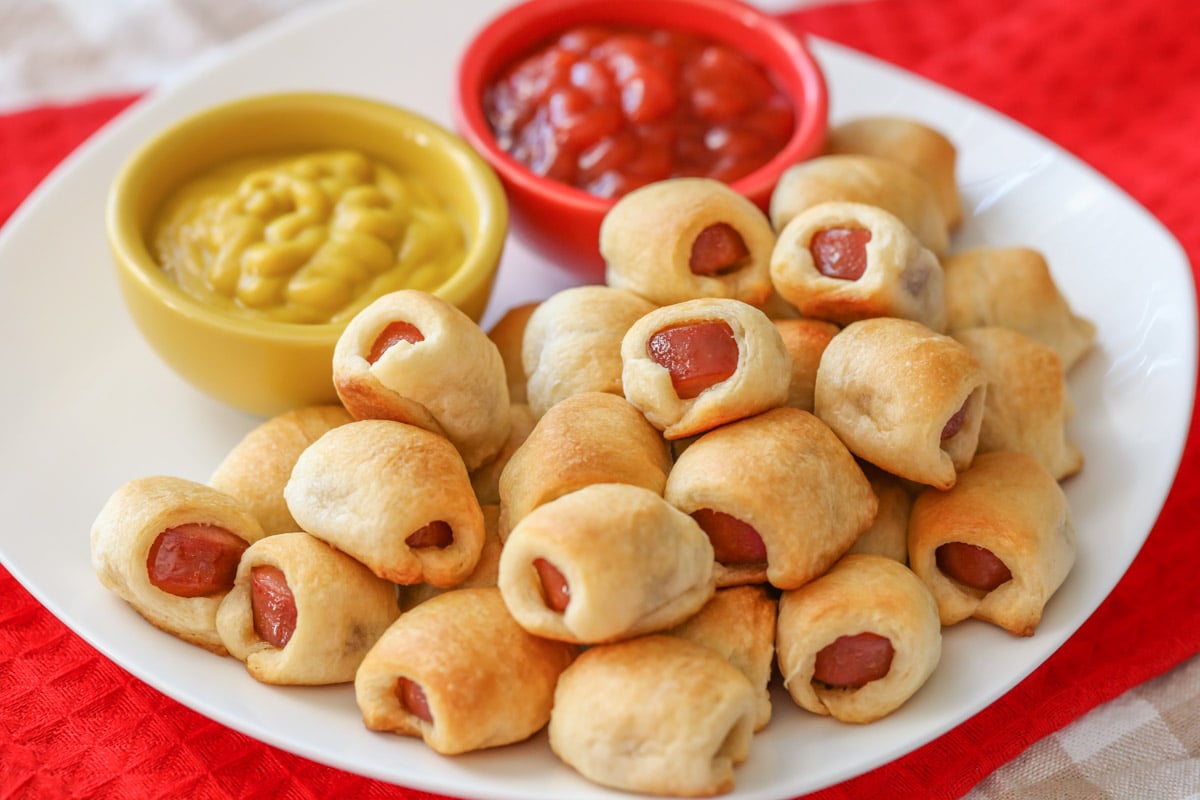 Planning Tips
Deciding how many appetizers to make depends on the occasion, and how you're planning to serve the dishes.
Before dinner. Plan for guests to have 3-4 appetizer pieces per person.
Appetizer only event. Prepare enough appetizers for guests to have 10-12 pieces during a 2 hour party. Add 4-5 more pieces, per person, for every hour after. Toothpicks can often make finger food easier, and more sanitary to eat, but aren't necessary.
Deciding on different dishes. Deciding how many different dishes to make depends on the amount of people you will be hosting. Try to pick dishes that have different colors and textures, warm & cold, protein filled & produce based, all while making sure the flavors of the different dishes are complementary.
If you have 10 or fewer guests, plan to have 3 different appetizers.
Add another appetizer selection for every 8 additional guests.
Keeping food the right temperature. Some dishes do well sitting at room temperature, others need to be kept warm or cold in order for them to be at their best. Use the following tips to keep, and serve the food at the right temperature:
Have two coolers for food to be kept in while waiting to be served, one for hot dishes and one for cold dishes. Don't set out more than can be eaten within 30 minutes. Refill as needed.
Keep food warm in a crock pot or chafing dish.
Keep food cold by placing platters and bowls on a tray of ice.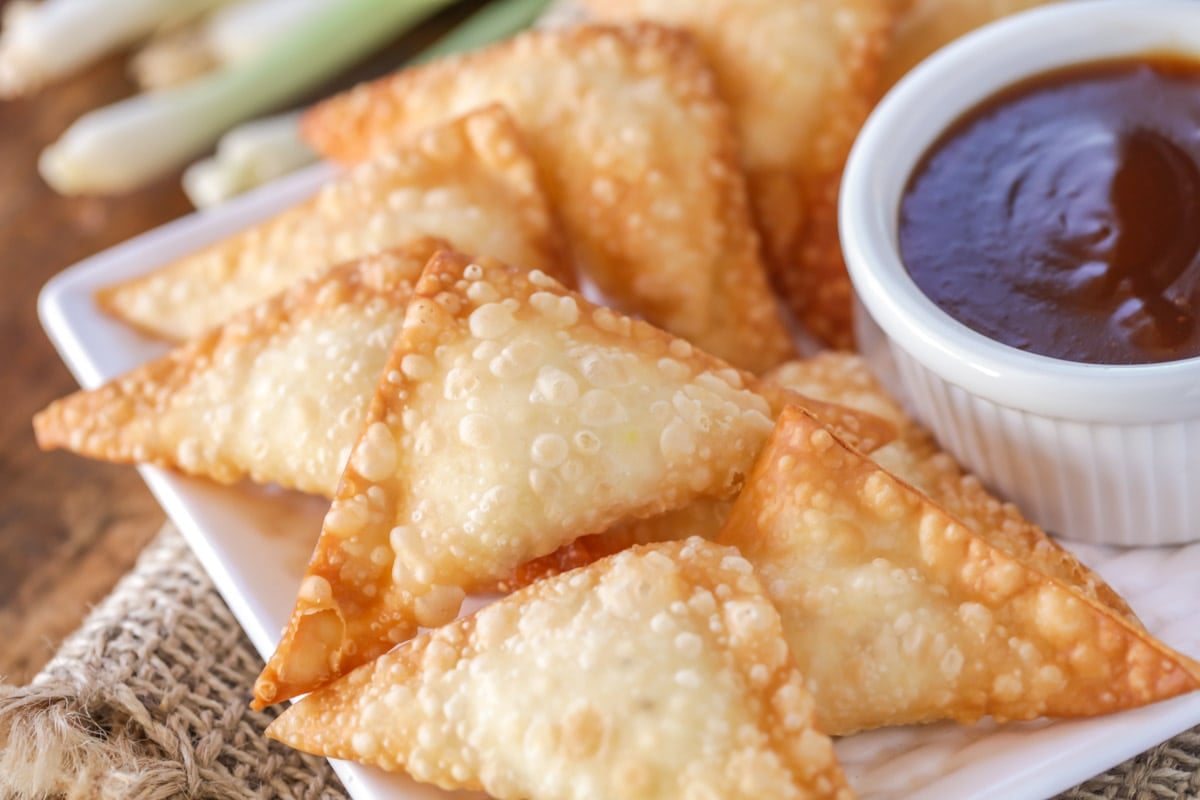 Tips for the Host
Plan your menu a week or two before, then watch ads to see what is on sale.
Include homemade and store bought dishes. If you are using any new recipes, try them a couple weeks ahead of time, to work out any kinks.
Decide which appetizers can be made ahead of time, and stored in the fridge.
Place appetizer tables, or stations, in a way that traffic can flow easily.
Provide the proper serving utensils, making it easier for guests to fill their plates.
Provide plenty of plates and napkins at every appetizer station throughout the event.
Provide places for guests to sit, for those who may have trouble walking and eating.
Place several receptacles throughout the venue, so guests don't need to hunt for a trash can.
---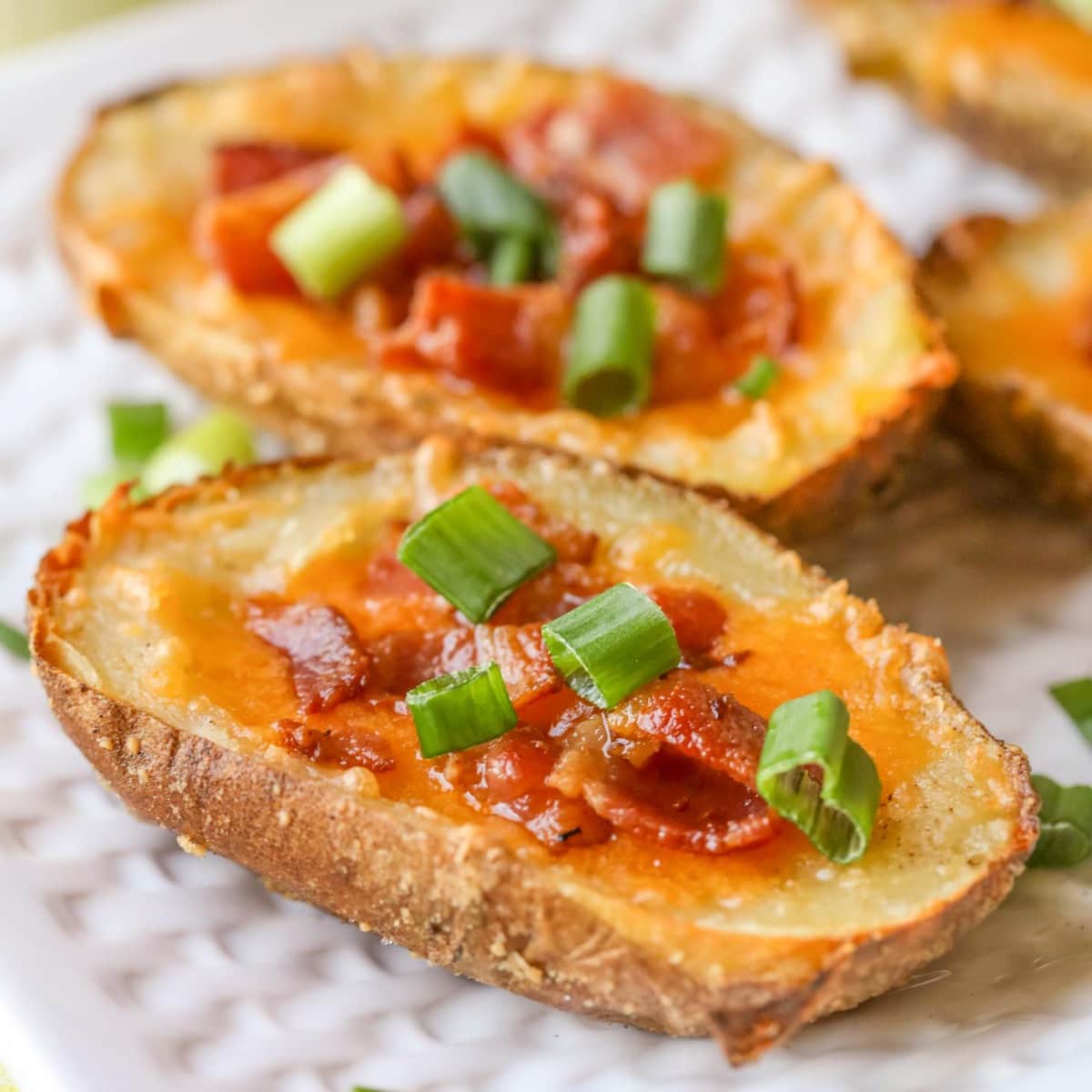 Best finger foods
We definitely have our go-to's when it comes to get togethers. Enjoy this list of Finger Food Appetizers we like to serve the most!
Parmesan Crusted Potato Skins – This Easy Potato Skin Appetizer Is Loaded With Bacon & Cheese And Crusted With Parmesan, Making It The Best Potato Skins Ever!
Teriyaki Chicken Wings – Homemade Teriyaki Wings With A Homemade Teriyaki Sauce – One Of The Best Recipes You'll Ever Try! Lots Of Flavors Make These Chicken Wings A Great Appetizer For Any Get Together.
Bacon Wrapped Smokies – Bacon Wrapped Little Smokies Sprinkled With Brown Sugar, And Baked To Perfection. These Bacon Wrapped Weenies Are The Ultimate Appetizer For Any Party, And Always The First To Disappear!
Fried Egg Rolls – These Homemade Egg Rolls Are The Perfect Appetizer Or Side To Any Asian Meal! They're Filled With Chicken And Veggies And Fried To Perfection.
Buffalo Wings – Crispy tender chicken wings tossed in the most wonderful buffalo sauce! The best party appetizer for a crowd or party!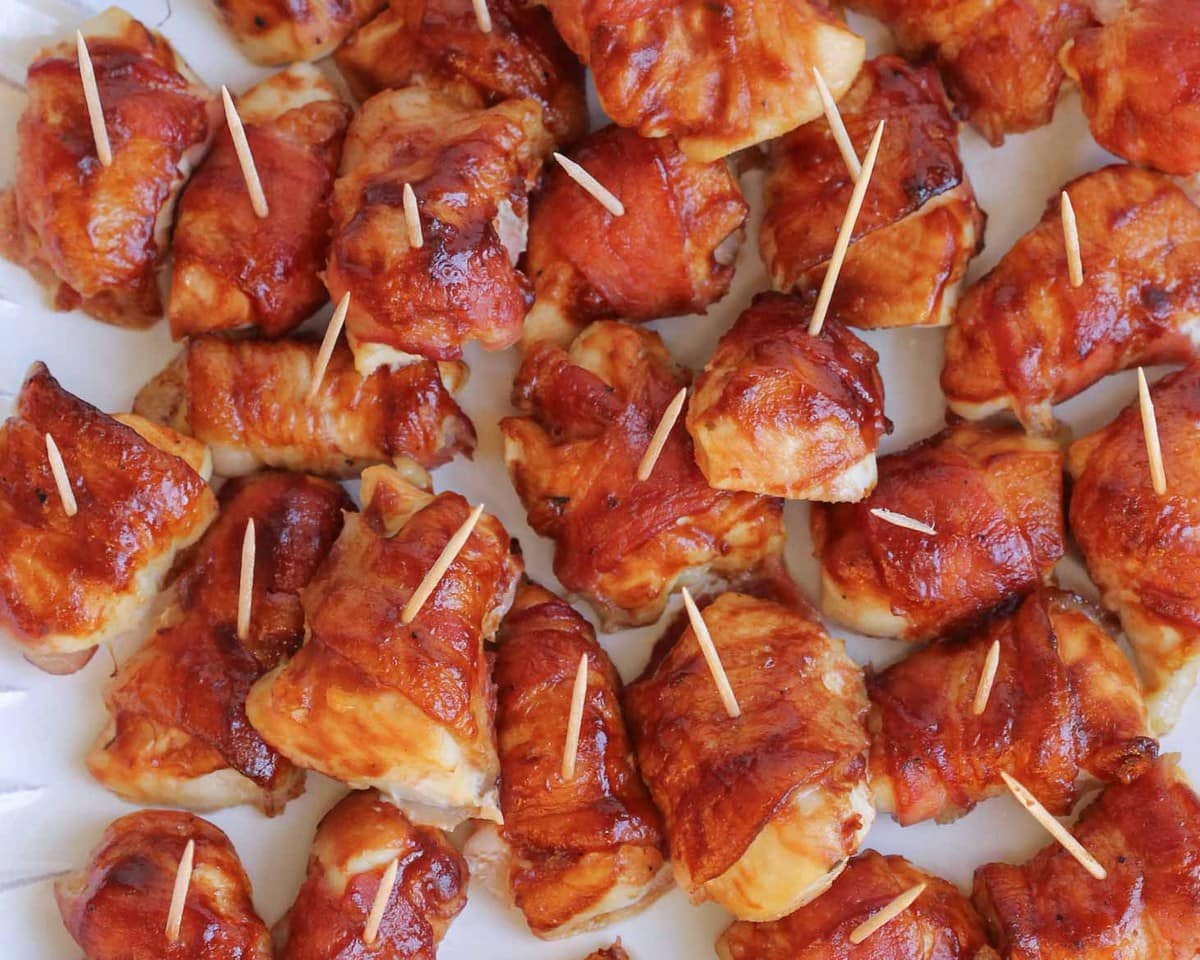 BBQ Bacon Wrapped Chicken Bites – BBQ Bacon Wrapped Chicken Bites are simple, quick, and delicious. Chicken smothered in barbecue sauce and wrapped in bacon make for a popular appetizer at any gathering!
Cheese Puffs – Cheese puffs are light and fluffy on the inside with the perfect crunch on the outside. This little appetizer is bursting with cheesy flavor!
Southwest Egg Rolls – These delicious Southwest Egg Rolls are fried to perfection and are filled with chicken, corn, peppers, beans, spices and more! Serve them with salsa, sour cream or guac.
Deep Fried Pickles – Deep Fried Pickles Are Crunchy, Flavorful, And SO Tasty! These Pickle Slices Are Breaded And Fried To Perfection, Making Them A Crowd-Favorite Party Appetizer!
Jalapeno Poppers – Spicy Fried Jalapeño Poppers Are A Classic Appetizer That Everyone Wants! Bite Into These Cheesy Poppers For A Flavor Explosion!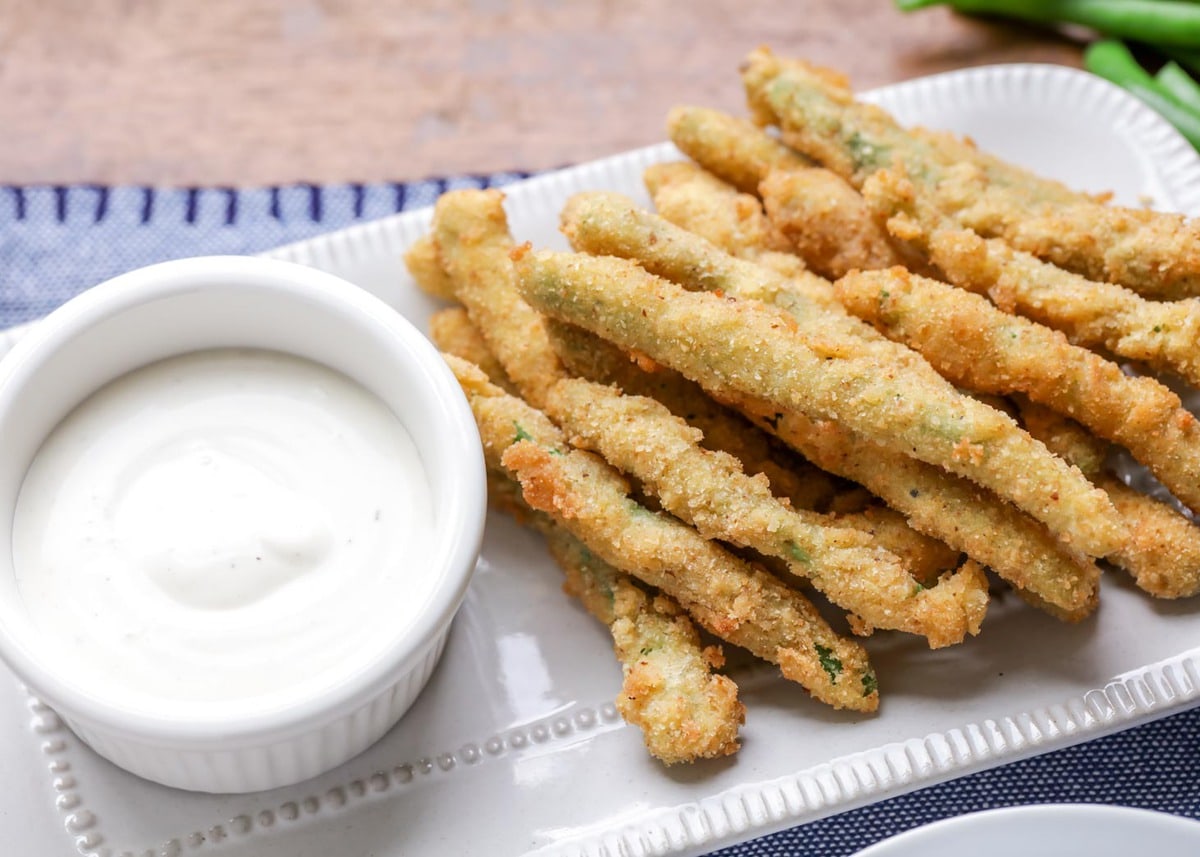 Fried Green Beans – Crispy fried green beans making all of your appetizer dreams comes true! Breaded with seasoned bread crumbs and fried to crunchy perfection!
Fried Zucchini – Whether You Serve It As A Side Or An Appetizer, This Restaurant Style Fried Zucchini Is A Family Favorite. Fried To Perfection, This Dish Is Simply Addicting, Especially Dipped In Ranch And Marinara!
Cream Cheese and Chicken Taquitos – Everyone Loves These Cheesy Taquitos! They're Filled With Chicken, Cream Cheese, Salsa, And Spinach And Are Great As Appetizers Or Even A Main Dish.
Mozzarella Cheese Sticks – Everyone is obsessed with these ooey gooey homemade mozzarella sticks, breaded with a flavorful coating and fried to a golden perfection.
Sausage Stuffed Jalapenos – These Sausage Stuffed Jalapeños Are Also Filled With Cream Cheese And Baked To Perfection. Trust Us When We Say They're A Must-Have Appetizer At Your Next Party.
---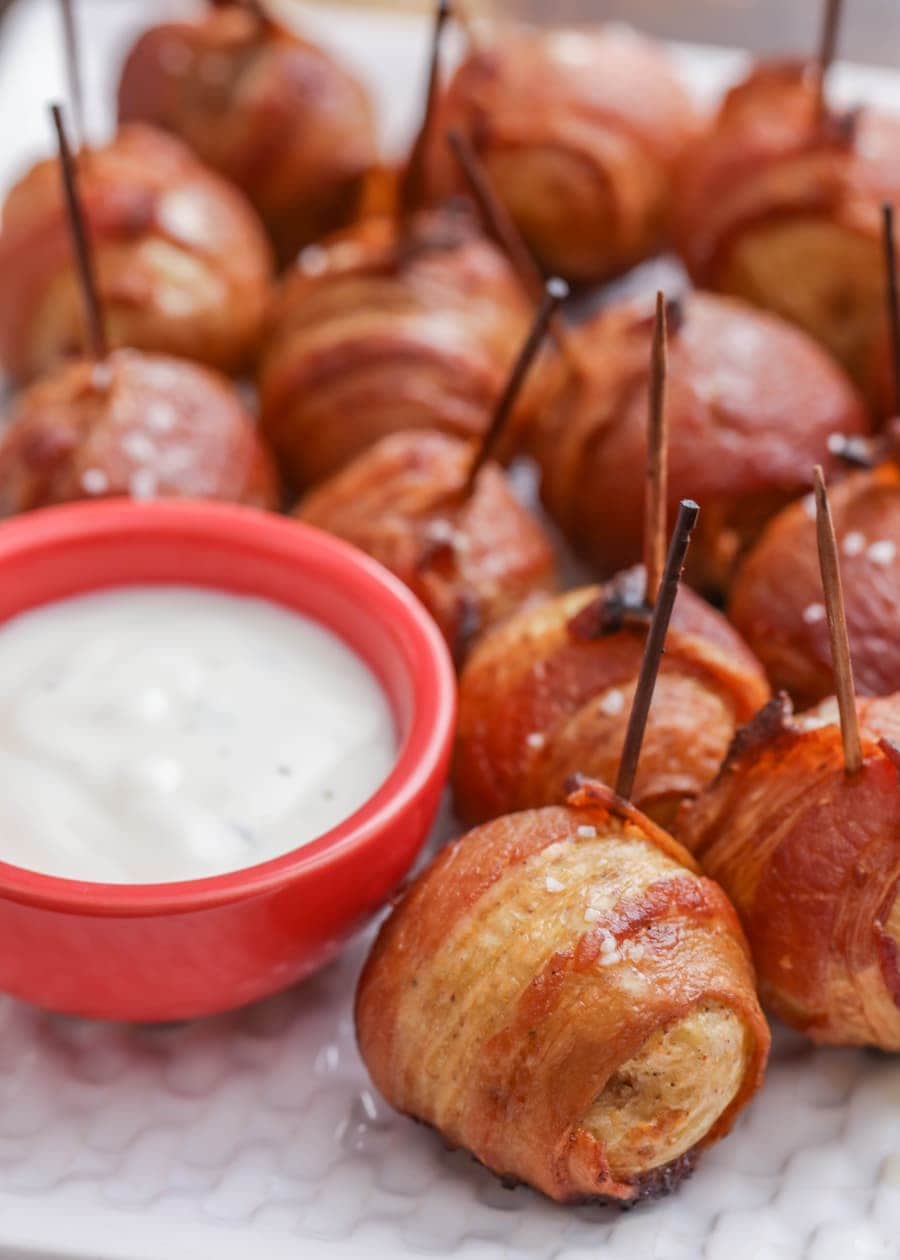 Easy finger foods
Want a few easy finger foods that are quick and simple? Our musts are made in minutes, or prepped in little time. You are sure to find several perfect choices for your next event!
Bacon Wrapped Potatoes – Bacon Wrapped Potatoes are a delicious appetizer combing two favorite ingredients – bacon and potatoes. Just add your favorite dip!!
Sausage Cream Cheese Crescent Rolls – This simple 3-ingredient appetizer is great for parties and get togethers and is so full of flavor! Everyone will love these Sausage Cream Cheese Crescent Rolls.
Bacon Wrapped Dates – Sweet And Savory Bacon Wrapped Dates Make A Tasty Appetizer. The Contrasting Flavors Combine For The Perfect Bite!
Crockpot Meatballs – One Of The Easiest And Tastiest Meatball Recipes You'll Ever Try! These Crockpot Meatballs Are Full Of So Much Flavor, And Perfect For Parties. Best Of All, They Only Require 5 Minutes Of Prep Work!
Buffalo Chicken Bites – Buffalo Chicken Bites are made from spicy buffalo chicken wrapped in buttery crescent dough and served with a tasty Bleu Cheese Ranch Dressing.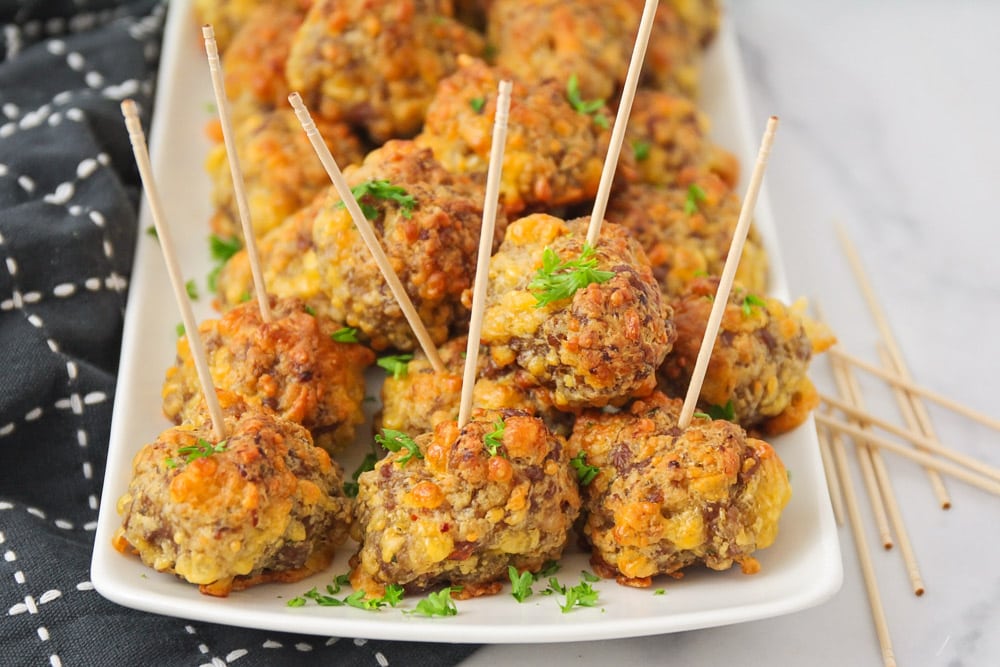 Sausage Balls – Sausage Balls Are Cheesy, Savory, And Delish. It Only Takes 5 Ingredients To Make This Savory Appetizer!
Grape Jelly Meatballs – Delicious 3-Ingredient Grape Jelly Meatballs. They Take Just Minutes To Prep And Are The Perfect Dinner Or Appetizer For Any Party Or Get Together.
Fiesta Pinwheels – Fiesta pinwheels are bite-size tortilla rolls filled with a spiced cream cheese mixture. They are a party in your mouth!
Cream Cheese Wontons – Crispy fried Cream Cheese Wontons are filled with cream cheese, lemon and garlic pepper, paprika & fried to golden perfection!
Sausage Rolls – Sausage mixed with delicious seasonings, all wrapped up in puffy pastry make these Sausage Rolls delicious and addicting!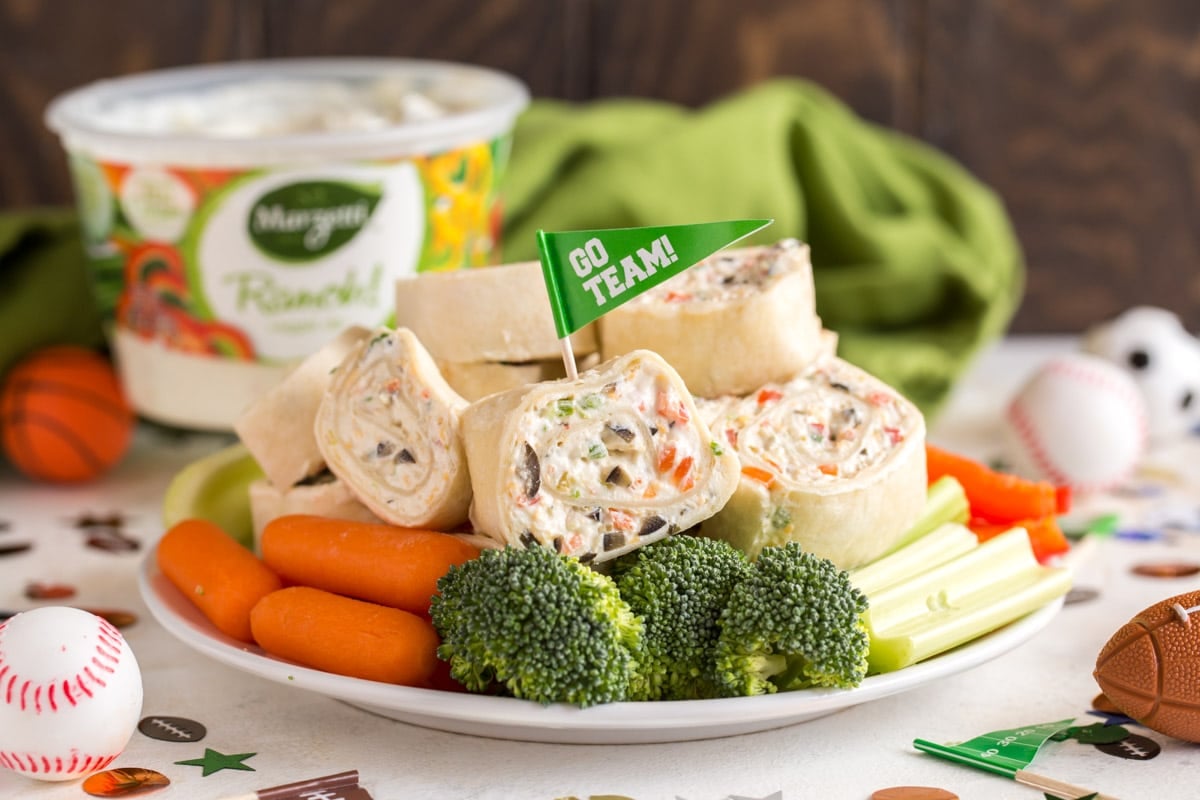 Cold finger foods
We love to have a few cold finger foods to serve at parties. Not only are they delicious, but they can be made ahead of time!
Veggie Tortilla Roll Ups – These delicious Veggie Tortilla Roll Ups are made from a rolled tortilla filled with Ranch Veggie dip, and chopped veggies, making them the perfect bite-sized party appetizer!
Veggie Cup Appetizers – Veggie Cup Appetizers – Perfect For Parties And After School Snacks For The Kids! This Mess Free Concoction Is Great For So Many Occasions!
Greek Cucumber Cups – Simple Greek Cucumber Cups are a light and delicious appetizer that whips up in minutes. They are a perfect low calorie snack!
Deviled Eggs – Nothing Better Than A Smooth Deviled Egg Appetizer! You'll Be Surprised With How Easy These Are To Make. Tons Of Flavor, Super Delicious And Perfect For Parties And Holidays.
Lunch Kabobs – Kid-friendly lunch kabobs are filled with savory meats and fresh veggies. They're perfect for parties, BBQs, Lunches and more!
---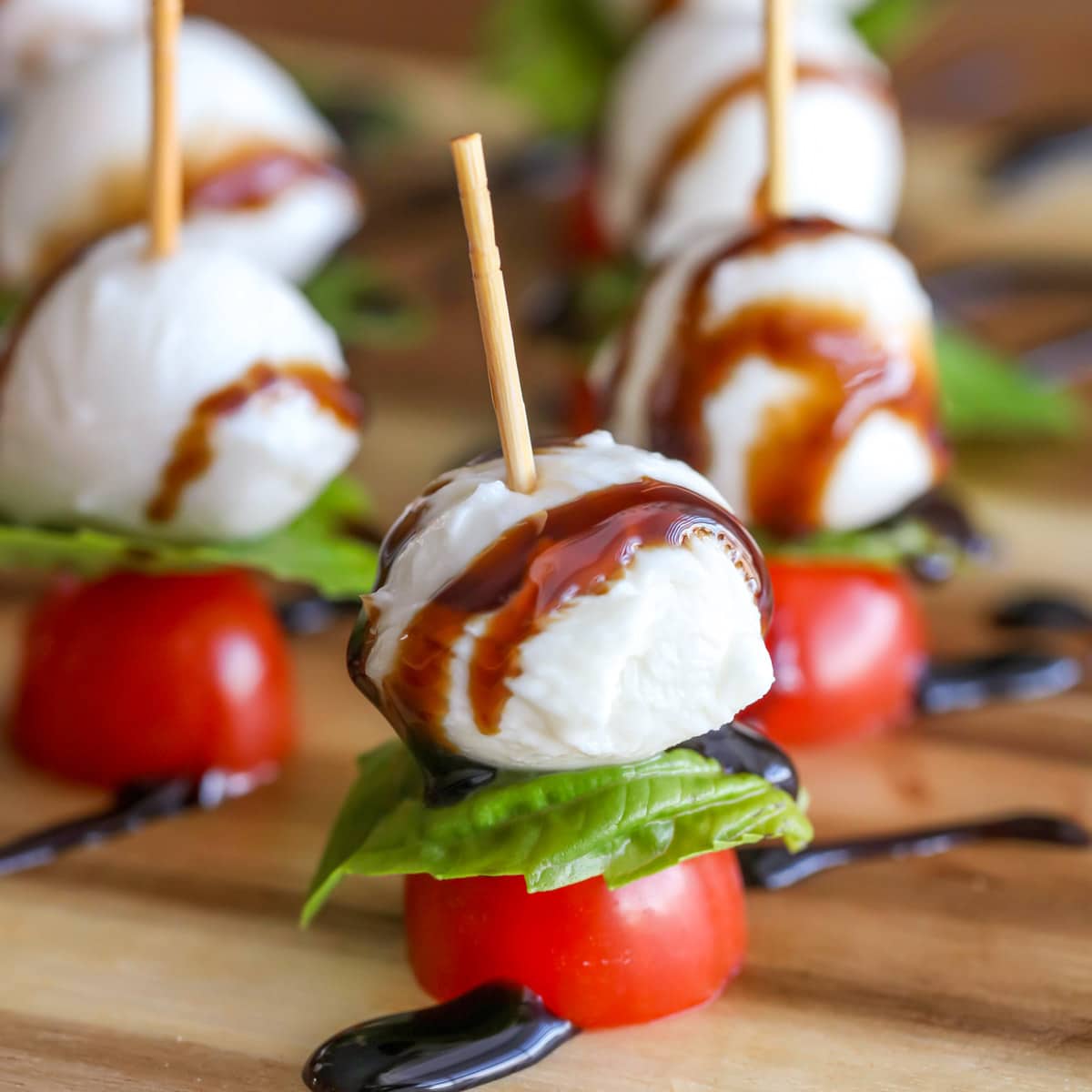 healthy finger foods
Finger foods don't all have to be unhealthy! There are a lot of healthy options, including:
Caprese Kabobs – Simple, quick and delicious Caprese Kabobs take minutes to throw together and are perfect for any party or get together.
Game Day Veggie Trays – Easy game day inspired Veggie Trays are perfect for any occasion or party! Grab your friends and gather around for good food.
Baked Chicken Wings – Deliciously Crispy Baked Chicken Wings Have Endless Possibilities. Bake In The Oven, And Dip In Your Favorite Sauces!
Baked Kale Chips – Grab A Healthy Snack Like These Crunchy Baked Kale Chips! So Much Better For You Than Regular Potato Chips And Super Tasty Too!!
Charcuterie Board – We all love to graze during holidays and parties, and what better way to do it than with a Charcuterie board?! Customize with all your favorite meats, cheeses, crackers, veggies, fruits and dips!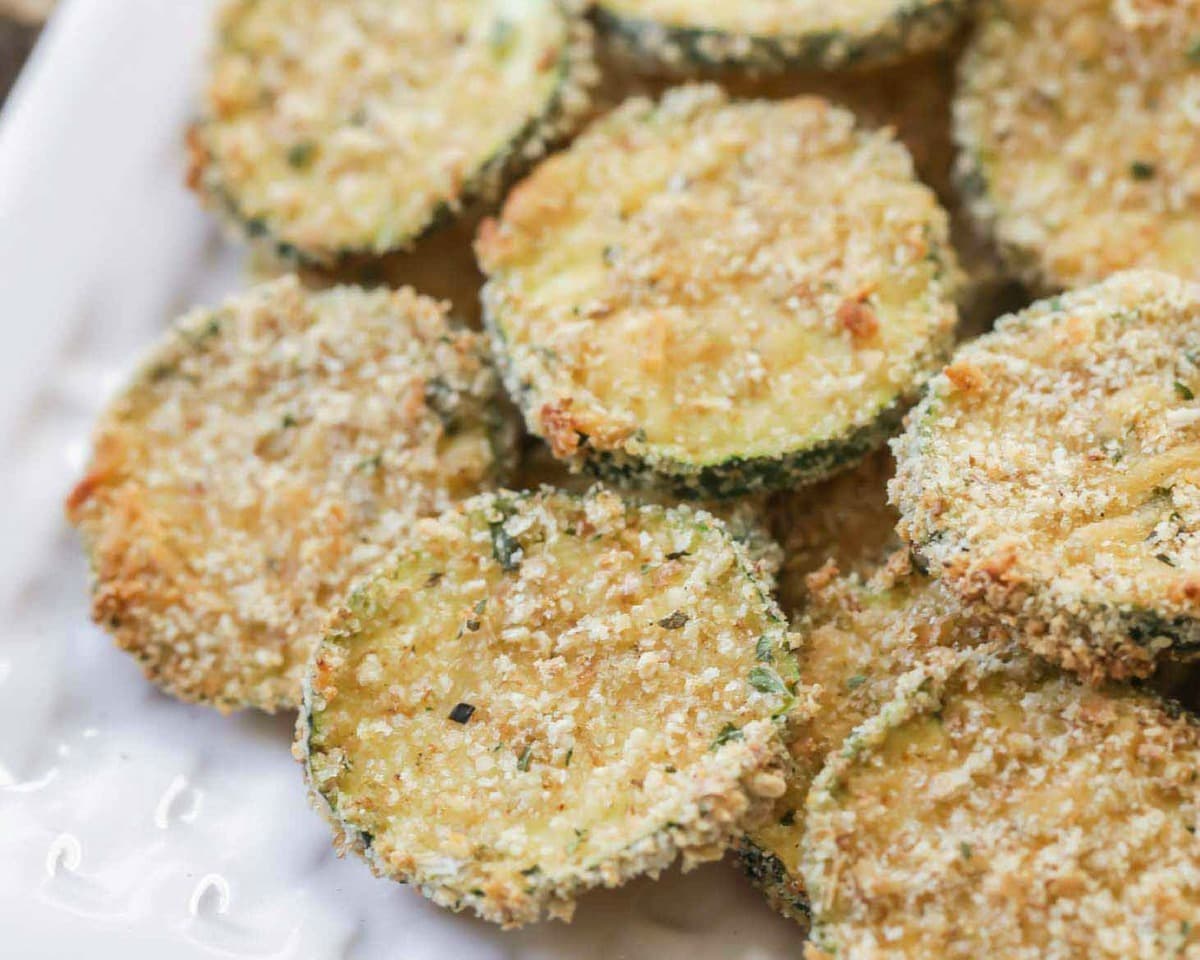 Baked Zucchini Chips – If You're Looking For A Tasty Side, These Baked Zucchini Chips Are Your Answer! Sliced Zucchini Baked To Perfection With A Bread Crumb And Parmesan Crust. These Bite-Sized Veggies Taste Amazing And Are A Great Alternate To The Classic Fried Zucchini Recipe.
Caesar Salad Cups – Caesar Salad Cups are a quick, simple and tasty side dish or appetizer. They're mini salads in a cup and great for parties and get togethers!
Baked Zucchini Fries – These baked zucchini sticks are crusted and baked in Panko, parmesan cheese, oregano, and basil. Zucchini fries are healthy AND delicious!
Baked Buffalo Wings – Hot wings are a staple at any get together or party. This easy recipe will show you how to make this appetizer in the oven resulting in crispy, Baked hot wings.
Loaded Baked Potato Rounds – Loaded Baked Potato Rounds are a simple, quick and delicious side. Dip it in sour cream or your favorite dip!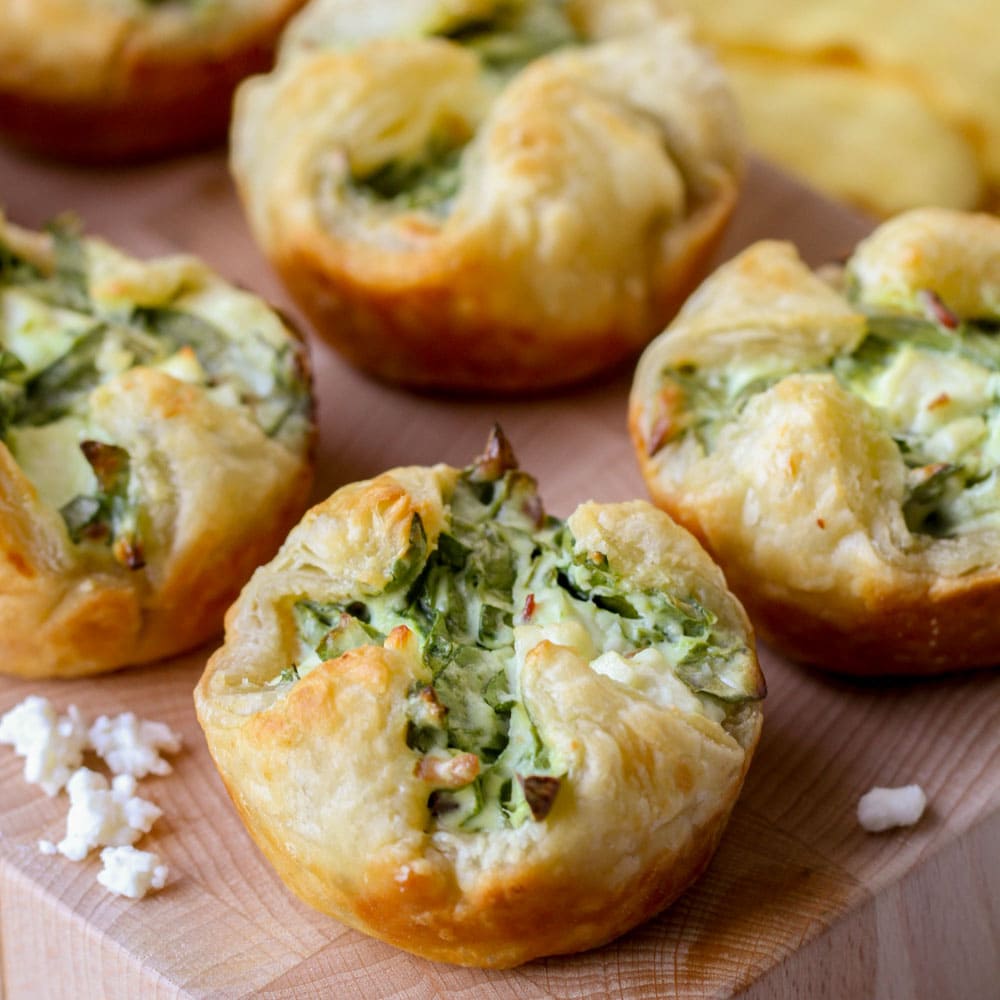 Vegetarian Finger Food
Don't want the meat? No worries. There are loads of vegetarian finger foods that are simple and delicious. We've included several of our favorites!
Spinach Puffs – Buttery spinach puffs are cheesy and savory with pops of bacon. As you can imagine, they are a hit at parties!
Avocado Taquitos – Avocado Taquitos aka "Flautas" are filled with avocados and cheese and fried to perfection! They're perfect for a main dish or appetizer.
Spinach Artichoke Cups – Cheesy Spinach Artichoke Cups Are Simple To Make, And Packed Full Of Delicious Spinach And Cheese Flavor! They Are Baked To Perfection.
Homemade Bruschetta – This Yummy Homemade Bruschetta Is Quick, Simple And Perfect For Any Party! It Takes Just 5 Ingredients And Is The Perfect Appetizer For Any Occasion.
Bruschetta Caprese – Toasted bread rounds are topped with a mixture of juicy tomatoes, ripe avocado, and fresh mozzarella to make this Bruschetta Caprese. Top it all off with a balsamic glaze!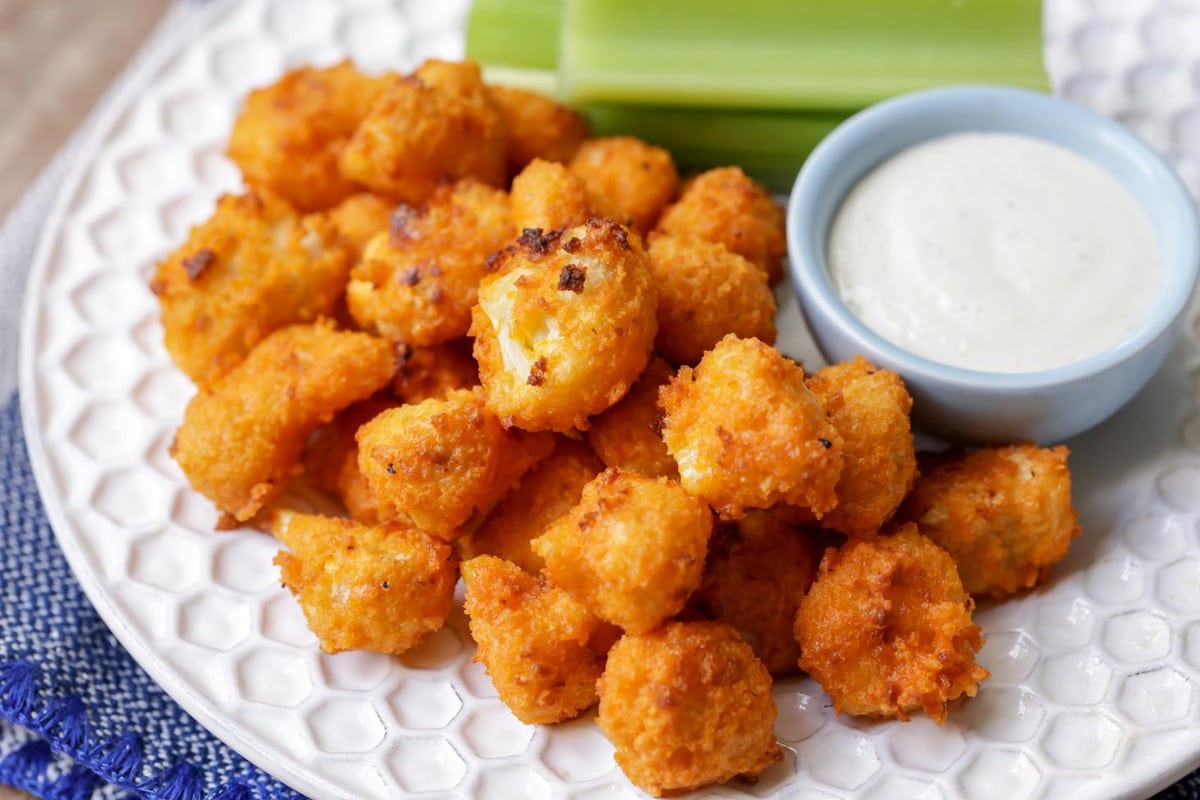 Buffalo Cauliflower Bites – Make these buffalo cauliflower bites for your next party! No one will even notice they are healthier or even made with cauliflower. They're our new go-to appetizer!
Cheesy Spinach Roll Ups – These Crescent Rolls Stuffed With Spinach And Cheese Make For A Quick And Simple Lunch, Dinner Or Appetizer! Cheesy Spinach Roll Ups Are So Yummy, The Kids Won't Even Mind The Spinach!
Spinach Dip Bites – Spinach Dip Bites Are Crunchy, Bite-Size Treats Are Cheesy And Buttery, Making Them A Great Appetizer. They Are A Hit Every Time!
Hummus – If You Need A Quick Healthy Snack Or Party Appetizer, You Can Whip Up This Homemade Hummus In 5 Minutes Or Less! With Just A Few Simple Ingredients, This Delicious Hummus Is Perfect For Dipping Pita Bread, Fresh Veggies, And Tortilla Chips.
Pupusas – Savory stuffed corn cakes that originate from El Salvador. These Pupusas are filled with a cheesy bean mixture that is so delicious and simple to make!
---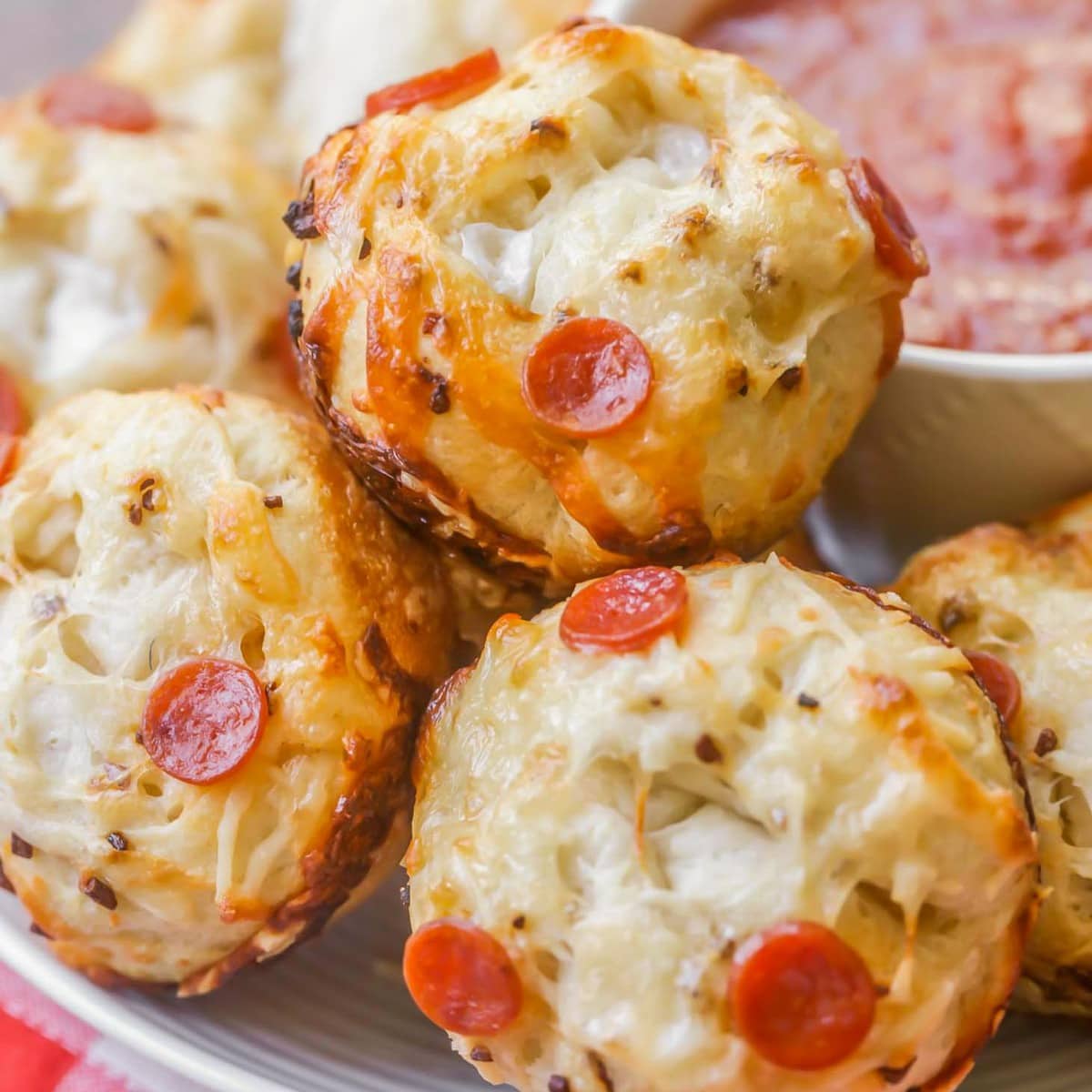 Mini finger foods
Turning some of your favorite dishes into mini versions is a great way to create new appetizers. Enjoy this compilation of our favorite mini finger foods.
Cheesy Pizza Muffins – These cheesy and delicious Pizza Muffins make for the perfect appetizer. They're filled with melty mozzarella, and topped with a yummy garlic butter, more cheese, and mini pepperonis.
Monte Cristo Sliders – Sweet And Salty Monte Cristo Sliders Are The Ultimate Party Food!! Just Like Their Name-Sake, But As An Appetizer.
Mini Pizzas – These Mini Pizzas are bite-sized pizzas topped with cheese, tomatoes, fresh basil and more. They're perfect for lunch, dinner, or even as an appetizer at parties!
Hot Dog Nuggets – Hot Dog Nuggets, or pigs in a blanket, only require TWO ingredients and make a perfect for lunch, dinner or even a party appetizer! Kids and adults alike will love these little bites.
Chicken Parmesan Sliders – Marinated And Grilled Chicken Breast, Melty Cheese, Marinara Sauce, And Lettuce All Sandwiched Between A Ciabatta Bun. These Chicken Parmesan Sliders Make For The Perfect Appetizer, But Can Hold Their Own As A Main Dish Too!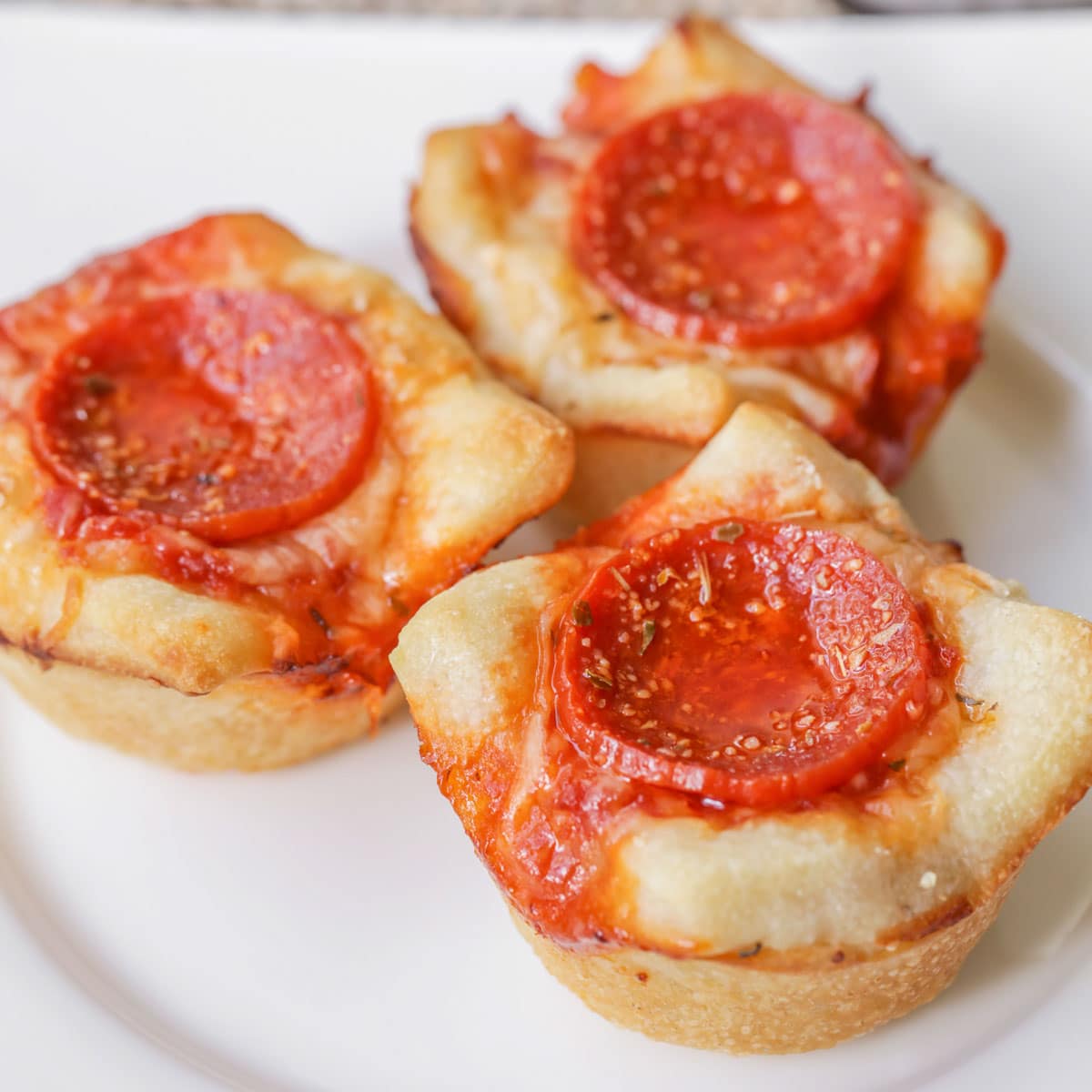 Mini Deep Dish Pizzas – Mini Deep Dish Pizzas are our new favorite dinner recipe. They're easy, quick and can be made custom for each person with their favorite toppings!
Corn Dog Muffins – Mini corn dog muffins are yummy and kid friendly. These tasty bite-size snacks are ready in under 20 minutes!
Ham and Cheese Sliders – Everyone Loves These Hot Ham And Cheese Sliders Because They're Easy, Cheesy And Addicting! They Don't Take Long To Make, And Are Perfect For Any Get Together—Always A Crowd Pleaser!
Buffalo Chicken Sliders – Simple + Savory Buffalo Chicken Sliders Pack Just The Right Amount Of Heat. They Are Great Served As A Dinner Or Appetizer!!
Loaded Pulled Pork Cups – Savory and delicious Loaded Pulled Pork Cups have all of the tasty flavors of a BBQ dinner in one convenient bite!
---
THE COMPLETE LIST
Here are the picture cards for all the recipes in this collection! Finger Food Appetizers are musts at any party or gathering. There are plenty here to love!!
---
More Collections: Appetizer Recipes, Easy Appetizers, Crock Pot Appetizers