Delicious 3-ingredient Grape Jelly Meatballs. They take just minutes to prep and are the perfect dinner or appetizer for any party or get together.
It's one of our go-to appetizers for parties and holidays. Best part? It takes just 5 minutes to prep! This easy appetizer is a favorite along with our classic slow cooker meatballs and sweet and sour meatballs.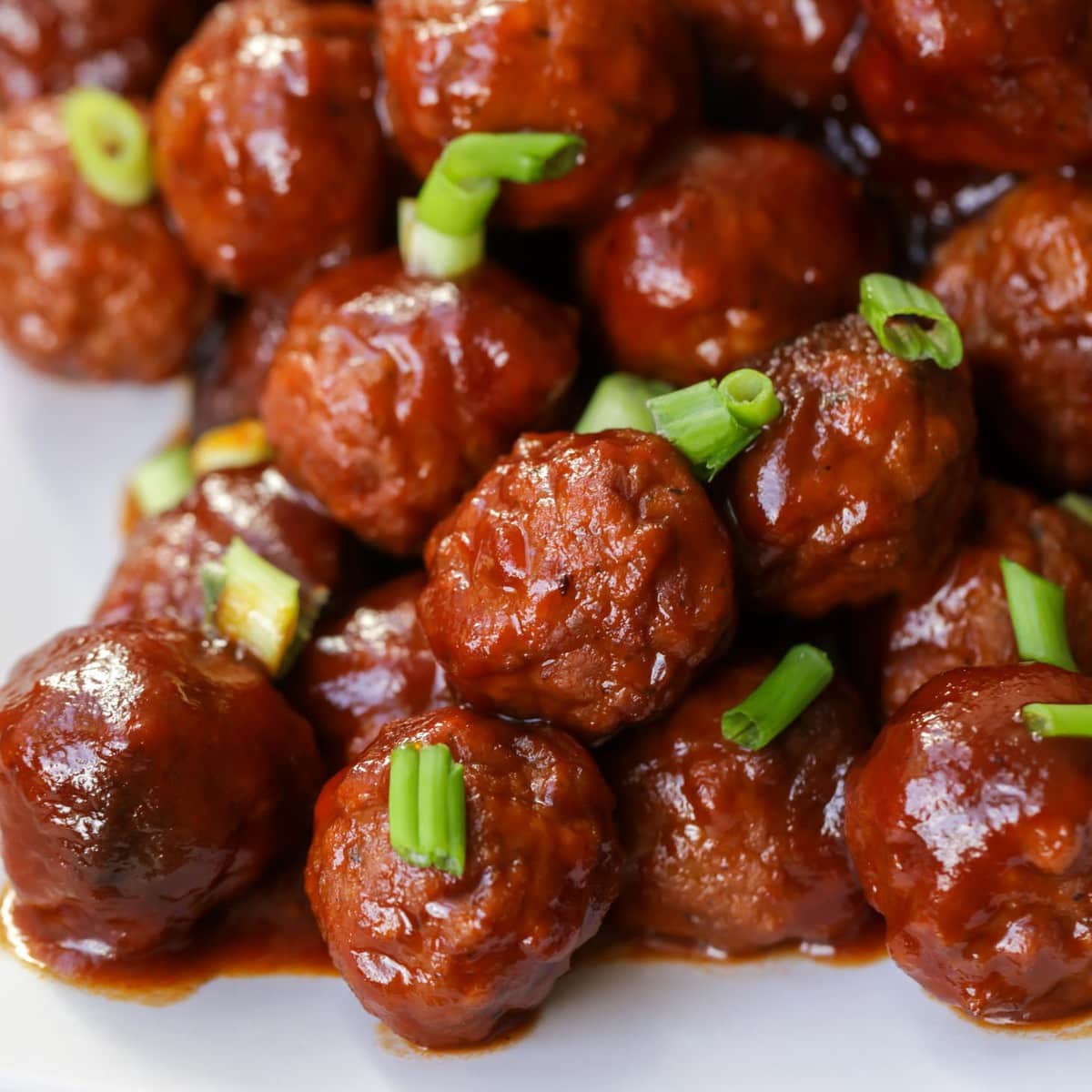 Meatball Recipe + Grape Jelly
We've been long-time fans of meatballs and think they are the perfect appetizer for any party or get together.
Yes, we often make them for dinner at home too, but if you are looking for a simple yet delicious recipe to make for your next event, I highly encourage trying one of our favorite meatball recipes, like today's grape jelly meatballs.
I know grape jelly may not be the first ingredient you think of when mixing with meatballs, but let me tell you – it's the perfect addition to a savory meatball. And what's even more amazing about this recipe is that it only requires 3 ingredients – the grape jelly, meatballs and chili sauce.
Oh yes, I can't forget that it also only takes a few minutes of prep time. You can't beat that!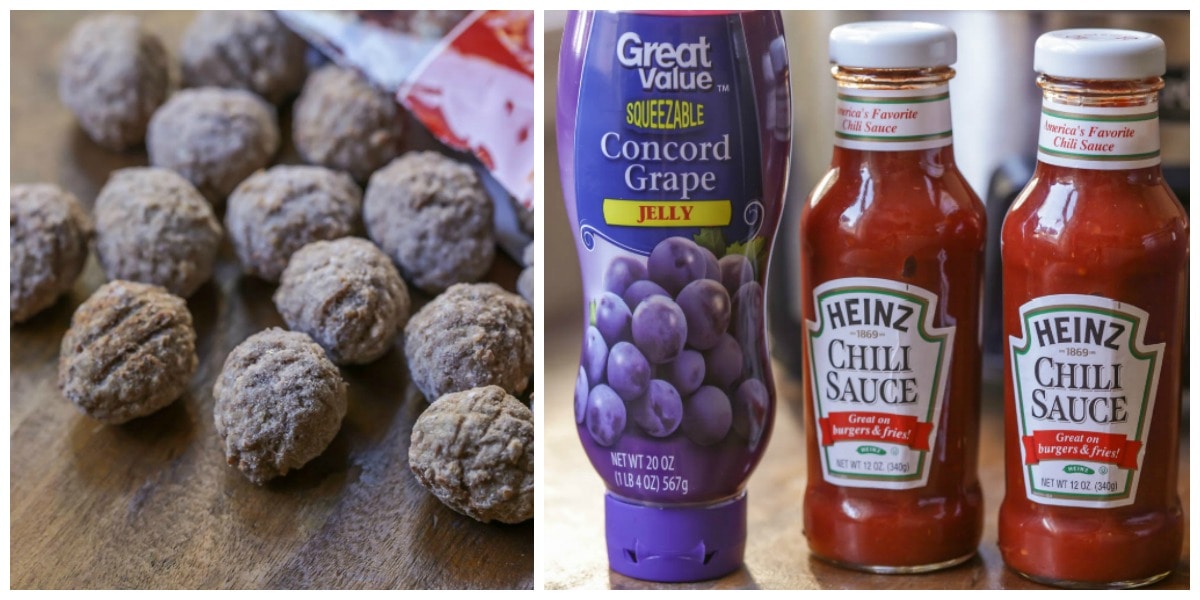 making Meatballs with Grape Jelly and Chili Sauce
Making these meatballs are as easy as they sound. Since they only require 3 ingredients and just a few minutes to make you probably have figured out it's a dump and go kind of slow cooker recipe. And if you guessed that – you're exactly right.
If you have the time, we recommend combining the grape chili and chili sauce in a pot and cooking on medium heat until well combined before adding it to the meatballs in the crockpot.
But, we've also tried just dumping everything in and it works just as well. You will just need to stir the mixture every hour or so to make sure everything is being cooked more evenly.
Want to add a bit of nip to the meatballs? Just add a pinch of cayenne pepper. With little kids, we tend to leave that out.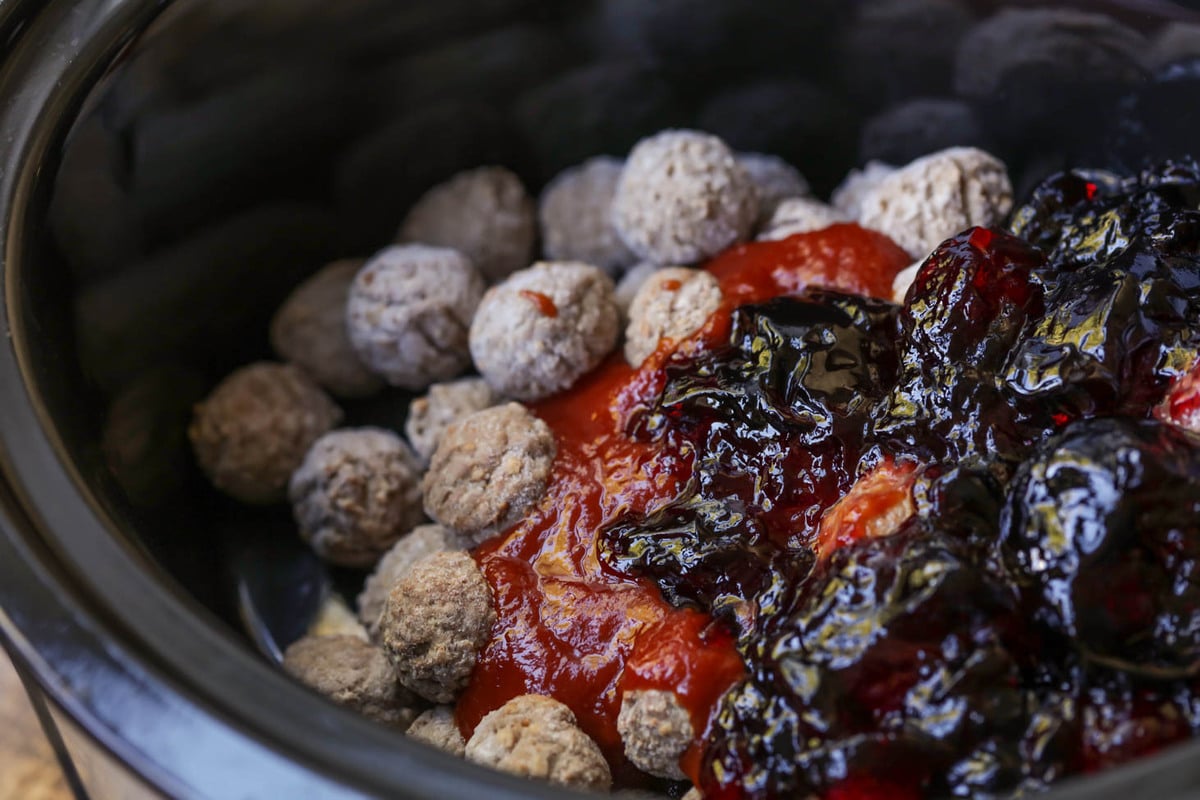 Jelly Meatballs FAQ + TIPS
What can I use instead of grape jelly? No grape jelly? Don't fret! Our favorite substitutes for this include red currant and apple jelly. Both work just as well and are great substitutes if you don't have grape jelly.
Do meatballs have to be thawed before cooking? Meatballs do not need to be thawed before placing them in the slow cooker. If they are thawed you won't need to cook as long, but putting them in straight from the freezer is quick and works perfectly with this recipe.
How to thicken grape jelly meatballs? Take about ¼ cup of the sauce from the slow cooker and add it to a pot on the stove. Add a tablespoon of corn starch and cook and mix until sauce thickens. Add more corn starch if needed and then add this to the rest of your sauce to thicken it up.
How to make grape jelly meatballs without chili sauce? Don't have chili sauce or want to use something else. We love using BBQ sauce as a great substitute for it. You can even change that up a bit and use Honey BBQ sauce or another variety but it usually tastes great with meatballs.
How many grape meatballs to make for a party? We like to double the recipe if making this for a fun party and will use 2 bags of frozen meatballs, 32 oz. grape jelly and two 12 oz. bottles of chili sauce.
For smaller parties, we leave the recipe as is and make one bag of meatballs – which still has about 64 meatballs.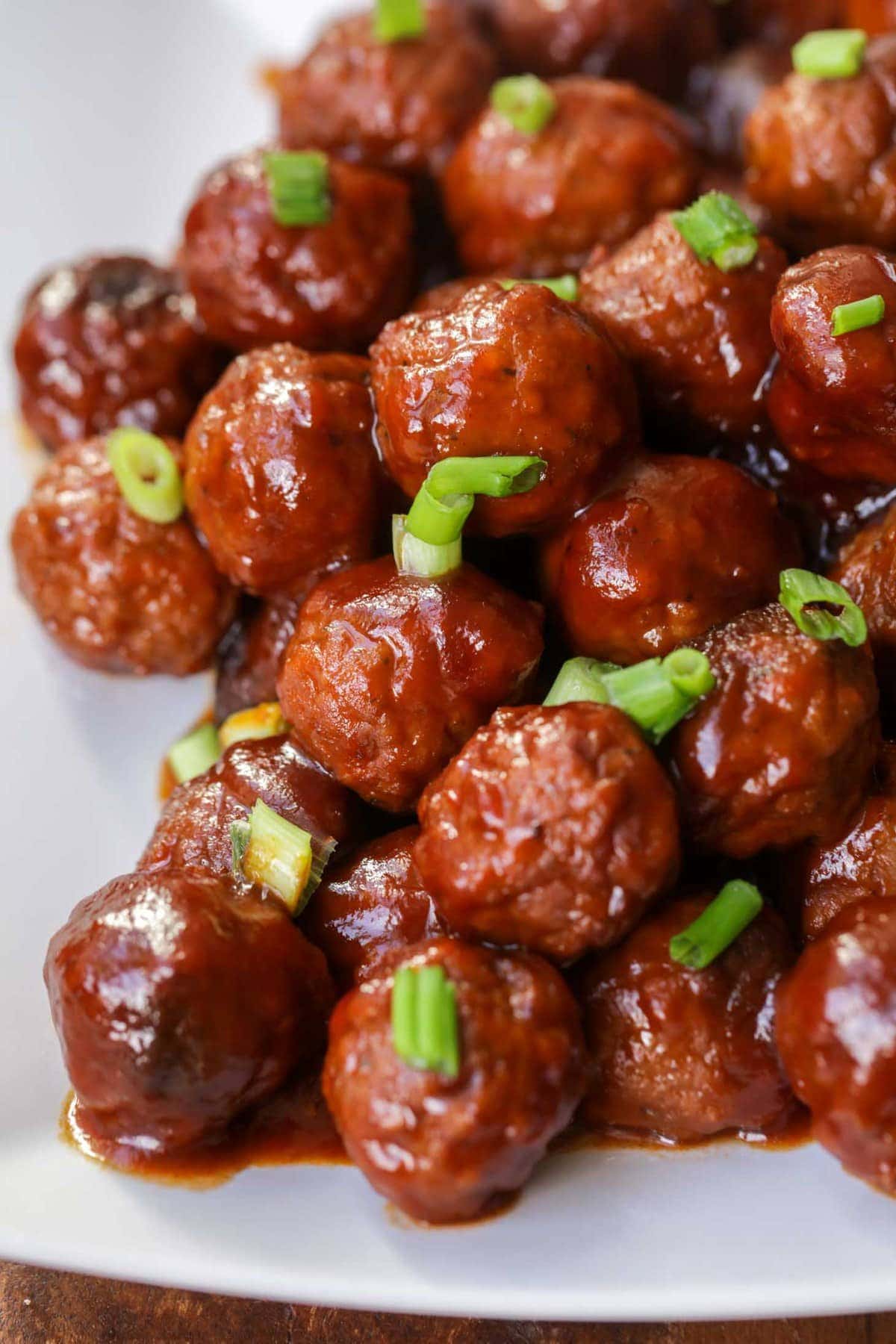 We hope you enjoy these meatballs! They really are the perfect appetizer for a party. We know things can get crazy right before a bunch of people come over so this simple, just a few minutes to prep recipe can help out!
For more meatball recipes, check out:
Grape Jelly Meatball Recipe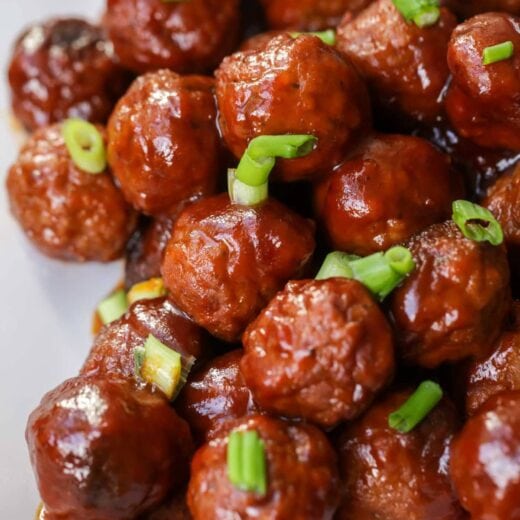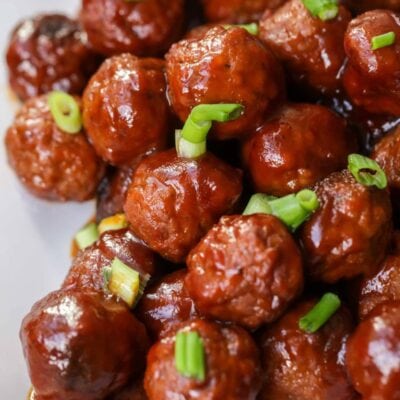 Sweet & tangy dump-and-go Grape Jelly Meatballs take minutes to prep and are the perfect dinner or appetizer to feed a crowd!
Ingredients
16

oz

Grape Jelly

12

oz

Chili Sauce

32

oz

meatballs

(frozen)

1

pinch

cayenne

(optional)
Instructions
Add grape jelly, chili sauce, and cayenne pepper to a saucepan over medium-high heat. Cook for about 5 minutes making sure the mixture is well combined.

To save time skip this step and add these directly on top of the meatballs in the slow cooker for a more speedy process.

Place meatballs in a slow cooker and top with grape jelly mixture (for less mess use a crock pot liner).

Cook on LOW for 3 to 4 hours.