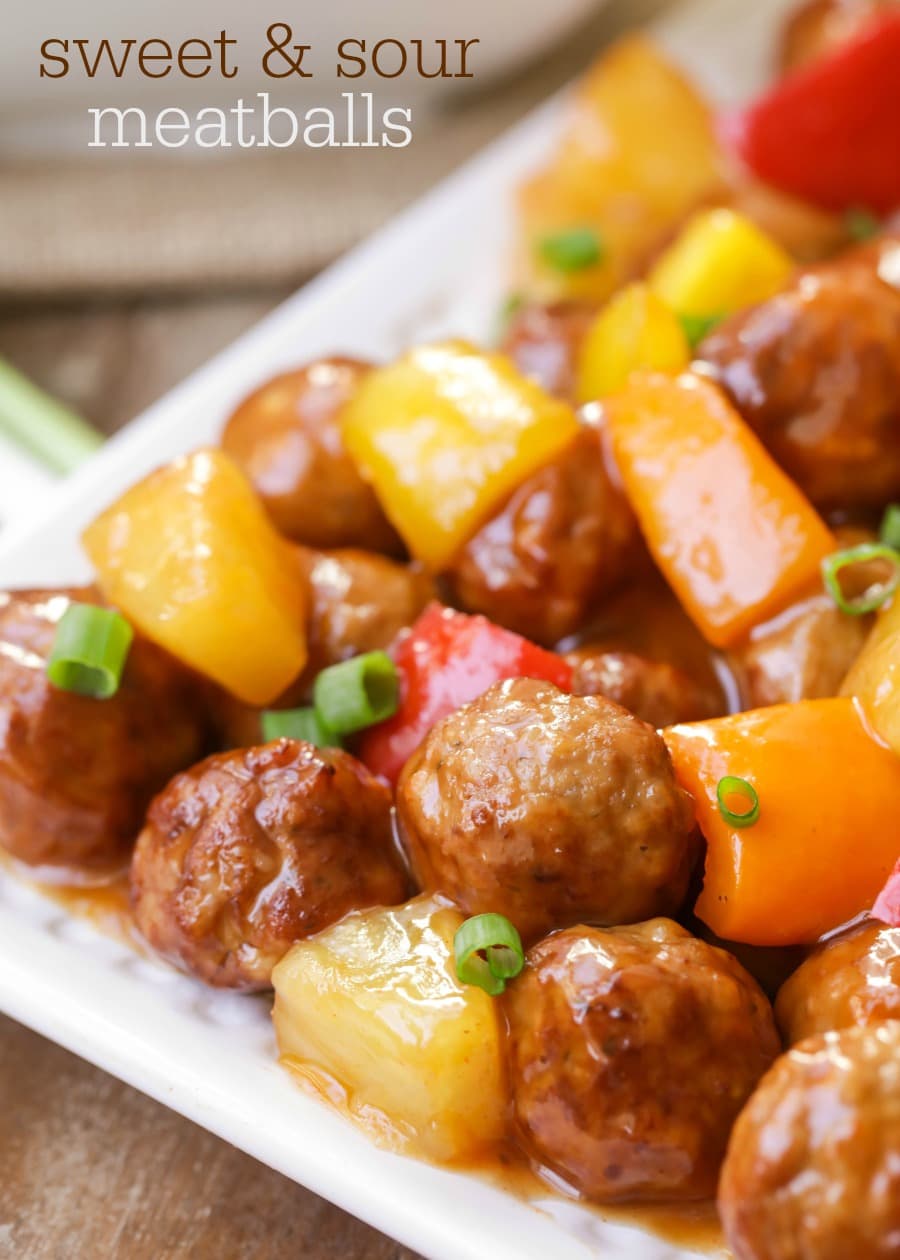 Hey guys! You know how, as a child, you're super picky and wont eat anything that's not "normal,"but as you grow up, your taste buds change and you start liking new things? Well, mine pulled a Peter Pan and decided they never wanted to grow up… except for a FEW things – like meatballs! Did you guys grow up going to wedding receptions and wondering why they always had big, nasty, sauced-up chunks of meat? I did! The idea of meatballs, just wasn't my thing. But as a grown up (riiiiight!), I LOVE them. There are so many different varieties, it's super exciting and tasty!
When I saw these Sweet and Sour Meatballs on the menu for one our Lil Luna recipe days, I may or may not have skipped breakfast, knowing I would devour them up. 🙂 Sure enough, I did! They were so delicious and very simple to put together. We decided to leave out the sriracha sauce, but I'm all for adding it back in next time (because there WILL be a next time!) Since Chinese New Year is coming up next month, we wanted to make sure you had lots of Asian recipes to choose from here on the site. And who am I kidding? We love eating Asian food all year long, so hopefully you can give these beauties a try because we've added them to our monthly meal rotation.
MY OTHER RECIPES
Bring to a simmer…
Check out the recipe below and let us know what you think. 😉
For more meatball recipes, check out:
How to make Sweet and Sour Meatballs:
Asian Meatballs
Sweet and Sour Meatballs - frozen meatballs and pineapple chunks covered in a DELICIOUS homemade sweet and sour sauce!! A recipe the whole family will love!
Recipe type:
Dinner/Main Dish
Ingredients
½ cup brown sugar, loosely packed
½ cup rice wine vinegar
¼ cup ketchup
1 TB soy sauce
2¼ cups pineapple juice
1 TB cornstarch
One 25-count bag All-Purpose Meatballs (still frozen is fine)
1 cup drained small pineapple chunks
Rice for serving
2 TB sliced green onions, for garnish
Instructions
Add brown sugar, vinegar, ketchup, soy sauce and 2 cups of pineapple juice to a large skillet over medium-high heat. Bring to a boil.
In a small bowl, mix cornstarch and remaining ¼ cup pineapple juice together, whisking to get out all the lumps. Whisk into your skillet and add Meatballs. Bring to a simmer. Cover and cook 8-10 minutes, until sauce has thickened and the meatballs are heated through. Stir in pineapple chunks. Serve warm over rice.
Adapted from foodnetwork.com