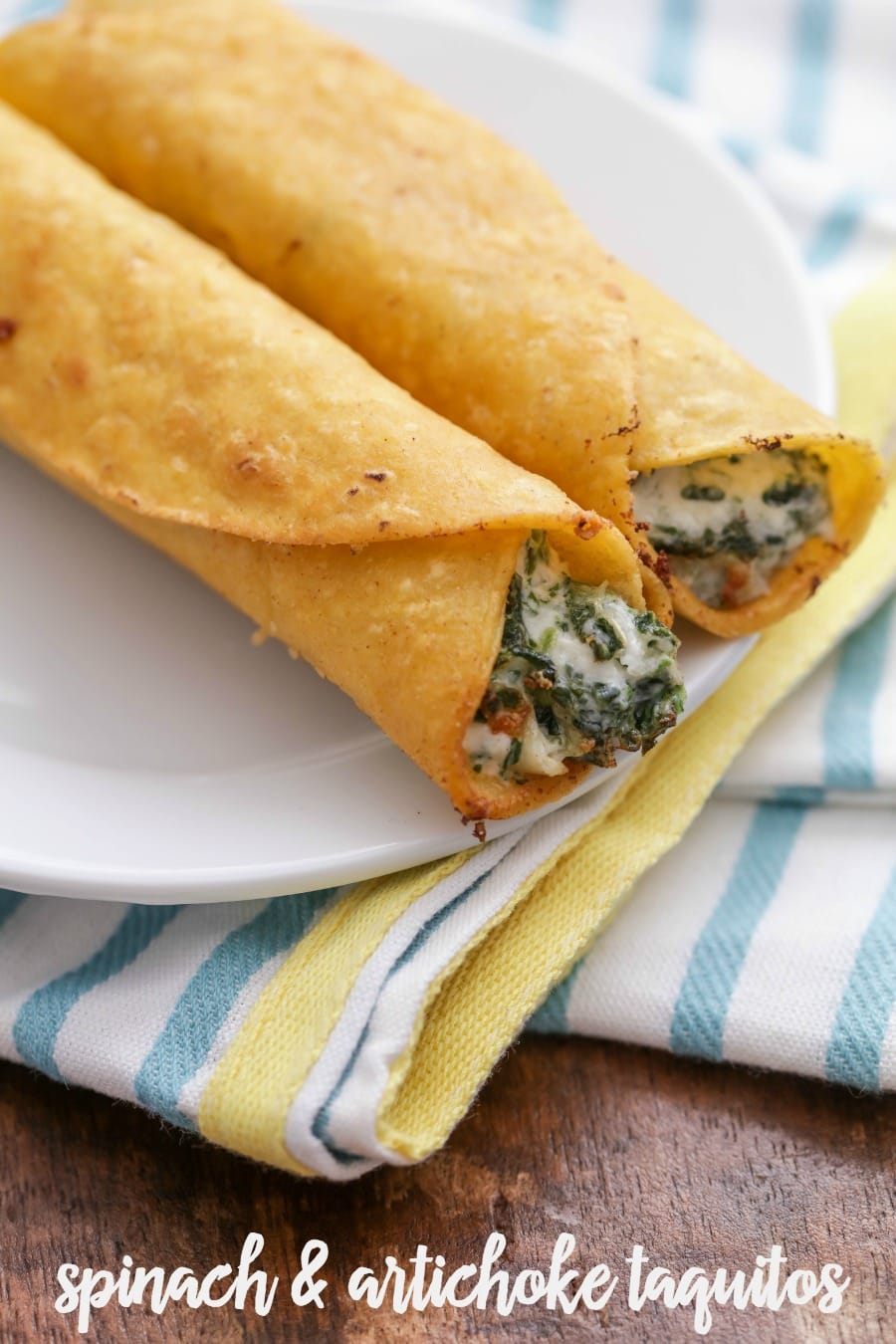 Let's talk about FLAUTAS for a little bit. Most people don't know what they are, but I grew up eating them. They're pretty much taquitos, and although I definitely consider today's recipe flautas, I decided to call them Taquitos so more people would know what they are. They're rolled up corn tortilla shells that are filled with ingredients and fried to perfection. Now you know what a flauta is and if you know me personally, why I would use this word to call a rolled up taco. Any time I say them to friends, they usually say, "huh?" and then I say, "a taquito" and they reply, "gotcha!" It makes me laugh every time.
We have always been fans of flautas/taquitos and since I've been on a Spinach and Artichoke kick the last month, I wanted to try Spinach and Artichoke Taquitos. I was so pleased with how these turned out and love that we have a new flauta to make every once in awhile. Typically, we usually have shredded beef flautas, but our other favorites are Avocado flautas and Cream Cheese and Chicken Flautas.
As you can see, the options are endless but if you love tacos, then you'll love this recipe. You can control just how much of the spinach and artichoke filling you want based on how tight you roll up your tortilla. They can be skinnier and served as an appetizer or more round for more of a dinner serving. No matter how you serve it up, these flautas are sure to be a hit!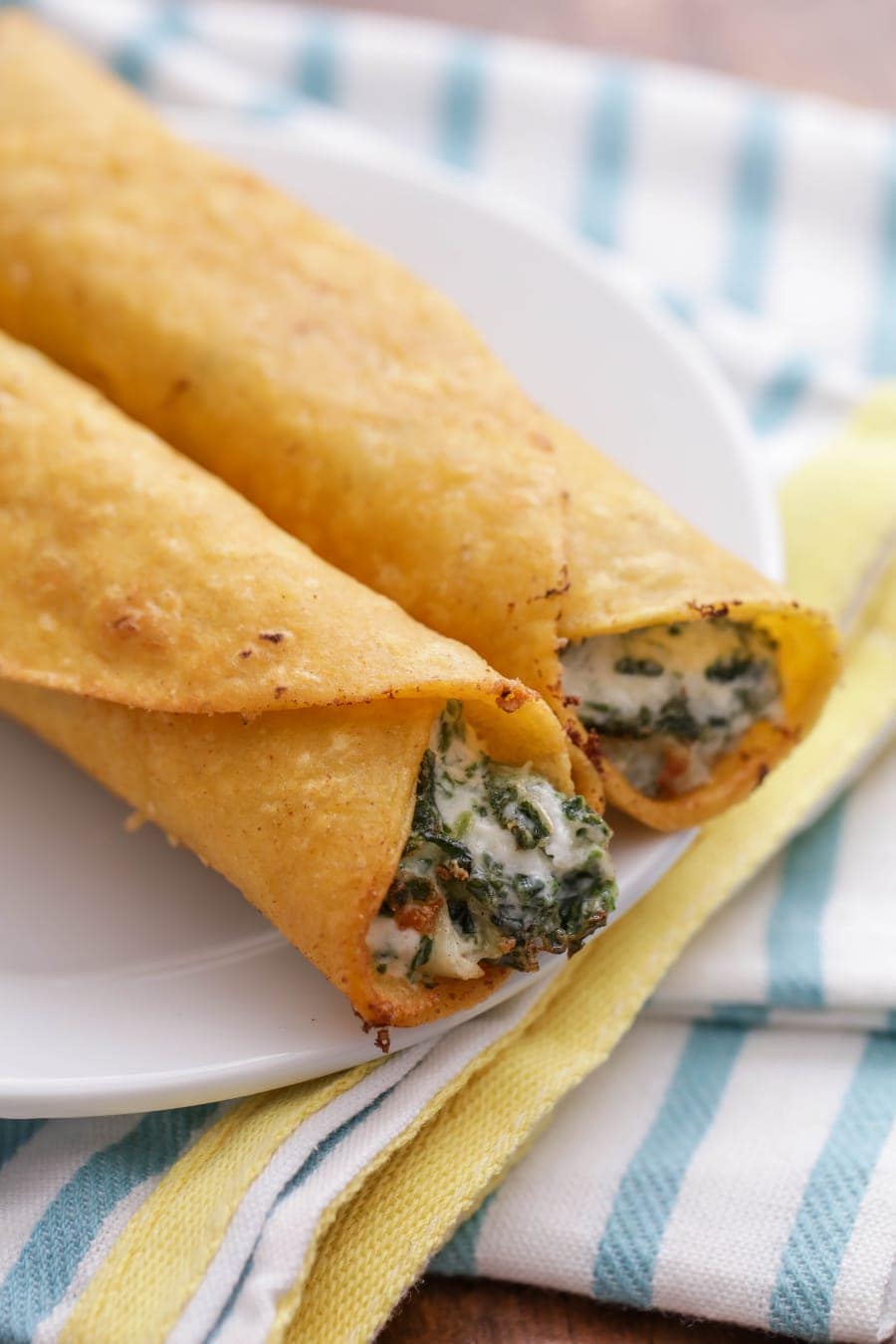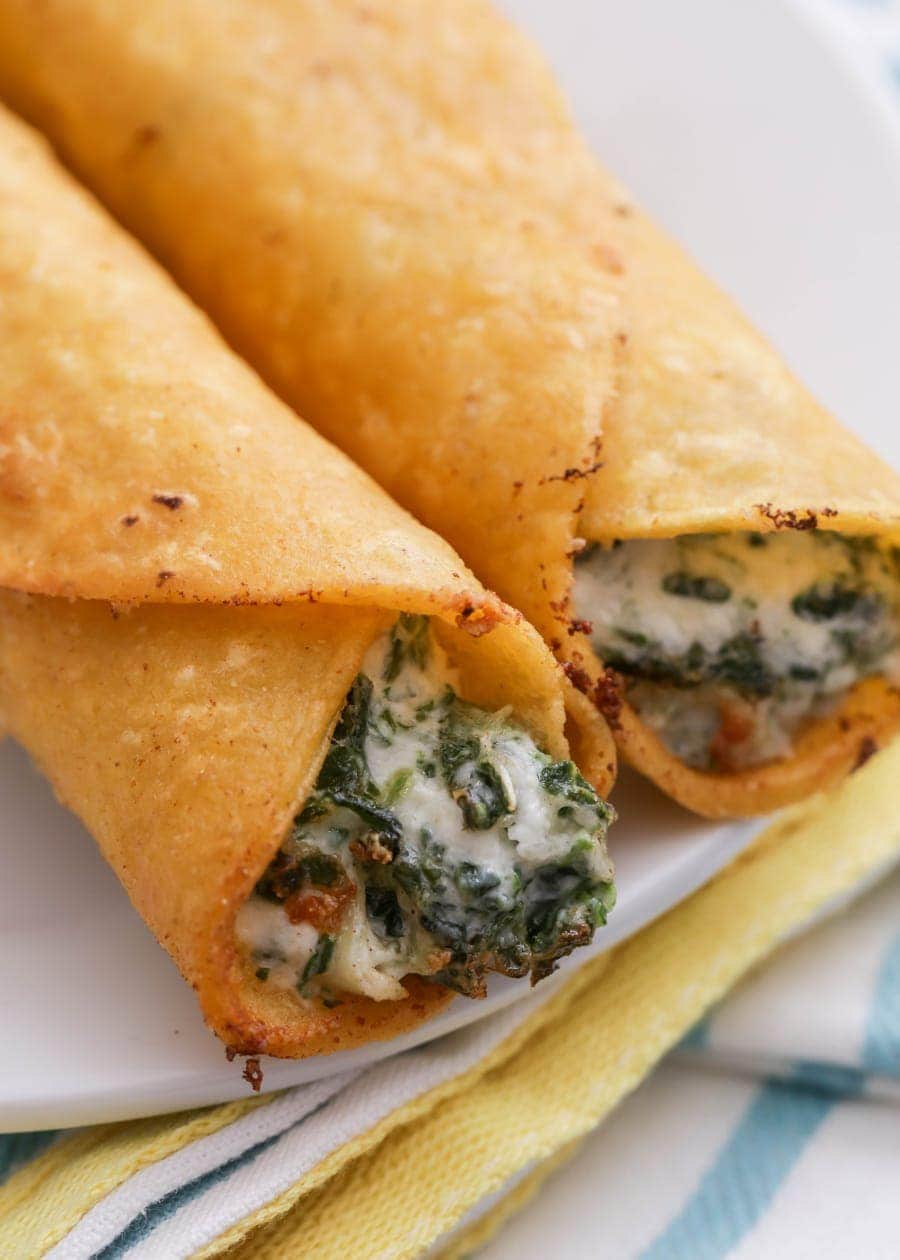 This pretty much tastes like spinach and artichoke dip all rolled up! So, if you love the dip, you'll love this recipe. It really is simple and delicious. 🙂
Spinach and Artichoke Taquitos Recipe:
Spinach and Artichoke Taquitos Recipe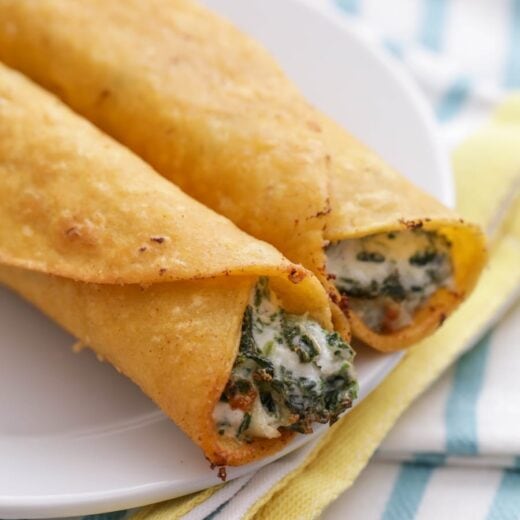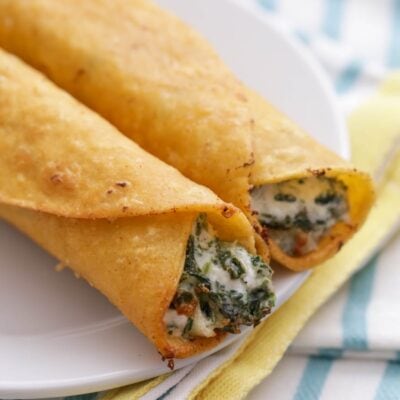 Cheesy Spinach and Artichoke Taquitos - these fried, rolled-up tacos are sure to be a hit whether served as appetizers or even for dinner!
Ingredients
1/2

cup

sour cream

1/2

cup

mayonnaise

8

oz

cream cheese

softened

1

cup

grated parmesan cheese

1

tsp

minced garlic

1

cup

spinach

frozen, thawed and drained

8

oz

artichoke hearts

drained and chopped

1

cup

mozzarella cheese

24

corn tortillas

vegetable oil

for frying
Instructions
Mix sour cream, mayo, cream cheese, Parmesan cheese, and garlic until smooth. Stir in artichoke hearts, spinach and Mozzarella Cheese.

Heat ½" oil in a sauce pan on medium heat.

Once oil is hot enough (place hand over pan, above oil, to feel heat), add a few tablespoons of spinach/cheese mixture to the center of a tortilla and spread out. Roll up and set seam side down in oil using tongs. Cook until golden brown on both sides.

Repeat until all the tortillas are filled, rolled and fried.

Set on paper towels to drain.

Serve warm and ENJOY!
For more Spinach & Artichoke recipes, check out:
ENJOY!