Who here loves the Spinach and Artichoke combo?
I may be a little obsessed, which means you will be seeing a ton of spinach-and-artichoke-filled recipes on the site in the coming months. It wasn't until I was a young adult that I actually tried the combo and I immediately fell in love. Yes, I was totally immature and thought artichokes sounded gross and never wanted to try it. Fortunately, I grew up (a little) and gave the dip a try and fell in love. Maybe it was the tons of cheese that won me over, but either way, I love all recipes containing these ingredients and love making dishes with them. That is why we decided to try these Spinach and Artichoke Cups recently, and we LOVE how they turned out. We've been using wonton wrappers for as long as I can remember but to fill them with cheese and spinach and artichoke hearts and peppers made them irresistible. They would be great for appetizers or even as a side dish for an upcoming dinner. We decided we'd most likely make them for New Years Eve where we pig out on all of our favorite appetizers. 😉
These cups were also very simple and easy to make, so if you're looking for a basic, but delicious appetizer, I highly recommend this recipe. They're packed full of flavor and are sure to be a hit.
Here's the printable recipe:

Spinach & Artichoke Cups
Ingredients
12 wonton wrappers
1 - 14 oz. can artichoke hearts (drained and chopped)
1 cup Italian blend cheese
1 - 10 oz. bag frozen, chopped spinach (thawed and drained)
⅓ cup mayo
2 teaspoons minced garlic
¼ cup chopped red peppers
Instructions
Preheat oven to 350.
Add one wonton wrapper to greased muffin pan and spray olive oil spray on top. Bake for 5 minutes.
In a medium bowl, mix artichoke hearts, cheese, spinach, mayo, garlic and peppers until well combined.
Spoon into wonton cups and bake 12-14 minutes. ENJOY!
Recipe adapted from Kraft Recipes.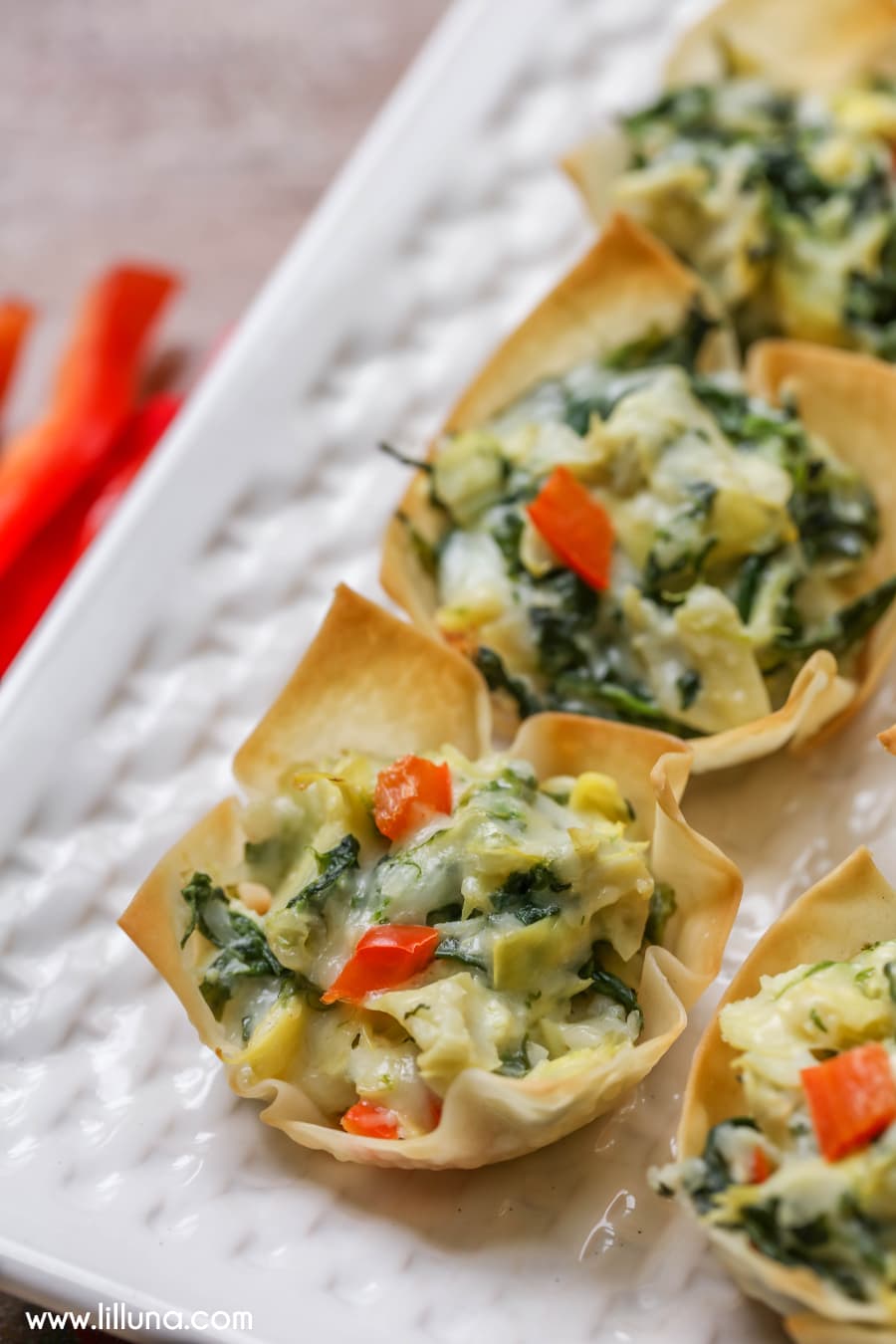 These were seriously so simple and so addicting! Can't wait to make them again.
For more spinach and artichoke recipes, check out these other favorites…
Check Out My Other Recipes
For all Appetizers go HERE.
For all Recipes go HERE.
For even more great ideas follow me on Facebook – Pinterest – Instagram – Twitter – Periscope.
ENJOY!
Need more recipes and creative ideas? Sign up and get a FREE copy of my latest ebook!