Spread, dip, dabble- this avocado cream sauce is the perfect paring to all of your Mexican dishes! It's a little bit tangy, creamy, and super delicious.
This oh-so-creamy sauce is also a delish spread for burgers, sandwiches, and wraps. Really it's perfect on anything you'd add a taste of avocado to. Try slathering it on Chicken Tacos, Ranch Burgers, or Flatout Wraps.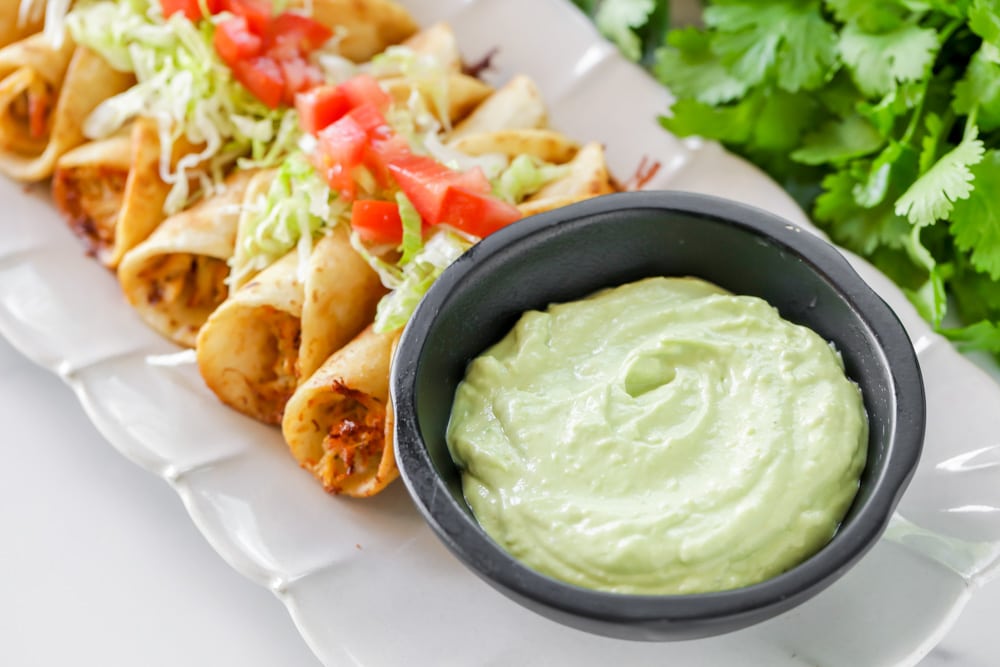 Easy Avocado Sauce for Tacos
This easy avocado sauce is the cousin of guacamole. It's perfect for tacos, these chicken flautas, burritos, quesadillas, and more! It has a smooth texture with a tangy and light taste.
Easy avocado sauce is a great addition to almost any Mexican dish out there. But why stop there!! Keep this creamy sauce in your go to folder to whip out for any occasion an avocado spread might add a bit of pizzazz.
Did I mention it's a cinch to whip up? Avocado sauce can last 2-3 days in the fridge so it can be saved for leftovers, lunches, sandwiches, etc. The creamiest condiment you'll ever try! We hope you love this simple recipe as much as we do.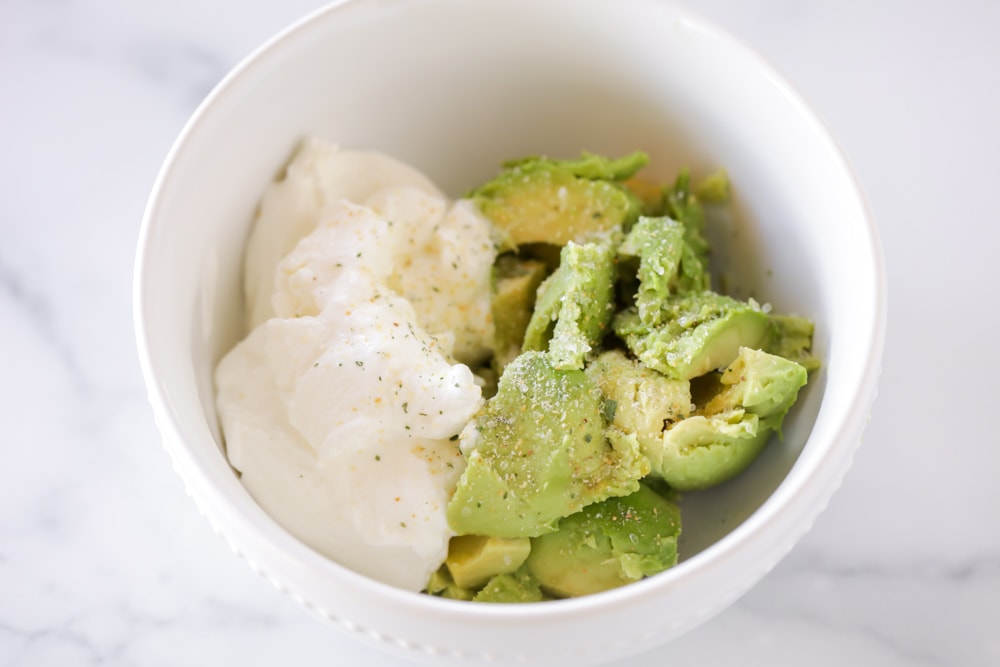 How to Make Avocado Sauce
There is basically nothing difficult to this recipe. It's so easy I practically have it memorized because we make it so often!
MIX. In a serving bowl, mash up the avocado. Stir in the sour cream and lime juice. Mix everything together until it's smooth. Season the avocado cream with salt and pepper to taste. 
How to ripen your avocado: Avocados won't ripen on the tree. They ripen after they have been picked. This recipe calls for a very ripe avocado and the ones found at the grocery store are usually still a bit firm. You can get your avocados to ripen faster by putting them in a brown paper bag, along with one apple or banana, and leaving the bag on the counter for a couple of days.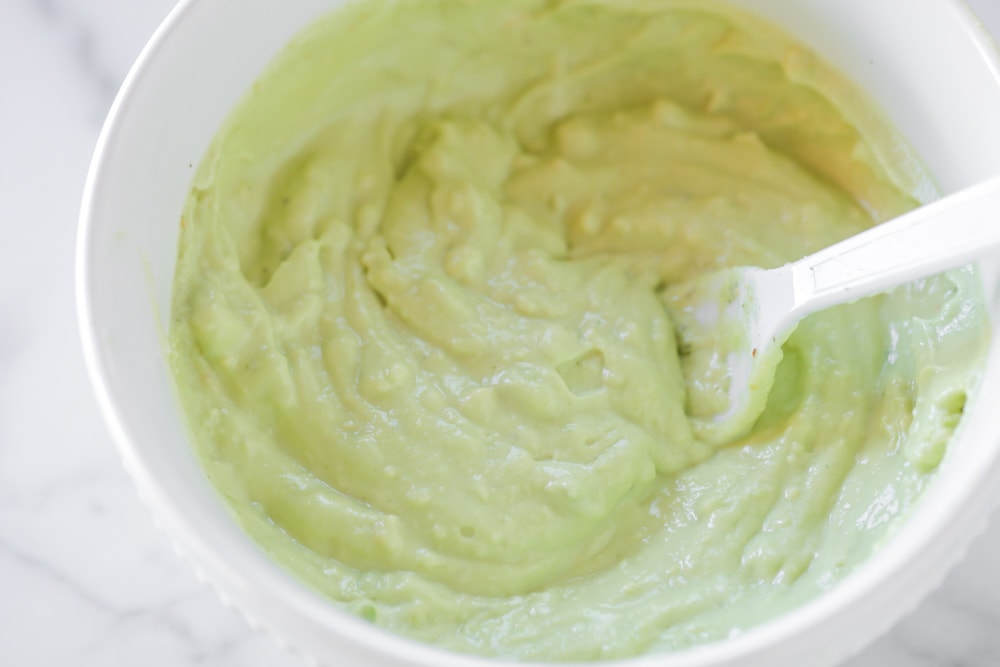 What to serve with, variations + storing
Like guacamole this cream sauce pairs well with Mexican and Southwestern flavors. You can also use it on top of a delicious steak, chicken, pork chop…really most meats taste delicious with this sauce as a topping. 
You don't have to stop there either. Try using this sauce on top of baked potatoes, as a dip for fried zucchini, a spread on your sliders. You might as well plant an avocado tree in your yard because you'll want to have this dip on everything! 
More ideas: 
Dip for veggies, chips, crackers, wings

Mexican food tacos, burritos, quesadillas etc…

Dressing for coleslaw and salads
Variations: 
Use plain unsweetened greek yogurt in lue of sour cream

Garlish with fresh cilantro

Turn up the heat with some cayenne pepper, red chili flakes or add some diced jalapenos. 
Storage: Best within 2-3 days, but may last longer. It gets eaten too quickly around here to test its longevity. Be sure to store it in an airtight container in the fridge.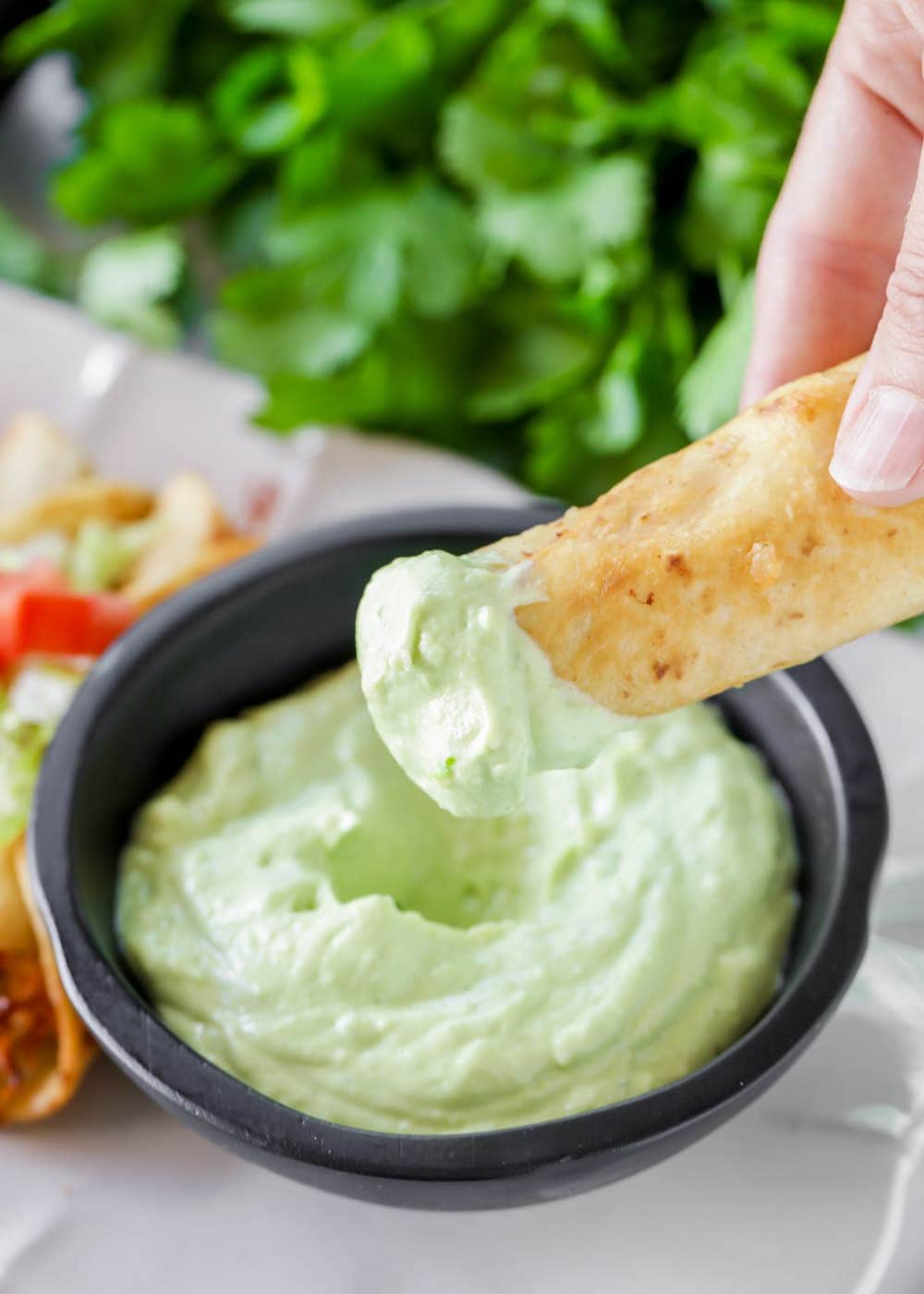 For more Dips and Sauces, check out:
Ingredients
1

very ripe avocado

halved, pitted, skin removed

4

oz

sour cream

2

tbsp

fresh lime juice

garlic salt (with parsley flakes)

pepper
Instructions
In a serving bowl mash the avocado, then stir in the sour cream and lime juice. Mix until smooth. Season with salt and pepper.