Appetizer Dips are great for parties, holidays, game day, an after school snack, or simply for a night at home watching T.V. Check out this collection of our favorites!
More Collections: Mexican Appetizers, Cold Appetizers, Finger Food Appetizers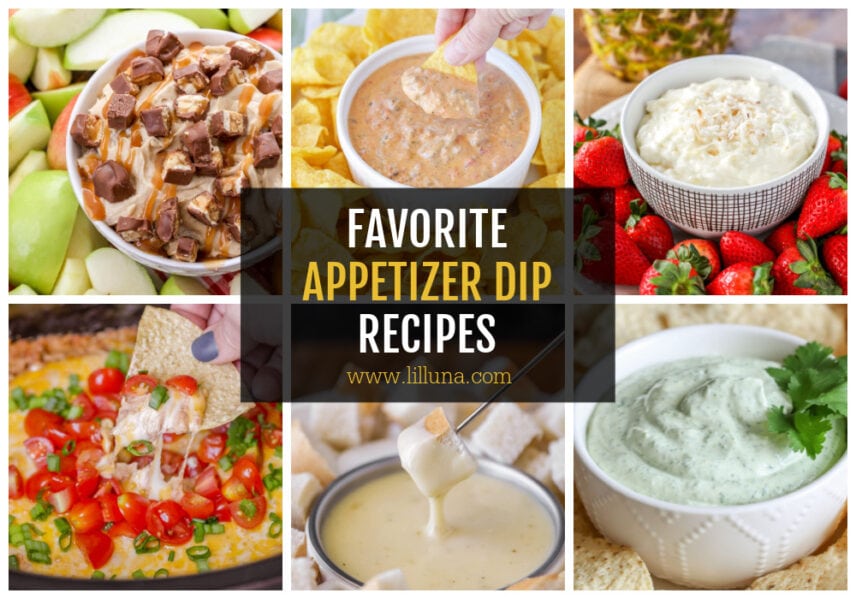 Who doens't love appetizer dips?
Dips are an easy go-to snack that whips up in minutes and can be served with all kinds of dippables, depending on your mood.
Whether you dish 'em up with fruit, veggies, chips, or crackers these sweet and savory dips are sure to please the masses.
In this round up post, I've included all of our MOST favorite appetizer dips—savory dips, sweet dips, Mexican dips, salsa, and even dressings! But before we get into the recipes, here are a few tips for your dips. 😉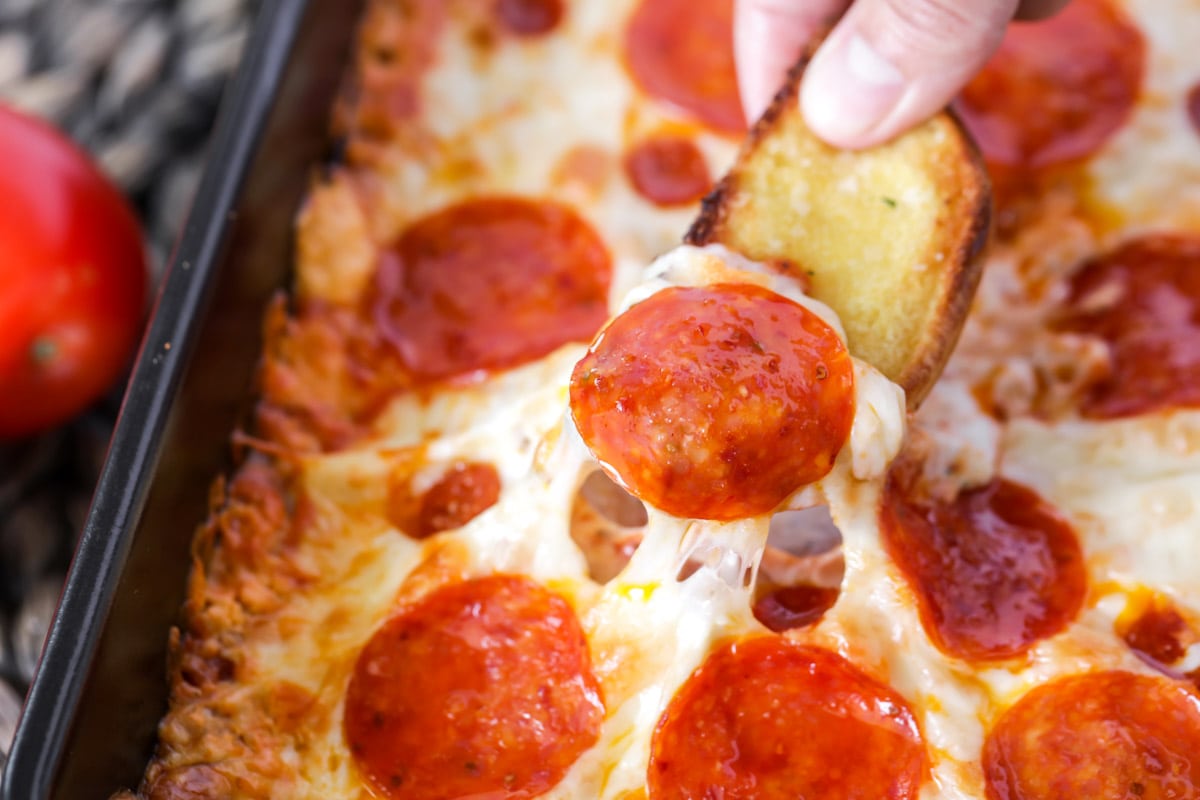 What are the most common dips?
I feel like the three most common dips include hot dips, cold dips and salsa. Whatever your flavor, there are plenty of tasty easy dip recipes to choose from.
Hot dips are savory and often cheesy a favorite is this Sausage Cream Cheese Dip. They're great for crackers, tortilla chips, slices of bread, meats and more.
Cold dips can be both sweet or savory. Sweet dips are great for fruits, crackers and sweet treats a favorite is Chocolate Chip Dip. Savory dips like Dill Vegetable Dip & classic Hummus, are often used with potato chips, vegetables, breads and chunks of cheese.
Salsa is often made with a tomato base, but they can also be made with fruits. Traditionally, they're served with Homemade Tortilla Chips or Cinnamon Chips.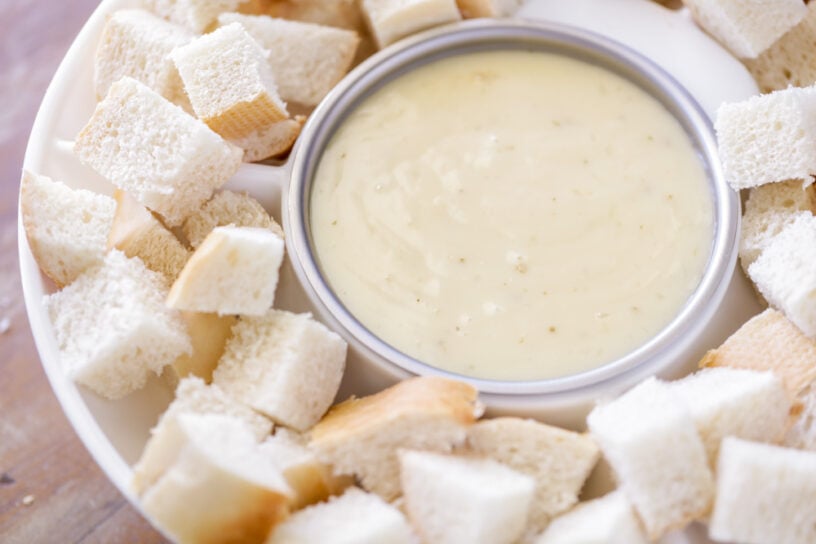 How MUCH TO MAKE?
Deciding which dips to serve at a party and how much of each can be a bit tricky. Ultimately you just have to make an educated guess. Ultimately it's totally your preference, but here are a few things that I consider when planning my menu:
How many dips to serve: This depends on what other appetizers, if any, you will be serving as well as how many guests you have invited.
When I'm hosting 12 people or less, I will plan at least one dip, but not more than two. If the other appetizers are warmer, then I'll choose a cold dip and vice versa. If I decide to serve two dips, I will usually have one cold and one warm.
When I have 12-30 guests I'll usually plan 1 cold dip and 2 warm dips. I'll usually add another dip option for every 25 more people making sure to keep a balance between warm and cold.
Make sure that the dips are complementary to the other flavors being served as appetizers and/or what is being served for dinner.
How much to make:
Chips and Salsa: For every 10 people plan 1 lb of chips and 1 pint of salsa.
Sweet and Savory Dips: If you are offering both types, then plan for guests to have 2 oz (¼ cup) per person. If you are only serving one type, then plan for guests to have about 3 oz (⅓ cup) per person.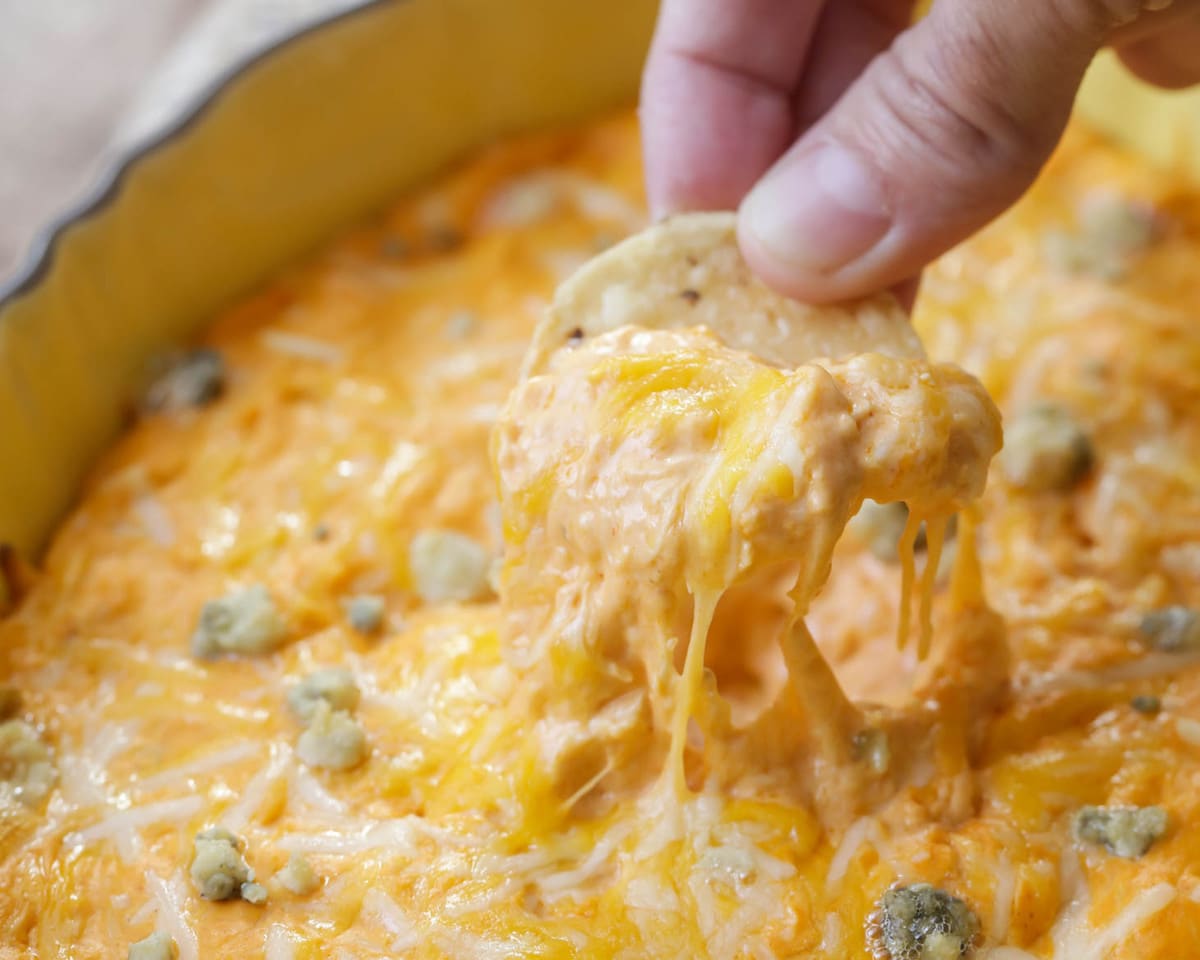 How to Serve
Keeping dip warm: The easiest way to keep dip warm is to use a small crock pot. They are typically 1 ½ qts and keep the dip warm throughout. If you are planning to serve large amounts, have a larger crock pot with the reserved dip and refill the smaller crock pot as needed.
Keeping Dip cold: If you are serving dip inside, at room temperature, then the dip should be fine for a couple of hours. However, if you are serving it in a warmer environment like an outside BBQ, then you'll want to keep it on ice. You can place ice inside a bowl, or on a tray, then place a smaller bowl of dip on top of the ice.
Another good idea for colder dips is to only set out what can be eaten in 30 minutes.
Display: How to display the dip is as fun as it is important.
Important factors: Place the dip near the ingredients that are to be the "dippables". Be sure that you are utilizing the proper tools to keep dips warm or cold.
What to Use with Dips
Choosing items to dip is almost as important as the dip itself. Some of our favorite items to dip in sweet dips include:
Apple Slices
Strawberries
Marshmallows
Cookies like Oreos and Vanilla Wafers
Graham Crackers
Favorite items to dip in savory dips include:
Lays or Ruffles Chips
Baguettes
Produce like carrots, celery, broccoli
Crackers
Pita Chips
Crostini
Great items to use in salsas: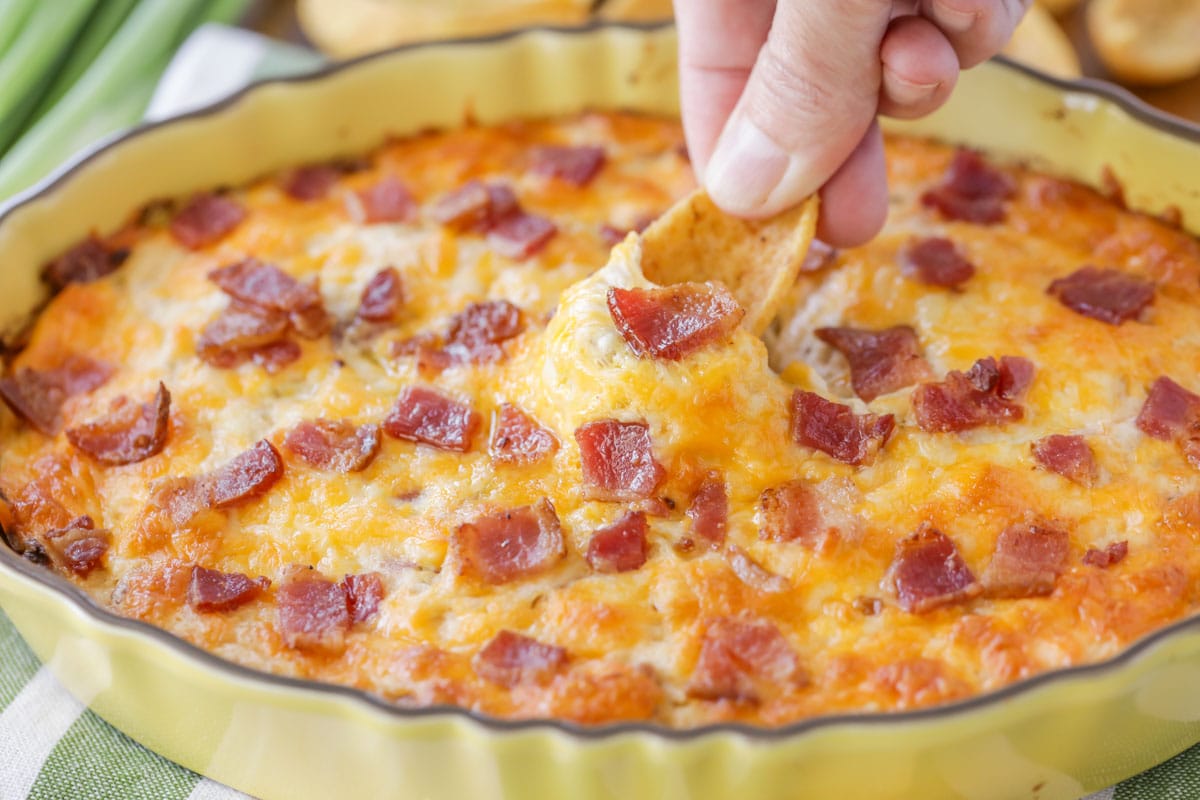 Double Dipping
When we are enjoying salsa or dip at home we don't worry too much about this, but it's definitely frowned upon at a party. Be sure to have a spoon near every dip so guests can scoop some onto their own plates.
I also like to provide small condiment cups near each dip so guests can spoon an individual portion into the cup. Bonus: the mini cups keep the dip from spreading out into other foods.
---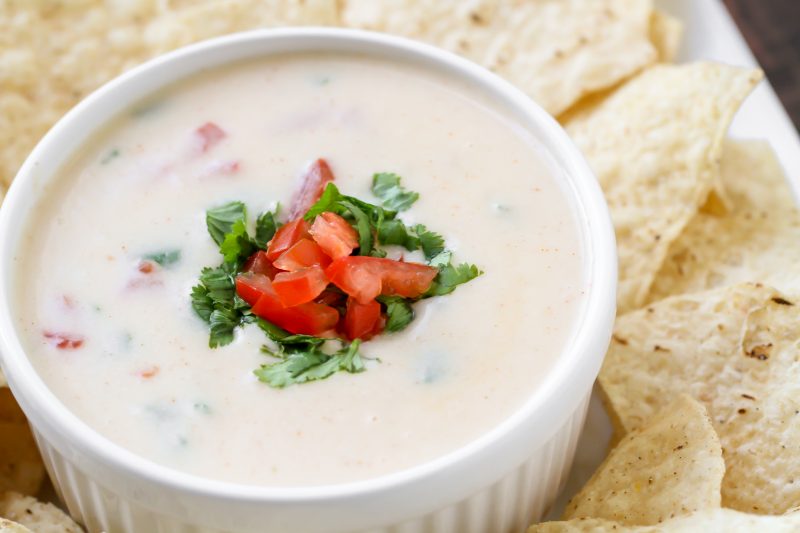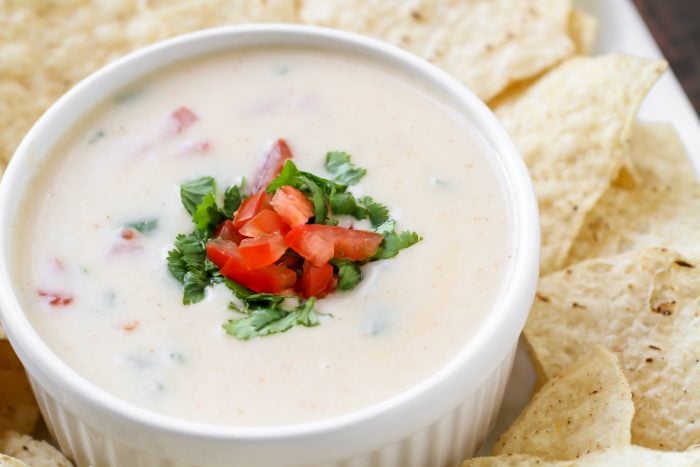 Easy Appetizer Dips
These are some of our easiest (and most favorite) appetizer dips—both hot and cold, sweet and savory.
Queso Blanco – The Best And Easiest Queso Blanco Recipe Out There. This Delicious Dip Is Made In No Time, And Will Be The Perfect Addition At Your Next Get Together, Especially Served With Tortilla Chips And Veggies.
Yogurt Fruit Dip – Cream Cheese, Cool Whip, Vanilla Yogurt, And Vanilla Pudding Mix Blended Together To Make This Amazing Vanilla Yogurt Fruit Dip For Your Favorite Fruit!
Chili Cheese Dip – Just Four Ingredients Make For The BEST And Yummiest Chili Cheese Dip! Melty Cheese And Hearty Chili Are So Tasty Together! It's The Perfect Appetizer For Any Party.
Pina Colada Dip – Pina colada fruit dip is fresh, creamy and filled with pineapple and coconut bits. It is perfectly refreshing and great for any party.
French Onion Dip – French Onion Dip Is Tangy And Savory. It Requires Only Two Ingredients And Is Made In Under A Minute Making It The Perfect Chip Dip!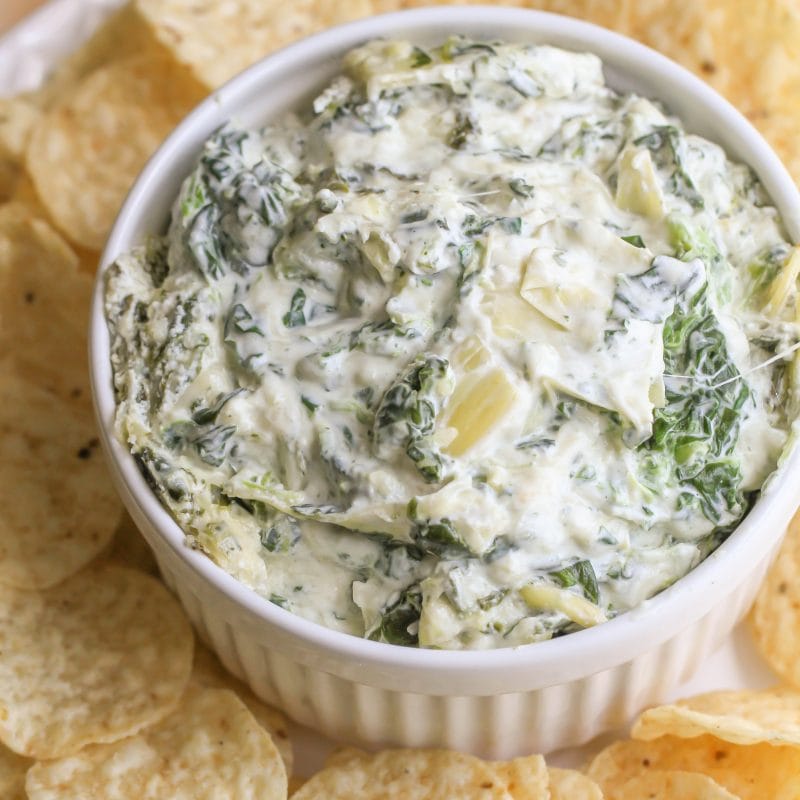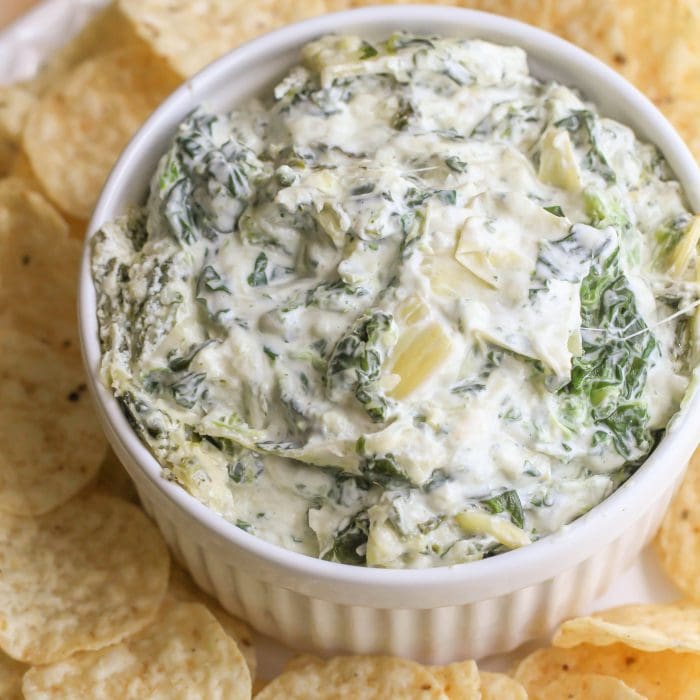 Spinach Artichoke Dip – This Is The BEST Spinach Artichoke Dip Recipe, And The Ultimate Dip For Any Get Together! Filled With Spinach, Artichoke Hearts, Cheese, Sour Cream, Cream Cheese, And Mayo – This Dip Is Sooo Cheesy And Perfect For Any Gathering!
Cream Cheese Bean Dip – This Cream Cheese Bean Dip Recipe Is Our New Favorite Mexican Dip! With Sour Cream, Cream Cheese, Mexican Cheese, Refried Beans, And Salsa, It Is The Perfect Dip To Eat With Chips, Tacos, Or Any Mexican Dish!
Chocolate Chip Dip – Chocolate Chip Dip Is A Simple Dessert Dip Filled With Mini Chocolate Chips That Tastes Like Cookie Dough! It's Perfectly Dippable.
Apple Brickle Dip – This 5-Ingredient Apple Brickle Dip Recipe Takes Minutes To Make And Is So Delicious! Plus, It Uses Common Ingredients Including, Cream Cheese, Brown Sugar, Sugar, & Vanilla. The Addition Of Heath Toffee Bits Makes It Even Better!
Taco Dip – Loaded With All Of Your Favorite Taco Toppings, This Creamy Taco Flavored Dip Is Perfect For Dipping With Tortilla Chips. We Love This Appetizer For Parties And Get Togethers.
---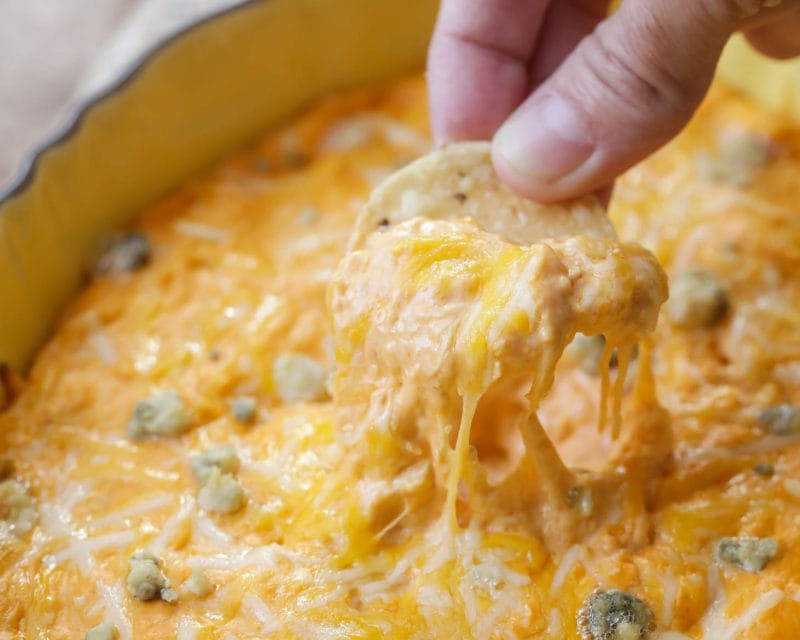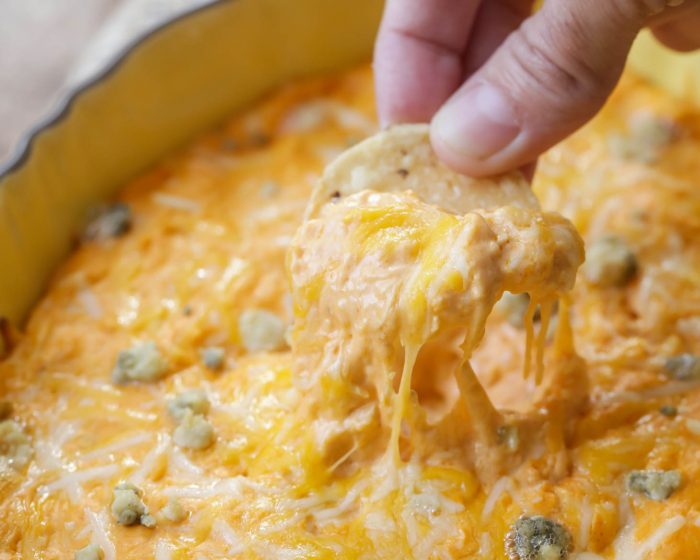 Hot Appetizer Dips
I love a good hot appetizer dip, especially ones that are both made and served in the crock pot.
Buffalo Chicken Dip – All The Flavor Of Buffalo Wings In A Creamy, Cheesy, Simple Dip! This Super Easy Buffalo Chicken Dip Is Filled With Chicken, Buffalo Sauce, Ranch, And Three Different Types Of Cheese!
Artichoke Dip – Artichoke Dip is irresistibly creamy and every bite is loaded with spinach and artichokes. This hot, cheesy dip will be a hit at your next party!
Cheese Fondue – This cheese fondue is gooey perfection made in literally minutes. It's a showstopper dip to share, or not!
BLT Dip – This creamy BLT Dip is the ultimate warm, cheesy, party dip! It's loaded with cream cheese, cheese, and sour cream, then baked and topped with crispy bacon, shredded lettuce and fresh tomato!
Pizza Dip – Everyone's Favorite Food In Dip Form! This Pizza Dip Is Simple, Delicious, And Can Be Customized Based On Your Favorite Pizza Toppings!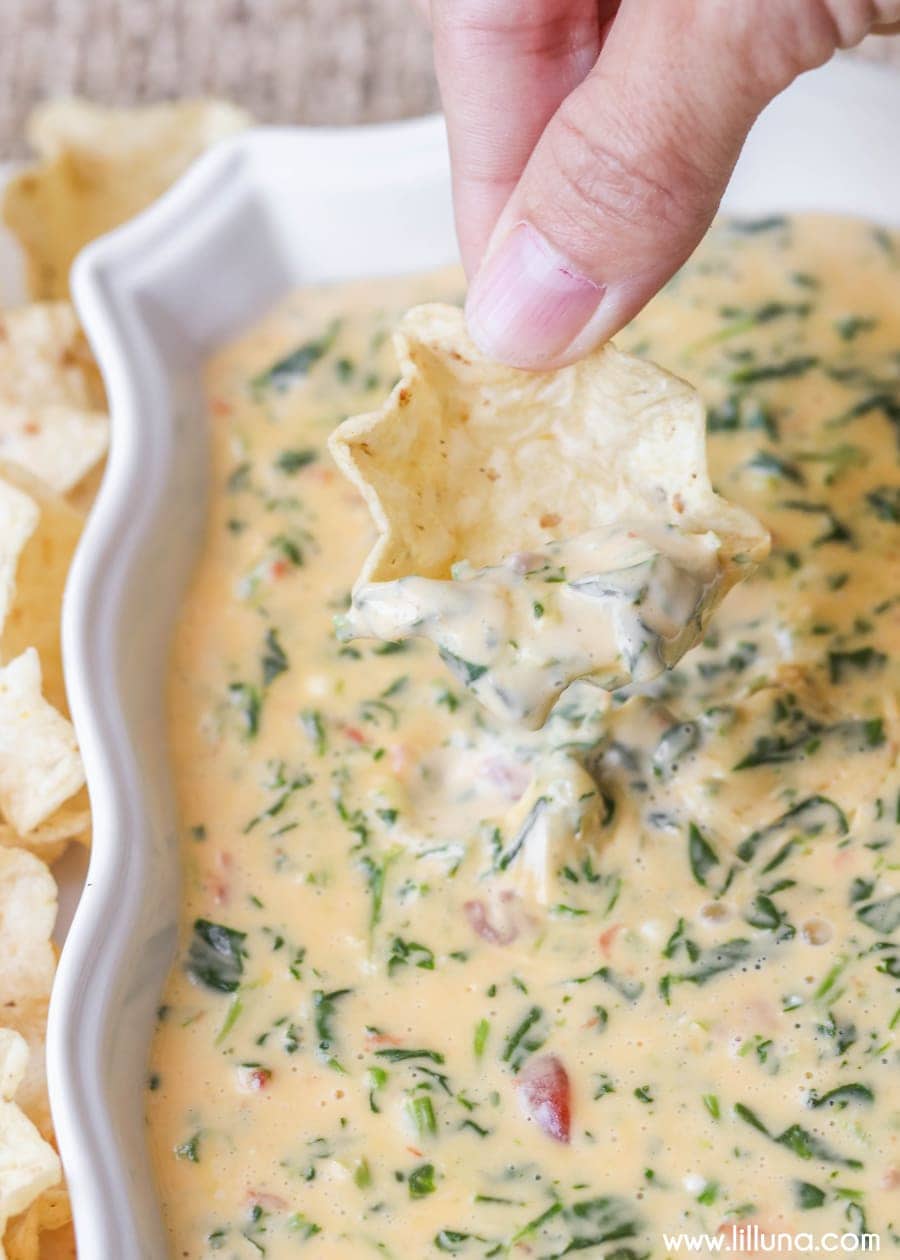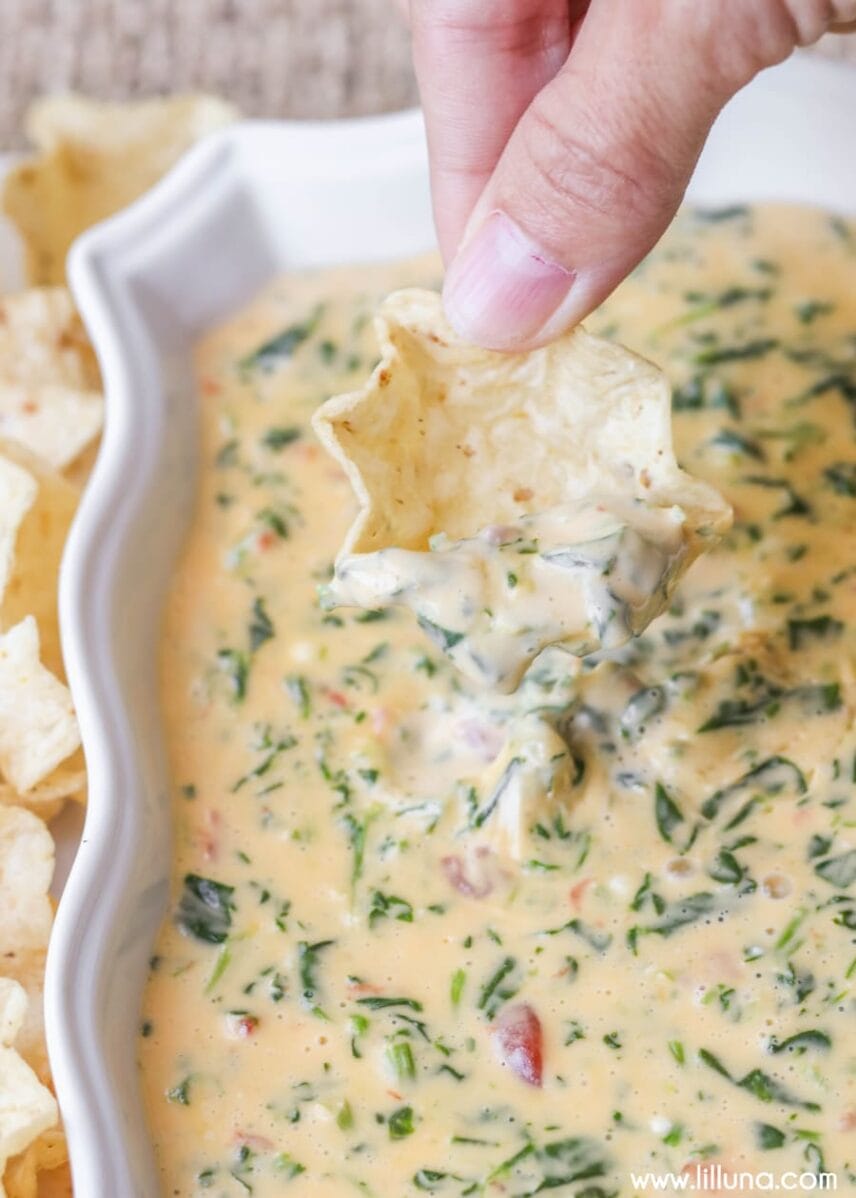 Cheesy Spinach Dip – Cheesy Velveeta Spinach Dip is a simple 5 ingredient dip that everyone will love! It's quick, easy, and SO tasty!
Hamburger Dip – A cheesy, hearty dip made with only 4 ingredients—this Savory Hamburger dip is always a hit at parties.
Tamale Dip – Hearty Tamale Pie Dip Is Filled With The Familiar Flavors Of A Mouth-Watering Cheesy Chicken Tamale. Even Better, It's Much Easier To Make And Takes Less Than Half The Time!
Nacho Cheese – The EASIEST Recipe For Concession-Style Nacho Cheese Sauce Made Totally From Scratch! All It Takes Is A Small Handful Of Ingredients You Probably Already Have On Hand.
Jalapeno Popper Dip – Jalapeño Popper Dip Is Packed With 4 Kinds Of Cheese, Just Enough Spicy Jalapeños To Give It A Kick, And A Golden Crispy Topping. This Dip Is Sure To Be A Hit At Your Next Party!
---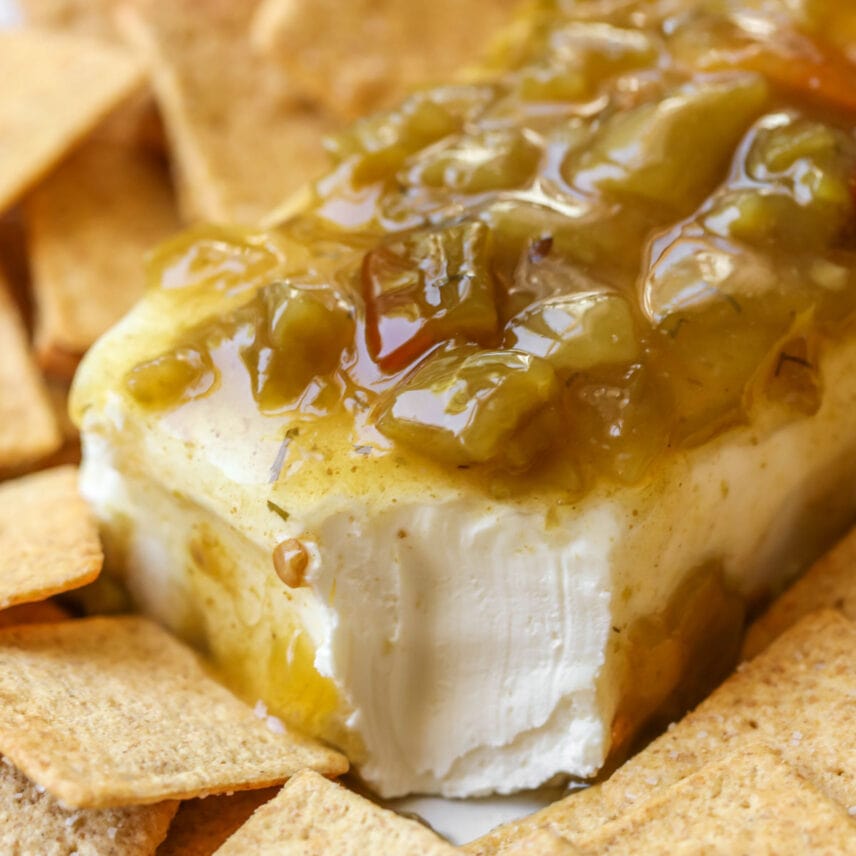 Cold Appetizer Dips
Most of our favorite cold appetizer dips include salsas and dressings that you can dip other appetizers in. With salsa, you can make our Homemade Tortilla Chips, or if you want store bought, our favorite brand is Juanita's. 😉
To keep cold dips cold:
Place ice in the bottom of a bowl. Use a slightly smaller bowl to fill with dip, then nestle it in the larger bowl on top of the ice.
Place serving bowls in the freezer before filling with dip.
Only place out enough dip that can be eaten within the hour. Refill with extra dip from the fridge.
Cream Cheese Green Chili Dip – Cream Cheese Green Chili Dip is one of our favorite appetizers. It is is delicious and takes just 1 minute to make!!
Bacon Ranch Cheeseball – Spruce Up Your Holiday Appetizers With A Tasty Bacon Ranch Cheese Ball. Not Only Is It Easy But It's Delicious And Perfect Served With Crackers And Veggies.
Homemade Salsa – This Is Such An EASY Homemade Salsa Recipe! All You Have To Do Is Throw All The Ingredients Into Your Blender, And Blend! It Tastes Just Like Restaurant Salsa, And Goes Perfectly With Tortilla Chips, Tacos, Enchiladas, Or Any Other Mexican Food!
7 Layer Bean Dip – This Is Our Family's Favorite 7 Layer Bean Dip Recipe! It Has Loads Of Flavor And All Your Favorite Dip Ingredients Including Avocados, Olives, Tomatoes, Cheese, Guacamole And More! It's A Must-Have Appetizer At Every Family Function.
Simple Guacamole – Spicy, Chunky Simple Guacamole Is So Easy And Addicting, It's Sure To Be A Crowd Pleaser! You Won't Be Able To Stop Eating It.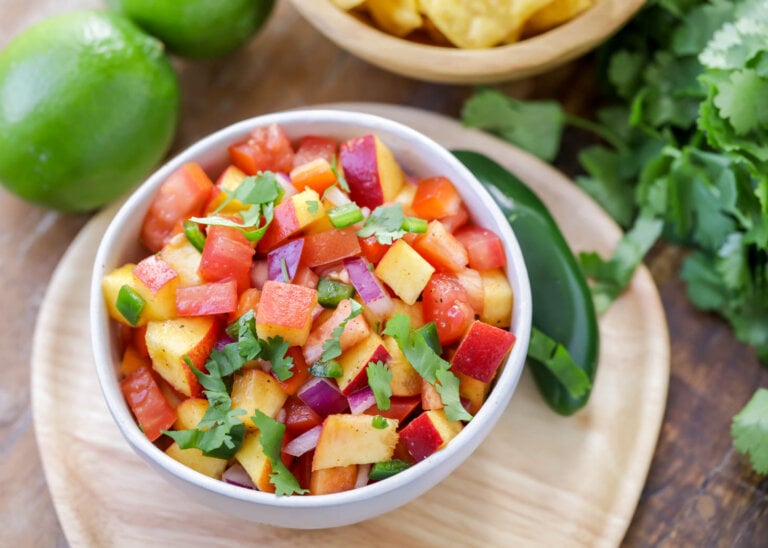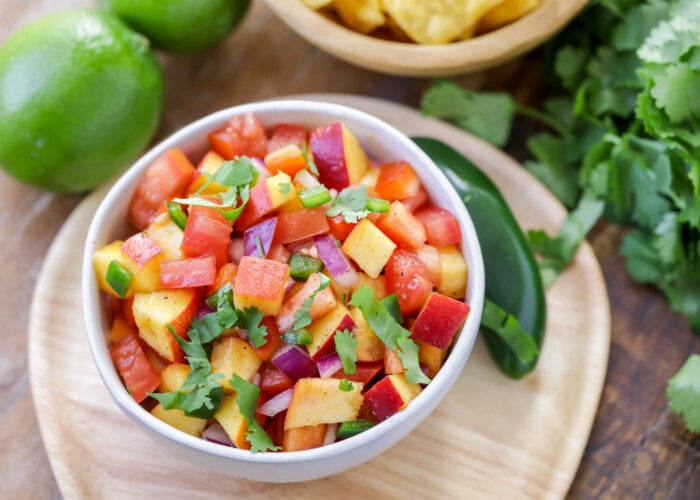 Peach Salsa – Fresh Peach Salsa Is Delicious With Chips, On Top Of Fish Or Pork, Or Spooned Over Tacos! You'll Love The Sweet And Savory Flavors In This Simple Recipe!
Salsa Verde – Sweet Salsa Verde – A Delicious Salsa Recipe That Is Sweet And Spicy And Takes Just Minutes To Make. Ingredients Include Tomatillos, Jalapeños, Sugar, & Cilantro.
Chili's Salsa – The restaurant salsa you know and love, made at home anytime you like! This Chili's Salsa copycat recipe is literally made in minutes with the help of a blender.
Strawberry Salsa – You Can't Go A Summer Without Eating This Sweet And Spicy Strawberry Salsa! The Flavors Are So Unique. You Can Even Serve With Fish, Tacos, Or Any Mexican Dish.
Hummus – If You Need A Quick Healthy Snack Or Party Appetizer, You Can Whip Up This Homemade Hummus In 5 Minutes Or Less! With Just A Few Simple Ingredients, This Delicious Hummus Is Perfect For Dipping Pita Bread, Fresh Veggies, And Tortilla Chips.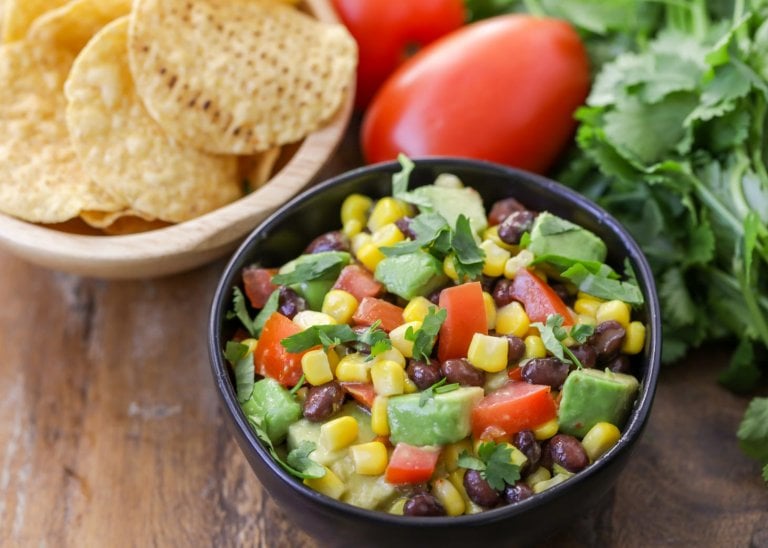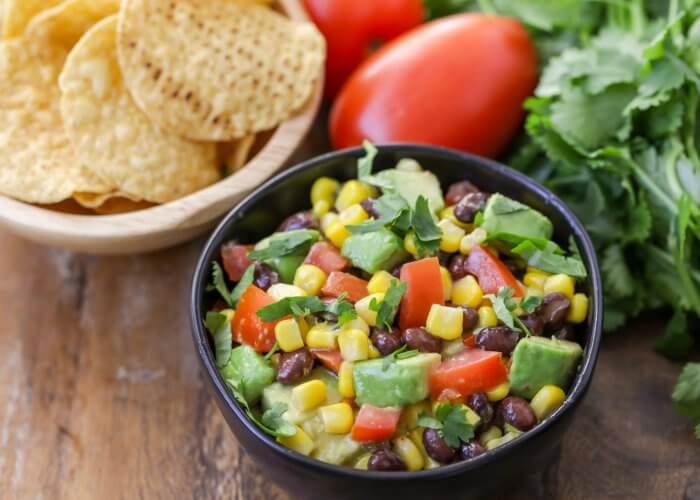 Black Bean and Corn Salsa – This Black Bean And Corn Salsa Is One Of Our Favorite Dips And Appetizers. It's Great With Any Mexican Dish Or Served With Tortilla Chips And Is Filled With Tomatoes, Avocados, Corn And Black Beans!
Tomatillo Salsa – Easy Tomatillo Salsa Is Spicy And Delicious! It's Great With Tortilla Chips Or As A Sauce On Top Of Your Favorite Mexican Dishes!
Cucumber Salsa – Crisp And Light Cucumber Salsa Is Delicious With Tortilla Chips Or On Top Of Tacos. It Is Best When Freshly Made And Chilled.
Mango Salsa – This Sweet And Savory Mango Salsa Is Perfect With Chips Or Any Mexican Meal. It's Filled With Sweet Pineapple, Cilantro, Mangoes, Onion, Cilantro And Jalapeños Making It Full Of Flavor And Simple To Make.
Corn Salsa – Savory Corn Salsa Has A Little Kick Of Spice! There Are So Many Yummy Uses For This Delicious And Simple Salsa.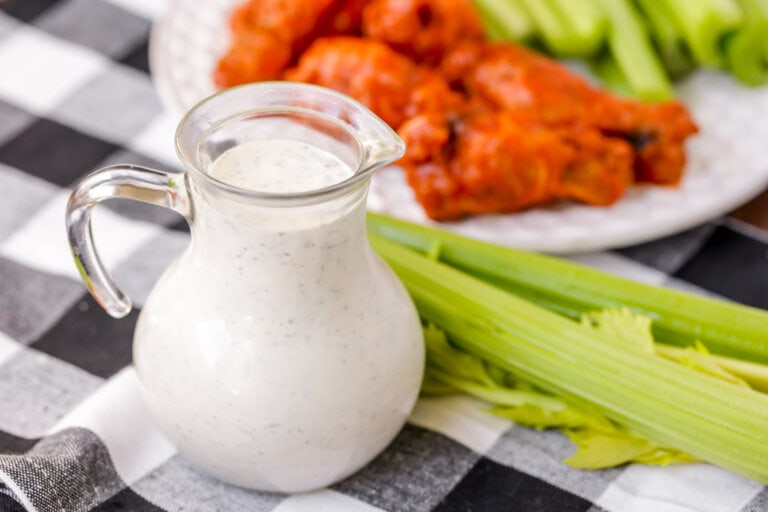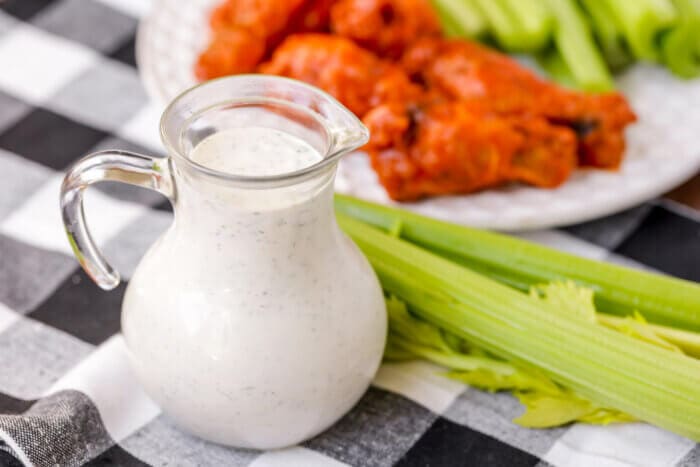 Homemade Ranch Dressing – Delicious homemade buttermilk ranch dressing is made in minutes and is better than any store bought version!
Avocado Lime Ranch Dip – It Only Takes A Small Handful Of Ingredients And A Few Minutes To Whip Up Some Creamy And Delicious Avocado Lime Ranch Dip! Filled With Cilantro, Lime Juice, And Avocado, This Ranch Dip Is Perfect For Dipping Chips Or Topping Mexican Dishes!
Dill Vegetable Dip – The Perfect Go-To Veggie Dip For Parties And Snacking. Use It For Vegetables, Chips, Or Whatever You Feel Like! Even If You Don't Like Dill Pickles, You'll Love This Dill Vegetable Dip.
Chipotle Ranch – Chipotle ranch has just the right amount of kick. Drizzle it over salads, dip tortilla chips, or serve it on the side of your Mexican entrees.
Pina Colada Dip – Pina colada fruit dip is fresh, creamy and filled with pineapple and coconut bits. It is perfectly refreshing and great for any party.
---
Trust me – it's good!
Who doesn't love dip?!
Not only do they make all the dippables better, but they're usually easy to make.
One of our favorite appetizer dip recipes is this Avocado Dip. It only has a six ingredients and is made by throwing everything in the blender until combined.
It's great for veggies, chips and also for any Mexican recipes.
We hope you like it too!
---
The Complete List
Here are the picture recipe cards for all the recipes in this collection! We hope this helps you in creating a delicious Appetizer Dip spread. Any of these are sure to be a hit.
Be sure to check out all of our Appetizer Recipes!
For more collections, see: Easy Appetizers, Party Appetizers, Healthy Appetizers